In a feature published during F1's coronavirus hiatus, we look back at the Zandvoort race that preceded the Dutch Grand Prix's long hiatus from the calendar.

Some drivers lose the edge once they make the decision to retire, no longer willing to go to the extremes of effort or risk needed to win.
The opposite appears to be true for Niki Lauda, who announced his second retirement from F1 just over a week ago in Austria but shows no signs of easing his way out of grand prix racing.
Despite a season ruined by dire reliability, most recently while in the hunt for victory on home soil at the Osterreichring, Lauda showed in the Dutch Grand Prix at Zandvoort that his determination to win burns as brightly as ever. This was far from a straightforward victory.
Qualifying had already complicated matters. Lauda's TAG-Porsche engine dropped a cylinder on Saturday afternoon and left him down in 10th on the grid. He then had to overcome a strategic problem caused by the fact the team didn't fit the tyre choice Lauda had pre-planned when he stopped.
Then, he had to absorb intense pressure from team-mate Alain Prost knowing the McLaren team would rather the Frenchman won to aid in his championship fight with Ferrari's Michele Alboreto. Lauda's will to win is beyond question.
The 36-year-old described the start of the race as "absolutely chaotic".
Thierry Boutsen's Arrows-BMW, directly ahead of him on the grid, lurched forward briefly but didn't launch properly so Lauda had to hurl his McLaren right. Then, he had to yank it back to the left to avoid a collision with Nigel Mansell's Williams-Honda and the stationary Brabham-BMW of Nelson Piquet that, on pole position for the first time since Portugal in October 1984, hadn't got away.
Lauda then had another slide as he redirected the car so it was pointing back up the track once he'd finished slalom run. All of this cost him momentum, but Lauda had done a brilliant job to avoid a collision and he reached the first corner with four places gained in sixth.
Up front, Keke Rosberg led for Williams ahead of Ayrton Senna's Lotus-Renault, Teo Fabi's Toleman-Hart and Prost. Before the end of the lap, Lauda had found his way into fifth place by passing Marc Surer's Brabham.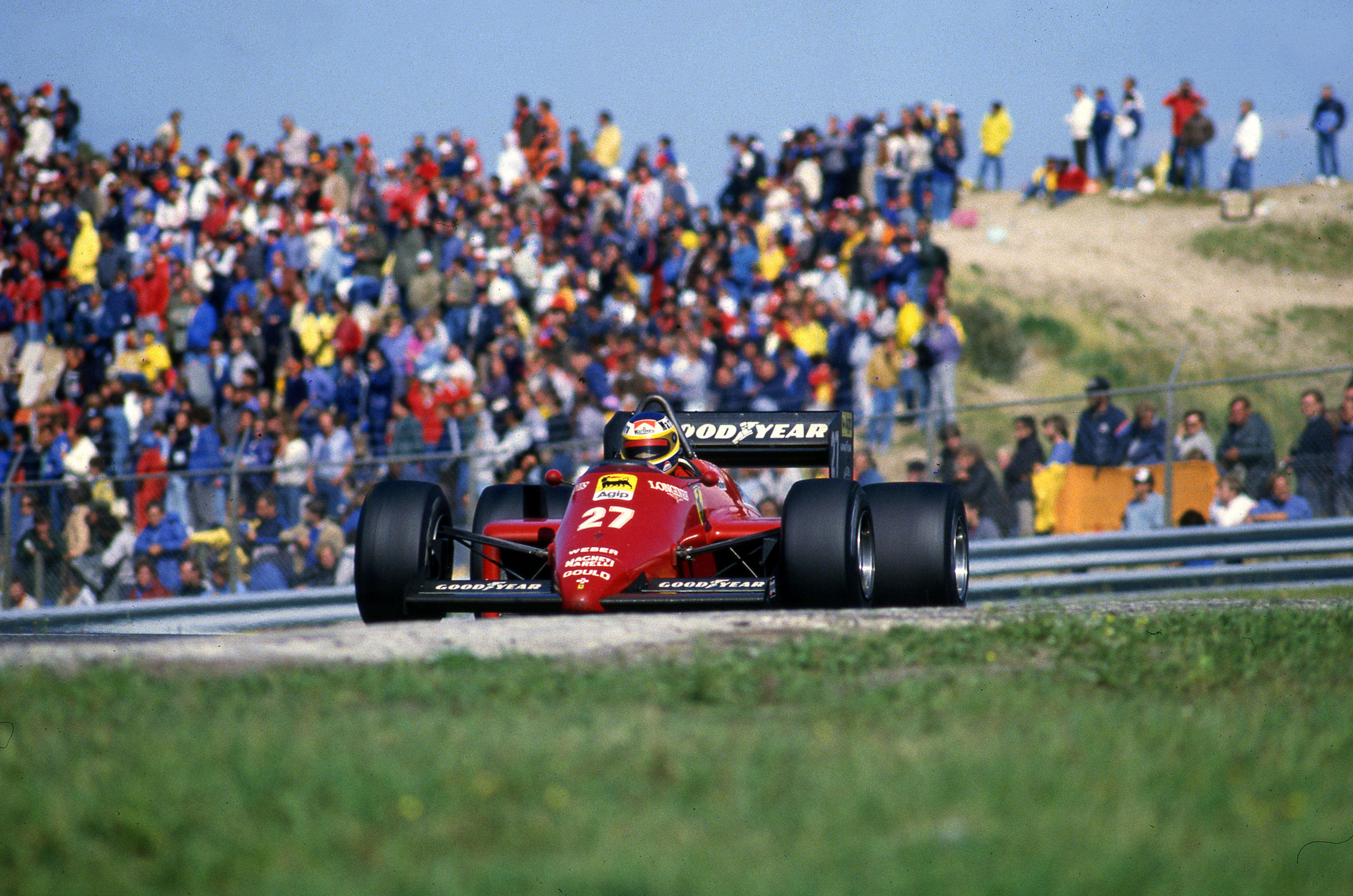 Rosberg, announced as a McLaren driver for 1986 earlier in the weekend, held a 1.744s lead at the end of the first lap, but after his meteoric start from sixth on the grid Fabi was under pressure for third. Prost dispatched him on the second lap and latched onto Senna, with Lauda 3.5s behind his team-mate by the time he passed Fabi just before the start/finish line at the end of lap 5.
With Prost held up by Senna, Lauda inched up on his team-mate. By the time Prost got past on lap 14, Lauda was right there and able to follow him past on the main straight at the end of the same lap.
As Prost chased down leader Rosberg, Lauda was struggling with oversteer and couldn't go with him. He put this down to the decision to start the race with three soft-compound Goodyears, with a harder one on the heavily-loaded rear-left. This played into Lauda's decision to make a pitstop at the end of lap 20.
This proved to be a key moment in the battle for victory. Rosberg's Honda engine failed at the end of the lap so he coasted into the pits, the fire at the rear leading to him standing up in the cockpit as he guided the car towards the Williams garage in case he needed to make a hasty exit. This promoted Prost into the lead and, momentarily, Lauda to second. Lauda re-emerged from his pitstop eighth but was baffled to find that the oversteer had not been cured.
This was because, unknown to him, McLaren hadn't stuck with his plan. Lauda had agreed that if he came in for a very early stop, he should take harder rubber. A later stop, which lap 20 counted as, meant softs all round. But Dennis had made the decision to replicate Lauda's starting combination with a harder compound on the left-rear. As such, the oversteer was not fixed.
Eighth became seventh when Patrick Tambay's Renault retired with a differential failure to bring to an end a stunning drive from the Frenchman.
He'd qualified sixth, but started from the pits thanks to a misfire caused by an injector problem. He then put in a stunning charge, setting what stood as the fourth-fastest lap on his way up to fourth. While he had yet to stop and was assisted by retirements, it was a great drive – dispatching title contender Alboreto along the way – and deserved more than a DNF.
Lauda moved up to sixth when Mansell pitted. Having opted for the too-hard Goodyear 'B' compound, Mansell would have to stop again for a set of 'C' rubber on his way to sixth place at the finish.
Senna pitted for tyres on lap 27, emerging 4.5s behind Lauda with Derek Warwick's Renault suffering a gearbox failure while holding third. Lauda also dispatched Surer and picked up another place when Alboreto pitted, leaving him second behind only Prost. His inexorable rise to the lead was complete when Prost stopped at the end of lap 34 to fit soft rubber all-round.
The stage was set. Lauda, still battling oversteer, led Senna by 3.113s at the end of lap 34 with Prost a further 11s back after a disastrously slow pitstop. Prost had a pace advantage of as much as six tenths over Senna, and emerged from the final corner on lap 47 right under the rear wing of the Lotus. He blasted past to take second place from Senna, crossing the line 10.6s behind Lauda.
With 23 laps remaining, Lauda knew he was going to come under pressure from Prost. Over the next 10 laps, Prost scythed an average 0.8s per lap out of Lauda to close to just 2.551s behind. For a few laps, Lauda maintained the gap before Prost attacked again, but on laps 62 and 63 he demolished the remaining lead. Lauda had seven laps to hold on.
But Lauda drove beautifully, attempting to time his approach to backmarkers to avoid being caught out and focusing his efforts on carrying good speed through the final corner to prevent Prost attacking on the run to the first corner. After all, at Zandvoort overtaking around the rest of the lap is very difficult.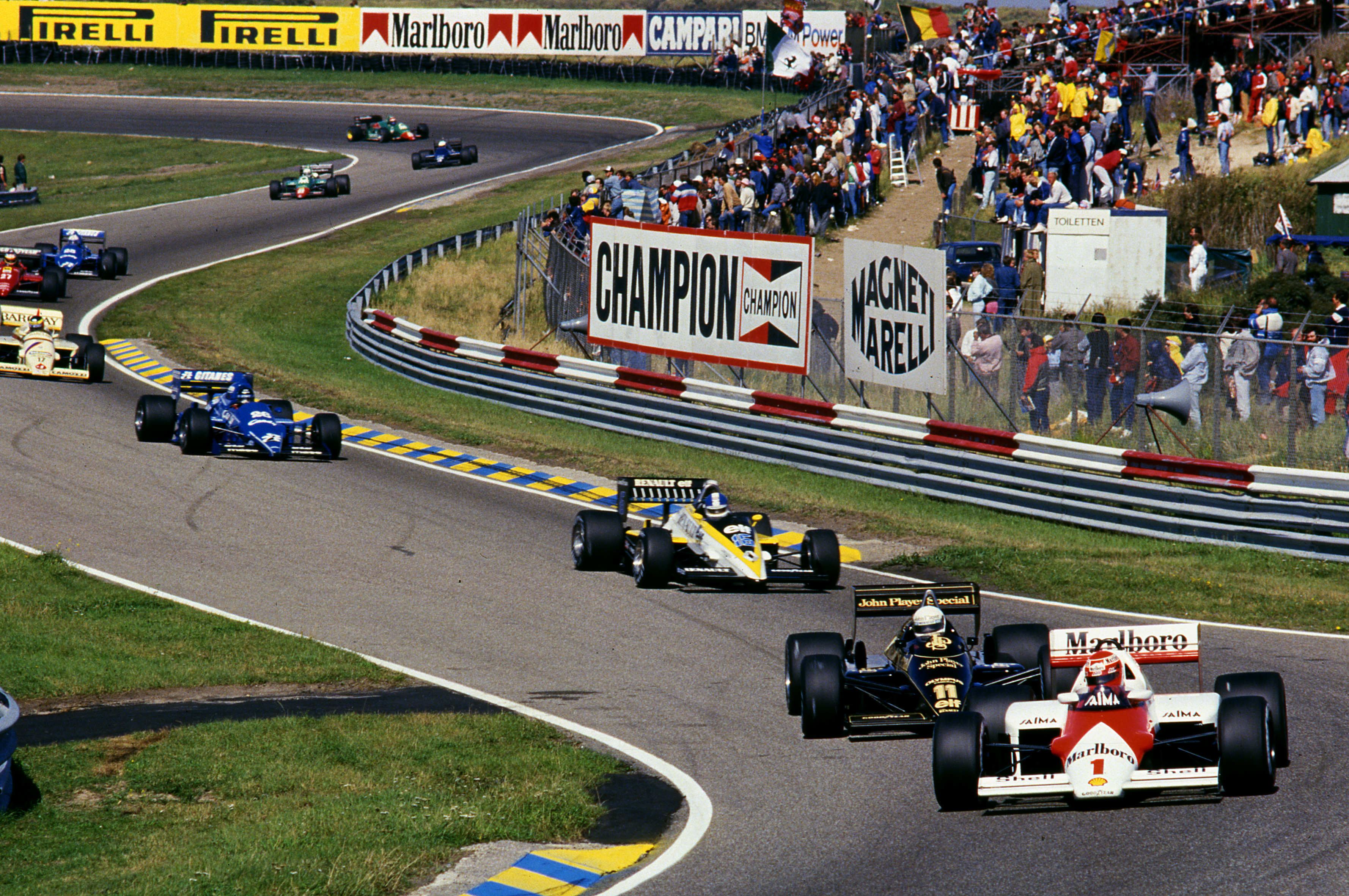 Prost was clambering all over the rear of the lead McLaren in the closing stages. But the closest he came to getting past came when Lauda was held up by the Osella of Huub Rothengatter through the fast Scheivak right-hander. About to go 14 laps down and therefore unclassified, having made several early pitstops battling a battery problem, local driver Rothengatter caused Lauda to check up. Prost got a run, even putting the left wheels on the grass in the brief kink in the following straight before the entry to the esses as the McLarens came close to coming together, but couldn't get through.
"I was about to take him on the left and he slammed the door in my face, just as he had done on the two preceding laps," said Prost. "I suspect he didn't see me although I just missed his rear wing."
Despite Prost having another look in the same place on the last lap, Lauda didn't put a foot wrong to the chequered flag, crossing the line just 0.232s behind to take his 25th grand prix victory and the first in almost a year. And he justifiably showed no remorse about not letting Prost through to help his title hopes.
"There was no word of team tactics," said Lauda. "I have exactly the same contract as Prost and it stipulates that I can do what I like. That's exactly what I did today. I was offered the possibility of winning and I grabbed it, why wouldn't I have?
"I've always said that if Alain needs some help at the last race of the season he can rely on me to help him. But until then, I've got my own race to concentrate on. If you ask me, he won't need my help to finish the season ahead of Alboreto."
Prost didn't appear to be entirely sure whether to be satisfied with second and a strengthened championship position or frustrated to finish behind his team-mate. He eventually settled on the former position.
"From a psychological point of view, this race was very tough. If it had been anyone else but Niki I would have opened up an attack. I had two huge problems to solve, the first was to score more points than Alboreto and the second was to get past Niki.
"I've never come up against a situation like this before. Winning implies taking dangerous risks, that's why I'm really pleased with my second place. OK, I missed scoring an extra three points but Niki's win is going to bring his old motivation back."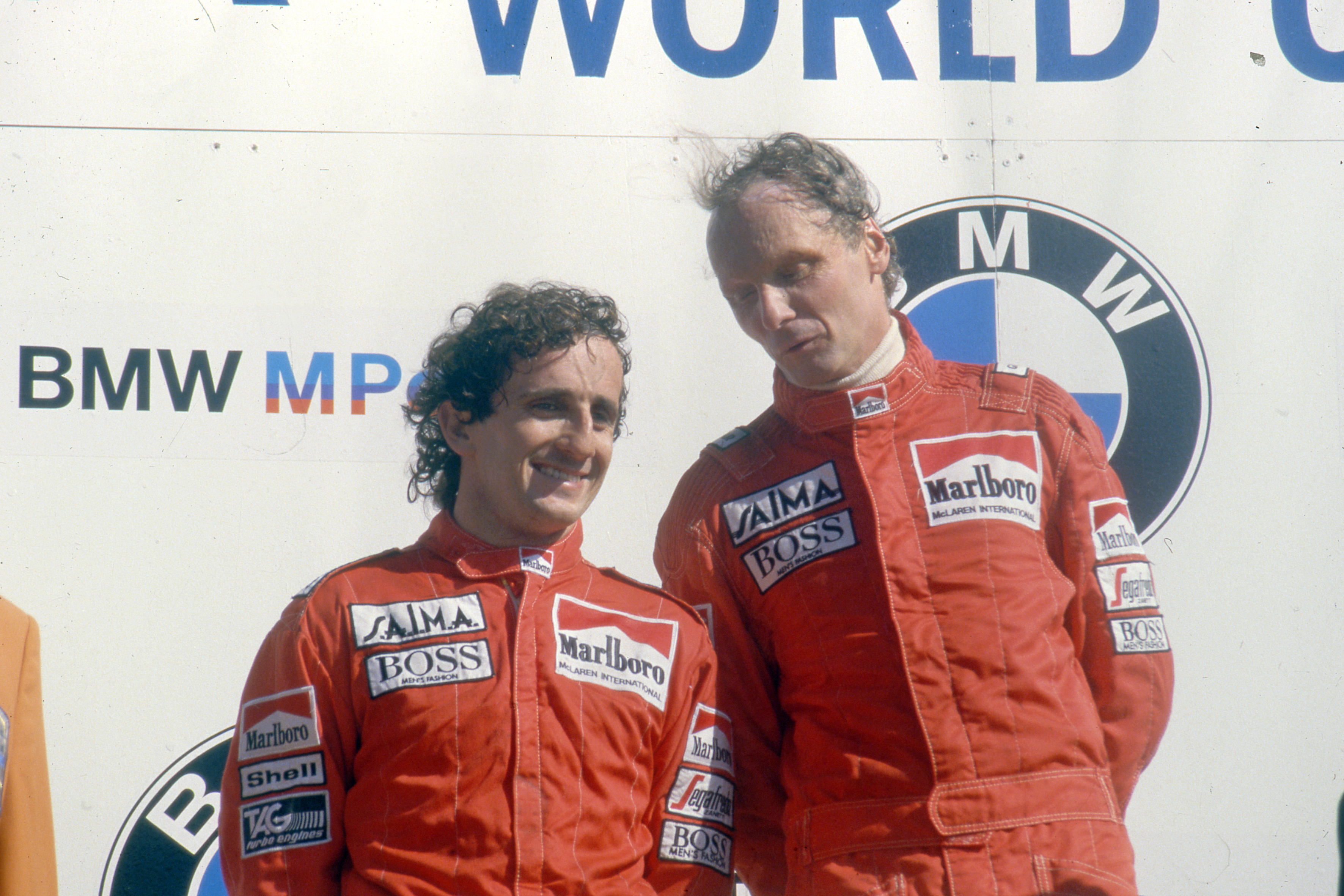 While Prost would have loved the extra points, it's hard to argue with Lauda's logic that his team-mate doesn't need anybody's help on current form.
Despite modifications to the airbox of the Ferrari 156/85, Alboreto and team-mate Stefan Johansson struggled again at Zandvoort and qualified down in 16th and 17th. Struggles for traction and lairy behaviour over the bumps made the car difficult to drive and neither driver was confident. In the circumstances. Alboreto did well to come home fourth.
Not that Senna appreciated the Italian's drive. Battling sky-high water temperatures, oil warning lights flashing and a loss of power, Senna had to fight a rearguard action to hold third and wasn't impressed when Alboreto hit him in the rear on the final lap.
De Angelis had a straightforward run to fifth in the second Lotus ahead of Mansell. Marc Surer was on target for fifth until late on when the exhaust cracked and he lost boost pressure, slumping to 10th place even behind team-mate Piquet, who had run outside the points all race after eventually getting started having lost close to a lap. Piquet came home a lapped eighth behind Martin Brundle's Tyrrell, with Gerhard Berger ninth in the Arrows.
As for Fabi, his strong start to the race came to an end after 18 laps when a problem with the rear wheels led to rattling across kerbing and damaged the car – another in a long line of retirement for the fast but fragile Tolemans.
But this was Lauda's day. He has another five races before riding off into the sunset of retirement, and although on current form you wouldn't bet against him winning again – if this is to be his last win it was a good one.