During Formula 1's coronavirus-forced hiatus, The Race will be revisiting great races from the past. For each grand prix we select, we will run a story on Friday setting the stage, a qualifying report on Saturday and a Sunday race analysis. These will not be repeats of old articles, but fresh retrospectives of these events.
The world championship took a dramatic, quite possibly defining, turn today when Michael Schumacher crashed his Ferrari heavily at Stowe corner on the first lap of the British Grand Prix, suffering a broken right leg that will put him out of action for at least two months, possibly more.
The accident was found to have been caused by a complete loss of braking to the rear wheels as Schumacher went to repass team-mate Eddie Irvine (who had demoted Schumacher down to fourth place at the first corner) on the approach to Stowe.
The car left the track – with the front wheels locked but the rears still turning – and hit the barriers at a recorded 66mph after being slowed by the gravel trap.
A combination of the tyre barriers not being adequately strapped together and the behaviour of the wheel tethers (newly-introduced for this year) meant the Ferrari's right-front wheel bent back and effectively cut into the chassis just forward of the cockpit, tearing it open.
As Schumacher tried to extricate himself, he felt the pain from the leg and slumped back into the cockpit.
The new in-situ seat extraction feature introduced to all cars by regulation this year played its part in Schumacher's rescue by the medical team. In pain but essentially OK, Schumacher gave a wave to the crowd as he was stretchered from the scene.
He has suffered a double fracture below the knee and underwent a 90-minute operation at Northampton General Hospital, with the surgeon reportedly fully satisfied with how it went.
"It was more nerve-wracking than any other race of my career" :: David Coulthard
Schumacher's erstwhile title rival Mika Hakkinen was unable to take immediate advantage of the Ferrari driver's misfortune, being forced to retire from a comfortable lead after the McLaren's left-rear wheel could not be properly secured at his routine pitstop.
Hakkinen's team-mate David Coulthard therefore inherited a popular victory, his first in over a year, with Irvine just a couple of seconds behind in the sole Ferrari to make it a British 1-2.
Half-a-minute behind them, Ralf Schumacher's Williams completed the podium.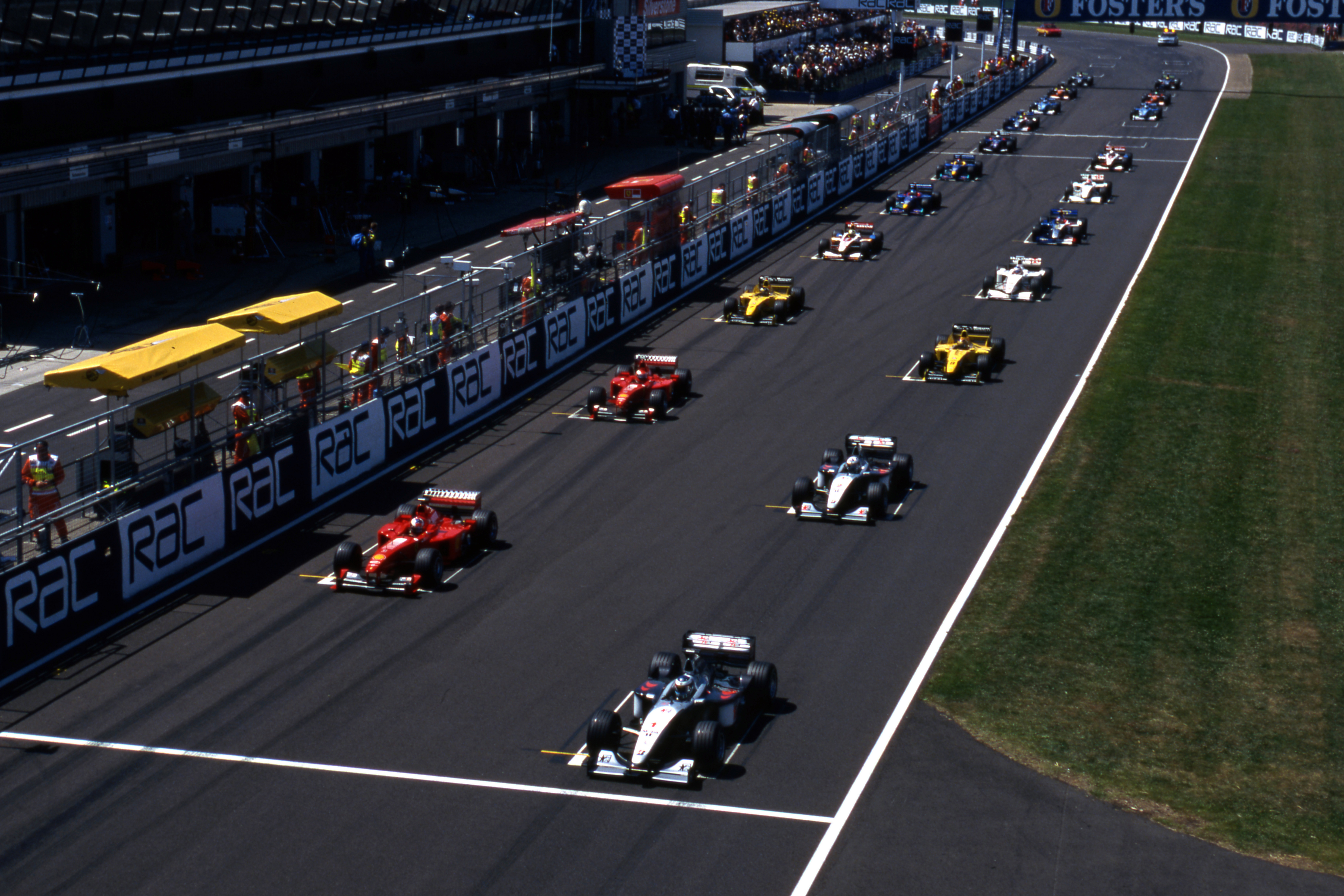 It was a beautiful sunny day as the cars sat on the Silverstone grid in front of a sellout crowd. As the lights went out Hakkinen scorched away, the quality of his start replicated by Coulthard from the row behind and the McLarens headed into Copse already running 1-2.
From the inside of the front row, Schumacher got a lot of wheelspin in the second phase of his start, laying two lines of rubber – and this was all the opportunity Irvine needed to run clean around Schumacher's outside through Copse to take third place.
The cars of Jacques Villeneuve and Alex Zanardi had failed to get off the line and couldn't be restarted, so the race was red-flagged just as the leaders were racing down Hangar Straight.
Schumacher, tight in Irvine's slipstream and preparing to outbrake him into Stowe, clearly didn't see the flags and dived down his team-mate's inside.
At that moment Schumacher's rear brakes failed. A broken bleed nipple in a brake pipe was later established as the cause and Schumacher speared, thankfully at an angle, through the gravel trap and into the tyre barriers.
The tyres were not adequately secured and scattered in all directions, meaning the car directly hit the steel barriers behind. The speed of the impact was quite shocking and although it perhaps looked worse than it was, it was clearly a very serious incident and the medical car was quickly on the scene.
In the Ferrari garages chief mechanic Nigel Stepney called a halt to the preparation of the spare car as it became apparent Schumacher would be unable to take the restart.
After a delay of almost an hour while the tyre barriers were repaired and Schumacher was airlifted to hospital, the cars lined up once more, minus one Ferrari.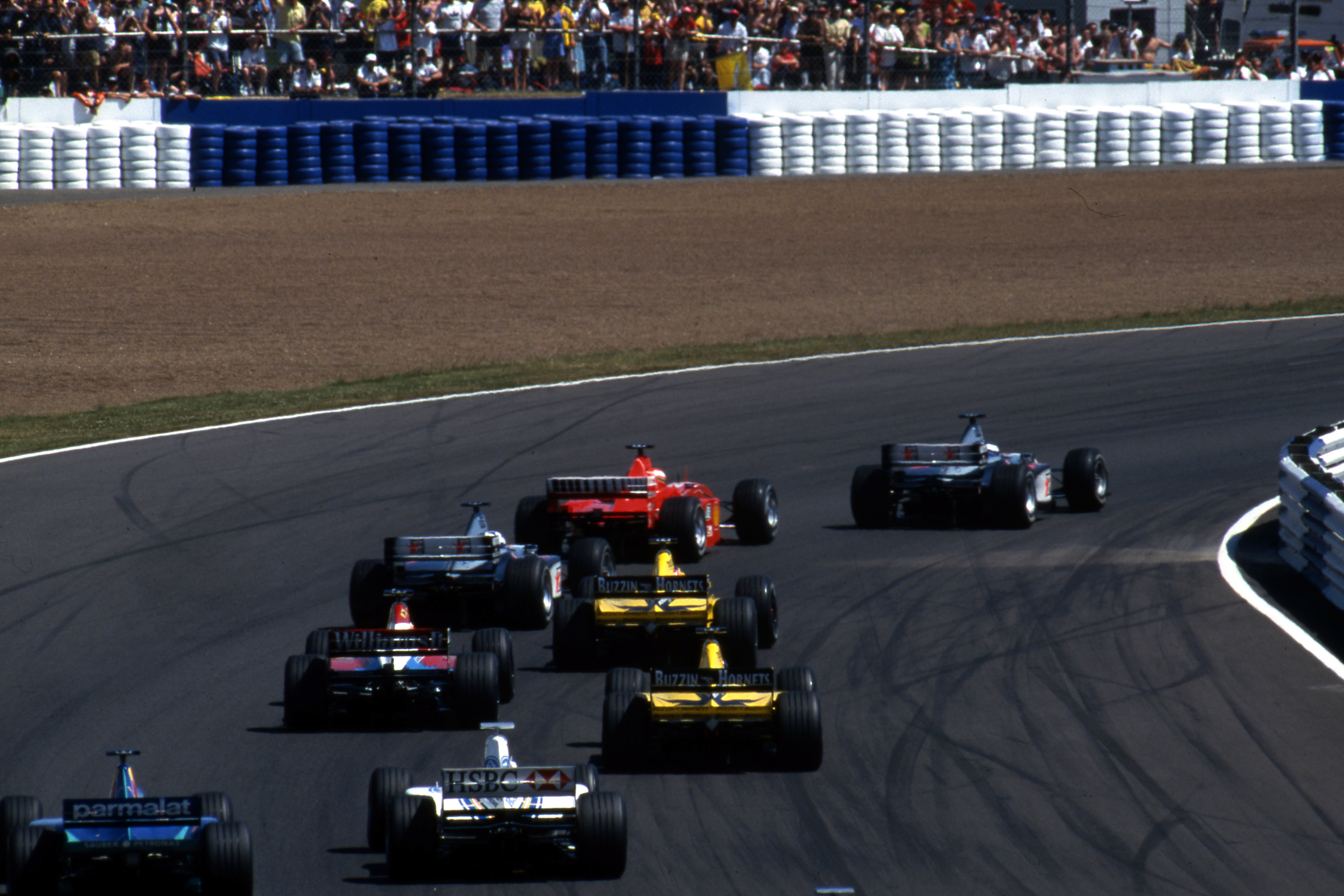 Hakkinen again surged into the lead, but this time Irvine was able to retain his place ahead of Coulthard, with Heinz-Harald Frentzen's Jordan, Ralf Schumacher's Williams and Damon Hill's Jordan following on.
The lead trio eased comfortably away from Frentzen, while up front Hakkinen looked to be fully in control and by the 10th lap had the gap over Irvine out to almost 4s.
This was set to be a two-stop race and first of the top six in for fresh tyres and a refuel was Hill on the 23rd of the 60 laps. Frentzen and Coulthard were in the next lap. Hakkinen and Irvine followed in on consecutive laps – but in both cases their stops went badly, terminally so for Hakkinen.
The McLaren was stationary for a long time as mechanics had trouble securing the left-rear wheel. Eventually, he was cleared to go but as he got on track Hakkinen could feel that something was badly amiss and radioed that he was coming straight back in.
As the McLaren mechanics waited for their car, they were obscuring the view Irvine had of his adjacent pit box as he came in for his stop.
"It was the first time I'd come into the pits with the McLaren guys there," he later explained, "and once I passed them I realised how close my guys were to them and it was pretty obvious I wasn't going to get stopped in time to stop in the right position."
He overshot be several metres and with the Ferrari fuel rig and tyres having to be shuffled up to where he stopped, it cost him valuable seconds. As he rejoined from the pitlane Coulthard's McLaren had already swept by.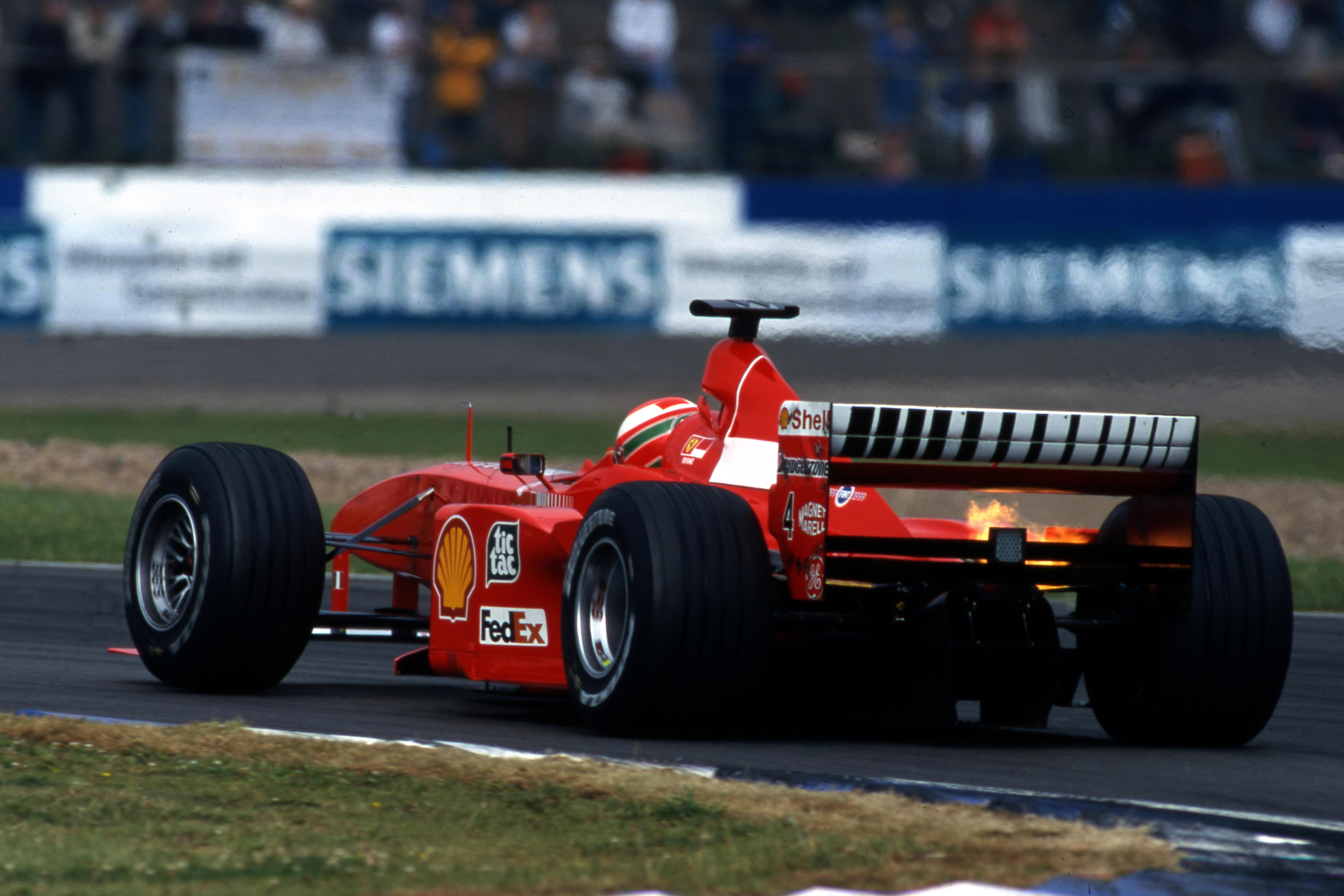 That pitlane error would come to cost Irvine a probable victory – for as the Ferrari was on its out-lap, Hakkinen was making his way back to the pitlane, only for the problem left-rear to part company completely with the car as he rounded Luffield.
He three-wheeled the McLaren into the pits for another set of tyres and later rejoined at the back before the car was retired as a safety precaution because no cause had been established for the failure, which was later identified as a hub problem.
Hakkinen's drama had put Coulthard in the lead from Irvine, to a mixed reaction from the crowd, some of whom were clearly delighted to see a Scot leading from an Ulsterman, but clearly there was a lot of support here too for the unlucky Hakkinen.
"The plan now is to have a few beers and think about the future" :: Damon Hill
Hakkinen's rolling wheel was only narrowly missed by several cars. The race came under the safety car while a marshal retrieved it. Coulthard got the jump on Irvine as the race got underway once more. Ralf Schumacher had dovetailed his stop with the safety car and had consequently vaulted up to third ahead of Frentzen, Hill and Rubens Barrichello.
Irvine looked every bit as fast as Coulthard in this second stint and the contest was still open as they pulled well clear of Ralf Schumacher in their own personal struggle for victory. Which of the number twos would triumph out of the misfortunes of their respective team leaders? It would all come down to how much fuel each had.
Ferrari had fuelled Irvine for a 15-lap second stint, having chosen to short-fuel in an attempt at retaining track position, before his overshoot made that irrelevant.
When Coulthard had made his first stop, two laps earlier than Irvine, he'd been fuelled for 18 laps. This gave Coulthard, in this second stint, a vital extra lap on low fuel after Irvine made his second stop. It was enough to get Coulthard in and back out still just ahead of the Ferrari.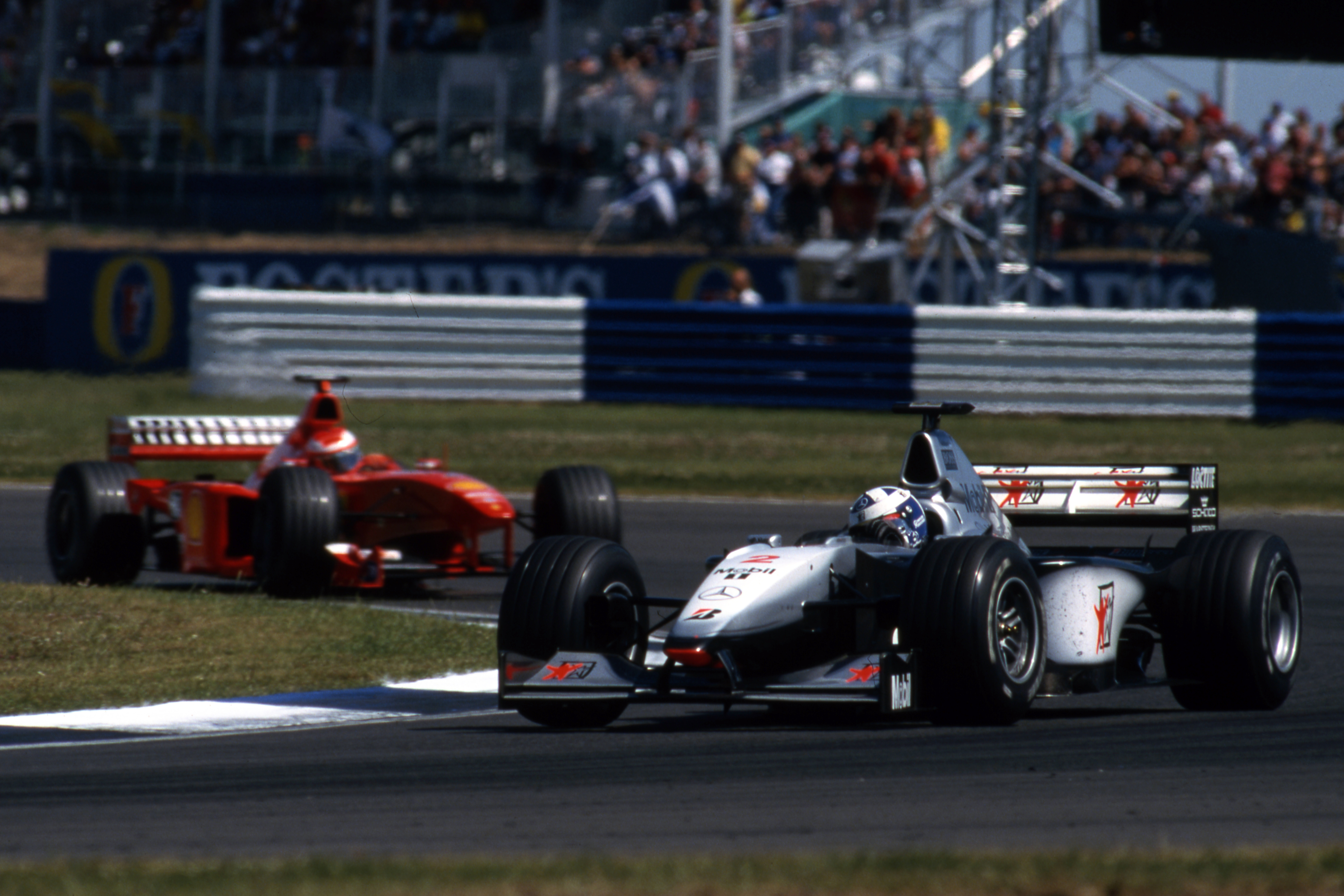 "As soon as my team got me out ahead of Eddie at the second stop, I realised by keeping out of trouble I could win this one," recounted DC – and that's how it played out.
"It was more nerve-wracking than any other race of my career," he continued. "He was a little quicker at the beginning, I was a little quicker at the end. Whoever had track position today was going to win this one."
Jordan ran both its cars long to the second stops meaning that they briefly ran 1-2. As Frentzen pitted, so Hill got to lead for a lap in what looks set to be his final British Grand Prix. After everyone had stopped, they retained their respective fourth and fifth positions behind Ralf Schumacher's Williams.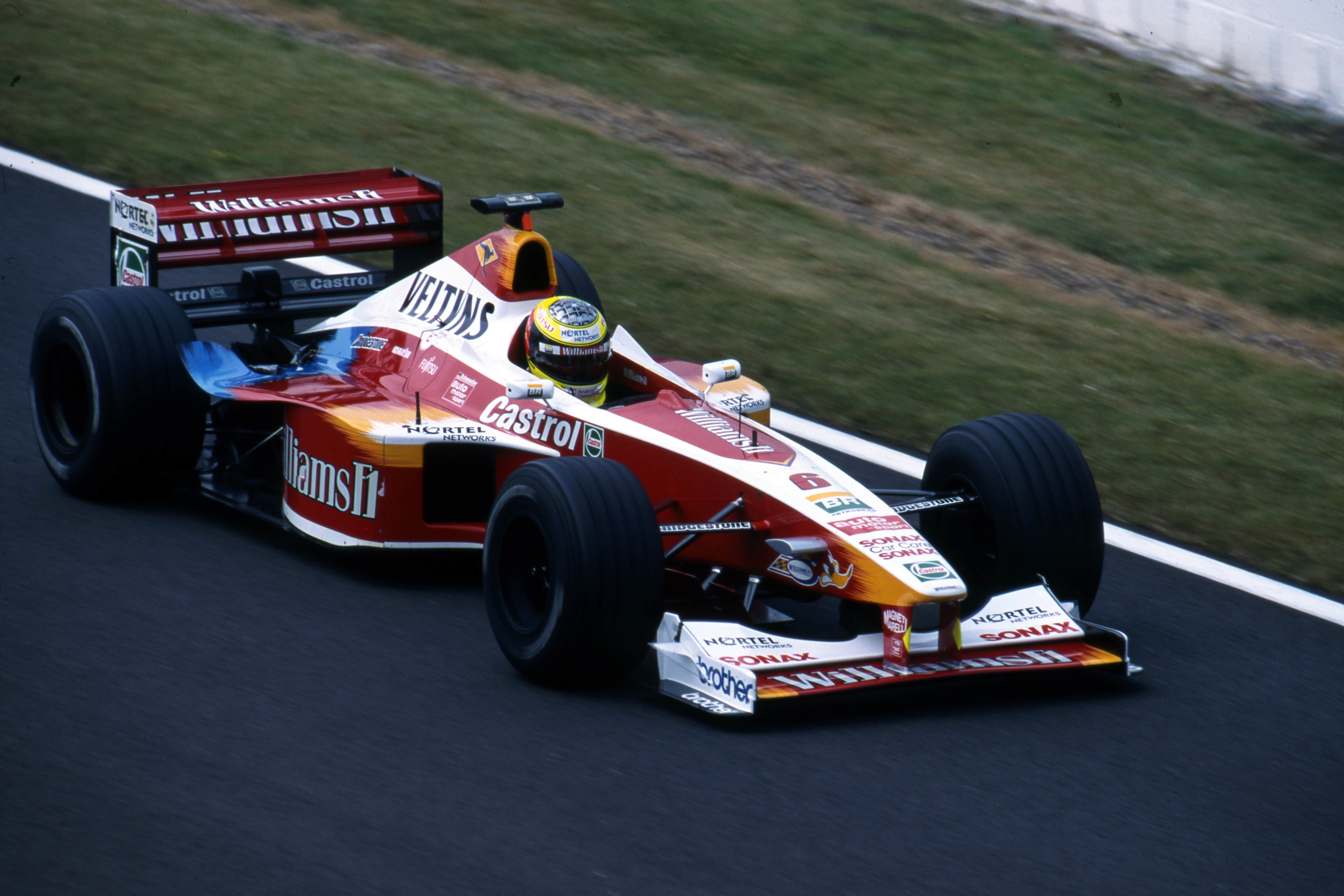 "There was a lot of pressure before the race," Hill said in reference to his career plans, "so I'm happy to come through those trials and tribulations. The plan now is to have a few beers and think about the future."
Just before the stops Barrichello had passed Hill and was putting real pressure on Frentzen – but then suffered a puncture of the left-front tyre. As he limped back to the pits he lost many places and would finish a disappointed eighth.
In between the Jordans and the Stewart at the flag, Pedro Diniz gave Sauber a sixth place point, fending off Giancarlo Fisichella's Benetton.
Coulthard gladly took the plaudits, with Irvine a resigned second, the points for which put him equal second in the championship with a team-mate who will be playing no further part for much of the season – and only eight points behind championship leader Hakkinen.
The significance of that will be lost on no one. Could Irvine be the man to finally bring Ferrari's title drought to an end? What an irony that would be.