During Formula 1's coronavirus-forced hiatus, The Race will be revisiting great races from the past. For each grand prix we select, we will run a story on Friday setting the stage, a qualifying report on Saturday and a Sunday race analysis. These will not be repeats of old articles, but fresh retrospectives of these events.
Damon Hill is the man at Silverstone heading into the 1999 race. That was always going to be the case, with his central role in the promotion of the event and every member of the crowd seemingly issued with the popular Hill caps carrying the famous colours of the London Rowing Club. But heading into the weekend, the talk is all about his future, and if he has one in Formula 1.
After retiring from the French Grand Prix two weeks ago, Hill suggested that he had just run his last race. He's had a poor start to the season, scoring a meagre three points to Heinz-Harald Frentzen's 23 and it's clear his confidence and drive has taken a hit. Yet, of course, missing the British Grand Prix proved to be unthinkable and Hill himself has said he never seriously considered missing Silverstone.
But exactly what the future holds for Hill and Jordan between now and his planned retirement at the end of the season is unclear. Hill will race this weekend, although was cautious about whether his strong form in the pre-Silverstone test would carry over. That test showed how difficult a position Jordan is in with few potential replacements, as Jos Verstappen's outing for the team proved to be a disappointment, with him laping only three tenths faster than test driver Shinji Nakano – who is not considered a serious contender.
Hill was the fastest of the Jordan drivers, 1.32s quicker than Verstappen during that test, raising hopes that he can at least put in a strong performance in what might prove to be his F1 swansong. In fact, it was expected to be announced on Friday morning that this would be Hill's final race, but the press conference was cancelled, leaving the Jordan situation in a state of flux. Sponsor Benson & Hedges will want to keep Hill on, especially given Verstappen didn't fit the bill, so it remains to be seen what will happen.
Speaking of testing, Ferrari driver Eddie Irvine was among those not impressed by teams squeezing in four days of running at Silverstone between the French and British Grands Prix.
"We're doing work here that we should be doing at the race weekend," said Irvine. "You saw it at the French Grand Prix, we just never even ran on the first day. All these punters come to watch us driving around on Friday and we don't go out. We had all our work done beforehand."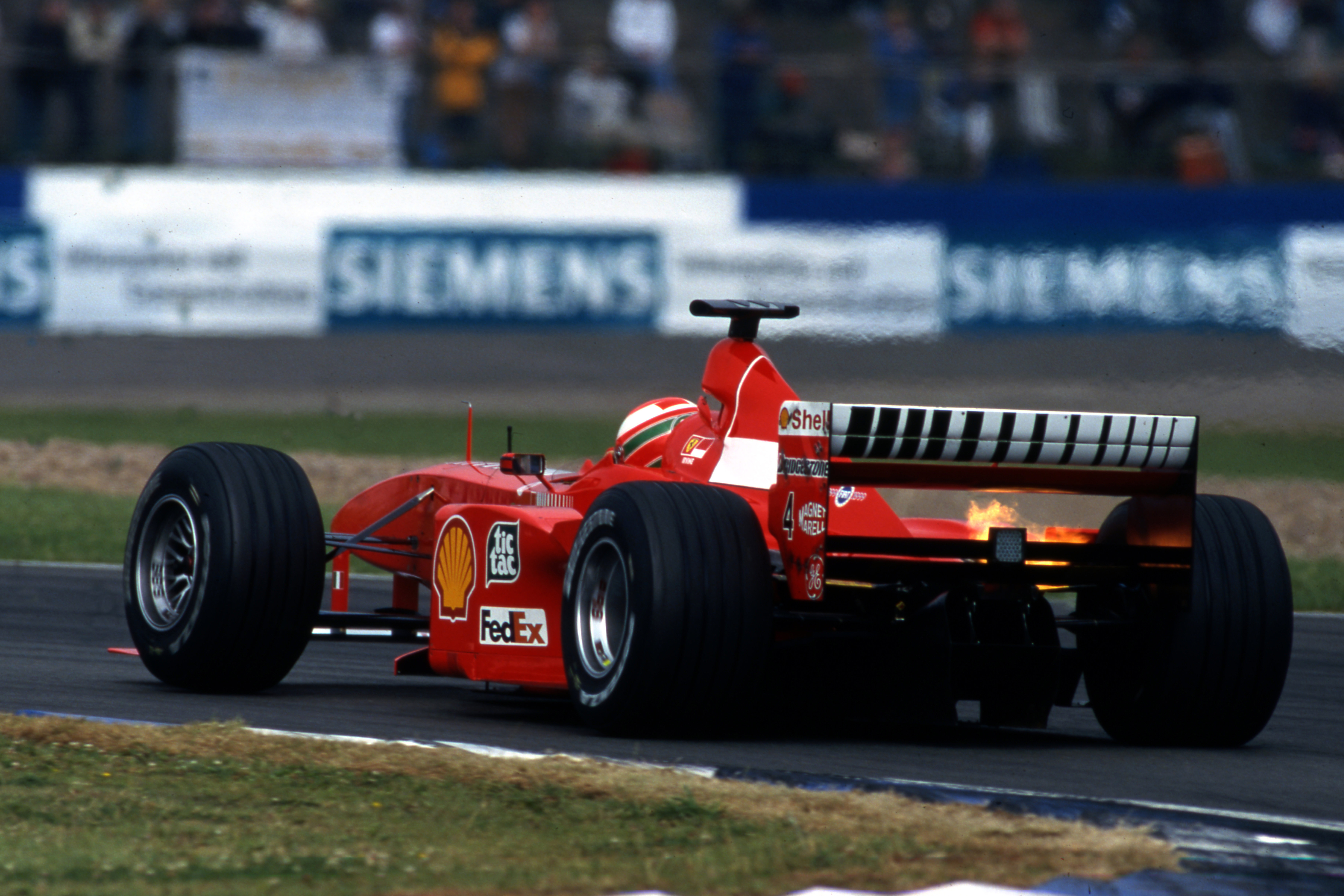 Perhaps Irvine would be wise to embrace the opportunity to test given Ferrari's recent form. After a shaky start to the season, Mika Hakkinen has resoundingly hit his stride by winning two of the last three races. Only Jordan and Heinz-Harald Frentzen's surprise long run to the chequered flag at Magny-Cours denied the McLaren driver a hat-trick after a charging performance. McLaren was back on form and even David Coulthard has to be considered still in the title hunt.
Michael Schumacher and Ferrari, meanwhile, haven't had a great run with a shunt in Canada and then electronics gremlins in France. Schumacher is only eight points down but the tide has turned against him. This is the fourth season of the Ferrari project with Schumacher and success is now demanded, so Ferrari has to make Silverstone a turning point if it's to deliver on those expectations.
Testing wasn't exactly encouraging for Ferrari. Hakkinen and Coulthard set the pace with Ferrari lagging behind. The Ferrari has an aerodynamic disadvantage, which should play into the hands of McLaren.
The test did give the opportunity to phase in upgrades, with the Stewart team among those bring new parts, its downforce increased by modified sidepods. But even so, it's expected to be McLaren versus Ferrari, with Jordan and Stewart vying for best of the rest.
Hakkinen's pace in free practice, with the lead Ferrari of Schumacher eight tenths down, suggests this could prove a hard weekend for the Italian team.
For more on the 1999 F1 season, check out the relevant episode of our F1 history podcast Bring Back V10s.