While Formula 1 is on hold, The Race is revisiting a series of races from the world championship's history, with the 2012 European Grand Prix our subject for this weekend.

Having set the scene on Friday, on Saturday we revisited a qualifying that went swimmingly for Vettel and was disastrous for Ferrari – only for the race to turn things upside down once more in what was shaping up to be a modern classic F1 season.

From 11th on the grid, Fernando Alonso delivered a stunning European Grand Prix victory for Ferrari in front of his adoring countrymen. It was a quite exceptional drive but it benefitted too from an extraordinary coalition of circumstances almost as if the outcome were pre-ordained. The final and most crucial of these circumstances was the retirement from the lead of Sebastian Vettel's Red Bull with a dead alternator after 33 of the race's 57 laps.
As Vettel took off in the lead around the baking hot dockland track, Alonso was taking no prisoners from his mid-grid starting slot. His commitment was very plain as he immediately sat it out through the flat-in-top kink of Turn 1 with Jenson Button. There's ultimately not quite room for two cars to go flat through there, but Alonso refused to let that be his problem. Refusing to back out of it, he rubbed tyres with the McLaren to grind ahead, as Button lost momentum and was passed by several others.
Lewis Hamilton had given chase to Vettel but could feel already that he wasn't in great shape and the Red Bull edged away as soon as they got to the braking zone for Turns 2/3. Just behind them, Romain Grosjean made an audacious move on the outside approach to T2, passing both team-mate Kimi Raikkonen and Pastor Maldonado to put himself in third.
Maldonado hung on around the outside of T3 in futile resistance to Grosjean's move, which just put him out wide on the kerbing, allowing an opportunistic Kamui Kobayashi – who'd just gone by Raikkonen – to pass for fourth.
A few cars back from there and Alonso was still on the offensive, slaloming past Paul di Resta and Nico Rosberg. Next in his targets: Nico Hulkenberg and Raikkonen. The foundation of a very special drive was being laid.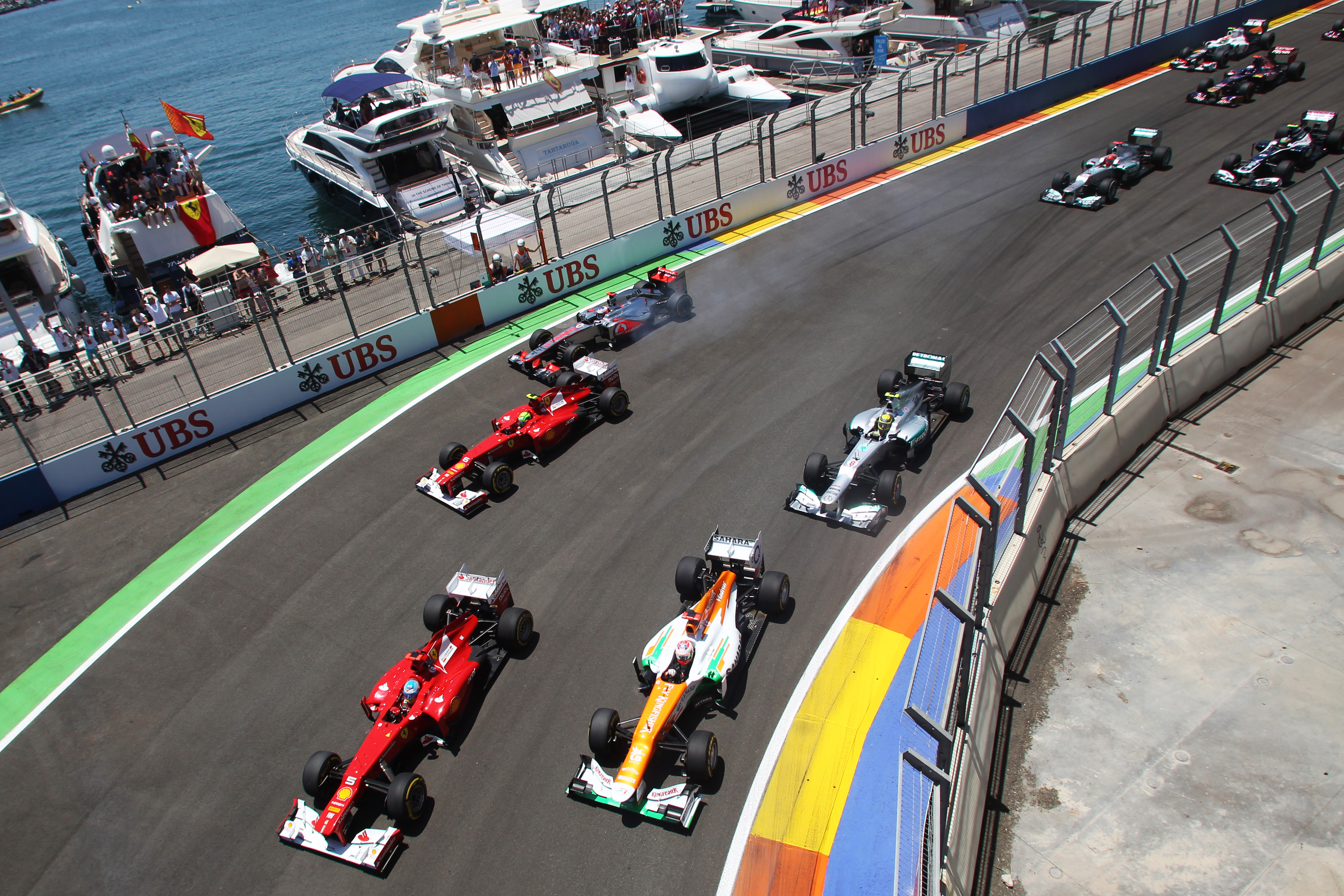 Grosjean was quickly all over the struggling Hamilton, the Lotus clearly working much better than the McLaren. The Frenchman was anxious to be past before Vettel got too big a lead, but Hamilton was defending perfectly.
Vettel's lead was out to 11 seconds before Grosjean eventually found a way by the McLaren on lap 10. It was a beautifully-judged moved when it finally came, Grosjean using the DRS down the back straight to get alongside Hamilton on the outside into the turn 12-13 chicane. Pinning Hamilton in, so as to prevent him cutting across for the second part of the chicane, Grosjean was then able to claim the line into T3.
Had Grosjean been able to pass earlier, it would've been fascinating to see if he could have raced Vettel. For now, they were lapping at much the same pace but with Vettel under absolutely no threat. Grosjean quickly put distance on Hamilton, as McLaren's rear tyres were running too hot – just as they had here last year.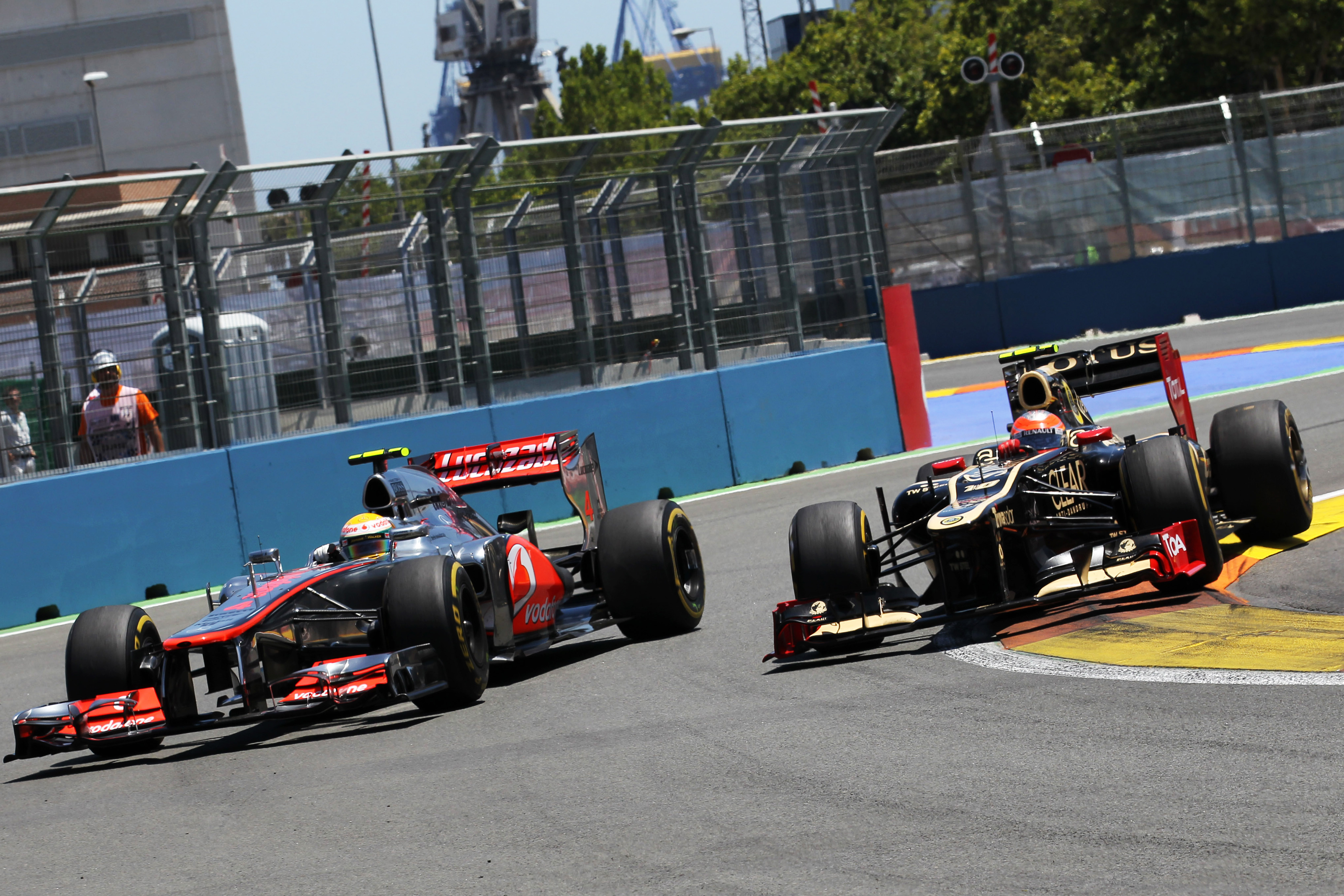 Hamilton's struggle meant the field was tightly bunched behind him. This was great news for Alonso, who finally managed to pass Hulkenberg into the chicane on the 12th lap, putting him seventh but still only 10 seconds off second place.
On lap 13, Hamilton was the first of the frontrunners to pit, as his tyres were finished, briefly promoting Kobayashi to third before he too pitted, along with Raikkonen and Maldonado. Here's where the preordained overtones of Alonso's drive first began to form – as he was gifted three places by various pitstop dramas for those around him.
A wheel issue on Kobyashi's Sauber cost him 10 seconds, dropping him well back after his great opening stint. Raikkonen made a mess of his getaway, triggering the anti-stall – and there was a delay in the Williams pit with Maldonado too. Alonso pitted a lap later and exited ahead of them all. With the first stops of what was set to be a two-stop race completed, Vettel led Grosjean, Hamilton and Alonso. Behind them ran Raikkonen, Kobayashi, Maldonado, Rosberg and Hulkenberg – once the one-stopping di Resta had pitted, at any rate.
In fact, the mix of strategies made for some very hairy moments at this phase of the race as new-tyred cars lapped at up to three seconds faster than those staying out for one-stops. As Alonso made his way through them, his passing of the old-tyred Michael Schumacher was particularly tense, as they each tried to intimidate the other before the Ferrari eventually got through to continue its chase of Hamilton. The fresh-tyred Kobayashi collided with the old-tyred Bruno Senna at this point, Bruno having just let Raikkonen by and not seeing the Sauber. Kobayashi was forced to retire.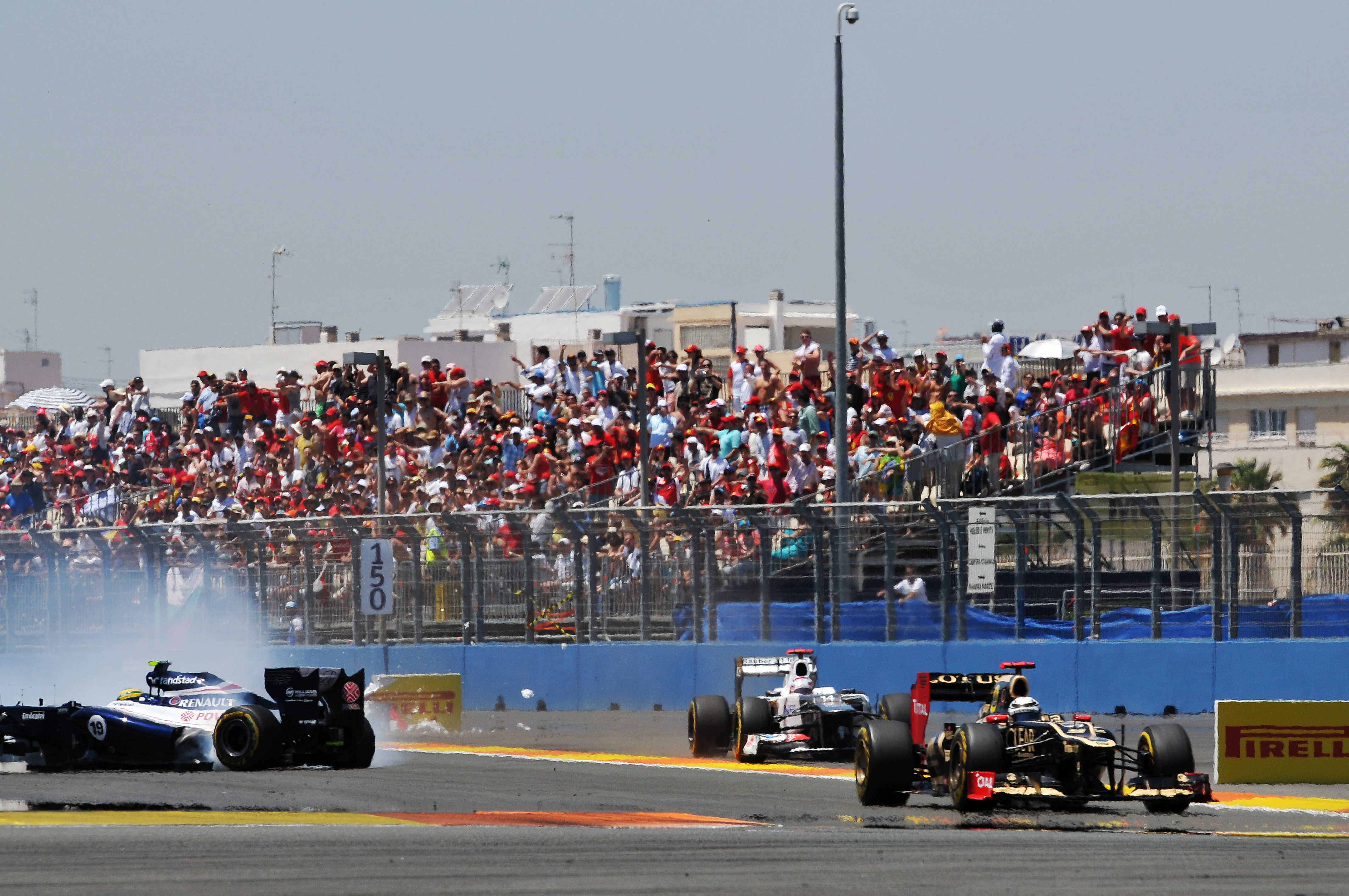 Further back, Jean-Eric Vergne was passing Heikki Kovalainen but the latter was putting up some resistance. Vergne tried to intimidate the Caterham driver aside, Kovalainen wasn't up for being intimidated and they collided. This was the fulcrum on which the race turned. With Caterham debris littering the track, the safety car was deployed. Almost everyone pitted for fresh tyres – but Hamilton's stop went disastrously as a seal on the front jack burst. The delay dropped him back to sixth, behind Raikkonen.
The real significance of the safety car was how it had brought Alonso's race alive. Not only was he up to third thanks to Hamilton's pitstop mishap, but the 11 seconds by which he'd trailed Grosjean had been wiped. He was about to make fantastic use of lady luck's continuing benevolence.
At the restart Vettel sprinted away but Alonso got a great run going on Grosjean. Running side-by-side through the T1 kink, he had the momentum as they rushed up to the T2 braking zone. Grosjean was forced to cover the inside line – and Alonso hung on around the outside, the Ferrari and Lotus rubbing tyres as Fernando forced his way into second, to the roaring delight of the crowd. It was about to get even better for them…
Even as the the pack had been circulating behind the safety car, the Red Bull garage could see an alarming message: the alternator was no longer charging. A few laps later Vettel's electrical fuel pump ran out of juice – forcing him to pull over to the side and climb out. Alonso was in the lead!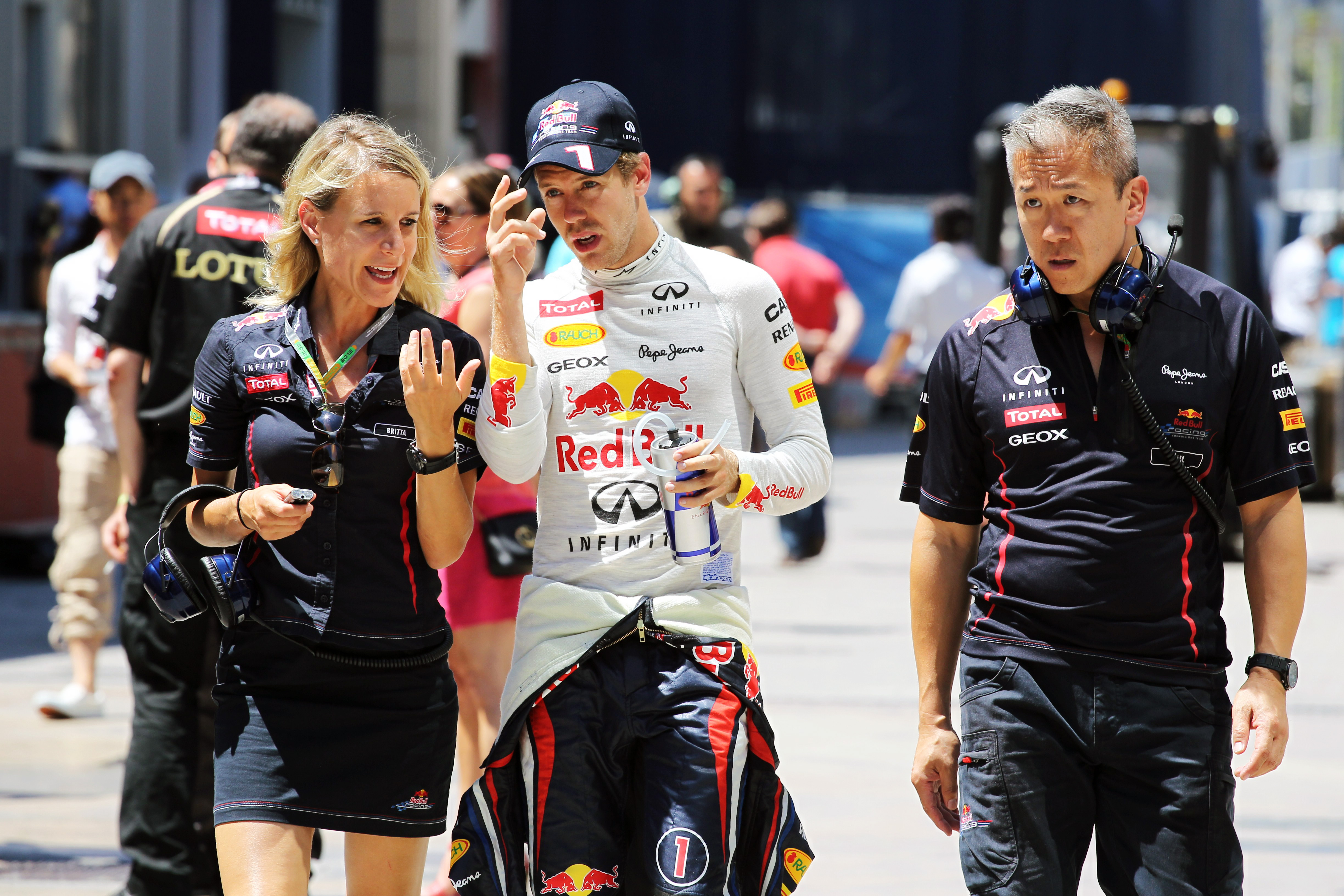 Daniel Ricciardo had stayed out during the safety car period, buying him several places but consigning him to very old rubber. As Raikkonen went to pass him upon the restart he was wrong-footed, this allowing Hamilton to pass them both.
Schumacher and Mark Webber had also attempted to make up places by staying out during the safety car but quickly realised their tyres weren't going to make it to the end. They pitted for replacements and their pace as they scorched through the field on fresh rubber with the field bunched up from the safety car brought their races alive. Rosberg followed suit.
Grosjean, meanwhile, was coming back hard at Alonso, several times getting alongside at the end of the DRS zone. The Lotus appeared to be faster and Grosjean was driving beautifully. There could yet be another sting in this tale. But then he suffered the exact same alternator failure as Vettel – pulling off to the side with after a magnificent performance. Much of the crowd doubtless breathed a sigh of relief.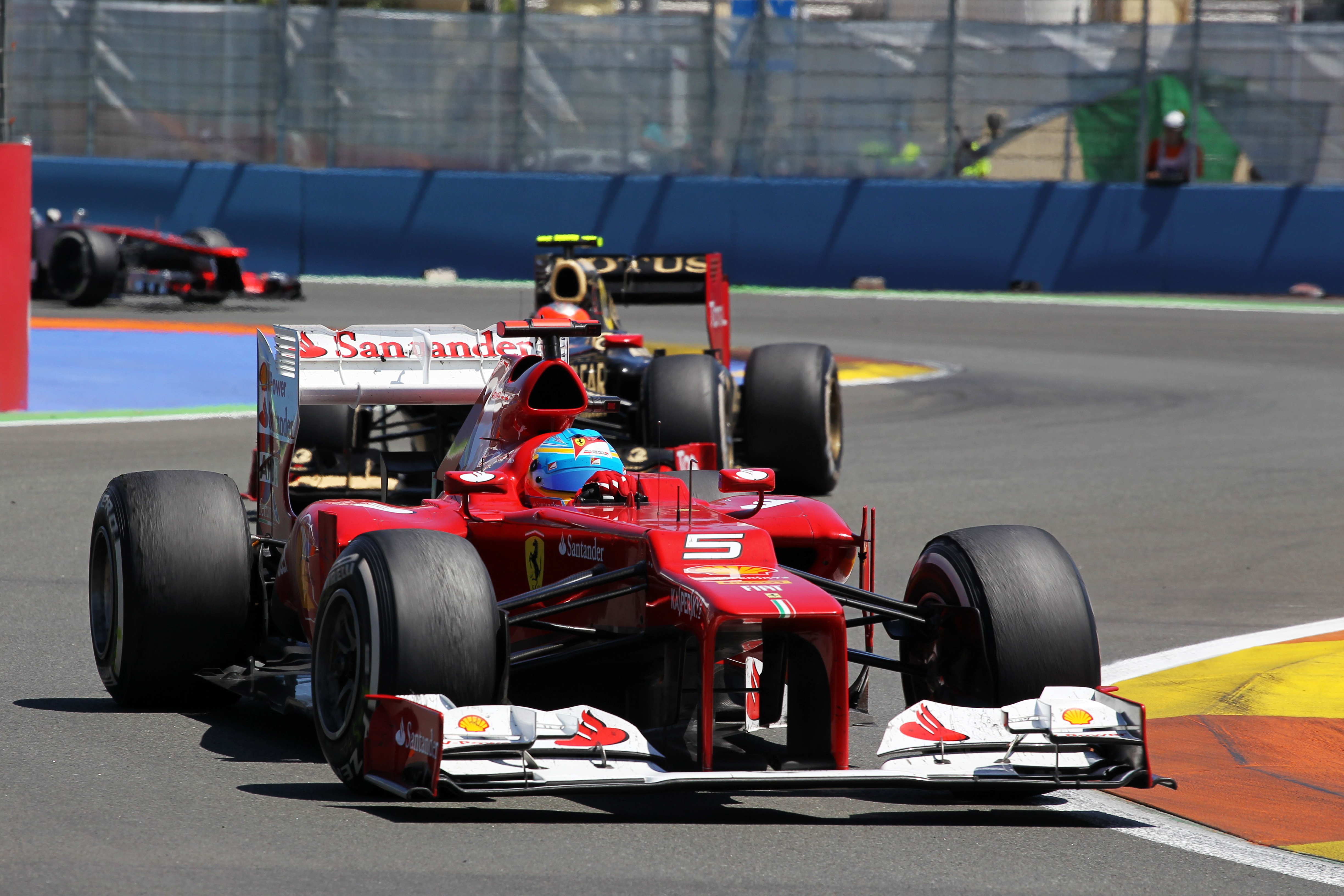 This put Hamilton in a distant second, pressed now by Raikkonen and Maldonado – but with Schumacher and Webber catching them all hand over fist. With just three laps to go Raikkonen managed to take advantage of Hamilton's fading tyre grip and nipped by for second out of the hairpin.
Now Maldonado came at the McLaren. Approaching the Turn 12/13 chicane at the end of the DRS zone, the Williams was on the alongside and on the outside for the first part of the turn, but Hamilton cut across its bows as he made for the second part, forcing Maldonado onto the run-off. He chose to rejoin in a way that snagged the McLaren's wheel – putting Hamilton out on the spot. Maldonado limped onwards without a front wing and would drop down to 10th by the end, then be penalised out of that place for the accident.
All of which put Schumacher on the podium, for the first time in his second career. He was too far back to challenge Raikkonen, but nonetheless this was a gratifying result and owed much to his pit wall strategists.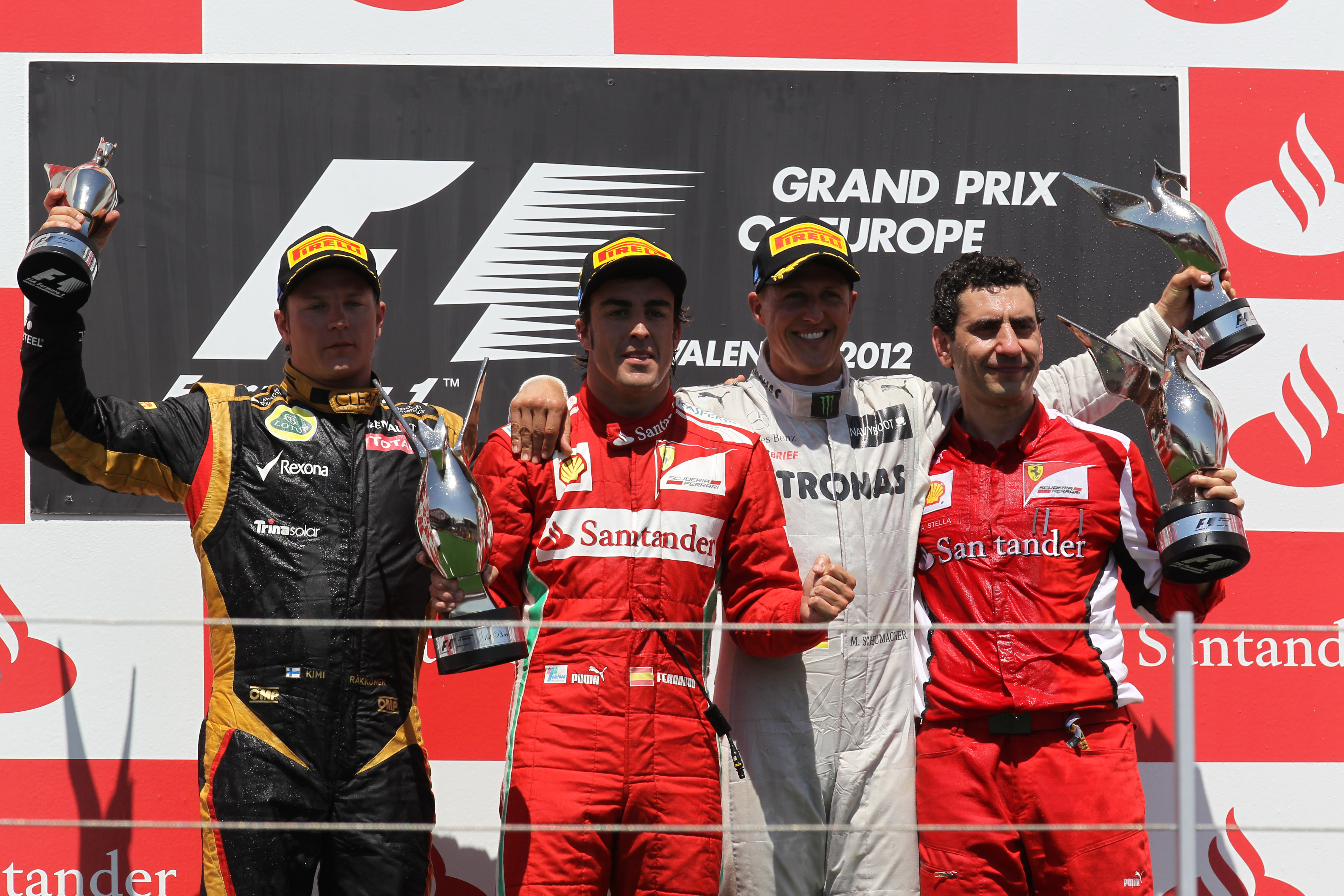 Webber just failed to catch the Mercedes before the flag, but they'd both passed Hulkenberg who was just able to hold off the fresh-tyred Rosberg. The one-stopping di Resta took a fine seventh ahead of Button, Sergio Perez and – after the Maldonado penalty – Senna.
But they were all just sub-stories to the sensation of Alonso's beautiful, but blessed, drive. "It's difficult to express in words what is the feeling now," he said. "Winning a home grand prix is something unique – a very special feeling. I had the opportunity to do this in Barcelona in 2006 with Renault and I still remember that day perfectly. And now I did the same here in Valencia, with this special team, Ferrari, with all the grandstand full of red colour and Spanish flags.
"Here now, with the Euro football championship also, there is a lot of Spanish atmosphere inside all of us. Feeling very proud to be a Spanish sportsman at the moment and winning in Spain this race is probably the best victory I ever felt in terms of emotions. Nothing maybe compares to this one."