While Formula 1 is on hold, The Race is revisiting a series of races from the world championship's history.
This weekend, our readers voted for the 2012 European Grand Prix, and having set the scene on Friday we now move on to qualifying.
In a heavily-updated Red Bull-Renault RB8, Sebastian Vettel secures his third pole position of the 2012 Formula 1 season.
But while he does so by the comfortable margin of 0.3s over Lewis Hamilton's McLaren-Mercedes, Vettel hadn't looked like a dominant force at any point prior to his single Q3 lap. In Q2, he was quickest by a very narrow margin, while the top 10 was covered by just 0.214s.
Where had the Q3 time suddenly come from? "I don't know really," he smiles. "I think we were a little bit off at first so I had to play catch-up through Q1 and Q2. I had to go out twice in Q2 [thereby consigning himself to just one Q3 run]. My first Q2 run was a bit slower than Fernando [Alonso] and he didn't make the cut so the guys definitely made the right choice in sending me back out.
"I only had one lap and although you cannot really do much with the set-up, you can play a bit with the diff and front wing and I had a good feeling on my final lap…"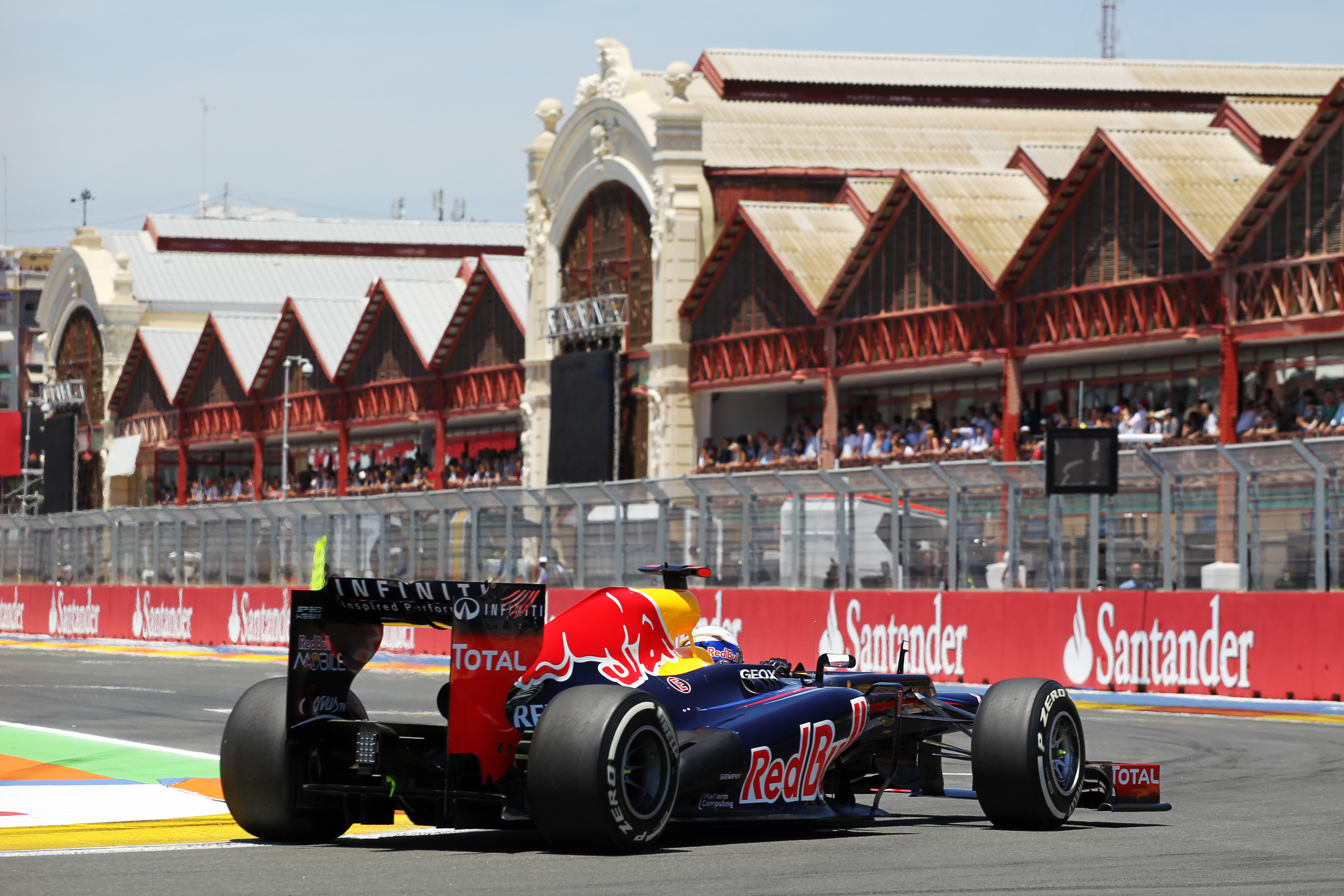 The reality is that the Red Bull update is so extensive that it's effectively a new car Vettel and the team have been sorting and fine-honing. Hence it is not so surprising that its potential only becomes clear late in the day.
The rear aerodynamics of the car are sufficiently different that Vettel is finding this does require an adjustment in his driving. That too plays its part in him only putting the pieces of his lap together on his final run.
"The wind is gusty and obviously the grip is lower than last year because the cars have less downforce," Vettel says afterwards, "and it makes it quite tricky. A lot of drivers lock up easily under braking, especially in qualifying when you want to brake as late as you can, but knowing that if you lock up you miss the apex and then you lose time. It's quite difficult but ideally you just try to go through the lap before it happens and try to focus on the key points, go through what I have to do and what I have to look out for – and then it seems that I did so in the last run."
But Vettel doesn't sound super-confident that his handy qualifying advantage would carry through to Sunday. "It's going to be tough. It's going to be hot. I think it's going to be a difficult race, maybe quite a complicated one. I wouldn't be comfortable predicting it."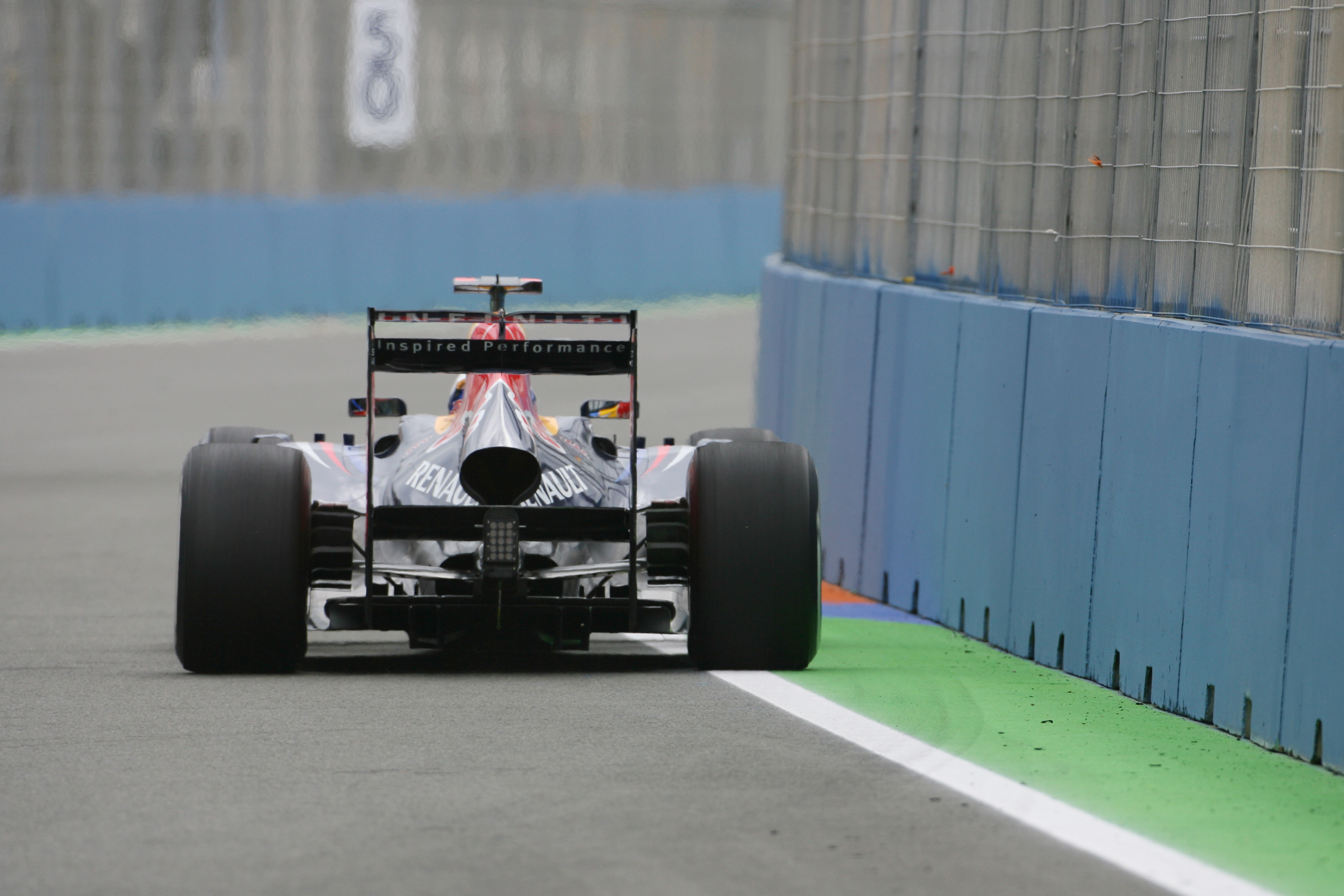 The changes to the Red Bull car are massive and incorporate tweaks from the front wing to the diffuser and pretty much every surface in between. But the update is essentially built around the reintroduction of the inlet tunnels ahead of the diffuser that allow a Coanda exhaust to contribute to rear downforce.
These inlets have been blanked off since Bahrain. They are now substantially enhanced thanks to accompanying changes to the rear bodywork, which has been flattened out, giving the exhaust flow a much more clearly defined route, better restricting the diffuser stall at low speeds.
It's now clear that the new rear uprights that first appeared in Montreal two weeks ago were to facilitate this new bodywork arrangement. And what we may be looking at with Vettel's pole here is the beginning of Red Bull rediscovering the dominant form of 2011 that this year's banning of exhaust-blown diffusers and more stringent front wing flexibility tests had initially denied it.
Underlining just how new it all is, the sister car of Mark Webber could barely be made to run properly at all – and he goes out in Q1, only 19th.
Hamilton reckons he might have matched Vettel's time had he not made a couple of small errors on his single Q3 lap in the McLaren MP4-27, which remains prone to locking up its fronts on corner entry. Jenson Button in the other McLaren is 0.4s off even Hamilton's compromised lap, and is thus back in ninth.
The absence of the Ferraris from Q3 – Fernando Alonso and Felipe Massa in 11th and 13th victims of the team having erroneously believed their first Q2 runs would be quick enough and looking to save an extra set of option tyres for Q3 – provide a real opportunity towards the front of the grid. And pouncing on that opportunity are Williams and Pastor Maldonado.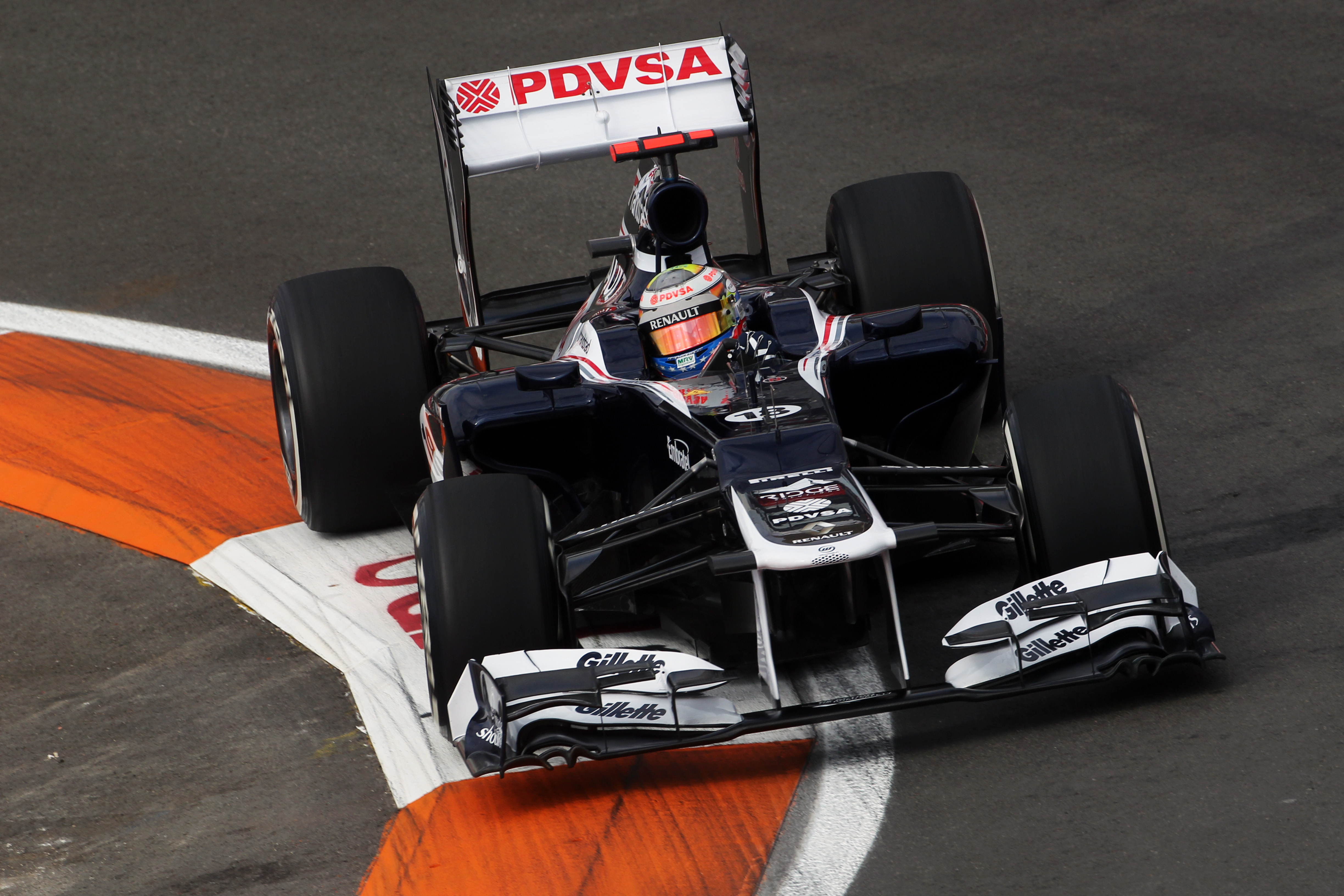 They aren't quite Barcelona-quick here, but the FW34 is nicely balanced and allows Maldonado to express his usual street circuit flair. He ends up less than half-a-tenth off Hamilton, third-quickest. Team-mate Bruno Senna was a chunky 0.7s slower than Maldonado in Q2, putting him 14th.
The Lotuses of Romain Grosjean and Kimi Raikkonen – fourth and fifth on their single Q3 runs – are around 0.5s off the identically-powered Red Bull over a single lap but, as ever, had been among the very fastest in the race simulation runs on Friday. They look set to be a real factor on race day.
Nico Rosberg is one of the few who'd managed to save himself an extra set of options for Q3, allowing him two runs in the Mercedes, the better of which lines him up sixth. He'd been a couple of tenths faster in Q2 than team-mate Michael Schumacher, who lines up 12th. The Mercs, still without any form of Coanda exhaust system, are struggling again with rear-tyre temperatures.
Kamui Kobayashi is in terrific form for Sauber, producing great single-lap runs in each of the three sessions to take seventh and considerably outperform team-mate Sergio Perez back in 15th. The Force Indias of Nico Hulkenberg and Paul di Resta sandwich Button in eighth and 10th respectively.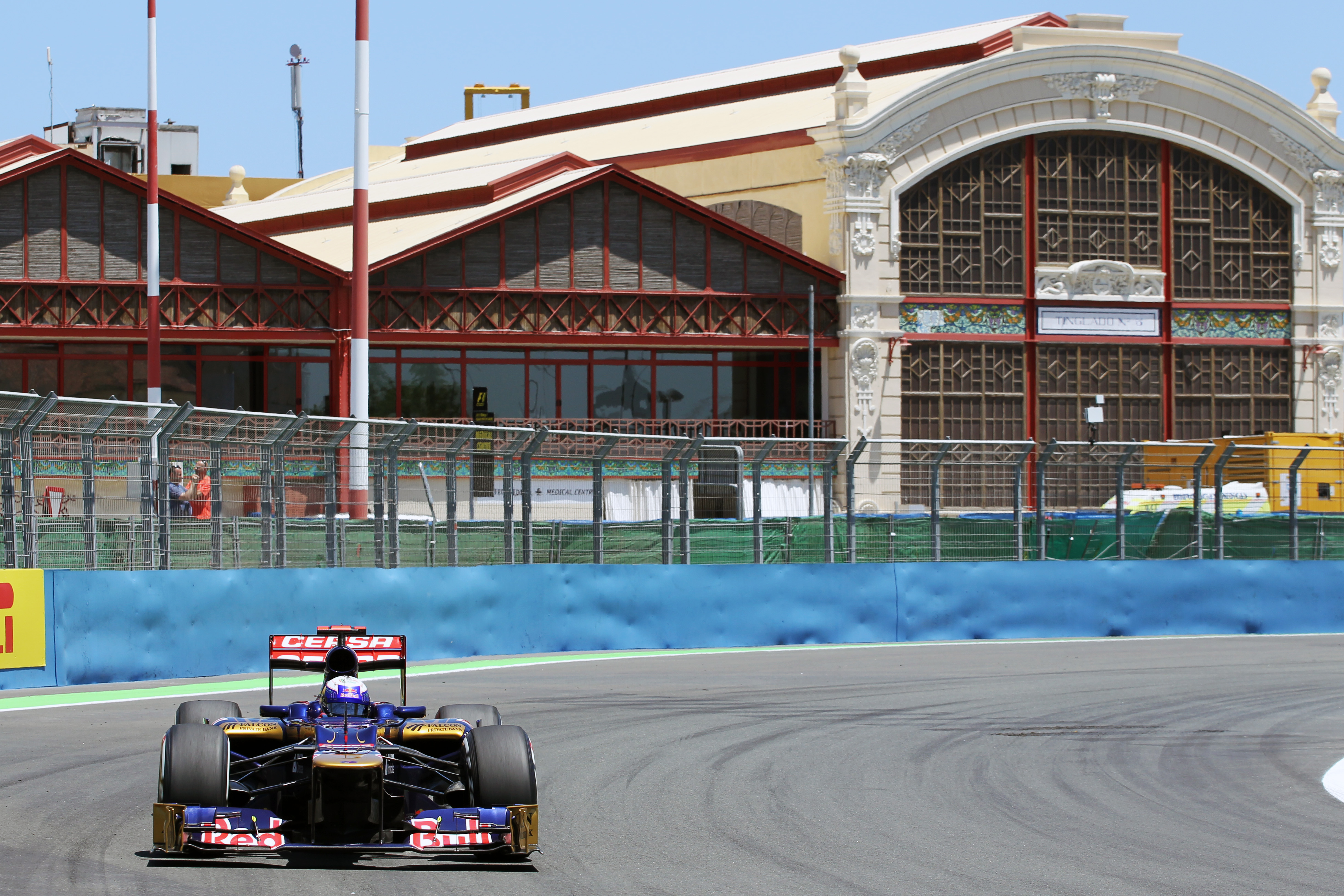 Towards the Q1/Q2 cut-off part of the grid, Daniel Ricciardo gets his Toro Rosso through but Jean-Eric Vergne can't quite make it in the other one.
A remarkable Q1 lap by Heikki Kovalainen gives the Caterham a rare Q2 appearance. Team-mate Vitaly Petrov lines up behind Vergne and Webber. Pedro de la Rosa is a few tenths quicker than Narain Karthikeyan for HRT, ahead of Charles Pic in the only Marussia to run, as Timo Glock is unwell and confined to his room.