It's the success stories that get all the glory in motorsport, but there can only ever be one winner. So for every tale of glory, there are far more stories of things going awry.
Many of those were predictable, but there have been plenty of occasions in motorsport history when a driver, a team, a combination, a championship, an idea or a circuit has appeared to be full of promise only for that to go dramatically unfulfilled.
In our new 'Should've been mega' series, we'll be telling those tales.
Some will be stories of misadventure or squandered potential, some will feature dramatic rifts and some will feature tragedies.
We start with an alliance of two motorsport giants that seemed to be on the cusp of early 2000s Formula 1 glory but was denied.
Mark Hughes retells the story of Williams and BMW – a partnership that really, really should've been mega, and so very nearly was.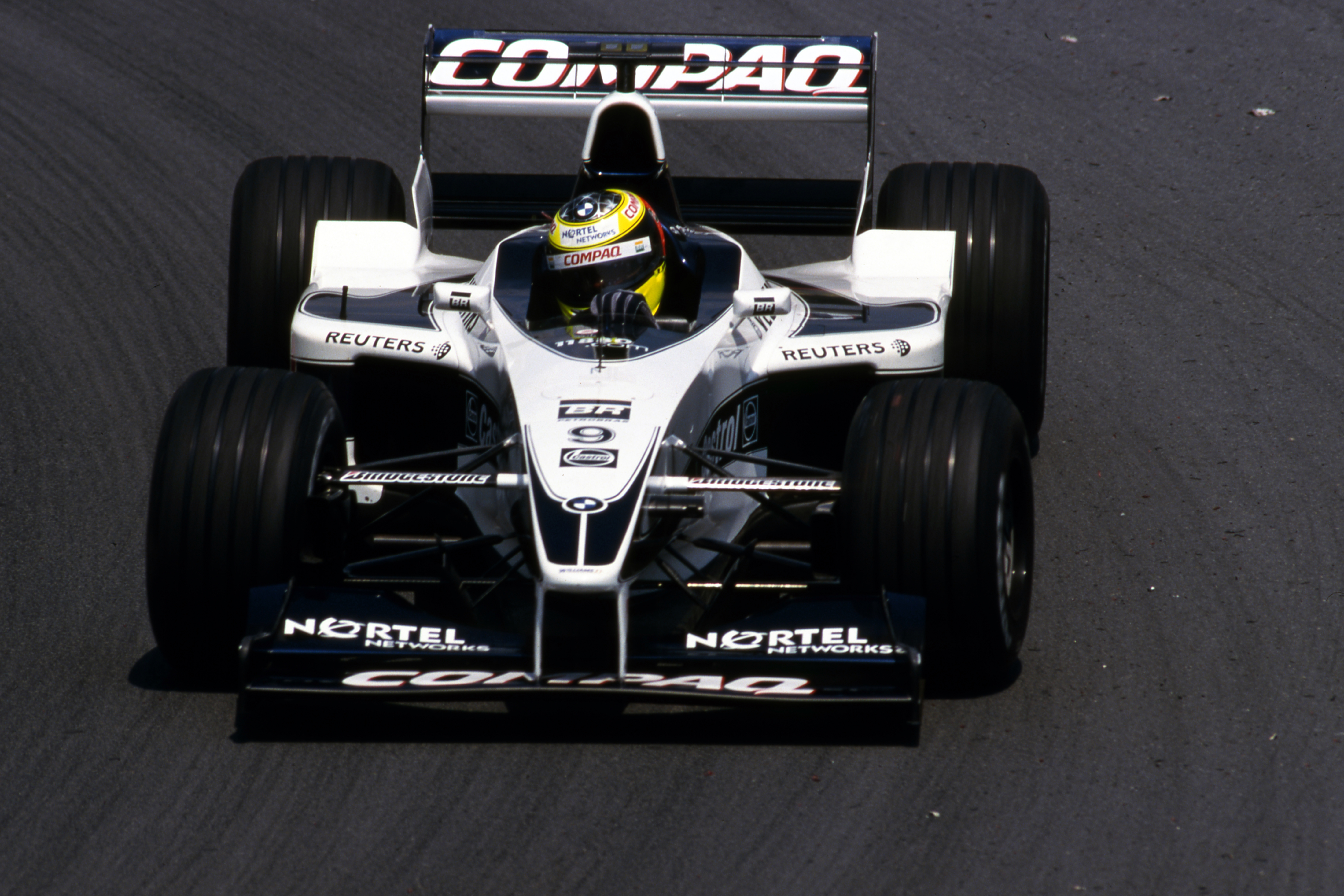 The teaming up of Williams and BMW at the turn of the millennium should most definitely have been mega. Here was one of the most successful teams in the sport's history partnering an engineering-led performance icon car company, with an F1 world championship heritage of its own. What could possibly go wrong?
The combination never quite lived up to that billing although in fairness it was not unsuccessful; in their six years together they won nine grands prix and were contenders for the 2003 title until quite late into the season. But the expectations on both sides – and from the watching world – were so much higher than that. This was supposed to have been the continuation of that dazzling line of Williams dominance when it was the performance gold standard pretty much from the second half of 1991 until the end of '97, when Renault withdrew as engine partner, leaving the team without a works motor for a couple of seasons. It would surely pick up where it left off, once BMW had acquired mastery of the 3-litre V10 engine formula. Wouldn't it?
2000
For BMW's debut season, 2000 was pretty solid. BMW Williams F1 finished third in the constructors championship, never a threat to Ferrari or McLaren but just establishing the foundations. BMW started off with a very conservative first attempt, the E41 engine very similar to the Renault V10 used by Williams for the previous few years, with the same vee angle and general dimensions – and a bit more weight. The spacings between the cylinder bores were big, the bores themselves relatively small – all to aid cooling and reliability, but necessarily adding weight and volume and compromising outright performance. "For our first year we needed to get from zero to 90% in our understanding," said BMW's Motorsport boss Dr Mario Theissen, "and this engine allowed us to do that. If we'd been too aggressive and suffered failures, we'd have not learned very quickly."
It was typical of the methodical, scientific way the whole programme was run from Munich. It was different to the cottage industry culture still in play at Williams, where racing experience, adaptability and intuition held sway. Here were the roots of what would come to be a troubled relationship. The rapport wasn't anything worse than stilted in this fact-finding season, but would become so as the tension ratcheted up.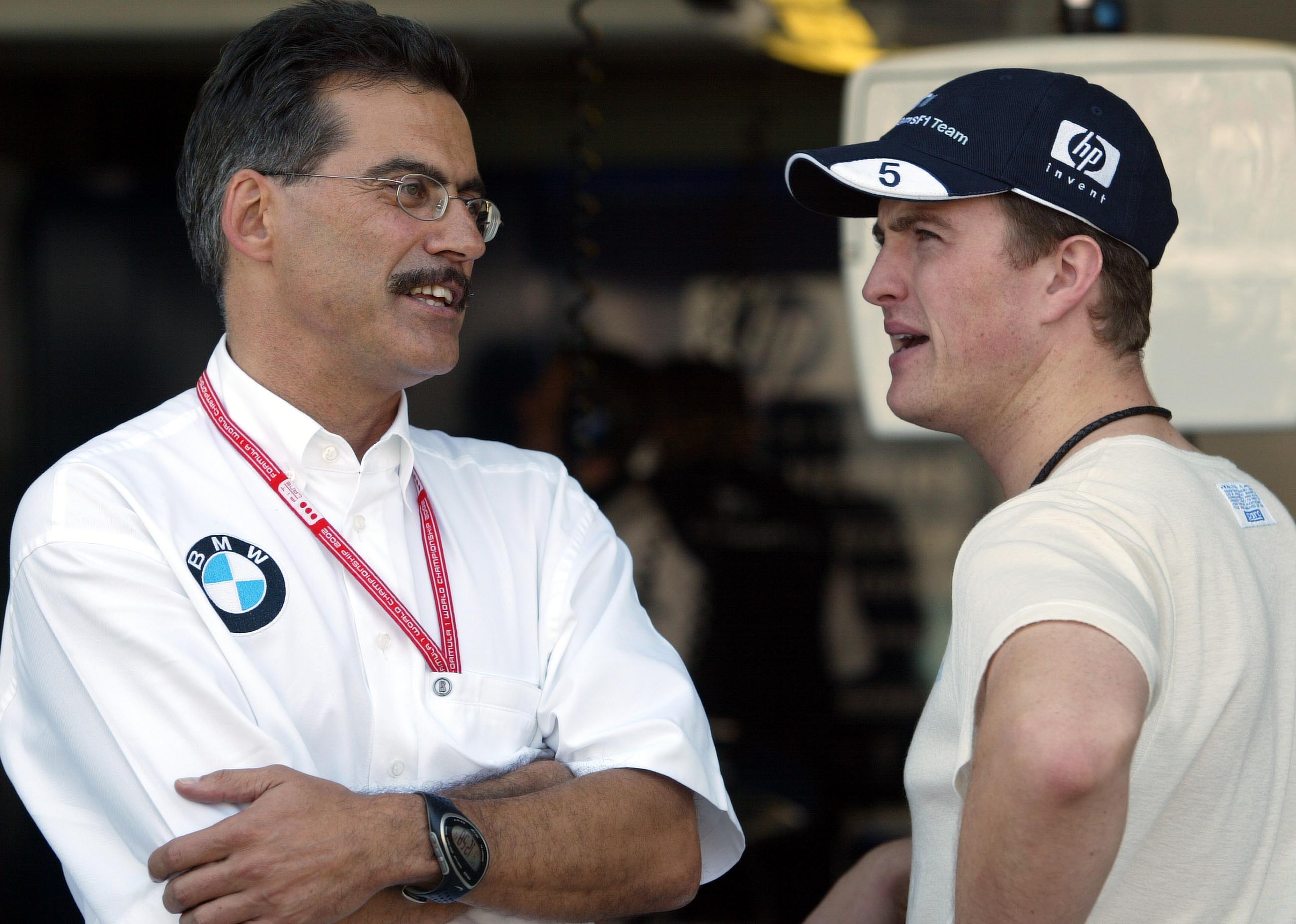 There could surely have been a way through, but there were strong, stubborn personalities at play here – and the dynamics were different from those when the partnership was first agreed. Sir Frank Williams had made the agreement with BMW's then-chairman Bernd Pischetsrieder in 1998. But BMW had subsequently posted heavy financial losses, forcing the chairman to resign the following year, meaning Pischetsrieder's replacement Joachim Milberg inherited a contracted expensive programme he'd had nothing to do with. There was consequently always a big pressure upon the programme for results – which, in BMW language, meant fighting Ferrari and Mercedes for world titles. That pressure was fed down the line to the man running the programme Dr Theissen (pictured above alongside Ralf Schumacher), a big racing fan but also a very ambitious corporate player.
Similarly, BMW's long-time engine boss Paul Rosche – who'd led the company's 1983 world title-winning turbo campaign with Brabham and with whom Williams tech boss Patrick Head had a strong rapport – was ushered into retirement and replaced by someone from a management rather than engineering background.
So the two points of personal contact – management and engineering – between Williams and BMW at the highest level already had built-in tensions that were not there when the project was first planned.
But that might all have been fine. Those tensions could almost certainly have been eased by the balm of success. A lot therefore hung on what each side came up with for 2001.
2001
The Williams FW23, which won four grands prix with Ralf Schumacher and Juan Pablo Montoya but was no match for Ferrari over the season, was in hindsight a so-so car powered by a quite stunning engine. This only increased the troubled dynamics between the two sides of the partnership.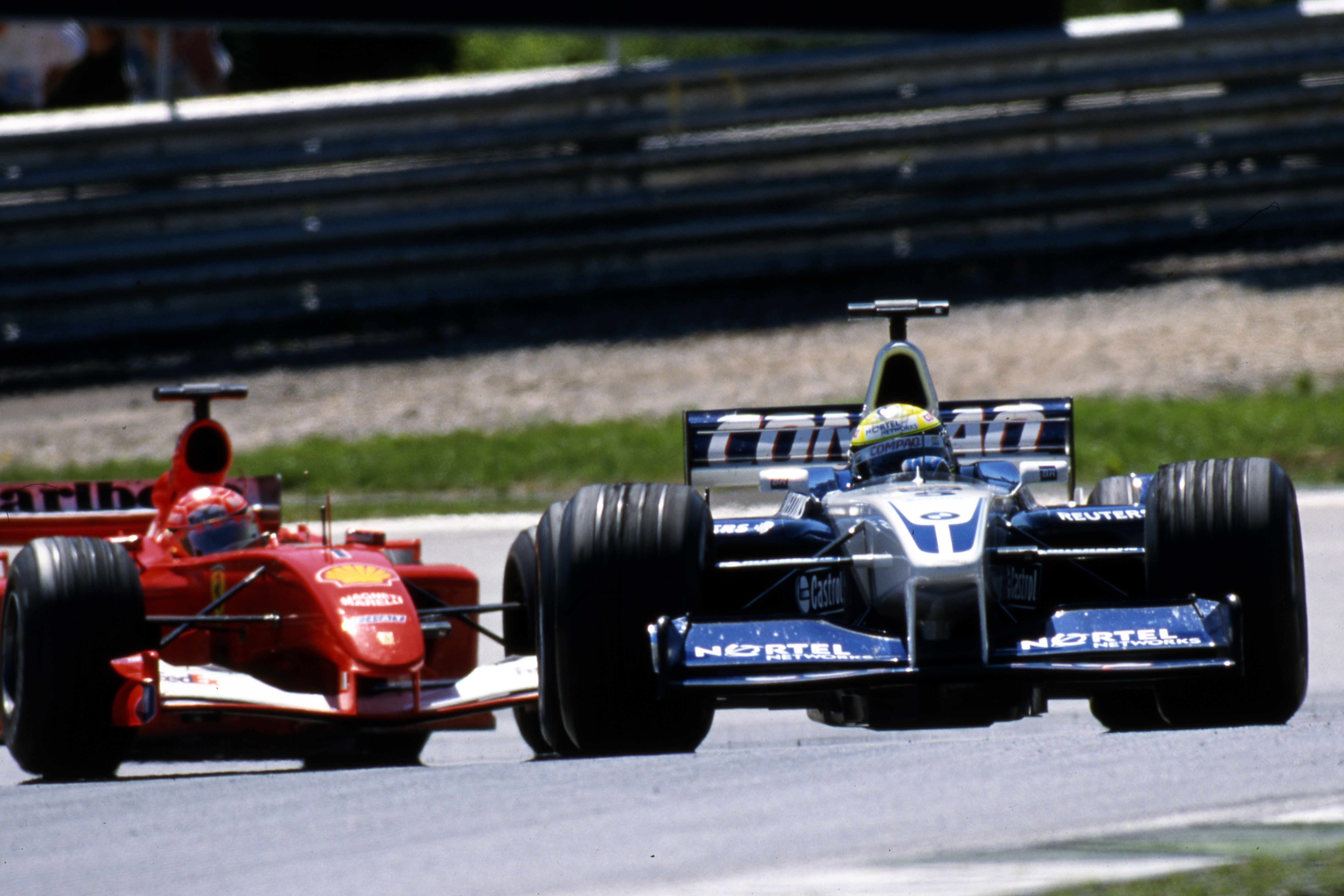 In just its second season BMW had impressively leapt to the head of the pack in engine power, eclipsing both Ferrari and Mercedes – and not by a small margin. The P81 motor was a much more ambitious design than that of the previous season, with altered vee angle, lighter construction, narrower gaps between the bores. Smaller, 12 kg lighter and 100bhp more powerful (880bhp at 18,000rpm), it was largely the work of Andy Cowell, nowadays head of Mercedes HPP, back then a little-known but brilliant engineer at BMW.
But despite a power advantage in the region of 30bhp over the opposition, the team finished only third in the constructors championship, partly through iffy reliability, perhaps partly because the tyres of new suppliers Michelin, in their first year back in F1, were not as consistent as the Bridgestones on the competition. But also because the car simply wasn't as good as the engine.
Very difficult questions were being asked already by BMW of Williams. It had believed it was buying into a partnership with the dynamic organisation that had produced that line of dominant cars just a few years earlier. But that was back when Adrian Newey had led the aerodynamic department. He was three years gone by now, creating the McLaren-Mercedes cars that were often faster than the Williams despite the power shortfall.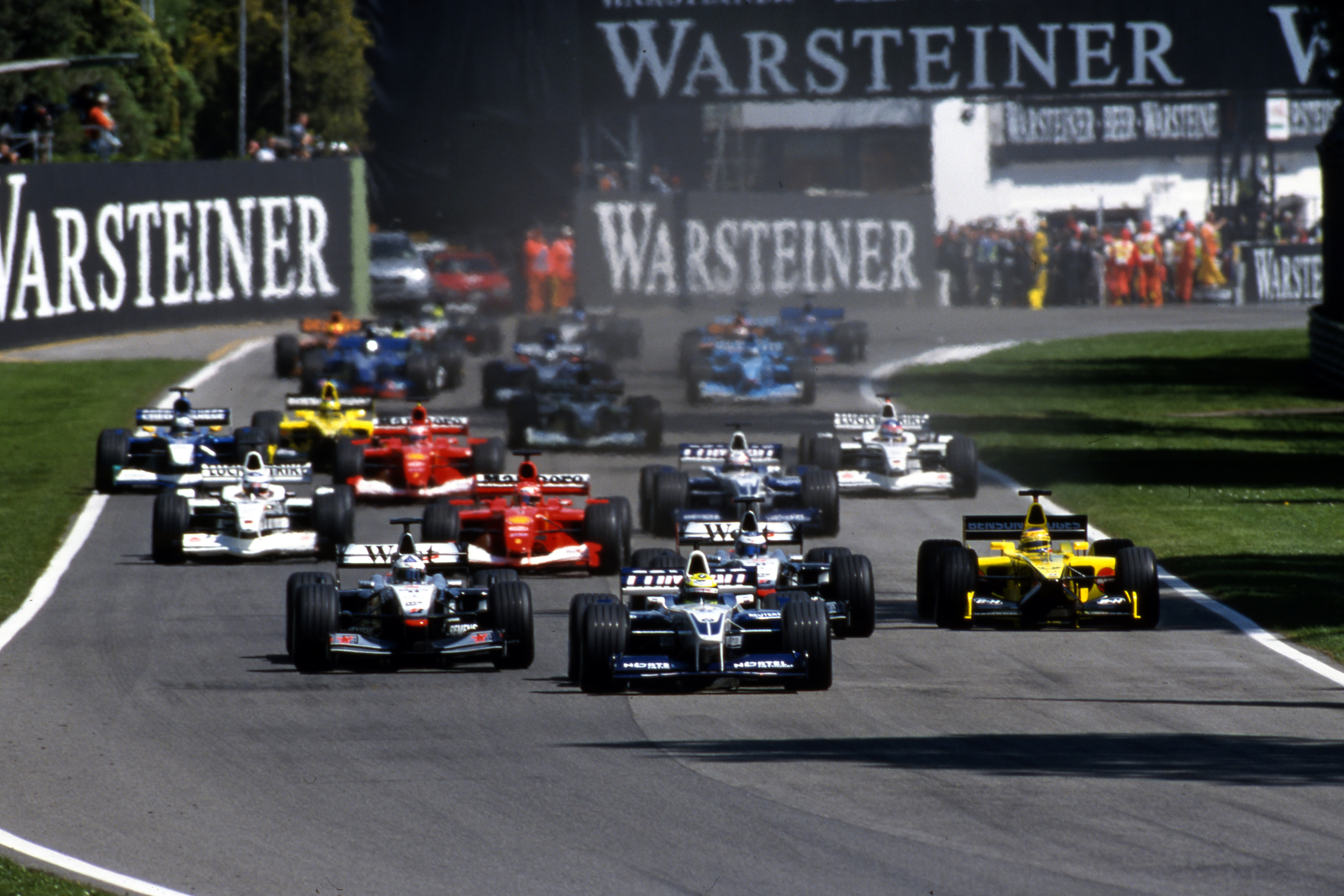 Being beaten by Ferrari was one thing for BMW – being behind Mercedes ramped up the corporate pressure massively. The power dynamics were with the young, inexperienced entity, applying the pressure to the proud, experienced multiple champions. It would be fair to say Williams and Head weren't prepared to accept subservient roles to anyone. It was an awkward situation.
A BMW ad at the end of the season read: '2000 – podiums, 2001 – victories, 2002 – ?' It was rather tempting fate but represented the impatience at Munich.
2002
More of the same. Things began well – Ralf Schumacher led a Williams 1-2 at the second race, at Sepang. But that was against Ferrari's 2001 car. As soon as the Ferrari F2002 was introduced – at Imola for round four – the Williams FW24 was cast in a support role, not in the same league as the red car despite a continued, albeit narrowed, power advantage.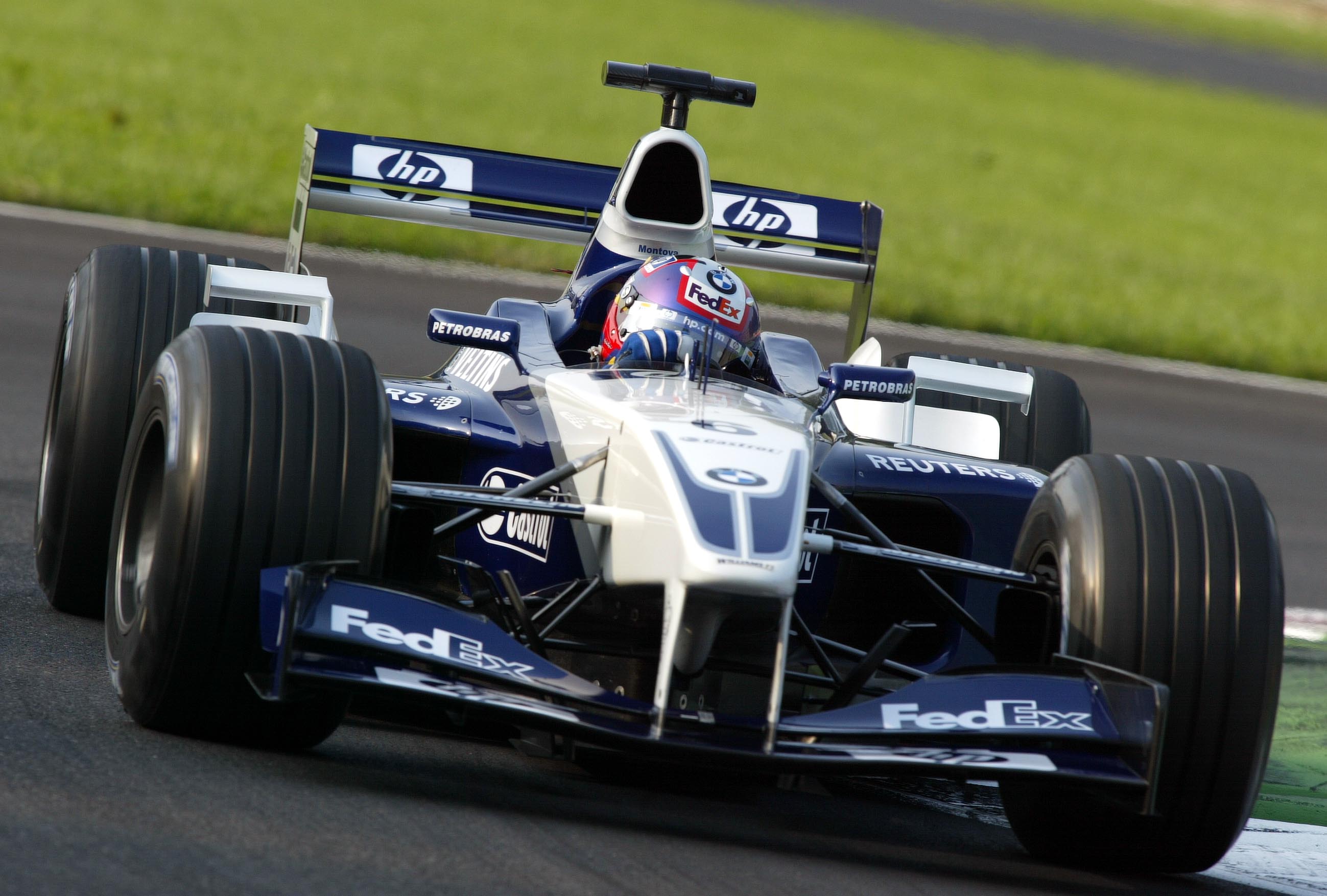 The 900bhp P82 motor, the first in F1 to rev beyond 19,000rpm, powered Montoya around Monza for F1's fastest ever pole at 161.449mph. The car set seven poles but won just once, as its lesser downforce meant it ate its tyres way harder than the Ferrari. There was at this time a picture of a Williams-liveried tortoise in the BMW engineers room…. The Williams and BMW motorhomes remained resolutely separate.
Chief of aero Geoff Willis parted company with the team mid-way through the season and there was a big internal reorganisation at the Grove factory.
2003
The FW25 was a much more aggressive design than its predecessor, notably very short in wheelbase. After a mediocre start, it came alive mid-season and there was a period where it was F1's dominant car.
Montoya was in championship contention until the penultimate round, but much of the impetus of the challenge was lost when Bridgestone and Ferrari successfully campaigned to have Michelin's front tyre design declared illegal, necessitating a hurried change.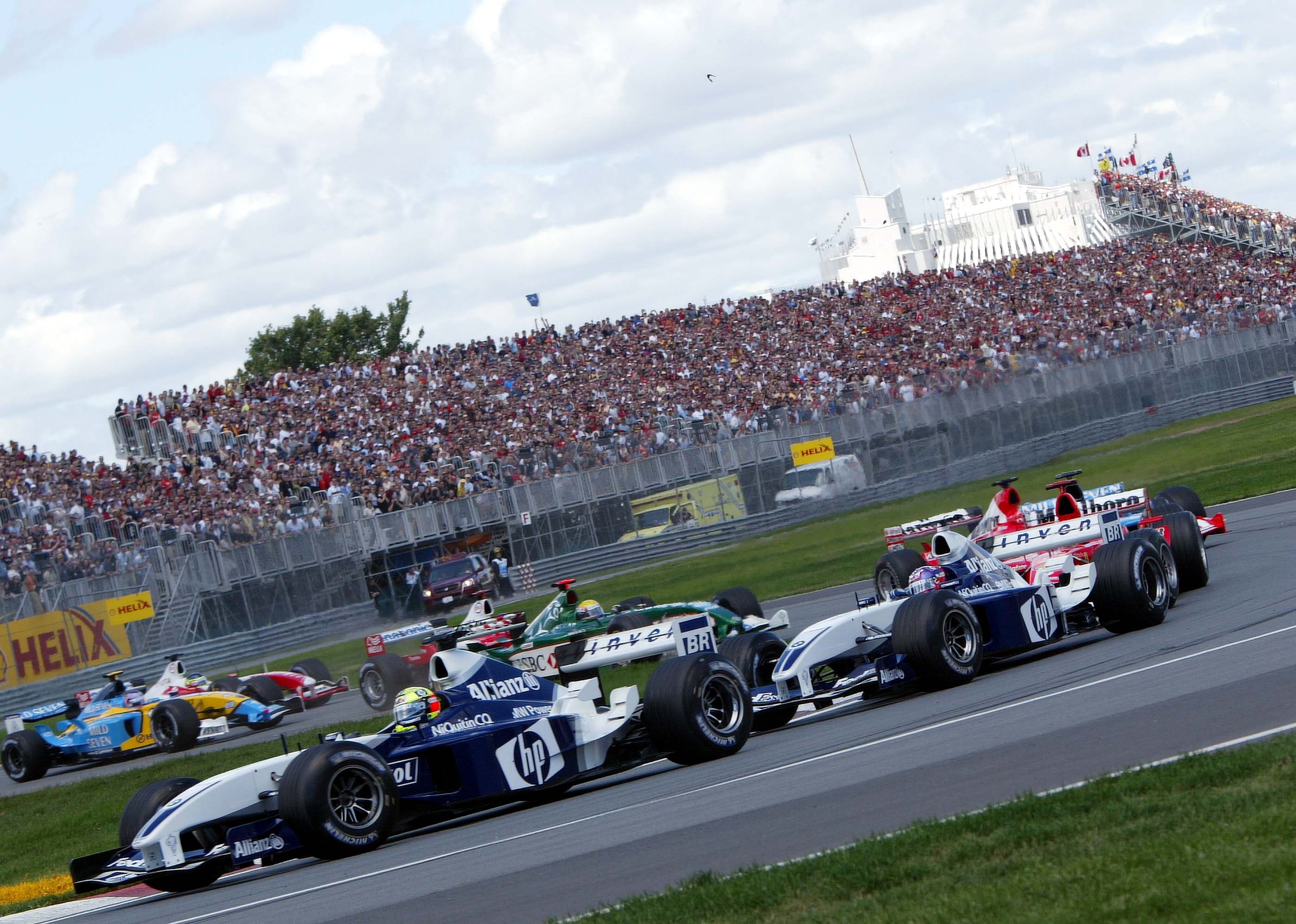 The 2003 campaign was as close as the partnership ever came to the only level of success that might have rescued the partnership. As their competitiveness steadily declined in 2004 (1 race victory) and 05 (none), BMW had simply lost faith in Williams. BMW tried to buy it, but Sir Frank insisted it wasn't for sale. BMW bought Sauber instead – and Williams reverted to customer engines once more.
It might have been so different. But ultimately the partnership fell short for several reasons. Those were: the Michael Schumacher-era Ferrari was in its pomp, a fantastically co-ordinated and tightly-structured team of brilliant individuals; Adrian Newey was no longer at Williams; BMW's late-90s financial losses and subsequent management change brought a chillier attitude to the whole project that imposed unhelpful pressure; and the personal dynamics between the two entities were extremely ill-matched to the competitive circumstances.