During Formula 1's coronavirus-forced hiatus, The Race will be revisiting great races from the past. For each grand prix we select, we will run a story on Friday setting the stage, a qualifying report on Saturday and a Sunday race analysis. These will not be repeats of old articles, but fresh retrospectives of these events.
Around the fast sweeps of Silverstone, the McLaren-Mercedes MP4/14 always comfortably had the legs of the Ferrari F399.
But the demands made of the drivers around the many 'fast, but not flat' sections of track really amplified the difference in each respective team's ace and second driver.
As such, Mika Hakkinen set a comfortable pole, 0.8s faster than McLaren team-mate David Coulthard. This gap was big enough to allow Michael Schumacher – who was 0.4s faster than team-mate Eddie Irvine – to slot his Ferrari between the McLarens and secure a place on the front row.
The lap time advantage of maximising speed through Copse and maintaining as much momentum as possible through the Maggotts/Chapel sequence (with the entry to Maggotts now very close to flat) carries for a long time around the Silverstone lap. Good high speed aerodynamics and a committed driver carry more weight than at most other tracks and it was no surprise a) to see the McLaren with a significant margin despite Ferrari's recent improvements and b) that Hakkinen and Schumacher should suddenly emerge head and shoulders above the others.
Hakkinen was full of praise for his MP4/14 – which has not always been the easiest to set up this year – after the one-hour single qualifying session, revelling in its confidence-inspiring high-speed balance.
Having not taken full advantage of the Ferrari's recently-improved competitiveness, to find that competitiveness blunted here was quite a blow for Schumacher
"Yes, I was quite happy with it," said the ever-understated Finn. "Also, I think we timed our run perfectly. The first 20 minutes were the quickest [for the track]."
After that the wind came up, making for a tricky crosswind through the Priory/Brooklands/Luffield sequence that follows Bridge Corner – and into Copse. Schumacher felt that the Ferrari was particularly sensitive to this and couldn't improve on his first run, set in the less blowy conditions. On his later run, "I had more difficulty keeping it under control on the infield."
Schumacher's mood in response to the re-emergence of a significant speed deficit to McLaren – having apparently closed the gap from Monaco onwards – was a troubled one as he continues to strive to become the first Ferrari world champion in 20 years.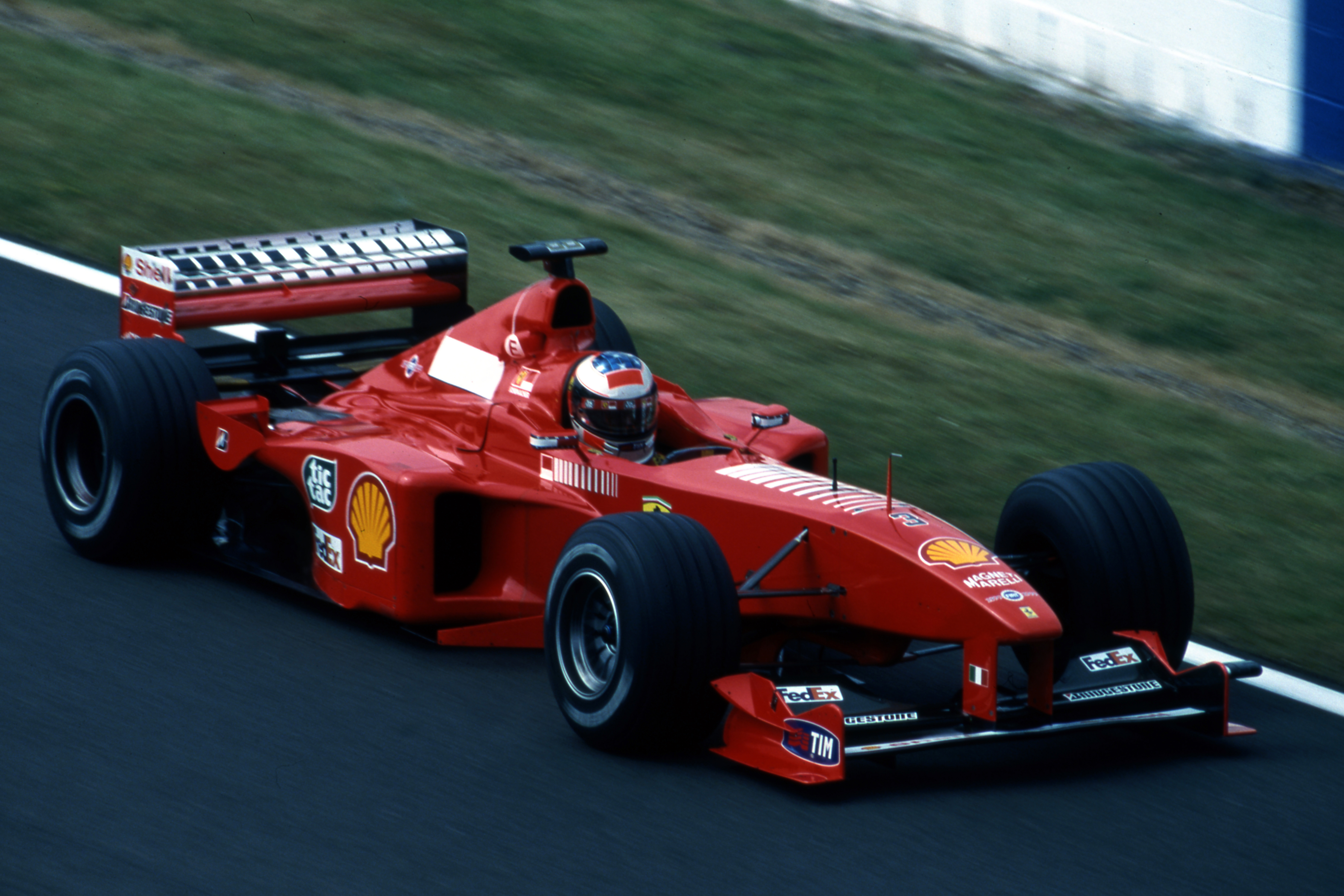 Silverstone is a big weekend for him, eight points behind Hakkinen in the championship following his disappointing fifth place at Magny-Cours and his unforced crash into the Montreal wall that handed his rival another victory. Having not taken full advantage of the Ferrari's recently-improved competitiveness, to find that competitiveness blunted here was quite a blow.
It's clear that Hill really had been intending to announce his retirement, effective immediately, but has been convinced by team boss Eddie Jordan to continue
Ferrari was using this race to properly debut the uprated V10, the 048C, tried in practice at Montreal. Believed to feature a bigger bore (96mm from 95mm), which allowed higher revs as well as a lower centre of gravity from the reduced stroke, it was pulling 17,700rpm, well in excess of the 17,200rpm of the Mercedes (with a 93mm bore) in the back of the McLarens.
Coulthard just couldn't find a balance that worked for him between the low and high-speed sections of the track. Prioritising getting the stability he needed for the fast sections left him with too much understeer through the infield and through Vale/Club and the left/right of Abbey. Hakkinen was able to live with less stability through the high-speed sections without losing speed and consequently had a much better, more responsive car through the slow parts.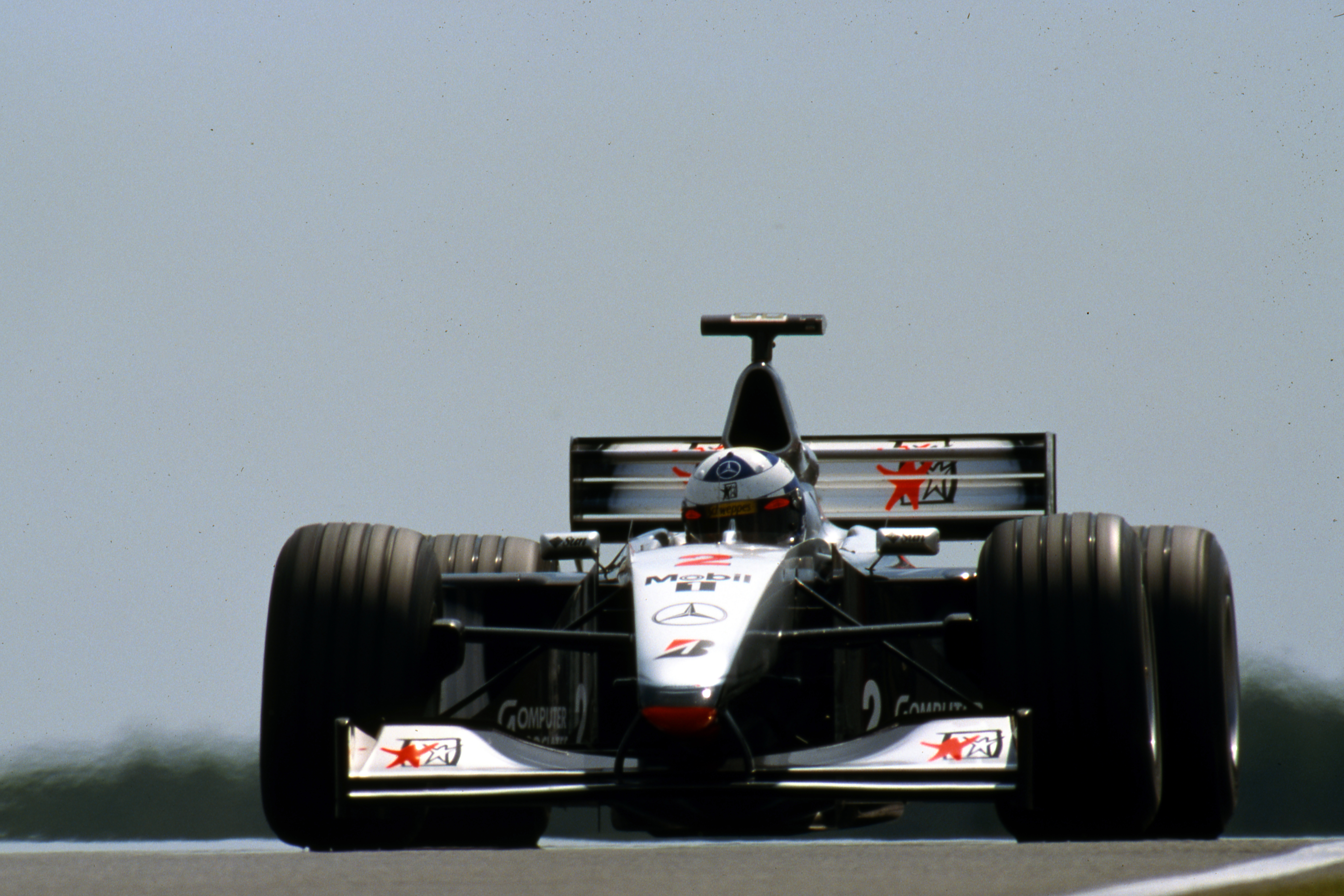 It was a similar story at Ferrari where Irvine found excessive understeer in the slow sections, though in his case it was exacerbated by not having made much running last week on the latest-spec Bridgestones. He was just under 0.1s slower than Coulthard.
Best of the rest after McLaren/Ferrari turned out to be Jordan, for which Heinz-Harald Frentzen and Damon Hill locked out the third row – although Rubens Barrichello's Stewart had looked to have the measure of them until losing time with a scrappy final sector on his best lap.
Putting the continuing 'will he/wont he retire' speculation to one side, Hill was focused on the job in the Jordan-Mugen and, at just 0.108s, his deficit to Frentzen was much smaller than has usually been the case this year.
It's clear that Hill really had been intending to announce his retirement, effective immediately, but has been convinced by team boss Eddie Jordan to continue to the end of the season.
As well as a new D-spec Mugen engine, the Jordan featured a new lightweight gearbox here, giving a more favourable weight distribution as well as allowing aerodynamic gains at the rear. Hill remained in the recently-introduced longer wheelbase version of the car with the forward-swept front wishbones, while Frentzen stuck with the original.
Barrichello was disappointed with how tricky the Stewart-Ford SF3 was to handle in the blowy conditions, the car having been beautifully balanced here in testing last week. He went seventh quickest, four places ahead of team-mate Johnny Herbert, who was a chunky 0.6s slower after a lot of set-up changes.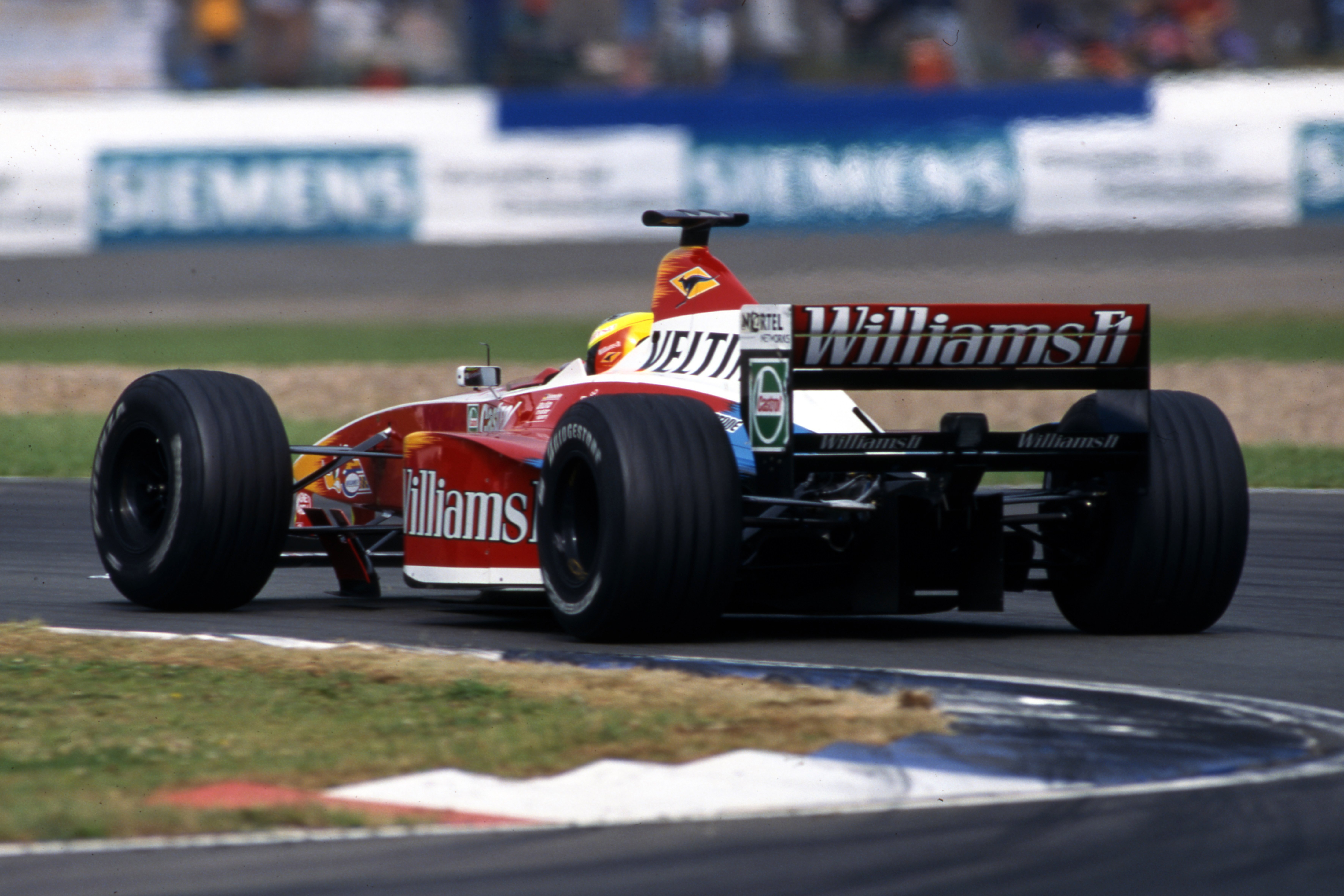 In between the Stewarts and filling out the top 10 were: Ralf Schumacher's Williams-Supertec, Jacques Villeneuve's BAR-Supertec and Jean Alesi's Sauber-Ferrari. Ralf was in an aerodynamically modified Williams, with team-mate Alex Zanardi continuing to struggle, 0.8s slower (13th) in the previous-spec car.
Pedro Diniz (12th) was within 0.4s of Sauber team-mate Alesi while Ricardo Zonta in the second BAR was behind the Prost-Peugeots of Jarno Trulli and Olivier Panis.
The Benettons continue to struggle badly, with Giancarlo Fisichella and Alex Wurz in the insufficiently stiff B199s ahead only of the Arrows (Tora Takagi and Pedro de la Rosa) and Minardis (Luca Badoer and Marc Gene).
If the performance patterns of qualifying are repeated in tomorrow's race, it looks unlikely that Schumacher will be able to prevent Hakkinen from increasing his championship lead. The only question might be if Coulthard can inflict maximum points damage on Schumacher.