Nico Rosberg has revealed he feared he would have no chance against Formula 1 legend Michael Schumacher at the then-new Mercedes project in 2010 because the "psychological warrior" would manipulate the team against him.
Rosberg's grand prix career was transformed when he signed for the works Mercedes team for its return to the F1 grid in 2010, having spent four seasons sniping for occasional podiums with Williams until then.
He went on to score 23 victories in F1 with Mercedes and won the 2016 world title before retiring a few days later, bringing an end to a seven-season stint with the manufacturer that started with three years as team-mate to seven-time world champion Schumacher.
"[I had] the craziest thoughts, that I would have no chance, that the whole team would go against me, and Michael would manipulate his way through" :: Nico Rosberg
However, Rosberg has claimed in an interview for F1 partner Heineken that he was caught out by Schumacher's unexpected return to racing with Mercedes, and feared what it meant for his own prospects.
"That was not a good moment," he laughed when asked by grand prix winner David Coulthard about being paired with Schumacher at Mercedes.
"I was all excited, I could be leading this Mercedes team, and the name Schumacher was not even on the horizon. Nobody was even talking about that.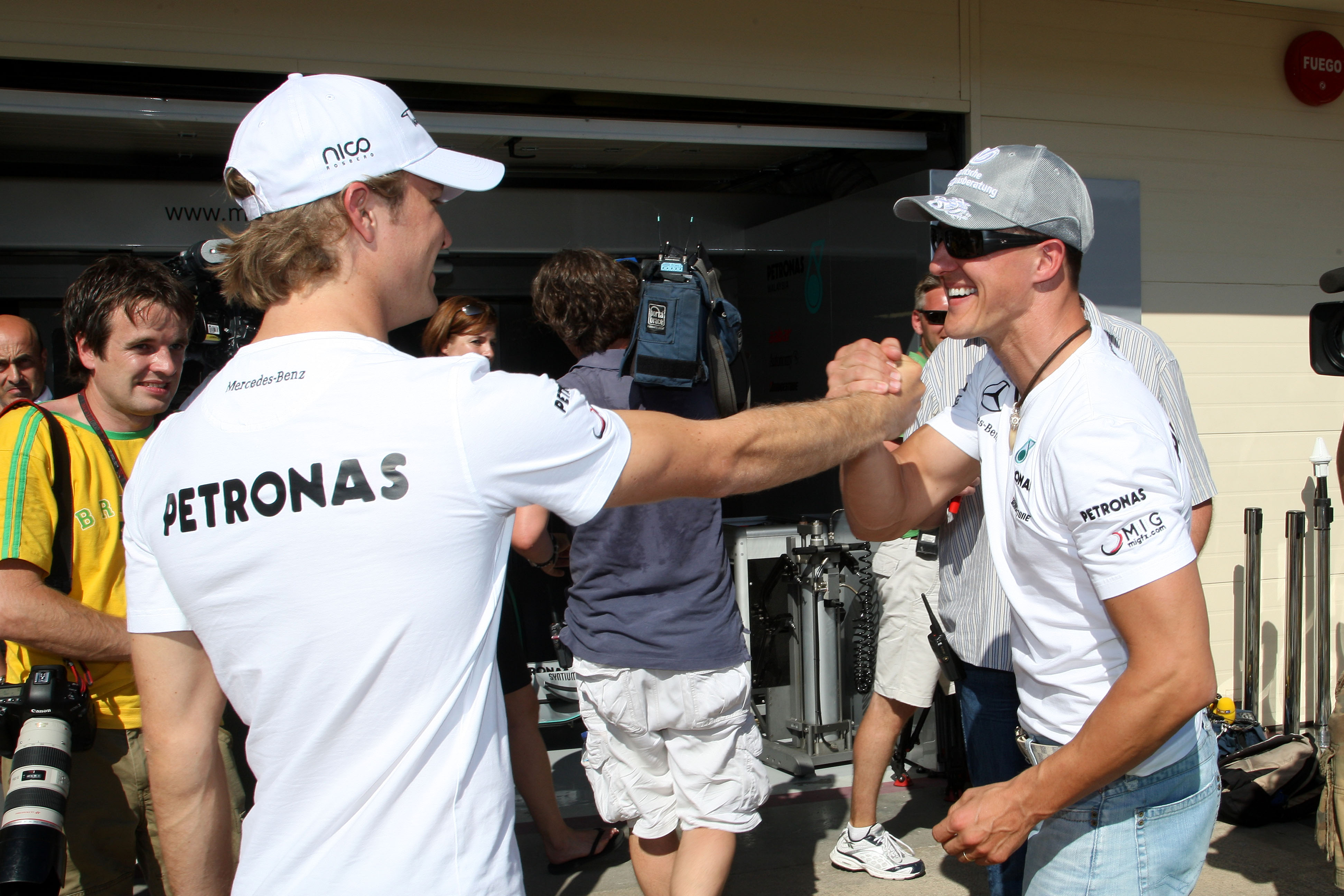 "And then suddenly Ross [Brawn, then-Mercedes boss] calls me and he says, 'oh, by the way, your team-mate is not going to be Jenson Button or Nick Heidfeld, it's going to be Michael Schumacher'.
"And I was like…Oh. My. God.
"[I had] the craziest thoughts, that I would have no chance, that the whole team would go against me, and Michael would manipulate his way through.
"And also like, I don't even know, can I keep up with him?
"He's the greatest of all time, do I have a chance?
"That was a pretty crazy moment."
Rosberg's fears proved unfounded and he quickly established himself as Mercedes' main contender.
While Schumacher struggled to adjust after three seasons out of F1, Rosberg scored Mercedes' first podium, first pole and first win of the works team's return.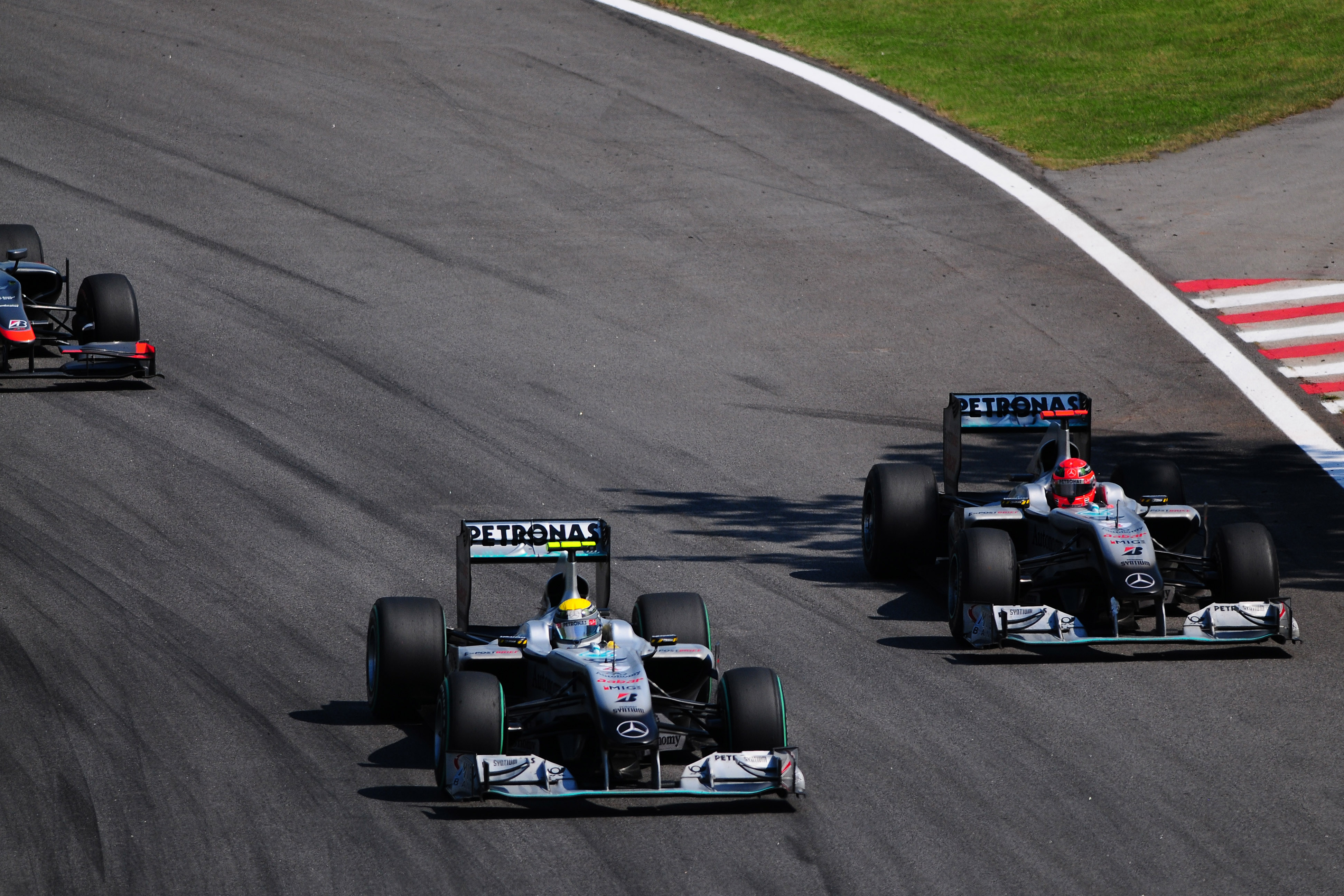 He outscored Schumacher in every season, but said it was an "incredible" learning experience being in the same team as F1's record championship and race winner.
Rosberg said Schumacher was "like God in the team" initially, and claimed that in one strategy meeting "even my strategy was only being discussed with Michael, not with me".
He said Schumacher liked to be topless in the engineering room to "show his six pack, because another statement of strength" and said there were infinite stories of Schumacher being a dominating presence, including a bathroom incident in Monaco that Rosberg has talked about in the past.
"Michael is a psychological warrior," said Rosberg. "He doesn't even have to make an effort it comes naturally to him, to try and psychologically get into the heads of his competition.
"I was his team-mate so I was his greatest competition, and it would be from the morning to the evening.
"There's so many examples. Monaco bathroom was one example.
"There's only one bathroom in the garage, and he knows that I'm standing outside because I'm talking like crazy, telling whoever's in there to please get out because I'm panicking, I need to pee before qualifying.
"And he's in there just looking at his watch, just chilling, because he knows he's going to create more and more stress in my mind.
"Then he walks out, all chilled out, he's like 'oh sorry, I didn't know you were there'.
"By this time I was in full panic mode. And it just went on and on."