Sergio Perez suffered what his Red Bull Formula 1 team boss Christian Horner described as a "shocker" on Sunday at the Japanese Grand Prix.
Having qualified almost eight tenths of a second behind team-mate Max Verstappen in fifth place, Perez's attempted recovery quickly went awry immediately as his front wing was damaged when he found himself sandwiched between Lewis Hamilton and Carlos Sainz before the first corner.
After incurring a penalty for accidentally passing Fernando Alonso under the safety car while pitting for repairs, things then went from bad to worse as he lunged down the inside of Kevin Magnussen at the hairpin and collided with the Haas driver, tipping Magnussen into a spin and earning himself more damage and a five-second time penalty.
Red Bull initially retired Perez only to send him back out of the garage so he could rejoin the race, serve his penalty (to avoid it potentially turning into a grid penalty for Qatar), and then retire for good.
So does a race like that - coupled with a patchy 2023 where he's scored fewer points in a far superior RB19 than Lando Norris at McLaren in the last eight races - threaten Perez's position at Red Bull for next year even though he has a contract until the end of 2024?
That's what Mark Reilly from The Race Members' Club wanted to know, asking our post-Japanese GP Podcast: "After that performance today, how certain can we be that Perez will be retained for 2024?
"I have to be brutally honest," Mark continued, "for me it seems like a waste of a seat in the quickest car of 2023.
"With McLaren hot on their heels and Lewis Hamilton talking of a new Mercedes concept for next season, a tighter title fight could prove Checo to be a liability and cost Red Bull a constructors' championship for 2024."
Edd Straw put Mark's question to Scott Mitchell-Malm.
"That final point from Mark is absolutely spot on - it's the risk that Perez could cost them in a championship battle that would be so concerning for Red Bull," Mitchell-Malm said.
"As it is for 2024, I think he's set, locked in, and as we know after this weekend, AlphaTauri will have Daniel Ricciardo and Yuki Tsunoda driving for them next year. Red Bull has initially named Liam Lawson as its reserve driver.
"It would be extremely surprising if something happens in the final six races for Red Bull to bin off Perez and name Lawson or anybody else alongside Verstappen for 2024.
"There's no reason to believe Perez won't be alongside Verstappen at the start of next year."
But that doesn't necessarily mean Perez will be safe for the whole of 2024.
"The one scenario that could arise is if Perez performs more like this than he has in his podium or race-winning pomp at Red Bull earlier this season, then there's a chance that Red Bull could suffer from that next year if the fight is closer," Mitchell-Malm continued.
"Whether [that challenge] is from McLaren or Ferrari or Mercedes, then they won't be able to have one driver who is winning the constructors' championship single-handedly which is what Verstappen is doing at the moment.
---
Verstappen vs rival constructors in 2023
1. Verstappen 400 points
2. Mercedes 305 points
3. Ferrari 285 points
4. Aston Martin 221 points
5. McLaren 172 points
---
"In that scenario, if you've got Ricciardo excelling at AlphaTauri, then maybe Red Bull would be inclined to dump Perez, put Ricciardo in the Red Bull and because Lawson is hanging around - if he doesn't get the Williams drive for 2024 - you could plonk him in the AlphaTauri alongside Tsunoda and just say goodbye to Perez.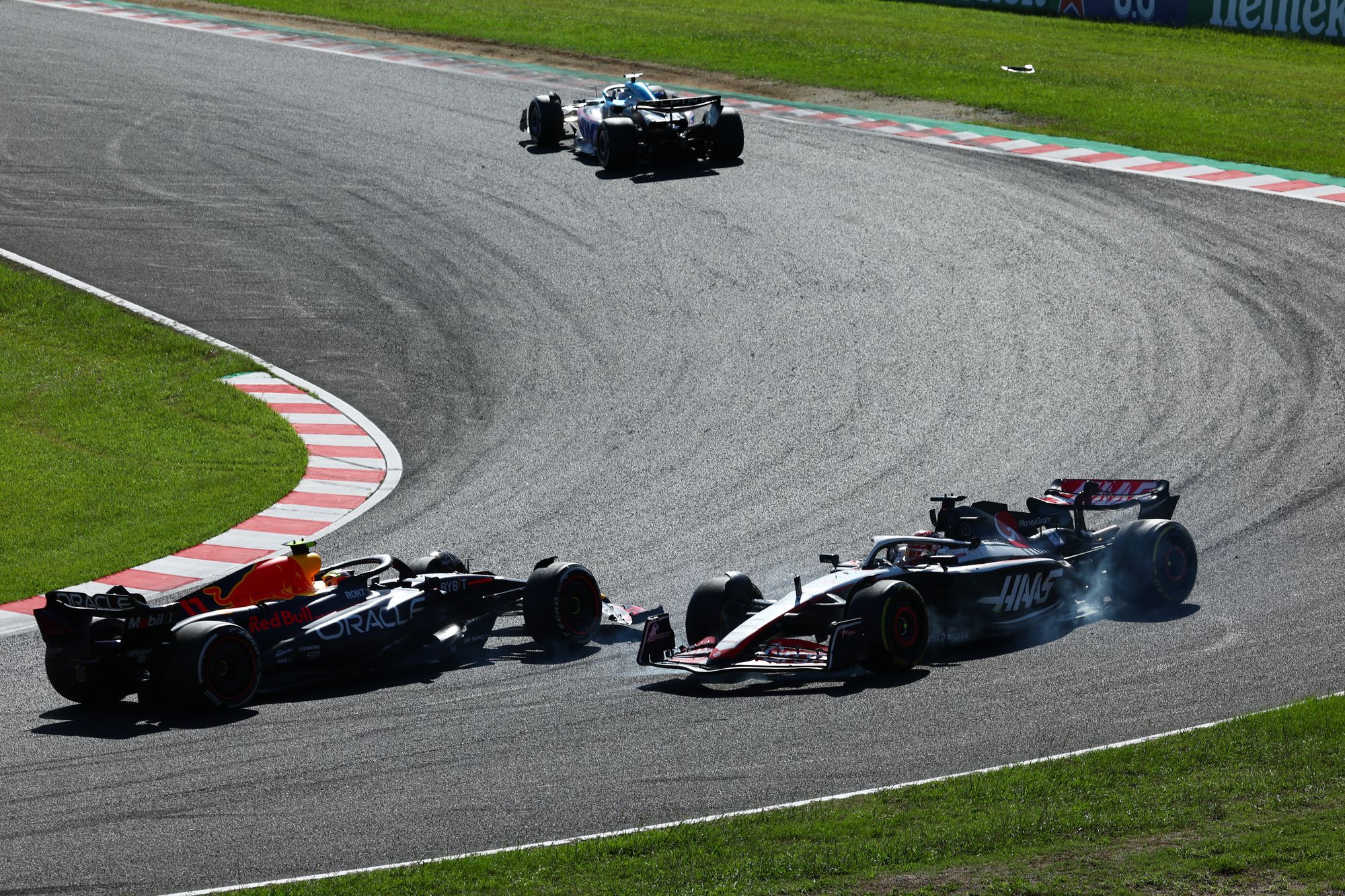 "That's a scenario that - given Red Bull's tendency to make in-season driver changes if they feel they really need to - I think there's a non-zero chance of happening.
"But I don't see any reason why Perez won't be starting 2024 alongside Verstappen. That seat is his."
For your chance to have your questions answered by our journalists on The Race F1 Podcast, to get an ad-free version of The Race, get early access to content including every episode of Bring Back V10s, comment on our article and debate them with our writers, suggest features you'd like us to write and other benefits, click here to join The Race Members' Club