Our series on Formula 1's most evocative numbers has so far mostly celebrated those iconic for their success. Now it's onto one with a record of underachievement.
The record for Formula 1 starts without a victory is held by Andrea de Cesaris. But no.29 can trump that having appeared in even more grands prix – 255 – without a single triumph. No wonder the two of them paired up for nine outings at Sauber in 1994, which took de Cesaris's tally to its final mark of 210.
But 29 did once have more lofty pretentions. Appropriately enough, the closest it came to a breakthrough was when it adorned Arrows machinery – by a quirk of fate the team with the most starts in world championship history without a victory.
Riccardo Patrese carried the number 29 a total of 43 times, more than any other driver, at Arrows from 1979-1981. While 29 wasn't on the car when Patrese famously retired from the lead of the '78 South African Grand Prix late on, it was when the Italian finished second at Long Beach a year later.
But it was in the early stages of the 1981 season that #29 was on the brink of something special. Starting the season with a revised, lighter version of the Arrows A3 campaigned in 1980, fears the enforced switch to Michelin rubber forced by Goodyear quitting F1 turned to delight when the car superbly on the French tyres.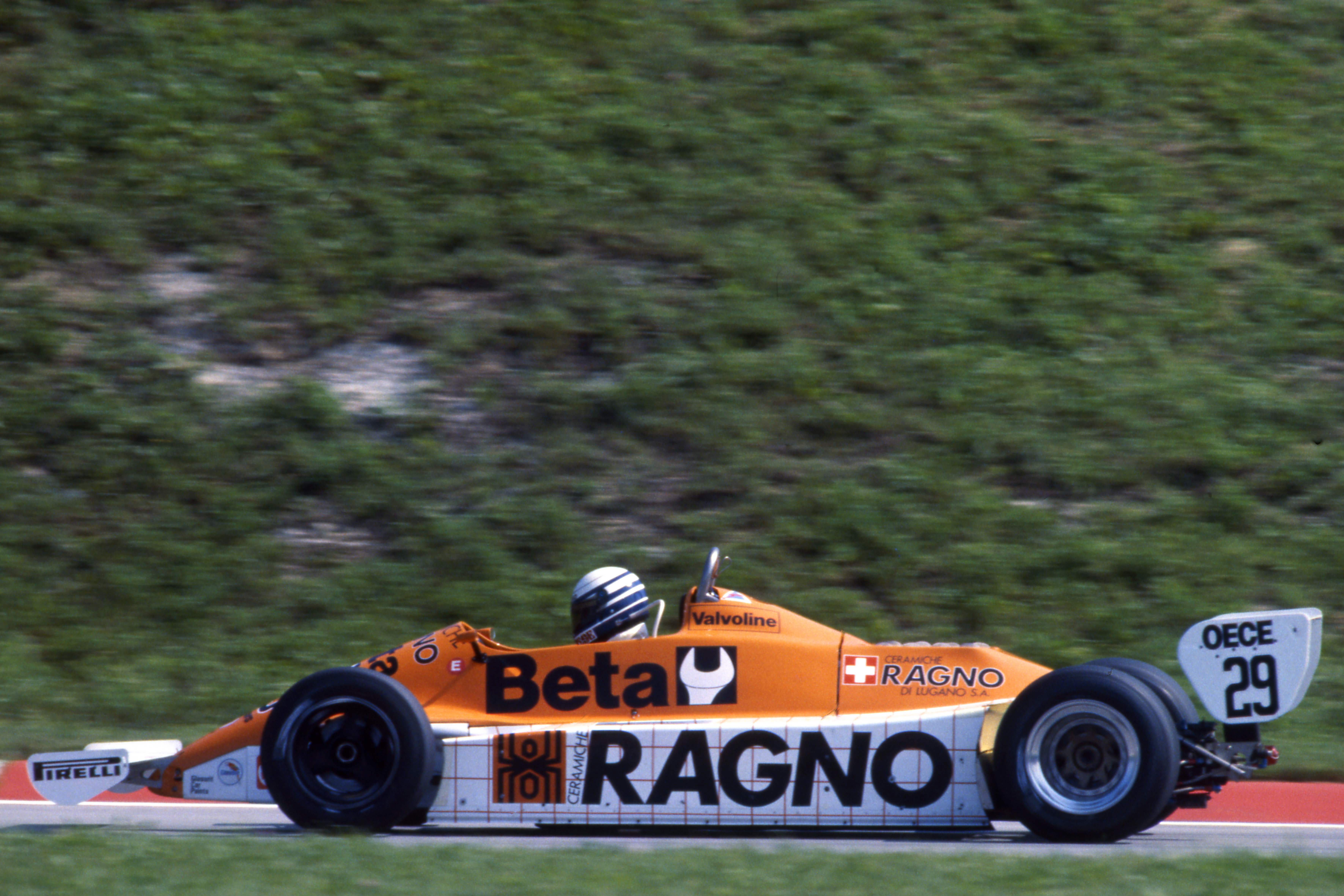 In the Long Beach season opener, Patrese took pole position – the only time #29 started at the front of an F1 grid. He led the first 24 laps before the engine started to misfire, eventually retiring with a fuel-feed problem traced to a shard of plastic debris caught in the fuel filter. Third place followed in the Brazilian GP, then second place at Imola with a gearbox problem in Monaco costing another potential podium.
But the Arrows/Patrese combination slumped in the second half of the season. Goodyear returned to F1, but didn't supply Arrows, whose temporary deal with Michelin also ended. Now using Pirelli rubber, Arrows slid into midfield obscurity from the British Grand Prix onwards. That was that for number 29's best spell in F1, during which it racked up its three podiums.
Prior to joining up with Arrows, number 29 was only occasionally seen. In the days before permanent numbers, it did claim a rare result on the Cooper T81B of Jochen Rindt with fourth in the 1967 Belgian Grand Prix. This was the first of only two points finishes it achieved before Patrese, followed by Carlos Pace's sixth in the 1972 Spanish GP, despite occasionally cropping up on the cars of the odd big name, notably Ronnie Peterson, Nelson Piquet, Jacky Ickx, John Watson and Maurice Trintignant.
Lella Lombardi also ran it four times on her works March in 1975, although appropriately enough for this nearly number she was carrying #10 for her famous sixth place in that year's Spanish Grand Prix.
It continued with Arrows in 1982-3 on Marc Surer's car, taking a few fifth and sixth places. But once Arrows moved to numbers 16/17, it briefly fell into disuse before moving onto the next in a sequence of teams not known for their victories – Minardi.
Even by the tiny team's standards, its debut campaign with Pierluigi Martini in 1985 was a difficult one – Minardi rarely finishing and ending up pointless. Minardi and #29 make natural partners, for the Italian squad is second only to Arrows among teams for most starts without a win (340).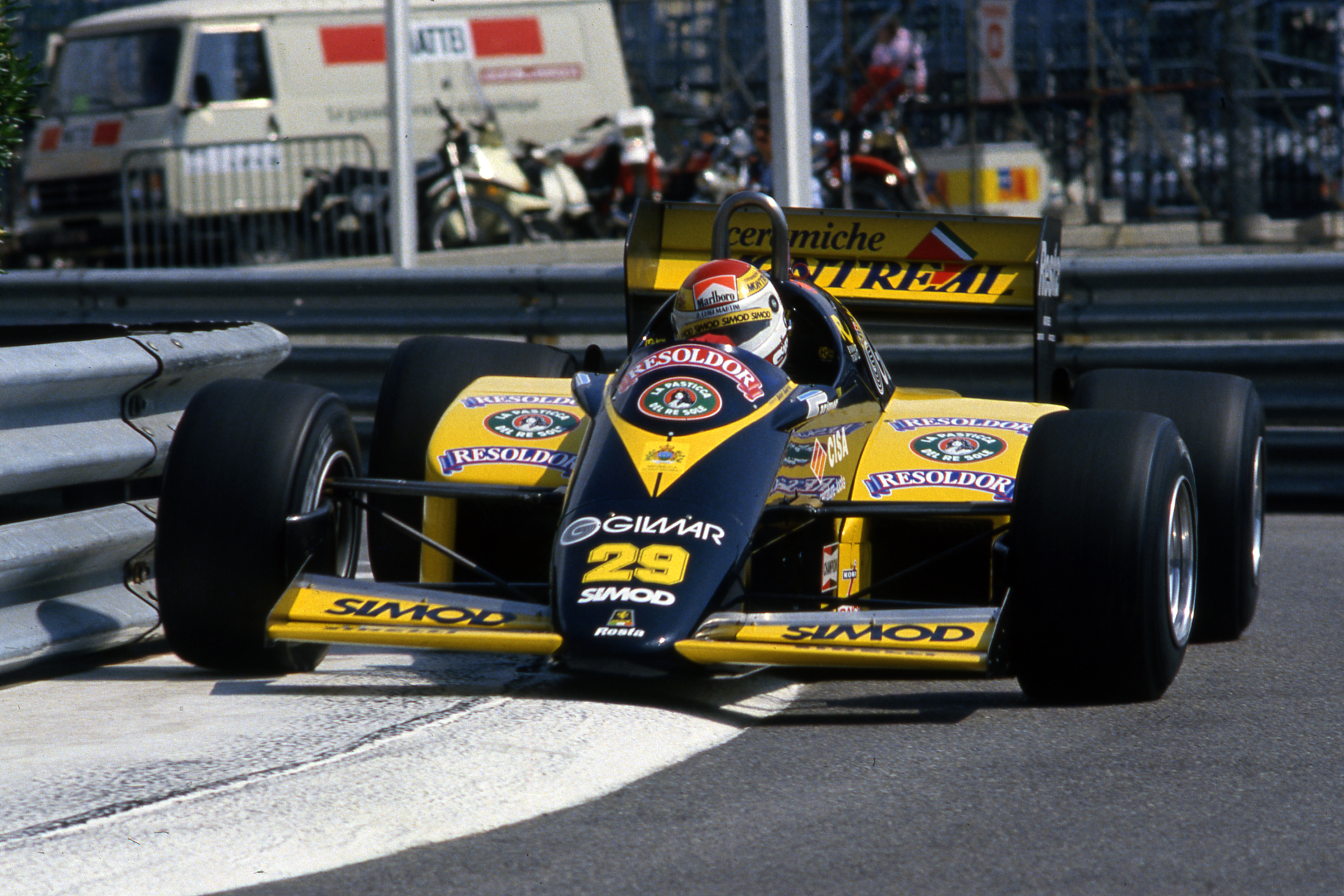 But this natural alliance was broken up when Minardi took up its more familiar 23/24 combination for its second season, which left the way open for the new Larrousse team to pick 29 up in 1987.
It wasn't until Larrousse expanded to a two-car entry late in '87 that 29 reappeared on the Lola chassis of Yannick Dalmas. He finished fifth in the Australian Grand Prix, but the car was not eligible for points because it wasn't a full-season entry. Dalmas and 29 are therefore co-holders of the best result in a world championship race without scoring a point (ignoring disqualifications) – along with Jackie Oliver, who was fifth in the 1967 German GP but not able to score as he was competing in the F2 class.
Dalmas, after briefly loaning the #29 Lola to Aguri Suzuki then Pierre-Henri Raphanel late in 1988, handed the number over to Michele Alboreto in the middle of 1989 having failed to score a point. Eric Bernard took over in 1990, taking a rare fourth place at Silverstone in what was a very handy LC90 chassis.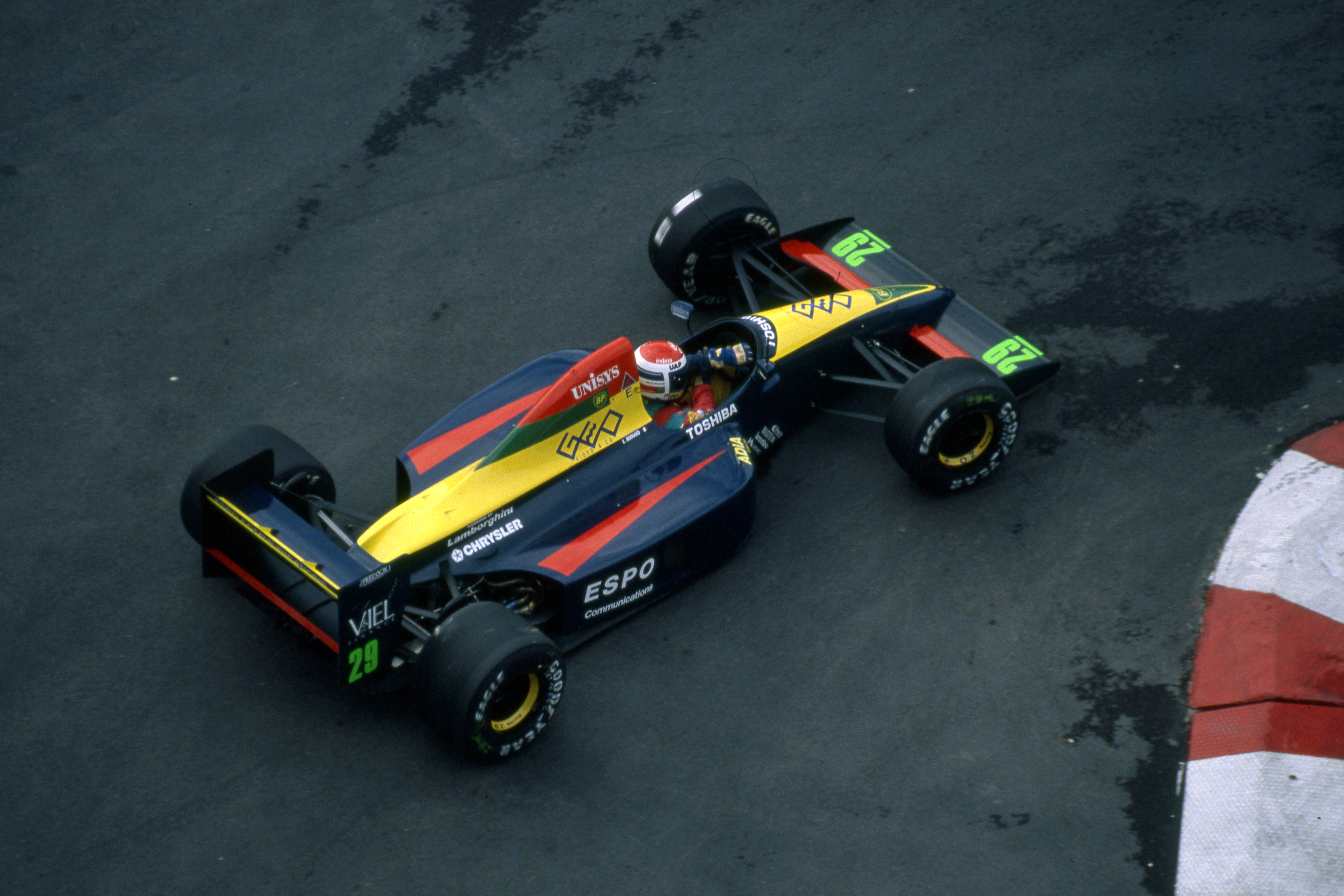 Its successor, the LC91, wasn't a big step forward and Bernard broke his leg at Suzuka, meaing the #29 Lola went to Bertrand Gachot for the Adelaide finale. That combination continued in 1992, although this time with an in-house design dubbed a Venturi after the Monaco-based car company that had bought a majority stake in the team. Results were few and far between.
With Larrousse 'promoted' to running 19/20 in 1993, this left 29 available for a brand new team – Sauber. Its black cars not only looked sleek, but they ran seriously well too with JJ Lehto and Karl Wendlinger, the latter #29, holding an astonishing fourth and fifth at the end of their first lap in F1 in the South African Grand Prix.
For three years, #29 adorned one of the Saubers, with Wendlinger taking one of its occasional fourth places in the 1993 Italian Grand Prix before de Cesaris had his stint the following year after Wendlinger suffered head injuries in a horrifying shunt at Monaco.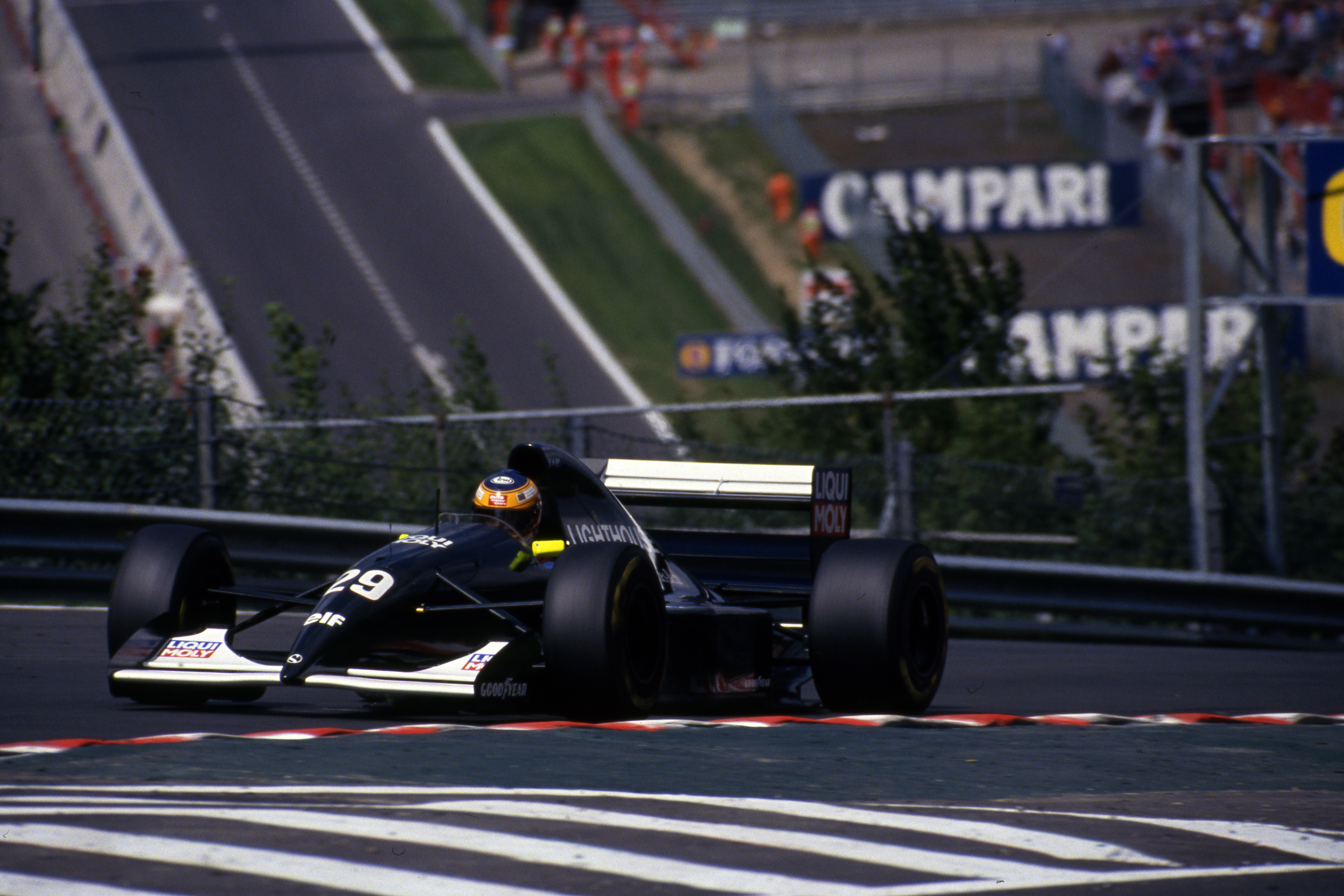 Number 29's final hurrah came in 1995, with Wendlinger retiring from the season-ending Australian Grand Prix. But it did have two more points finishes that season during Jean-Christophe Boullion's 11-race stint, taking fifth at Hockenheim and sixth at Monza.
F1 never again had enough teams to call number 29 into action, and it has yet to return as nobody has yet picked it as their permanent number.
Perhaps a potentially winning driver should lay claim to the number when they graduate to F1, in the hope of depriving #29 of its patchy record of achievement? Or at the very least, to extend its winless legacy.