Haas goes into the 2021 Formula 1 season with something very rare: an all-rookie line-up.
It's decided that Formula 2 champion Mick Schumacher and F2 race winner Nikita Mazepin represent its best long-term strategy, as much for the financial boost involved as their future potential, so it's beginning the season with a combined total of zero grand prix starts in its driver strength.
Discounting anomalies from F1's early years, situations such as a team having two rookies within a larger line-up or a one-car team with a rookie driver, there have only been seven previous occasions when a team has begun a season with two rookies.
So we ranked them – based on a mixture of what they achieved in those debut seasons, and the ultimate potential of the two drivers combined.
7 – Christijan Albers/Patrick Friesacher
Minardi 2005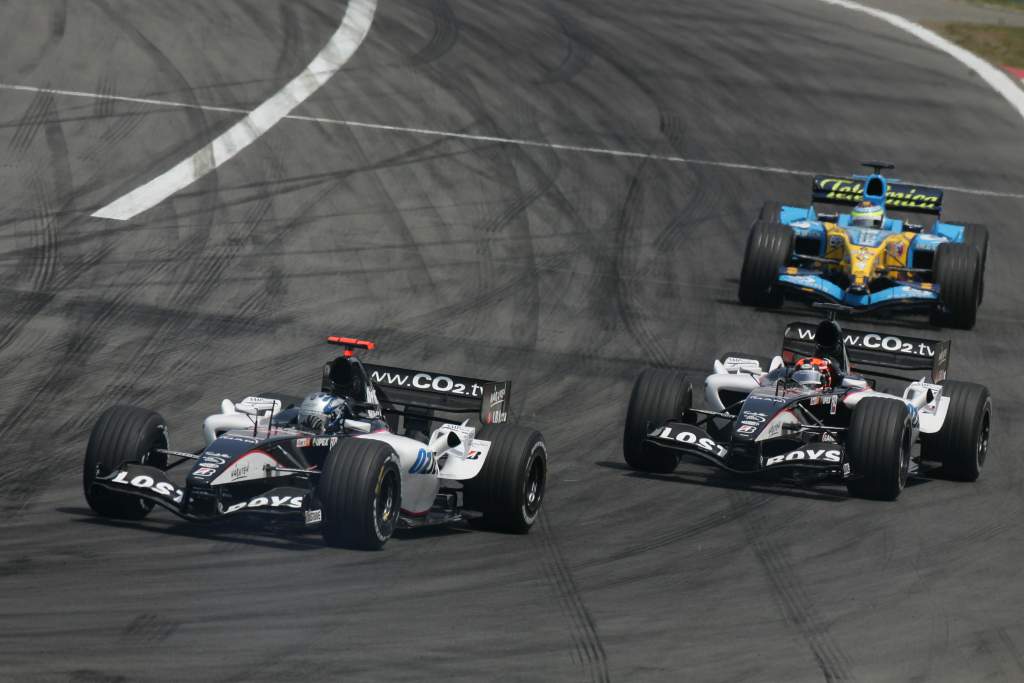 There are drivers ahead of this mid-2000s Minardi pair in our list by virtue of the strength of their team-mates who would be behind both the duo if this was an individual ranking. Neither Albers nor Friesacher counts as a remotely bad driver.
Albers arrived in F1 as a DTM star with national titles from junior single-seater racing behind him, while Friesacher – compromised by the after-effects of a serious karting injury – had been faster in F3000 than his championship positions suggested.
But despite the crazy events of Indianapolis 2005 meaning both are F1 points scorers, there weren't many occasions either in their Minardi time or Albers' subsequent Midland/Spyker seasons when they made a pressing case for deserving bigger F1 chances.
6 – Bruno Senna/Karun Chandhok
HRT 2010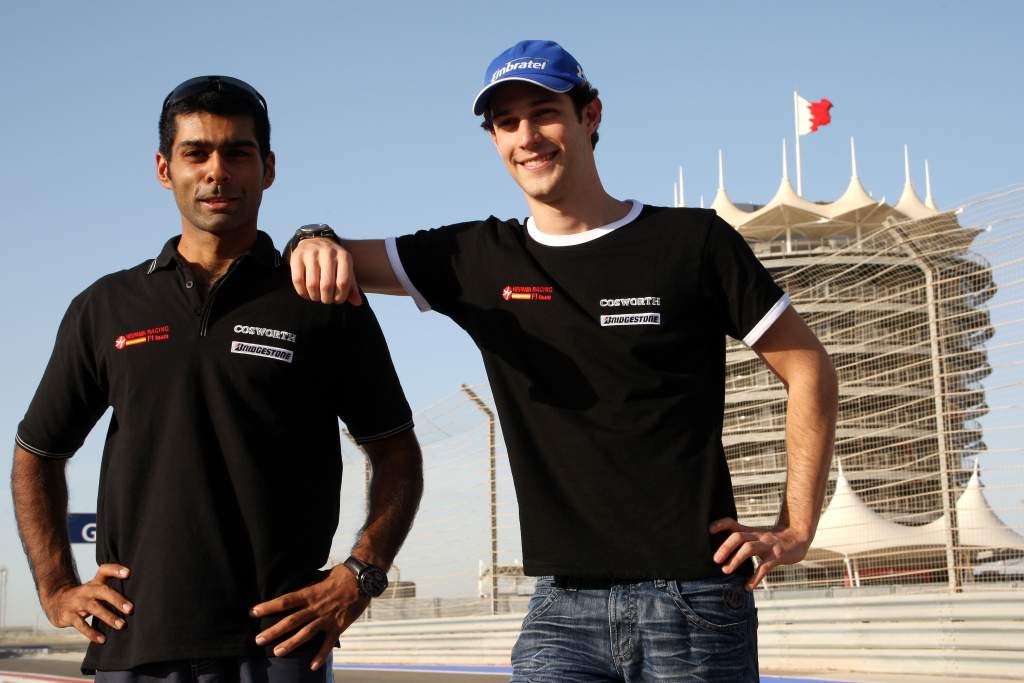 Both Senna and Chandhok graduated from GP2, where they had won races, to HRT for 2010, but didn't have the machinery to do anything other than toil at the back of the grid.
Senna didn't even drive the car until free practice in the Bahrain opener and Chandhok not until qualifying!
They worked hard for little reward before their partnership was broken by the arrival of Sakon Yamamoto and his half-a-million dollars per race.
5 – Tiago Monteiro/Narain Karthikeyan
Jordan 2005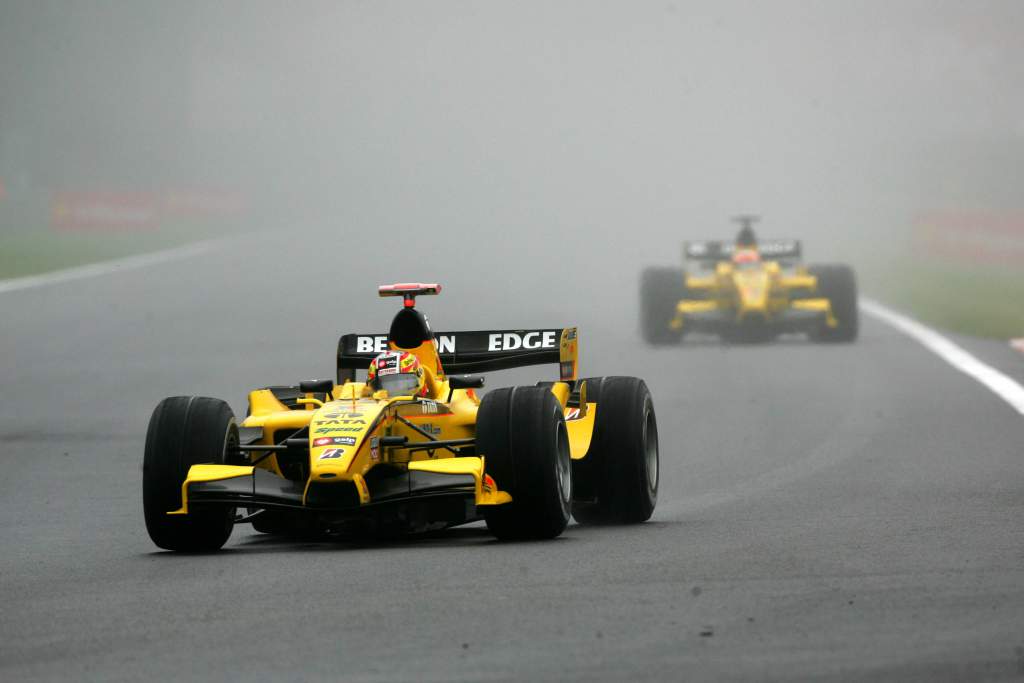 With Jordan under the ownership of Midland and struggling from the effects of several years of underinvestment when Monteiro and Karthikeyan arrived, neither had the machinery to shine.
But they had their day of days in the farcical United States Grand Prix, both taking their best F1 race finishes with Monteiro third and Karthikeyan fourth.
Monteiro's point for eighth place in the more orthodox Belgian Grand Prix was the real high point.
4 – Pascal Wehrlein/Rio Haryanto
Manor 2016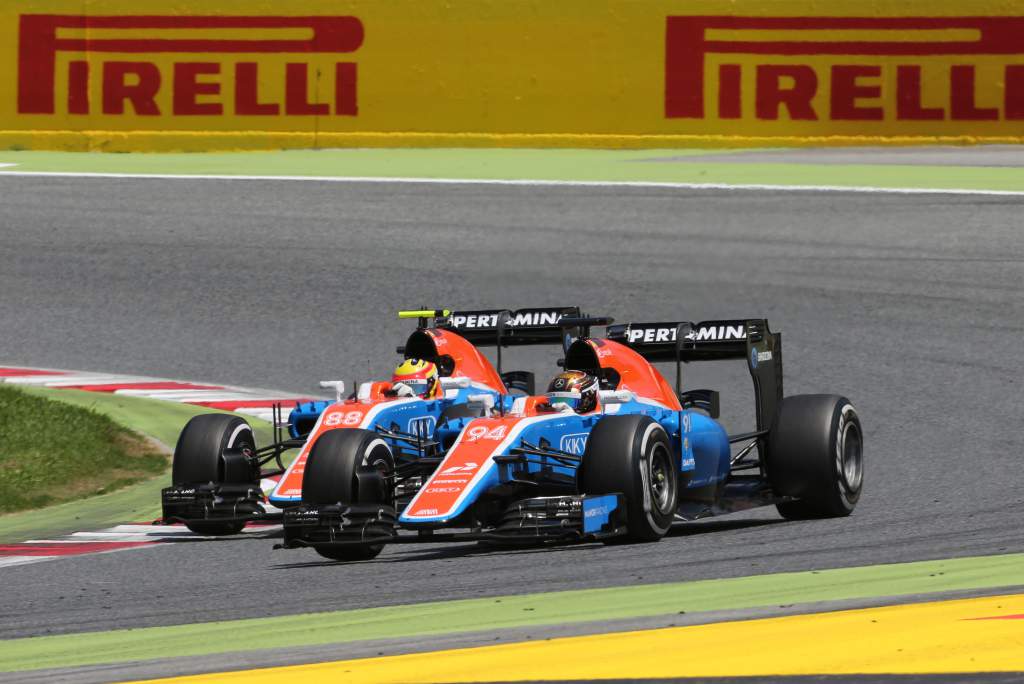 Here's our ranking's first instance of one star rookie pulling the overall level of a pairing up – though Haryanto's pace on his best days was also significantly better than his critics remember.
But it was Wehrlein's achievement in getting the Manor into Q2 five times, and even into the points in Austria, that make this an example of a successful all-rookie line-up.
As Mercedes' top F1 protege at the time, Wehrlein was high up the queue when Nico Rosberg walked away at the end of the season too.
But while the startling speed Wehrlein had dragged out of the Manor meant he deserved to be in those discussions, it's telling that Mercedes preferred to pay to get Valtteri Bottas out of his Williams deal instead.
3 – Jules Bianchi/Max Chilton
Marussia 2013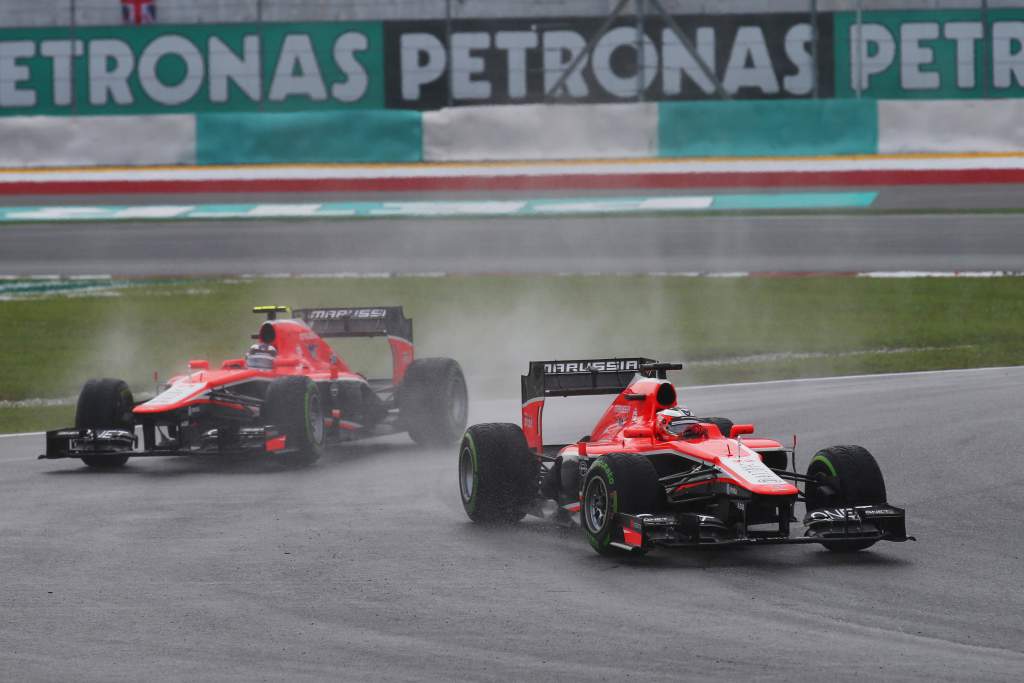 Another Manor pairing (from one of the team's other guises) and another pairing where one driver's big reputation lifts the combined line-up up this list.
With no disrespect to Chilton's solid F1 efforts, this is all about Bianchi.
He wasn't even supposed to be in this line-up, only getting a surprise chance via engine supplier Ferrari when intended racer Luiz Razia's money stopped flowing during pre-season testing – just after Bianchi had lost out on a potential Force India drive to Adrian Sutil.
Bianchi's 13th place at Sepang proved to be the difference in Marussia's tail-end battle with Caterham that season. But it was his sheer speed, how he mentally handled the whirlwind of joining the F1 grid with backmarker Marussia not upper-midfielder Force India, and the contribution his technical feedback made that cemented his growing reputation.
2 – Stefan Bellof/Martin Brundle
Tyrrell 1984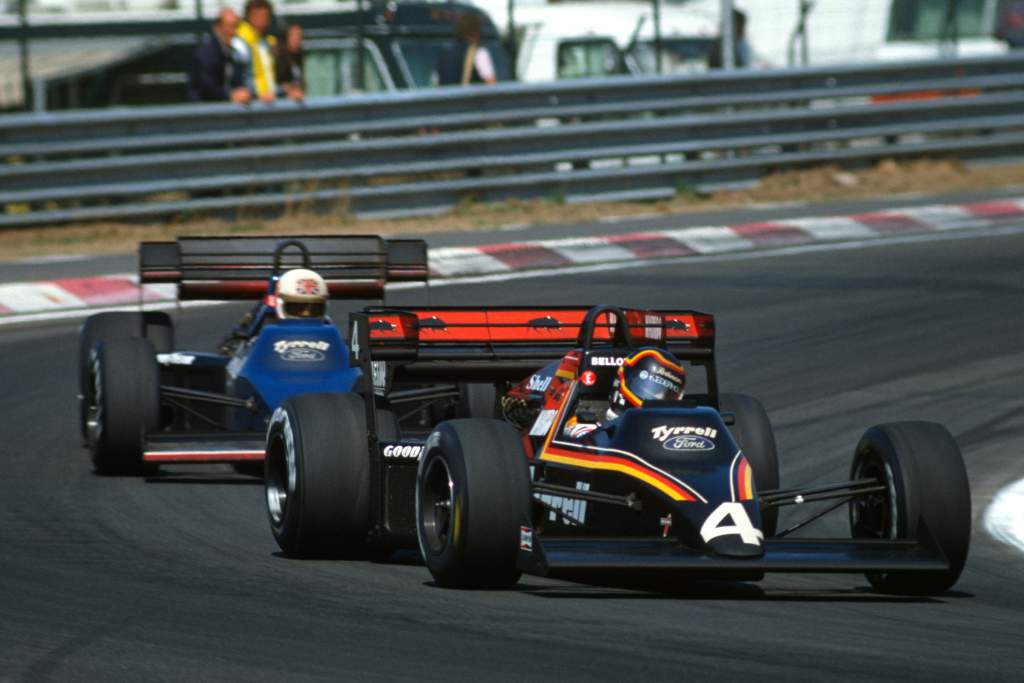 There are more 'what ifs' around this line-up – recruited when Tyrrell's final race-winner Michele Alboreto got a Ferrari offer and Danny Sullivan headed for CART Indycar – than almost any other F1 team-mate pairing.
How good would the explosively talented Bellof have become if he hadn't been killed in a sportscar crash during his second F1 season? How good was Brundle – fresh from his F3 title fight with Ayrton Senna – really before the Dallas crash that left him with severe leg injuries?
And how to rate Tyrrell that year? Up against a tremendous power disadvantage as almost every rival now had turbos and it was still stuck with a Ford Cosworth, yet also benefitting from its nimble car and power delivery on occasion. And ultimately all in vain as a technical row led to the team being thrown out of the entire season.
Amid all that, Bellof's pursuit of Alain Prost and Senna for Monaco victory in the wet and Brundle chasing down Nelson Piquet for the Detroit lead in the dry, plus three other points finishes from the opening four races between them, are achievements that can't be argued with.
1 – Max Verstappen/Carlos Sainz Jr
Toro Rosso 2015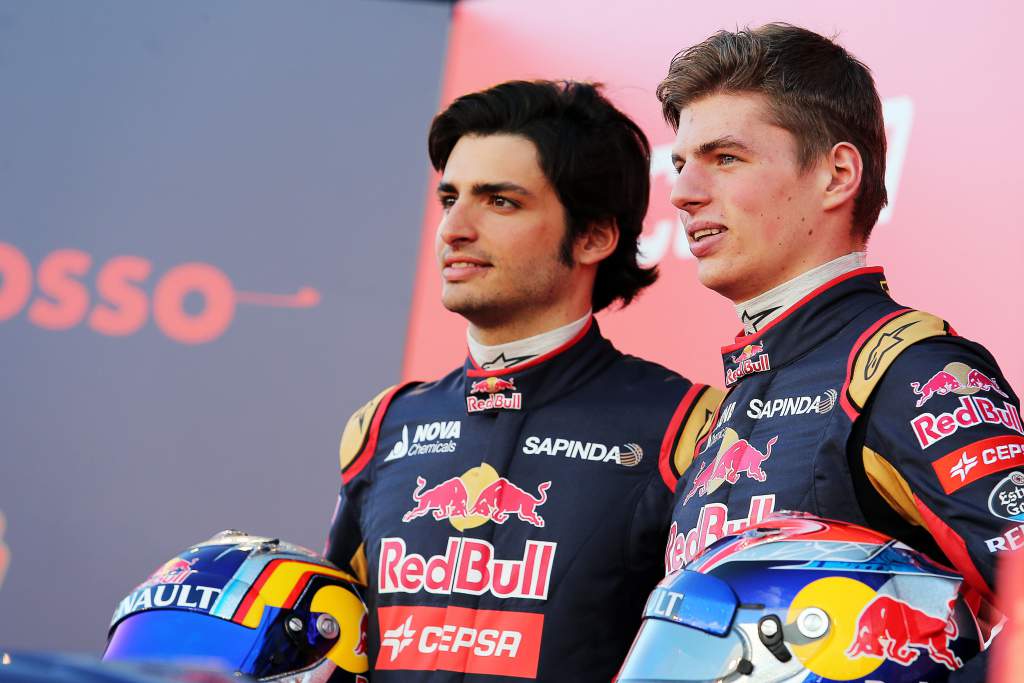 It's surprising given the team's purpose that Toro Rosso only once went into an F1 season with two rookies, with some degree of overlap with a (slightly) more experienced driver in every other year.
But when it did do that, what a pair of rookies it had. Verstappen ended up with the higher-profile results and a substantially larger points tally, but Sainz had the worst of the reliability troubles that afflicted both of them.
It was clear from their qualifying peaks and their superb racecraft that both had huge F1 futures – as proved by what they're up to six years on, going into 2021 poised for a first title shot and representing Ferrari respectively.
Though there were incidents (some of them very messy) and missed opportunities as you would expect from such an inexperienced line-up, their maturity and composure overall was startling right from the start of testing, especially considering Verstappen was only 17.
This was the chance their whole lives had been geared towards, and it showed.