Frontier Developments has no doubt made its presence felt in the F1 gaming space with the big push of its F1 Manager series since it debuted last year.
The hype for the first game died down quite quickly once it came to light that certain key features weren't included, the lack of changes from one season to the next and just how easy it was to turn a backmarker into a championship-winning team.
If you've followed the marketing for F1 Manager 2023 then you'll know that Frontier has listened and reacted to that feedback. Formula 2 and Formula 3 are fully simulated, F1 sprint races have been added and you can sign a contract with someone that starts in the following season rather than immediately.
Those are all positive and self-explanatory additions, and our early hands-on with the game last month confirmed that the on-track action had been greatly improved.
Drivers don't get stuck in DRS trains as easily as they did last time and the difference in performance between the tyre compounds is more pronounced. The inclusion of tyre temperatures also genuinely adds an additional consideration as getting it wrong can have a huge impact on your drivers' pace or how quickly they wear their tyres.
The big remaining question is whether or not F1 Manager 2023 is a step up over its predecessor longer term. Having worked our way through to the second season of a career mode, we at least have some idea as to whether that's the case.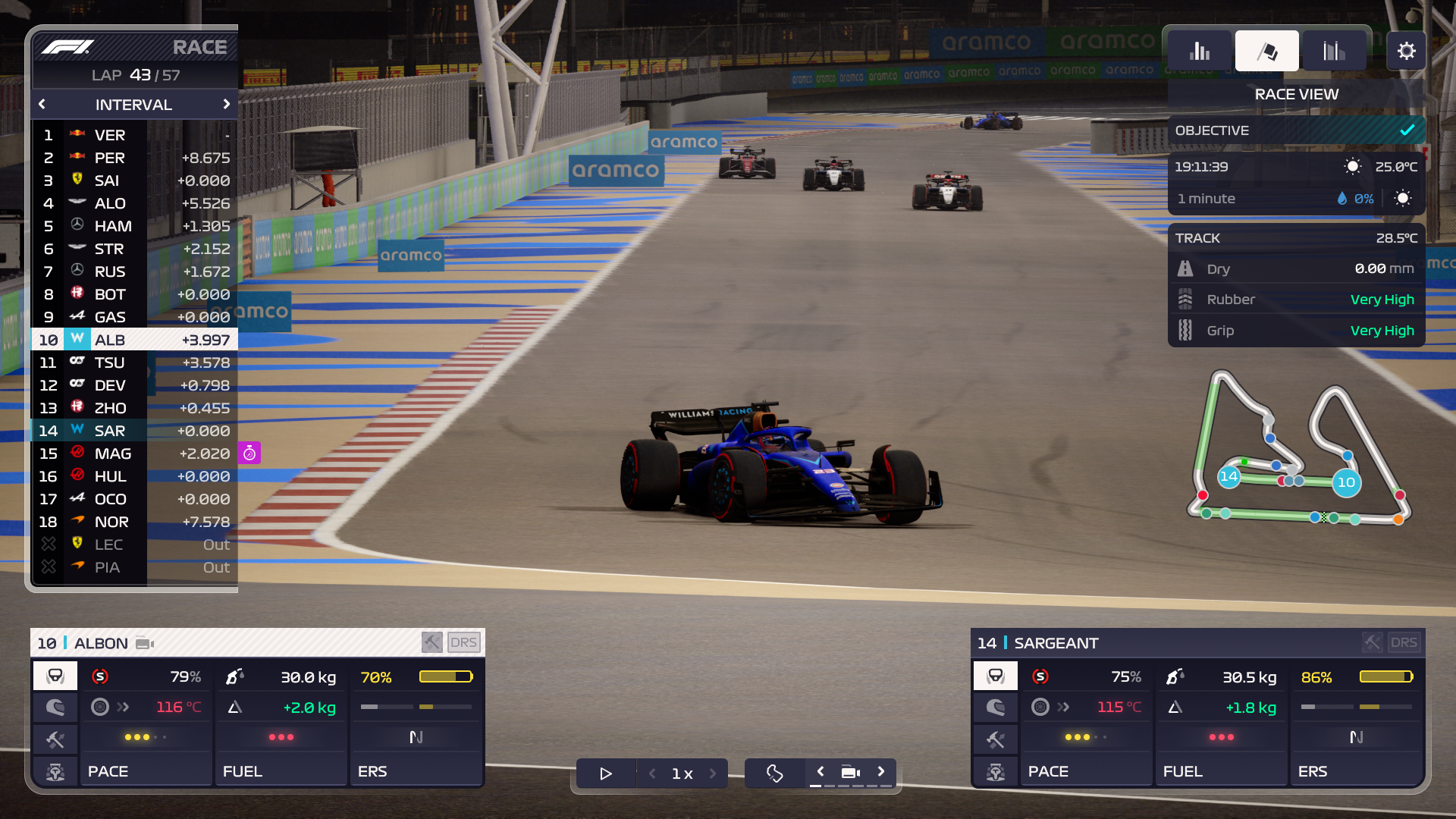 A notable issue with last year's game is that almost everyone in F1, regardless of age, success or job role, had their overall rating increase by one per year. It's not that simple in F1 Manager 2023 although it should be noted that we played a version of the game without the day one patch, so the rating changes we experienced are more dramatic than they are now that the game has been released.
Older drivers will see their ratings decline, Daniel Ricciardo notably fell from 83 to 79 overall after just one season. Although that was potentially exacerbated by him being a reserve driver for that entire time as Fernando Alonso, who's eight years older than Ricciardo, only experienced a drop of three to his overall.
Contrast that with the McLaren duo, Norris rose from 87 to 89 and Piastri's growth was even larger, jumping up by four overall in a year.
The decline in ratings and eventual retirement of the older drivers will eventually lead to F2 and potentially F3 drivers making their way into F1. In our second season none of them landed anything other than reserve role but, there were a lot of changes in both feeder series.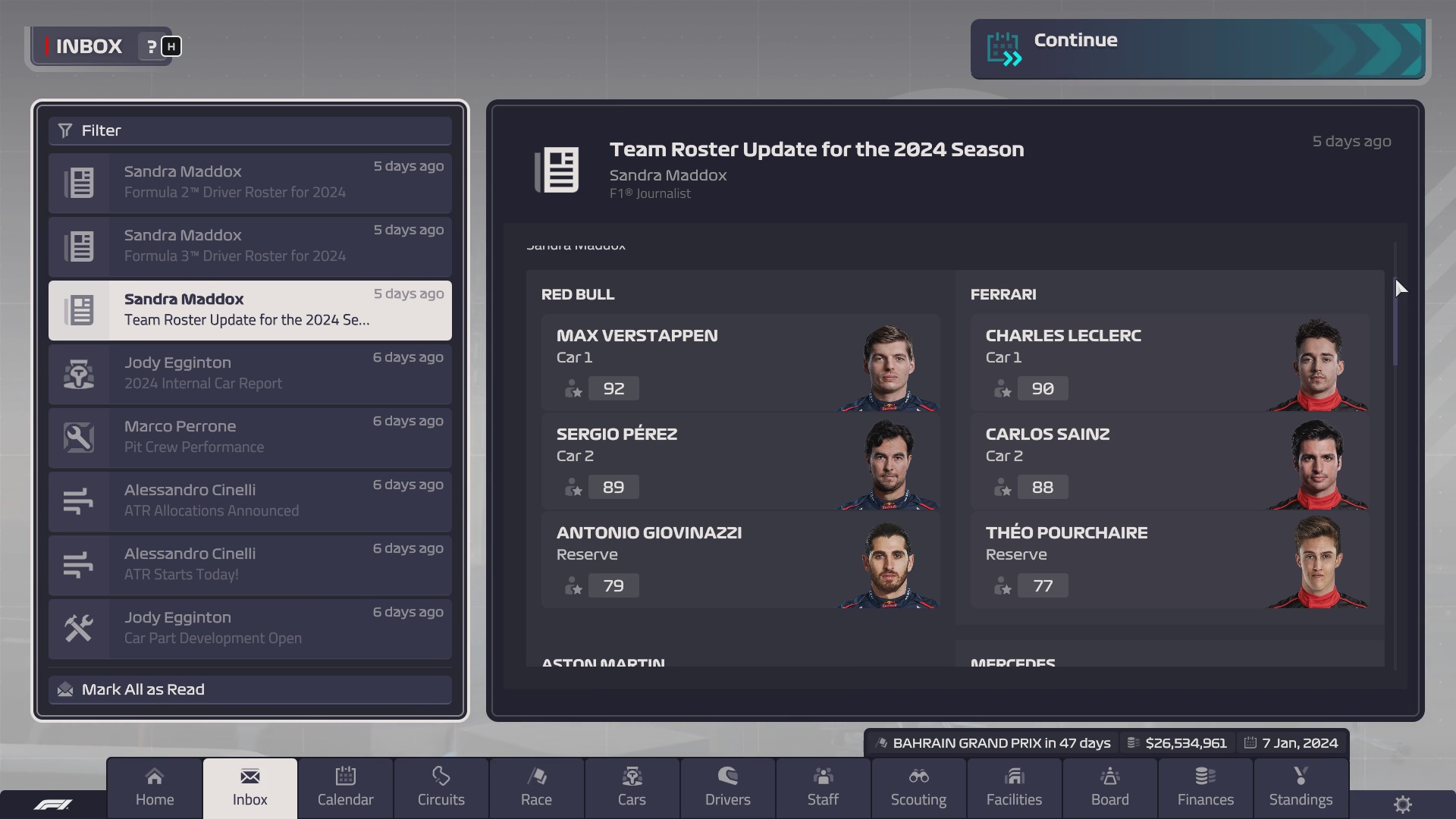 Theo Pourchaire was the F2 champion and moved to Ferrari as their reserve and his old team, ART, had an all new driver pairing of Arthur Leclerc and Roman Stanek. The F3 champion Paul Aron (in real life a Mercedes F1 junior), also progressed up and landed an F2 seat with DAMS and ended up winning the Bahrain sprint race.
So you can make an informed decision as to which young talent you might want to recruit and the more dynamic altering of ratings means that it's far more likely that feeder series drivers end up having a more impactful presence in F1 than they did in F1 Manager 2022.
It's not just drivers that can work their way up the series. In the second season race engineer Amaury Lardon and sporting director Aurelien Pallier, who both start the career with F2 team ART, moved to Haas and Alfa Romeo respectively for the second season.
Personnel development across a playthrough has been greatly improved but that is only half the story. Car development was also widely criticised last year and that hasn't had the same overhaul.
The biggest difference is that aerodynamic parts now wear out and part lifespan is a factor, so you can make the parts on your car lighter but then they'll need to be replaced more frequently. That eats into your team's cost cap and money itself isn't as plentiful as a couple of facility upgrades at the end of the year meant our AlphaTauri team had about $5 million less in the bank than they did at the start of the season.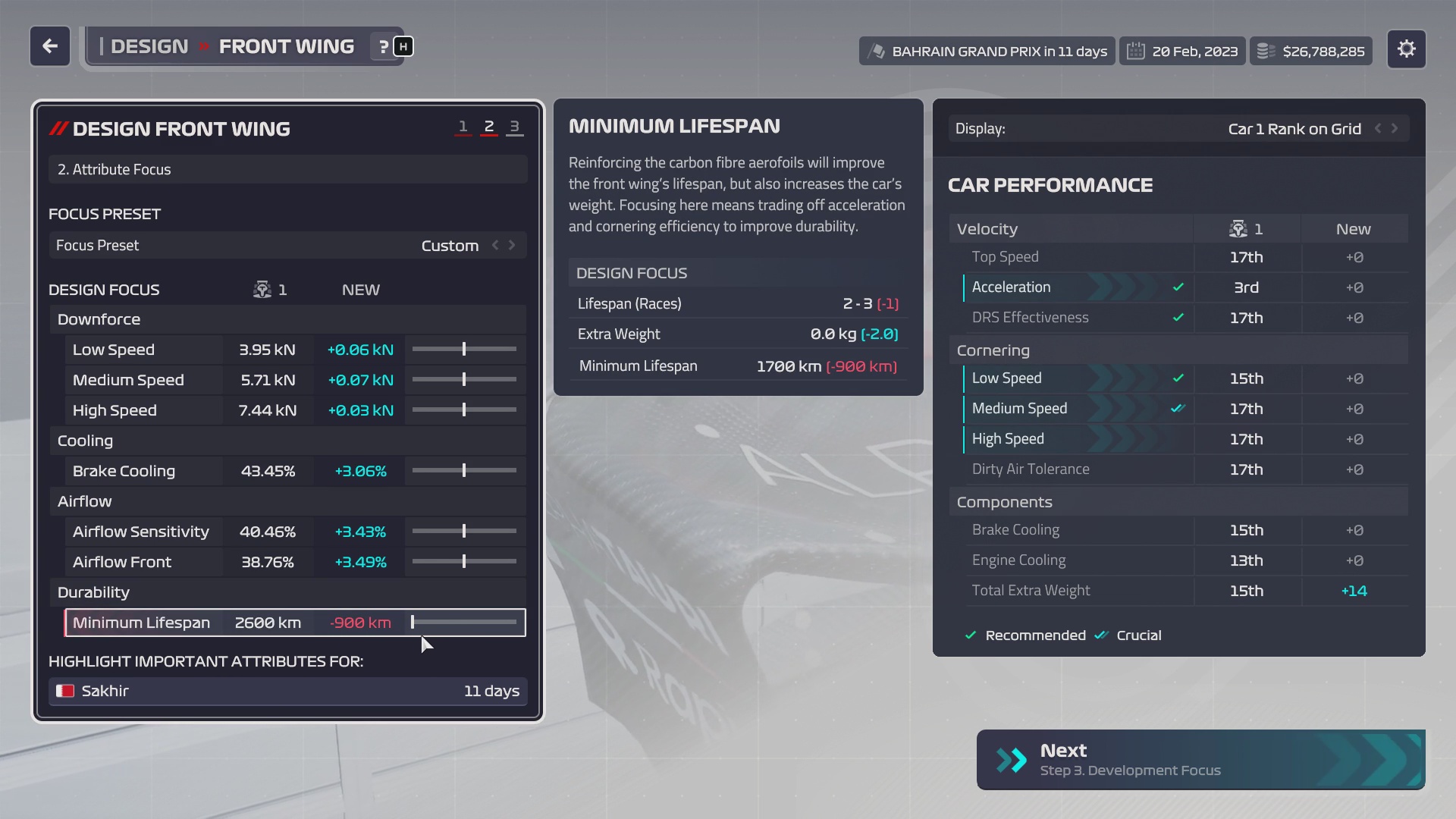 It's also worth pointing out that aerodynamic part wear doesn't translate into potential part failures. Much like in last year's game, drivers only ever retire from races if they crash out or if you forcibly retire your own cars.
Drivers never fail to see the chequered flag due to an aerodynamic or powertrain part going wrong and, bizarrely, you can have a part with 0% life left, but it still passes the team's own inspection and will still last for another grand prix.
The main objection in terms of car development that players had with last year's game is that it was fairly simple to eventually develop an all-conquering car. Simply do as much research as you can, as soon as you're able to and you'll eventually get there.
Whilst it's too early to say with absolute certainty whether that's the case in F1 Manager 2023, in our experience we went from scoring 17 points in the whole of 2023, to scoring 20 points in 2024's Saudi Arabian Grand Prix alone thanks to fourth and sixth place finishes for our two drivers.
There's also no new rule changes to help shake up the pecking order and the ratings of the engines produced by all four manufacturers still don't change from season to season – at least in our experience so far.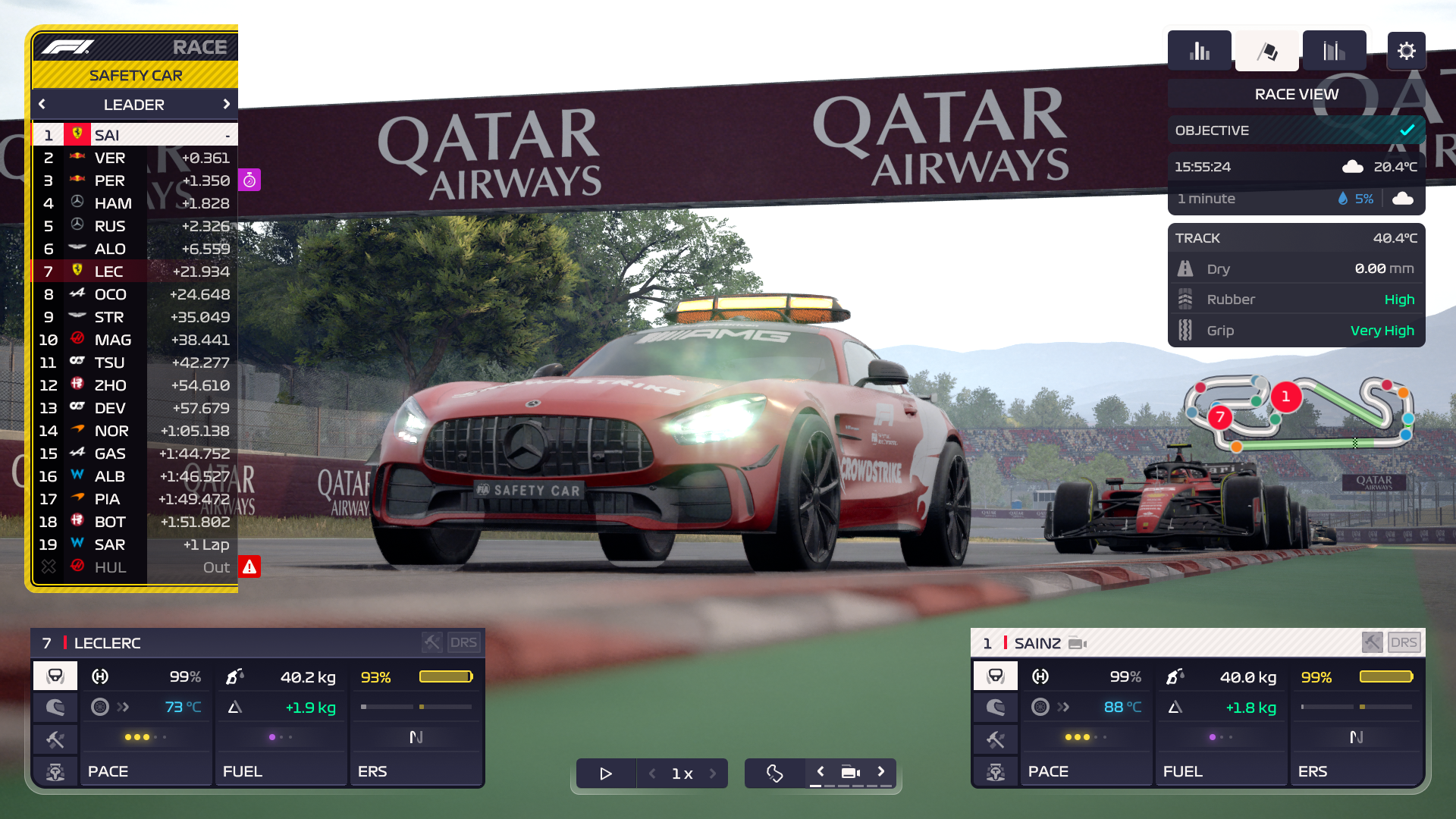 What this game lacks that previous racing management games didn't, is some sort of jeopardy or random event that can steer your team off course. Whether that be your power unit manufacturer falling behind compared to the others or the aero philosophy that your team adopts turning out to be the wrong one – akin to Mercedes' zero-pod design which it ditched earlier this year.
The only consolation is that you will be able to switch teams once Frontier patches that into the game, the estimated date for that being early September. So you will then at least be able to move to a team that's still rooted to the back of the grid and turn them around in the same way you did with your original team.
That's the bulk of F1 Manager 2023 whilst the career mode is markedly better, there are still many elements that other comparable games, including Motorsport Manager, did better.
Separate to the career mode is the race replay option which includes 'starting grid' and 'race moment' challenges. The former is simply a race around a circuit with the same starting grids as the real-life grand prix and you have to try and do better than your chosen team did.
Starting grids is more intriguing as it drops you in the middle of a race with a certain team and gives you a certain objective. This was something we experienced in the preview build of the game and had to win the Monaco Grand Prix with Fernando Alonso and you're dropped in just as it started raining.
The Hungarian Grand Prix challenge is to secure the maximum 44 points as Red Bull. You're dropped in on lap 42 of 70 with Perez in fifth and just behind Hamilton.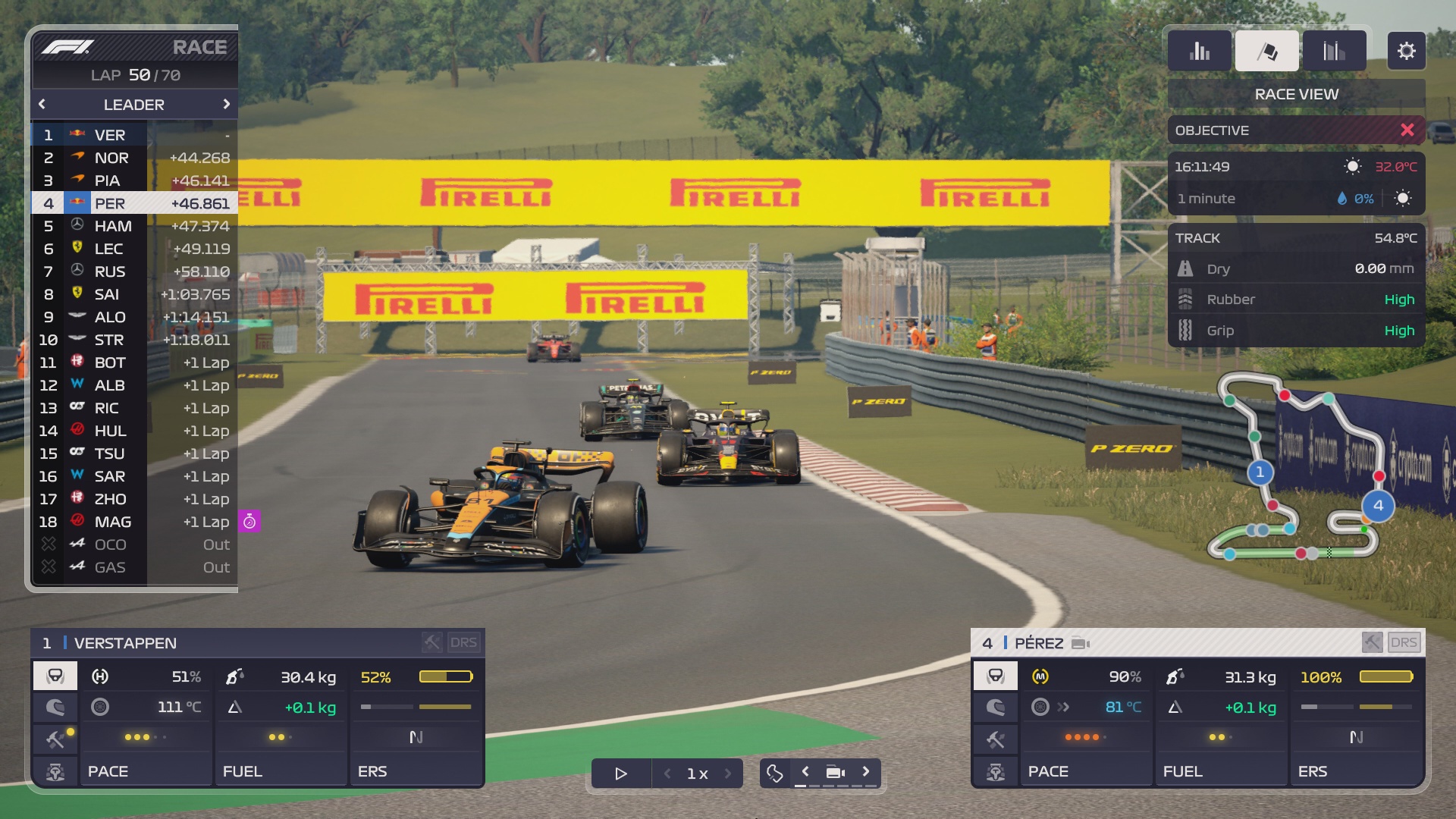 A recurring experience in the select race moment challenges we tried is that they were fairly easy. Contrary to real-life, we were easily able to get Perez into second place and ended up beating Lando Norris in third by 13 seconds. Winning and setting the fastest lap with Max Verstappen was as simple as you would expect.
It is worth stating that these challenges aren't overly scripted and so each attempt can pay out totally differently, for better or worse. That makes them much more fun to replay but can also make them either near impossible to complete or extremely easy.
The Bahrain challenge asked you to get Alex Albon to finish 10th, which is where he is when you take control, but you have to fend off a fast-charging Yuki Tsunoda. A challenge that was rendered academic when Pierre Gasly spun, promoting both Albon and Tsunoda up a position.
As a short distraction or for the novelty of reliving real-life grand prix, those challenges are a welcome addition. Also the handful of whackier challenges, such as equal-performance car races, a rain-affected Bahrain Grand Prix and races with extreme temperature conditions, are more interesting and do require you to think differently to how you do in the rest of the game.
Despite all the changes, improvements and new features – whether F1 Manager 2023 will appeal to you is dependent on whether F1 Manager 2022 did.
If you want a game that focuses on the on-track management and having to react in races which can genuinely be unpredictable and immensely entertaining – then you'll be right at home with the career mode and the separate challenges.
But if you're looking for a challenging and deep management simulation where the off-track side of running a team is as involved, deep and unpredictable as the races – then you'll probably still prefer the older F1 and racing management titles.