It's just over a month until F1 Manager 2023, the second instalment in Frontier Development's management game series, is released.
Ahead of the launch, The Race was given a two-hour long hands-on look, giving a glimpse at the on- and off-track sides to this year's game. That included a run through of the British Grand Prix and one of the brand-new 'Race Moments', which was based on this year's rain-affected Monaco Grand Prix.
Alongside that preview was the confirmation of a much-requested feature that will be added post-launch. Namely the ability to switch which team you're in charge of, with an estimated release of that update being early September, a little over a month after F1 Manager 2023 comes out.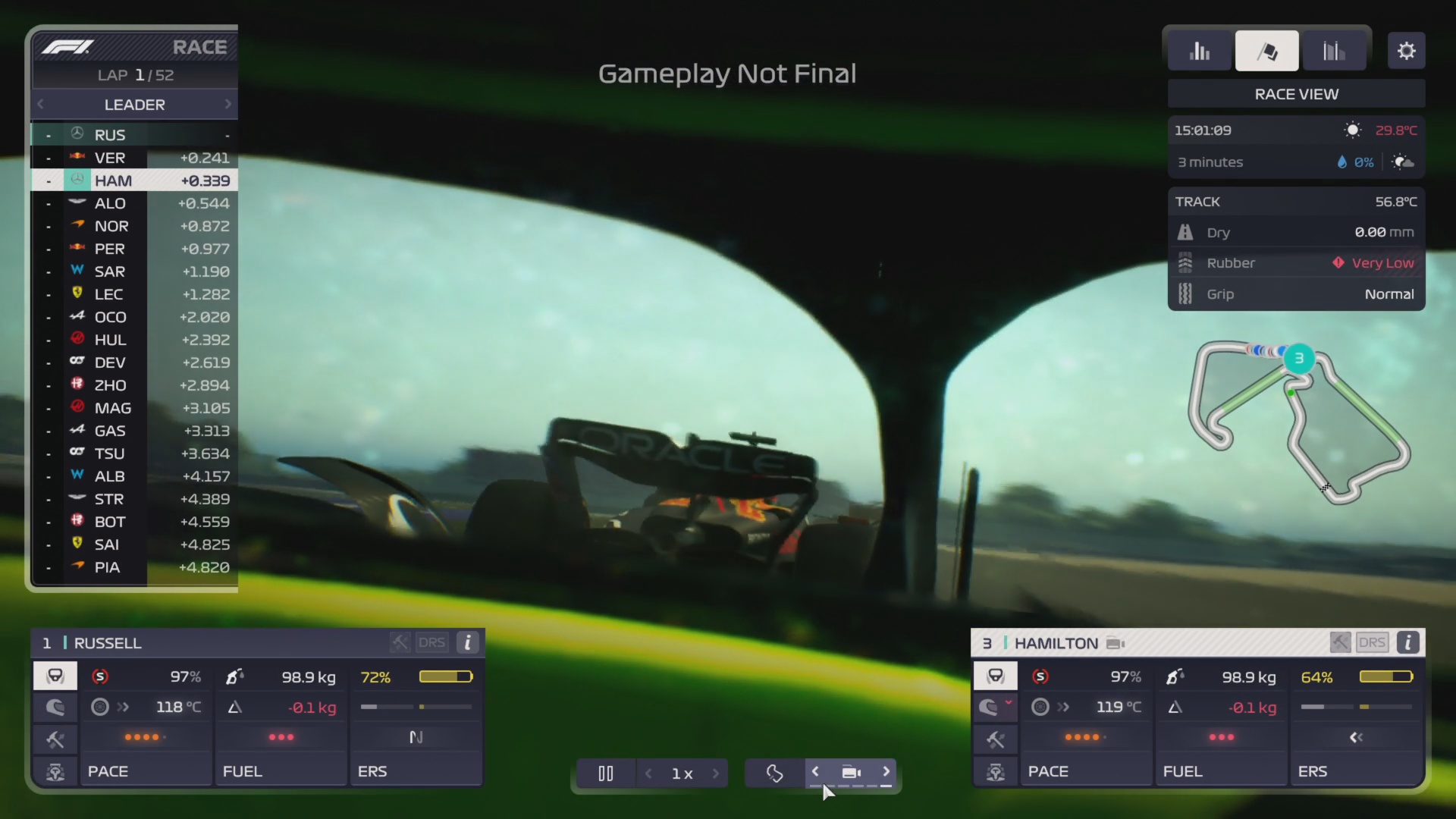 If you've kept an eye on news for this year's F1 Manager game then you'll have seen a lot of slated changes in terms of the race simulation. This was a key area for improvement as there were quite a few inaccuracies in last year's game, especially in earlier versions.
Most notably the dirty air and DRS effects have been tweaked to make it not quite as easy for cars to follow each other nose-to-tail, and overtakes don't happen almost every time a driver gets DRS. Both were traits of F1 Manager 2022, which caused huge DRS trains, sometimes containing half of the grid, to occur in a lot of races.
In F1 Manager 2023 though the field spread is much more realistic and it is much easier to break out of DRS range of a chasing driver. Instead, tyre wear and pitstop strategies become the main focal point during a grand prix.
We were in charge of Mercedes during the British GP and the race win ended up being fought between both of our drivers along with Sergio Perez and Charles Leclerc.
The Ferrari driver very quickly became a credible threat as he was running in fourth and several seconds behind the top three, but his decision to run on softs for the middle stint rather than mediums meant he caught up to and passed Perez and Russell and got to within 1.5 seconds of leader Hamilton. That was until excessive wear on Leclerc's softs put an end to his pace advantage.
For Formula 1 fans it would be stating the obvious to point out that the different tyre compounds and how worn they are plays a huge part in a driver's pace on track. However, in last year's game they weren't as important as you would expect among the influencing factors. While this was later worked on by the developers, the effect of tyre wear on laptimes was minimal until tyres had less than 30% life left and then they fell off the cliff.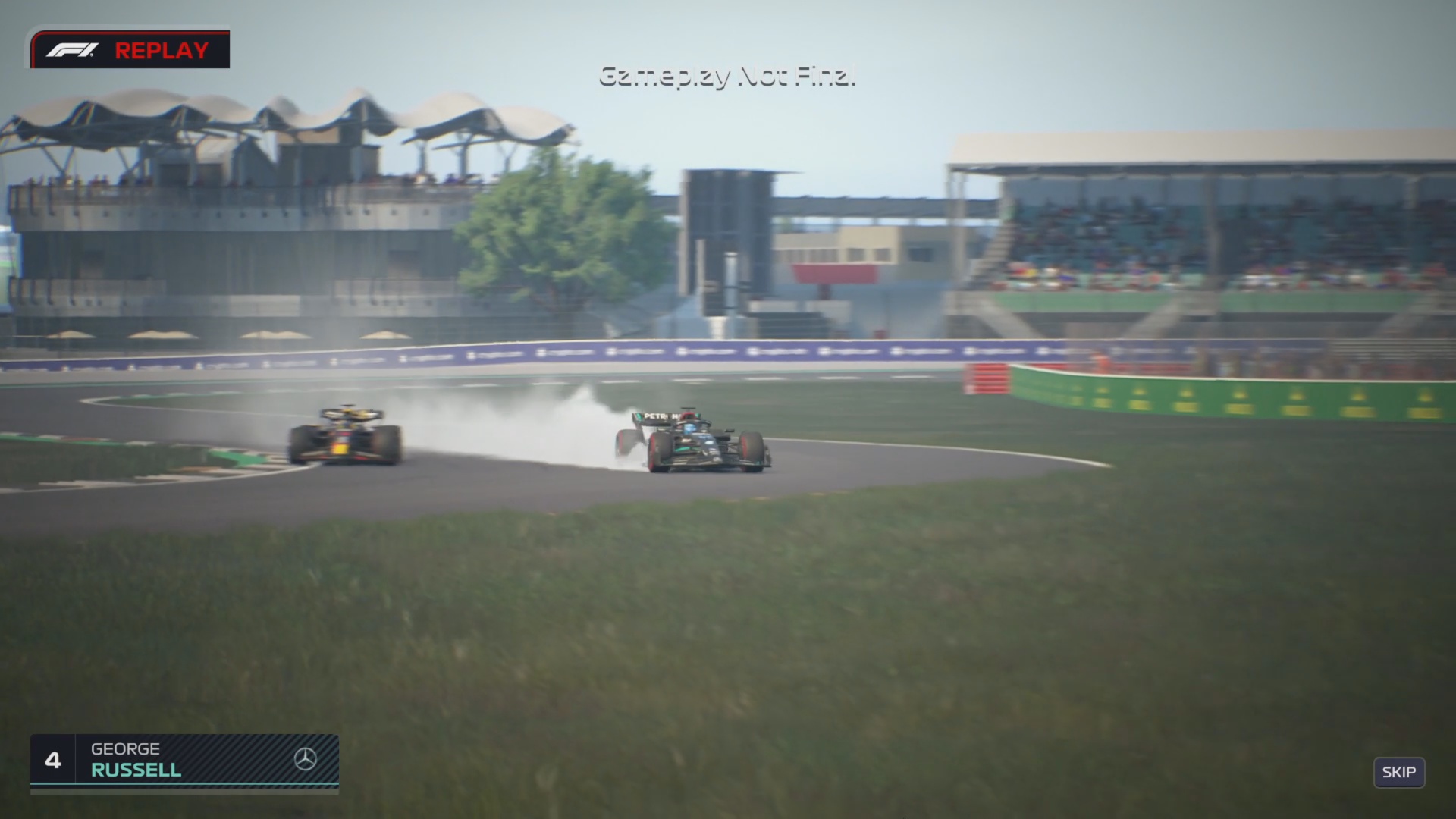 So the fact that the fundamental characteristics of the tyres, dirty air and DRS have been altered to be more true to life means that the races play out far more realistically in F1 Manager 2023 than they did in last year's game.
Alongside those are improvements to how the cars behave on track including greater racing line variation meant to make on-track battles more exciting to watch. There's also the all new visor cam as an additional camera angle to watch the action from.
More importantly though, cars that go off the track due to a lock-up, running wide or by spinning don't come to a standstill and wait for a massive gap in traffic before slowly trundling back to the racing line. They now rejoin as soon as safely possible, which means a lock-up early in the race doesn't now drop your driver to stone dead last.
Although, even in our short hands-on with F1 Manager 2023, we noticed four near-identical spins all at the same part of the track. Over the course of the grand prix weekend four different drivers span at the exit of Aintree heading onto the Wellington Straight.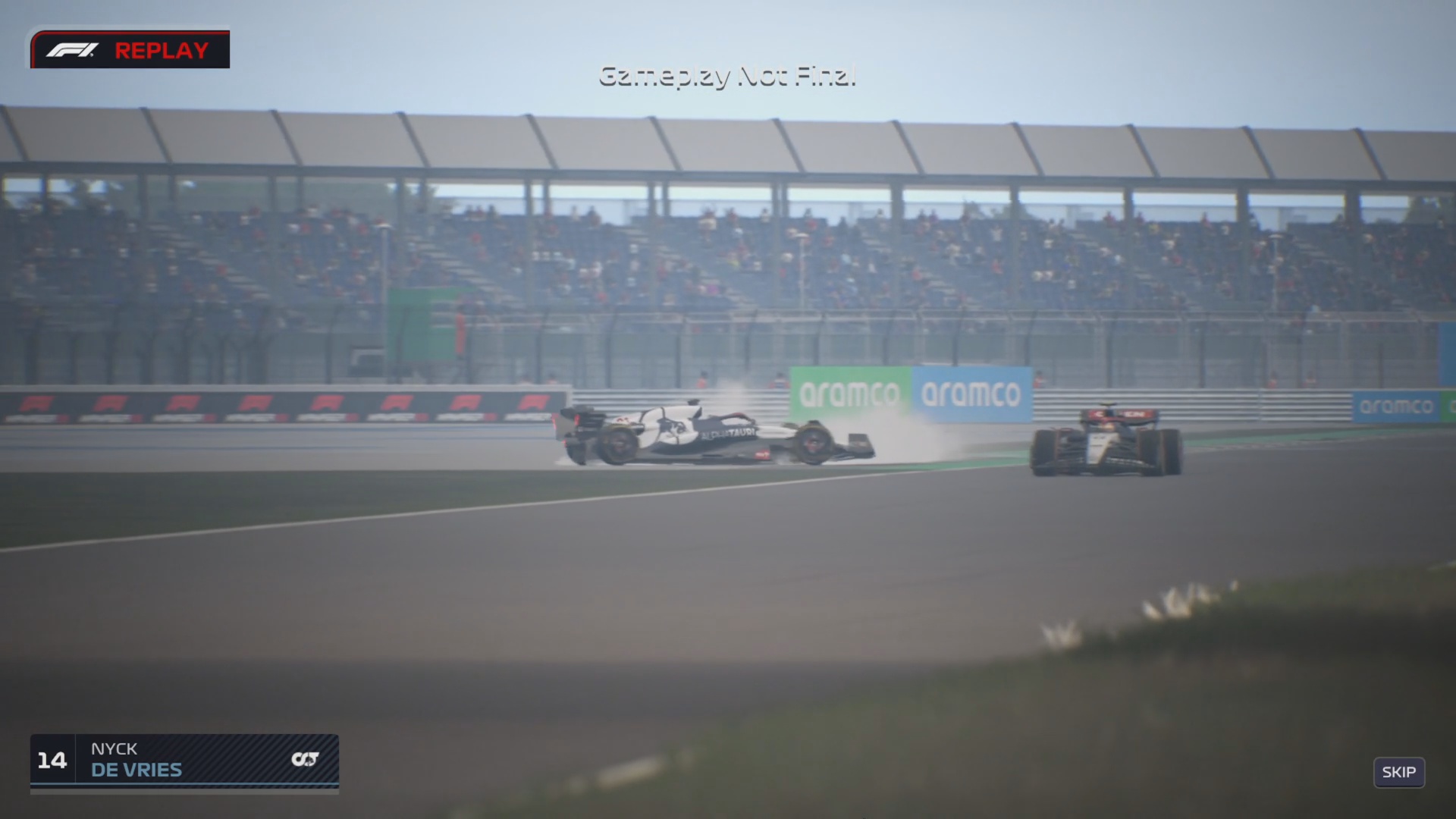 Last year's game had a tendency to repeat incidents and unfortunately that lack of variety still seems to be present this year – even if the spins themselves are more realistic and now come with appropriate radio clips from the drivers in question.
The other race we got to try out was one of the 'Race Moments' – a brand new scenario-based game mode. This particular one tasked you with securing the race win for Fernando Alonso and placed you in the middle of the Monaco GP, just as it started raining.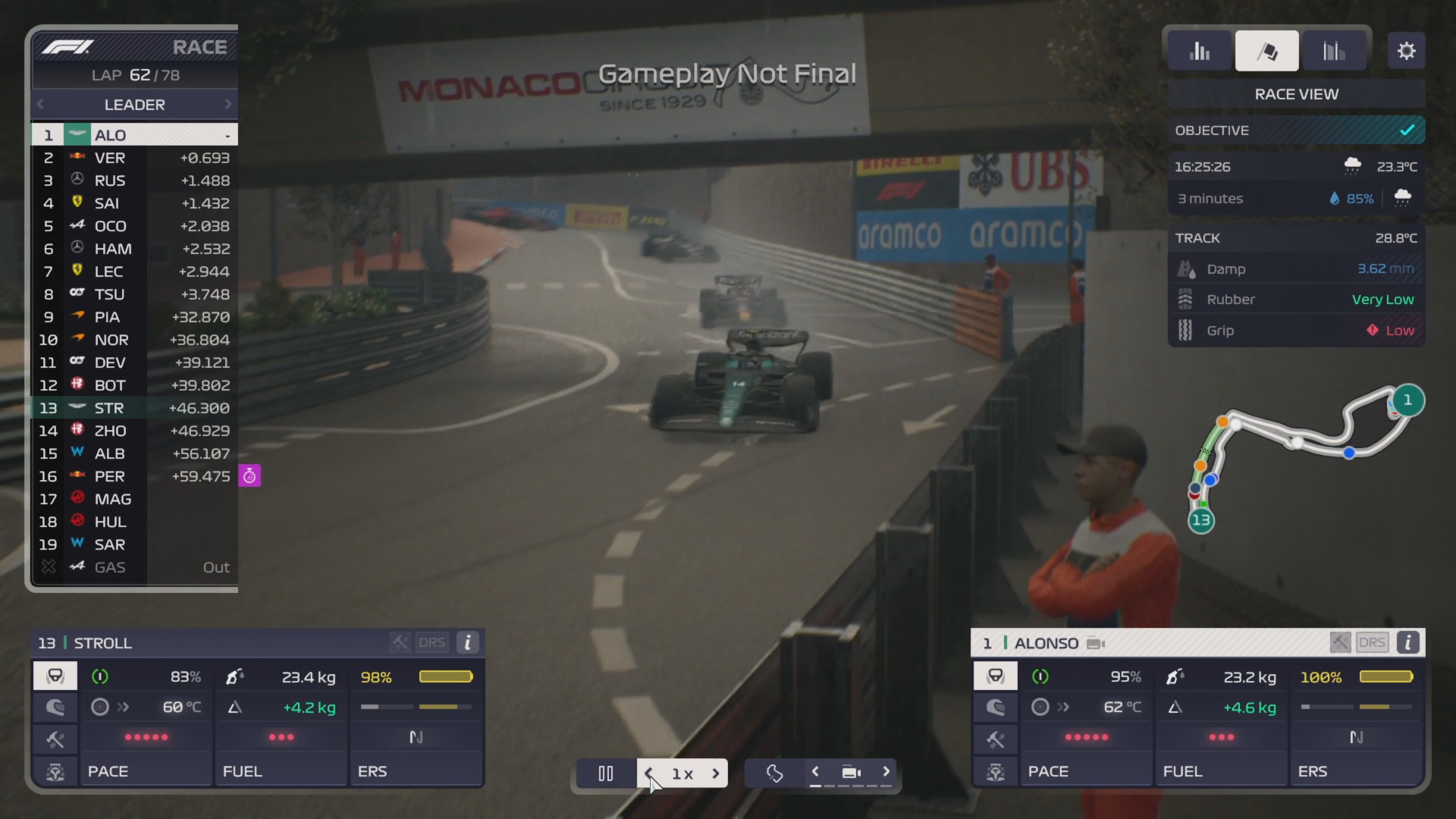 A lot of the race moments are inspired by events from the real-life season and the game mode aims to add some variety and short-burst fun to the series.
One encouraging aspect is that, whilst the starting circumstances are always the same, from then on it plays out just as randomly as a normal race. Our first attempt ended early when the red flag was waved on the penultimate lap and the other had a safety car deployed two laps into our run.
The safety car was fortunately timed for Max Verstappen, who pitted a lap later than us for intermediates, but even still the time we gained earlier in the lap over the Red Bull driver was enough to jump him and take the lead of the race.
Based on our two attempts with that scenario, whether you win or lose to Verstappen is solely dependent on whether you pit straight away or not.
That is perhaps to be expected for a changeable conditions race at somewhere as difficult to overtake around as Monaco, but it makes passing the challenge easy to complete if you know what to do and near impossible if you don't. Hopefully the other race moments don't hinge so much on a single, immediate decision and are more fun than this particular one was.
Of course, F1 Manager 2023 wouldn't be a true management game without putting a lot of emphasis on the off-track side of managing a team. This was where, long-term, the previous game fell down as it was too easy to build and maintain a championship-winning outfit.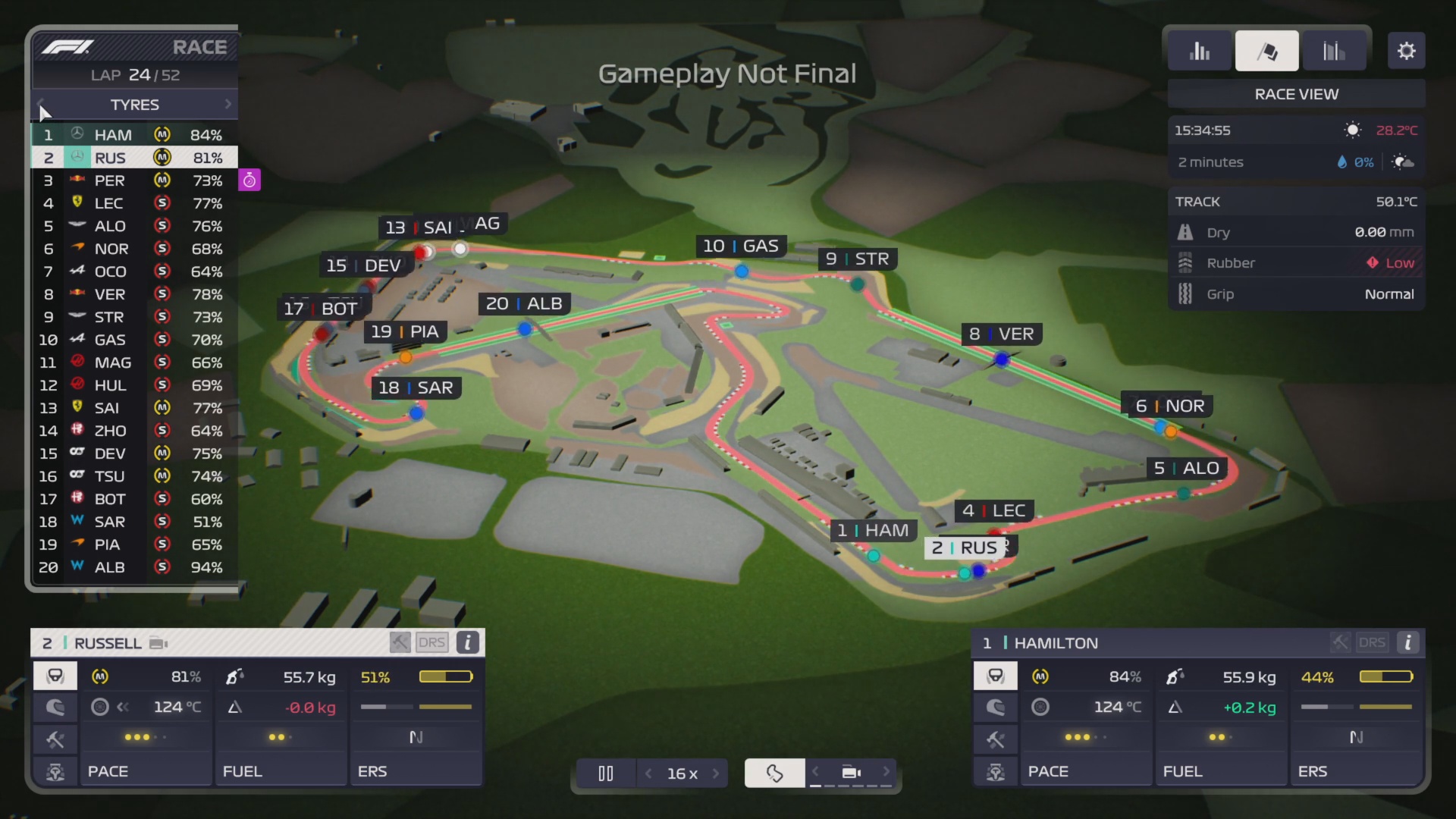 Whilst we weren't able to test out how a career progresses long-term, we were able to get a first look at some of the systems designed to make the management side of the game both deeper and trickier.
The much marketed addition of the sporting director role means a new key personnel member to sign each season and includes the overseeing of your pit crew.
There's different presets for which area of improvement your pit crew should focus on, whether that be reducing pitstop times, reducing the likelihood of errors during pitstops, or resting your pit crew. A well-rested crew will naturally be quicker and less prone to making mistakes.
You can, if you choose to, go as granular as personally dictating what your pit crew do on each half of a working day.
Designing new parts for your car now has the added factor of considering the lifespan you intend the part to have. The lighter the part the quicker your car will be, but it will need to be replaced sooner and manufacturing a replacement will eat into your cost cap.
That is part of what supposedly makes the cost cap harder to stick to in this year's game. Frontier have touted that you will have to prioritise your spending more than you did previously in order to not breach the cap.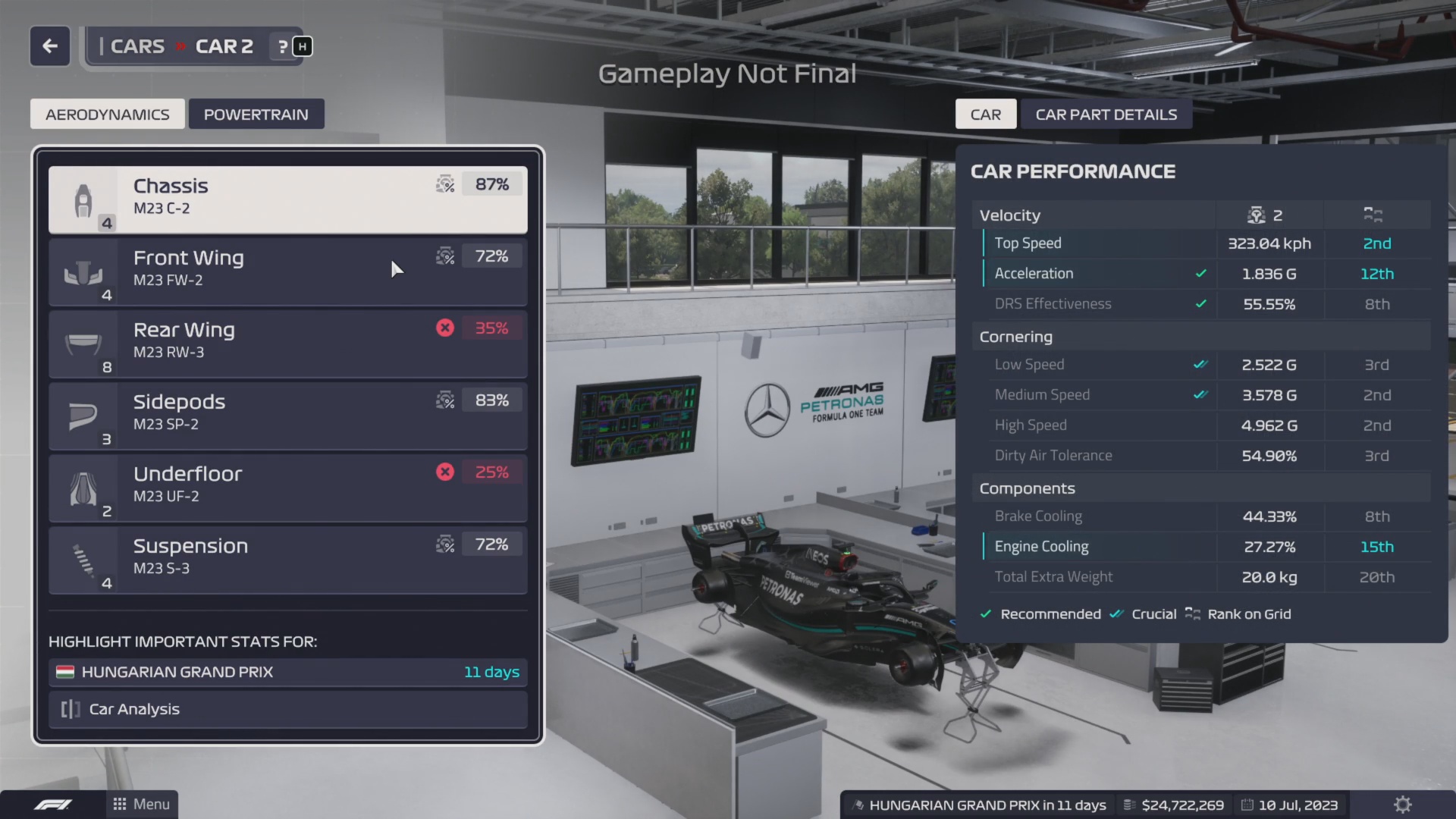 Personnel development has also been tweaked. This was a glaring issue in F1 Manager 2022 as almost everyone in F1, regardless of age or success, increased their overall rating by one every season.
For F1 Manager 2023 how people's ratings change over time is said to be more dynamic, with age a much bigger consideration now as older drivers will eventually have their ratings decline.
Alongside that is the fact that the full Formula 2 and Formula 3 championships will be simulated throughout the career. You'll be emailed in-game the podium finishers for each race but you can view the full race results and championship standings, making it so that you can choose to sign an up-and-coming driver based on their on-track performance.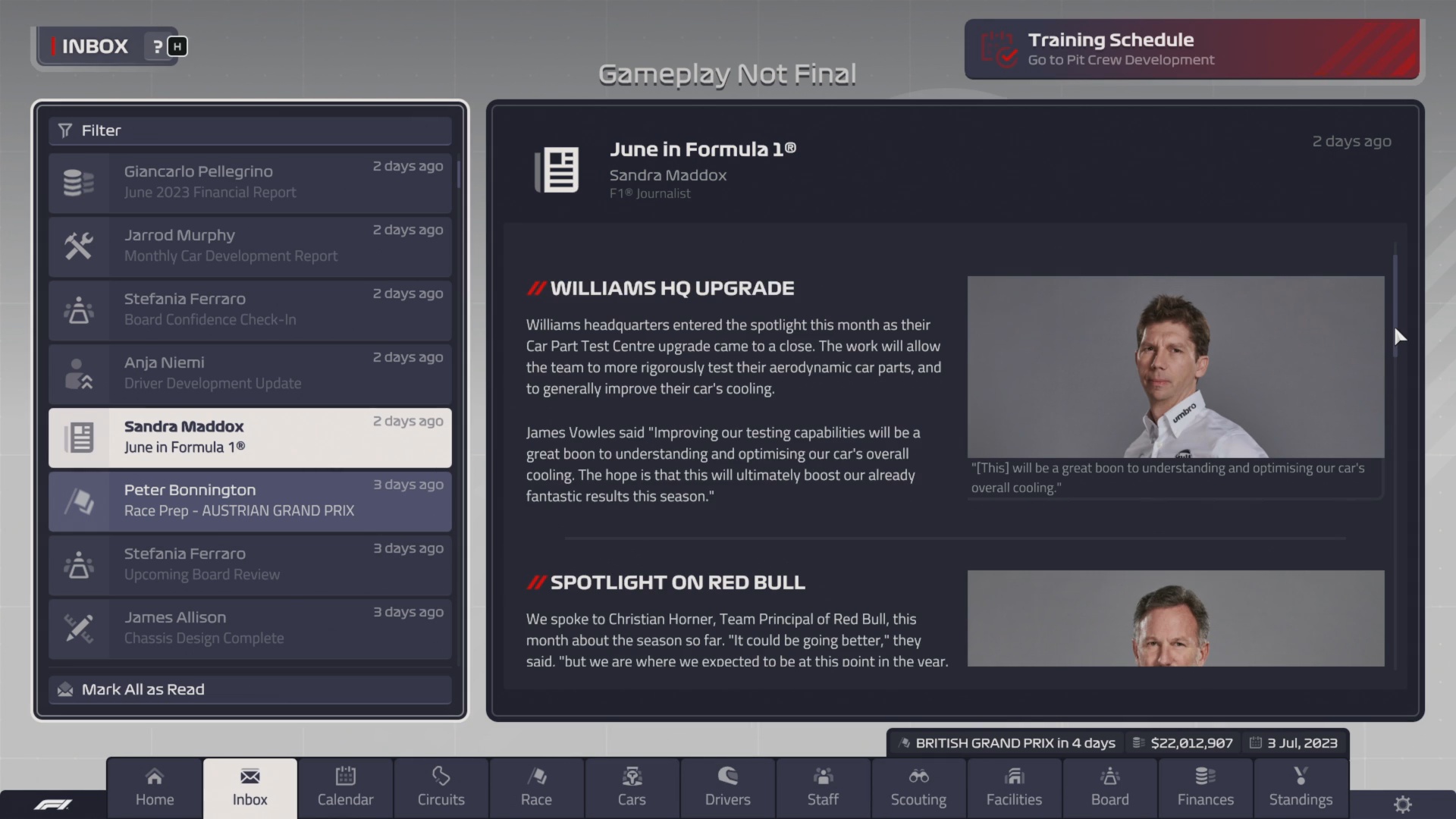 Similarly, you now get emails with news about other F1 teams including factory upgrades. This helps to make a career mode playthrough feel more alive and like the other teams aren't just standing still, and hopefully those announcements from teams will translate into improvements for them as the career progresses.
F1 Manager 2023 has made a concerted effort to address a lot of the bigger issues players had with the first instalment. There are still some oddities which have carried over, such as drivers setting laptimes in qualifying and then fruitlessly going out later in the session once it's started raining, while teams still send their drivers out on part-worn tyres in qualifying, seemingly not saving any fresh sets for Q2 or Q3.
But the on-track side of the game is a definite step up over the previous game. The improvements to the off-track portion of the game are encouraging, but we're still yet to see if it makes the desired impact over a multi-season career mode playthrough.