The story of Michael Schumacher making a sudden Formula 1 debut for Jordan at the 1991 Belgian Grand Prix, stunning the paddock by qualifying seventh but then retiring on lap one is among the best known F1 legends.
To mark the 30th anniversary of a debut that changed the course of F1 history, we've tried to dig out some of the less well known elements of the tale – many of which you can learn more about in the Schumacher 1991 episode of our Bring Back V10s podcast, in which our own Gary Anderson shares plenty of insight on life at Eddie Jordan's team in its first season of F1.
THE ROOT OF THE OPPORTUNITY WAS WAY BACK IN DECEMBER 1990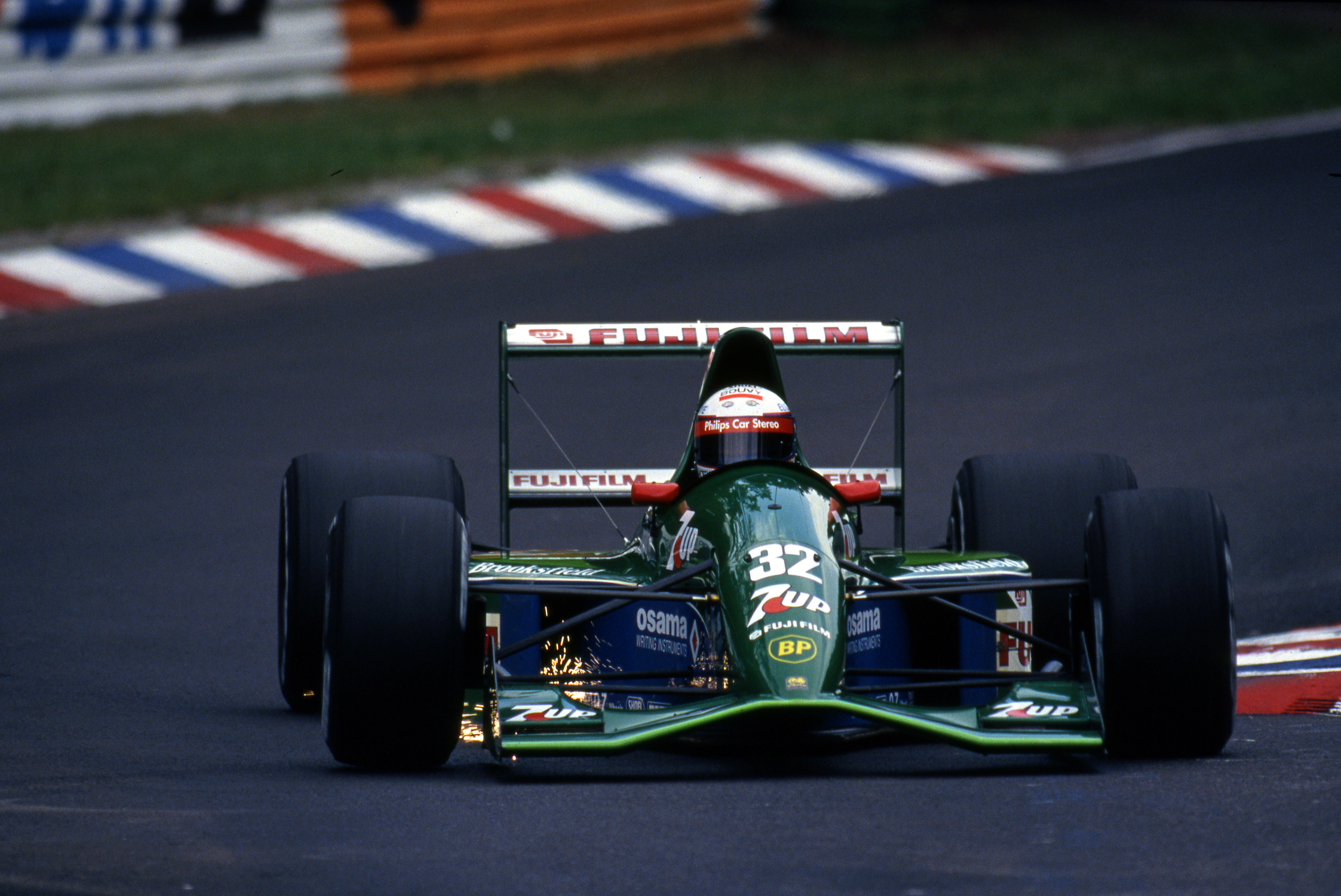 That the Jordan seat became available because the previous occupant Bertrand Gachot was sent to prison is a well-known part of the Schumacher debut folklore.
But the fact that the incident that led to Gachot's incarceration happened the previous year tends to be forgotten now.
While on the way to a meeting with Jordan's sponsor 7UP in December 1990, Gachot had a disagreement with London taxi driver Eric Court in traffic at Hyde Park Corner and it escalated into a confrontation in which Gachot deployed a CS gas canister – which he had in his car as it was a common self-defence tool elsewhere in Europe – on Court and the police were called.
So Gachot had the court case for the incident hanging over him throughout the first half of Jordan's debut season, it just happened to be heard between the Hungarian and Belgian GPs.
But everyone involved expected just a fine or at worst a suspended sentence.
"Everybody played it down, I don't think anyone really realised how serious it was or where it was going to go," says Anderson.
"Even Eddie's lawyers were saying it was only a matter of going there, paying a bit of a fine and getting rapped knuckles.
"As a team, we didn't really know enough about it and we didn't take it seriously."
Gachot expected to head straight from Southwark Crown Court to Monza for a test. Instead, he went straight to prison, initially for 18 months before it was reduced to nine on appeal.
KEKE ROSBERG WAS A CONTENDER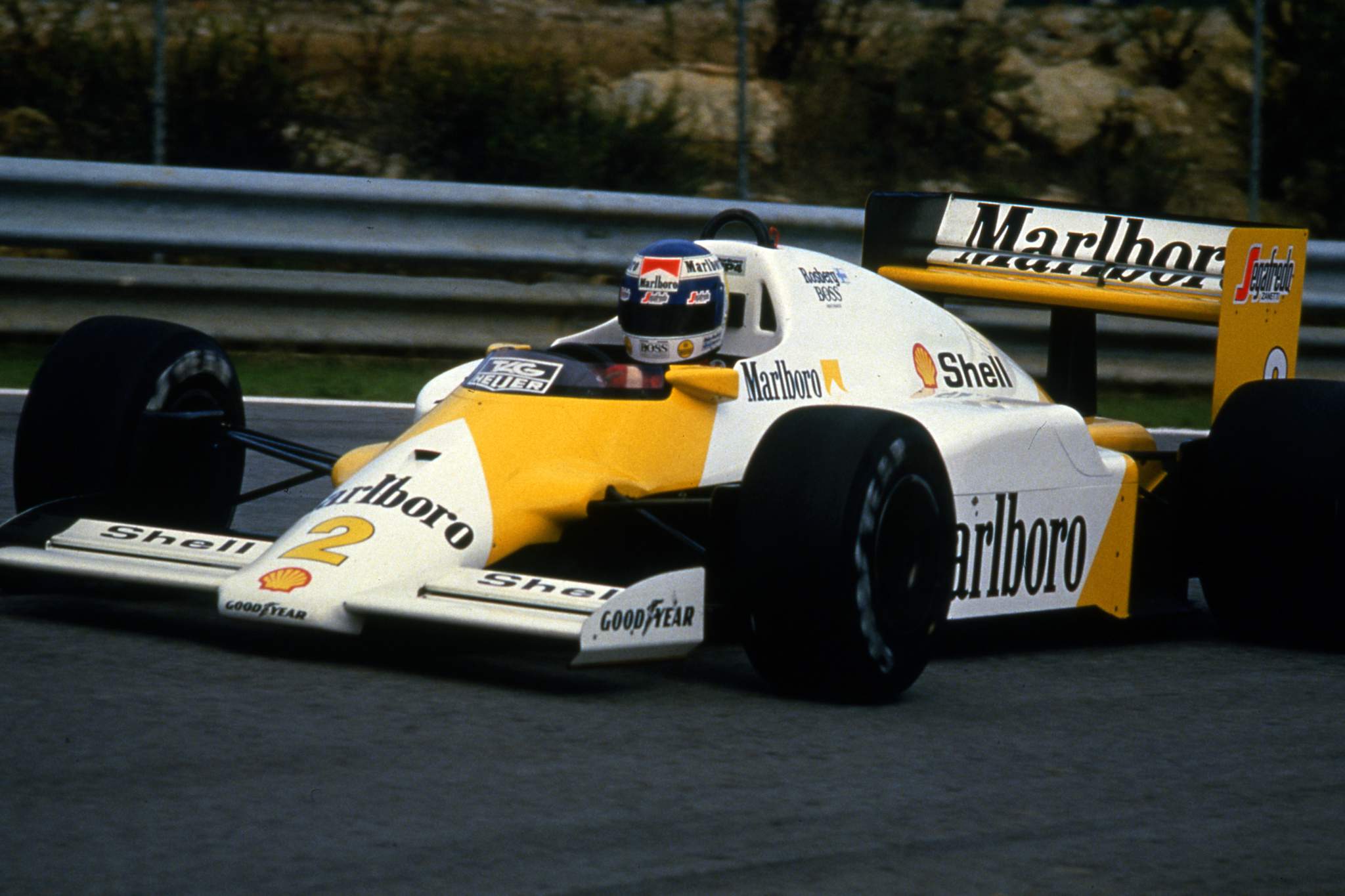 Eddie Jordan's first choice for the seat was Stefan Johansson – the former McLaren and Ferrari driver available now that a stint subbing for the injured Alex Caffi at the then Footwork-branded Arrows team had ended. But as Jordan put it in his book, Johansson "wanted to be paid" so was off the list.
Jordan also mentions Derek Warwick – racing for Jaguar in the World Sportscar Championship that season – as an option, but most intriguingly suggests that 1982 world champion Keke Rosberg's "name had come up". Five years after retiring from F1 (pictured above in his 1986 swansong year) and two years after coming back to racing in sportscars Rosberg was also in the WSC that season with Peugeot.
No details about how realistic a possibility Rosberg was have been forthcoming, but Anderson would've been underwhelmed by the likes of him, Johansson or Warwick.
"They weren't really high on my list," he says. "I've always been a lover of the young driver coming in – somebody that's not seen it all and done it all and knows it all.
"We hadn't seen it all, done it all or knew it all, but what we did was try and that was the main objective.
"And I wanted a driver in the car that would just go and drive the wheels off it, and I don't think you could do that with a hardened professional who was on his way to a retirement fund as opposed to a young guy who was on the way up."
HILL COULD'VE BEATEN SCHUMACHER TO IT!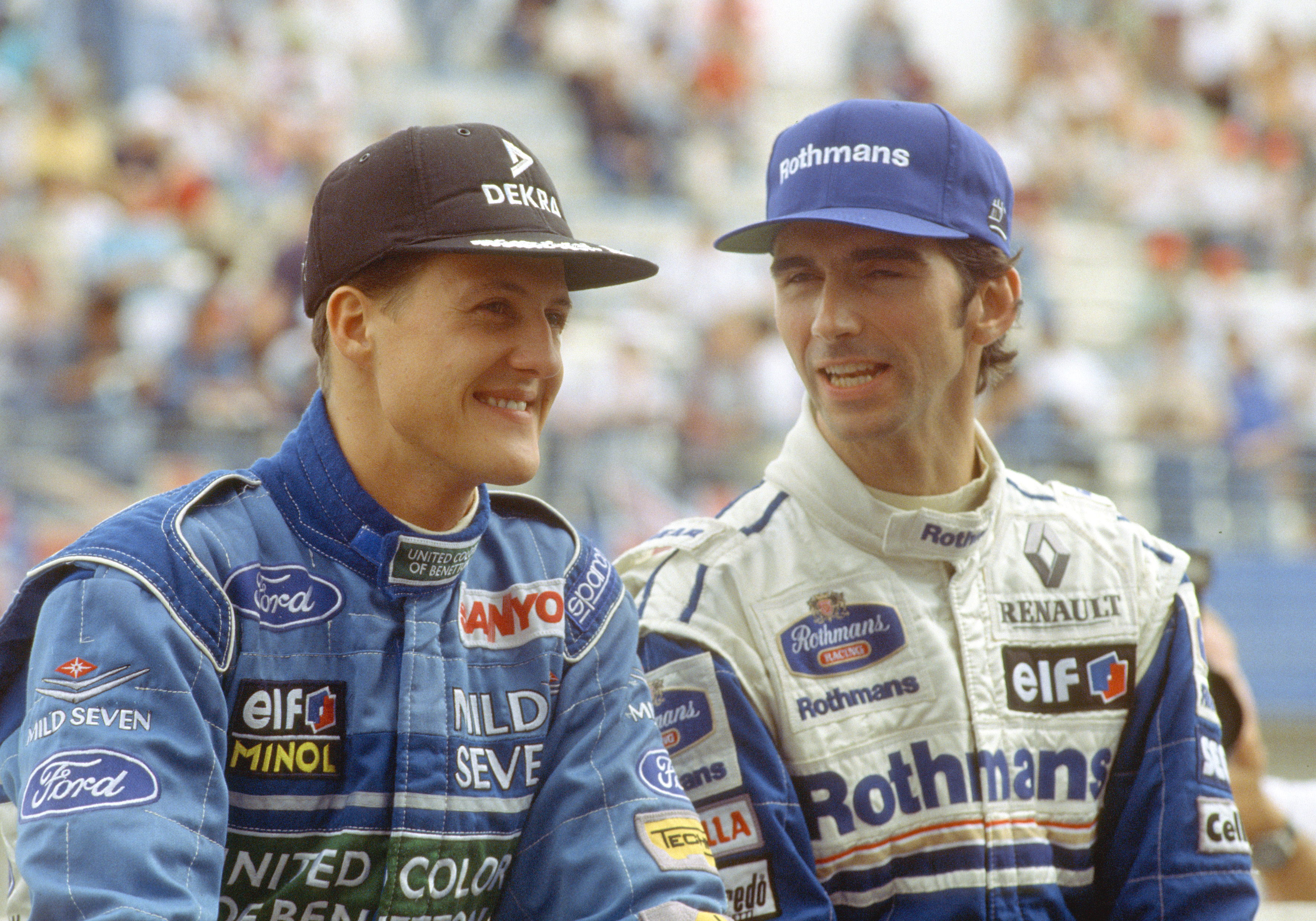 The biggest irony on the list of might have beens for the seat is that Schumacher's eventual 1994/95 title battle arch-rival Damon Hill was also considered according to Anderson.
Hill was in the Jordan orbit at the time, racing for what was by then called Barclay Team EJR – a merger of sorts between the Eddie Jordan Racing F3000 team Jordan was now trying to offload and the Middlebridge team Hill had previously raced for – in the F1 feeder series, and also testing for Williams.
With Jordan going for Schumacher instead, Hill's F1 debut would come in the significantly less competitive Brabham the following year.
SCHUMACHER COULD'VE MADE HIS DEBUT WITH ARROWS
On the way to his seat fitting with Jordan, Schumacher went ahead with an already-scheduled meeting with Footwork team boss Jackie Oliver as a courtesy.
This was during the era Arrows was part-owned by Wataru Ohashi and rebranded as Footwork. It temporarily had huge ambitions: securing Porsche engines, even approaching Nigel Mansell (and Adrian Newey) the previous year.
By the time of Schumacher's chat with Oliver, the overweight and uncompetitive Porsche engines had been ditched and Footwork was in pre-qualifying. The seat Schumacher might've started his F1 career with was instead occupied by Aguri Suzuki in 1992.
JORDAN HAD BEEN UNDERWHELMED BY SCHUMACHER
Eddie Jordan admits that he wasn't impressed by Schumacher when he first encountered him as a Formula 3 driver in 1990.
"The first time I watched Michael Schumacher race, I was not particularly impressed," Jordan wrote in his book.
"Michael's performance that day in 1990 had not caused a raising of eyebrows in the same way that Ayrton Senna had done when I first saw him race.
"Having come across good drivers in the past, I instantly realised there was something special about Senna. I did not have that feeling with Schumacher.
"He was what you might call a normal driver, very good, but not exceptional."
But Jordan also admits that he was mainly at that German F3 race because he was trying to sell his F3000 team to Schumacher's team boss and manager Willi Weber and might not have been adequately focused on Schumacher's driving.
Schumacher did go on to win the German F3 title and Macau Grand Prix that year, adding to the championships he'd already won in karting and Formula Koenig.
His parallel move into Mercedes' factory sportscar team just cemented Jordan's lack of interest.
"Sportscar racing was a dead end, a place for either retired F1 drivers or just those who were never good enough to make the cut in the first place," Jordan wrote.
"I couldn't understand why Weber had done that and I suppose subconsciously it endorsed my feeling that Michael was good, but nothing special."
But Schumacher did stick in Jordan's mind – helped by Mercedes' commercial manager Gerd Kramer regularly hassling him about Schumacher's potential – hassling that paid off when Gachot became indisposed.
Jordan had definitely dismissed Schumacher too quickly with that first impression from F3, but it was also fair to say that while Schumacher's junior career was very good, it didn't scream 'seven-time F1 champion'.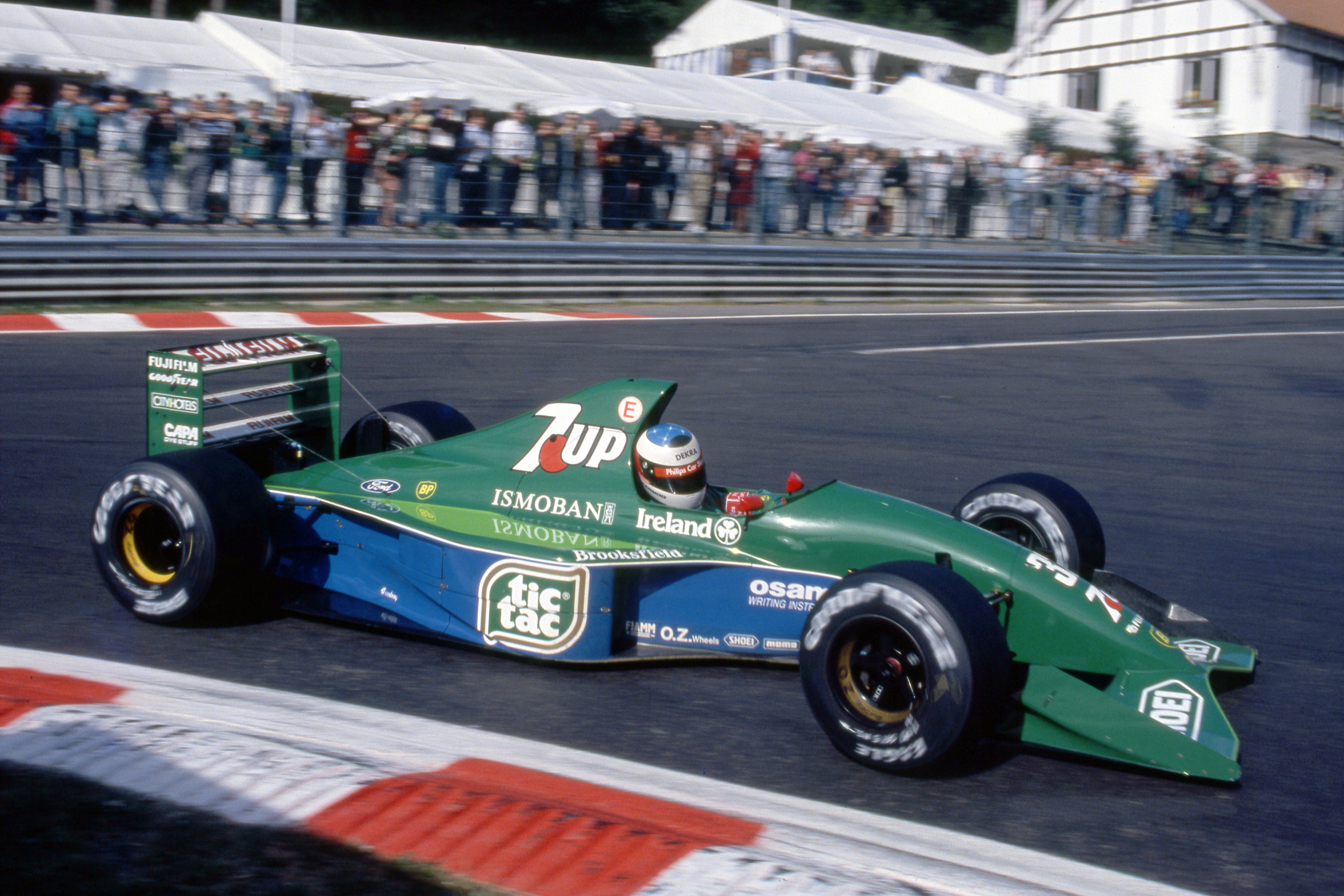 Anderson has a theory about that, feeling that the more limited circumstances of the junior single-seater categories didn't showcase the full range of what Schumacher could do.
"Quite a few drivers come through the formulas and you never quite see them excel until they hit the formula they're really good at," he says.
"When that's Formula 1, it just means that driver has more bits of the jigsaw and is able to put it together.
"Michael just seemed to have all the bits of the jigsaw that made a Formula 1 driver, and from day one he was using all those bits.
"His alertness, his commitment, his ability to be able to read the car, from day one, it was quite incredible."
JORDAN TOLD SCHUMACHER TO SLOW DOWN AT FIRST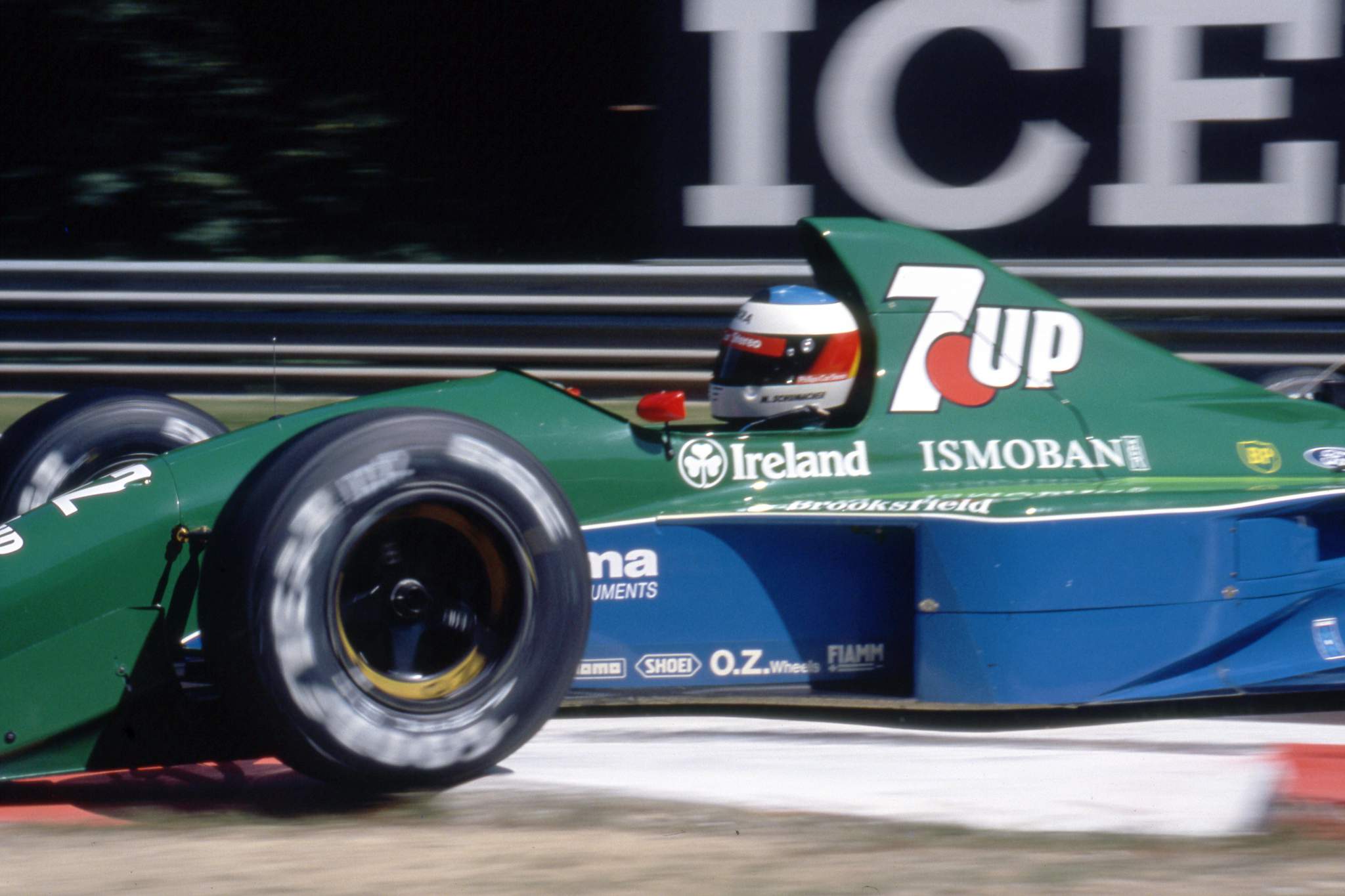 Schumacher got his first taste of F1 in a test with Jordan on Silverstone's South circuit on the Tuesday before the Belgian GP.
"We actually brought him in after about three laps and said take it a little bit easier, and he said 'I am'," recalls Anderson.
"Into the chicane by the pits at Silverstone South, where you park the truck, he was definitely in control of the car and the car was out of shape on every occasion. So he was ready to push it to the limit all the time.
"His confidence was very, very high. That's what made me aware that this guy was going to go places."
HE ACTUALLY QUALIFIED EIGHTH, BUT…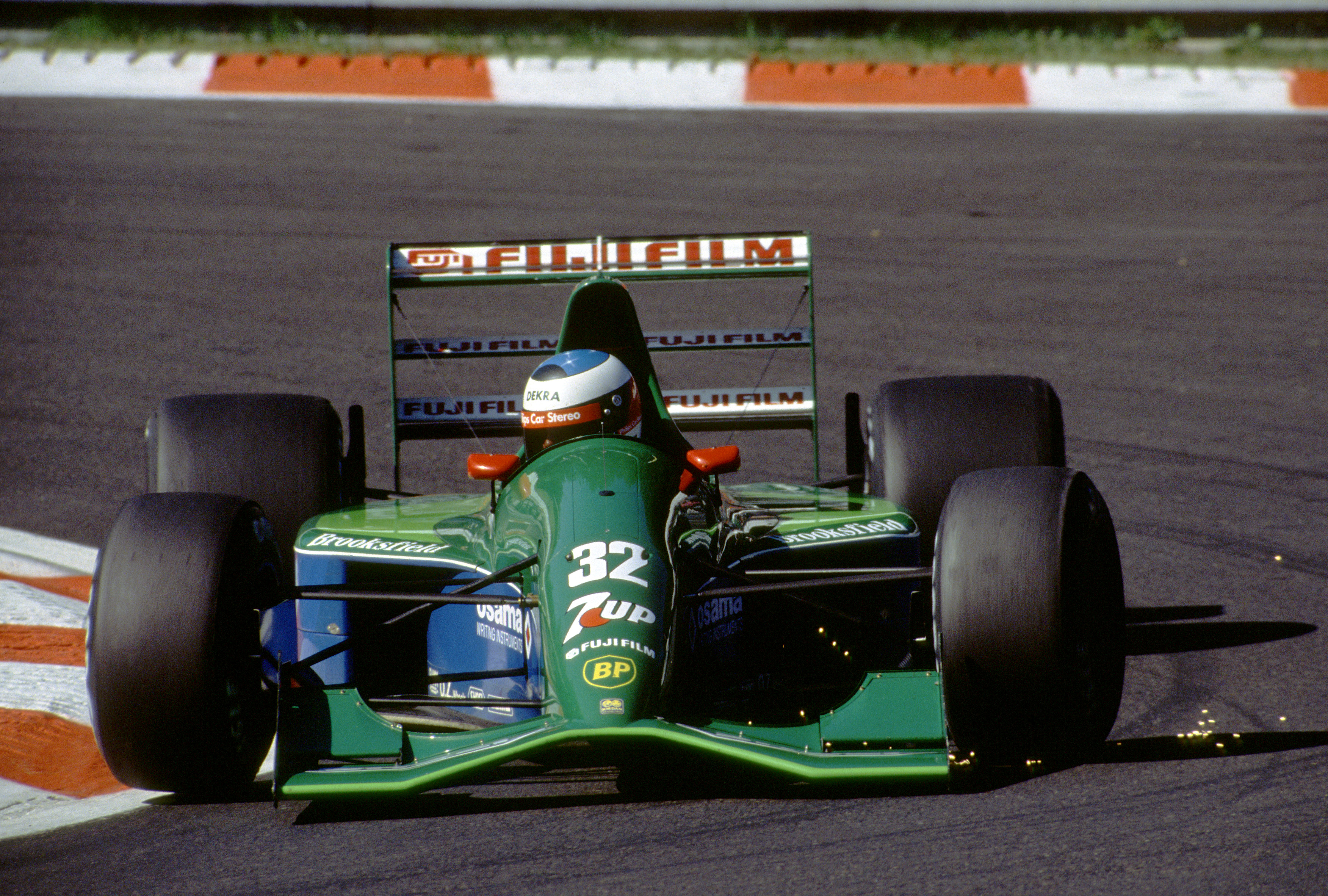 Everyone knows Schumacher started a remarkable seventh for his F1 debut.
But he gained one place post-session having actually qualified eighth.
Riccardo Patrese had been second fastest but had his Saturday qualifying times disallowed because his Williams failed scrutineering as its reverse gear wasn't functioning. That dropped Patrese to 17th and elevated Schumacher to his famous seventh.
The more intriguing element is how high up he could have qualified, as he didn't get a proper run on either set of qualifying tyres in the Friday session. A red flag for Eric van de Poele crashing wasted one set, then he took to the Bus Stop escape road to dodge the slower-moving Ferrari of Alain Prost on the other.
Anderson remembers that as being particularly costly.
"If you equate what he did on his best lap through the Bus Stop, he would have been third on the grid, so it was a massive improvement on what he did do, but it didn't happen," he says.
Even in Saturday qualifying, Schumacher didn't quite match his pace from morning practice, though that wouldn't have gained him any grid positions.
And hinting at what Jordan was going to be capable of on full tanks in race trim, Schumacher's highest position of the weekend actually came in the Sunday morning warm-up, when he was fourth.
THE CLUTCH FAILURE WAS BERGER'S FAULT (SORT OF)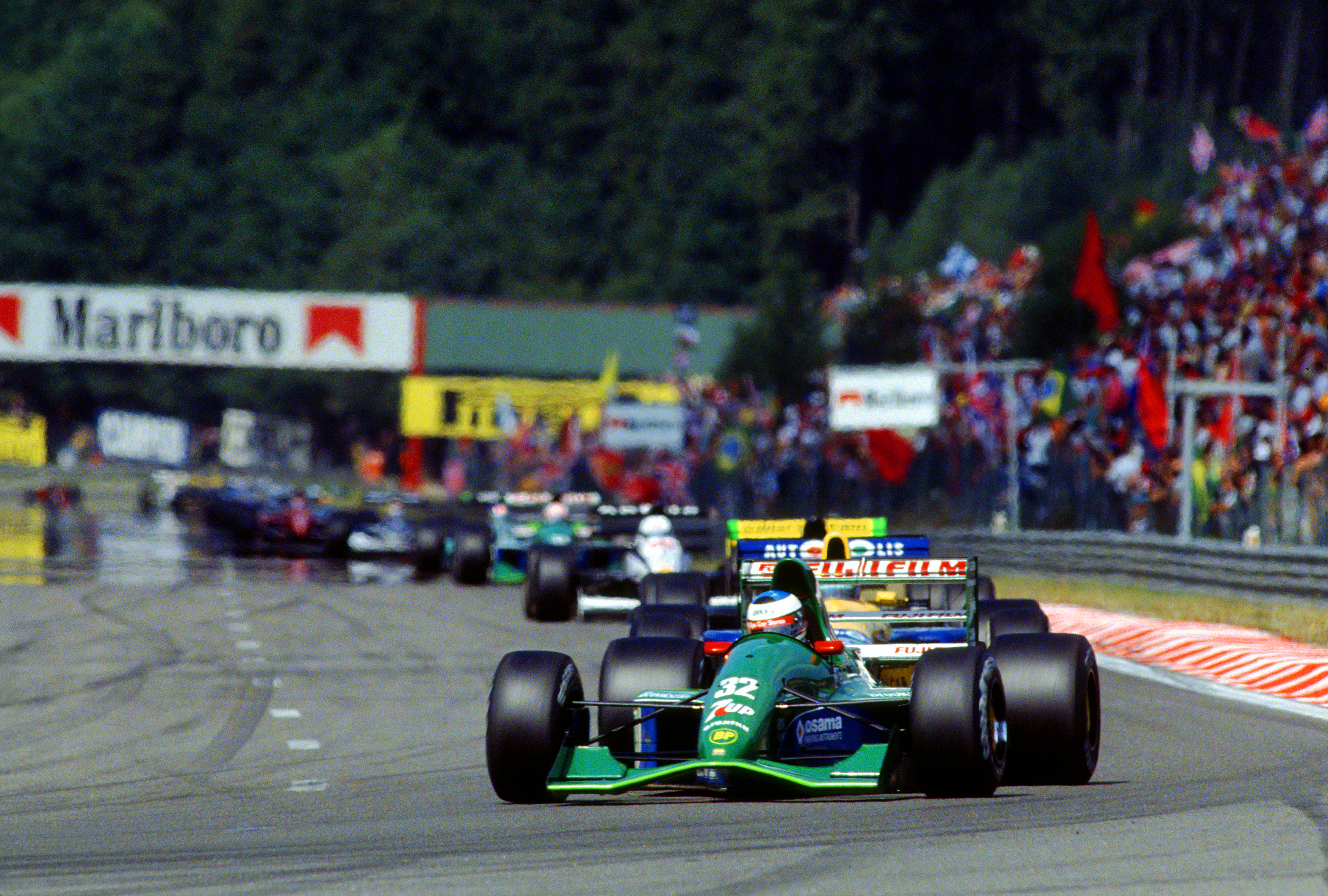 That Schumacher's race ended after just a few hundred yards because of a clutch failure is very well known.
It's often been suggested that he burnt out the clutch with too aggressive a start – and he had instantly shot past both Nelson Piquet's Benetton and Jean Alesi's Ferrari into fifth place, Piquet having to jink out of his way.
And there was even a conspiracy theory that Schumacher made sure he retired early because he thought Jordan's race performance might be poor and spoil the impression he'd made in qualifying – a theory with little credibility given Jordan had looked strong all weekend and even set fastest lap with Gachot at the previous race.
But Anderson says what really killed the clutch was a combination of factors, including what happened at La Source.
"The engine that we had at that point in time, the Cosworth HB, had a bit of a crankshaft problem and we had to run a single plate carbon clutch because the double plate one – which was the robust piece of kit at that point in time – was a bit too heavy and the crank suffered because of it," Anderson explains.
Though the single plate clutch was "all OK in itself", it was reliant on an aluminium hub that supplier AP Racing had just replaced with a titanium model. But Jordan "couldn't really afford the titanium ones" so ended up with a free set of unused aluminium hubs Williams had sent back when the titanium became available.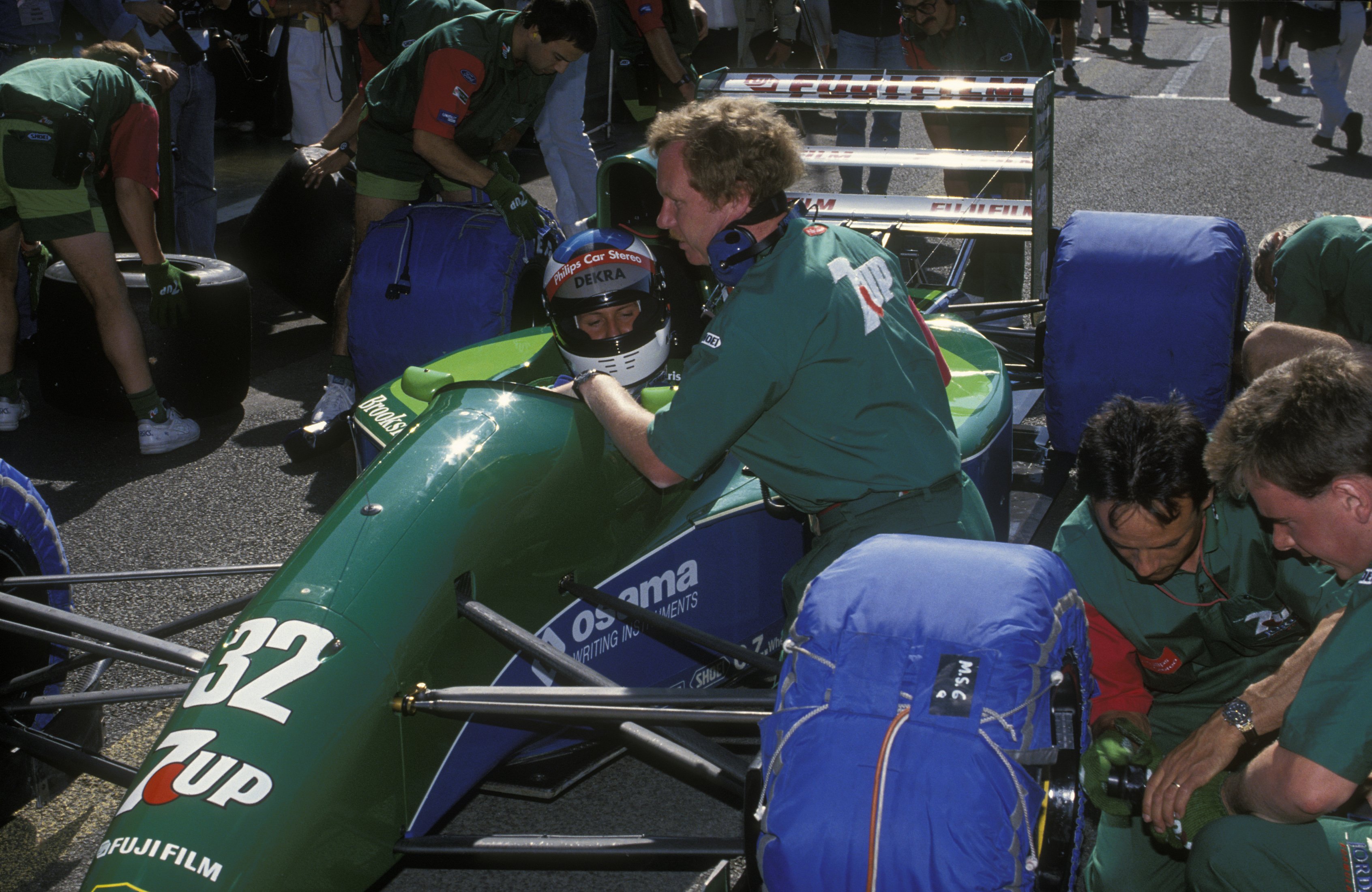 "We lived '91 begging, borrowing and stealing, whatever you'd like to call it," Anderson continues.
"So we got these new aluminium hubs for Spa and from there on in it was a bit of naivety.
"We didn't really realise how much extra load the uphill start at Spa would put into the clutch and you'd have to do a bit more slipping of the clutch. This all compounded."
Then going into La Source, Schumacher had to lock up as Gerhard Berger's McLaren cut across in front of him and then took the apex relatively slowly.
"He went round turn one with the clutch disengaged and then more or less did another start and that just killed it," says Anderson.
"The aluminium hub, the single plate, the uphill start, two starts nearly at the same time, it all just mounted up and it just melted the aluminium hub. End of story."
JORDAN REALLY COULD HAVE WON THE RACE
Andrea de Cesaris had been overshadowed by new team-mate Schumacher all weekend, "but in the race Andrea was one of those workhorses and he was always very consistent" as Anderson puts it.
Helped by the retirements of Nigel Mansell's Williams and the Ferraris, plus a spin from Berger and Patrese being out of position, de Cesaris makes it up from 11th on the grid to second – passing Piquet along the way too.
And as leader Ayrton Senna grappled with increasingly severe gearbox problems on his McLaren, de Cesaris closed to within 2.5s in the final stages.
But Jordan knew its remaining car was already doomed. New pistons in its Ford Cosworth engine were causing unexpectedly high oil consumption.
"Suddenly we were starting to get oil pressure dips coming out of Eau Rouge," says Anderson. "That's never a good sign. We sort of knew it would be a matter of time, but what do you do? You just have to keep the hammer down."
De Cesaris hadn't been able to get right on Senna's tail even with the champion's problems, but his lurking presence was forcing Senna to keep pushing his sickly McLaren, so the win was still on until the Jordan's engine blew on lap 41 of 44 when sat 3.5s off the lead.
Jordan veterans still regard this as a probable win lost and one of the unsung great drives of the team's history, with the excitement over Schumacher's debut and all that followed unfairly overshadowing the brilliance of what de Cesaris did that day.
Though of course, we also don't know where Schumacher might've been on lap 41 had he made it through the first lap, given he'd outpaced de Cesaris all weekend…
SPA WASN'T SCHUMACHER'S LAST JORDAN DRIVE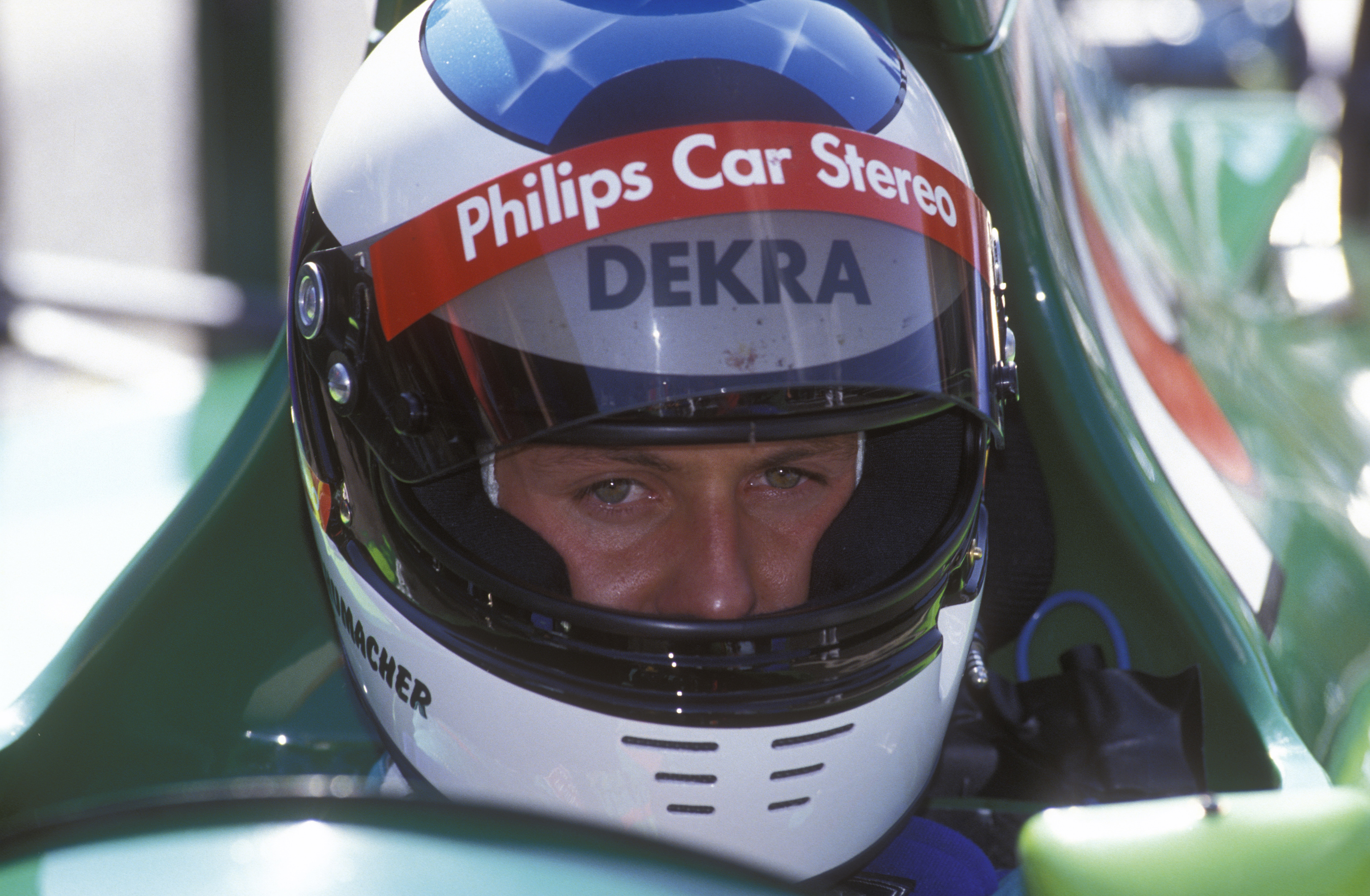 Benetton's bid to snatch Schumacher from Jordan famously moved so fast that by the following race at Monza he'd made a hugely controversial move to Flavio Briatore's team – a furore we'll revisit another day soon.
But lap one of the Belgian GP wasn't actually Schumacher's final Jordan appearance.
Between Spa and Monza he headed back to the Silverstone South circuit with the team for a brake and damper test, and set a 54.4s lap time that beat anything else Jordan had managed there so far.
The behind the scenes contractual machinations that would mean he'd never race for Jordan again were already very much in progress by then, though – not that most in the team knew it.
"We had to put our eggs in the basket and allow him to get on with the work," says Anderson of that final test, admitting that as far as all the Jordan crew were concerned, Schumacher was their driver for the foreseeable future.