From Michael Schumacher's extraordinary Formula 1 debut to that remarkable 1-2 in 1998, Jordan was synonymous with Spa shocks.
And those shocks were only possible because the team had a knack for creating cars that worked superbly well around the Belgian Grand Prix venue.
That trend has continued long after founder Eddie Jordan's exit and into the team's Force India and Racing Point eras (although in its Midland and Spyker years, its trips to Belgium were as miserable as its trips anywhere else).
We've had a crack at picking the 10 best Spa moments for Jordan and its successors, via an entirely unscientific method that's roughly along the lines of 'how big an achievement was that drive/result for the team in its circumstances at the time?'
10. The final front row start – 2000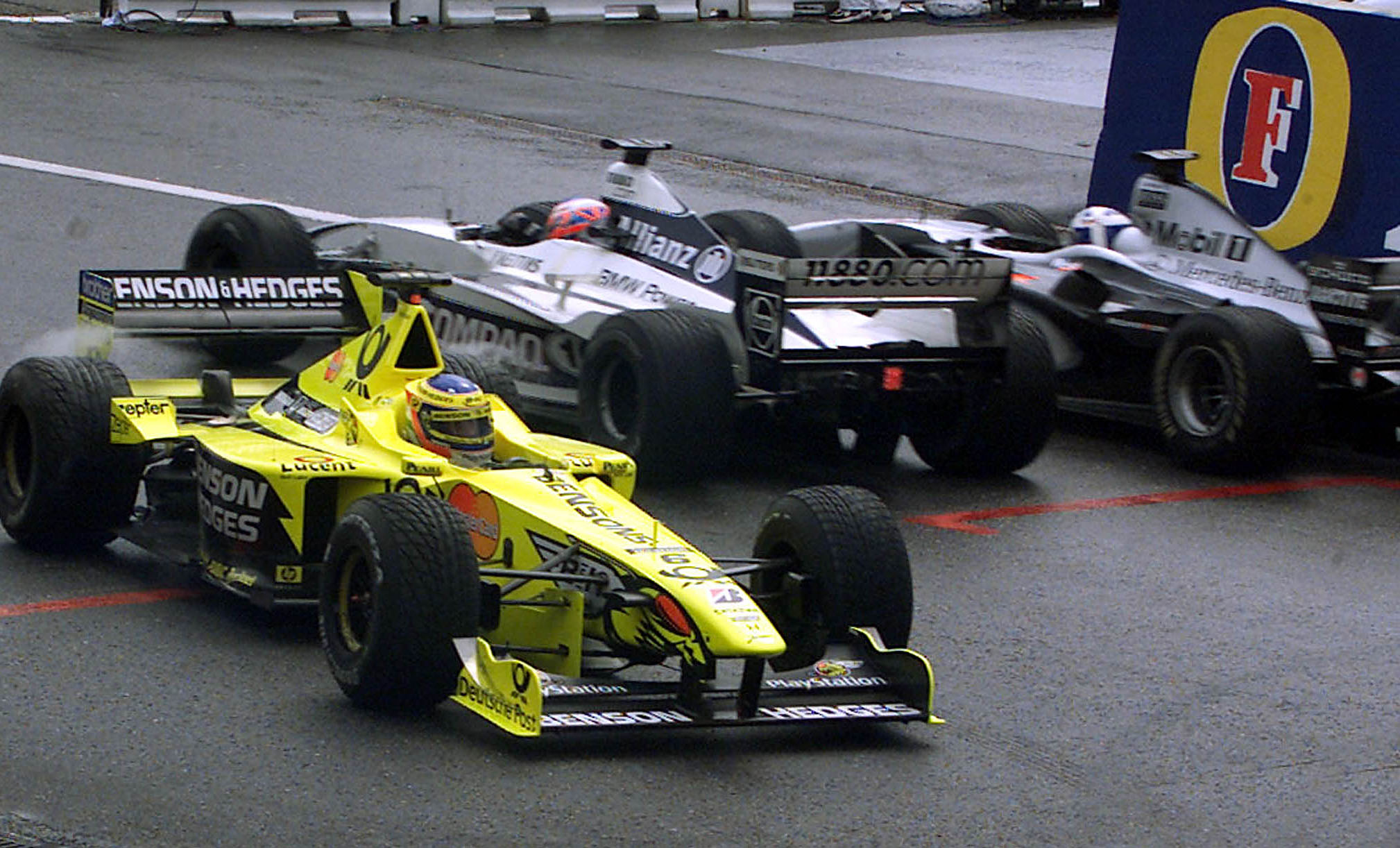 Starting this countdown with a race in which the lead Jordan was the first retirement, tapped into a spin after just four laps (pictured), might seem a bit perverse. But the 2000 Belgian GP should have a little place in Jordan history as the final front row start of the team's original era, and its final truly frontrunning weekend.
You could even say this was the final flicker of the Jordan rise that was brewing through the mid-1990s and exploded with the 1998 Spa victory.
Spa had been a cornerstone of the team's gallant but ultimately unsuccessful 1999 title bid. Not the scene of either of Heinz-Harald Frentzen's two wins, but a race where he qualified and finished a clear third with all rivals bar the McLarens thoroughly seen off. A result that kept him well-placed for the next time McLaren lost its cool – which would come two weeks later at Monza.
After the epic 1999, 2000 was mostly woe for Jordan. As Ferrari got its act together and Williams advanced with BMW, Jordan faced a double whammy of losing ground in the pecking order and struggling with reliability.
But at Spa, Jarno Trulli's run to second in qualifying put Jordan back in the spirit of 1999. Fastest of all in sector one as recent aero upgrades hit form, Trulli may have been a distant second to Mika Hakkinen's McLaren but he outpaced everyone else – including the Ferraris and the other McLaren of David Coulthard.
Then he lost nine seconds to Hakkinen in the first three laps of racing on a damp track, and stalled when punted into a spin at La Source as Jenson Button tried to follow Michael Schumacher past him.
Poor reward for the final front row start of the Jordan era. But a glorious Saturday.
9. Monteiro scores a proper point – 2005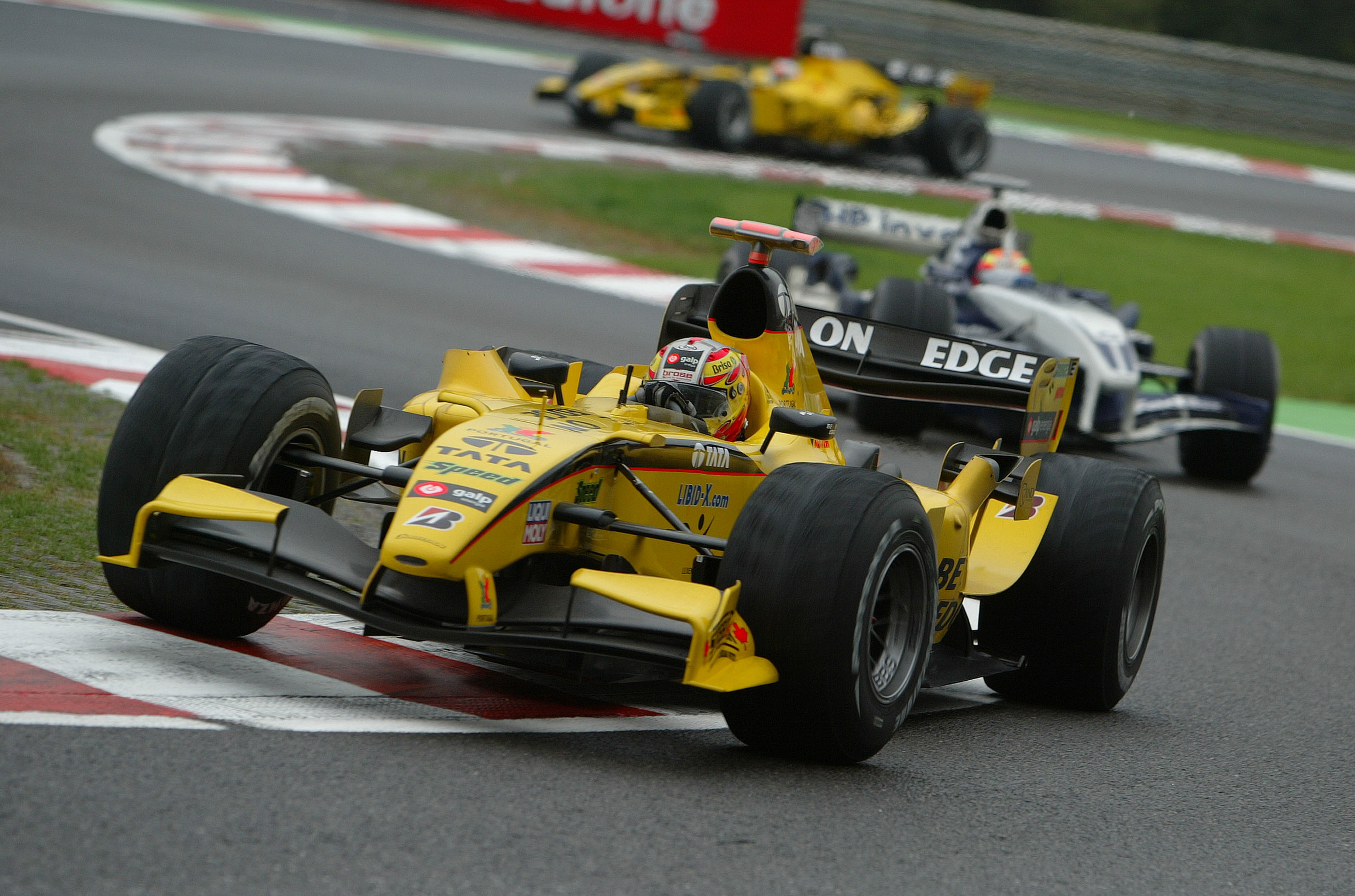 Third at Indianapolis on the day just six cars raced is the F1 result Tiago Monteiro is best remembered for. Eighth at Spa against a full field was his truly outstanding F1 performance.
Jordan was by then under the ownership that would turn it into Midland and was stuck at the back of the grid in a battle with Minardi – which it couldn't even outqualify at Spa.
Then in changeable weather in the race, that classic old Jordan trait of making the right tyre calls and then making the difference with a fighting drive kicked back into life.
Amid plenty of shunts and wasted pitstops by others, Monteiro was in the top 10 by one-third distance as racing resumed following the safety car for Giancarlo Fisichella's heavy Raidillon crash.
The Toyotas of Trulli and Ralf Schumacher, Mark Webber's Williams, Jenson Button's BAR-Honda and Jacques Villeneuve's Sauber were among the much faster cars Monteiro battled during the afternoon before beating Christian Klien's Red Bull and Felipe Massa's Sauber to the final point in eighth.
"That was definitely more significant for my career [than the Indianapolis podium]," remembers Monteiro, now a Honda driver in the World Touring Car Cup.
"Of course, we needed some help – there was the rain – but we were on track with the same tyres and overtaking those guys and fighting with them.
"Whenever the grip was low, we were strong."
It turned out to be the last F1 point for the Jordan name.
8. Alesi's sole F1 point for Jordan – 2001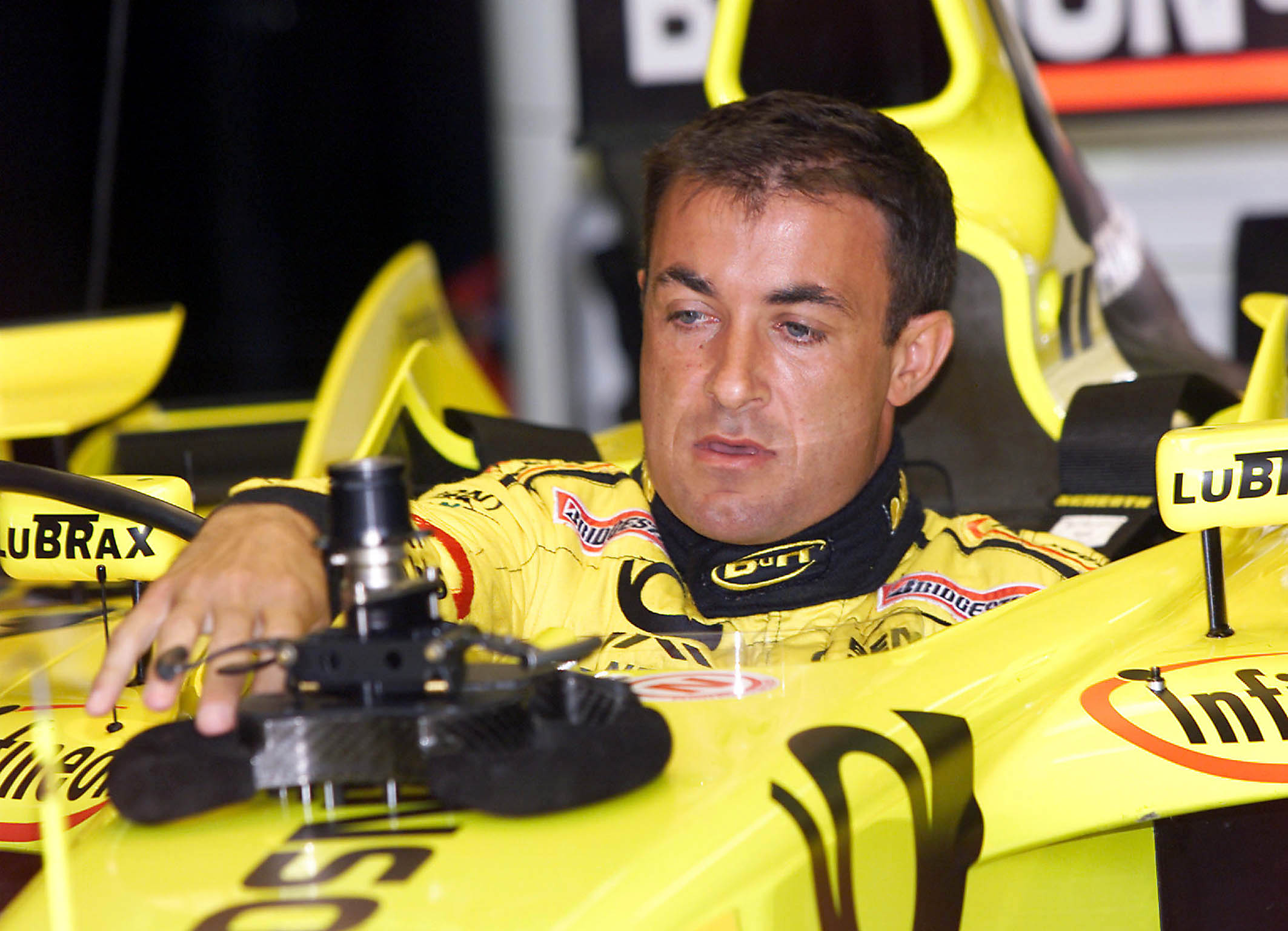 Jordan's F1 reunions with its junior single-seater heroes didn't go especially well. Martin Brundle's 1996 return to the team with which he battled Ayrton Senna in British F3 13 years earlier had few highs and turned out to be the end of his F1 driving career.
And the same was true for Jean Alesi – whose Jordan F3000 performances were his launchpad to F1 – when the machinations around Frentzen's sudden Jordan exit coincided with Alesi losing patience with the Prost team in mid-2001.
At the time, a run of qualifying disappointments, a single point and an enormous crash with Kimi Raikkonen in his final race felt like a poor end to Alesi's stint on the F1 grid. In retrospect, six top-10 finishes from his seven starts for Jordan wasn't at all bad given the team's trajectory at the time.
The high point was, appropriately, Spa – a track where Alesi had won for Jordan in F3000. Unusually Jordan misjudged changing weather in qualifying so was down in 13th and 16th on the grid with Alesi and Trulli, but both battled forward in the race.
Though Trulli lost fifth to a late Honda engine failure, that elevated Alesi into his place – albeit under heavy pressure from two of the season's top cars: Rubens Barrichello's Ferrari and Ralf Schumacher's Williams-BMW, recovering from an earlier mistake and penalty respectively.
Alesi couldn't fend off the runaway constructors' championship-leading Ferrari, but he did resist a string of passing bids by the Williams to take what proved to be a very significant point.
7. Fisichella's superb second (take one) – 1997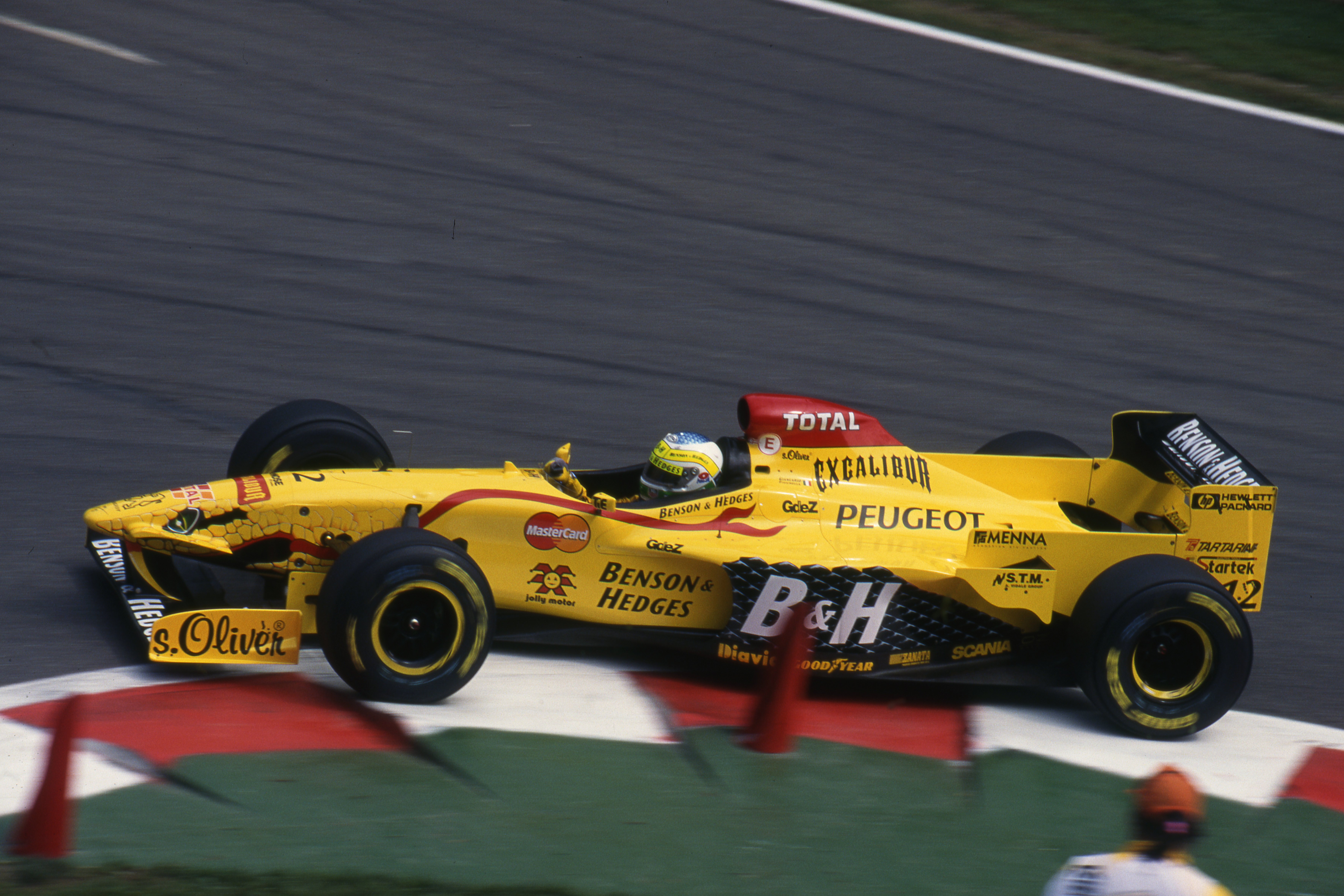 Giancarlo Fisichella's drive to second in the 1997 Belgian GP was one of those drives that was truly brilliant, but overshadowed on the day by something truly legendary.
Michael Schumacher humiliated the rest of the field with his pace in the wet part of that year's race. But Fisichella had the beating of absolutely everyone else as he gave Jordan the best result of one of its punchiest seasons, a year when its first win seemed closer than ever.
Gary Anderson's Spa 1997 memories: "This was a race of mixed emotions as Ralf Schumacher in the other car went off at the end of the straight on the way to the grid and then crashed again in the race.
"Basically, it was a day of typical Spa weather, damp at the pits and lashing it down at the other end of the track. Fisi was always good in those sort of conditions and a podium was always possible.
"The car on fast circuits was usually pretty good. He qualified second, missing pole by just a smidgen, at Hockenheim, but bringing it home second at Spa where Jordan at seemed to have about half the spectators dressed in yellow was the icing on the cake."
6. The start of a new era – 2018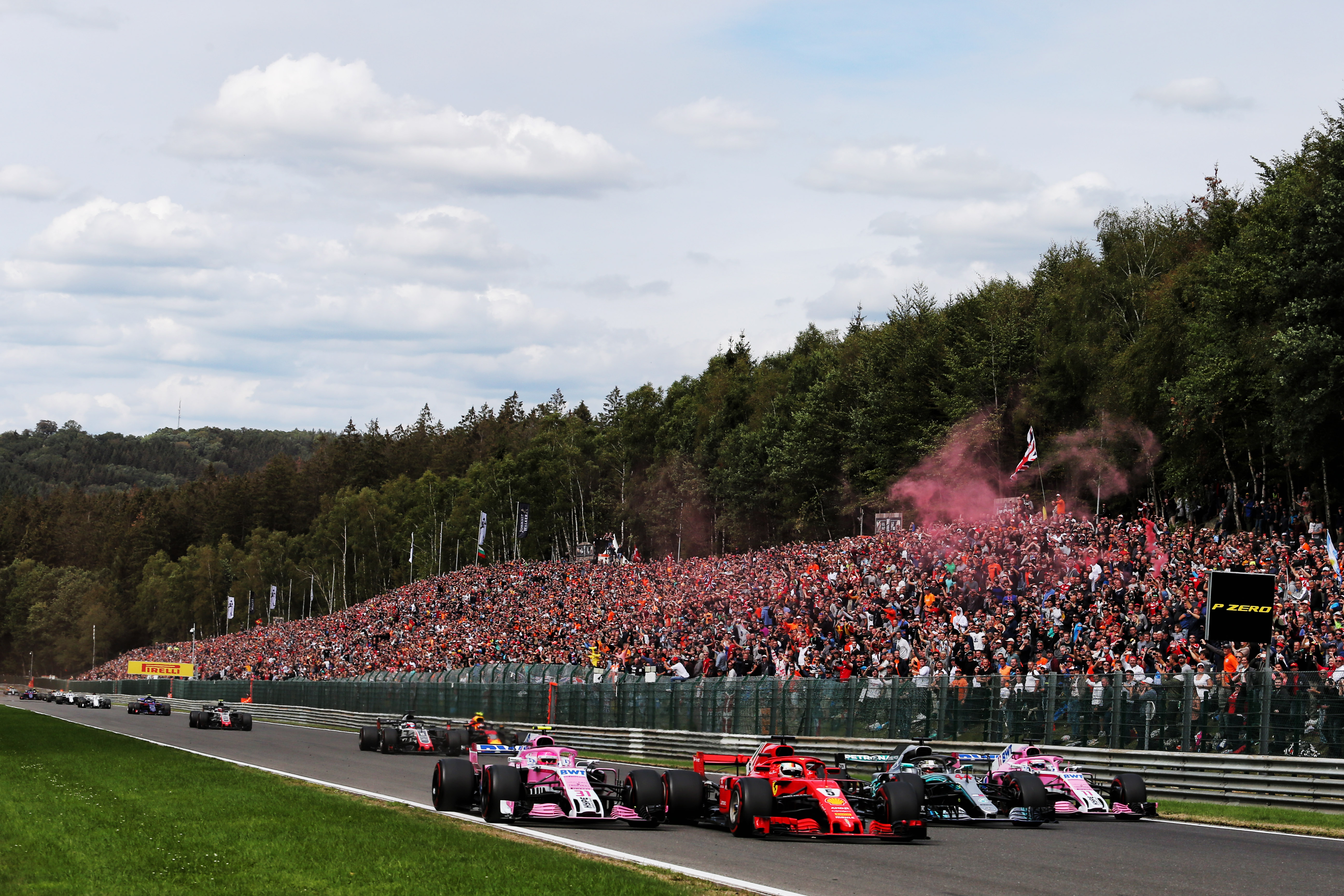 Sergio Perez's and Esteban Ocon's fifth and sixth places at Spa for what had just become Racing Point in 2018 isn't actually the modern version of the team's best Belgian GP points haul.
That honour goes to its 2016 fourth and fifth as Force India with Nico Hulkenberg and Perez, a classic 'spirit of Jordan' result achieved with great Spa pace. And it was closer to the podium in time terms when Hulkenberg took one of his agonising collection of fourth places for the team at Spa in 2012.
But the 2018 double top six was worth far more. For one thing, it erased the memory of Ocon and Perez's clash at the circuit a year earlier, which had led to a temporary ban on them racing each other freely.
Much more significantly, Spa 2018 was the team's first race since its rescue by the consortium led by Lawrence Stroll. A team that had got into the summer break unsure whether it even had a future was firmly back and business.
And as one consequence of that mid-season ownership change was the loss of all its constructors' points so far, kicking off its new life with an 18 score that got it straight off the bottom of the table was highly encouraging.
5. Schumacher's shock seventh on the grid – 1991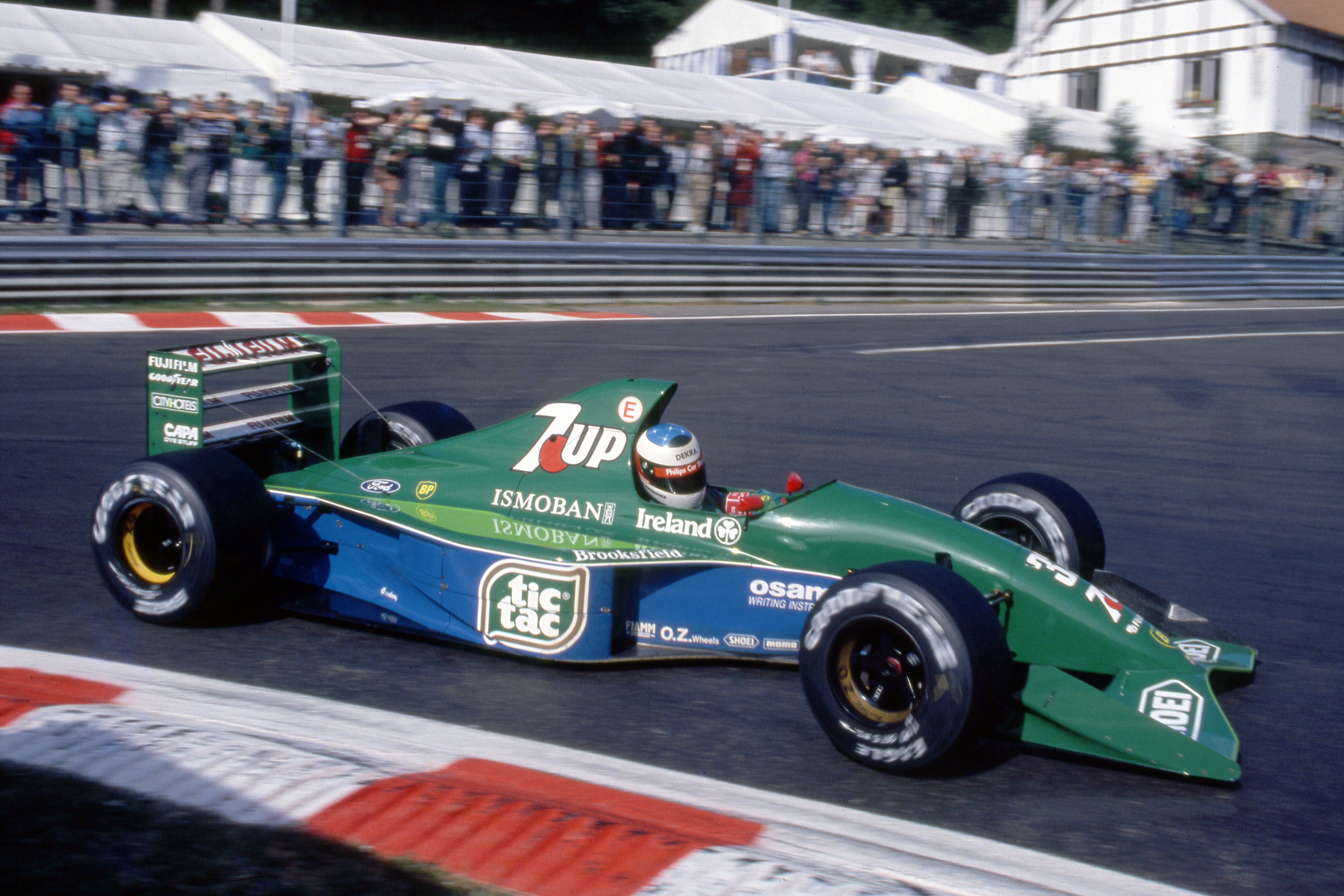 A touch controversial to have this one so far down… But while this was a seismic day for F1 history, and one made entirely possible by Jordan via both its willingness to give rookie Schumacher a punt and it giving him a car good enough to be qualified on the fourth row at the first attempt, it didn't turn into a great actual outcome for the team.
Schumacher burnt out the car's clutch off the line and retired almost immediately from his only F1 start for Jordan. Benetton immediately pinched him away for the next race at Monza.
Gary Anderson's memories of Schumacher's debut: "The season leading up to Spa had been pretty good for Jordan. During that period, Bertrand Gachot kept telling me that the car would be a rocketship around Spa and that he was really looking forward to it.
"Bertrand really liked its characteristics as it had a stable rear end, especially when we were running low downforce. It was not to be and he didn't get the opportunity to show his and the car's potential.
"But along came the new kid on the block Michael Schumacher, who qualified an amazing seventh but the race was a very short run for him.
"Basically, overheating the clutch at the start and then using it again at La Source hairpin melted the aluminium hub that drives the carbon clutch plates."
4. Fisichella's superb second (take two) – 2009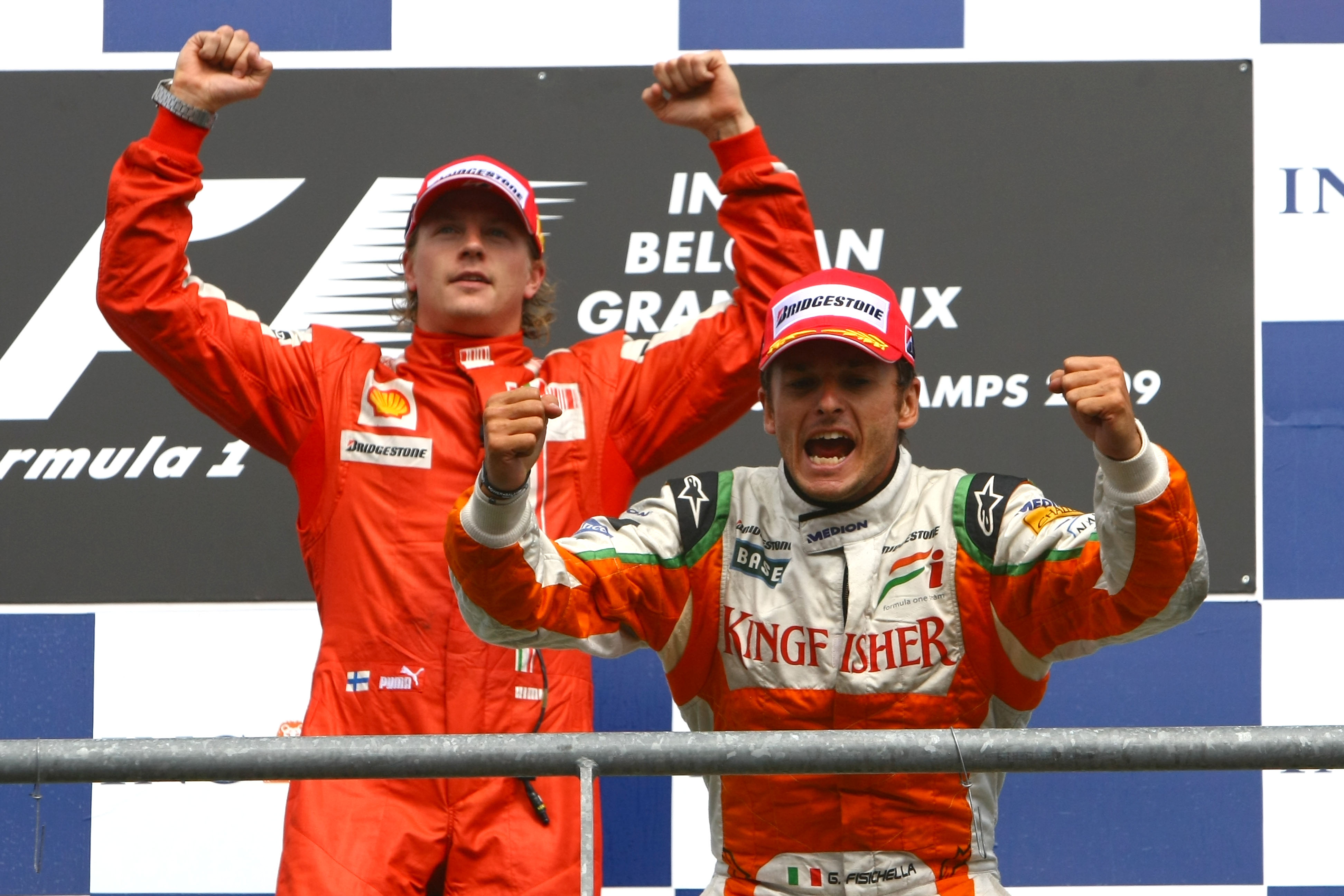 The 2009 season wasn't just mad because Brawn GP won the championship in effectively its sole season of existence between Honda's ignominious F1 exit and Mercedes' glorious arrival.
It was also mad because for a period in the middle of the season as F1 normalised itself and the big teams wrong-footed by that year's major aero rules changes recovered, the plucky upstarts like Brawn who'd stolen an early march fell into their clutches, and true rising star Red Bull established itself as a permanent frontrunning force, everyone kind of met in the middle. Suddenly the entire field was roughly within a second, and simply getting it right on the day was having a huge effect on form.
In that environment, Force India's low-drag design and strong Mercedes engine suddenly went from clawing its way steadily up the midfield to a shock Spa pole with Fisichella.
And it was so nearly a victory, too. In the season when only a handful of teams had opted to run the KERS boost that marked F1's first toe in the hybrid tech water, Force India's lack of it left Fisichella too vulnerable to an early attack from Kimi Raikkonen's Ferrari and then incapable of repassing it.
Second, just 0.9s from the win, was glorious but agonising.
But it gets a high ranking in this list because in the context of the years of misery that preceded this day as the team toiled through Jordan's waning years and the dismal Midland/Spyker eras, this was an extraordinary boost that re-established what was now Force India as F1's great giantkiller.
And in typical 'Jordan' style, a mid-season driver move fitted into the tale as Fisichella immediately left to replace the hapless Luca Badoer as Massa's injury stand-in at… Ferrari.
3. An emotional first pole – 1994
Jordan only ever scored two F1 poles. Five years before Frentzen at the Nurburgring, there was Barrichello at Spa in 1994.
Hands up if you miss the Eau Rouge chicane from 1994…

…didn't think so #F1 #BelgianGP | 📸 @F1Photo pic.twitter.com/zi1iafuomw

— Glenn Freeman (@glennfreeman39) August 28, 2020
This was already the team's strongest season since its startling debut in 1991, and had featured a first podium at Aida. But it also featured Barrichello having to handle the devastating loss of his friend and mentor Senna, his own ferocious Imola accident, and the disruption of a three-race ban for team-mate Eddie Irvine for causing an Interlagos pile-up.
Amid that backdrop, a brilliant run on slicks at the end of a drying Friday qualifying session put Barrichello on a provisional Spa pole that became official when it rained even harder on Saturday. He may have slid back to fifth in the first half of the race and then crashed out, but he'd proved his and Jordan's class.
Gary Anderson on Barrichello's pole: "Getting our first pole at Spa in damp but drying conditions was a great day.
"Rubens drove like a demon. He was always good in those conditions and timed it faultlessly to start his last lap with only a few seconds left on the clock. If that hadn't happened he would have been well down the grid, but it did and he rose to the occasion in very difficult circumstances.
"I always liked to take a gamble if the opportunity arose and fitting slicks was definitely a gamble, and Rubens would usually buy into it. That said, Irvine qualified fourth on wets so the car was not all that bad."
2. The win – 1998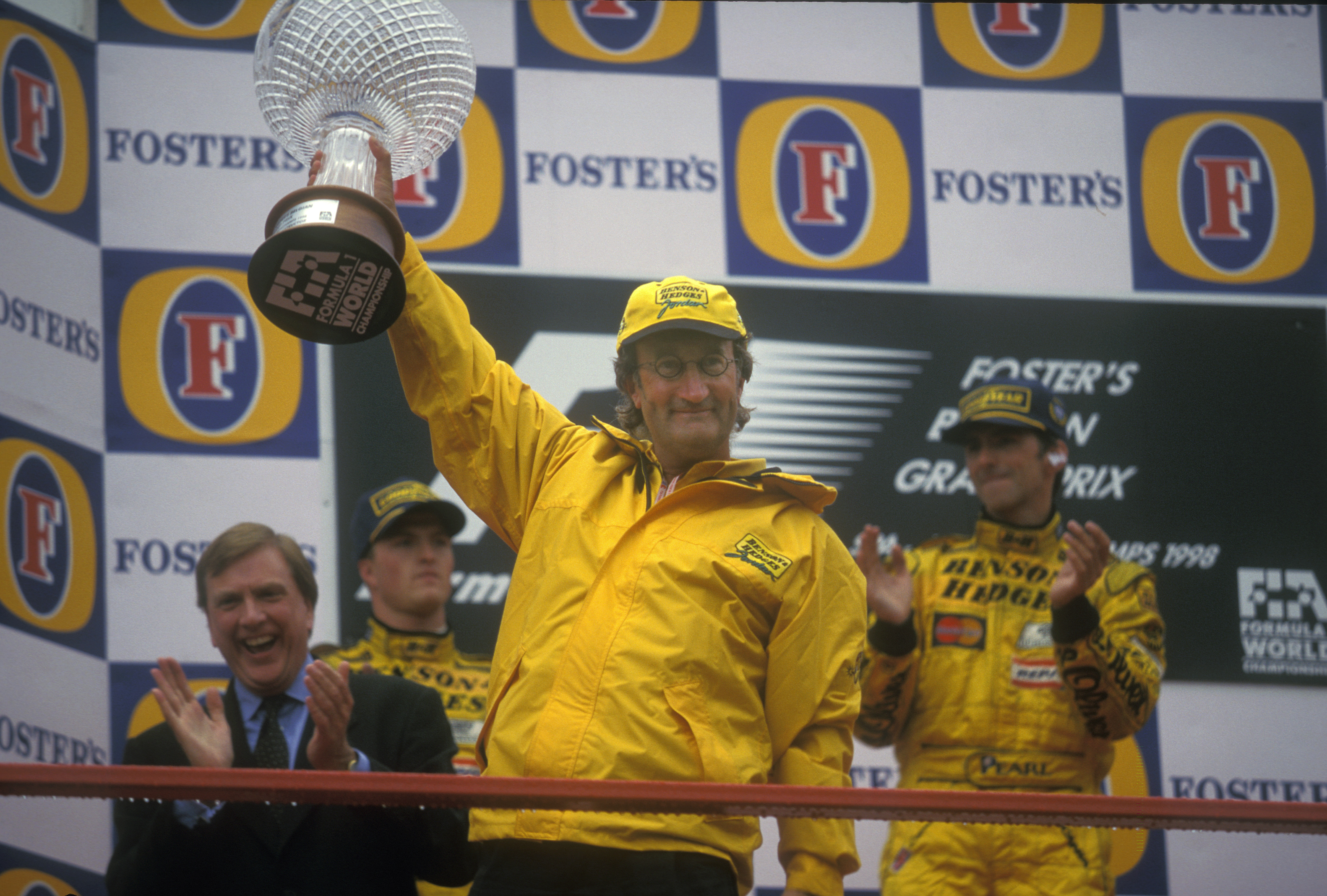 The best-known Jordan story of all. The day the near-misses stopped. The day it poured and Damon Hill led Ralf Schumacher home for an amazing 1-2 that sent Eddie Jordan dancing down the pitlane.
Gary Anderson on Jordan winning without him: "This is the one that still smarts a little. Our 1998 car was nowhere near good enough but we had never intentionally built a bad or slow car. We had always put 100% into whatever package we were trying to create, but as I usually say you only know what you know and you have to dig deeper to increase that knowledge level.
"We had changed from the Peugeot engine to a Mugen-Honda, which was nowhere near good enough in performance. It took until after the San Marino Grand Prix at Imola before Mugen bought into the problems and I have to say once that happened it did a fantastic job. We had our first update for the British Grand Prix and started to see the improvement.
"As far as the car was concerned, yes Ralf could get a quick-ish lap out of it but there was no consistency and the drivers just couldn't get their heads around why the car felt so strange.
"During the period when Honda was working on developments for the engine, we started to look at things a little differently and discovered an aerodynamic problem with steering lock. To rectify this, we made new sidepods, bargeboards and front wing endplates, introduced them at Silverstone and the car went from being very confusing for the driver to now making sense.
"The unfortunate thing with this type of situation is that you spend your time setting the car up around the problem and need a little time to find the right set-up direction again.
"As this was all happening, I didn't feel I was getting the back-up from the Jordan management that I needed. In times of stress, sometimes you need that arm around the shoulder. Basically, the parts of the management who didn't have a clue were now experts in racing car design.
"I'm not including Eddie in this, he wanted me to stay but I was fairly happy that the developments we had put in place were going to rectify the situation and as far as I was concerned it was time to move on.
"I was sitting on my sofa at home watching the race at Spa when Jordan got the 1-2. It still smarts a little and that is because all of the good guys, Sam Michael, Dino Toso, Andy Stevenson, Tim Edwards and quite a few others called me after the race to congratulate me but Eddie never did. Yes, months after he said [something] about it but there is a correct time and place for everything."
1. The de Cesaris win that got away – 1991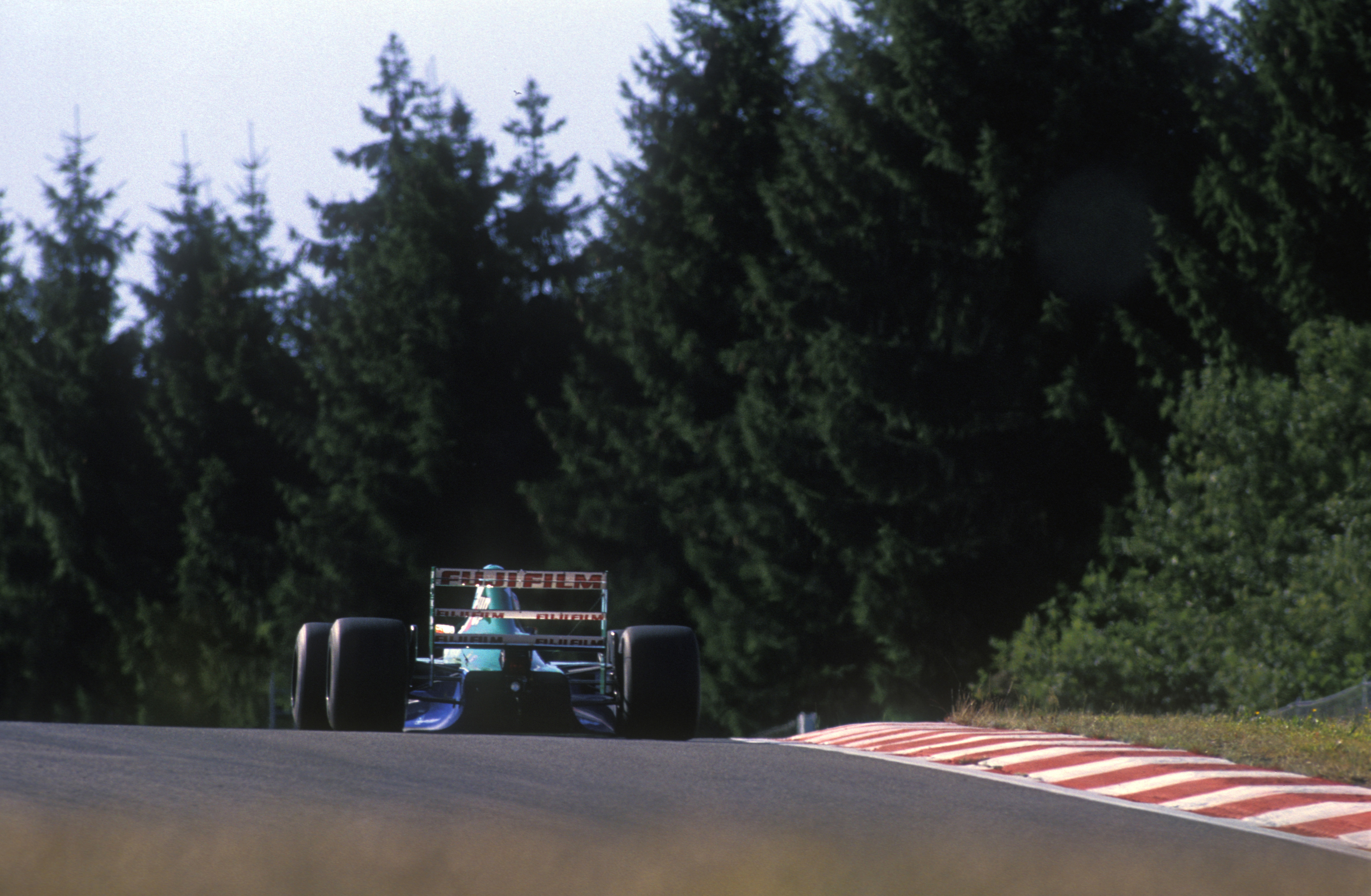 Yes, we are putting Andrea de Cesaris Spa 1991 ahead of Michael Schumacher Spa 1991. A DNF ahead of the 1998 1-2. And we're splitting Schumacher '91 and de Cesaris' 91… Well, this list is greatest moments not greatest races and we did warn you at the outset that it's not exactly scientific.
But here's the reasoning for why de Cesaris holding second place in the 1991 Belgian GP is Jordan's greatest Spa moment.
De Cesaris' progress up to second place owed a little to the retirements of Nigel Mansell's Williams and the Ferraris, plus Gerhard Berger's spin, but he battled past Nelson Piquet's Benetton on merit and was within three seconds of Ayrton Senna's leading McLaren – grappling with increasingly severe gearbox problems – when his engine failed three laps from the finish.
That's a new-to-F1 team that had only just been released from pre-qualifying, hovering on the brink of a possible victory in only its 11th grand prix, battling in the company of the era's biggest guns McLaren, Ferrari, Williams and Benetton.
The 1998 win came after numerous near-misses and amid rising expectations. Even if 1991 had turned out to be 'just' a close second place rather than a win, it would've been a result with few parallels in modern F1 – not just because it was a podium, but because of how competitively the car was running. It was Jordan's greatest statement of intent of them all.
Gary Anderson on de Cesaris' race drive: "In qualifying, Andrea was lingering behind Michael but in the race Andrea was one of those workhorses and he was always very consistent.
"He got up to second, had a chance to take the win when Senna had a gearbox problem but unfortunately the engine failed. I think both Eddie and myself were in tears that day."