In an occasional series, The Race writers and contributors make a case for – or against – something from motorsport they love or hate. Our next contender is an infamous race that happened 15 years ago today
The 2005 United States Grand Prix is one of the best-known Formula 1 races of all time, and for good reason.
It was one of those rare sporting events that left every participant worse off in one way or another, with a podium but nobody who could sensibly call themselves a 'winner' given the sheer reputational damage incurred.
It embarrassed F1 and its governing body. It was a nightmare for one of its two tyre suppliers, left the other tarnished by association stemming from the lack of resolution and ultimately dealt a final fatal blow to the tyre war concept that now feels like a relic of a bygone era of grand prix racing.
It kneecapped F1's efforts to establish itself in a hugely important market, and desperately disappointed both spectators in attendance – who jeered the proceedings en masse and even occasionally threw rubbish onto the track – and those watching on TV.
In other words, the 2005 US GP was awesome.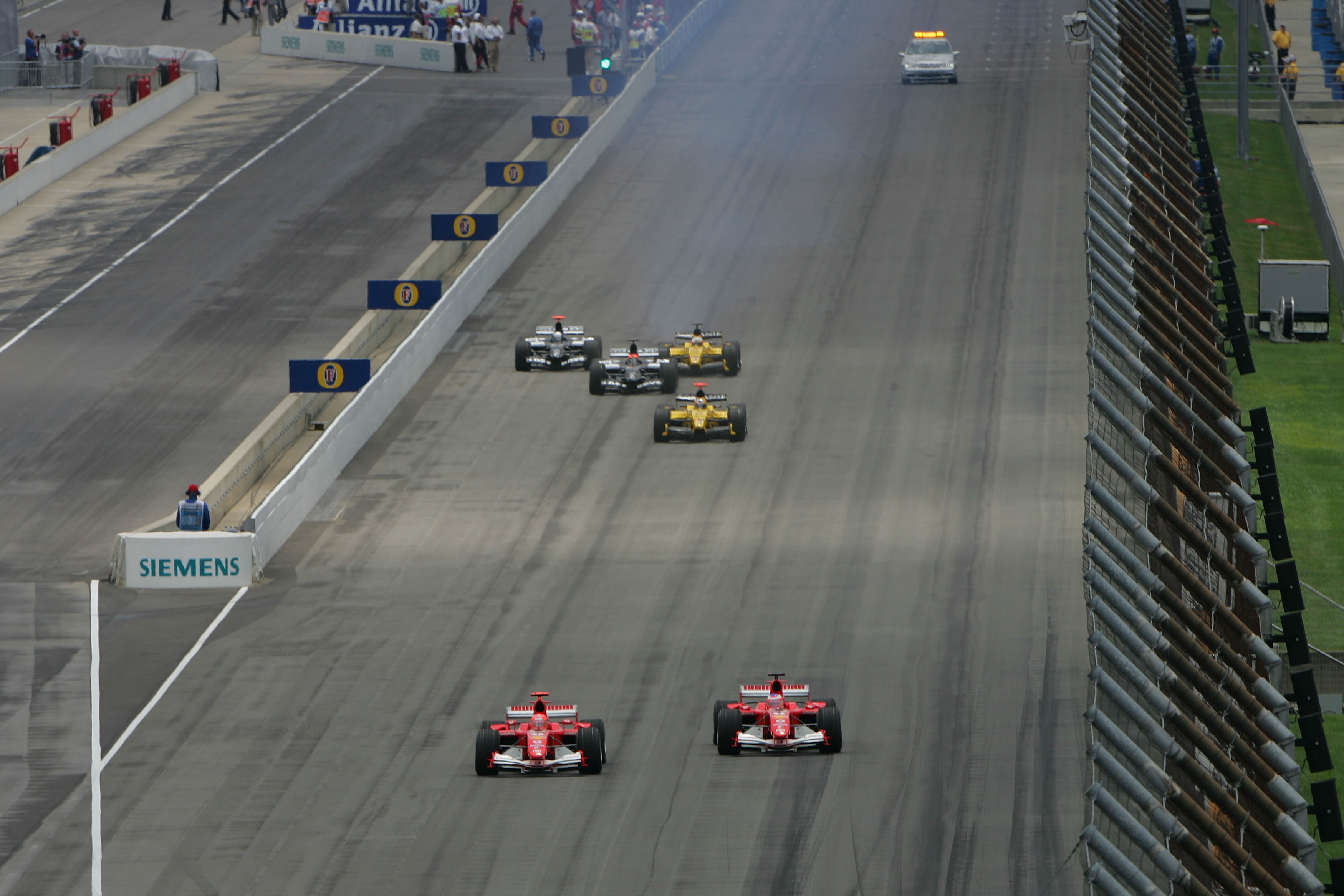 "Awesome", of course, does not mean "good". To answer whether the race was any good, you could adopt one of two stances.
The first is to acknowledge that, spectacle-wise, it was actually not as rancid as the spectacle of a spread-out six-car grid suggests, as you could probably make a fairly compelling case that it was no worse a watch than every worst race of every given F1 season since then; the second stance is to say simply that it was not a good race, and leave it at that.
But good is overrated. Interesting is where it's at, and sporting events don't get much more interesting than this.
The story of the 2005 Indianapolis race has been told over and over again, because any story where 20 cars show up to go racing and 14 of them end up peeling into the pits after the formation lap is a story worth telling.
To revisit the much-discussed chronology in great depth would add little at this point, so we'll stick to a short refresher instead – the track surface at the Indianapolis Motor Speedway had changed from the previous year's race, and the changes caught one of the two tyre suppliers off-guard, leaving seven teams with tyres that were not fit for purpose.
Tyres failed up and down the grid in practice, with two failures causing crashes (one of them a substantial accident on the banking for Ralf Schumacher, who thankfully avoided any significant injury).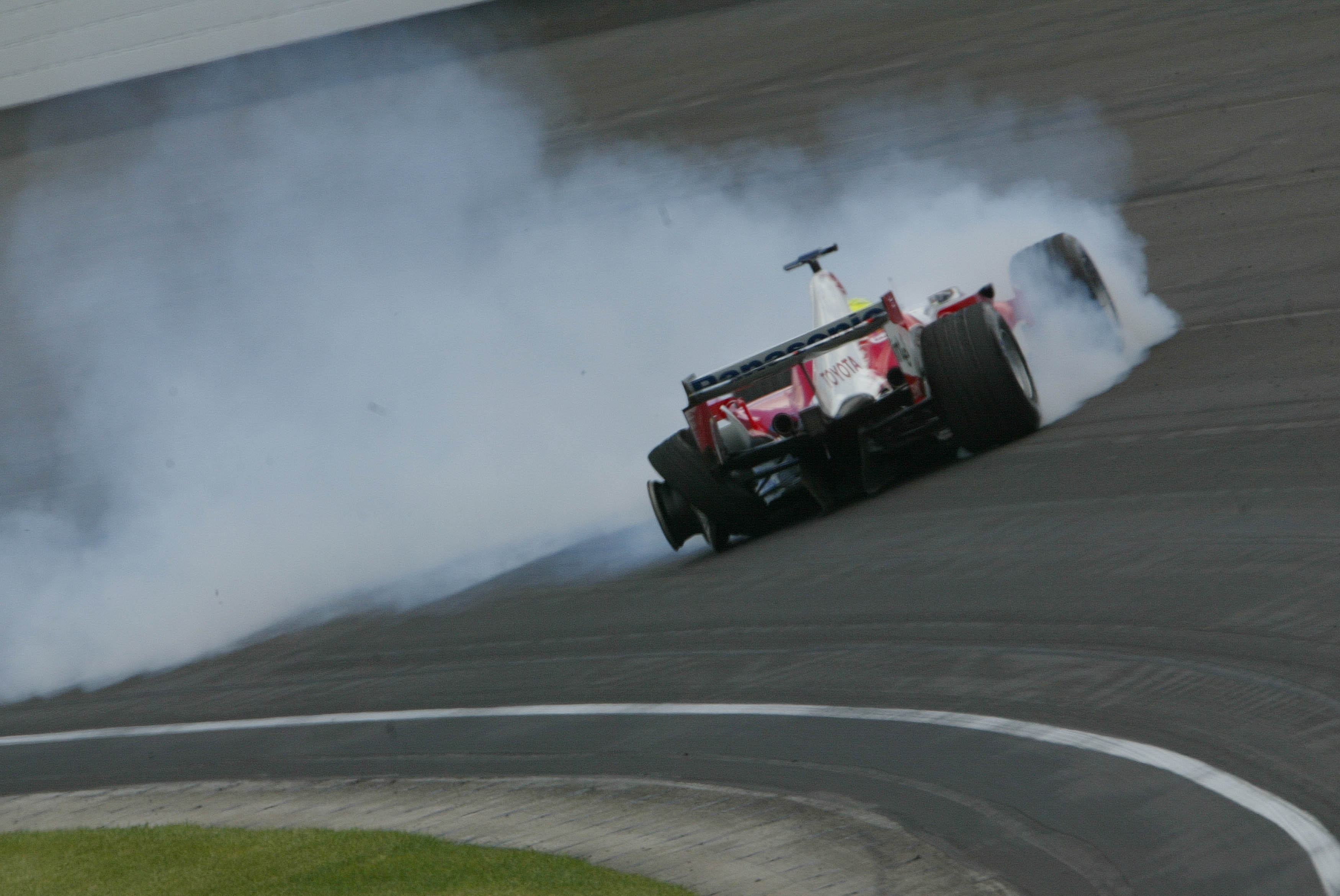 Schumacher's Toyota team picked up its first-ever F1 pole courtesy of Jarno Trulli, but this went down as no more than a footnote. As it stood, the team and its Michelin-shod peers couldn't responsibly take the start of the race – and as hours of talks led to little and proposals were shot down, the depressing prospect of a badly-depleted grid became a reality.
This was an emotionally-charged, painful outcome, which naturally lends itself to some easy hero/villain narratives. If only, these narratives suggested, the pesky Ferrari team had given its blessing to the main proposal, a makeshift chicane that would reduce the load on the tyres. If only Michelin teams were allowed to change tyres, or the manufacturer was permitted to introduce a new spec. If only the FIA had taken charge and ensured a proper 20-car race.
That thinking is encompassed in the gridwalk of then-ITV presenter Martin Brundle, which has since become more or less iconic, and his grilling of F1 supremo Bernie Ecclestone in particular. "Could we not bang some heads together?", Brundle asked pleadingly, echoing the F1 community at large.
Except, of course, it was never that simple. Life never is – and certainly, F1 never is.
F1 is as complicated as it gets by design, and not just in terms of engineering. It has always been, and remains until now, a web of politics, self-interest and conflicts. It's Game of Thrones without the violence. Some F1 fans absolutely loathe that about it, but to those like me the politics are as important – maybe more important – than the racing itself.
The US GP 2005 was a mess, but nobody set out to make it a mess. Every side had a point, and compromise can't always be reached. The nine non-Ferrari teams were of course right to push for ways to salvage the race, but the FIA shooting down a mid-weekend addition of an untrialled chicane and other last-gasp gambits was not exactly illegitimate. The rules are the rules.
As for Ferrari's alleged obstructionism, well, the race outcome yielded a 1-2 for a team that had found little success in the season until then – something to which the 2005 Bridgestone tyres contributed overwhelmingly.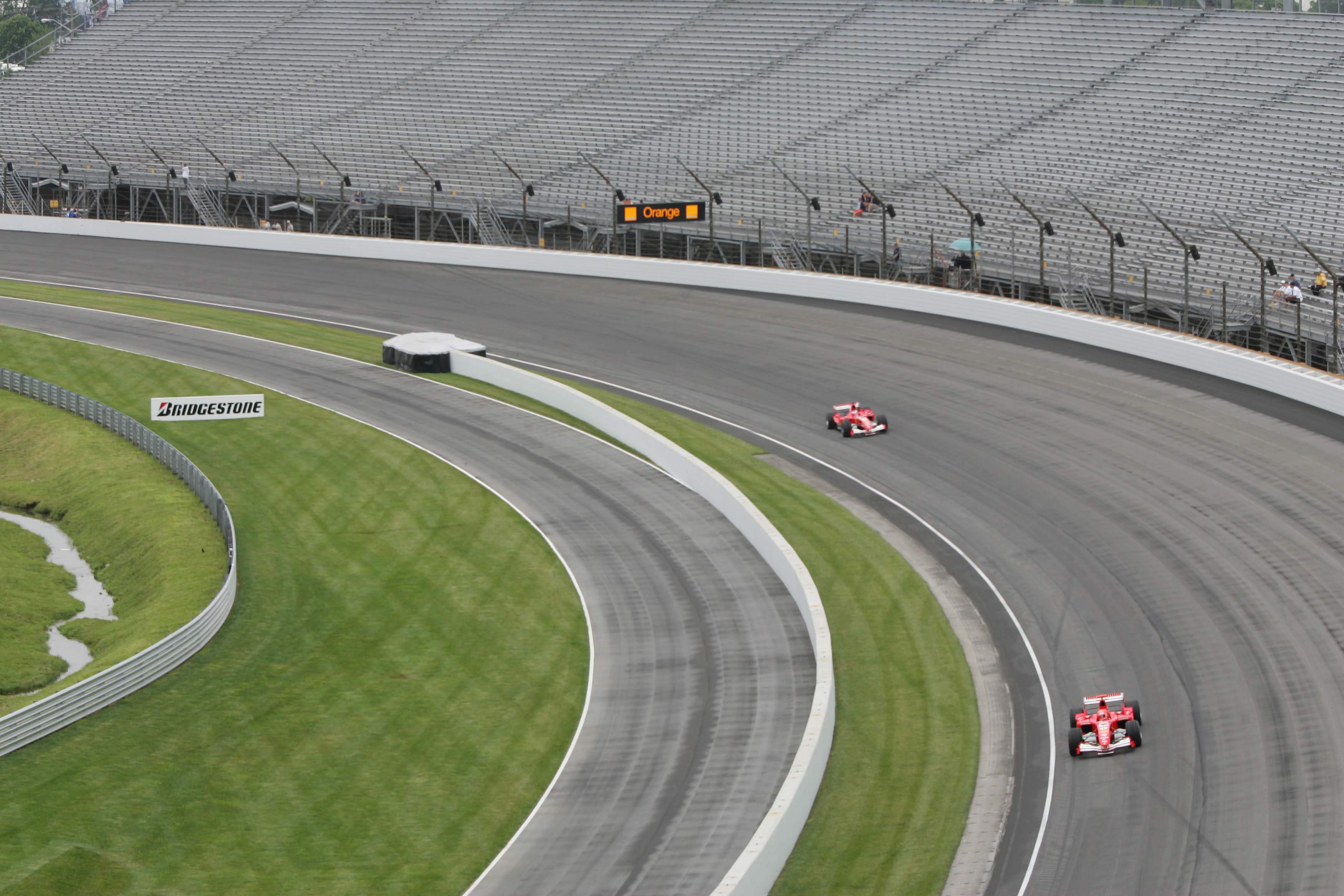 Indy wasn't a 1-2 to be a particularly proud of, but F1 teams don't score results to feel proud. They score them because it's their raison d'etre, and F1 teams can never be expected to willingly pass up competitive advantages, because it's kind of what the whole sport is about.
Admittedly, some of the details do stray a bit into villainy – then-FIA president Max Mosley's alleged threats regarding FIA-sanctioned motorsport to curb the breakaway race proposal mooted by teams leave a sour taste (although it is worth mentioning the governing body itself denied Mosley threatened anything of the sort), as do the subsequent FIA charges against the Michelin-running outfits that were ultimately dropped.
But ultimately, whoever was right or wrong, F1 faced a crisis situation, and its crisis management mechanisms folded like a house of cards. And failure is so often so much more interesting than success.
The on-track action would end up limited, but when it comes to the 2005 US GP the cars are not the stars of the show. The pre-race is where it's at, and the pre-race is riveting.
From secret shots of closed-doors team principal meetings, to the interviews with various paddock figures growing increasingly aware that F1's about to unload both barrels into its foot, a tangible atmosphere of tension is conveyed as the clock ticks closer and closer to the point of no return.
For example, ITV, UK's F1 broadcaster at the time, really earns its collective stripes here, starting immediately from the hilariously on-the-nose move of having the intro video be set to Green Day's now-classic American Idiot.
"Believe it or not, we are 55 minutes before the start of the race and still we don't know what's going to happen," says presenter Jim Rosenthal, his voice and general demeanour making it seem like he's reporting not so much from a sporting event but from the Supreme Court ahead of some momentous decision.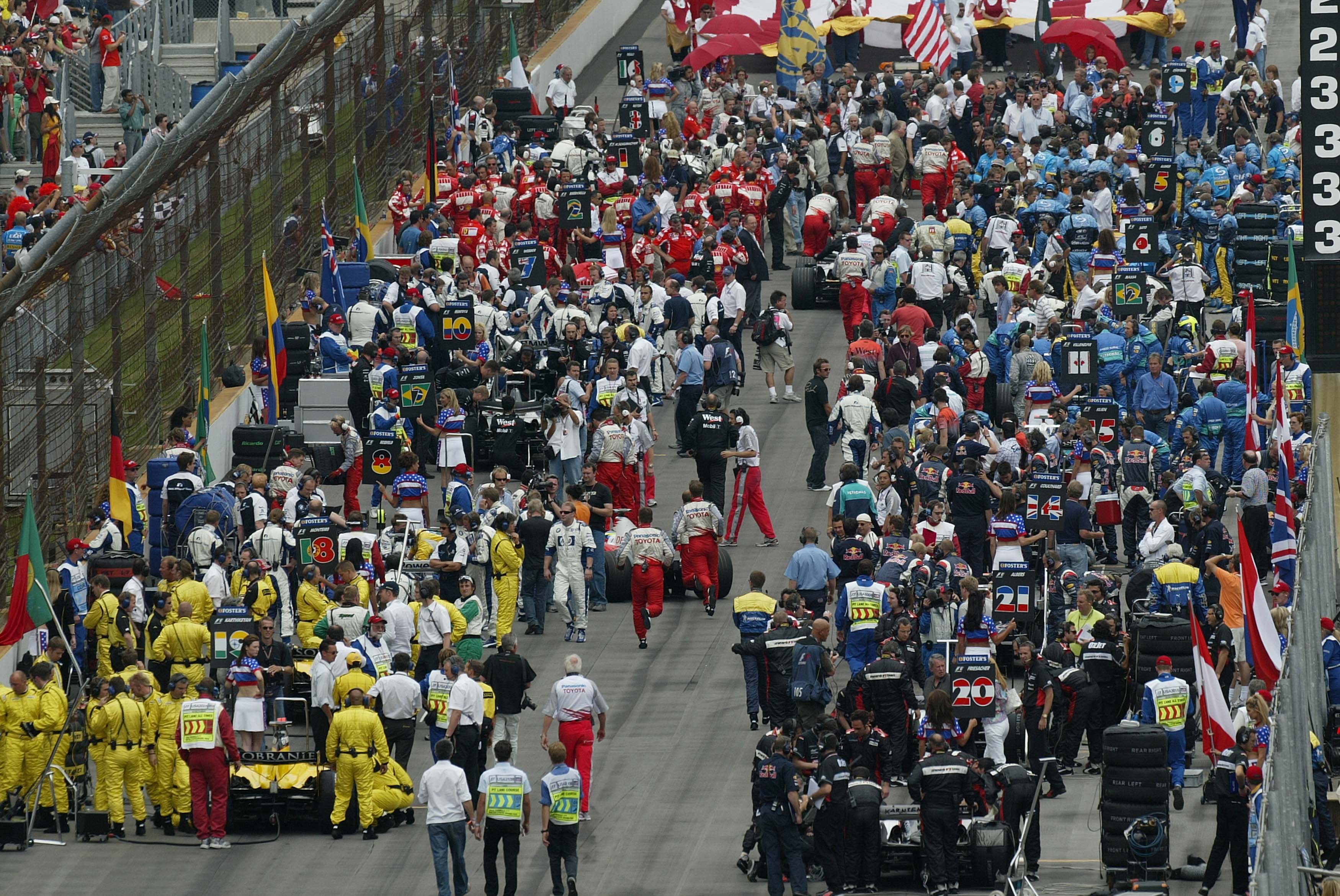 It all comes together: unflappable Scuderia spokesman Luca Colajanni saying, matter-of-factly, that "Ferrari's just preparing for the race, and that's it"; Red Bull driver David Coulthard conveying simmering frustration at the situation; Michelin's Nick Sherrock looking desperately uncomfortable to be interviewed by Ted Kravitz; Minardi boss Paul Stoddart desperately pleading to "leave these bloody politics behind".
Stoddart emerges as one of the key public-facing actors of the whole debacle. His minnow outfit, equipped with Bridgestones, is in prime position to pick up what will be its only points haul of the season at Indy, but he does not want any part of this.
Minardi and fellow Bridgestone runner Jordan leave the door open for skipping the race in solidarity with the Michelin teams, but both ultimately take the start. During the race, an incensed Stoddart pops up on a Dutch TV broadcast and, once informed he is allowed to swear, does so with aplomb.
But while his sensibilities as a motorsport lover are clearly offended, Stoddart acknowledges there's a self-interest angle to his rage, too. "We are only fighting Jordan [in the constructors' standings]," he says. "This bullshit race has meant the season finishes here.
"We can't ever overtake the points from today. It's over. This race – it's not a race, this farce has not just screwed the Michelin runners, it's screwed up a little fight between Minardi and Jordan that was getting quite good."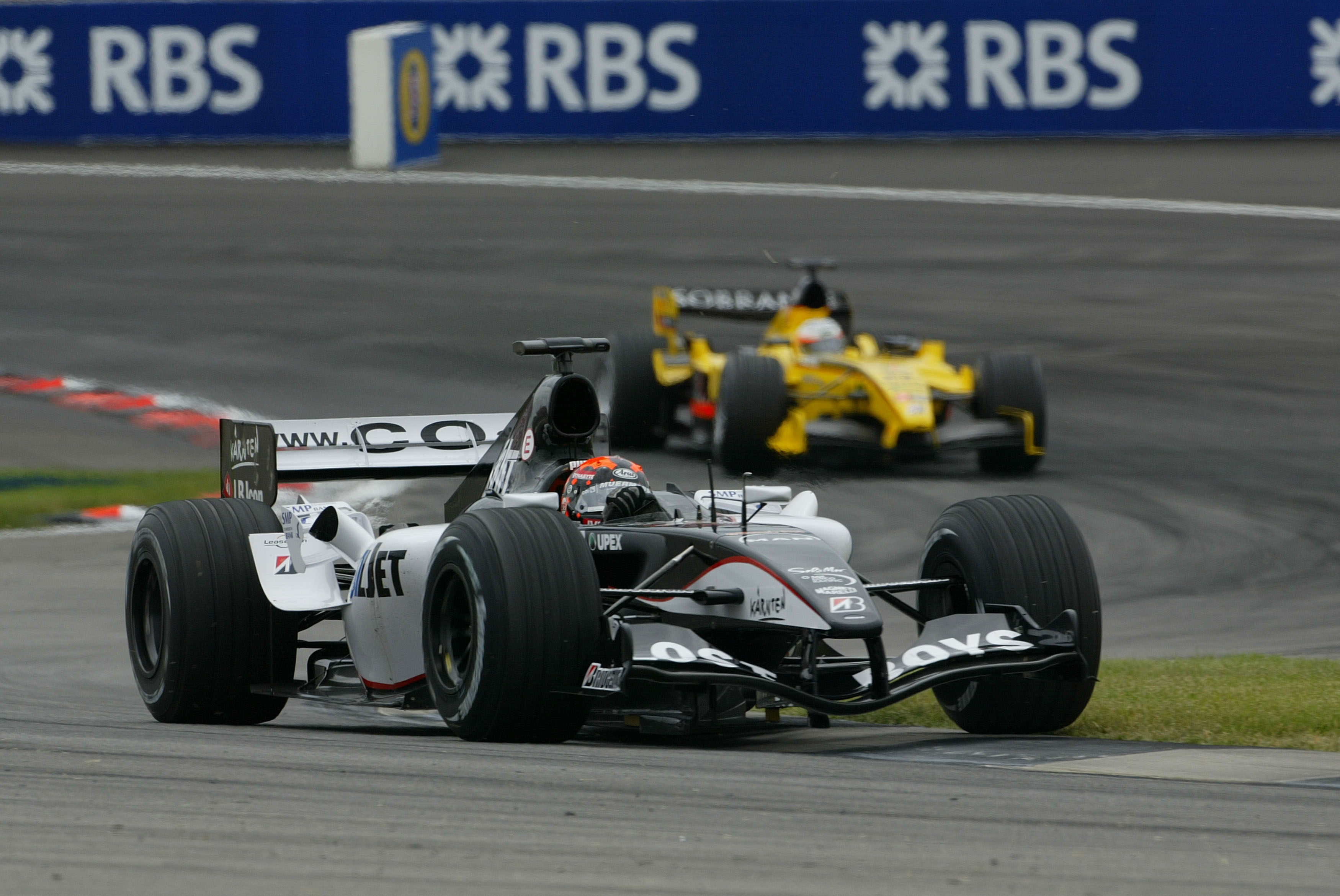 Just as the pre-race overshadows the race itself, so does the formation lap overshadow any of the 73 that follow. By that moment in time defeat and catastrophe for F1 are already forgone conclusions, and yet the presence of the Michelin-shod cars on the grid still dangles that small bit of hope.
Coulthard pours some fuel onto the fire by radioing in that, "if this comes down to my choice, I want to race". But it's not his choice, and he pulls into the pits along with 13 of his peers, leaving a truly bizarre six-car arrangement on the grid.
One of those cars – a Jordan – is already smoking, suggesting the hilarious prospect of the field going down to five cars immediately, but F1 is spared that particular ignominy. All six entrants enjoy a trouble-free run to the finish.
Well, almost trouble-free. While the track action is completely secondary to off-track events and filling 90 minutes of TV time with what's happening out on the circuit proves a challenge (at one point, the director shows three separate TV angles of a Narain Karthikeyan right front tyre lock-up), there is, in fact, a victory battle brewing which for all intents and purposes appears genuine.
As Michael Schumacher exits the pitlane after his late-race stop, team-mate Rubens Barrichello briefly noses ahead on the run down to the first corner, but runs out of room and is forced to skip over the grass. The action proves too close for comfort, and Ferrari duly reminds its two drivers to bring the cars home and accept the gift of 18 points.
Had Schumacher and Barrichello collided in that moment and taken each other out of the race, I get the feeling it would've elevated the 2005 US GP from a dark page in F1's history into a cherished moment of absurdist comedy. But F1 didn't catch many breaks that weekend, and it didn't catch one there.
In the end, Ferrari gets the 1-2 it bargained for, but both the team and its drivers look thoroughly ashamed on the podium. The booing from fans nearly drowns out the Italian anthem.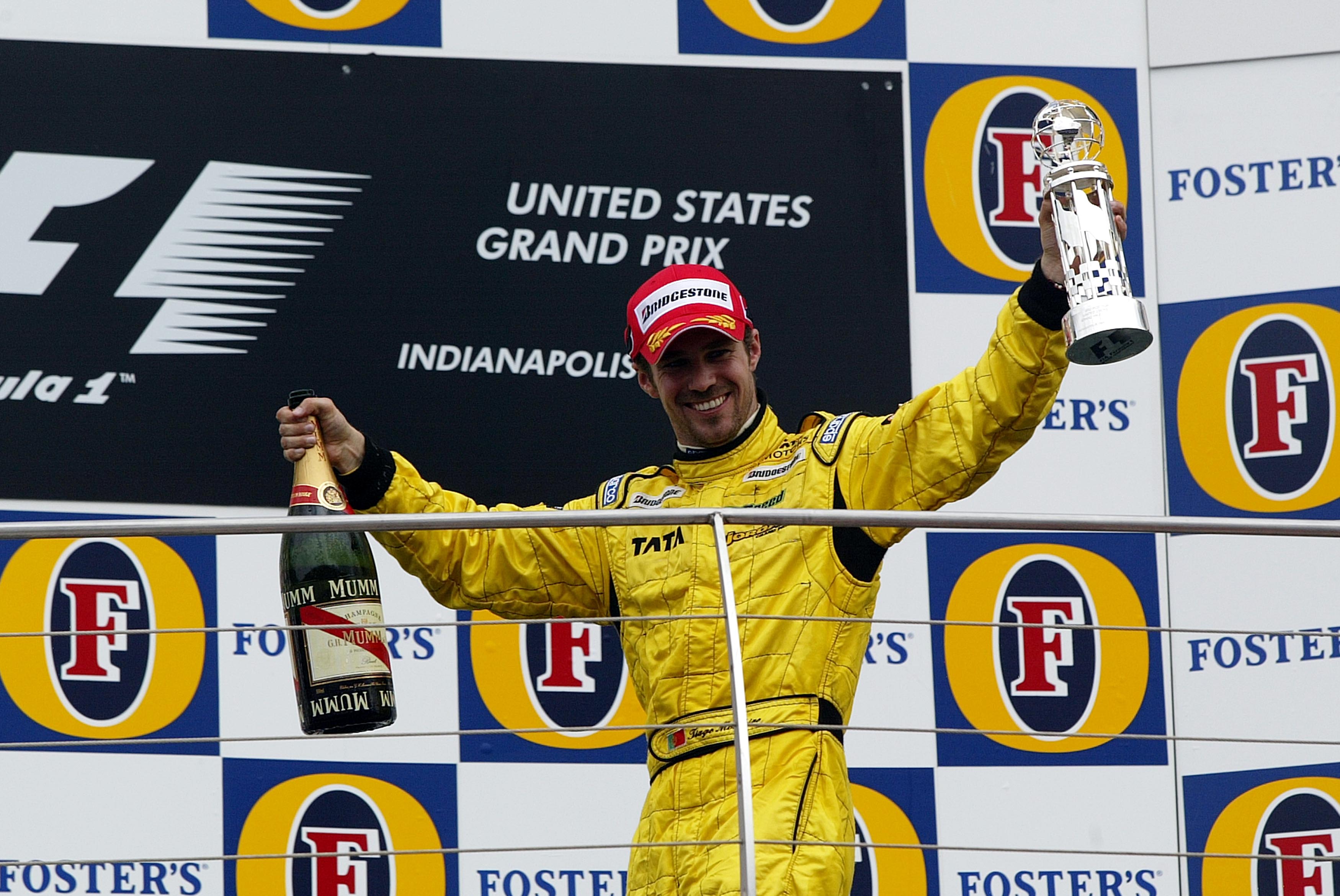 Tiago Monteiro and Jordan, though, cannot care less – the Portugese driver was not the first, nor the last backmarker to fluke a grand prix podium in what is a brutally inegalitarian sport, and though commentators sound dismissive of his joy he's impossible to fault for refusing to look this particular gift horse in the mouth. From that moment on, he's an F1 podium finisher forever.
Beyond this, though, little is gained even for those that did take part. Ferrari beats Toyota to third in the 2005 standings by 12 points (the 18-point US GP haul covering the difference), but its season is an unmitigated failure as it goes winless post-Indianapolis. Jordan finishes in penultimate place, Minardi is last, and apart from Monteiro's single point at Spa neither team scores again beyond Indy.
I have sympathy for the argument that enjoying the US GP 2005 is akin to rubbernecking, but ultimately it is a catastrophe with minimal toll. We know F1 survived that day, and though it was gone from Indianapolis soon after it has now returned to the United States.
We know Michelin's time in F1 came to an end, but it's not doing too badly for itself in other forms of motorsport.
And finally, nobody was seriously injured, which is always the risk when things go wrong in F1. Indy 2005 was a bad day for the sport, but it's nowhere near the worst, as some suggest – it is not in the same dimension as Imola 1994 or Monza 1961 or countless others.
That's not to say US GP 2005 was inconsequential, or that the harm caused by it doesn't matter. Certainly, the fan experience is the one obviously sad and regrettable aspect of the event – many of those in attendance travelled far and paid a huge chunk of their hard-earned money to see a sporting event, and they got a helping of vaudeville instead.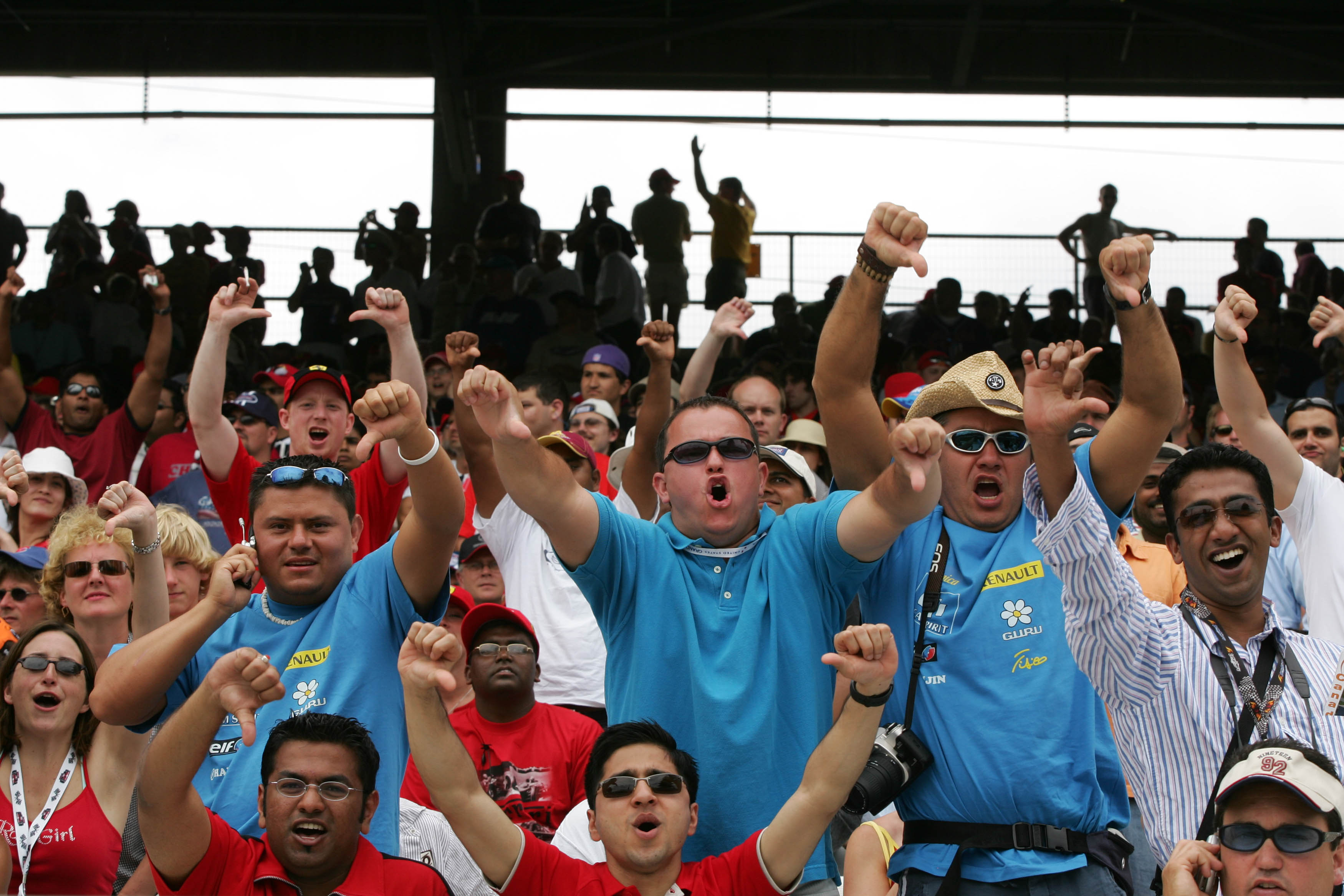 Many of them were probably in the dark as to the exact events, and will have been in for a nasty surprise come the start. Most will have just wanted to watch a good race, which the US GP 2005 is not. These fans' experiences being soured is a shame, and it is understandable that they lashed out by booing and throwing beer and trash at the circuit, as dangerous and ill-advised as that is.
But what will have been heartbreak on that day will hopefully have turned into something else entirely in the years gone by. If I were at Indy 2005, I'd wear attendance there as a badge of honour.
Almost anybody can go and see a good race. But most will never get to see anything like that.
As somebody who vaguely recalls watching it live as a kid, I feel genuine fondness for that 73-lap catastrophe, and genuinely believe it may have actually played a part in making me fall in love with Formula 1.
After all, any sport that can be this self-important and expensive and yet stage an event this weird and embarrassing must be worth following.