Six-time MotoGP world champion Marc Marquez has admitted that the incredible form that allowed him to dominate the 2019 season may never again return.
Yet it's not because of the career-altering accident he suffered at Jerez in July 2020 and has spent the past two years managing, but instead because of the way in which the championship has altered while he's been away from it.
Missing much of the past two and a half seasons through four surgeries, bone transplants, long hospital stays due to infection and, most recently, extensive rehabilitation from the latest operation in June, the series has undoubtedly felt his absence as both a benchmark and a target for his opponents.
But, finally returning full-time last week at the Aragon Grand Prix and getting back to old ways, at least partially, at Motegi on Sunday with an excellent fourth place from pole position, he at least now looks to be on a path back towards a full recovery from the extensive damage he did to his right humerus bone.
Speaking afterwards, though he said he's not sure it'll ever be truly possible to return to the utter domination he displayed in 2019 – not because he's not sure of his new physical limits, but because in the 1000 days he's missed, MotoGP has morphed into a series where the bike is now more important than ever before.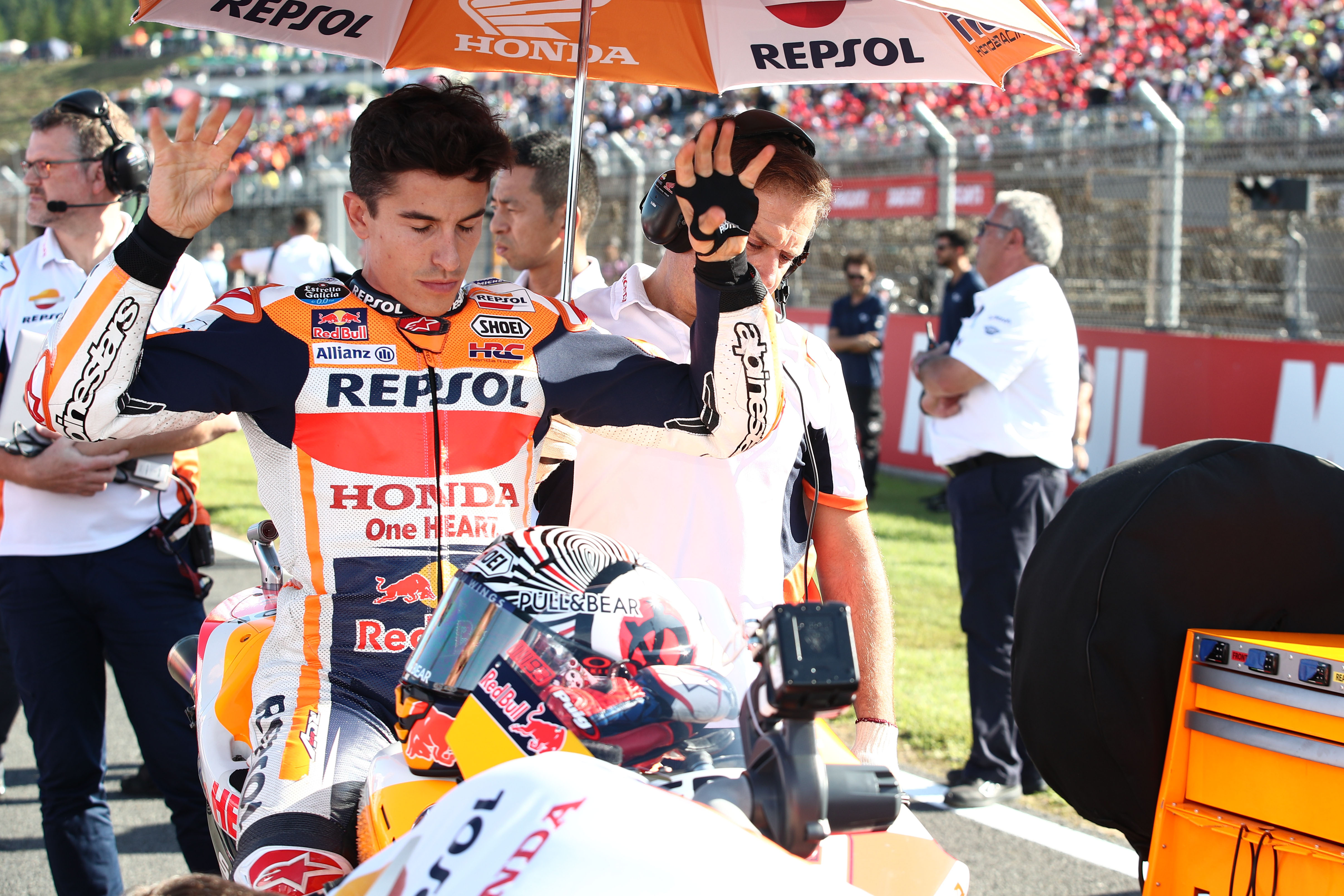 "There are two things there: arm level and bike level," the Repsol Honda rider explained. "Of course, the arm level we will see in the next races. How much can the arm improve in the coming races? I don't know. But it will be better for sure, because the muscles are growing.
"But then to ride like 2019? Well, we are not in 2019, we are in 2022, and the bikes have changed. The bike is becoming more and more important, in this new MotoGP. The bikes are more important and it's more difficult, really difficult as I saw today, to overtake the other riders.
"If you're behind someone you cannot stop the bike because you don't have the aerodynamics effect, if you're behind someone you get more wheelie because you don't have the aerodynamics effect. Before, to ride behind someone was easier, but now you can do it for one lap but for a race distance it's even worse.
"It's two different things. Arm situation that we know with more kilometres we know will be better, and the bike that we know we need to improve."
However, that's not to say that the Japanese Grand Prix weekend isn't one to celebrate for him regardless of whatever limitations the current problematic RC213V might bring, thanks to what the Spaniard was able to learn about his own physical condition on one of the most physical and hardest-braking circuits of the whole calendar.
"I'm really happy because it was a solid race, a constant race," he admitted. "The most important thing is that I didn't feel pain at all during the race. I felt like my arm was lazy, I felt tired in the end, but I didn't feel pain, and for me, this is the most important.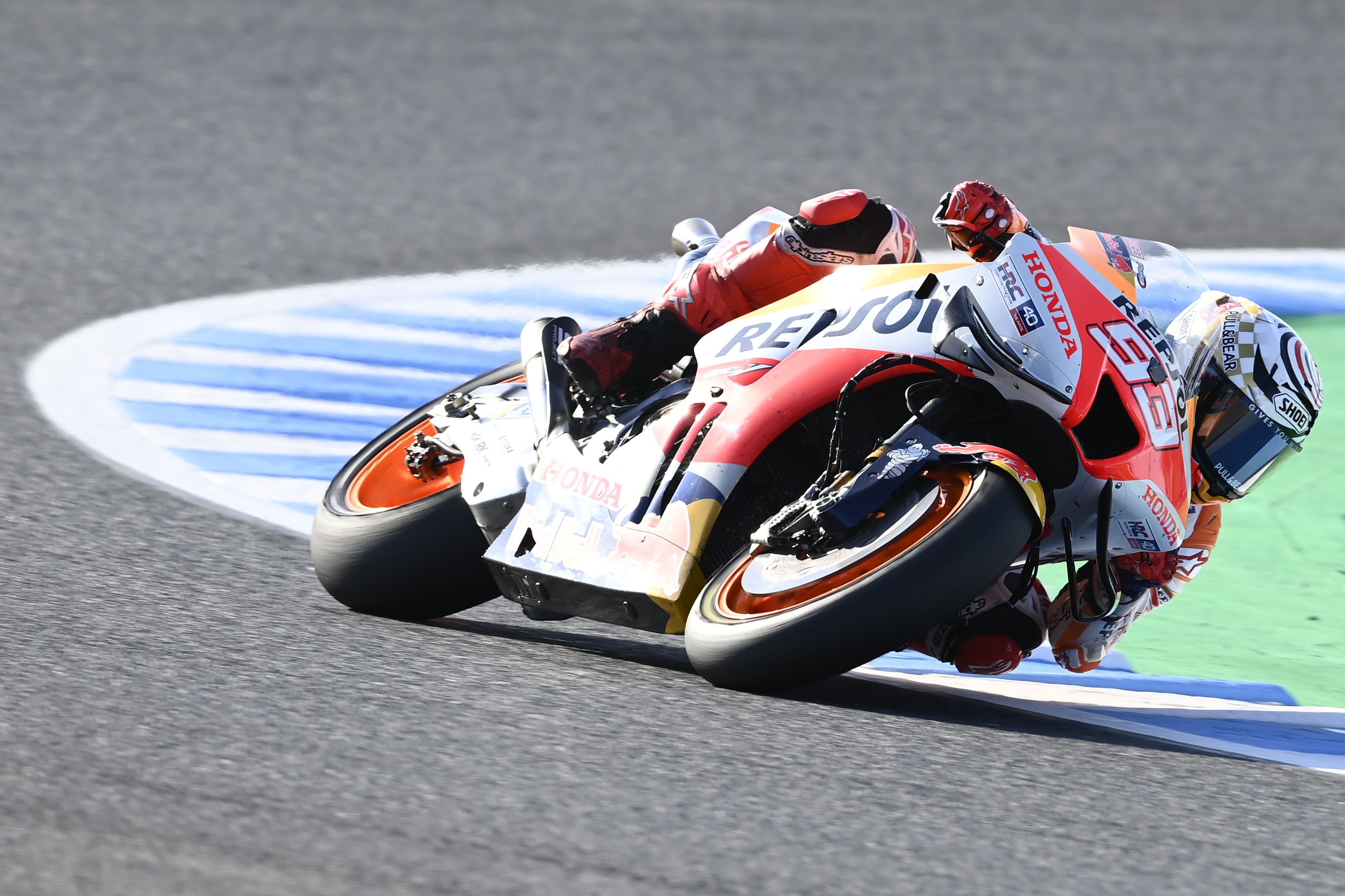 "I was able to attack [Miguel] Oliveira in the last two laps, and it's been a long time since I was able to have the feeling to attack in the final laps because the pain has always been there and in the past I couldn't keep the concentration.
"But I didn't feel pain, just tired, and everything was under control and I did a solid race that I'm happy with."
There does need to be some restraint going forwards, though, given that Marquez believes the weekend's unusual circumstances played a key role in helping him to score his best result in months.
The weekend was shortened due to anticipated travel chaos and featured only one practice on Friday, while heavy rain on Saturday allowed him to put his arm and shoulder under less stress. And Marquez insisted he was aided significantly by a pole position that played a key role in securing a good finishing position too.
"It's true that it was a good weekend, but it's also true that the rain conditions on Saturday helped me a lot to keep fresh and to start from pole position," he tempered. "I'm always honest, and on a normal weekend, I believe I would have been seventh, eighth, ninth position. Not fourth.
"The confidence of course comes higher and higher – but we need to calm down a bit. The weak points of our bike were affected less in this circuit, and for that reason, I was able to be fast from FP1. We ride with more or less exactly the same bike as Aragon, but we were closer to the others. That helped a lot.
"Of course, for a single lap, for a time attack, I'm not far. I can ride like I want to. But to make a constant pace, to still control the moments when you don't expect them, something on the brakes or on the change of direction – still there I think I can work and I can improve. It's only the second race, so still, we have Thailand, Australia, Malaysia, Valencia."