Two-time MotoGP race winner Danilo Petrucci is set to make a return to the series at this weekend's Thai Grand Prix, with the Italian set to replace the injured 2020 world champion Joan Mir at Suzuki as he continues to recover from injuries sustained at the Austrian Grand Prix in August.
The news was first published by Spanish newspaper AS, then confirmed by The Race's own sources later on Monday afternoon before being officially announced by Suzuki this evening.
Petrucci is  en route to the Buriram circuit directly from last weekend's final round of domestic American superbike series MotoAmerica, where he finished his rookie championship season in second place.
Petrucci, who exited MotoGP at the end of 2021 after a 10-year spell, was initially linked to Suzuki for what would have been his home race at Misano earlier this month, with team boss Livio Suppo in particular very keen to make the guest appearance happen – only to see Ducati step in to stop it while Petrucci was still in contention for the MotoAmerica championship.
"I thought it was a good idea to have Danilo here, back in MotoGP," the veteran team boss told The Race at the time.
"Everyone loves Danilo and it would have been nice to give him this chance, of course with no future. But anyway, I thought it was a good idea. Unfortunately for several reasons, it didn't happen, but we tried.
"At the end, I understand that of course, Danilo is fighting for a championship, and the week after he will have a race in America. I understand that it was better not to do it."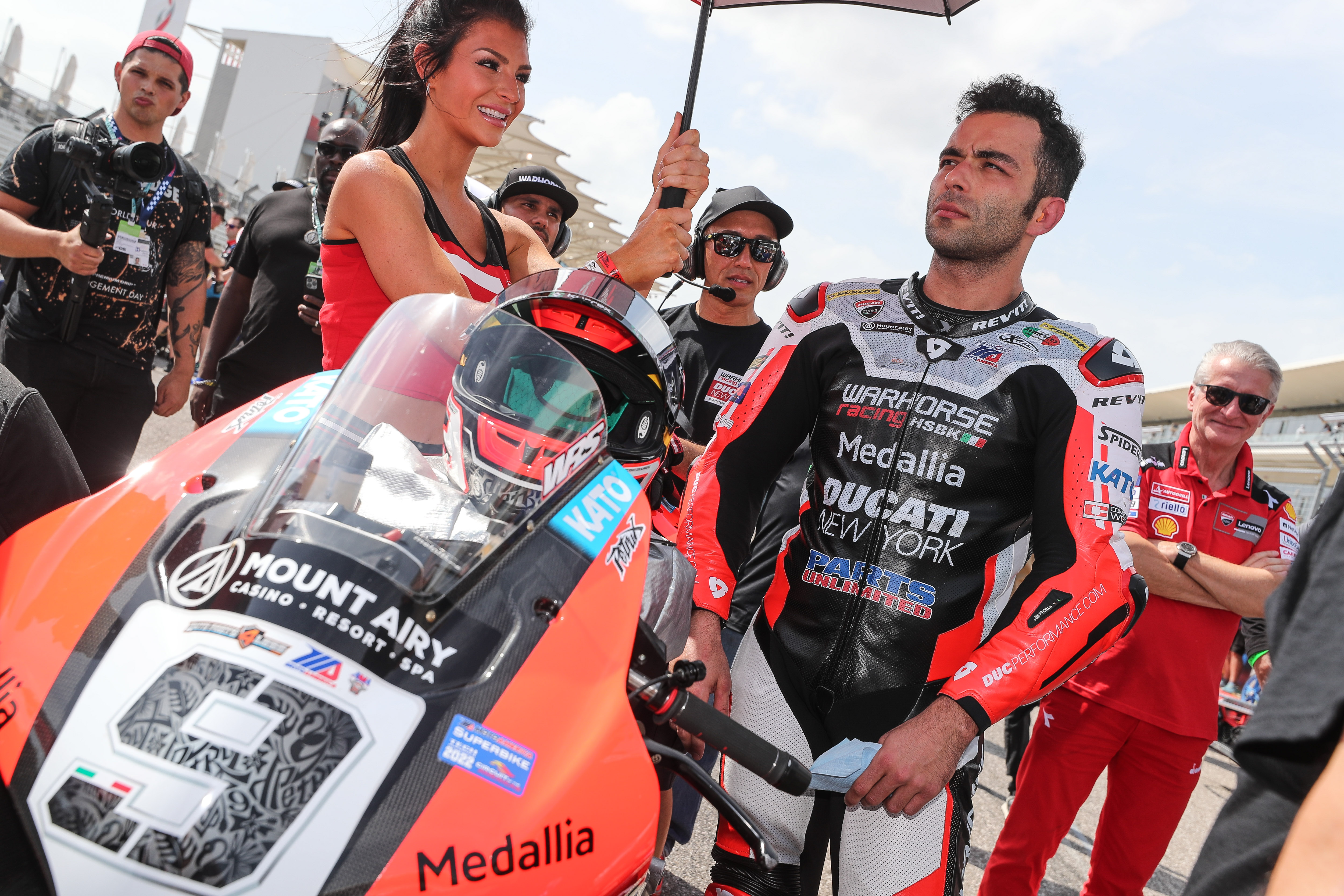 However, that is series now resolved in favour of his championship rival Jake Gange after a controversial final weekend at Barber Motorsports Park that featured fresh allegations of unfair treatment towards Petrucci once again aired by his team after he was first penalised for a jump start and then put back onto the podium following an appeal.
That in turn has cleared a path for Petrucci to finally get the chance to step in and replace Mir.
It comes as Mir continues to battle against the injuries he sustained in his Red Bull Ring opening lap high-side last month. He broke the talus bone in his right ankle in the fall, and this bone is notoriously slow to recover due to a limited blood supply. He will again not be fit at this weekend's race, the fourth in a row he will have missed.
Mir was first replaced at Misano by occasional Suzuki test rider and Suzuka 8 Hour podium finisher Kazuki Watanabe, before Mir himself attempted to ride at Aragon but was forced to withdraw. Suzuki's other test rider Takuya Tsuda was then promoted from wildcard to stand-in at home last weekend in Japan, in a race that ended with a dramatic fireball following a technical problem on his GSX-RR.