A month after Pecco Bagnaia's run to second place at Silverstone had built up a 41-point cushion over his nearest rival Jorge Martin, the gap between the two in the MotoGP title race is back below the single-weekend maximum-score mark.
Martin can, in theory, take the championship lead next time out in India, though his path to doing so is obviously extremely narrow – he'd have to do the double and Bagnaia would have to score nothing.
It does feel like there is an emotional difference between Martin's current deficit of 36 points and, say, 38 points, given 37 are on offer per weekend. And the fashion in which he reduced said deficit at Misano – pole, sprint win, GP win, all 40 laps led across the two – feels important, too.
And yet, while Martin's performance feels like the kind that can definitely serve as useful psychological momentum, has it really tipped the scales in the title battle? Has it changed the balance of probabilities in a meaningful way?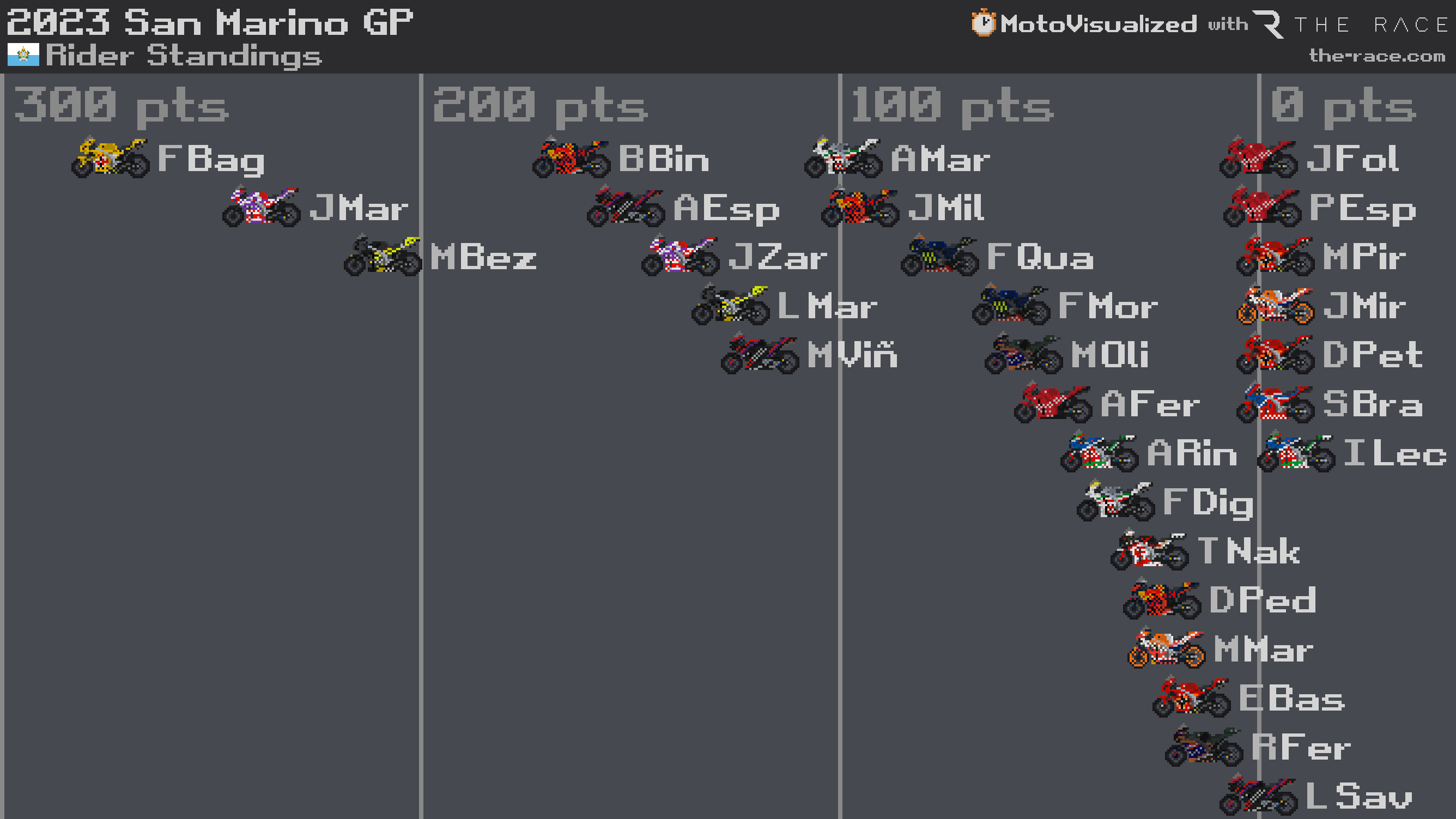 Frankly, I am not convinced.
Martin had a very good weekend – the best weekend possible – but he and his main rival Bagnaia arrived at the post-Misano outcome that seemed likeliest from the very moment that Bagnaia was cleared of having suffered any fractures from having his leg run over in the Catalan Grand Prix.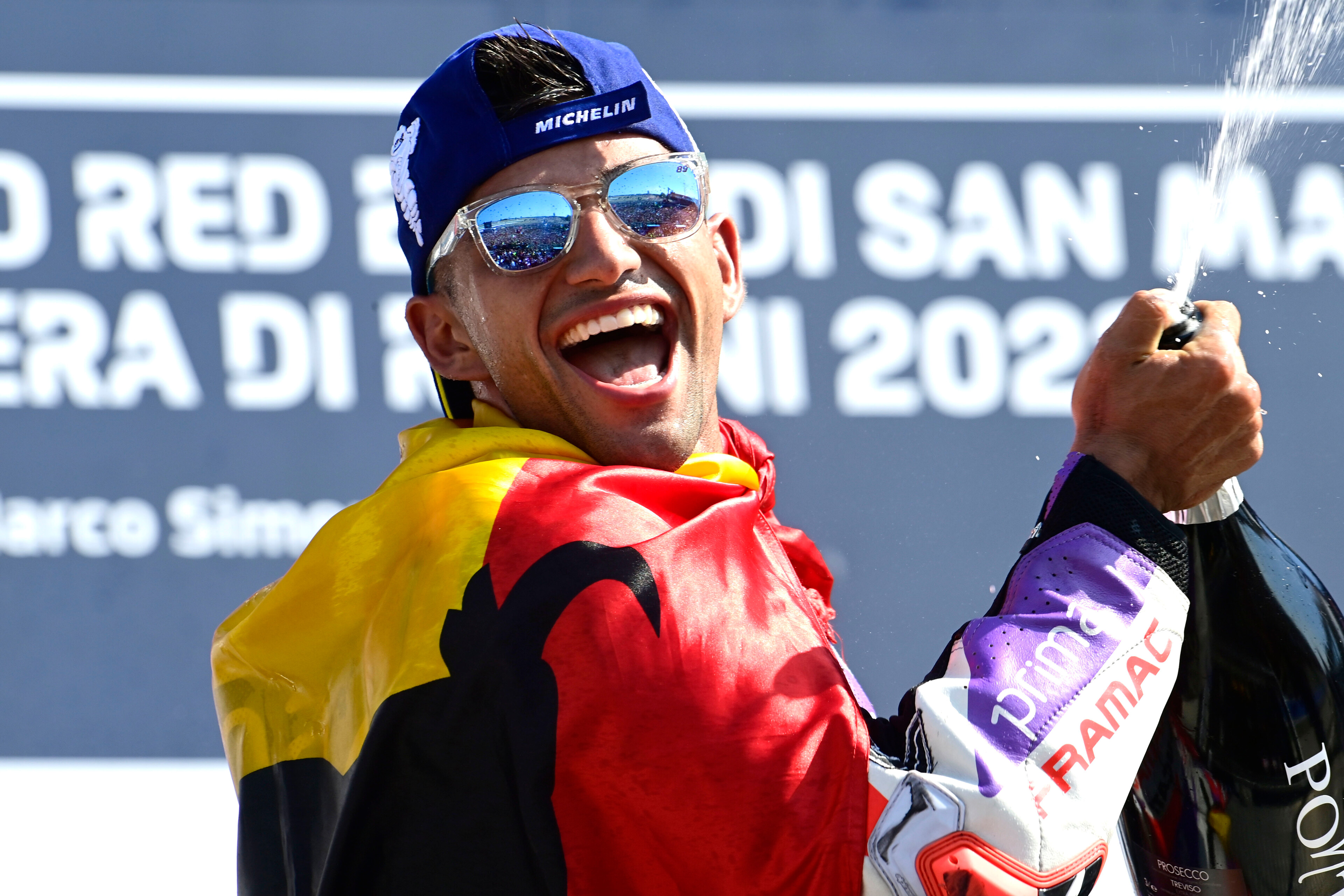 He was always going to ride, and he was always going to bring home decent points. And Martin was always going to be the favourite to win – at a track where the Ducati goes well, and with Ducati's two other spearheads in Bagnaia and Marco Bezzecchi not entirely fit.
Calling it an 'open goal' would perhaps be overly reductive. Martin was off his game at Misano in 2022, finishing a distant ninth, his 27-lap race time then nearly half a minute slower than it was last weekend. Clearly, there would've been at least some trepidation – but also plenty of reason to go much, much better given he is now on a Ducati GP23 as opposed to a particular-spec Ducati GP22 he never truly clicked with.
"I felt coming on Thursday that it wasn't a great track for me, but straight away in FP1 I felt super comfortable," said Martin.
"The feeling was great, I didn't touch the bike [in terms of mechanical set-up], I was focused on the details, working out the [engine] maps, and I think it was the key to success here."
He was already very good on Friday, with a particularly ominous laptime set on the medium rear, before smashing the lap record on Saturday morning and controlling both races.
Aside from missing something relative to his two main rivals Bagnaia and Bezzecchi – who, being part of the VR46 crew, ride so regularly at Misano on road bikes – at the fast Curvone corner, which seemingly helped saddle him with at track limits warning on Sunday, Martin never looked under big pressure.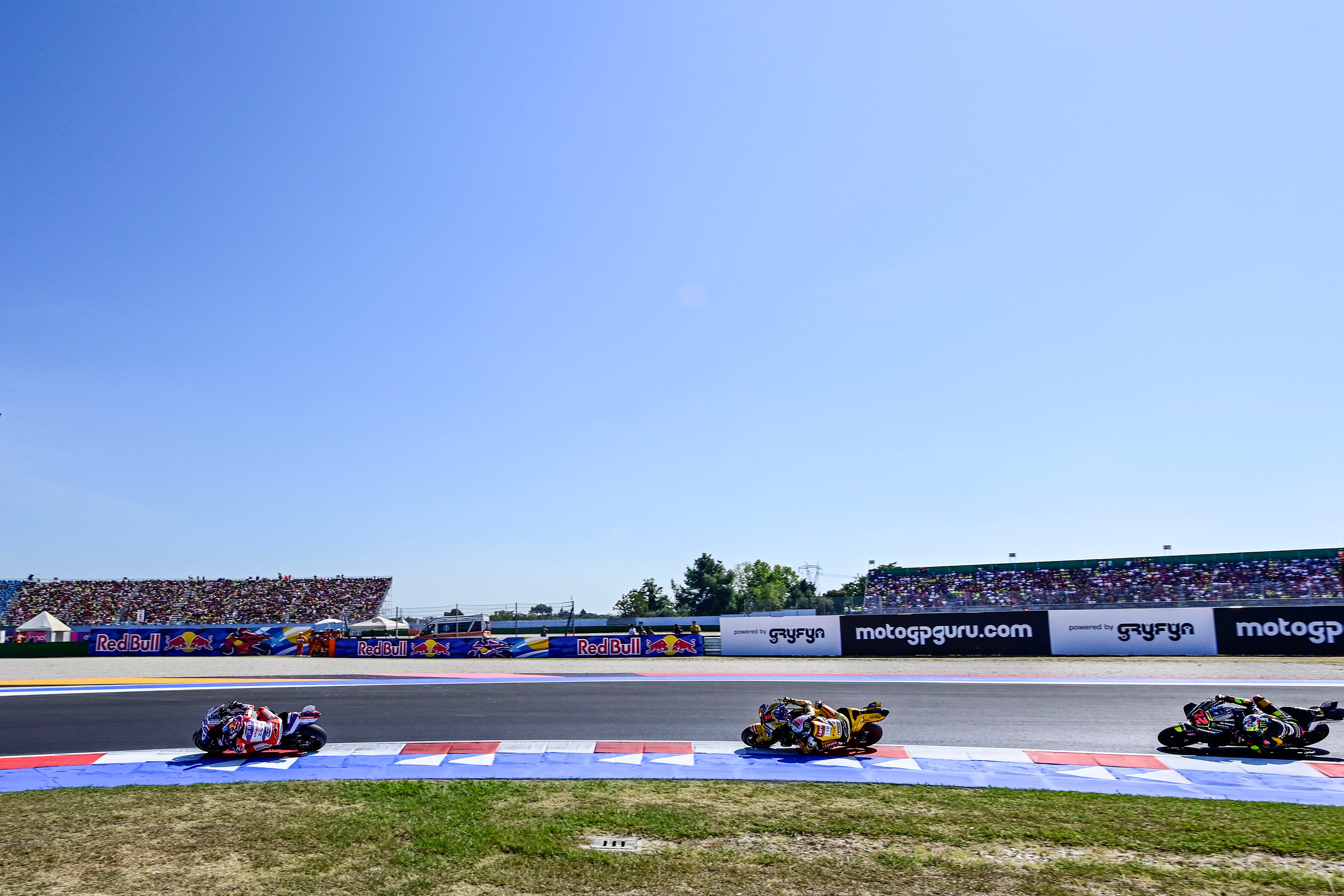 "As soon as I saw some weakness from them, when I saw some small gap, I tried to push more," Martin said of his Sunday win, which very much resembled many of Bagnaia's expertly managed triumphs. "When I saw I was 2.2 seconds from them, I was a bit more relaxed – and at that point they were coming again so I had to push again."
But this was broadly in line with expectations. It had to be, given Bezzecchi and particularly Bagnaia had spent all weekend grimacing from pain.
"I was completely destroyed," said Bagnaia, having made in-weekend adjustments to his riding style due to searing pain from a leg hematoma.
"Normally I use the legs a lot to ride, and normally I don't have any problems with the arms, but this weekend was impossible to ride just with the legs. I had to do something different.
"In some changes of direction I was finished, on all the braking I was finished."
Bagnaia – who maybe doesn't get enough credit for how much of a courteous rival he is – did also repeatedly emphasise that he didn't feel this took anything away from Martin.
The Pramac rider "demonstrated something incredible this weekend", Bagnaia said, and had "a clear advantage" in performance. He also joked (and it was very, very clearly a joke) Martin's bike would have its engine cut off if he was proving too fast.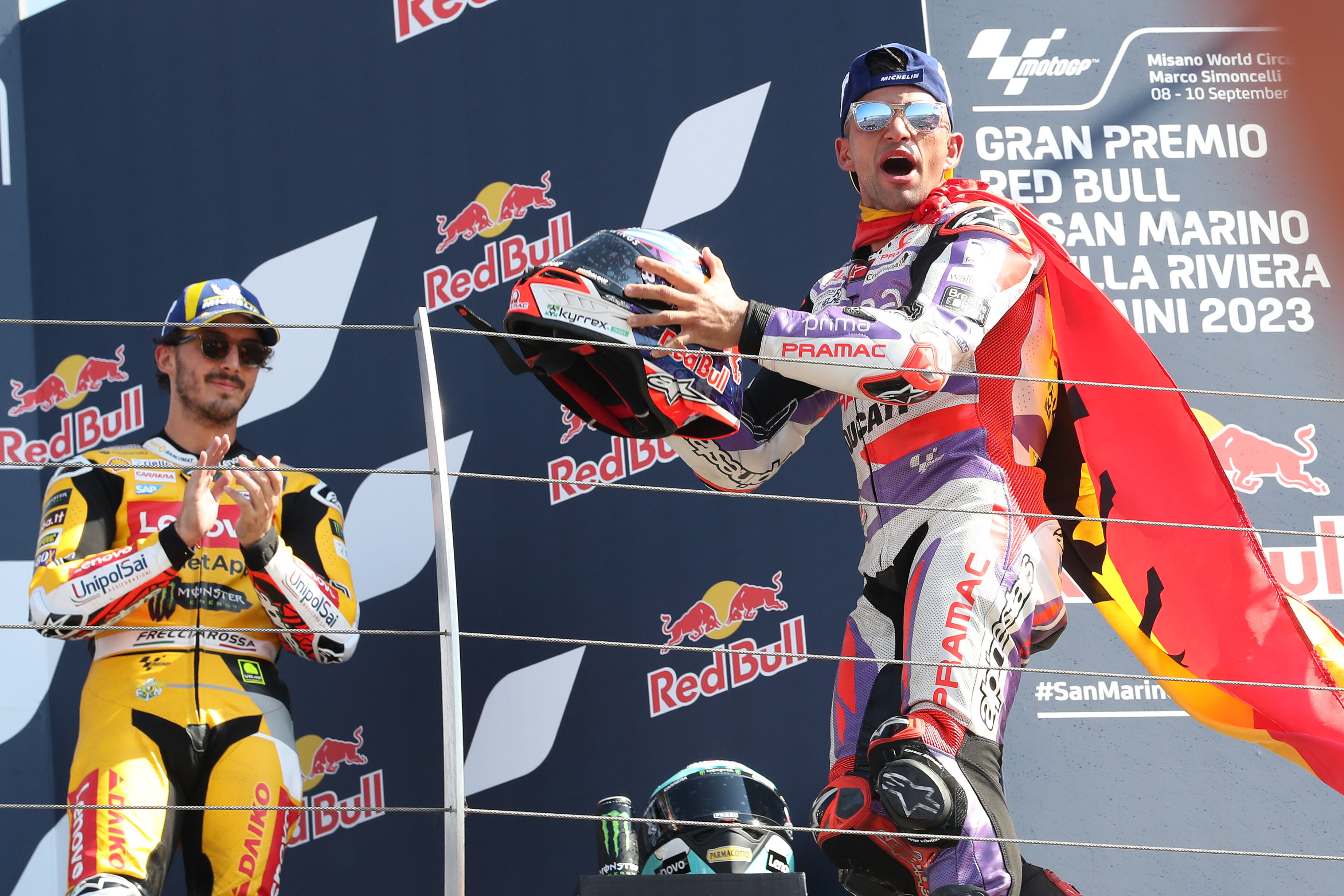 "The pace this year was incredible, Jorge did all weekend an amazing job," Bagnaia also said, referencing Martin's San Marino GP race time being 10 seconds better than his own race-winning time from last year.
"For me it was very difficult [to match]. Maybe if I was in a different condition, maybe it'd be a different story, but it would've been difficult all the same."
Whether he really feels that, is being polite or is somewhere between the two is not for me to say. My suspicion, though, is that Bagnaia, an absolute Misano master in his time in MotoGP so far, would've doubled up on the weekend had he been fit.
Perhaps that, the knowledge that a potential 37 points were being snatched away here, was what spurred him on.
"It will be a good fight, for sure," he said of the championship picture. "We lost points, it's true, but we just managed to lose 14 points instead of 37. And this is the thing I'm most proud of – it was easier to give up a bit and just finish the race. But we managed to do a really great race."
By India, Bagnaia expects to be fully fit. Ideally, therefore, that sets up a straight fight with a whopping 296 points still on offer before the curtains come down on the season at Valencia.
Of course, Martin can still absolutely win the title. If Brad Binder's KTM had struck Bagnaia's leg in a slightly different place at Barcelona, Martin would've already been title favourite. That's not how he or anybody would've wanted it – and that's not a factor anybody wants to play any part in this year's title contest – but it is an unfortunate fact of life in MotoGP, particularly in 2023, that riders can very easily find themselves sidelined for prolonged periods of time.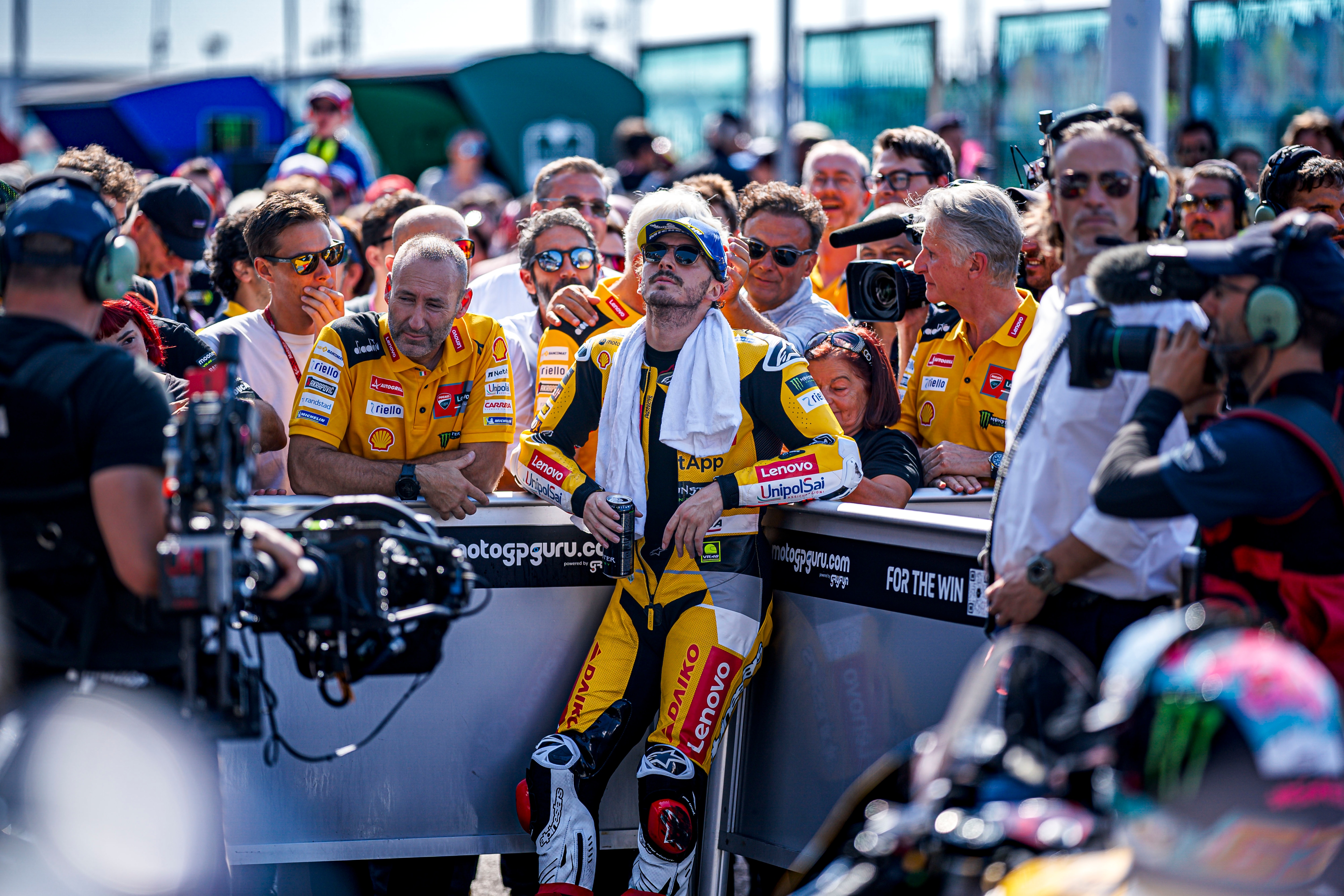 Assuming it stays a straight fight, though, Martin will need to do more to really breathe some life back into the title contest. What he did at Misano he needs to do elsewhere against a fully fit Bagnaia.
And Martin seems very much aware he's still a long shot here. At least, that's one interpretation of this comment: "I just want to enjoy the moment, for sure my target is to win races. I'm not even a factory rider, it's not on me to win the championship, I feel that I don't have that responsibility.
"For sure if I have the chance, as I am having now, I will try to get it. But my day will come when I am a factory rider, and for the moment I am not. It's not on me."
If there is something to latch on to, though, it's that Saturday morning pole, with the lap record by a margin of 0.397s.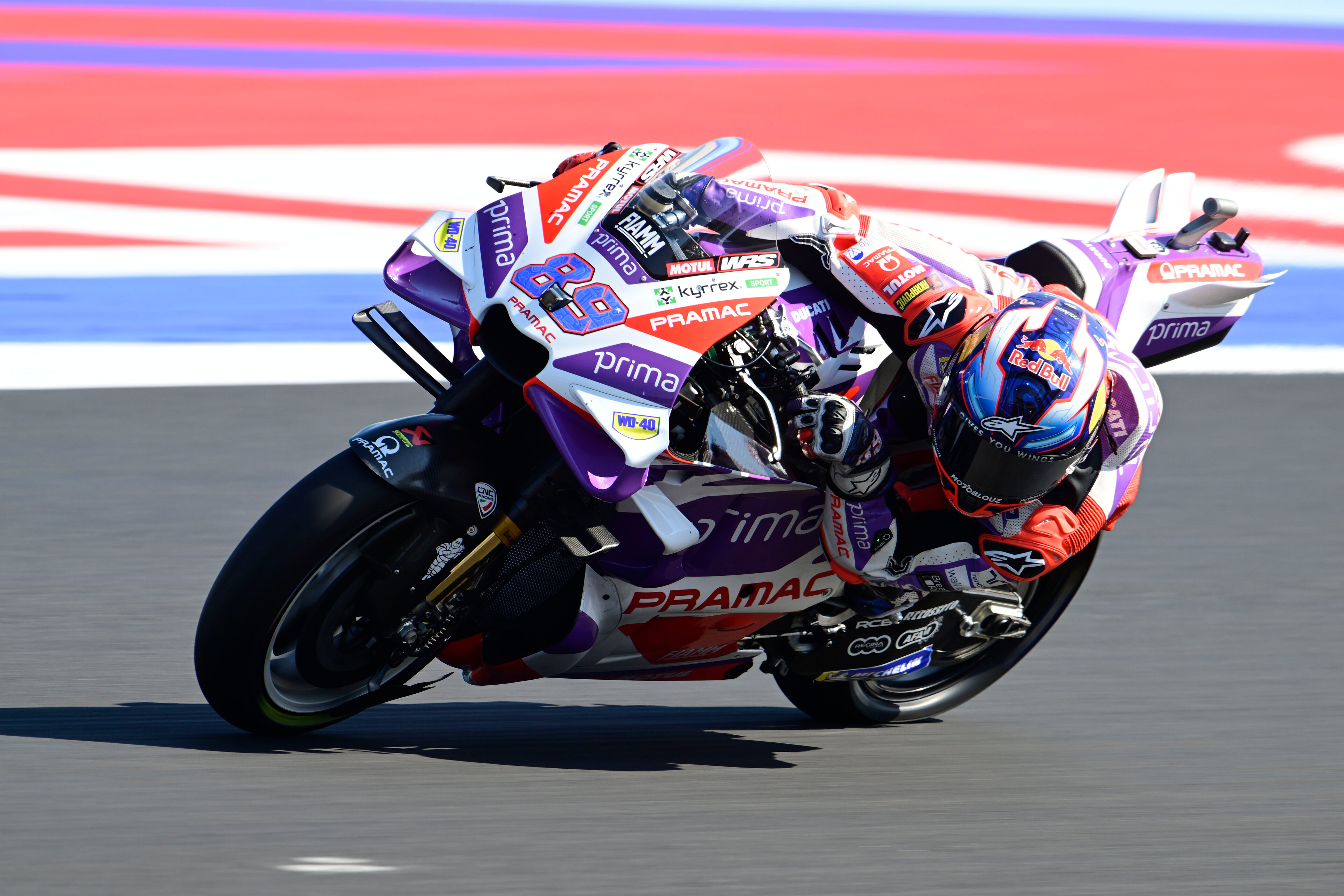 Martin was doing this kind of thing on the regular towards the end of 2022, once he found some semblance of synergy with that GP22. This year, though, he's waited until round 12 for his first pole position – a long, long wait for a rider who has been renowned as a MotoGP qualifying maestro ever since he stuck a Ducati GP21 on pole in just his second-ever premier-class weekend.
Both Bagnaia and Martin have been part of every Q2 this season. But Martin's qualifying average is 6.5, while Bagnaia's is 2.1. It is impossible to overstate just how big a difference this has made to the shape of the title race.
So, if Martin really does begin to join Bagnaia on the front row regularly now, then things really are different.
Misano alone, though, is not evidence enough to make that assumption.