Exciting MotoGP racing will be "impossible" at some circuits – including this weekend's venue Misano – until major regulation changes, according to some top riders.
Marc Marquez and Aleix Espargaro both suggested after a flat San Marino Grand Prix that modern MotoGP bikes' aerodynamics, ride height devices and the consequences they cause for tyre pressures all contribute to a boring spectacle at tracks of Misano's nature.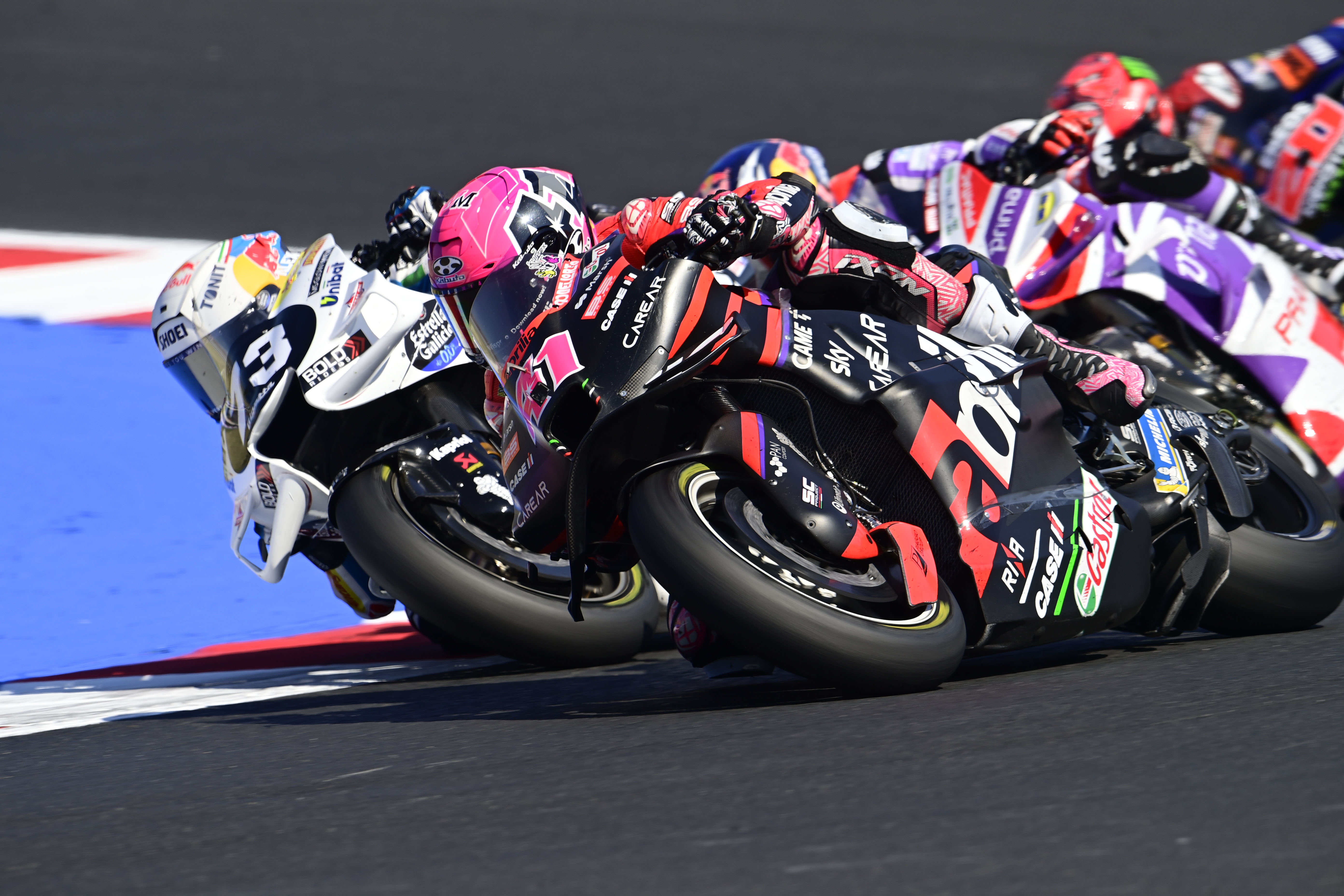 The 27-lap San Marino GP featured only four genuine passing moves inside the top six after the start, with Marco Bezzecchi's two overtakes on Pecco Bagnaia for second accounting for half of this number.
⬇️ @PeccoBagnaia's pace has dropped

And Bez slots into 2nd! 👊#SanMarinoGP 🇸🇲 pic.twitter.com/YHVn66t5Bs

— MotoGP™🏁 (@MotoGP) September 10, 2023
That's a significant contrast to some past races at Misano. The 2019 race in particular was a modern classic between eventual winner Marc Marquez and then-rookie Fabio Quartararo, the duo trading the lead three times on the final lap alone.
Races like that at Misano are now a thing of the past, argued Espargaro after his rather dull run to 12th.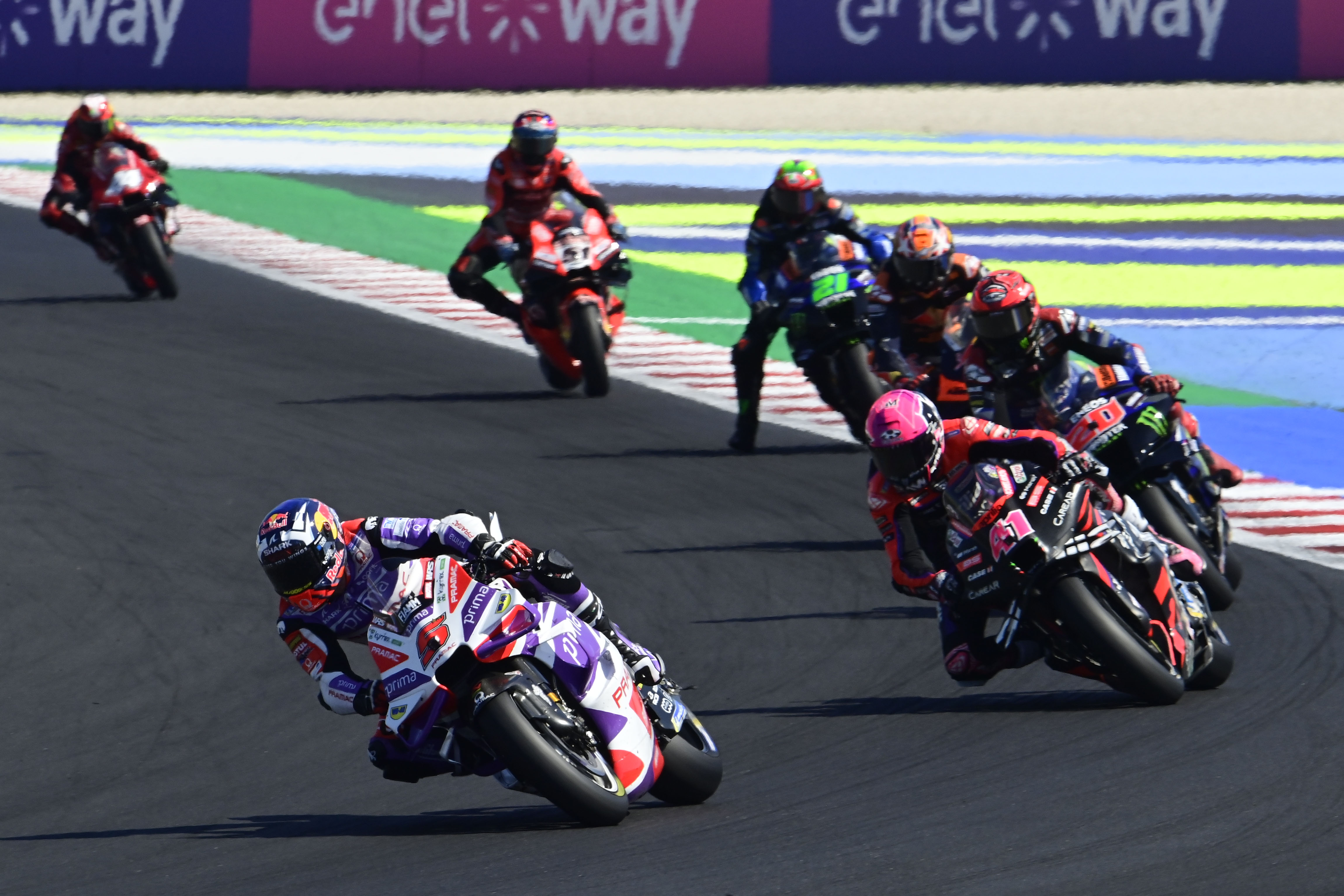 "The pace was not that bad," he explained of his race, "but I lost a lot of places in the start and then it's hard to overtake.
"I didn't overtake anyone all race, which is a shame. We were like a train from P5 to P13 or P14. Only four seconds [covered us all], but I couldn't overtake anyone. [Luca] Marini was in front of me and he was very fast, too, but we couldn't overtake anyone.
"I think it's the layout. This circuit is very small, like a karting track, with a lot of grip, and like this with a lot of good electronics and with wings, it's almost impossible to overtake.
"I was behind Luca, and he was riding extremely well today. Alex [Marquez], [Johann] Zarco, the other riders were a lot slower than us, but we couldn't overtake them.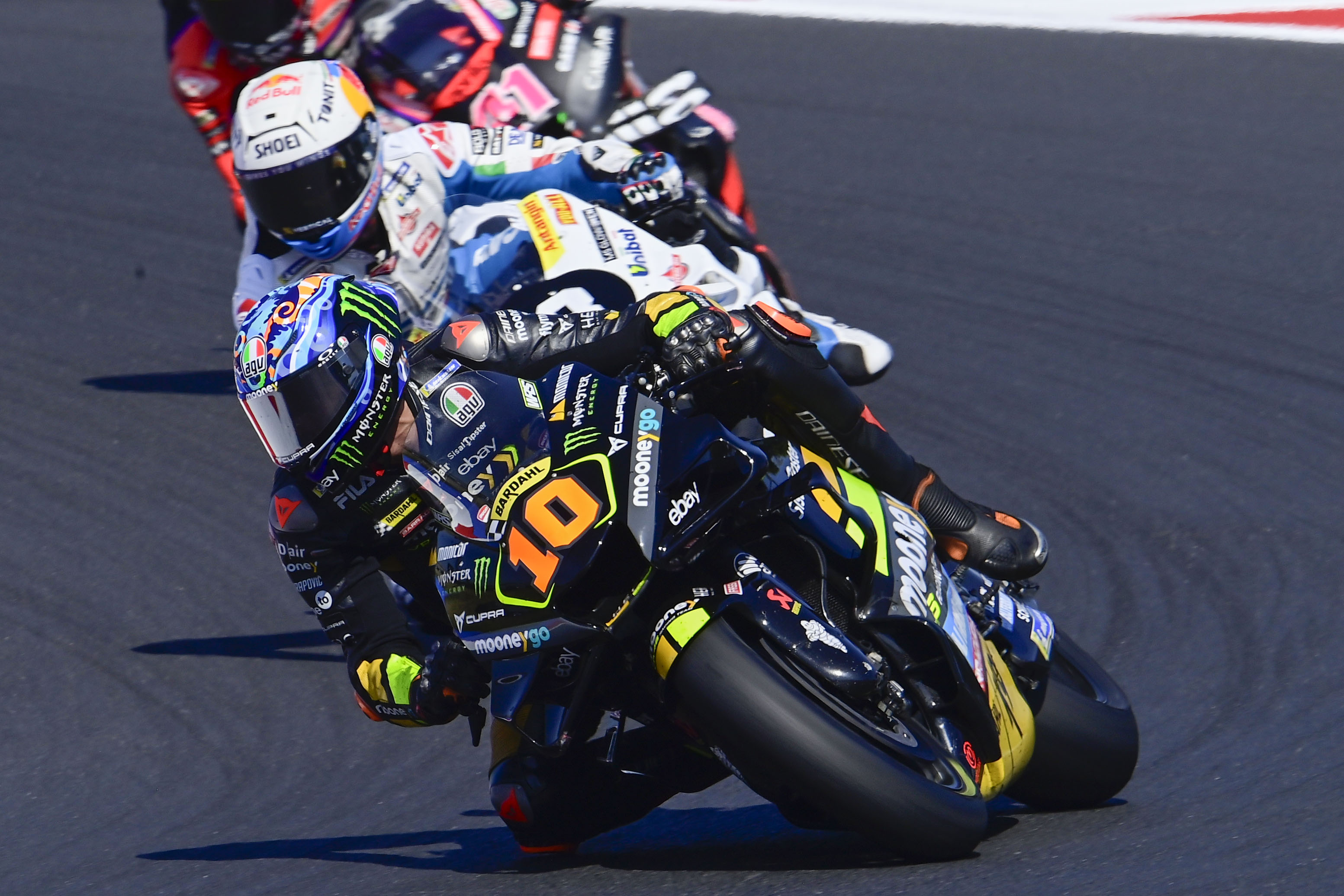 "Luca was very fast, but there was no room to pass. It was impossible. Every time I tried to overtake the guy in front, he went wide. It's very difficult."
That sentiment was echoed by one of the protagonists of the 2019 race too, with Repsol Honda rider Marquez also using the word "impossible" to describe the challenge of trying to bring a modern MotoGP bike through the field at Misano.
Marquez said progress was only doable with the sort of ultra-aggressive overtakes Brad Binder had produced during Saturday's sprint race.
"Of course," he replied when asked by The Race if he agreed with Espargaro, "but it's not new. If it's a big circuit with long straights, then with slipstreams it's possible to overtake more. But in this circuit it's two things.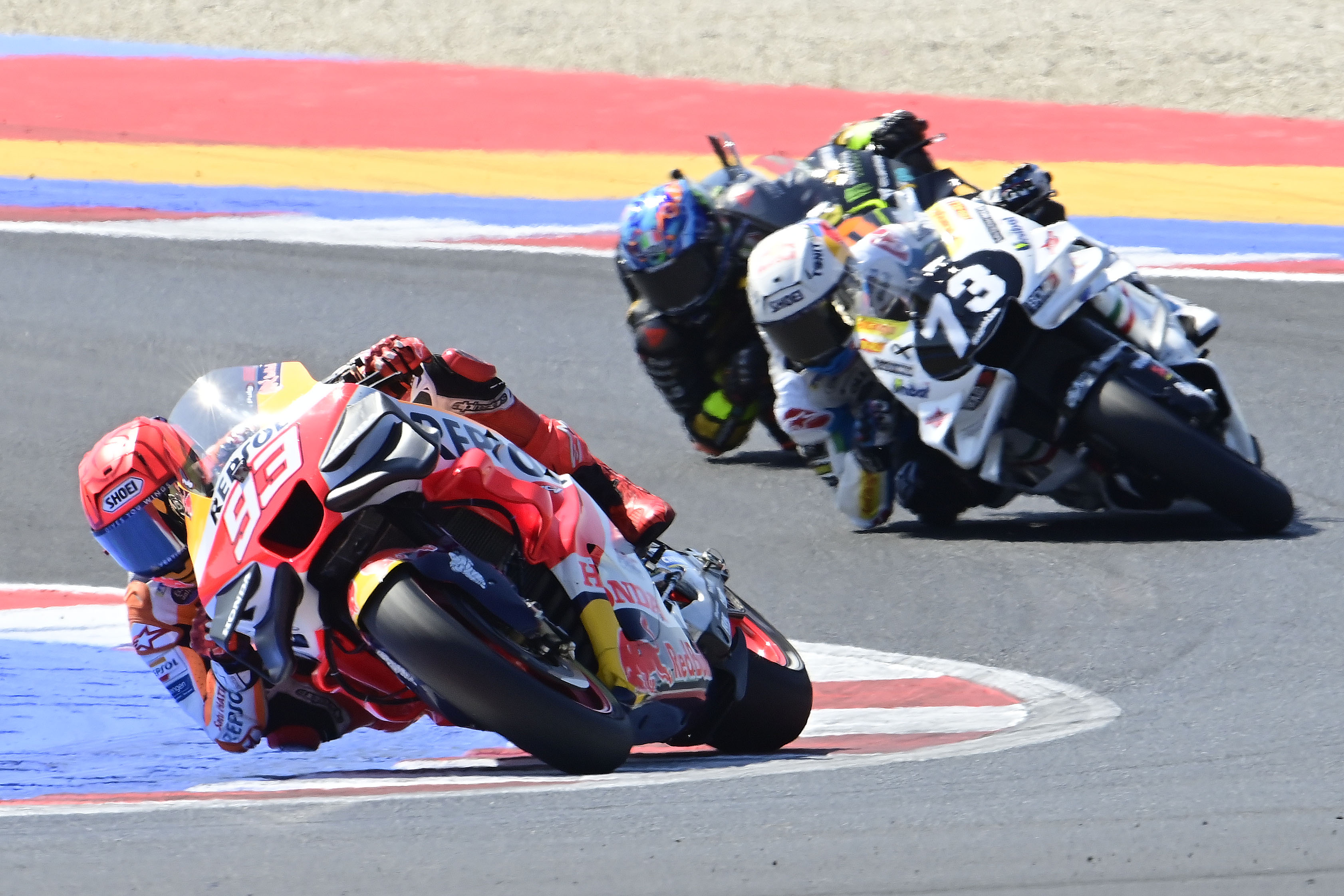 "You overtake like Binder yesterday, that all the overtakes were on the limit – but good, very good overtakes, was very impressive to watch, because it's so difficult what he did. But, you overtake in that way or it's impossible to overtake.
"For example, last three laps I was riding 33.0 and Marini was coming 32-lows, 31.9, I saw the papers [with the laptimes]. I just defended and was impossible to overtake me. So, yeah, in the end with the aero- but it will be the rules until 2027 so we need to keep going. They did it, they allowed to do [the aero development] so everyone is going on that way."
But this is an issue that has gained even more significance in the past few weeks with the introduction of strict limits on minimum front tyre pressures, according to reigning world champion Pecco Bagnaia.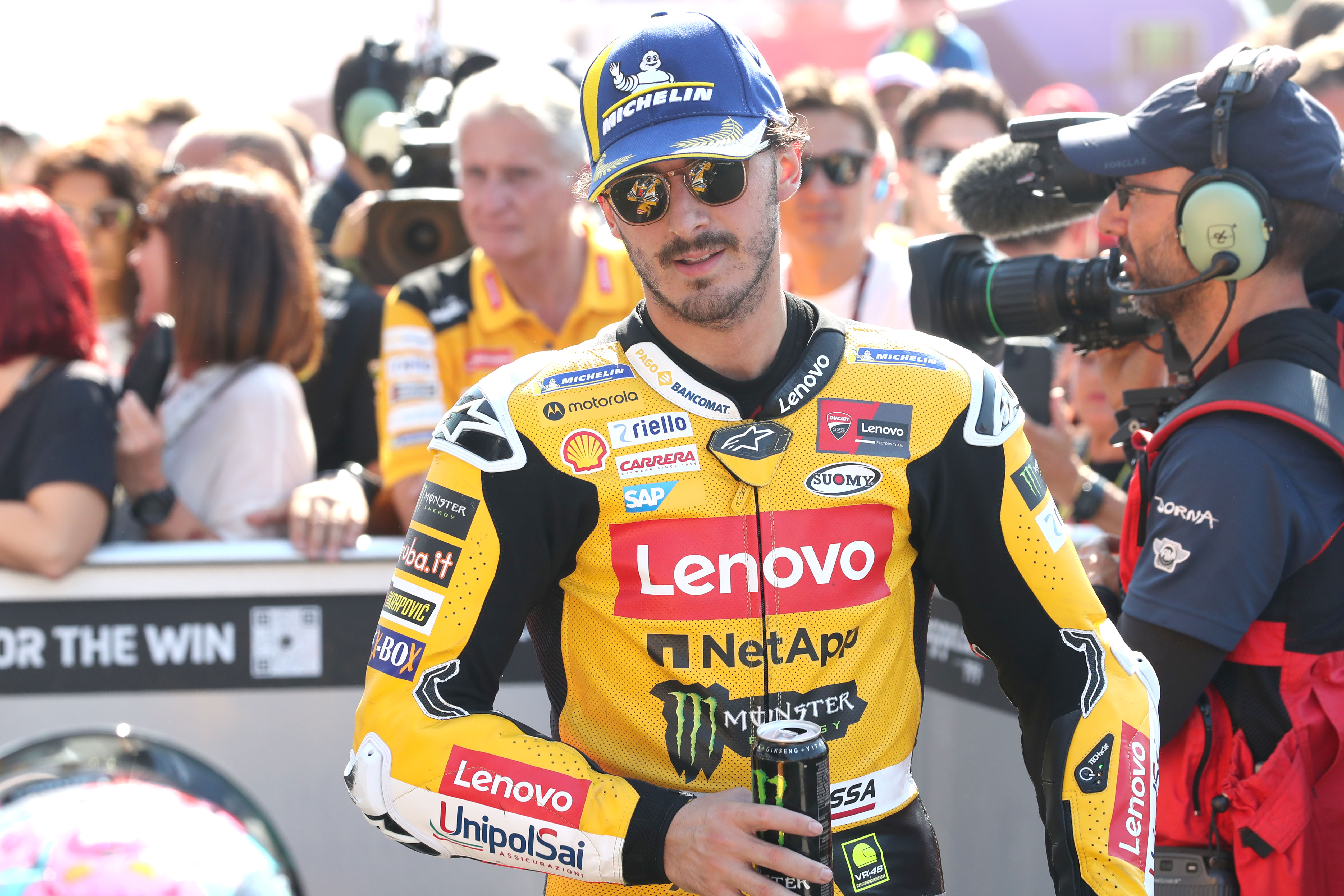 Finishing on the podium in Sunday's race but unable to do anything but hold his place for most of the 27 laps, he was particularly critical of new rules that means riders have to start with higher pressures than before and, as a result, get even less feeling from the overloaded front Michelins.
"The new regulations for the front pressure don't allow us to overtake," he said in the podium press conference. "If you can't overtake in the first four or five laps, your front pressure is high and you can't have an attempt.
"If you risk too much, you start to lose the front and it's more risky. No one ho wants to ruin your whole race or the race of others. This new regulation is a bit of a disaster for these kind of things."
And, awaiting the series' next significant rule change at the conclusion of the 2026 season – and with the rules essentially locked in place until then – Espargaro says that he fails to see any real solution to the problem barring changing the calendar.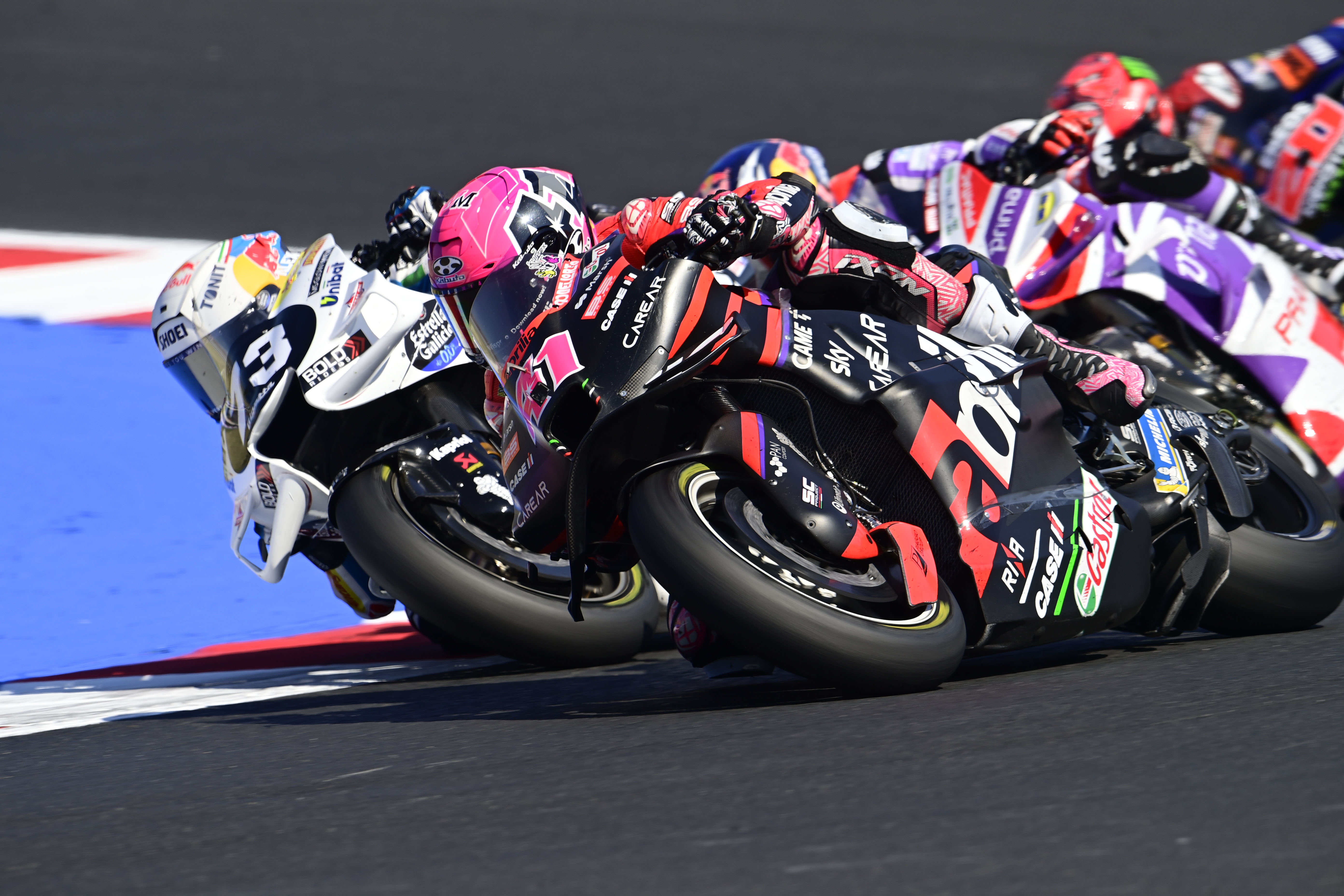 "You cannot fix it," he admitted. "There are circuits with no grip, circuits with a lot of grip, circuits like Australia where all the time you are at 250 kph, small circuits like this one. It's just my opinion, but we have to race everywhere. I don't like this kind of circuit, because there is no overtaking, no show. But we have to race everywhere.
"It's true that with these type of bikes you need bigger layouts. The bikes have a lot of downforce, really fast turning, so in these really small tracks it's impossible."