Just over four years ago, at the same Misano track that hosted the 2023 San Marino Grand Prix earlier today, then MotoGP dominator Marc Marquez and up-and-comer Fabio Quartararo went at it in a ding-dong last-lap battle for the 2019 win, swapping positions three times on the final lap.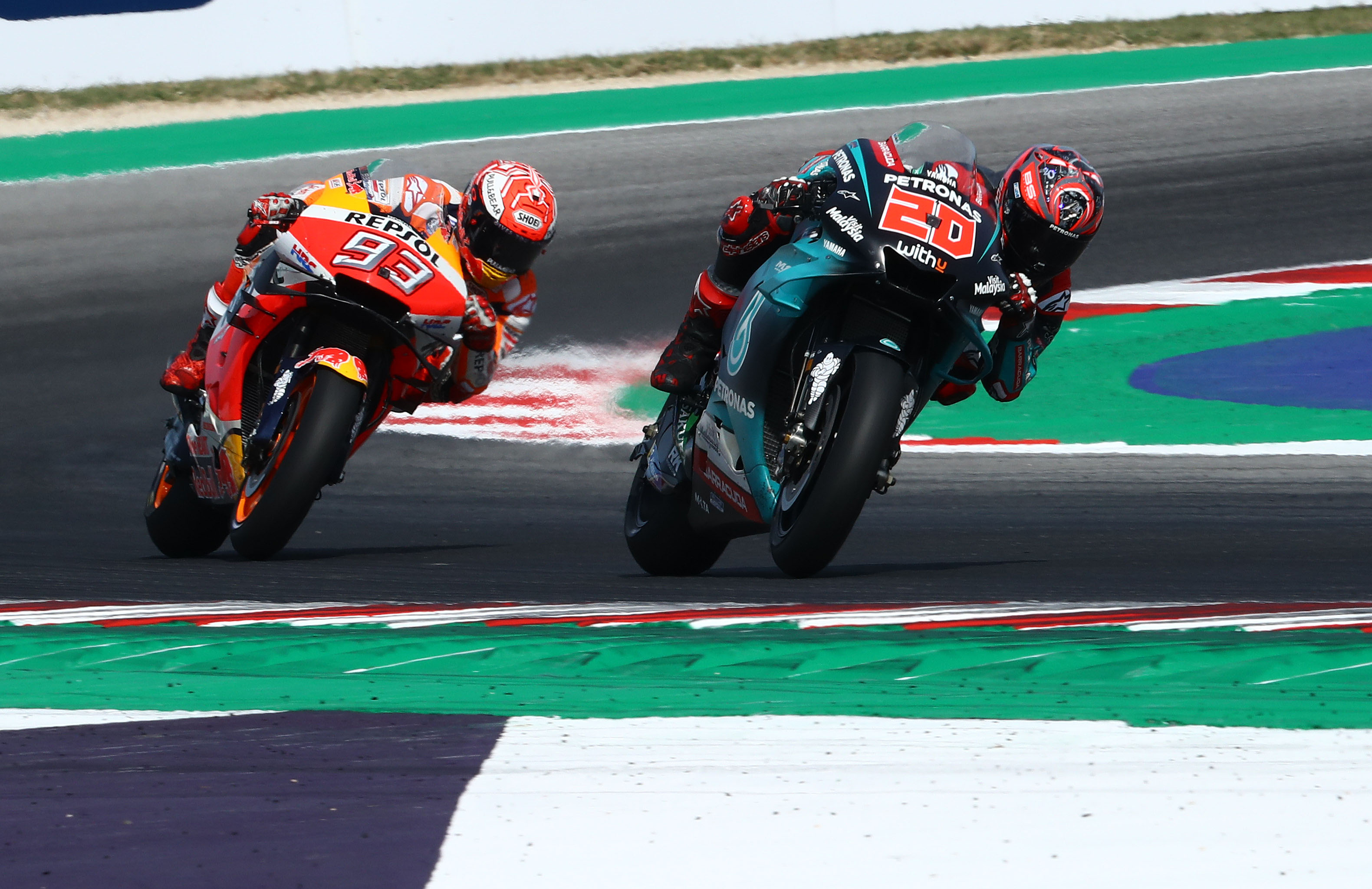 This Sunday, Marquez came home seventh. In 2019, that would've been by far his worst grand prix finish. But in 2023 it represents by far his best.
And Quartararo ended up two seconds and six places back, with their results leaving Honda and Yamaha tied in the constructors' championship on 105 points – very barely over a quarter of Ducati's, and fewer than half of KTM's and Aprilia's.
Quartararo and Marquez are the faces of their respective manufacturers' current MotoGP underperformance. And Quartararo, when asked whether he or Marquez was in the worse situation right now, said pointedly: "I have no idea. But for me, this weekend, even to see [Stefan] Bradl how he was riding, he qualified only one tenth from me.
"So it's difficult to say who is worse, who is better. But for sure we are both in a bad situation."
The reference to Stefan Bradl is because the German, Honda's test rider, was campaigning a new Honda chassis at Misano, ahead of a pivotal post-race test on Monday in which both Honda and Yamaha are expected to debut what can be described as full-on 2024 prototypes.
The spotlight for the test is primarily on Marquez, because he is the rider who hasn't quite vocally committed to his underperforming employer for 2024 despite an existing contact. Marquez has largely been coy and diplomatic about both his future and Honda's woes, though occasionally very firm.
"PDFs don't cut it anymore," he told Spanish TV channel DAZN after Sunday. In other words: no more plans and promises, show me the laptime.
With that remark, he maybe took a page out of Quartararo's playbook, if it can be called that. Because amid all the buzz around Marquez's future it has been easy to forget that he is not the only star making no secret of his dissatisfaction with his equipment.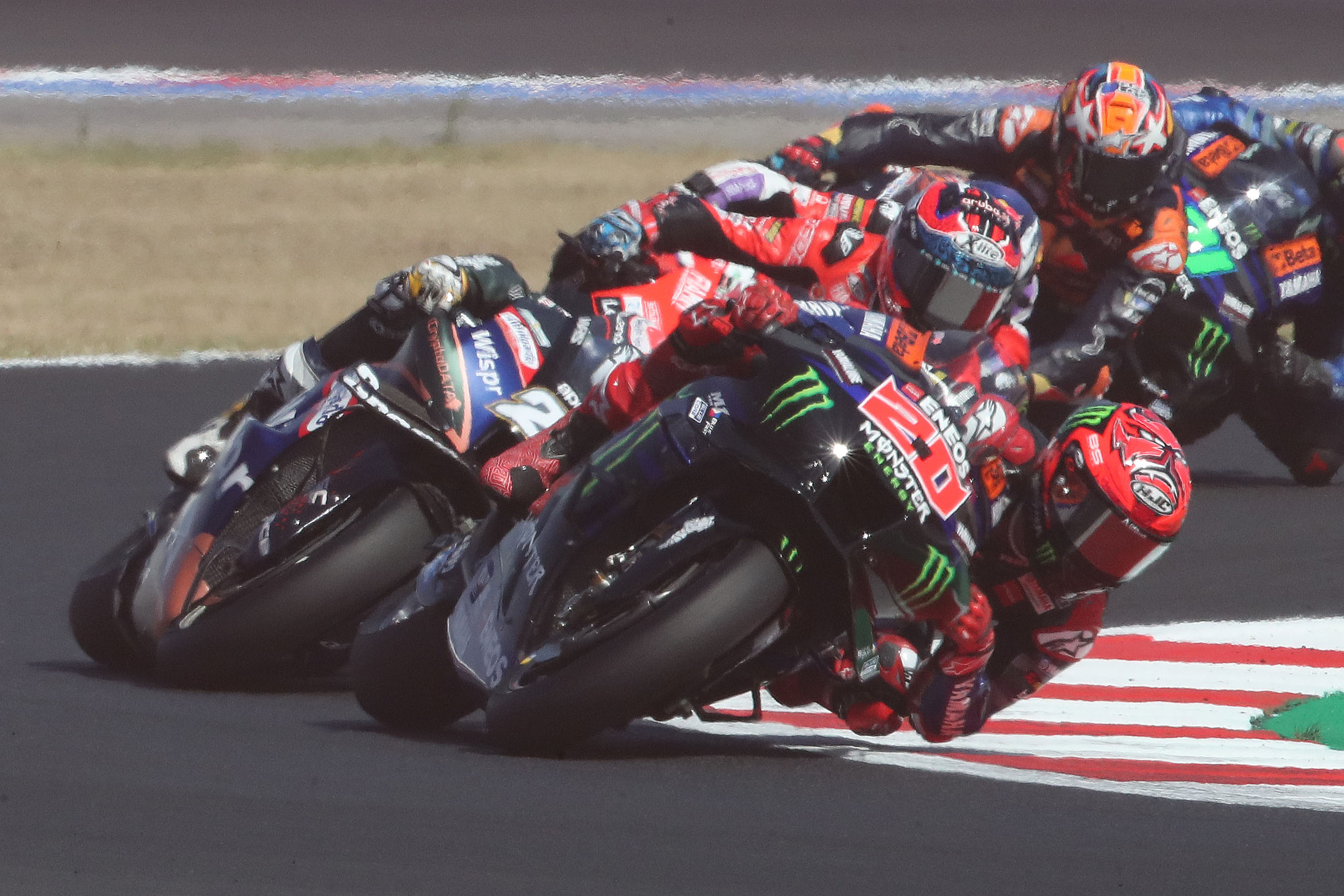 In the San Marino GP, Quartararo once again found himself unable to overtake, something that for him has long been a source of deep frustration with the Yamaha M1. To make a point to himself, he dropped back from the riders he was following with three laps to go, then immediately pumped in his fastest laptime of the race to arrive at the back of the group again.
Was he happy? "Happy is maybe not the word. I am giving my 100%. But, you know, when you think that last year I finished P5, two years ago I fought for the victory with Pecco [Bagnaia] in the last moment… and now we are that far… it's difficult."
There has never been any suggestion he may try to defect for 2024. Given the candid way Quartararo speaks to the media this year, we would've absolutely known if that was the case. But for 2025, when his contract expires? He could hardly have made it clearer that he will listen to every offer, and that he would have no qualms about leaving Yamaha if that helps him return to fighting at the front.
Tomorrow's test – with a new chassis, new aero, new engine, all for him to try (team-mate Franco Morbidelli won't be trying anything due to his contract not having been renewed) – is therefore absolutely monumental for this particular MotoGP combination, too.
And if Quartararo doesn't like what he sees, he will not hide it.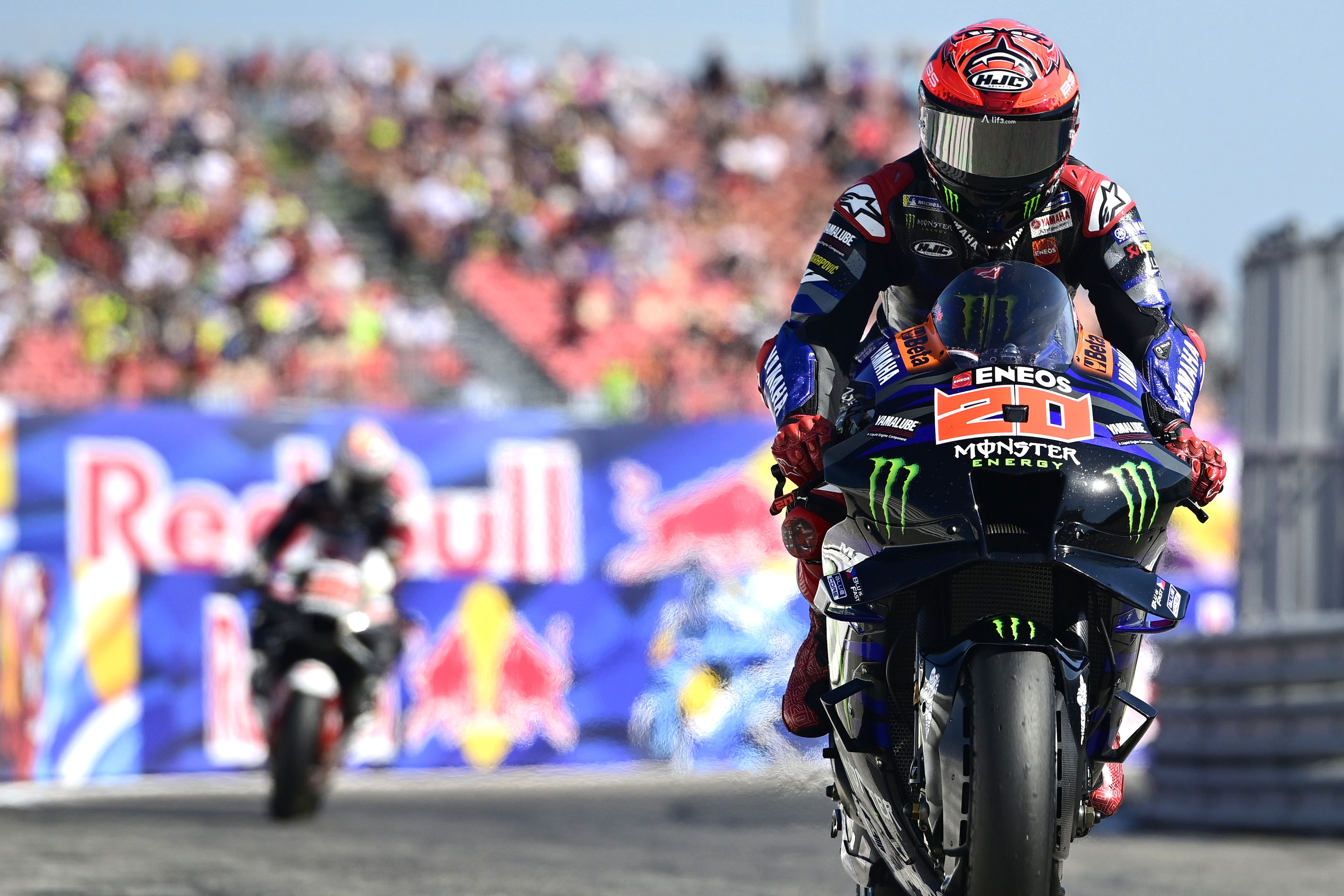 "Even when I won the championship, at the end of the year I said 'we cannot win anymore with this bike'," Quartararo said at Misano. "And last year we finished second, we didn't win. And this year is even worse."
And when it was put to him that that runner-up finish in 2022 may have bred complacency, he came quite close to agreeing.
"I asked since 2020-2021 for changes on the bike. But you know, I guess for the Japanese mentality, when your bike is P1, you don't want to take any risk. When you are second last year, till the end fighting for the championship, they don't want to take so much risk.
"So maybe finishing in this kind of position and seeing Yamaha as the constructor in basically last or second-to-last… I think it maybe changes a little bit.
"But of course we have to make big changes. And I think we are many years delayed."
There is clear evidence of Yamaha pushing to change the situation, most notably in the hire of former senior Formula 1 engineer Luca Marmorini to spearhead its engine programme. Much is expected of the 2024 engine as the first one whose development he has fully overseen.
Still, Quartararo says he has not yet seen enough from Yamaha. Its higher-ups are "for sure" paying attention, he says, but he describes their reaction as "I will not say 'not enough' but 'not sufficiently aggressive', [not as] aggressive as Ducati, Aprilia or KTM".
"They are much more aggressive. More direct information, let's say. If they want to improve an area, they have a plan to do it. And I think this is what we are a little bit missing."
Ducati, Aprilia and KTM. And a 2025 rider market that, if MotoGP convention is anything to go by, will probably kick into gear the second chequered flag falls on the Valencia season finale in 2023, if not somehow earlier.
Yamaha will not get many more chances to convince Quartararo it can make up this gap quickly enough than this Monday's Misano test.