Perhaps one of the most important days of the 2023 MotoGP season for Honda will come not at this weekend's San Marino Grand Prix but rather on the Monday after the race at Misano, when Marc Marquez and Joan Mir will get their first chance to test out the factory's first prototype version of its 2024 bike.
However, while the two world champions might both be eagerly awaiting the chance to test the new version of the RC213V – and while the future of at least one of them might be hinging on how that test goes – it seems that the initial signs are less than convincing, at least going by the rhetoric used by lead rider Marquez.
Honda has tester Stefan Bradl competing at Misano as a wildcard, on a machine believed to have a new prototype frame and new rear aero albeit not yet the 2024 prototype engine expected on Monday.
Honda updates spotted 🔍👀@stefanbradl #SanMarinoGP 🇸🇲 pic.twitter.com/TglIVIkiCd

— MotoGP™🏁 (@MotoGP) September 8, 2023
All he's running should logically be available to Marquez and Mir on Monday – but Honda has so far taken the somewhat strange step of blocking the pair from access to Bradl's data.
But with the German on track alongside them, there's still plenty to examine both visually and in terms of laptimes.
---
Practice
Marquez – 1m31.217s
Bradl – 1m31.715s (+0.498s)
Mir – 1m32.141s (+0.924s)
Qualifying
Marquez (Q2) – 1m31.223s
Bradl (Q1) – 1m31.560s (+0.337s)
Mir (Q1) – 1m31.944s (+0.721s)
Sprint
Marquez – P10
Bradl – P22 (+12.354s, inc. post-race 3s penalty)
Mir – P23 (+24.782s, inc. double long lap and post-race 3s penalty)
Sprint fastest lap
Marquez – 1m32.153s
Bradl – 1m32.701s (+0.548s)
Mir – 1m32.776s (+0.623s)
---
And, while there might be a lot in the balance in terms of how Marquez in particular reacts to his first run out on the new machine (albeit also with the prototype engine likely to immediately be part of the equation), he said that despite Bradl being fast in qualifying, he's not yet convinced there's a step change in performance.
"This weekend we cannot compare the data with Stefan," the six-time MotoGP champion said. "The Japanese staff decided like this. And just we compare against the other Hondas.
"Maybe on Monday of course I hope that we can compare with him. But yeah, looks like he's not bad, in qualifying practice was not bad, but on the race distance was struggling more.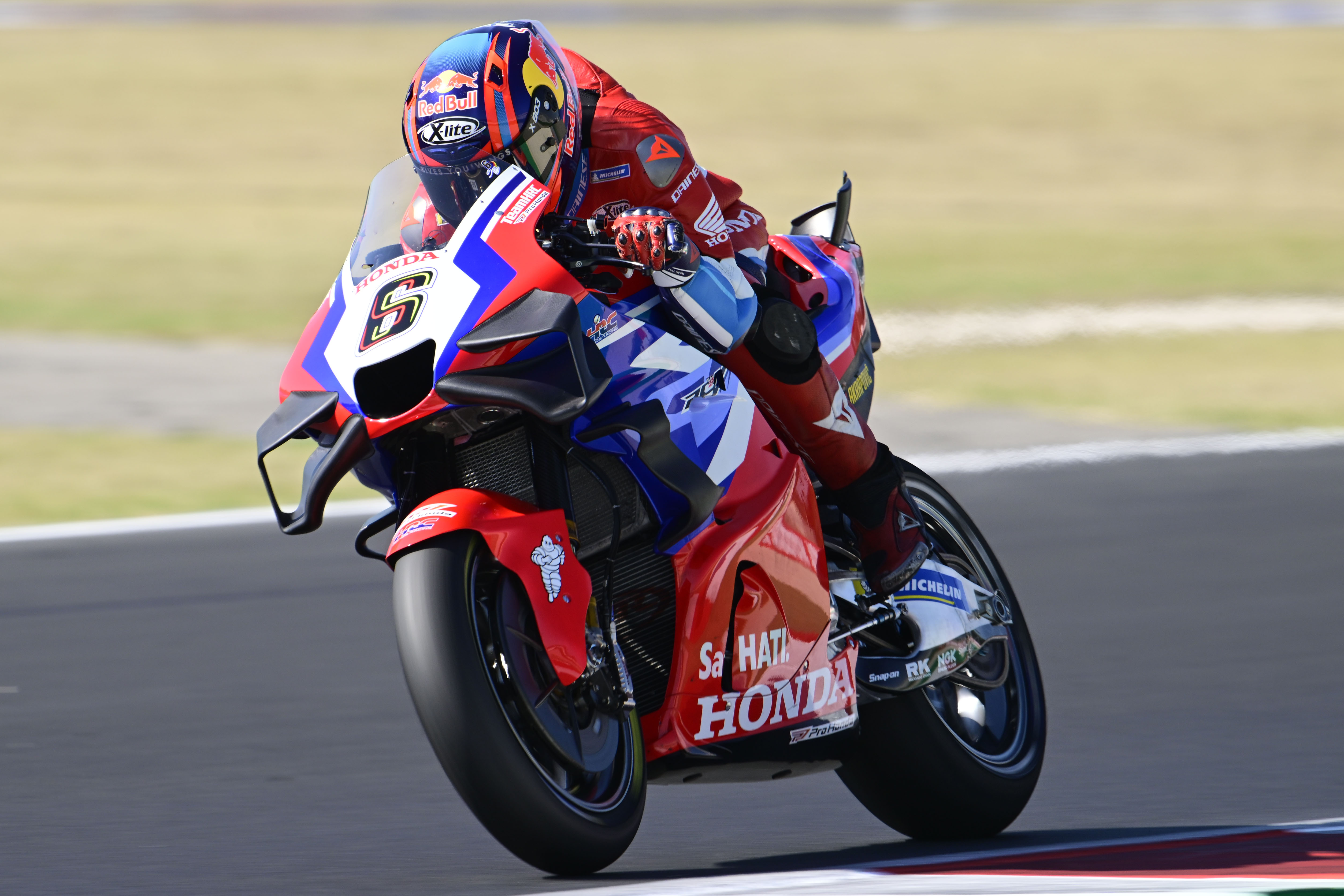 "So, in the end the character of the bike looks very similar. And especially the way to do the laptime. If you check the qualifying practice, he was looking for a slipstream. I'm not looking always for a slipstream because I like to follow the guys – it's because the bike is changing a lot [when following, for the better]. And we need to understand why, behind the others, the bike is changing a lot.
"Because normally with a MotoGP bike you are faster alone than behind others. But for some reason with this bike this year, and even last year, was crucial to follow somebody."
Marquez also went a step further when talking to Spanish channel DAZN, suggesting that a bike that requires a tow is "not the way to go if you want to fight for a world championship in the future".
While Marquez's view is based upon what he can see on the timing screens and Mir might only have had a brief look at Bradl before being forced to take a series of long-lap penalties (although not before being irked by the test rider re-attacking him "like we were fighting for a championship"), satellite rider Taka Nakagami was in a much better position for a close inspection in the latter stages of Saturday's sprint race.
But he too sounded far from impressed by what Honda has produced over the past few months, saying that there was no area on track where Bradl looked able to better handle the RC213V.
"To be honest, I can't see any difference like for example if he has more grip or not," admitted the Japanese rider. "I can see from behind the braking performance is the same, it looks pretty much similar to what we have in performance.
"I can't see any surprises, he wasn't much faster, or I couldn't see any difference."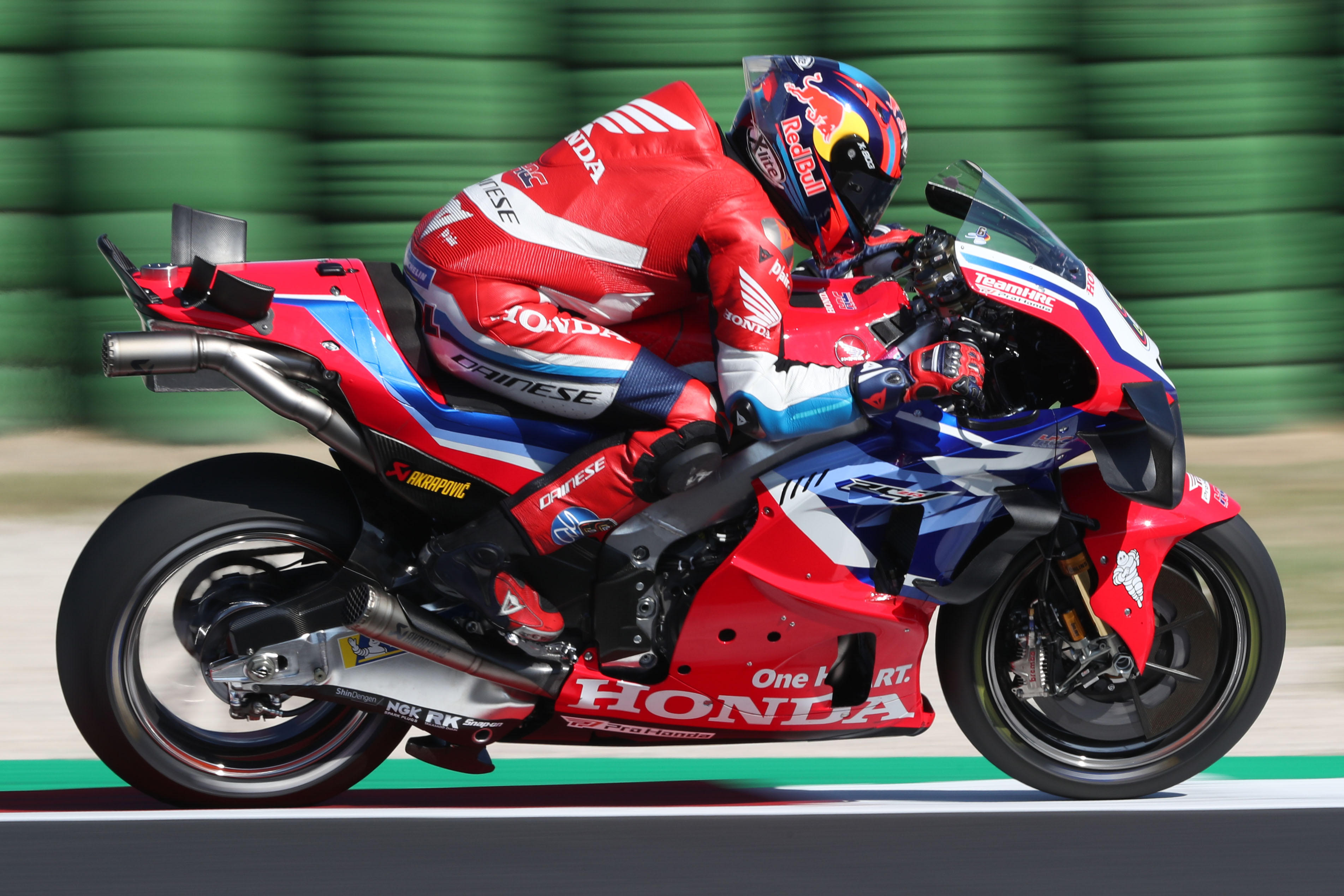 Bradl isn't doing media sessions this weekend as part of his wildcard outing – but was quoted by Honda as saying that qualifying had gone "very well".
"We still need to keep working on the performance over the longer distance, but I think overall we are heading in a good direction for the future."