Six-time MotoGP world champion Marc Marque has given his first-ever concrete admission that he may not be riding for Repsol Honda in 2024, acknowledging that he has an exit strategy – only minutes after jumping off the Japanese factory's first 2024 prototype machine and deeming it as having "more or less the same problems" as the machine that he and his Honda stablemates are currently struggling on.
Today's post-race Misano test comes as arguably one of the most significant days in the team's recent history, given the pressure upon Honda to deliver a machine that would allow its champion to return to winning ways, with the tension ramped up even further following a weekend of speculation about a potential Gresini Ducati move for Marquez for next season.
He hasn't exactly helped pour oil over troubled waters on that front, either, fanning the flames on both social media and in TV interviews by dropping hints that he's looking elsewhere – but falling short of actually admitting to having any form of a plan, simply replying to every direct question by pointing out that he has a contract with Honda for 2024.
However, that changed only moments after his first ride on Honda's new RC213V prototype, when he conceded to the assembled media at Misano – after 35 laps in the day's first test session of two – that he now has two options to choose from going forwards.
Now @marcmarquez93 heads out for his first run on the red, white and blue machine 🔴⚪️🔵 pic.twitter.com/iuXCXB0Rfx

— Repsol Honda Team (@HRC_MotoGP) September 11, 2023
It was then pointed out to him that he'd told DAZN presenter Izaskun Ruiz in the lead-up to Misano that he'd already made up his mind.
"I told her – but maybe it's not clear," Marquez admitted. "Sometimes you can change, no? You don't know. I'll decide, I have two plans, and now I need to choose a plan.
"Of course there is a deadline. Around India and Japan I will decide."
That explosive admission comes following what sounded like a rather underwhelming run-out on the new bike at the Italian circuit.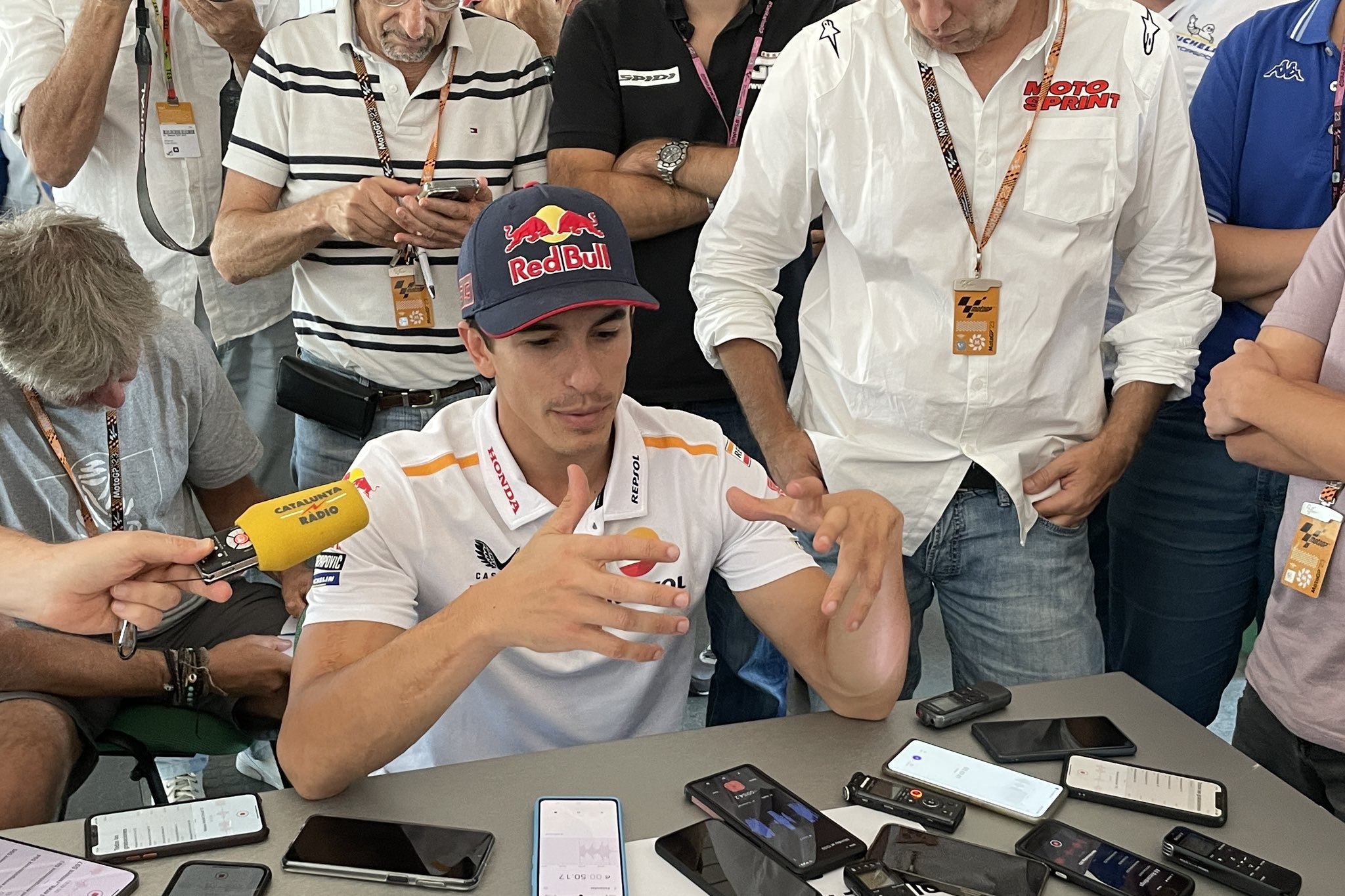 Using only a new frame and aerodynamics package but not a new engine yet, Marquez admitted that it felt different but also retained many of the issues with rear grip that Honda has struggling with all season.
"Of course, it's quite a different riding style," he explained, "but in the end the problems are more or less the same. We need to work more.
"It's different on the riding position, different the way that you feel the bike. It's true that in the beginning it's a bit strange but then lap by lap, as with any new bike, it becomes a bit more natural. But in the end the way to look for the laptime is very similar like the current one.
FIRST LOOK from this morning 👀@marcmarquez93 and @JoanMirOfficial debuted Honda's 2024 prototype at the #MisanoTest 🆕#MotoGP pic.twitter.com/YmIRK8lrLU

— MotoGP™🏁 (@MotoGP) September 11, 2023
"It becomes better and better, a different way to ride, but it's true the problems are the same. They need to work still, because we are far.
"If this is the base, with the bike we are far. We need to work and change many things.
"Always you expect more. But yeah, still we are working, still it's the first impressions and there are many new engineers in the garage. So now with that information they must work and keep going."
And while he might yet not be completely sure of what comes next in the project or even in his own future, it seems that he hasn't completely lost faith in Honda just yet, instead stressing that the new technical staff added to the garage lately hasn't yet made an impact, something that could potentially sway him in the coming weeks especially as the championship heads to Honda's home race in Japan.
One of Marquez's key demands is believed to have been the addition of new personnel to the project in an attempt to change how Honda approaches its issues, with his initial request believed to have been that Honda follows the example set by KTM and attempts to poach key technical crew from the series' other European factories.
A crucial day ahead for Marc Márquez and @HRC_Motogp 🔑

The Spaniard tried the 2024 prototype for the first time at the #MisanoTest! 🏍️#MotoGP pic.twitter.com/RZe6wCoDau

— MotoGP™🏁 (@MotoGP) September 11, 2023
While that goal doesn't necessarily look to have been achieved just yet, the influx of new Honda staffers to Misano this weekend might be the only part of the new project that has so far placated the Spaniard – and may have bought Honda a little more time.
"It's true that there are new engineers," Marquez added, "and it looks like they started with this new bike. Then of course they will start working because what I understand is that these new engineers are not for a long time working on this new bike, new project. So let's see, still they have, well, not much time because [the next iteration] is for Valencia in two months, but let's see if they can do a step."
Mir sees improvements but hoped for new engine
While Marquez is reluctant to view this new Honda prototype as a step forward – he specifically rejected the word 'improvement' as applicable for the time being when talking to MotoGP.com – team-mate Mir seems at least somewhat more impressed.
"In some areas, we've improved for sure," Mir said. "We didn't make a huge step, we're far from it, but I could feel a little bit better, especially with used tyres.
"The grip is something that for me was slightly better, but we are still very far. On the stopping area, this bike stops a little bit better, especially with used tyres, and the turning also looks a little better."
Mir said this would add up to "a small step in every area" if the rest of the test went according to plan, though made it clear "we need a bit more help".
But the lack of a prototype engine was something of a disappointment, Mir admitting this meant "less time" to refine it ahead of the Valencia post-season test, and that "it would've been better" to have it available at least as a singular sample.