You can see why Casey Stoner likes him so much.
Marco Bezzecchi's ride to fifth place in the MotoGP sprint in India was rewarded with five points as he was cut further adrift of the two riders ahead of him in the standings, Pecco Bagnaia and Jorge Martin.
It was also a more impressive ride than many an actual grand prix win - and probably a more memorable one, too.
The 24-year-old VR46 rider must've been incandescent as he arrived at the edge of the Turn 1 gravel trap after being hit by team-mate Luca Marini, who broke his collarbone in the crash.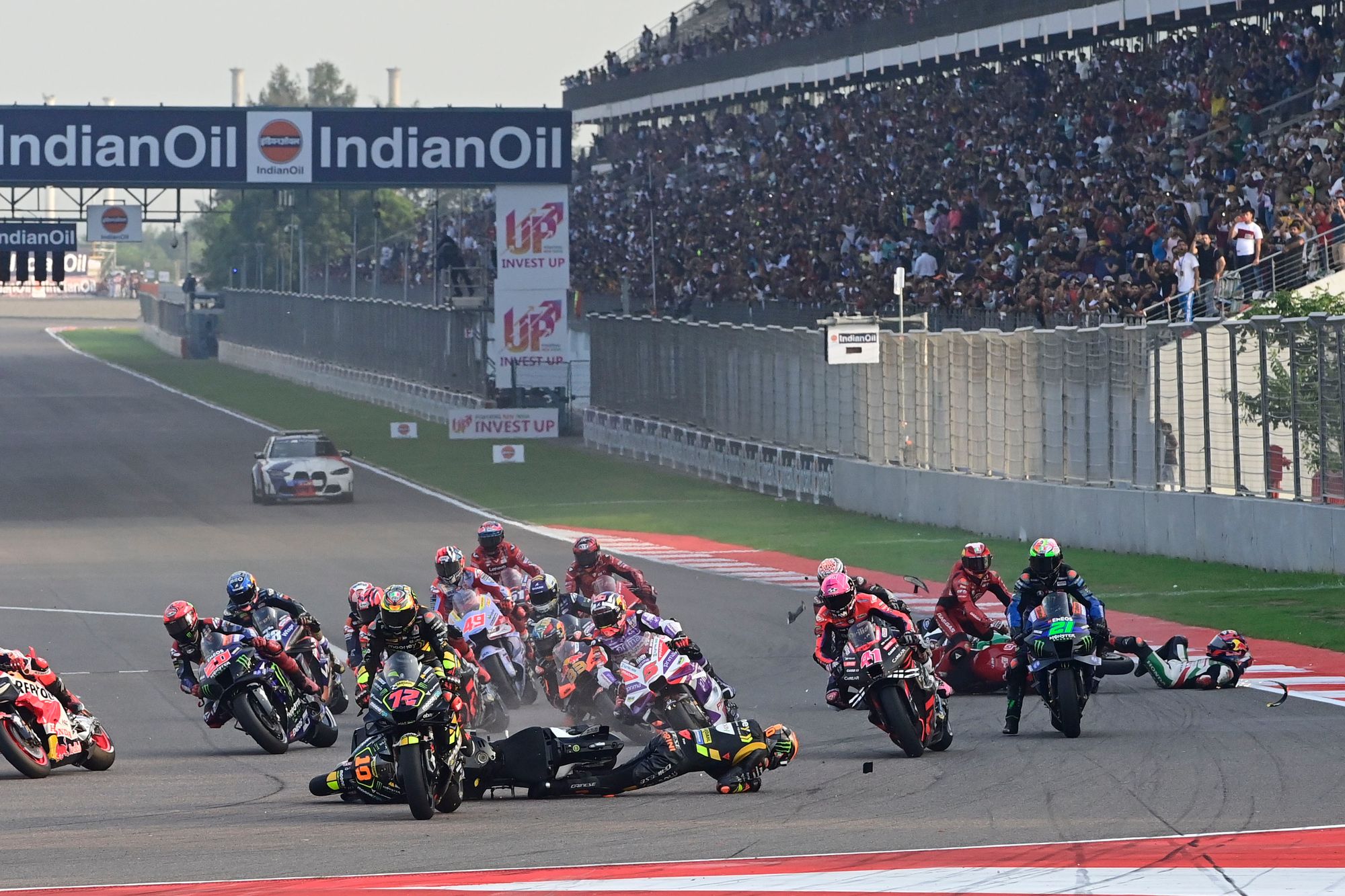 For Bezzecchi, it was the third time in four weekends that a race of his had been instantly compromised at Turn 1. This time, at least, unlike in the Martin-triggered Austria pile-up or the Enea Bastianini bowling strike at Barcelona, he stayed on the bike - yet found himself staring down the barrel of another non-score anyway.
He had started on pole but was slower off the line than his immediate rivals - feeling he'd got a good start going by the reaction time and the 0-100km/h time, but without the start-device upgrades the works-spec Ducatis have at their disposal. Effectively, that put him in the firing line.
Immediately, he was not just six seconds off the leader but over a second on the 17th-placed rider ahead, Franco Morbidelli. Immediately, he went about digging himself out of that hole - lap by lap, sector by sector.
Bezzecchi's charge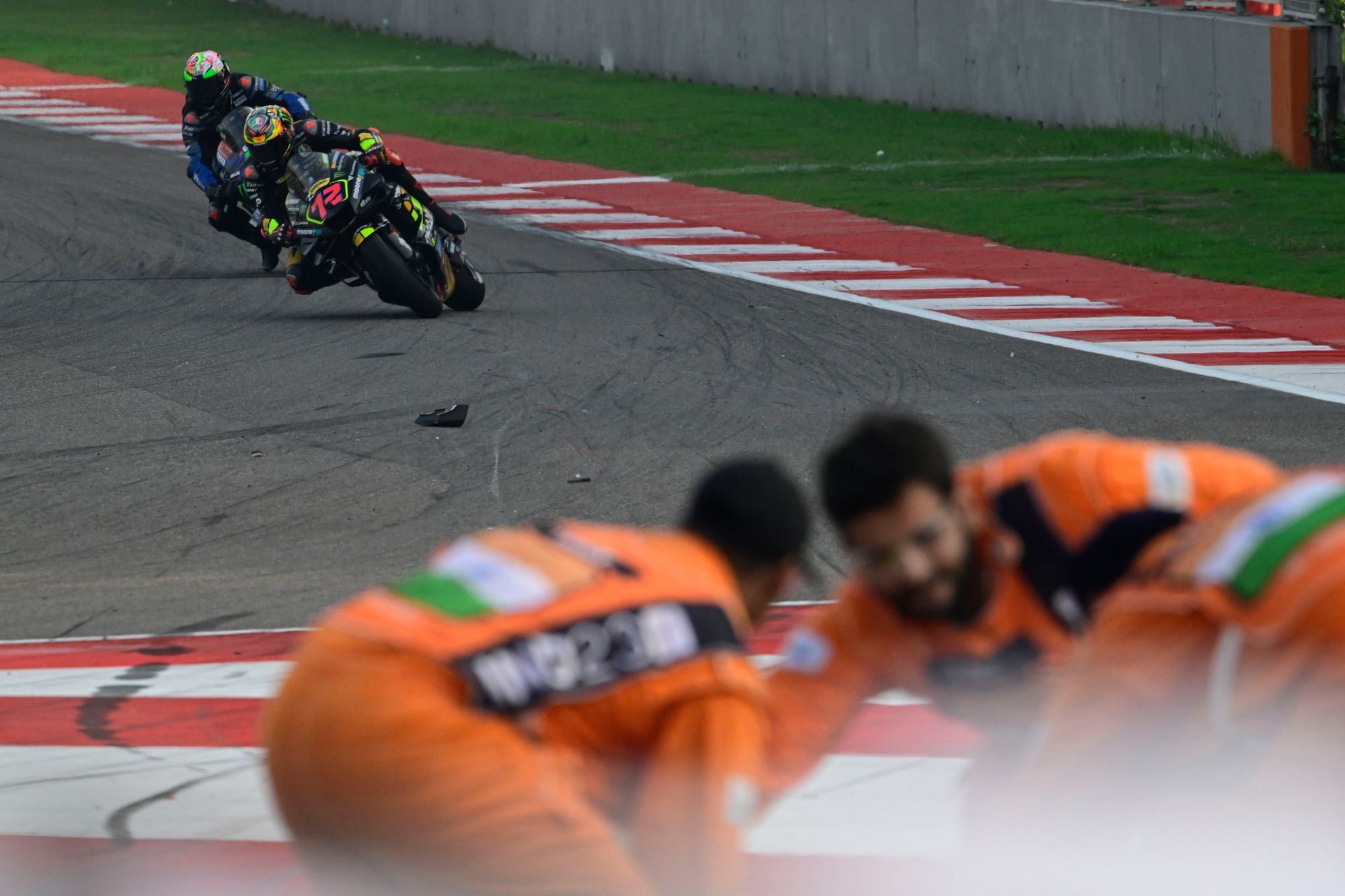 Morbidelli, who would go on to have a sprint struggling with a new set-up that was aimed at helping out his breaking, reacted to a question about Bezzecchi's race with an appreciative sound effect.
"Bwah. I didn't see much. I didn't see him for a lot of time. He just passed through people.
"And I didn't see much, apart from, of course, a lot of difference in the straight. But in the corners I couldn't appreciate the differences."
Indeed, it took Bezzecchi until only the penultimate corner, the downhill Turn 12, on the opening lap already to absolutely breeze past Morbidelli and very soon he was effectively out of site.
Aleix Espargaro ran wide on the second lap when in Miguel Oliveira's slipstream, handing Bezzecchi 16th place. Very quickly that became 15th as he eased past Ducati tester Michele Pirro down the inside at Turn 5 - an overtake that looked absurdly simple, evidencing not only Bezzecchi's mastery but perhaps Pirro's over-abundance of caution.
On lap three, Bezzecchi was with Augusto Fernandez and maybe slightly held up at the slow Turn 3, before absolutely blasting past on the back straight. Fabio Di Giannantonio was vanquished at Turn 5 - much like Pirro, he looked like he was standing still. And, for good measure, Bezzecchi then showed Oliveira a front wheel through the penultimate corner, setting up a tidy move in the sharp final left-hander.
Three laps done, and 18th place has become 12th place.
---
How Bezzecchi fought through
L1 - Morbidelli (Turn 12)
L2 - A Espargaro (mistake), Pirro (Turn 5)
L3 - A Fernandez (Turn 4), Di Giannantonio (Turn 5), Oliveira (Turn 13)
L4 - Mir (crash), Nakagami (Turn 4)
L5 - R Fernandez (Turn 13)
L6 - Zarco (crash), Vinales (Turn 4)
L8 - Miller (Turn 12)
L11 - Quartararo (Turn 4)
---
In an answer that prompted a "thanks to Augusto" from Bezzecchi when told about it, Fernandez said: "He was doing another race.
"Unbelievable. I was going fast but he was, like, flying from the beginning.
"I tried to stay behind him when he passed me and said, 'OK, let's recover with him'. But I just looked again and he was gone. Like, another race."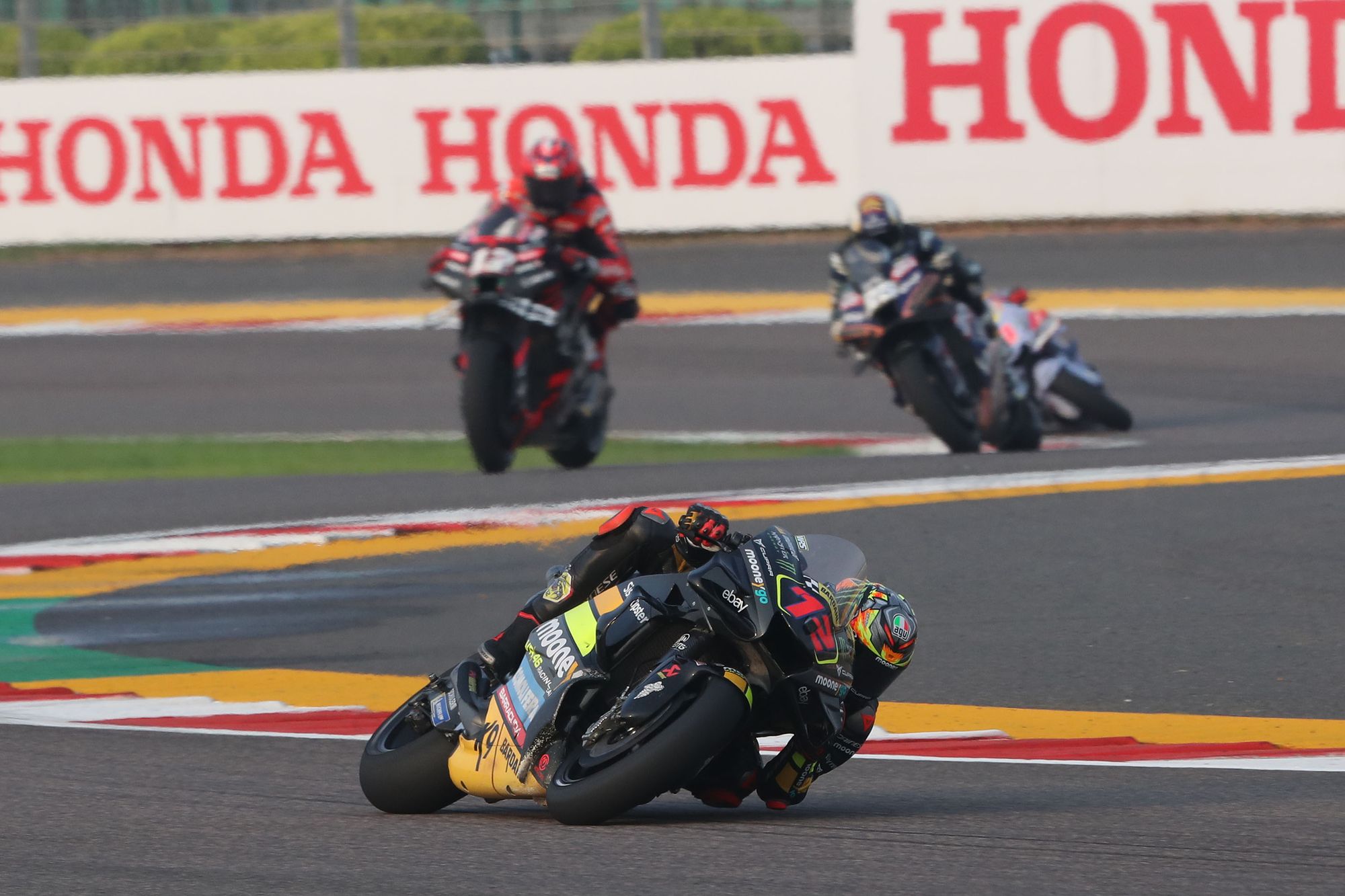 "He particularly was super fast. And you see from laptimes he was incredible," said Di Giannantonio. "But in the part where you have to ride the bike, I was not so far from him.
"On the straight, he was incredible. We know that Martin, him, they are the fastest on the straight, they are a little bit smaller and more aerodynamic - but the difference is huge."
The straightline speed aspect was plainly obvious, both on the onboards and through the speed trap. Bezzecchi didn't record the fastest speed trap effort of the day - only the joint-third fastest, at 352.9km/h - but he was hitting that figure consistently and coming fairly close to it even when without an obvious slipstream.
Takaaki Nakagami on lap four was the second rider he overtook on that back straight, moments after Joan Mir's Turn 3 tumble already meant a position gained.
Similar overtakes would follow on Maverick Vinales and Fabio Quartararo later. But a phenomenal straightline speed did not equate to a lack of agility through the twisty bits - Raul Fernandez was taken care of ala Oliveira, lined up through the downhill Turn 12 before a lunge a the final corner, while an overtake on Jack Miller was into Turn 12, set up by a very tidy execution of the Turns 10-11 change of direction.
Bezzecchi was just really good everywhere, clawing back time not just on the straights or through corners. That's reflected in the fact that the fastest lap by any other rider in the race, race winner Martin's 1m44.903s, was the exact same to the thousandths as Bezzecchi's seventh-fastest (!) lap.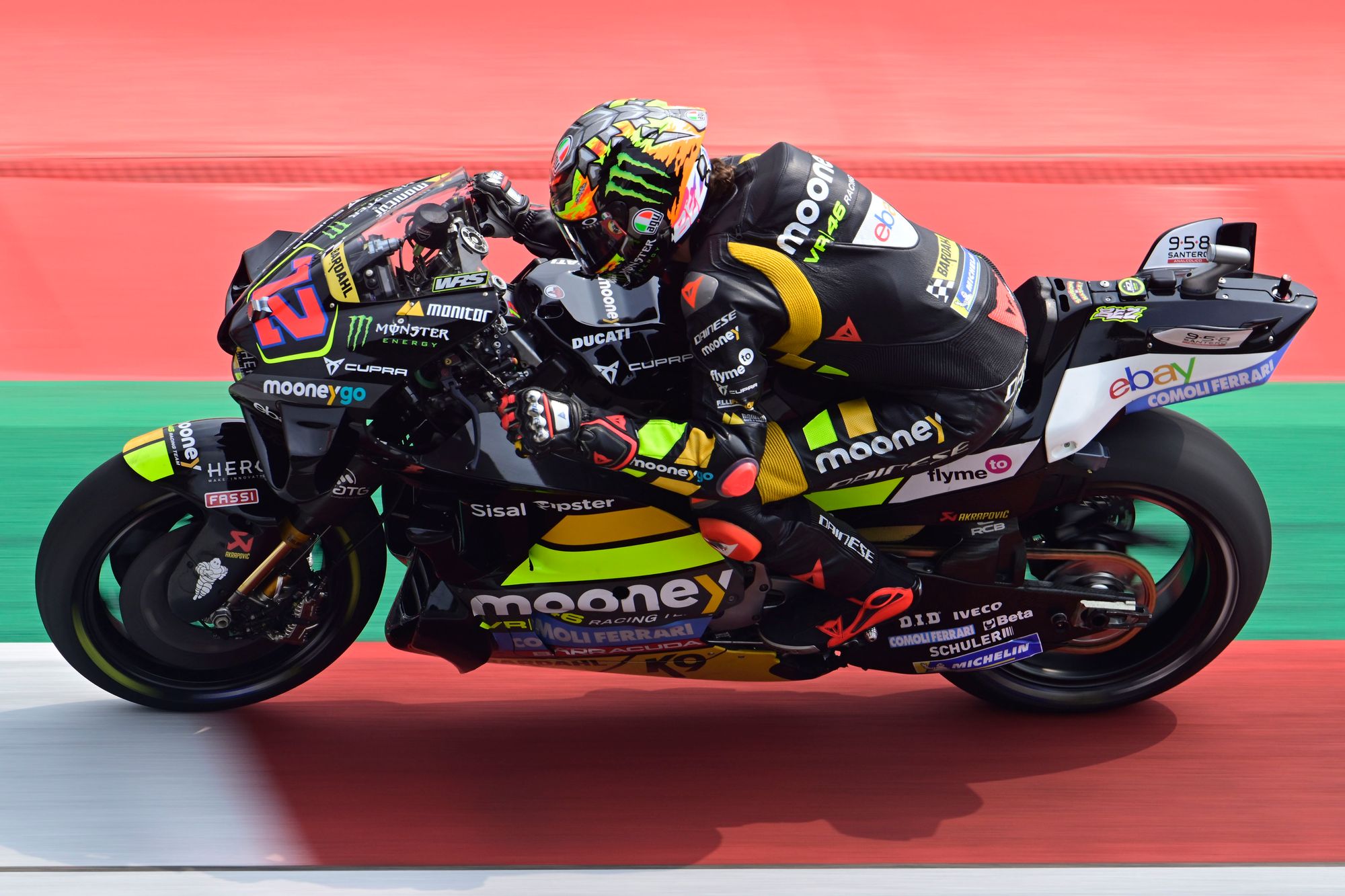 It's also reflected in the fact Bezzecchi had the fastest first sector of the race (by more than a tenth), the fastest second sector of the race (by a couple of hundredths), the fastest third sector of the race (by a few hundredths), and the fastest fourth sector of the race (by three hundredths).
And it never looked particularly ragged, or untidy, or angry. Watching it back, there's maybe one notable mistake at worst - a Turn 1 overshoot on lap seven - and that was a couple of tenths lost. The rest? Metronomic.
And it wasn't even all that surprising. Bezzecchi is only a sophomore on a year-old satellite bike, but he has flashed unmistakable moments of magic all throughout 2023. His adaptability to uncertain grip looks a massive asset - he was lightning fast from the get go at Buddh, and pre-race rain washing away grip would have helped.
Where Bezzecchi felt the difference was made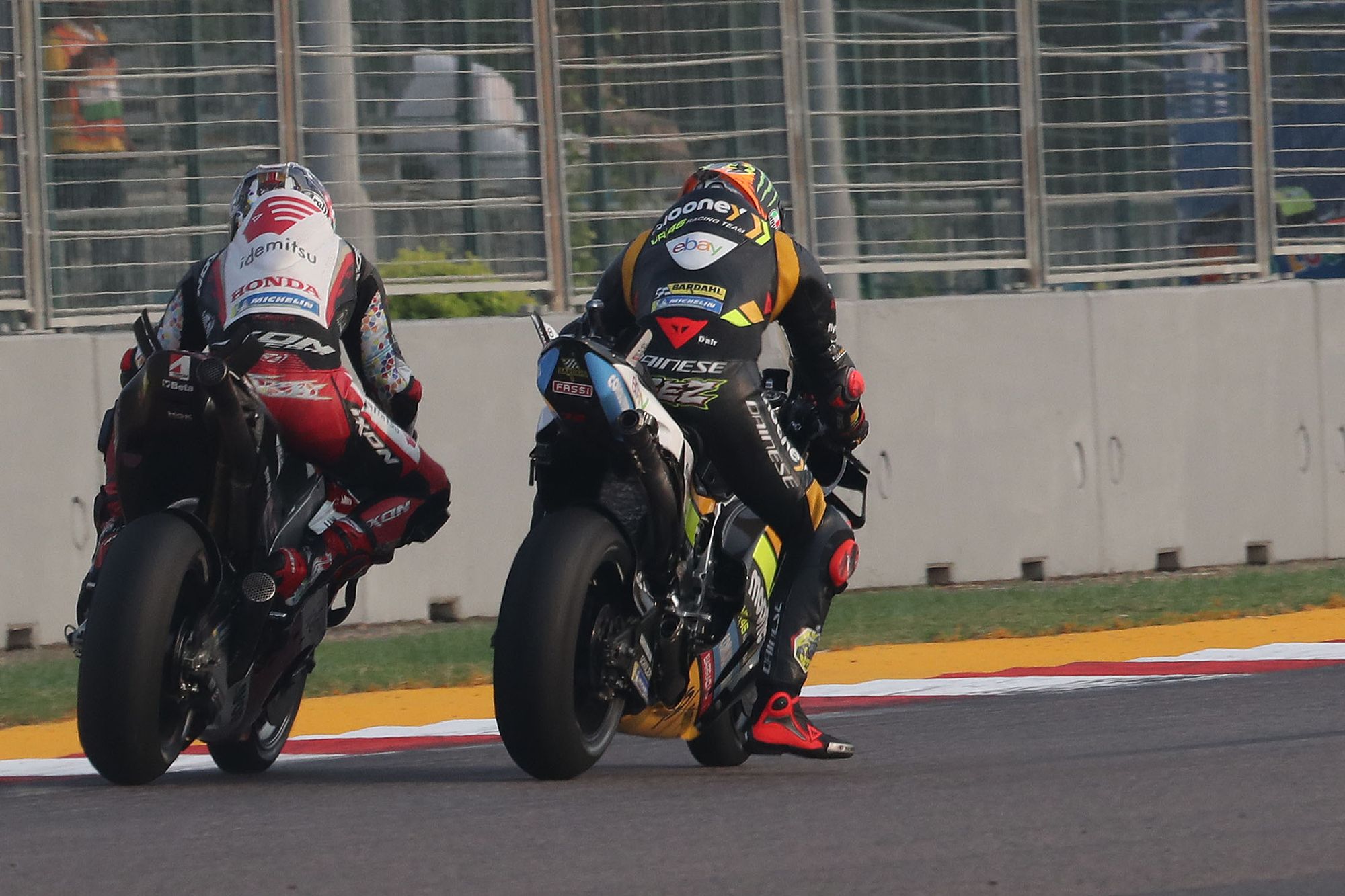 Bezzecchi's own explanation for his charge laid in his performance stopping the bike.
"I was very strong in braking compared to the riders that I had in front, so I was able to really brake later, try to pass as much as I could in every lap," he said. "This was the biggest difference.
"In traction overall I was quite similar to everyone because at the end the grip level is like this, you can't have more than this.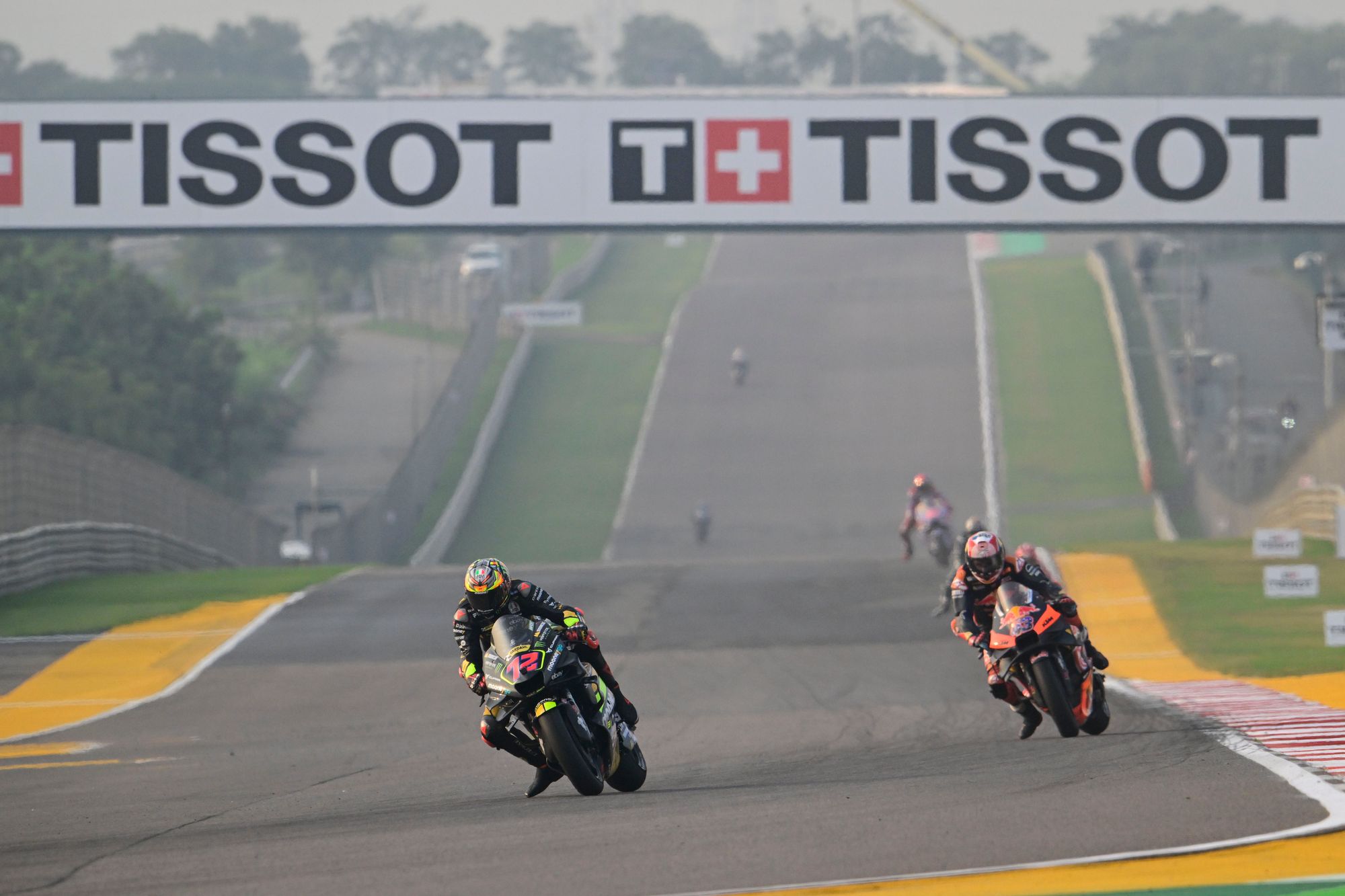 "Of course in sector three, that was the flowing part of the track, also I was fast. But in hard brakings I was making maybe a bit more the difference.
"The result is not what I was looking for. But anyway yeah. I hope everyone had fun at least [watching]."
What it means for Sunday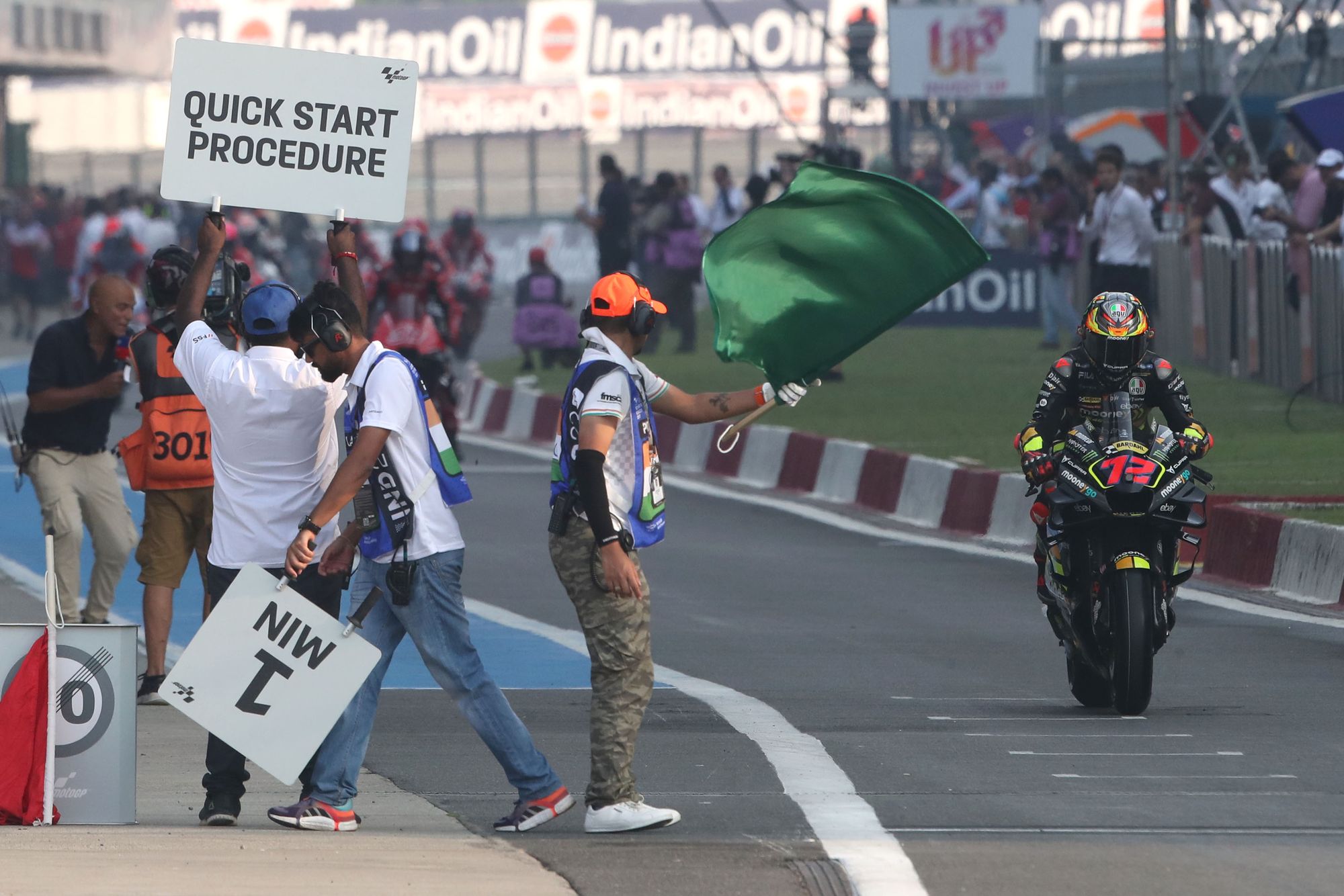 Bagnaia has noticed the braking aspect, too - it's a usual strength of his but this weekend Bezzecchi and Martin have had more.
Martin, for his part, sounds unconvinced that Bezzecchi would've won without the Turn 1 calamity.
"For sure the race would be much, much faster [if Marini didn't hit Bezzecchi]," he said.
"I had still I think that margin to push a little bit more. For sure when you are behind, recovering, you need to give your 120%."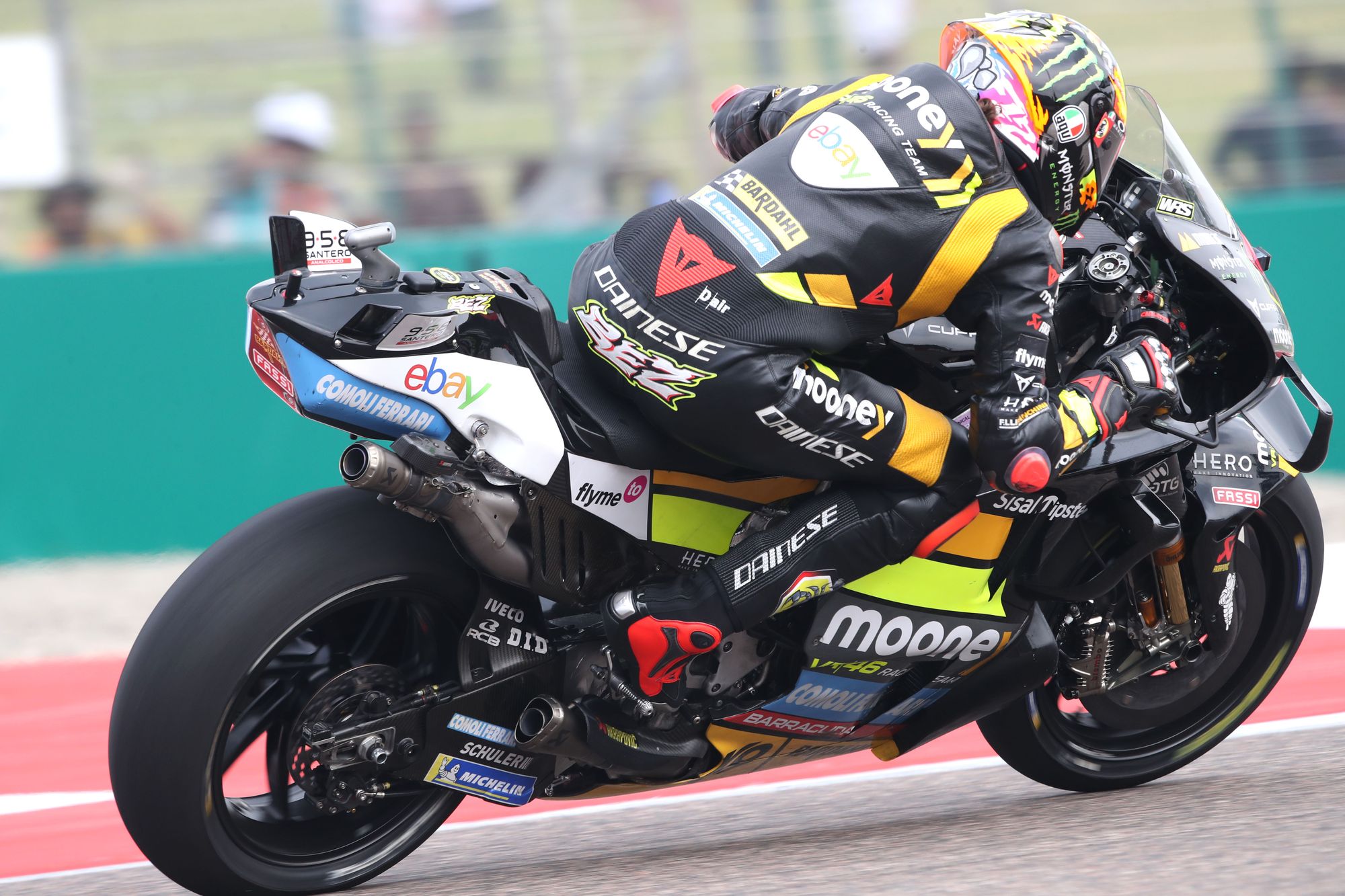 This much is true. But even in those early laps where Martin was successfully pushing to make an early gap, Bezzecchi had more.
It is very hard to look past him for Sunday. His plan to begin with, though, is simple.
"I don't know, I hope to f***ing pass safely the first corner, for one race at least, it's three times that I got crashed by someone else," said Bezzecchi.
"[I didn't expect it] because I was in first row. F***, if I'm not safe in first row, where do I have to start?
"I'll try to pass the first corner, then I'll see."