It seems increasingly likely that six-time MotoGP champion Marc Marquez's future plans lie in the hands of his current employer Honda, with final talks at next weekend's Japanese Grand Prix likely to be decisive for whether he switches to Gresini Ducati.
It's been something of an open secret for weeks now that Marquez has been toying with the idea of riding a satellite Ducati Desmosedici next year even despite his Honda contract, with the Spaniard coming the closest to admitting that he's considering the move after last week's disappointing first test on the 2024-spec Honda at Misano.
"Maybe it's not clear," Marquez acknowledged, countering his own previous suggestion that his mind had been made up for 2024. "Sometimes you can change, no? You don't know. I'll decide, I have two plans, and now I need to choose a plan.
"Of course there is a deadline. Around India and Japan I will decide."
Marquez then suggested to Spanish media that he actually had three separate plans of action.
The speculation wasn't helped at this weekend's Indian Grand Prix by Ducati boss Paolo Ciabatti, either, with the veteran Italian confirming to MotoGP's Jack Appleyard on the world feed TV broadcast that he believes that Gresini remains in talks with Marquez even as Ducati itself remains at arm's length.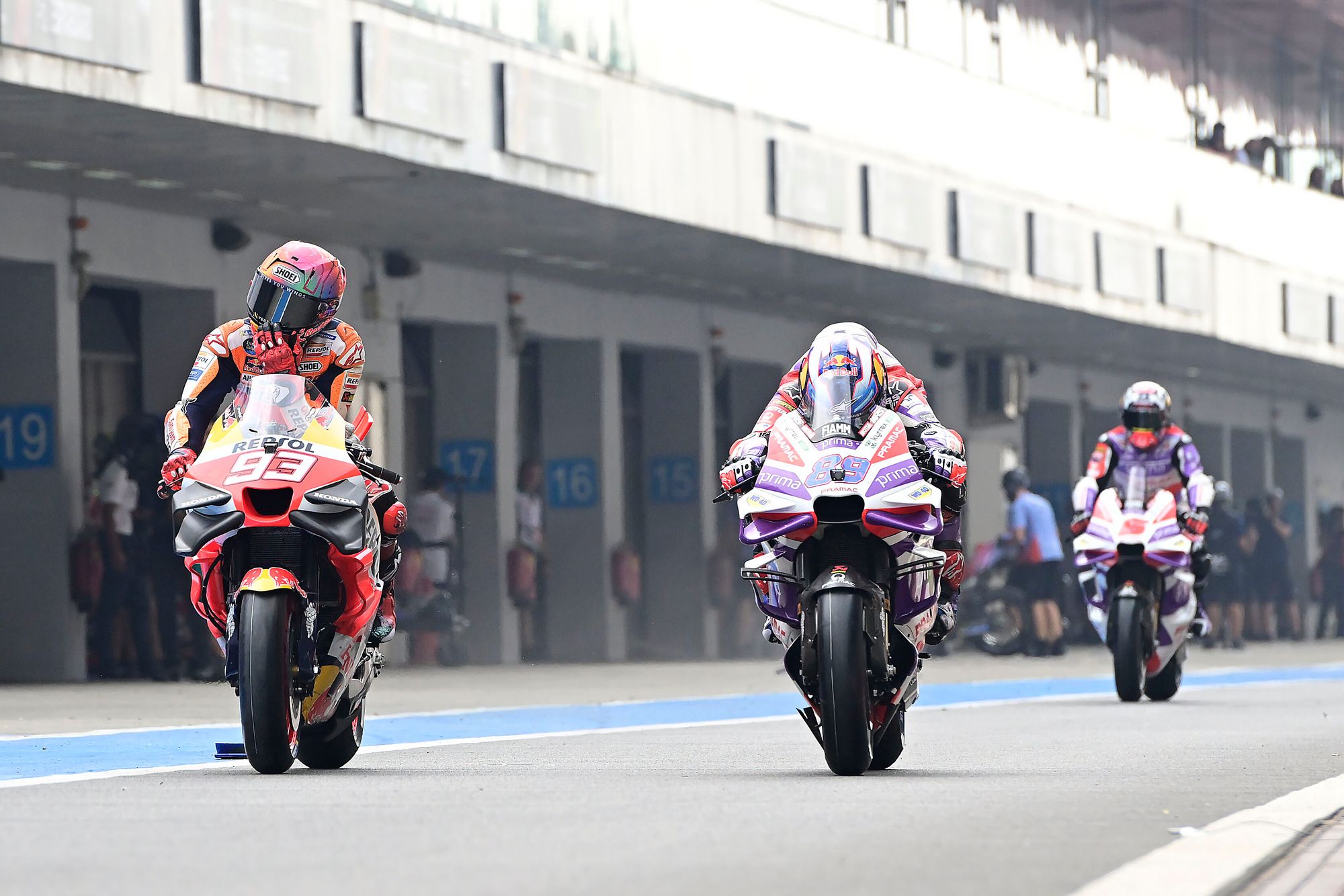 With Ducati believed by The Race's sources to have been turned down by Marquez after having offered him a two-year deal at top-tier satellite squad Pramac for next year (with the Marquez instead wanting a one-year deal), Ciabatti very much sounded like someone who believes that there's a chance that Marquez will end up on a Desmosedici next year anyway.
"First of all, Franco Morbidelli is signed for Ducati [on a factory contract] and is racing for Pramac," he said, "as all the Pramac riders are contracted by us directly.
"As far as Gresini goes, I think it looks like they have this opportunity and they are waiting for Marquez to decide - and I see he is very fast here with the Honda.
"We hear what you hear, that he will talk to Honda management in Japan and make a decision.
"It is something that is up to him and the team, and we as Ducati have our four contracted riders, which are the two factory riders and two at Pramac.
"This is what we hear, and I think everyone knows. There are no other options for next year, and it is the only bike without a rider.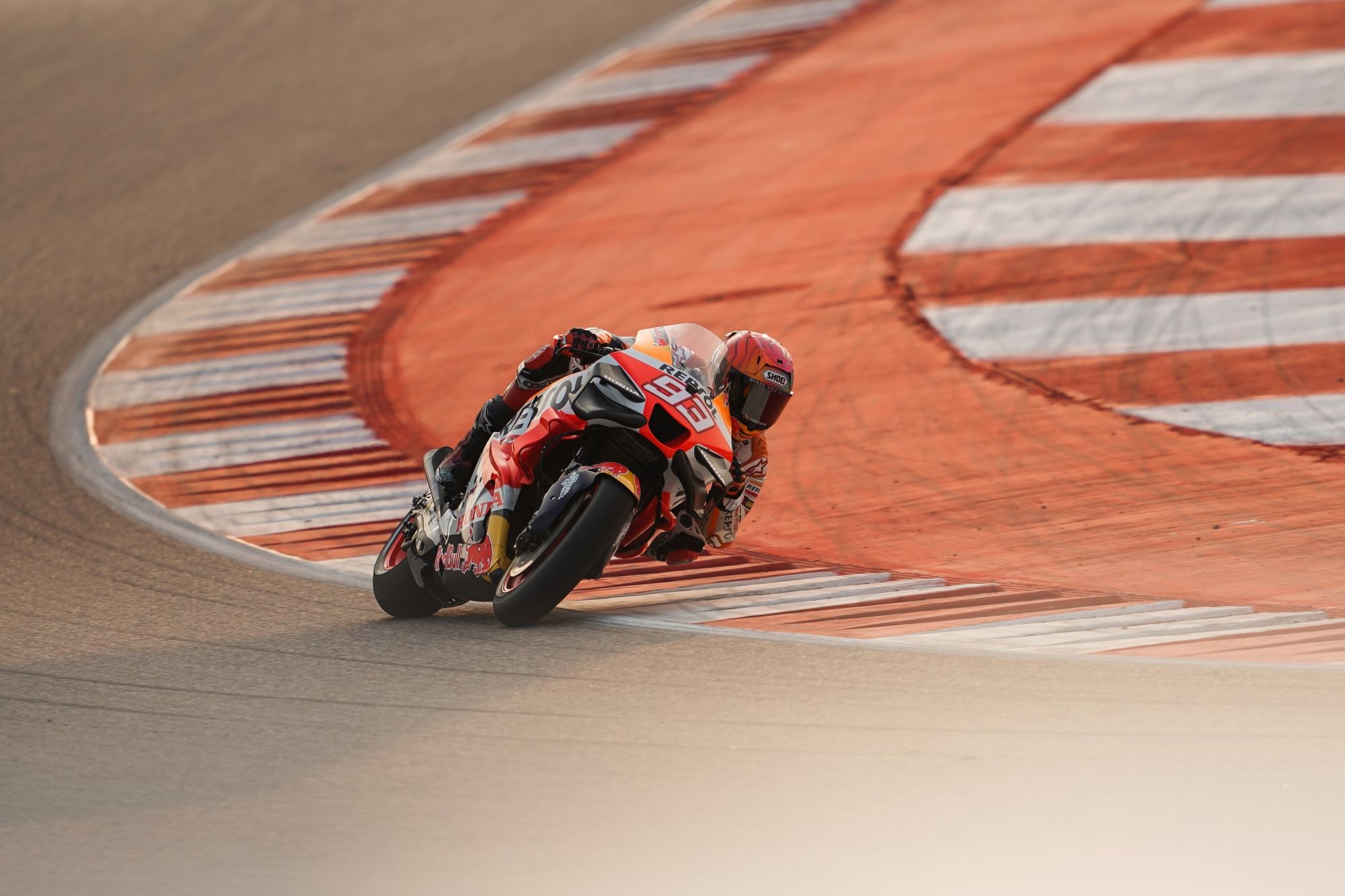 "Well, Marquez says he has three options and I don't know what those options are. For sure one is to stay with Honda, but the other two we can only guess at. It's nothing that we are negotiating."
And, with MotoGP heading directly from Delhi to Tokyo this weekend and with Marquez due to visit Honda's headquarters ahead of the race in Motegi, it seems like the ball is very much in HRC's court now when it comes to deciding what's going to happen to its star rider.
First reported on Sky Italia on Friday, the broadcaster's sources believe that Honda has only two chances to retain Marquez's services: either delivering enough concrete promises next week to convince him that serious changes are coming in the near future - or play hardball with his contract and make it all but impossible for him to walk away from the signed deal.
What the first option comprises is pretty obvious: Marquez wants a commitment from Honda that it's going to not just work on the bike but commit to considerable reshuffling among the technical team responsible for building it. Amazingly, Honda's been rumoured to be trying to poach Ducati engineering boss Gigi Dall'Igna away from the Italian brand - and it's possible that getting some big names to commit would help its case even more than a new bike.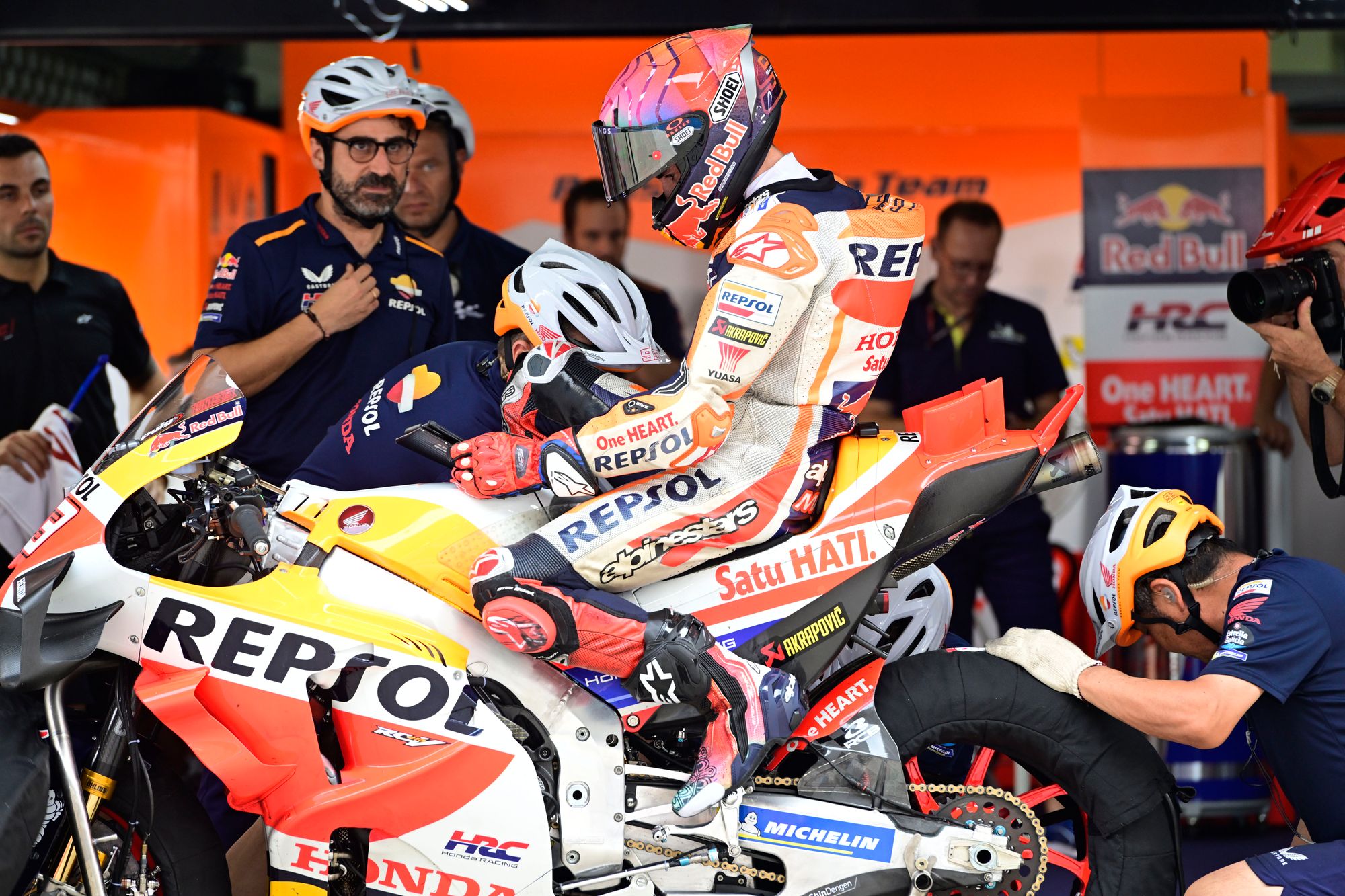 Should that not be the case (either through unwillingness or inability to poach someone away from a European factory) then it seems that there's only one other card for Honda to play if it wants to keep Marquez - to fully enforce his contractual obligations, which would likely mean a multi-million Euro price tag for Marquez to try to force himself out.
But should Honda neither succeed at convincing Marquez nor want to force him to stay - something its higher-ups have been on the record as saying it won't do - then all signs point to a dramatic switch for 2024 for the sport's era-defining superstar, in a move that would likely be the most shocking manufacturer switch in the sport's modern history.