Three times now in the past four MotoGP race weekends we've witnessed the same thing: terrifying first-corner pile-ups that have left multiple riders with broken bones and serious injuries.
Two separate incidents in Saturday's sprint race at the inaugural Indian Grand Prix were the latest to join the list, one of which left VR46 Ducati rider Luca Marini the latest victim.
Marini collided with team-mate Marco Bezzecchi as both slowed for the Buddh International Circuit's tight and tricky opening corner, with Marini ending up with both a broken collarbone and a long lap penalty for the incident.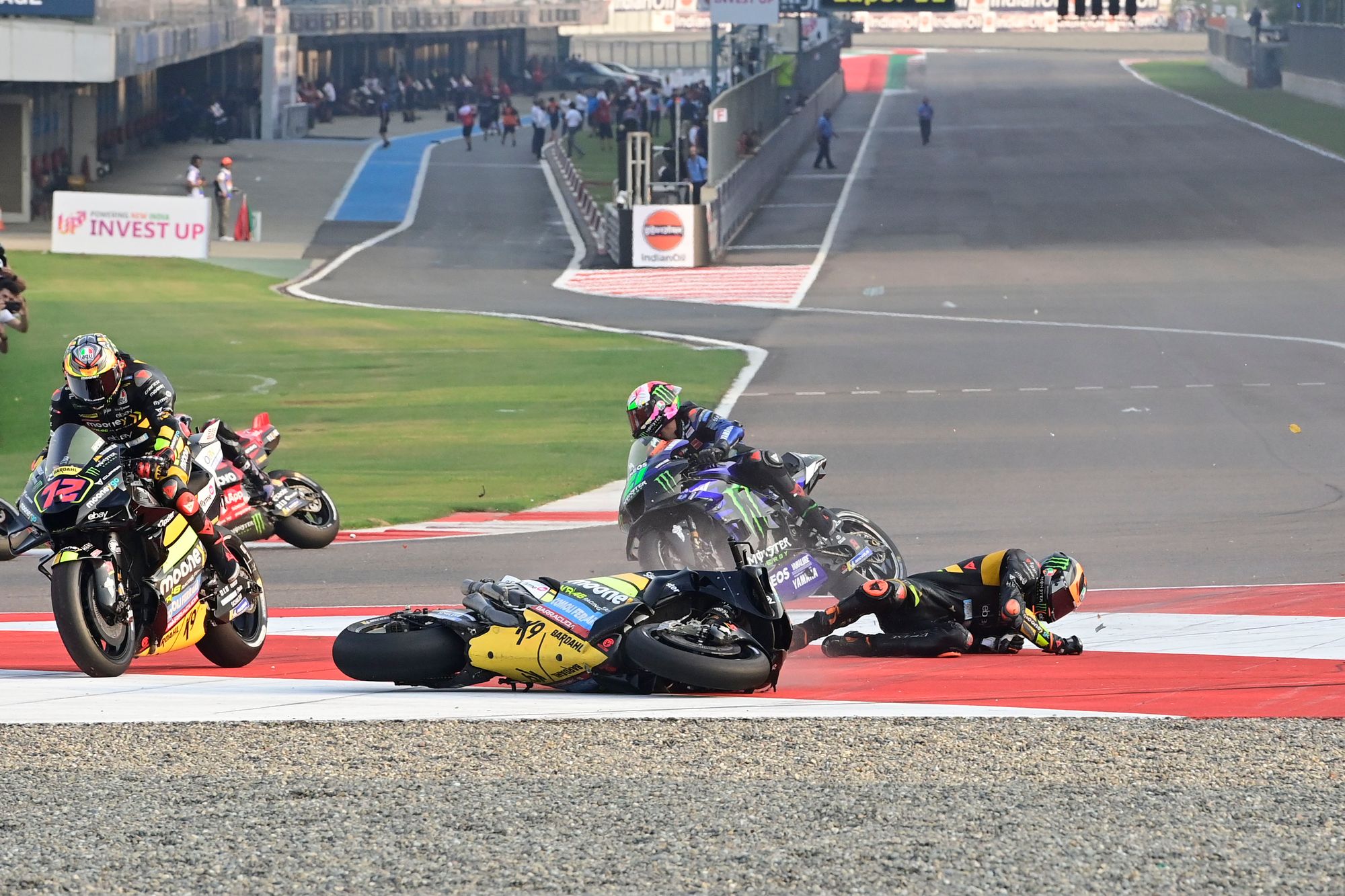 Further back, contact between Stefan Bradl and Augusto Fernandez resulted in Fernandez's Tech3 Gas Gas team-mate Pol Espargaro coming off the worst, though he ended up thankfully uninjured in the gravel beside Bradl, Bezzecchi (who could keep going) and Marini.
Such Turn 1 crashes are a relatively new phenomenon for the 2023 season but have become the key danger point of a season that features an attrition rate nearly five times higher than any other year in the past decade. But while the cause isn't exactly a trade secret, the most pressing question in MotoGP right now is perhaps how to go about making the first corner of races safer.
To put the issue into context, we have to look back at the season so far. Turn 1 crashes have occurred in a fifth of this year's race starts, with incidents happening in the main race at Barcelona and Jerez and in the sprints at the Red Bull Ring, Jerez and now this weekend in India.
From those five incidents, riders have subsequently missed a considerable number of races. Miguel Olivera sat out the French round of the championship after Jerez, Enea Bastianini is still absent, and Bezzecchi has been walking wounded since last month's Barcelona race. And now a broken collarbone for Marini means it's likely he too will require surgery to repair the damage.
The risk of these crashes is something that the riders are aware of, as well, with Espargaro saying after his fall that once the riders saw the nature of the Buddh track's opening corner, the issue became a hot topic at Friday night's safety commission meeting - but that the conversations held among riders weren't enough to prevent catastrophe in the race.
"We talked so much about this in the safety commission and actually, you can check in my history how many times I have taken someone out in the first corner. No one," he told The Race. "You can always do something, you can always brake a little earlier than you think. It's not going to change so much. It's just the first corner.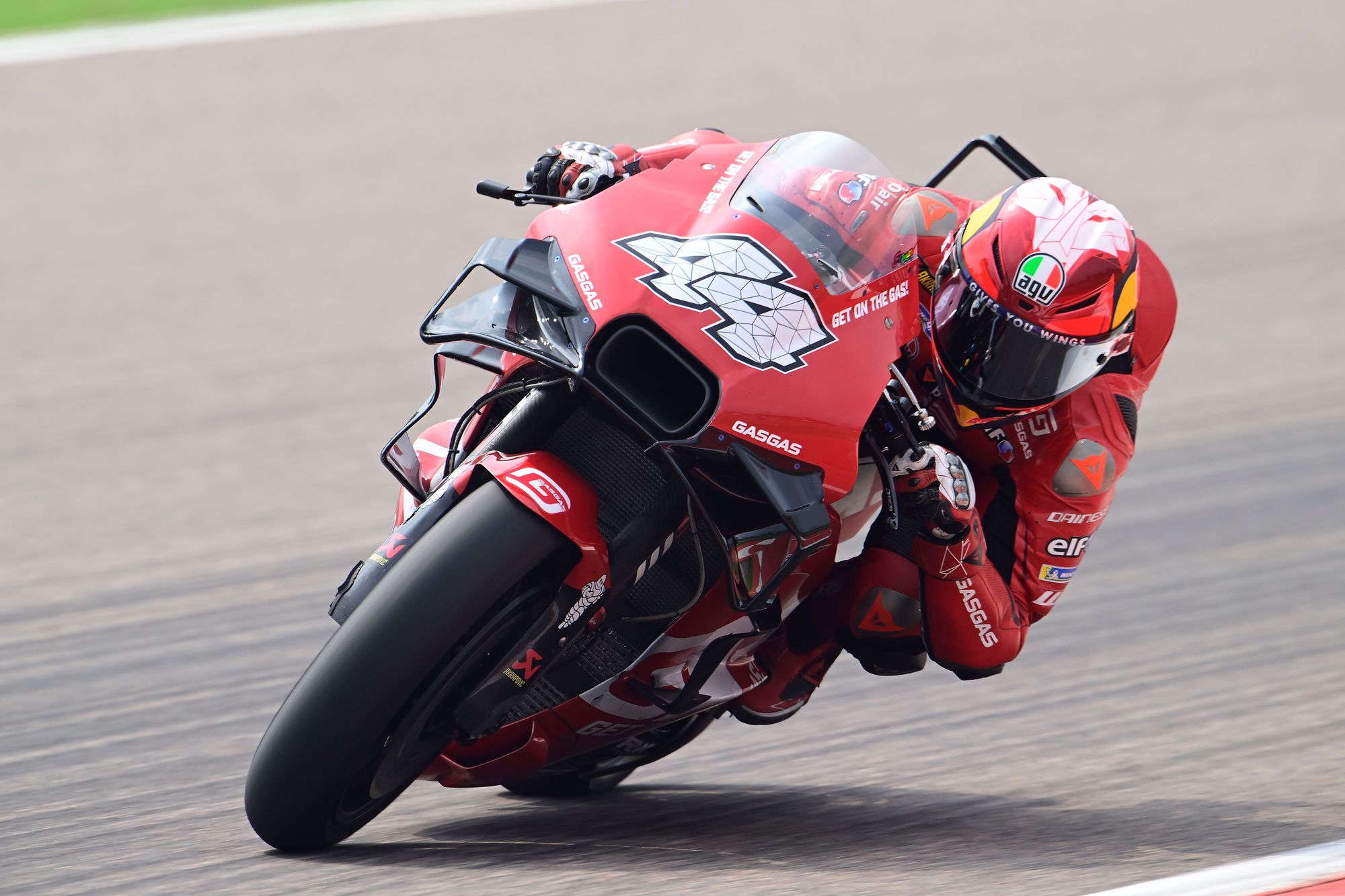 "We were talking so much about it in the riders' safety commission, just for this race, that corner. But anyway it still happened. If it's going to happen, then it'll happen.
"We all said that if this happened this weekend, if things like what happened today happened, then it would have to be punished bigger. It cannot just be one long lap penalty, because if you kill another rider's race or injure them, what is one long lap?
"These mistakes have to be more punished. If I've never done this with all the races I've done in my MotoGP career, you can always stop it. If someone is always having this problem, then it's because they're asking too much in the first corner with new tyres, and especially today with damp conditions."
So what's causing these crashes? Well, it's relatively easy to determine why riders are being forced to take more and more risk in the opening corners by watching the rest of Saturday's sprint race, which - with the exception of Bezzecchi's charge back through the pack - was almost totally devoid of overtaking.
Modern MotoGP, with its influx of ride height devices and aerodynamics, has become more processional, with the race order at the end of the opening lap often the way that the leaders will now finish - unless you've got a rare case like Saturday's where the lightning-fast Bezzecchi was left far down the order.
And the riders recognise that, so the amount of risk you need to take in the opening laps has been amped right up as people jostle for position, according to Pramac Ducati rider Johann Zarco.
"There is always one, even the one that you would not expect, who loses a bit of control," he explained. "But as soon as you take a bit of margin, you lose positions. Everyone has to take the responsibility to take a bit of margin, and then struggle to come back, or to take the risk to brake.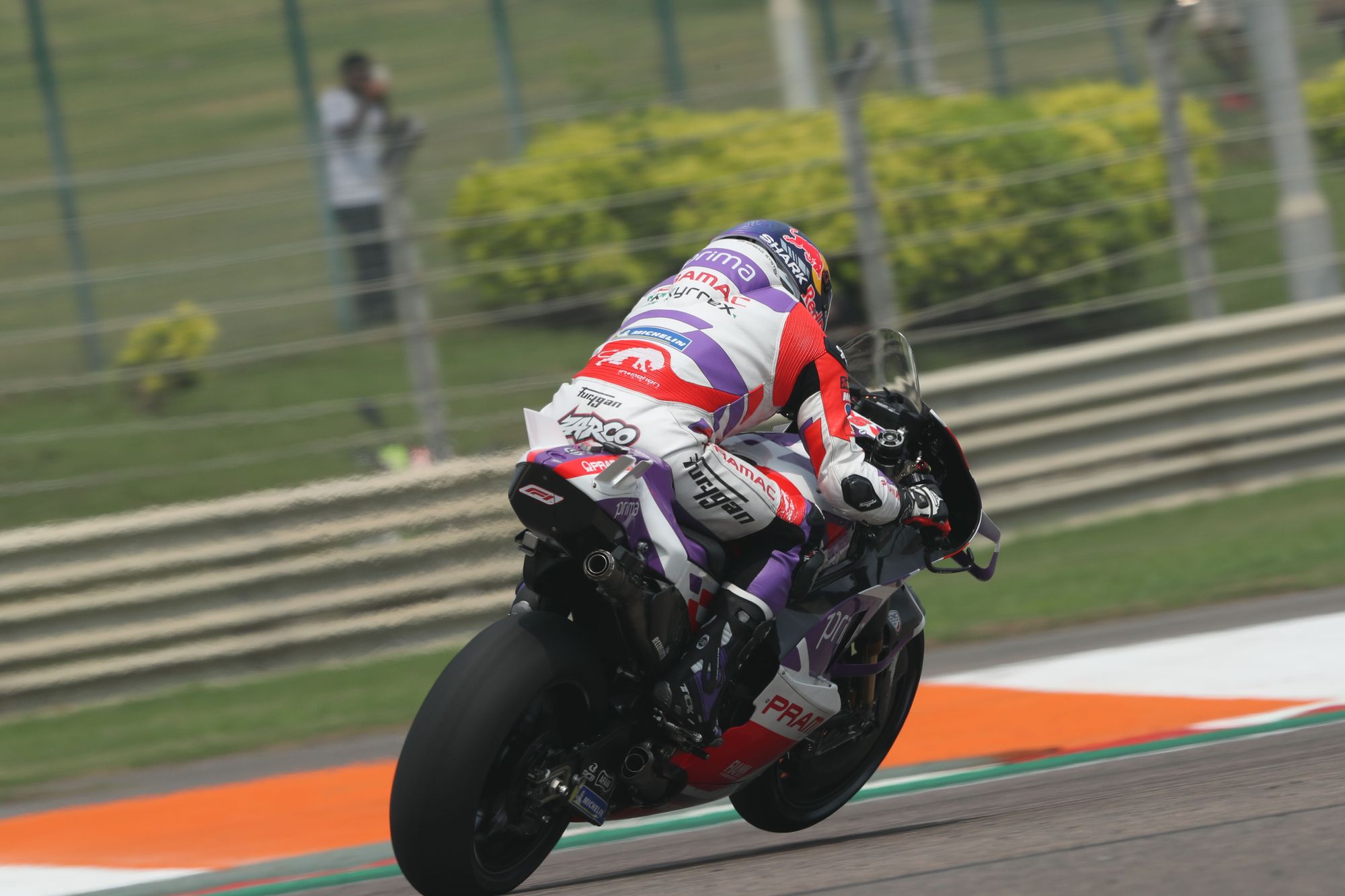 "If it's all OK, you gain three positions, but if not you hit the guy in front of you. It's quite tricky to take these kinds of decisions."
In that reality, and with the factories resisting any push to change the rules with the aim of going back to the more competitive racing of the past, it's hard to see a clear solution to the problem, short of promoter Dorna forcing through a ban on the aero and ride height devices on safety grounds - something it has the power to do but has so far been hesitant to employ.
And with no other obvious solutions to the crashes, considering that the cause is very apparent, it means there's only one other answer to the question if organisers truly want to crack down on first turn crashes: the heavy-handed strategy proposed by Aprilia rider Aleix Espargaro.
"There is a very, very, very easy solution," he insisted. "Strong penalties. I've said it at every single safety commission. But strong, right? Strong. That's it. You will see then that they will brake earlier. It's very easy."