The MotoGP grid has had a shock discovery upon riding the championship's newest circuit for the first time as the opening day of track action for the Indian Grand Prix on the Buddh International Circuit revealing a track far more complicated and technical than many of them previously imagined.
While on first inspections a relatively straightforward venue, albeit with a mix of different corner types and some relatively significant elevation changes, it turns out that the track's mix of slow speed, late-braking corners and cambered high-speed bends makes for a rather more complicated experience, as many of the grid discovered with frequent day one trips into the gravel traps.
Coming into the weekend expecting issues more with the amount of available grip from the surface rather than a complicated race weekend, Ducati rider Pecco Bagnaia was among those who admitted after the day's two extended practice sessions that they were perhaps concentrating in the wrong place beforehand.
"I think we were expecting to have more issues with the grip," the world champion explained, "but the grip is there, on the line. Outside of the line, when you go a bit wide or on the white lines, it's very slippery, so you have to be very calm on that, you don't have to come back faster on track because you can lose the front or the rear.
"But we were expecting less grip and a worse condition, but as soon as we started the session this morning everything was already good. I don't think we will drop too much the lap times tomorrow, maybe another second but not too much.
"And this is good, they did a really good job in terms of washing the track. And yeah, it's very technical. Some parts of the track are very difficult, like corner one, because you have just one line and you can brake just in a point, because if you brake one metre after, you are wide and you go outside.
"So, it's quite intense to be very precise on that and also corner 12, I think I did twice the correct line today. I was always wide, it was very difficult."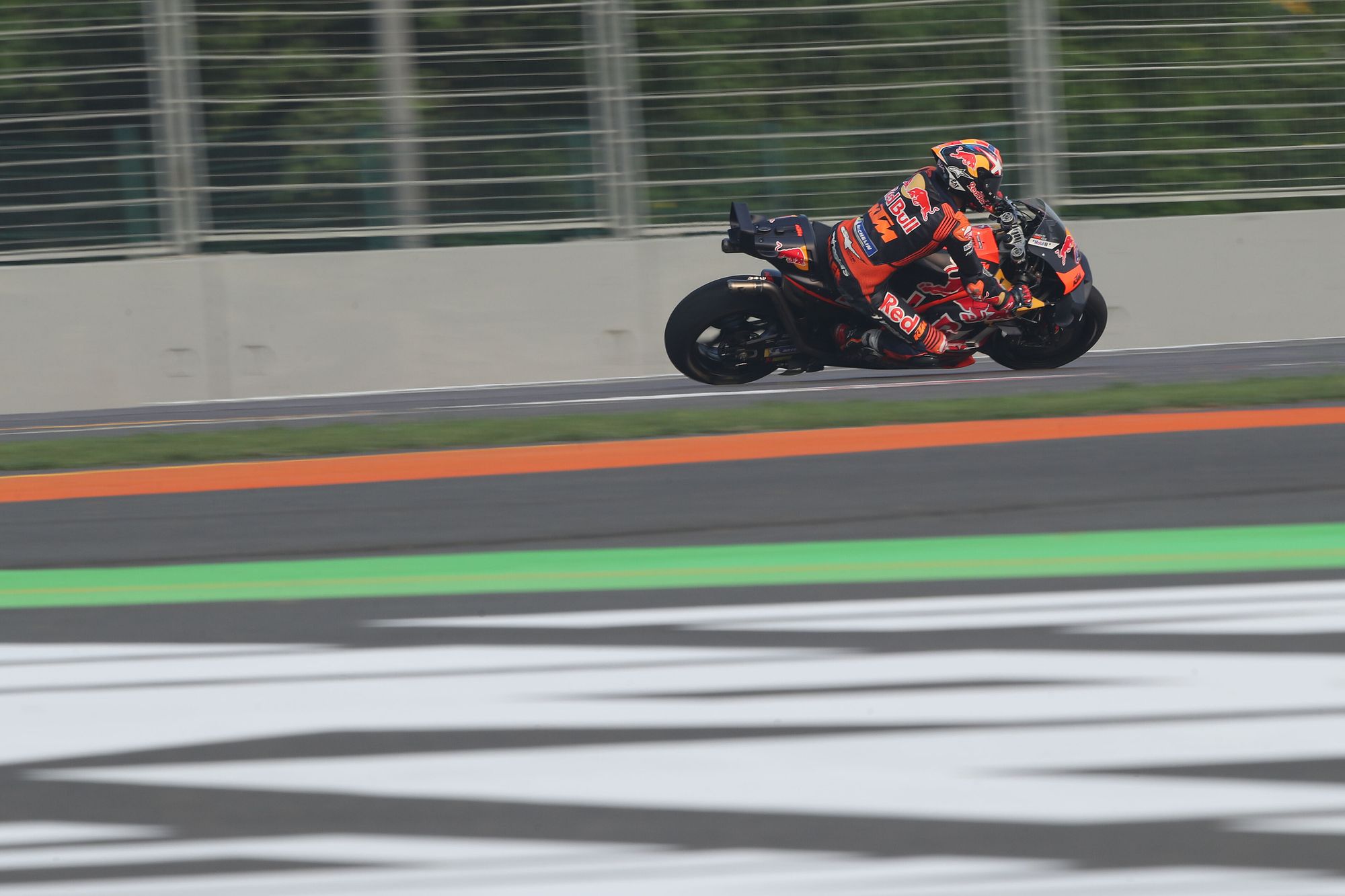 That technical nature of the circuit is something that many of his rivals also picked up on, with Red Bull KTM rider Jack Miller explaining to The Race that he too was surprised by how many potential lines the circuit offered and how much blind faith you have to put into yourself in some corners.
"It's way more technical than you think," the Australian said. "The only place I can kind of think of… you have those fast and flowing chicanes like Mugello, but all the blind stuff is maybe like Sachsenring, where you're aiming for the apex miles before you can even see it.
"It's just so far away from where you need to be that you end up riding on feel more than anything else. That's fun though, it makes it a lot of fun as a rider, but I'm sure there are a lot of guys talking to themselves because I was saying 'why did you brake there you dick?'
"So many times, you brake too late, then others you brake too early and you're nursing the brakes. The first couple of laps on the back straight, I braked stupidity early - the first time, I sat up and started braking and hadn't passed the 300m mark. I hadn't even seen the 300m mark!
"It's so visually deceiving. You can't see where you're going so you feel like you're just accelerating towards the wall at the end. It's a weird optical illusion, and it goes against every fibre in your body to keep accelerating."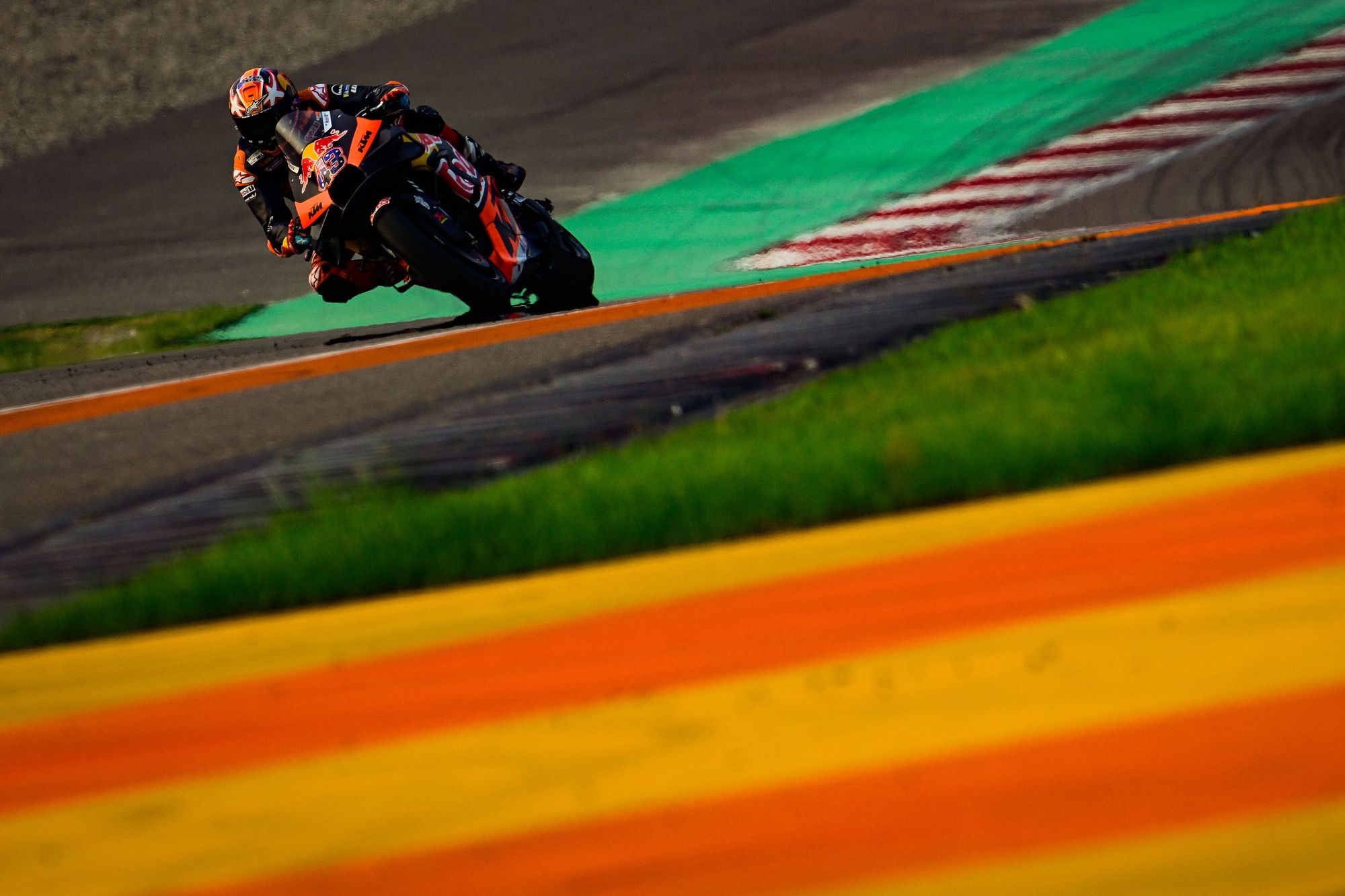 And while many of the circuit's corners might have presented a surprise challenge to the MotoGP grid on Friday, none has more so than the slow speed Turn 1, which spent most of the day claiming victims into its deep gravel traps.
"For me, Turn 1 is probably one of the most critical corners that I've ridden on so far," added Miller's KTM team-mate Brad Binder.
"Where, if you miss your braking point by nothing, you're buggered. Like, it's hectic. So I hope everyone gets through clean, and from there we can fight."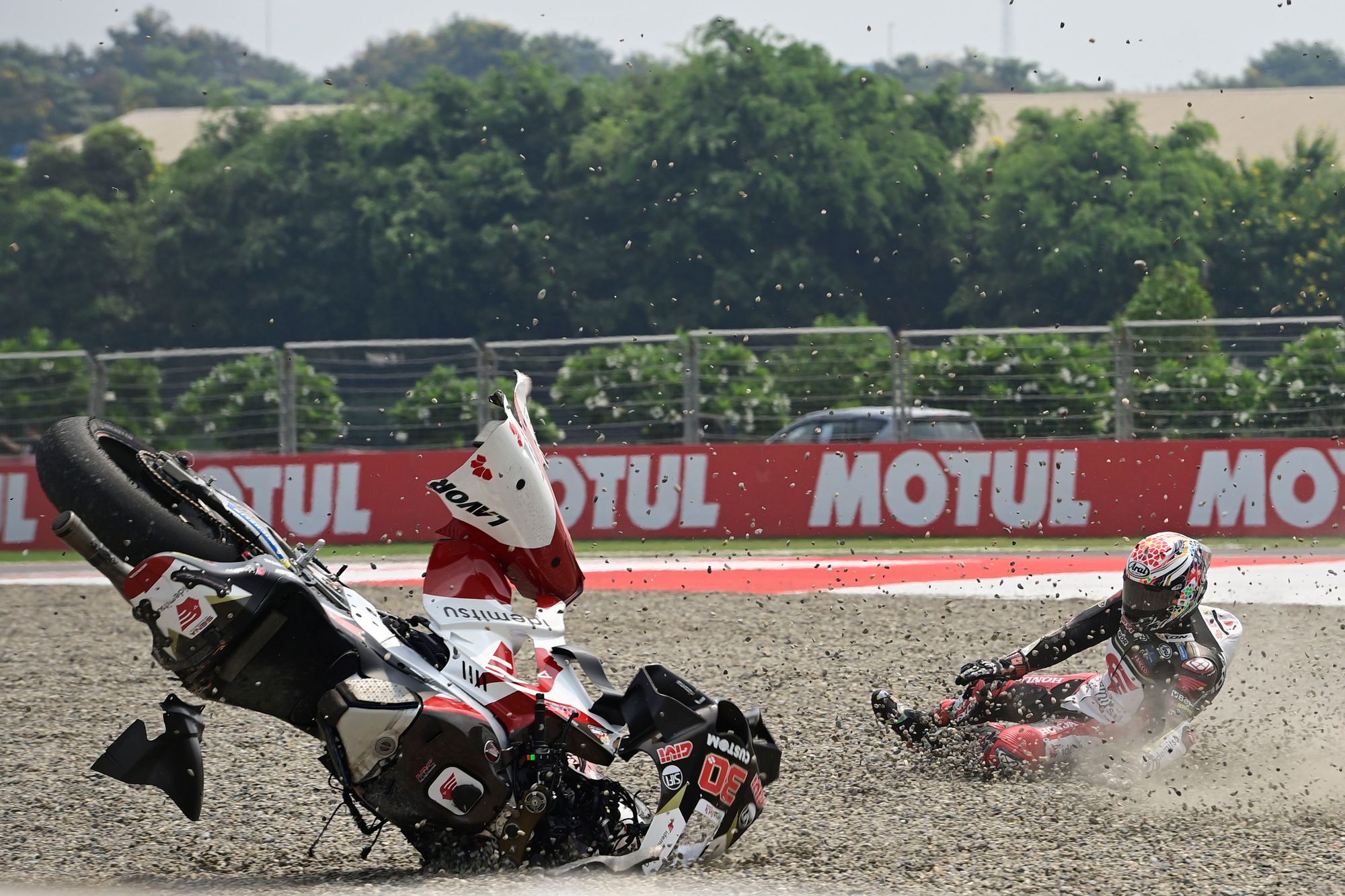 Something mentioned by almost every racer, many of whom fell victim to it during the day's two sessions, along with the high-temperature conditions, Binder's former team-mate Miguel Oliveira was able to give a good explanation as to why he thinks it, in particular, was causing so many difficulties for the best racers in the world.
"Turn 1 is a little bit difficult to do!" he joked. "It's a 90º corner with a very narrow exit, and 90º corners only have one line anyway. But with the left afterwards, the track continues a little more to the right before you turn right, and it's slightly downhill then uphill. It's a nightmare to do!
"Every time you go into a new lap, if you're a little bit too late looking at the dashboard or switching a button or whatever, you're gone - you don't make the corner!"