Marc Marquez is going into his 11th season as a Repsol Honda MotoGP rider, but the prospect of him surpassing Dani Pedrosa's record 13 seasons in those colours suddenly looks shakier than it ever has.
In his glory years, the talk was always of the megabucks an ambitious rival might have to deploy to lure him away from what would otherwise be an unbreakable marriage.
Now it feels like – after years of having to carry Honda to glory, and then being physically unable to do so – Marquez is openly looking for alternative suitors.
Comments to that effect have repeatedly slipped out since shortly before his latest post-surgery comeback last summer, and the MotoGP paddock has had a few months to ruminate on the implications of his very underwhelmed reaction to the prototype 2023 bike Honda delivered for the post-season Valencia test. From initial comments that were barbed by Marquez-on-Honda standards, it escalated to brother Alex Marquez's revelation of a furiously silent car journey away from the test in which Marc was too "livid" to even verbalise his frustration at what Honda had presented him with.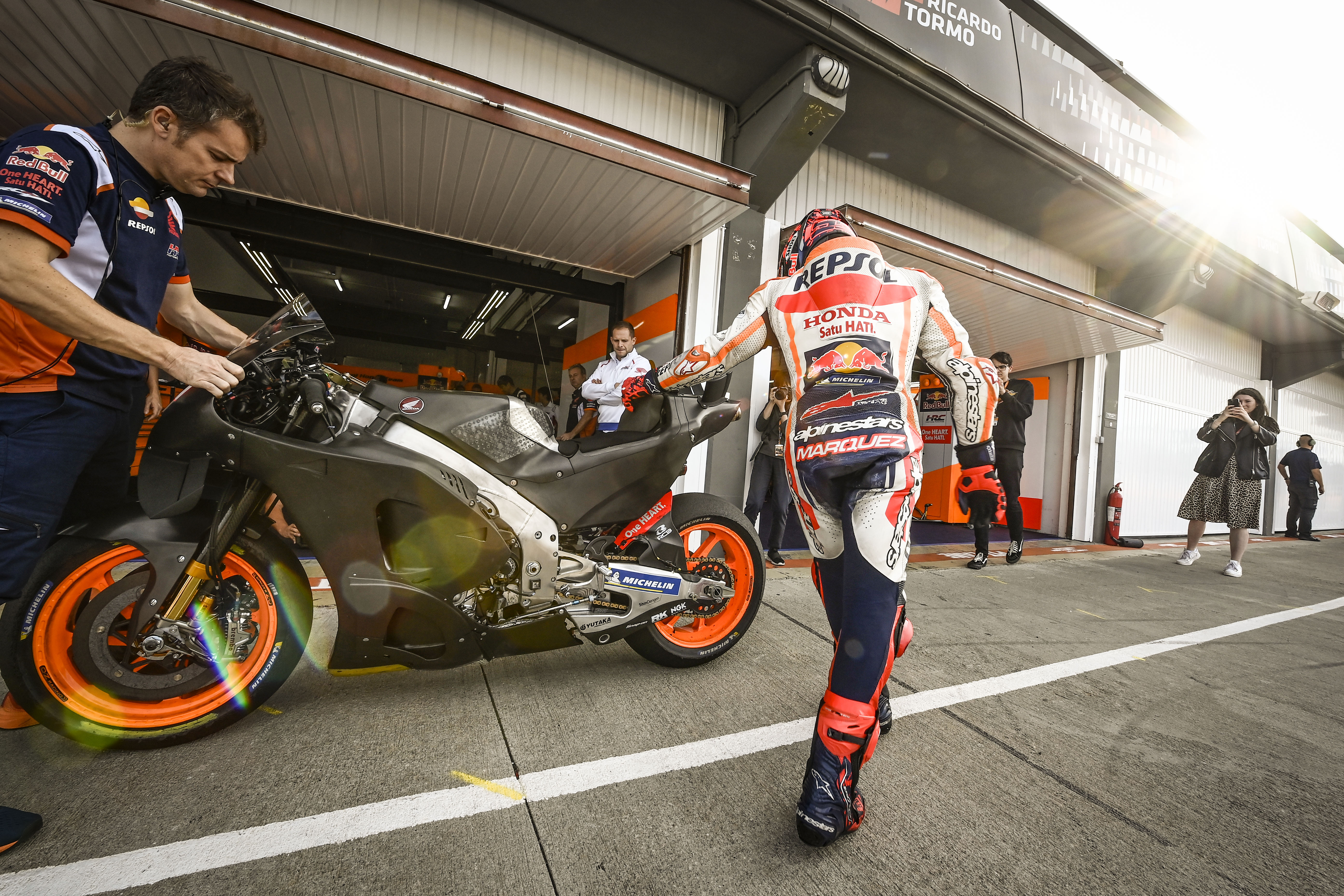 Marquez has put a lot of weight on what Honda comes up with for this week's Sepang test. And amid reports matters are so getting so strained he could pursue an early exit from a Honda contract that currently runs to the end of 2024, there really is a huge amount riding on the Honda engineers' work since Valencia last November.
That works both ways, though.
Honda has very little reason to doubt Marquez's value – he has achieved miracles for it, both in his championship-winning years and almost certainly in his injury-ravaged years too. Even in heavily physically-compromised states, he was almost always its best hope. But the rest of Honda's line-up has hardly been in top form or enjoying huge affinity with its bikes in those years either. Marquez has been short of internal benchmarks for a long time.
Not in 2023, though. Not with the arrival of 2020 world champion Joan Mir as his Repsol team-mate and multiple race-winner (including two of the last three grands prix of 2022) Alex Rins at LCR, thanks to Suzuki's exit.
"Honda has circumstantially lucked into a younger super-talent in Joan Mir," said co-host Valentin Khorounzhiy on The Race MotoGP Podcast.
"And it's imperative, starting with this test, to make sure that Mir has the direction he likes and the direction he wants going into the season.
"If that in any shape or form clashes with Marc Marquez's preferences on, for instance, the engine specification going into the engine freeze, Honda has a little bit of a dilemma."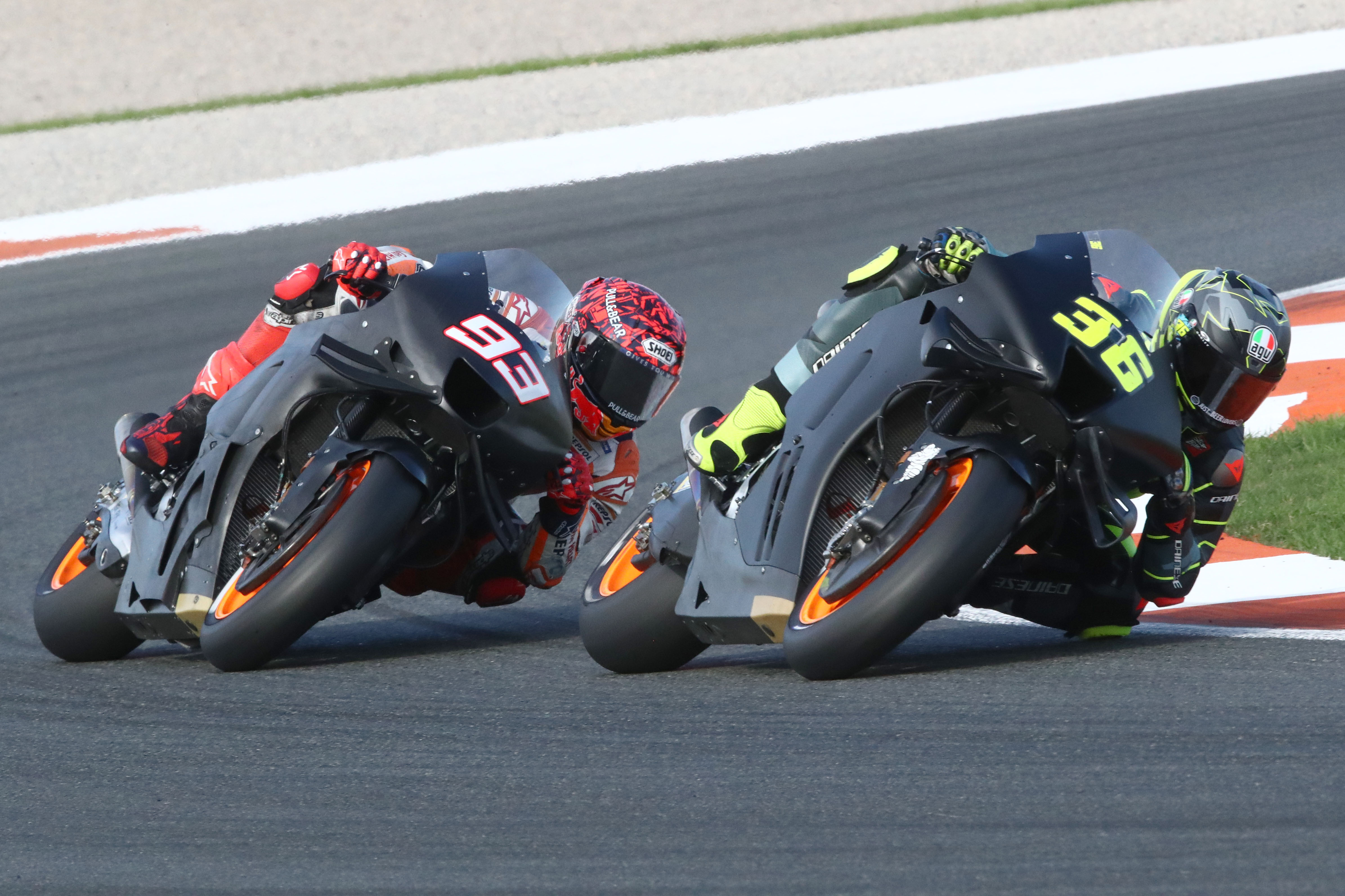 One very, very unlikely scenario is that Mir gets on the Honda, outperforms Marquez, shows the king of 2010s MotoGP is a shadow of his former self and gives Honda a very clear future direction to follow.
That's only slightly plausible given how much evidence there is of Marquez's ongoing greatness even when still recovering from all that went so painfully wrong in 2020.
But if Honda quickly realises – or gets enough hints that it should realise – that Marquez has lost patience and could be heading elsewhere as soon as 2024, then maybe it needs to decide that Mir is the man to listen to in the event of any mismatch in bike preferences.
Perhaps it should anyway just on the logic of career longevity. At 29, Marquez is only four years older than Mir. But he's had six more seasons in MotoGP, and MotoGP has taken a much bigger physical toll on him than it has so far on Mir. It's "the dilemma of the now of Marquez vs the future of Mir", as Khorounzhiy puts it.
And Honda is likely to have some big decisions to make about its development direction.
Somewhere along the years, the line between what Marquez needs from a MotoGP bike and what he can cope with became blurred. His later titles were astounding achievements on a bike far from the best on the grid, which most others could barely get near the podium.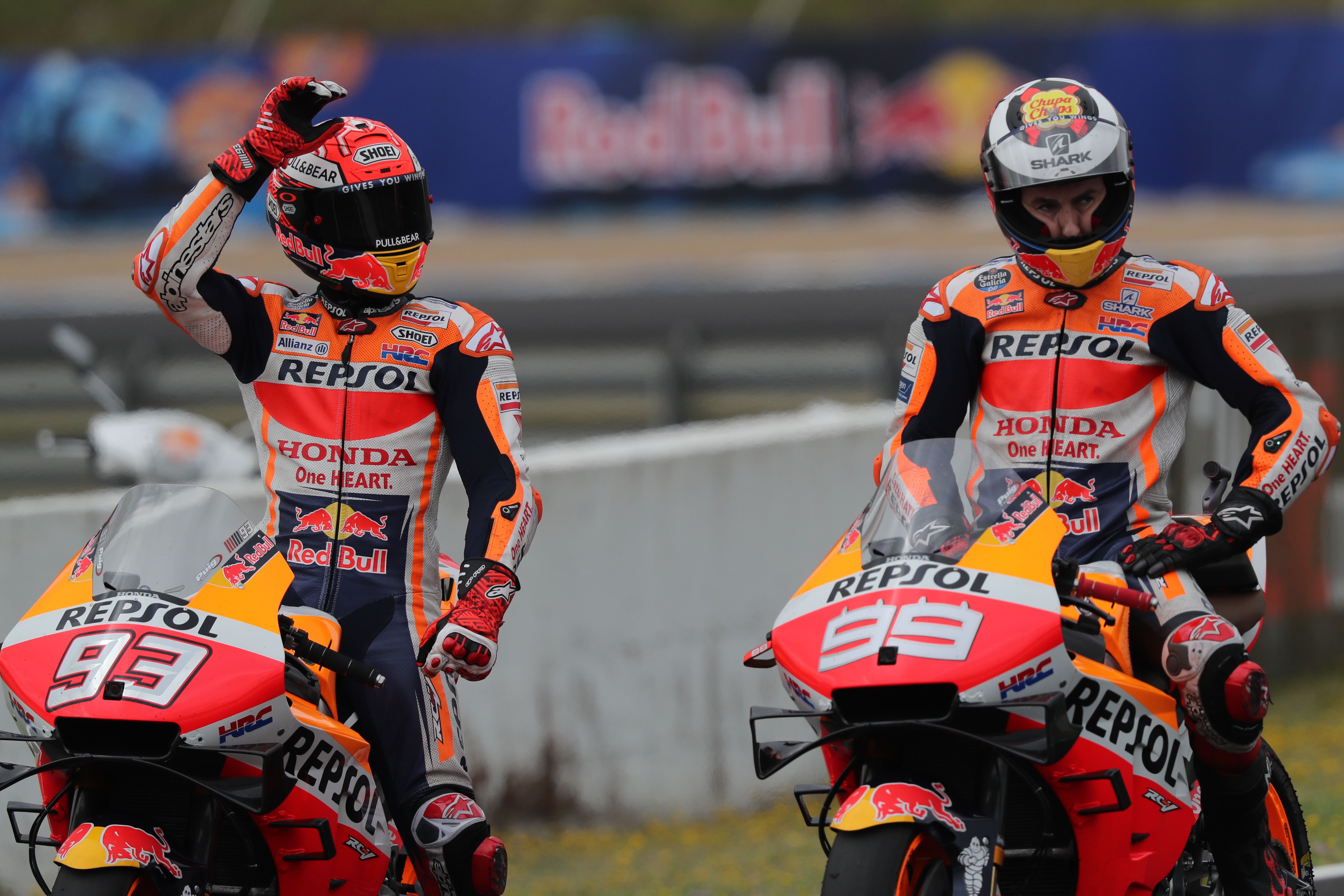 Was that because it was giving him what he needed to thrive? Or because he is a once-in-a-generation talent who could achieve the impossible with a not-really-competitive bike? Was he succeeding because of Honda or in spite of it?
During its talisman's first injury absence, Honda insisted it was attempting to rein in the aggression of its engine performance and make a more rider-friendly bike so that it wasn't solely reliant on Marquez miracles for results.
It didn't manage to. But it did change its bike enough that Marquez has never felt as comfortable with its behaviour since. But whether that's because Honda changed it in a way that's more wrong for Marquez but would be better for others isn't entirely clear. It's skewed by his physical situation (it's hard to feel comfortable with a bike's handling characteristics if you have an arm that simply isn't at the right angle to function) but the other Hondas' (lack of) results give a pretty firm hint that the bike has just been made flat-out worse for everyone, including Marquez.
Remember he also won a lot of titles on a relatively sweet-handling Honda, even if it's a long time since it's offered Yamaha levels of confidence-inducing corner behaviour.
"If the Honda isn't that good but Marquez is fully fit and he can ride it competitively, that's good for Marquez but it's probably not going to be good for Mir and Rins," suggested MotoGP writer Simon Patterson on the podcast.
"Whereas if Marquez isn't fully fit and the bike is still difficult to ride, where does that leave Mir and what does Honda do?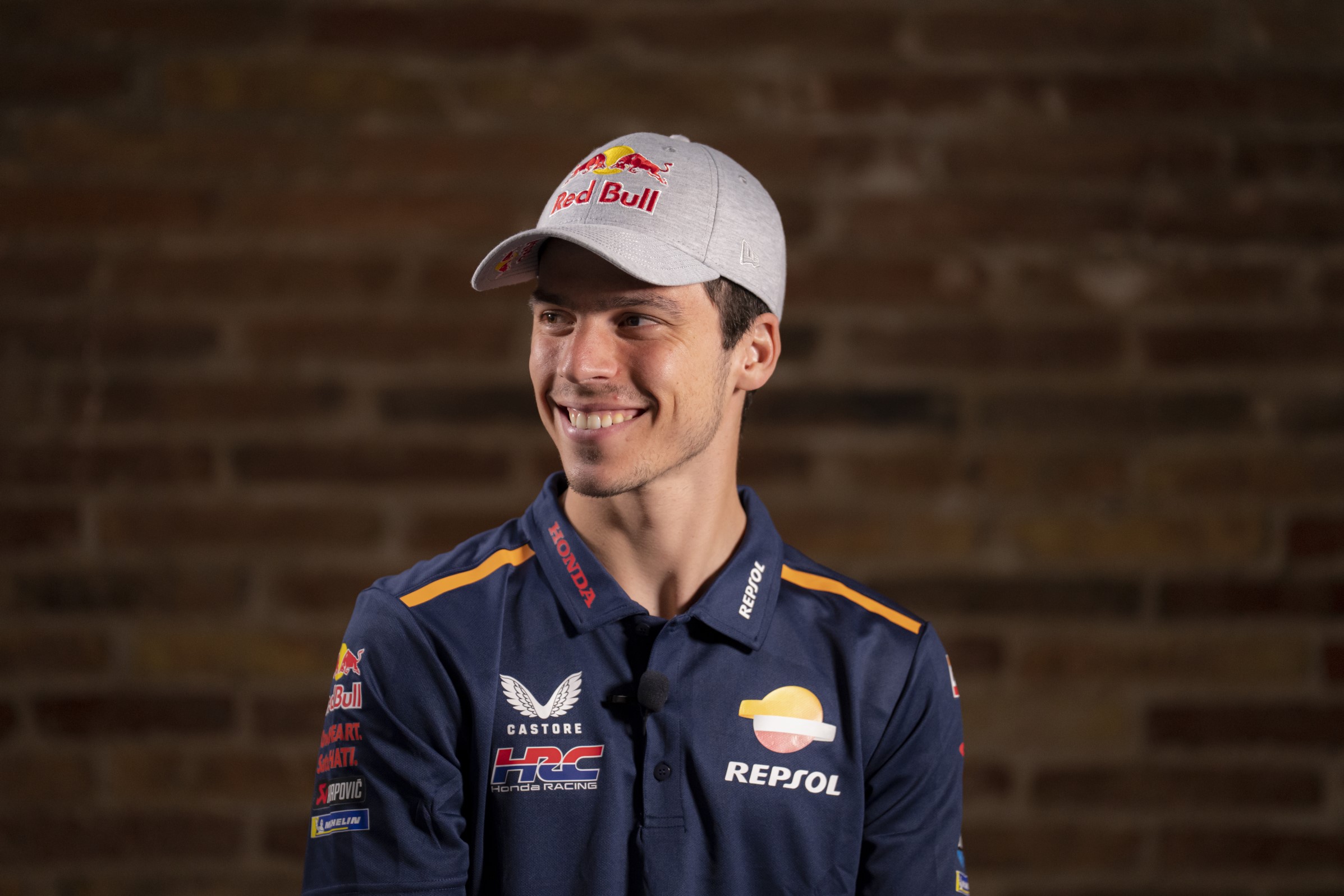 "Joan Mir is a super-super-talented rider, and I honestly believe he's more talented than he's given credit for even though he's a world champion.
"In theory the Honda of old should really suit his style.
"But Honda could end up with one unhappy rider and his team-mate being world champion, or those two guys fighting each other for the championship, or everyone just being furious at the direction Honda is going in."
Given that Honda declined to accept Mir's Suzuki crew chief Frankie Carchedi following him over, and then – having initially placed Ramon Aurin with Mir – reorganised his crew chief line-up after the Valencia test anyway, the early evidence suggests Mir's wants don't yet carry much weight at his new employer. Especially as it's understood it was team boss Alberto Puig who had the final veto over Carchedi.
But Honda might soon have to start taking what Mir wants very seriously. And – unless it's very obvious very quickly that despite all his talent, Mir is going to join the growing list of riders who fail at Honda – it would be very wise to because its needs to futureproof itself for a life without Marquez looks greater than ever.