Joan Mir will work with a different crew chief than originally planned for his first MotoGP season with Repsol Honda.
HRC veteran Ramon Aurin, who worked with Pol Espargaro and was expected to remain on that side of the garage, is being replaced by satellite team crew chief Giacomo Guidotti.
Aurin has been a Honda crew chief for nearly a decade, first stepping up from telemetry engineer to the chief role with Dani Pedrosa in 2014, replacing the departing Mike Leitner, who left to head up KTM's then-nascent MotoGP project.
Since then, the Spaniard has worked with Pedrosa's successors Jorge Lorenzo, Alex Marquez and Espargaro, and was expected to remain on that bike to work with 2020 world champion Mir this year, as evidenced by the two working together for the former Suzuki rider's Honda debut at the first pre-season test last November.
Mir had initially been expected to try to take long-time crew chief Frankie Carchedi with him to Honda, given the pair's close working relationship and the British engineer's own job search thanks to Suzuki's shock withdrawal from the championship.
The crew chief situation and his desire to bring Carchedi is believed to be one of the factors that meant Mir's long-anticipated Honda deal took much longer than expected to be announced.
In the end Carchedi will now work with Fabio Di Giannantonio at Gresini Racing.
Instead, Mir will now be partnered with Taka Nakagami's former LCR Honda crew chief Guidotti, who has worked with Honda since 2016.
Previously at Pramac Ducati (where brother Francesco was team manager before departing to KTM to replace Leitner), he has decades of experience in the role and has formed a strong working relationship with Nakagami in recent years.
However, Aurin will not depart the Honda MotoGP project but will instead step sideways within the ranks to work with test rider Stefan Bradl (pictured together in 2019) as the technical manager of HRC's Europe-based testing team.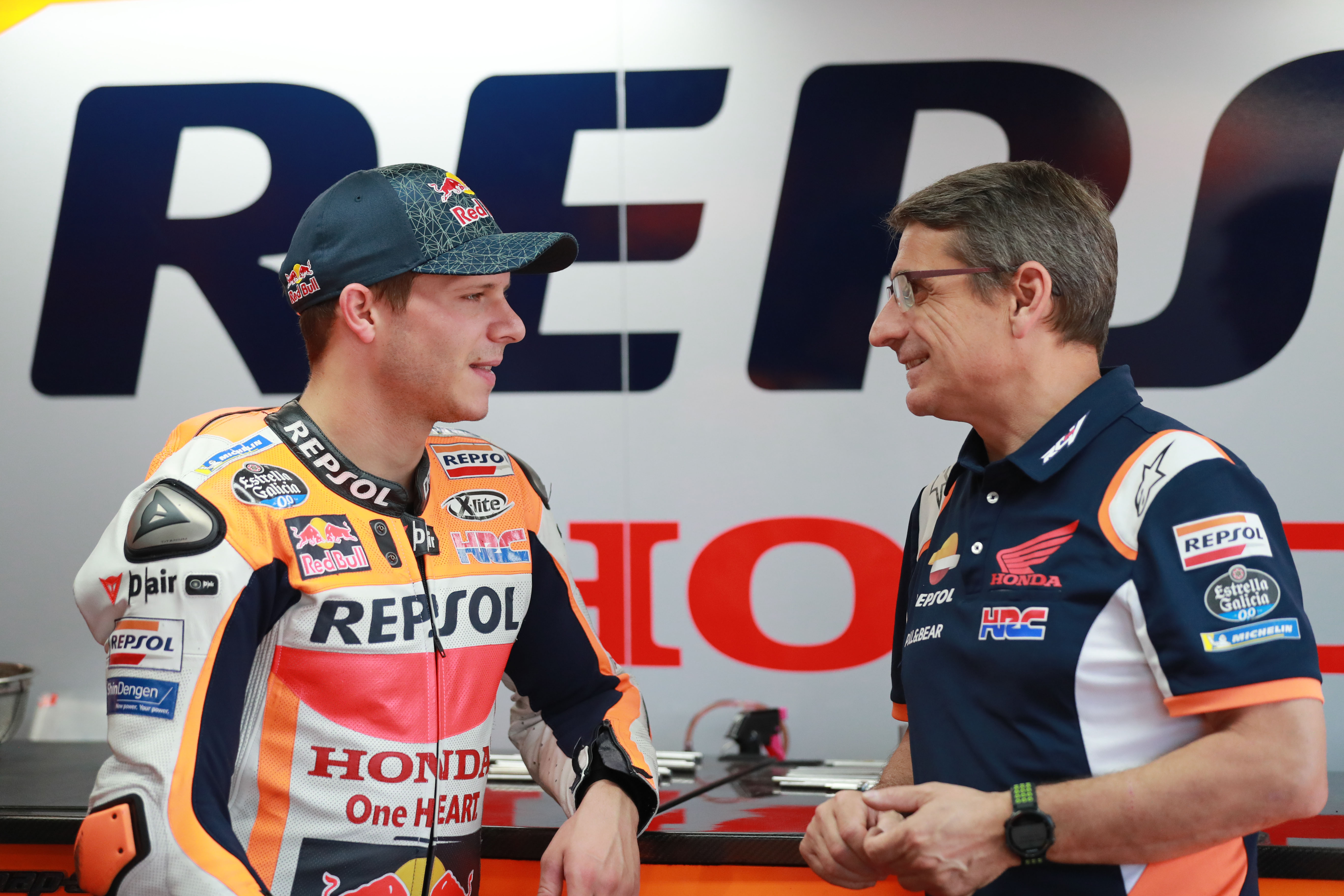 That comes amid an increased focus on the role of R&D squads as official MotoGP testing days continue to be reduced further and further in a money-saving bid and as the race calendar expands to 21 rounds and 42 races in 2023 with the addition of sprint races at every round of what was already set to be the longest-ever season.
Former test team crew chief Klaus Nohles will in turn get a MotoGP promotion as he moves to LCR Honda to replace Guidotti.
On the other side of the Repsol Honda garage Santi Hernandez will remain with Marc Marquez, while at LCR team stalwart Christophe Bourguignon will remain on his side of the garage as Alex Marquez is replaced by new arrival Alex Rins.
The news of significant late switches in the Honda engineering roster comes as the team continues to find a way out of the predicament it finds itself in, with 2022's results the worst in the company's storied grand prix racing history.
Scoring only two podiums throughout the year and unimpressed with the upgrades brought to the Valencia test, Honda may well be in a battle not only to return to winning ways but also to retain the services of a deeply unhappy Marquez as the six-time MotoGP champion looks to get back on top following three seasons disrupted by injuries.