The previous MotoGP season has long concluded. The next one is still a ways away (unless you count the post-season Valencia test as the start of the following year's season, which you shouldn't).
But though early January is still very much hibernation, there's a distinct flavour to this period for modern MotoGP. Teams already concluded and announced their signings for the coming season well in advance – but now that the traditional December 31 date has come and gone, washing away past contractual commitments, they finally get to parade their new recruits.
Joan Mir already rode the Honda in November at Valencia, placing 18th fastest. He even spoke very briefly about the experience, in the most general of terms – with riders still under contract to a previous employer often very limited in what they can say, although it feels far-fetched to imagine that the departing Suzuki would've been massively strict with its 2020 world champion.
In any case, now Mir truly is a Honda rider in every sense of the world – and, to commemorate his arrival, the manufacturer has published a first official interview with the 25-year-old in those famous Repsol colours.
In Mir's interview, he comes off as guarded and very cautious. This is no surprise – that is the default corporate preference for a rider's rhetoric, and given it's a manufacturer-released interview any side involved could deem anything too bold – too positive, too negative, whatever – 'off the record' in any moment before publication. Quite how guarded it is, however, is at least somewhat revealing.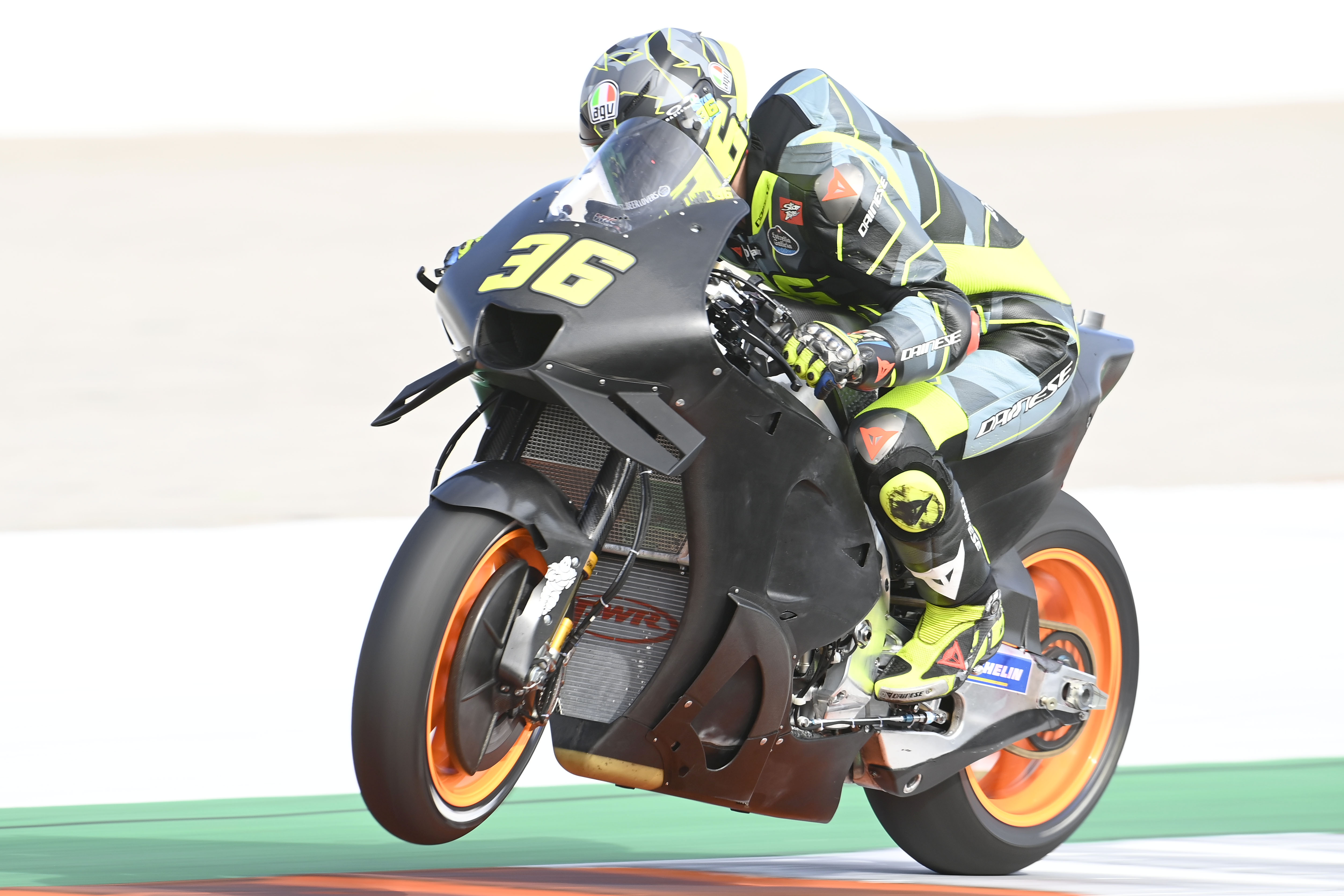 Mir is asked about his first impressions, and says they are "really good". But he speaks about the team rather than the bike. "I liked the way of work," he says, but there's no verdict on the equipment – although he is also quoted as saying "we made a great test and it felt like the first day back in school".
He acknowledges the bike is "physical" and says he modified his training regime, but not massively so. And he says that the Honda requires a rider to "go really fast into the corner, faster than probably the bike that I tried in the past" and "the way the bike gives you the power is different to the one I tried before". That, of course, aligns with the general perception of the V4 Honda and the inline-four Suzuki.
But by far the most revealing answer is this: "My goal for 2023 – well, first of all we have to be realistic, we arrive in a difficult moment and it will be the key to adapt quickly to this bike and then to try to build some confidence, some speed during the first races. And then from the mid-season to try to be closer to the podium, closer to the great results. That will be the goal."
Mir does also say that his eventual target is to be champion with Honda. But that initial 2023 target is not a very high one, not for a 13-time podium finisher who seems to be hinting he isn't expecting to be adding to that tally in the early going.
Honda did a similar interview with its previous signing, Pol Espargaro, in early 2021, before the KTM convert had even tried the Honda (as the COVID-19 pandemic led to the post-season test being canned). Yet in that interview Espargaro spoke in more detail about the bike and set a season target of podiums and race wins, and even a potential title challenge.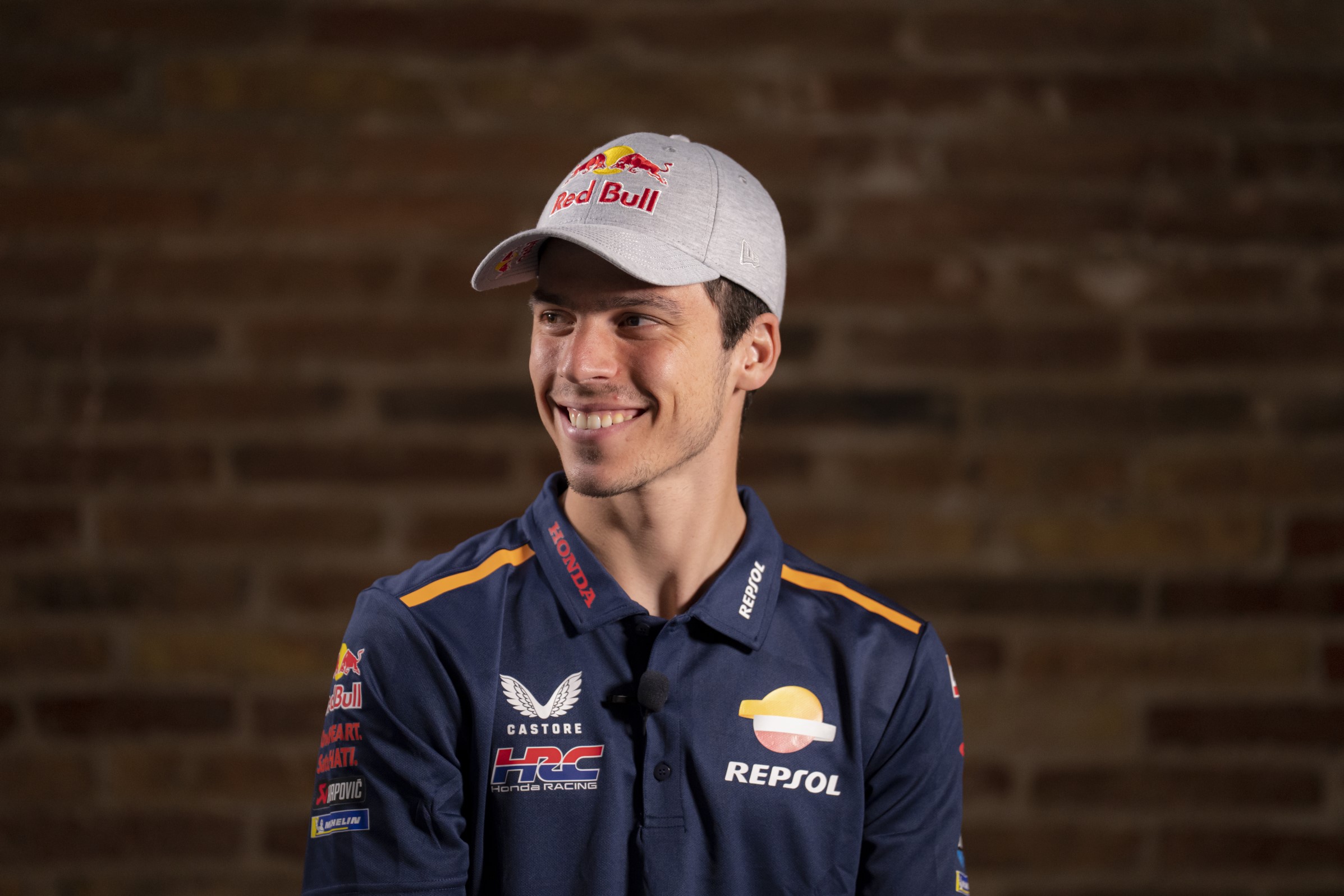 That didn't quite work out, and also that's Pol Espargaro for you – and please don't take that as criticism of his infectious enthusiasm and optimism – but the contrast to Mir's introduction is telling.
And of course none of that means that Mir is sat back at home doing his best Will Arnett 'I've made a huge mistake' impression with Simon and Garfunkel playing in the background; that he didn't like the bike, that it's not fast enough, that it simply doesn't work for him ala Johann Zarco and the KTM.
Maybe that's all true. Maybe it couldn't be further from the truth. That'll come out. But what seems the likeliest interpretation now – and one backed up by the Valencia test – is that Mir has a big learning curve in front of him, and that he isn't much commenting on the bike because he doesn't feel in a position to pass any judgement on it, especially given his emphasis on learning from Honda maestro and "best rider on the grid" Marc Marquez.
The message, it seems, is simple – 'give me some time'. Judge Mir by late-2023, and anything that comes before is a bonus.
Normally, that wouldn't be terribly persuasive when you have a champion rider joining a champion team. But after the 2022 both Mir and Honda had had, you can't really fault tempered expectations.