Ever since McLaren came into IndyCar full-time for 2020, how it might use its vast Formula 1 knowledge and resources versus some of the best teams in North America has been an interesting topic to ponder.
'Shortcutting' a route to the top just because it had been successful in F1 was never going to be an option for McLaren given the depth the likes of Chip Ganassi Racing and Team Penske have at their disposal in IndyCar, so a more methodical approach was always going to be needed.
McLaren has, in many ways, got a big bag full of ideas and thrown them at the wall to see what would stick.
Finding ways to integrate an IndyCar element at its Woking base to try to operate more like the F1 team does has been one part. It's always been discreet when it comes to discussing details of how it blends its F1 personnel and knowledge with its IndyCar operations.
Some of the other things it has tried to implement just haven't worked in IndyCar because the series is too different. There have been times when its drivers have been wary of F1 protocols being implemented for the sake of it and advocated a pragmatic focus on what works best for IndyCar where opportunities for car changes and development are so much more limited.
McLaren's latest idea to improve its performance is definitely F1 inspired, though.
Team boss Zak Brown tells a select group of media including The Race that there will be "new equipment" for 2024 that will "raise the bar again".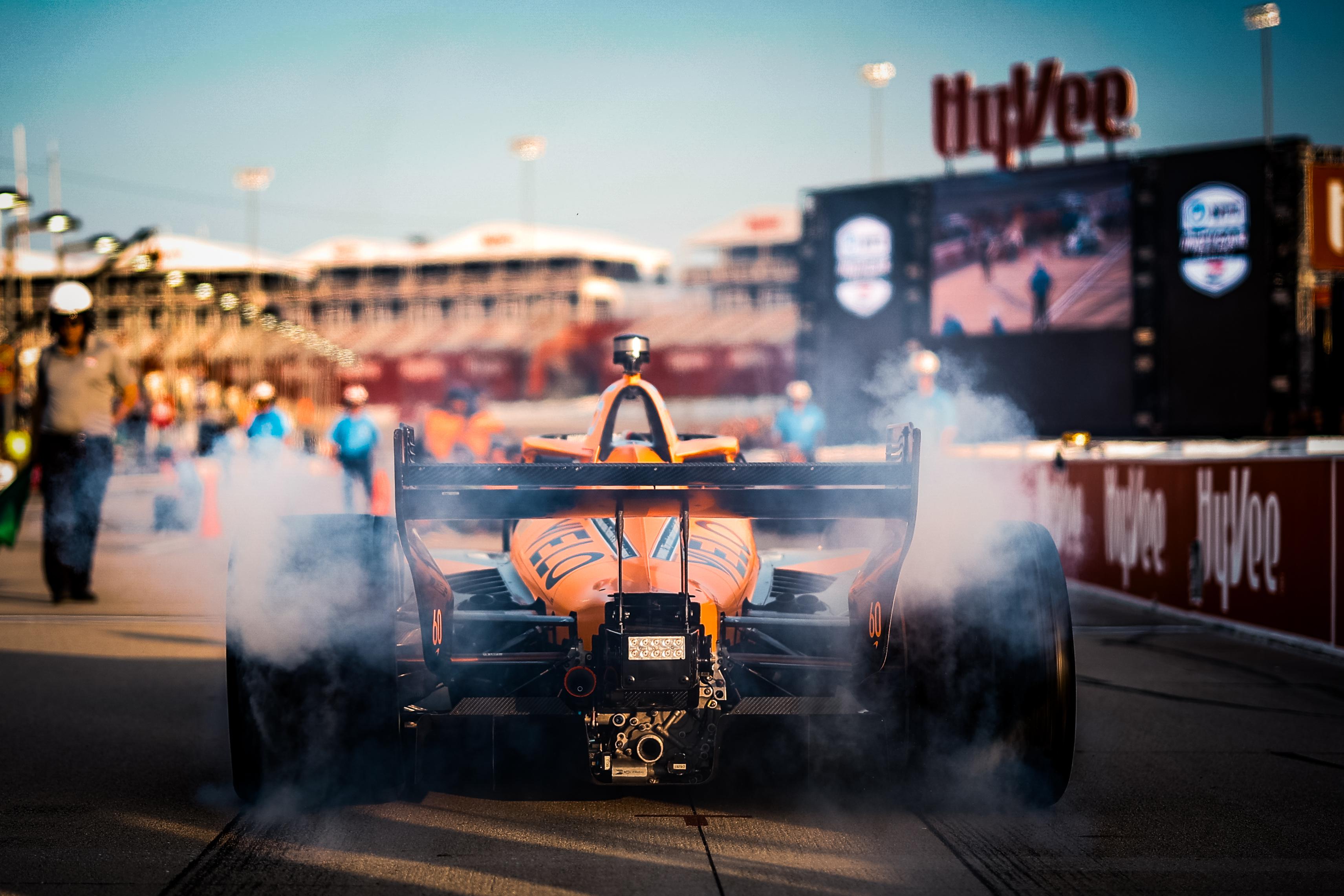 The Race asks: what is it?
"Can we talk about it?" Brown laughs to his PR colleagues listening in. "Sure, why not!" he answers himself and announces "we've got a pretty cool engineering truck coming next year".
He goes on to explain that it will be no normal race haulage truck the likes of which exist elsewhere in the paddock. It smells like something big.
"So we're continuing to upgrade our equipment, our facilities, trying to give the team as many tools as possible," Brown adds.
"We upgraded the hospitality. Engineering will obviously tie directly to team performance. So you'll see something that is pretty cool and state of the art.
"It's going to give the engineers and drivers a better, more complete environment to work in.
"So it will be something more like what you can see in a Formula 1 paddock from an engineering truck."
Technical director Gavin Ward is also sat in on the interview and Racer's Marshall Pruett coyly asks if a driver-in-loop simulator will be coming for 2024 too.
"We wouldn't rule anything out, we look at everything," Ward replies with a wry grin.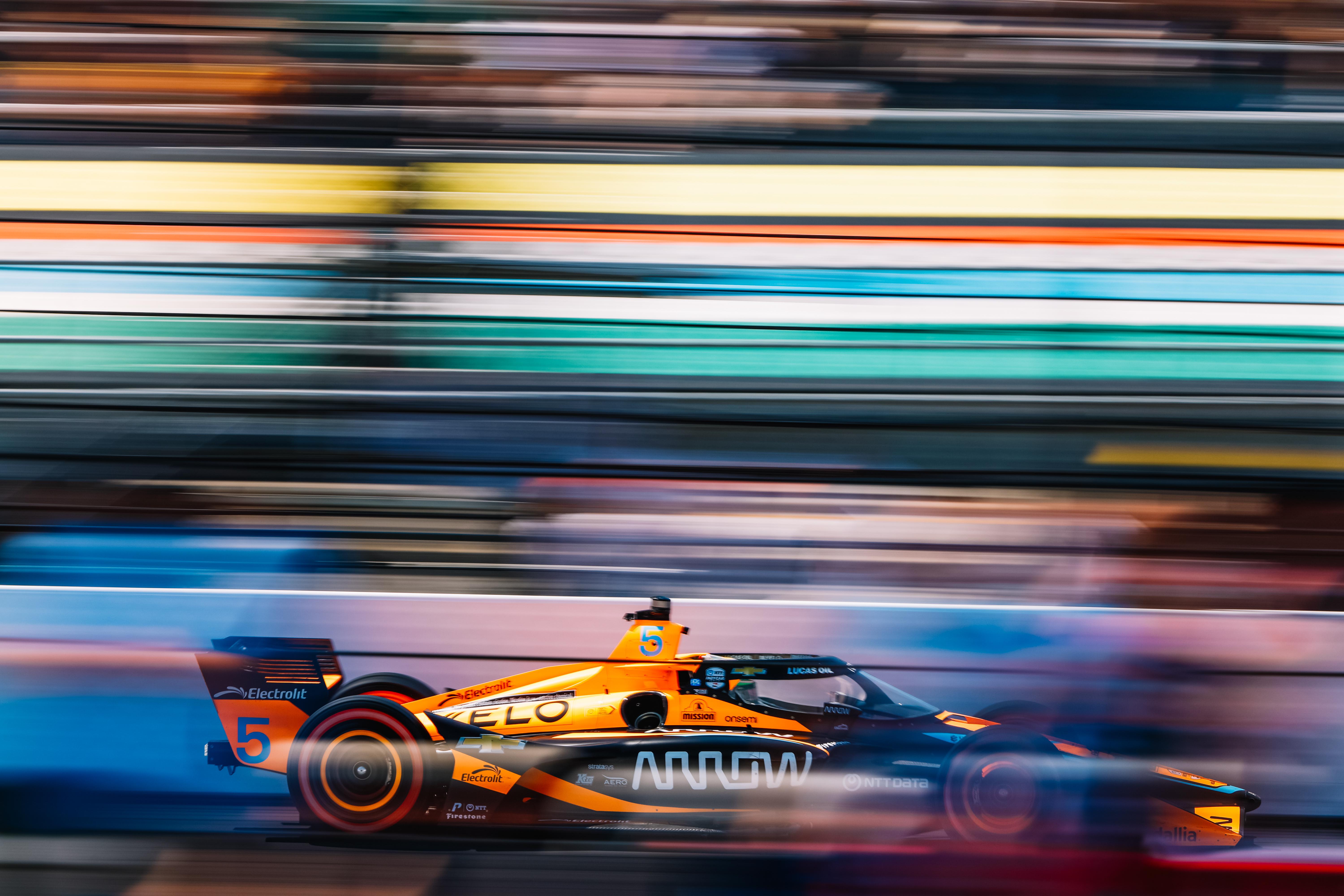 Most IndyCar teams don't even have a sim at all because their engine suppliers Chevrolet and Honda both have sims that are regularly compared to F1-level designs in terms of accuracy, and are constantly upgrading their facilities.
But there's no doubt a sim of its own would be a massive benefit to a team with three drivers, and in a series where you sometimes get just one practice session before going straight into qualifying.
Back to that F1-style truck. Other teams have engineering rooms in their team haulers, but what Brown is describing is a separate vehicle dedicated purely to engineering and based on an F1 set-up. That's something no other IndyCar team has.
For Ward, moves like this are about not being having illusions about the ambition McLaren's rivals have and what they are capable of.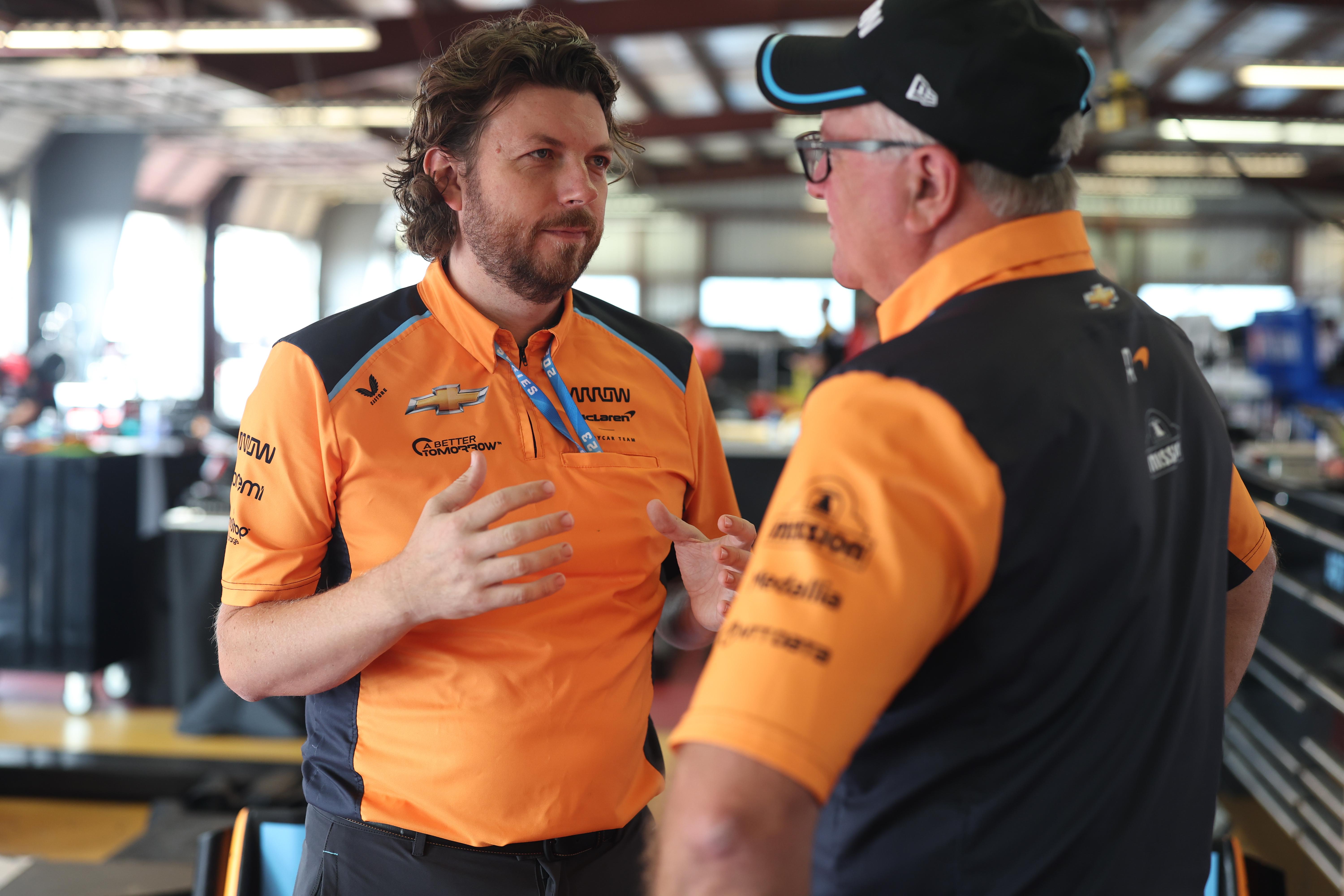 "We can't be naive to the infrastructure we're up against," says Ward.
"Penske has got a windtunnel programme, Ganassi run cars through a tunnel on a mountain in Pennsylvania for a month a year. We're not the only team that's putting something in.
"Our opportunity if I was to [flesh] that out, is like: that's an established investment they made 10-20 years ago, the sport's moved on. What does the sport need now? That's where we're going to invest."
It's also part of a wider plan to improve McLaren's at-track capabilities.
When Ward took over as technical director last year – after coming from engineering Josef Newgarden to a title with Penske and previously doing just about every job in systems, aero and engineering at Red Bull in F1 under Adrian Newey – he acknowledged McLaren was years and years behind its IndyCar rivals just in terms of the equipment it had to go racing with at the track.
This does feel slightly different in the sense that the engineering truck is a revolution rather than following others' evolutions. You wonder how many engineering trucks we'll see sprouting up in the paddock over the next two-to-five years.
If McLaren does want to get creative with other new ideas, it is slightly limited.
The team is still operating out of the Schmidt Peterson factory that was only designed for one or two cars, not three full-time cars and a fourth for the Indianapolis 500 as McLaren now operates.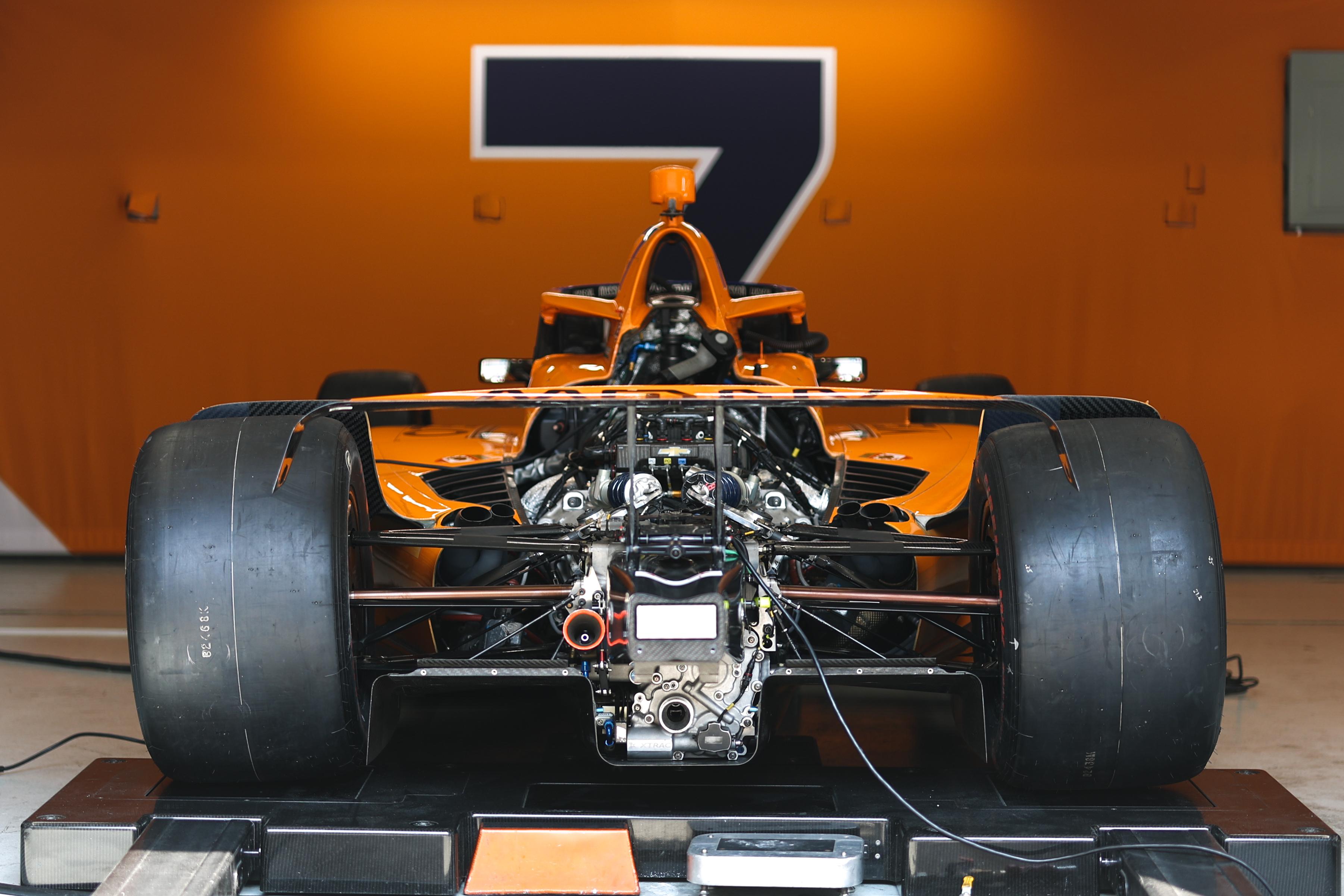 It is waiting to move into a new factory – Andretti's current one, which has run as many as five full-time entries and a sixth for the Indy 500 – but Brown confirmed last weekend it would be moving in for 2025, and not fully operational until 2026.
For a team that has made no secret it wants to move to four full-time cars, that delay is an issue.
It has expanded to some off-site campuses like utilising a nearby warehouse as a gym, and has an off-site paint booth, as examples. But obviously in an ideal scenario that would all be together.
One of the ways it could have overcome this would be to sign a technical partnership like Meyer Shank has with Andretti where two teams share data and sometimes equipment, sometimes personnel, for mutual benefit.
The 'bigger' team gets the data from another car on track, while the 'smaller' team gets better equipment that has been developed over a longer period with more resources than its own has access to.
A similar arrangement was rumoured between Juncos Hollinger Racing and McLaren, but Ward has confirmed that is not the plan, for 2024 at least.
A "strategic" partnership is more likely according to Brown. It's hard to know what that means.
McLaren doesn't need the cash of a pay driver, and it has made it very clear new arrival David Malukas has been signed purely on merit. He is not bringing budget to the table.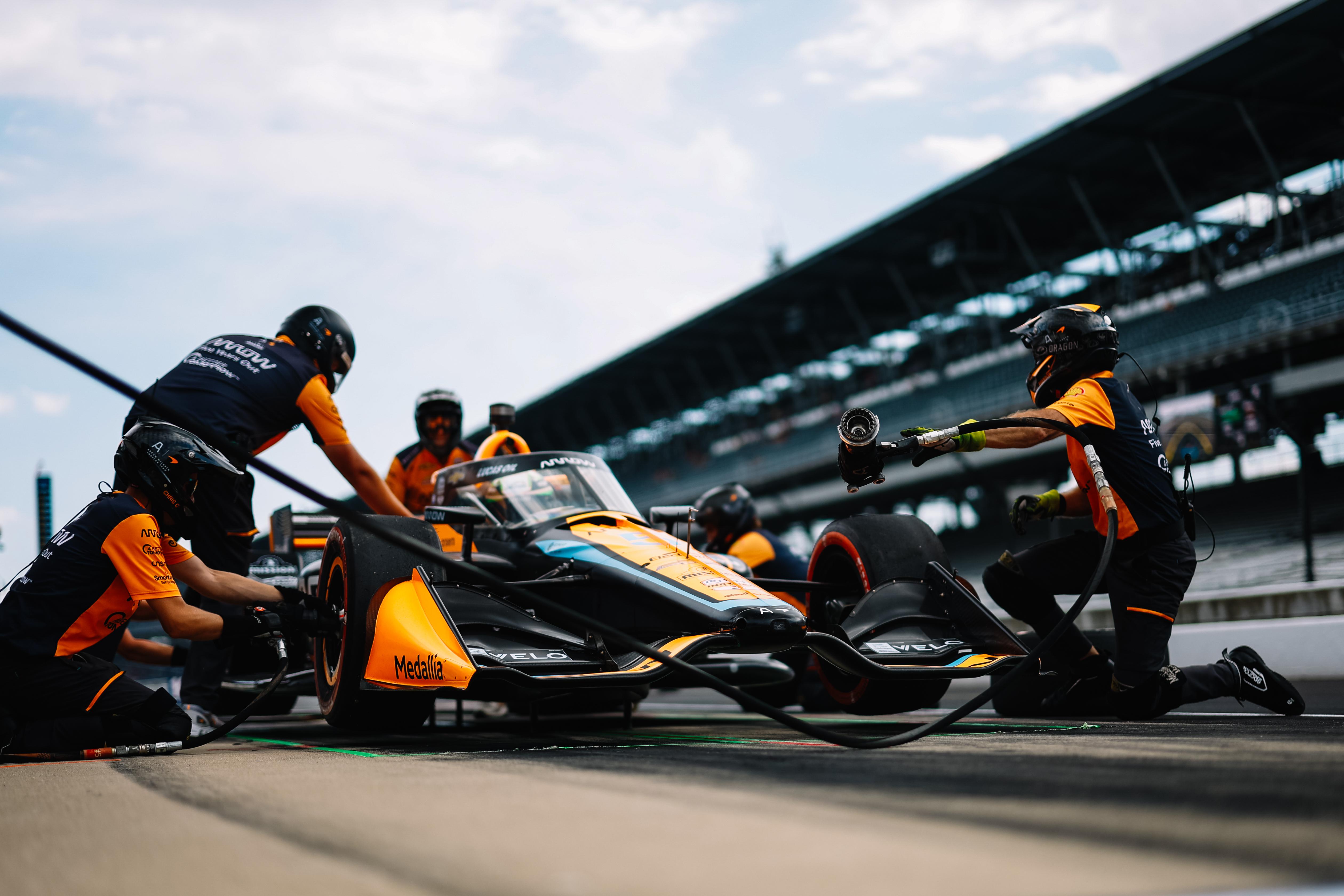 Signing a partnership with Malukas's father's team HMD, which has now won the last two Indy NXT titles and wants its own IndyCar team for 2025, could be an option. But that's only The Race hypothesising.
An even more formalised relationship with Hendrick Motorsports could also be an option as it has already joined up for the Indy 500 in 2024 with Kyle Larson, who will get his first IndyCar test later this year.
Ultimately, given there is a new a hybrid engine programme – that is testing again next week at Sebring, with McLaren understood by The Race to be involved – that may not even be ready and certainly will be a tough push for the teams and manufacturers next year, McLaren has kept things relatively straightforward.
For 2021-22 it bought the team formally. For 2022-23 it expanded to a third full-time entry. That third entry has been a success in the sense that Alexander Rossi finished higher in the championship than the more established-at-McLaren Felix Rosenqvist.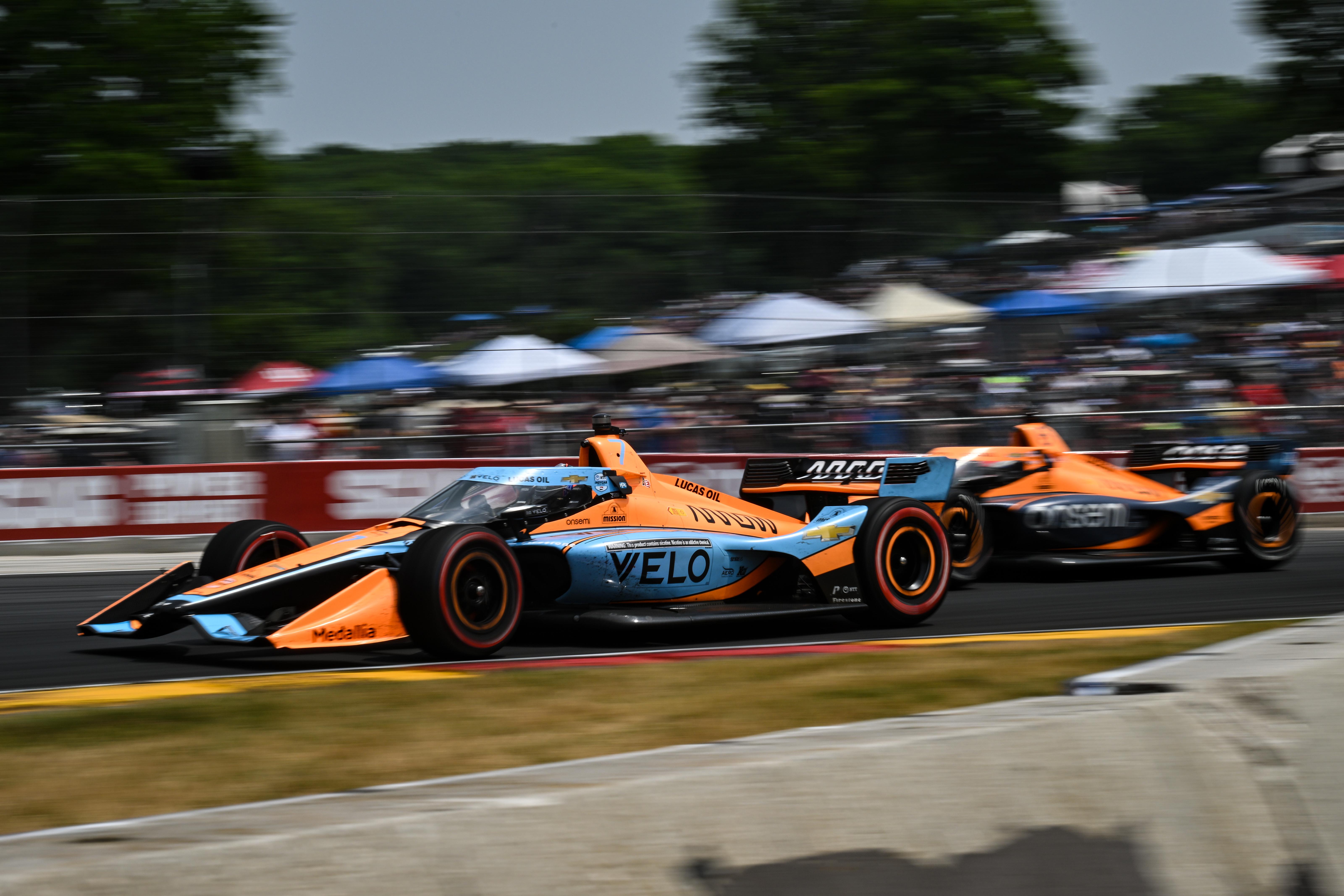 But even with all that, O'Ward was still clearly some way ahead of his team-mates, and McLaren couldn't win an IndyCar race in 2023. That's something you can tell nags at it.
Keeping things relatively simple for 2024 should allow the team to refocus and concentrate on executing on a race weekend better than it has even in 2023, and use its latest F1-inspired technology to make another step forward.
No one expected an instant title back in 2020 and even now there's patience that this is a long-term project that still needs a lot of investment.
Sometimes avoiding seismic change and making smaller tweaks can allow for even better performance.