With 35 laps out of 95 being run under caution, and with 17 penalties dished out to 12 drivers, IndyCar's Laguna Seca finale was a brilliantly awful, spectacular farce.
Only two of the top-six finishers were without penalties in what was, apparently, a last race of the season brawling match to decide the manufacturers' championship, rookie of the year and the final positions in the Leaders Circle prize fund, which is worth almost $1million each to the 22 cars that make it in through the points standings.
Andretti Autosport reckons over 70 minutes of the race was run behind the pace car, which needed refuelling in the pits such was its level of usage!
The pace car needed more fuel thanks to the high number of cautions we've had so far today. 😆

📺 : @NBC and @peacock | #INDYCAR pic.twitter.com/E7mkwkXT8X

— INDYCAR on NBC (@IndyCaronNBC) September 10, 2023
With so many incidents and drivers yo-yoing up and down the grid based on penalties or strategies helping or hindering, The Race has picked out the winners and losers but refuses to be held responsible if we've missed anyone because… well, carnage.
Winners
Chevrolet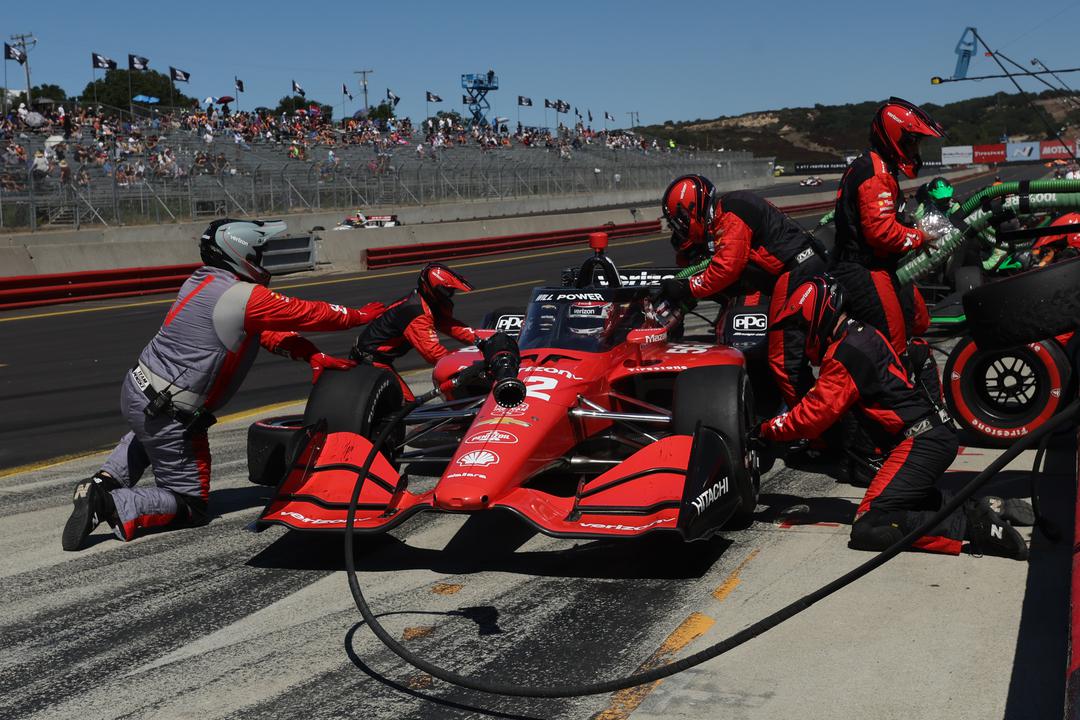 It only won five races to Honda's 12 and took six poles to Honda's 11, but Chevrolet won the manufacturers' championship.
It managed the feat through consistency and reliability. Although Chevrolet has also had its problems, Honda's top team Ganassi has faced the last two races being ineligible to score points.
The championship is worked out by the top two scoring cars from each manufacturer per race, but if a car takes a fifth (or more) engine of the year and is penalised because you can only use four, that entrant is then ineligible for the manufacturers' championship for future races.
So, Will Power in the #12 Penske car was the top manufacturer points scorer from the Laguna Seca race, with Callum Ilott just behind, even though they finished fourth and fifth. Both are Chevy runners.
Despite Honda finishing first and third with Ganassi's Scott Dixon and Alex Palou, Christian Lundgaard was the top eligible Honda entry in sixth, followed by Romain Grosjean in 11th.
Honda still won the drivers' championship with Palou, but Chevy takes home the Indianapolis 500 victory with Josef Newgarden plus this manufacturers' title honour.
Marcus Armstrong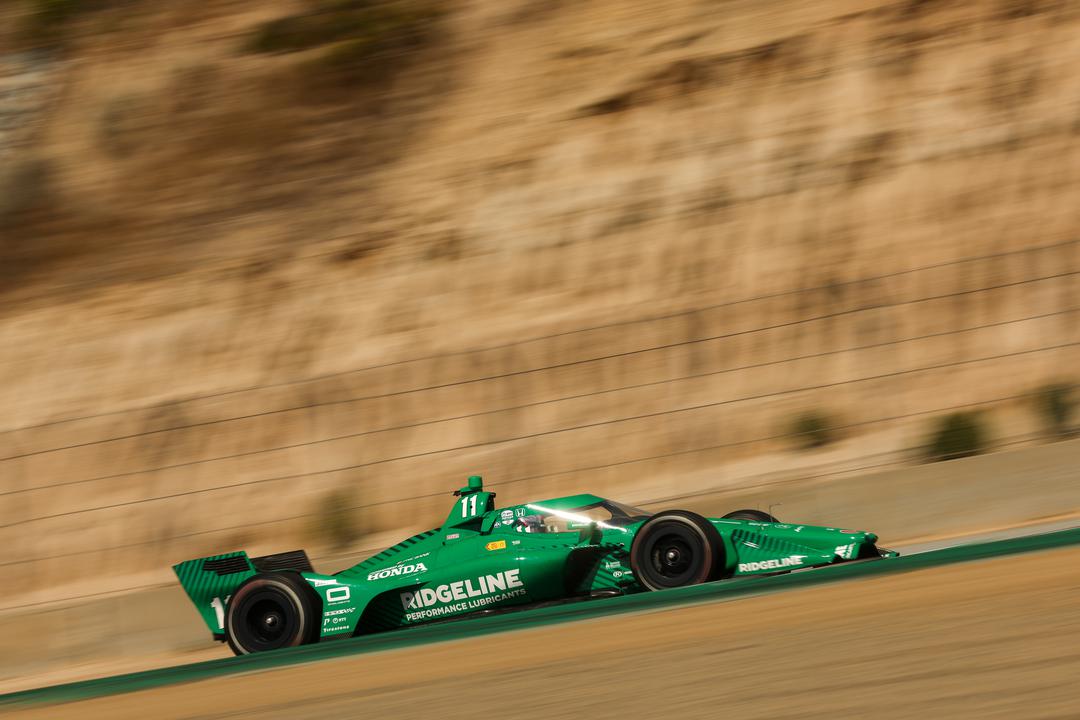 Despite doing five races fewer than his closest rival, Marcus Armstrong claimed the Rookie of the Year award ahead of Agustin Canapino.
It was a wild situation for Armstrong where an out-of-the-blue podium could have boosted Canapino to the rookie of the year title before a broken front wing left him tumbling down the order. Conversely at one stage Armstrong looked he'd win the race as he was the best-placed car on the same strategy as eventual winner Dixon.
Then Armstrong got caught in a mid-race melee that spun him around on a restart and he impressively fought all the way back to eighth despite that.
Trouble for the Rookie of the Year leader. @MarcusArmstrng spins and brings out the yellow.

📺: NBC & Peacock#INDYCAR // #FirestoneGP pic.twitter.com/AHPPkfdBRX

— NTT INDYCAR SERIES (@IndyCar) September 10, 2023
His Ganassi team has been very complimentary about his progress this year and while he'll need to step it up again next year when he does the ovals too on a full-time deal, he's the first Ganassi rookie of the year since Felix Rosenqvist in 2019.
Juncos Hollinger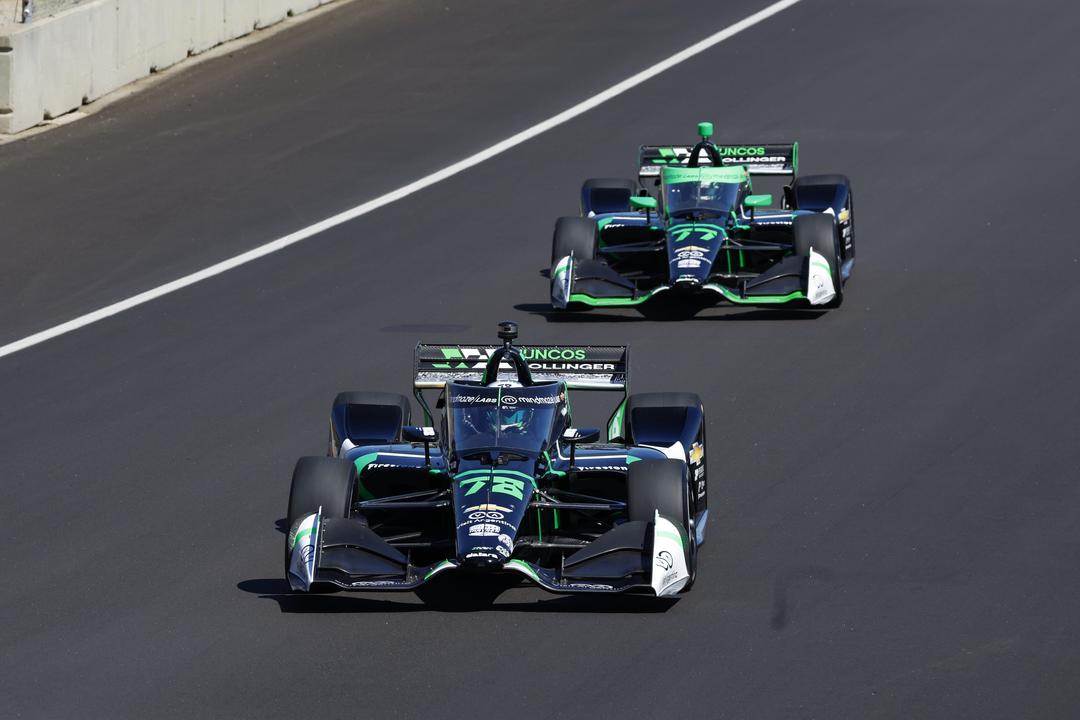 It started the event with Canapino losing his best qualifying of the year in 13th due to a six-place engine penalty, while Callum Ilott was 20th.
Even so, Canapino's strongest drive of the year had gutsy overtakes and a level of aggression he's not been confident enough to deliver earlier in the year. He even led the cars on the strategy Palou was using at one stage.
After just passing Palou, Canapino got loose and clipped Ilott, who was overtaking him in Turn 1, which caused Canapino's broken wing and sent him spiralling to 14th.
Ilott worked his way up to third early on before being caught in a melee at Turn 10 caused by Power.
He was hit in Turn 2, which gave him damage, and he spun entering pitlane, but through sheer will, pace and brute force he worked his way up to a late potential podium, which ultimately became fifth as he went off at Turn 10 late on with the damage impairing his car.
But the finish was key to Chevy's manufacturer success and Canapino's 14th combined with Devlin DeFrancesco's late car issues that left him in sort of a safety mode allowed the Argentinian's Juncos entry to jump into the Leaders Circle, which will help his team no end.
It's not enough to confirm Canapino will be back next year just yet, Ricardo Juncos told The Race after the event, but certainly a big boost for the team.
Scott M
c

Laughlin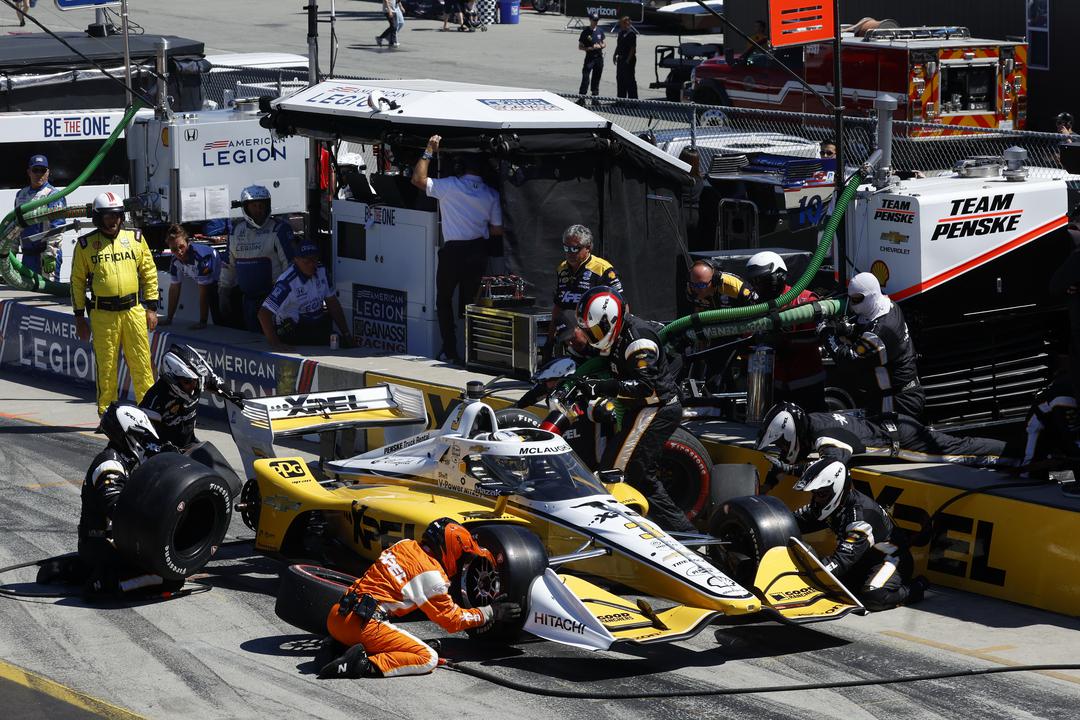 It's hard to tell if McLaughlin will feel like a winner or loser from Sunday. "I hit everything but the pace car" he said afterwards.
He was caught up in the lap one, Turn 1 shenanigans and was clipped off the road by a loose Lundgaard, and then later on got a penalty for hitting Santino Ferrucci – which was harsh as McLaughlin had nowhere to go.
What an UNBELIEVABLE SAVE by @SantinoFerrucci!

📺: @NBC and @Peacock pic.twitter.com/J8R9icw4vc

— INDYCAR on NBC (@IndyCaronNBC) September 10, 2023
He was then penalised again because he pitted before serving his penalty to go to the back of the field, which isn't allowed, so he went to the back and fought back again.
Another driver using consistent pace and determination as the caution laps racked up, it took him right back to an eventual runner-up spot.
The real win is that he jumped from fifth to third in the points, which makes him best of the rest behind Palou and Dixon, plus the top Chevy driver and Team Penske driver.
That's big bragging rights for the driver completing only his third season in IndyCar, and in top open-wheel cars in general after his switch from Australian Supercars.
Ryan Hunter-Reay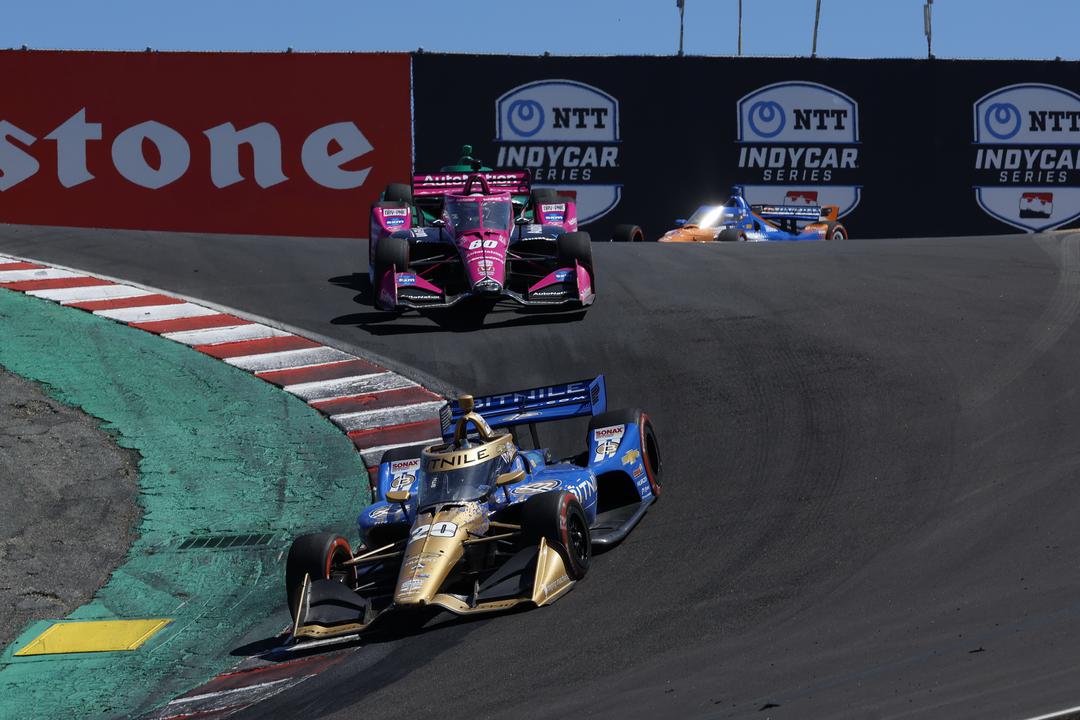 It's been a really tough job for Ryan Hunter-Reay to come in to Ed Carpenter Racing after a year and a half out of full-time competition.
But there's no doubt, even if his performances have not been on par with team-mate Rinus VeeKay for the most part, that his advice and wisdom have been crucial to the team finding ways to improve and areas to progress in the future.
It looks extremely likely that this will have been Hunter-Reay's last race with ECR as both team and driver want to look at different opportunities. But to finish with his first top-10, from 25th on the grid, meant the #20 crew didn't even have to worry about any Leaders Circle permutations.
He did a pretty standard three-stop – doing, perhaps crucially, a shorter stint on his only used set of tyres in stint three – and just stayed out of trouble to earn a season's best result for him and the second top 10 for the car.
Rahal Letterman Lanigan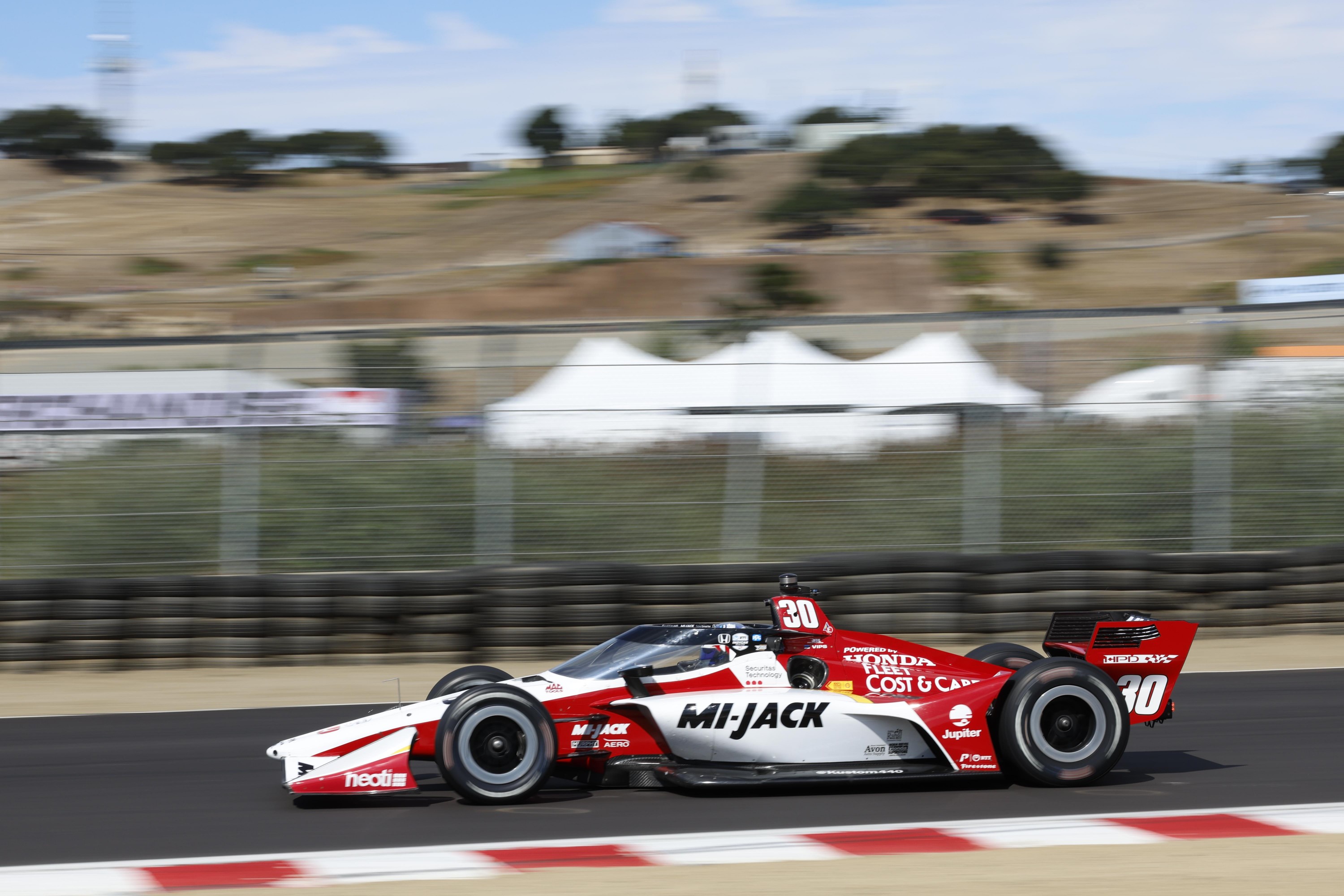 Let's get the bad one out of the way for starters, Graham Rahal was definitely a loser after he was dumped out on lap one with Armstrong nudged Rahal's team-mate Juri Vips into Rahal.
Vips went 20-plus laps down also, but fought on – and his and his crew's determination was crucial because getting ahead of Kyle Kirkwood and Tom Blomqvist to be classified 24th gave him six points instead of the five he would have got for being 25th or lower, and that point was what separated Vips' and DeFrancesco's entries for the last Leaders Circle spot.
View this post on Instagram
Vips had qualified seventh the day before – an engine penalty dropped him to 13th – but his impressive display here and at Portland is surely enough to convince RLL to sign him to its vacant seat for next year.
Lundgaard may have been at fault for the McLaughlin incident but his dogged determination helped him fight back up the order with five pitstops despite the multiple penalties he took for that lap one incident. A sixth-place finish kept him ahead of Alexander Rossi for eighth in the standings.
Losers
Josef Newgarden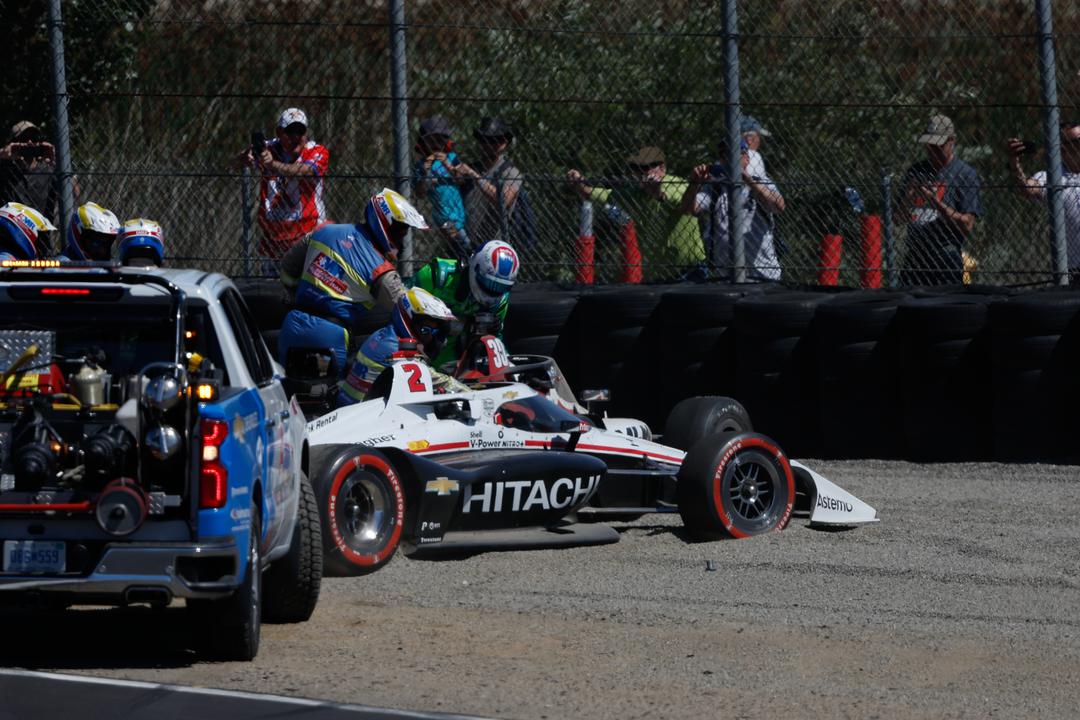 It's been a nightmare end to the season for Newgarden, who was Palou's closest rival just five races ago but has scored three finishes outside the top 20 in races since.
Chaos on Lap 1! 😬

Yellow flag comes out as multiple cars make contact.

📺: NBC & Peacock#INDYCAR // #FirestoneGP pic.twitter.com/xNwpea0lxo

— NTT INDYCAR SERIES (@IndyCar) September 10, 2023
This weekend appeared to start better with fourth in qualifying and his third trip into the Fast Six for the season – an unusually low number for Newgarden and this is his first Penske season without a pole – but he was dumped off the track at Turn 1 on the opening lap.
From there, he was a significant number of laps down and crashed again just a couple of laps after the race went green following his first incident, so perhaps to finish 21st by the end may feel like a win.
A tough end to the season for @josefnewgarden 💔

📺: NBC & Peacock#INDYCAR // #FirestoneGP pic.twitter.com/ellcoe46xm

— NTT INDYCAR SERIES (@IndyCar) September 10, 2023
It's just a shame the Indy 500 winner has concluded in a disappointing way a year with so much to celebrate.
Arrow M
c

Laren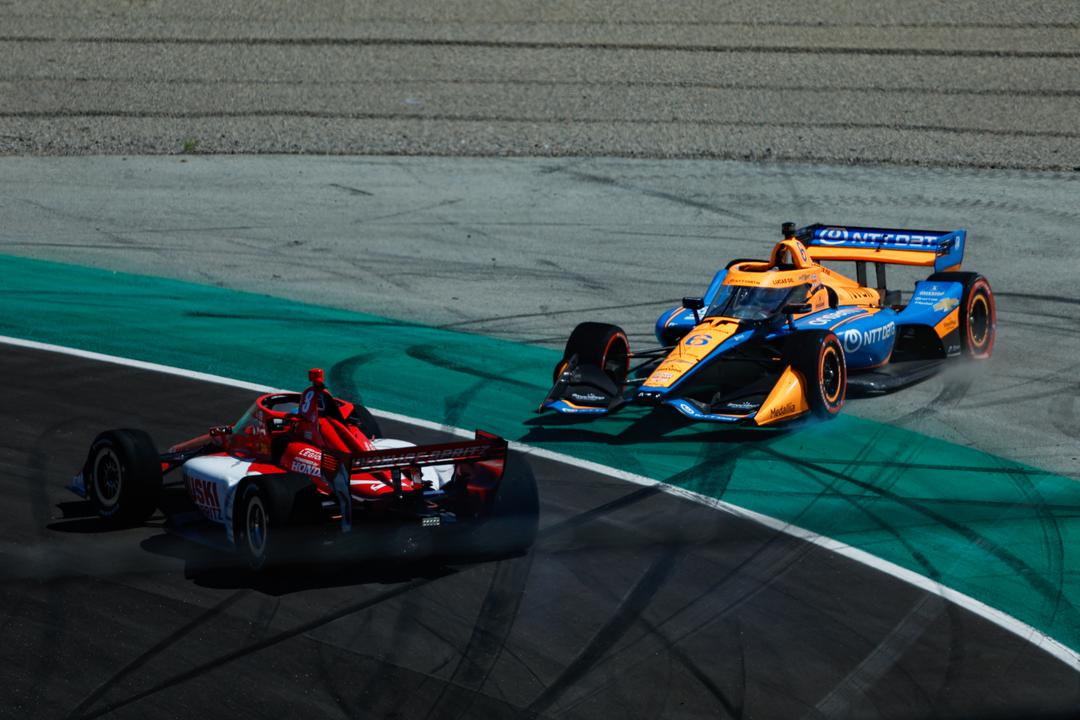 What a weekend!
Felix Rosenqvist bagged his second pole of the year, but was clipped off the track by Marcus Ericsson after his first stop – having already lost the lead to Palou – and then spun a corner after the Ericsson shunt due to a rear puncture.
"A Swedish spin!"@Ericsson_Marcus and @FRosenqvist come together to bring out the yellow flag.

📺: NBC & Peacock#INDYCAR // #FirestoneGP pic.twitter.com/b4i0ol8Al5

— NTT INDYCAR SERIES (@IndyCar) September 10, 2023
The 19th he managed was a good recovery, but not the way he wanted to finish three years with the team as he heads for Meyer Shank Racing, to be replaced by David Malukas.
Rossi did a decent job to turn his 15th-place start into a seventh place, but Pato O'Ward probably suffered the biggest disappointment.
The Mexican took the lead after pitting at the perfect moment – just before main rival Palou ended up stuck out on track under a caution without having pitted. But leaving his soft tyre stint until last was costly for O'Ward as the cautions basically removed the need for a final stop for many drivers while O'Ward still needed to stop to swap tyres as per the rules.
He was then held up for a short while behind Canapino's car with the broken front wing, and ninth combined with McLaughlin's turnaround kept O'Ward fourth in the championship.
This is also the first season since 2020 without an IndyCar win for the McLaren crew.
Andretti Autosport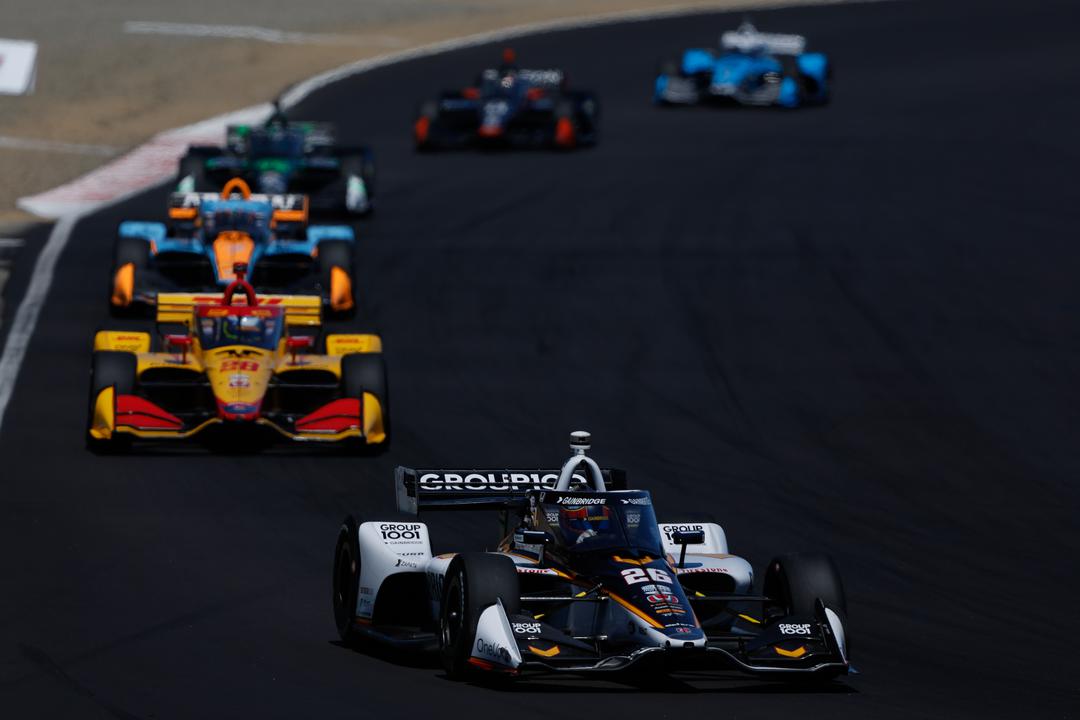 In a season that started with three poles in four races, a win it was robbed of and another it actually scored, to finish with its best driver only ninth in the championship is a big disappointment for Andretti.
Laguna Seca was the best and worst of the team: fast but flawed.
Colton Herta had a spectacular start and ran as high as second before a caution forced him to take service in a closed pit which sent him to the back.
He got back up to 11th with 29 laps to go before clipping the slowing Benjamin Pedersen, and then finally Helio Castroneves took him out of the race.
.@h3lio goes off track and collects @ColtonHerta.

📺: NBC & Peacock#INDYCAR // #FirestoneGP pic.twitter.com/D1zgmAG6ph

— NTT INDYCAR SERIES (@IndyCar) September 10, 2023
Grosjean had a really strong race and went really long through the middle stint, even taking the lead with a stunning move on O'Ward, but at the next round of stops he was jumped by O'Ward and then mired back in a pack held up by Canapino, leaving him 11th in his last Andretti start.
THIS. RESTART. @RGrosjean rockets into the lead!

📺: NBC & Peacock#INDYCAR // #FirestoneGP pic.twitter.com/pKTFMGWFp9

— NTT INDYCAR SERIES (@IndyCar) September 10, 2023
Kirkwood was part of the Turn 1 melee and went laps down with repairs, but did give us one of the most fun moments of the race as he entered a blocked pitlane after Ilott's spin and gave an ironic thumbs up.
The @KKirkwoodRacing thumbs up chain continues. 👍 pic.twitter.com/E0MWkHDyzB

— INDYCAR on NBC (@IndyCaronNBC) September 10, 2023
DeFrancesco came from 26th to as high as third, but was penalised for crashing into Malukas at Turn 4 and later had damage and had to pit multiple times, including at the end of the race.
It cost him and his team a Leaders' Circle spot in DeFrancesco's last race with Andretti. He's expected to move to Dale Coyne while Andretti has multiple options for the seat including slimming down to three cars, which might be more likely following its Leaders' Circle miss.
It came down to the chequered flag, because DeFrancesco – who had been called in for lapping well below the required pits – was reportedly held in his pitbox and not allowed to leave. Because Josef Newgarden was on-track at the end, he is classified as the first driver on that lap.
It's bound to be a topic of conversation between Andretti and IndyCar over the coming weeks.
Tom Blomqvist/Meyer Shank Racing
Blomqvist had run as high as sixth and looked about as home in IndyCar as he has been since arriving for what was his third race with Meyer Shank.
He was 13th on lap 62 of 95 when he was hit by Sting Ray Robb in what looked like really innocuous contact given what had been happening all day, but it was enough to send Blomqvist to the garage for repairs.
A tough incident on the restart after a strong run for @SantinoFerrucci.

📺: NBC & Peacock#INDYCAR // #FirestoneGP pic.twitter.com/f6B9qwG0m2

— NTT INDYCAR SERIES (@IndyCar) September 10, 2023
The result meant Blomqvist's number 60 Meyer Shank car missed out on the Leaders Circle top 22, which is a blow to the team although its two-car future on the grid is secure.
Blomqvist certainly looked more impressive than in any other IndyCar race so far, which is less than can be said for his team-mate Castroneves, who spun twice in two corners early on and almost took Palou out of the lead, and later on stuffed Herta out.
.@h3lio and @AlexPalou almost come together! 🫣

📺: NBC & Peacock#INDYCAR // #FirestoneGP pic.twitter.com/ufn7SkLwqo

— NTT INDYCAR SERIES (@IndyCar) September 10, 2023
It was likely the 48-year-old's last road course appearance and he looked more like a rookie than veteran despite the 13th-place finish.
David Malukas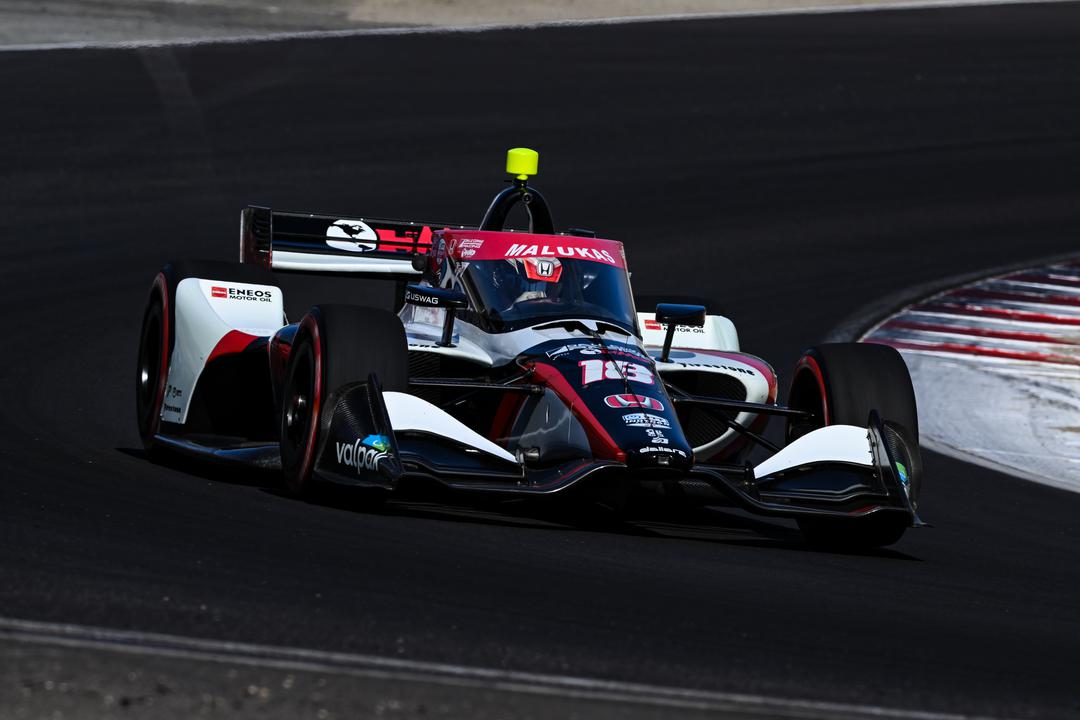 It was the end of a two-year spell of Malukas at the Dale Coyne team, and at one stage it looked like it could go so well with the McLaren-bound driver running well inside the top 10.
However, he was pushed off track by DeFrancesco – who got loose at Turn 4 and smashed into the side of Malukas.
A collision between @DevlinDeFran and @malukasdavid brings out the yellow flag.

📺: NBC & Peacock#INDYCAR // #FirestoneGP pic.twitter.com/vtVGBy0apT

— NTT INDYCAR SERIES (@IndyCar) September 10, 2023
It's been a tough year for Malukas and it's not the way he or HMD would have wanted their Coyne partnerships to end in what could have been a brilliant comeback from a tough qualifying in 22nd.
On the plus side, Malukas's team-mate Sting Ray Robb – who is understood to have big backing to bring to a team next season, but that team might not be Coyne – scored a career-best 12th, with the rookie finishing 23rd in the championship but not the last full-time driver, with Pedersen only 27th.