In recent years the Indianapolis 500 has been a fantastic event for showcasing women in motorsport.
Whether it's the many women now working in the paddock, the female-led Paretta Autosport team in 2021, Sarah Fisher's nine starts in the 2000s or Danica Patrick's third-place in 2009, the race has done so much for helping to inspire the next generation.
However, it hasn't always been this way. Until 1971 – when after a lawsuit, four press members gained entry – women weren't allowed in the garage area, and it took early trailblazers like Janet Guthrie and Desire Wilson to normalise them competing at the 500.
Another one of those early groundbreakers was Lyn St James, and 30 years on since she became the first female rookie of the year award winner at the 500 she spoke exclusively about her career to The Race earlier this month.
---
Follow every moment of the 2022 Indianapolis 500 – and the Monaco GP and Mugello MotoGP – with The Race Live Hub on Sunday
---
"I could honestly say, me running an IndyCar at Indianapolis or any other track was not on anybody's radar," says St James of her journey to the 1992 event, which followed a successful IMSA career including a Daytona 24 Hours class win.
"All I wanted to do is drive an IndyCar so when I really approached Dick [Simon, team owner], I wanted to have that experience. We all know careers don't last forever.
"To me watching those IndyCars was like you were just orchestrated to do this thing beautifully."
As much as St James enjoyed driving the sportscar monsters of the 1980s, she always had an eye on an IndyCar.
Simon was the perfect team boss – between 1983 and 1995 he never failed to get a rookie driver onto the starting grid for the Indy 500 – and St James wasn't about to let that record down.
"It wasn't like, 'she was just out to lunch'," St James adds.
"He didn't say you can do this. He said we could do this. Meaning he saw my capability, saw my potential, he saw an opportunity."
St James was a business woman in her own right, which she felt gave her an immediate advantage for finding funding. But even though this was the Greatest Spectacle in Racing, she was not ready for the challenges that lay ahead.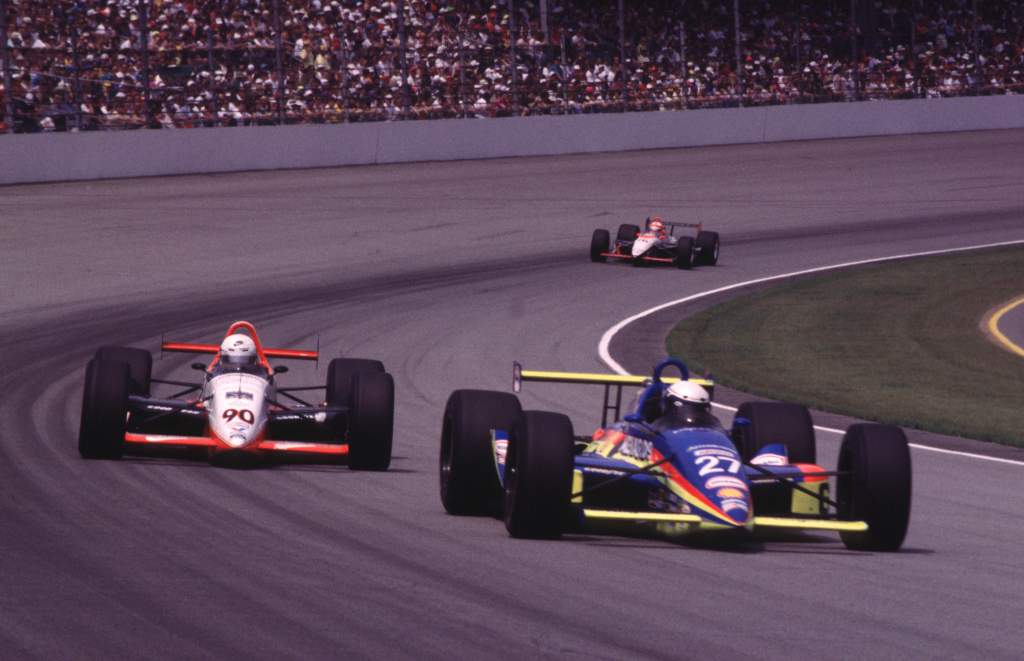 "I thought, 'Indy 500, this is going to be easy, because everybody knows about that race, right?' Well, I think the early meetings were more out of intrigue than interest," says St James.
"People were like, 'is this person for real?' It was just totally off the radar for anybody that I've met with to have me, a woman, that they just didn't know about, to race in the Indy 500.
"And so I was just constantly beating my head against the wall to be honest and very frustrated."
Finally through a friend of a friend St James got a meeting with JC Penney and the rest as they say is history.
Thankfully, the on-track aspect of being one of first handful of women to attempt the 500 was easier than getting the funding to do so, and that might have been down to a pre-existing relationship with one of the most respected drivers on the grid.
St James had been team-mates with AJ Foyt in the 1983 Daytona 24 Hours, and the mutual respect manifested during practice that month.
"I don't recall this particular incident," St James says.
"AJ passed me in Turn 1 and so, he didn't actually pass me, we went through Turn 1 together and then went about our business, right?
"Later, Dick says 'Holy crap, you wouldn't believe it. Everybody's talking about you and AJ'.
"And I'm like, 'What are you talking about?' He goes 'if he trusted you to go around you at Turn 1 like that, everybody's like, he's got to believe that you know what you're doing'."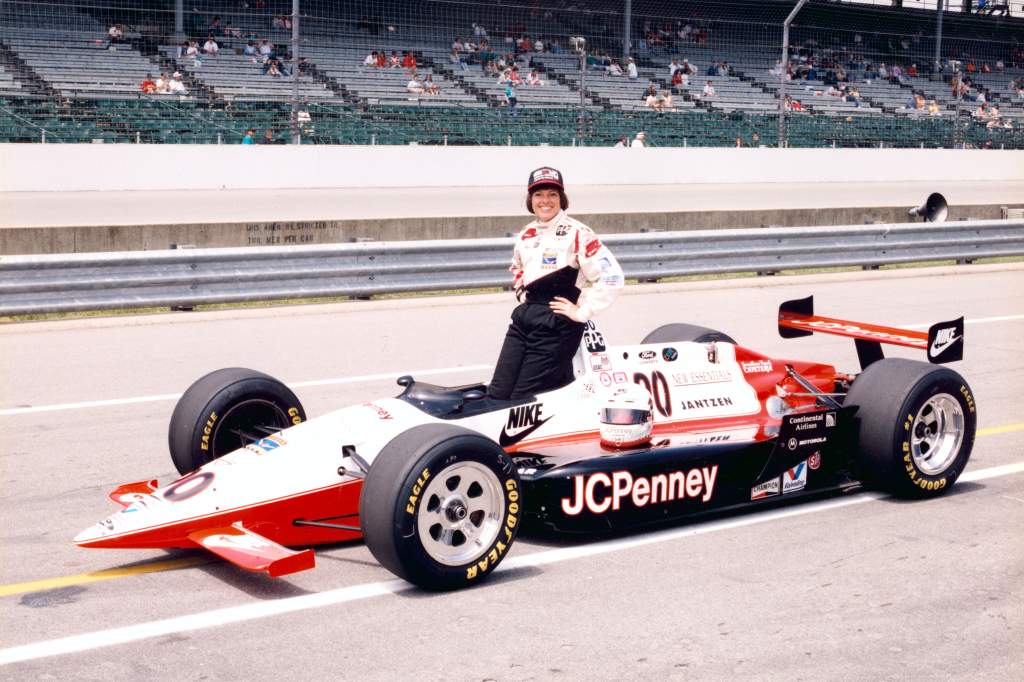 St James qualified for the race, managing a respectable 27th on the grid. When it came to race day, it was before the actual green flag dropped that St James got her first warning of what would be a tough 500.
"The first one was the shock of [Roberto] Guerrero, the polesitter, crashing before the start of the race!" explains St James.
"You knew you had to pay attention and get your head in the game!"
That day the cool weather put grip at a premium and some of the race's biggest names fell by the wayside. Restarts especially seemed to be problematic and St James reckons her previous experience was absolutely crucial to staying in the race.
"The veterans and maybe some of the other rookies were used to getting on the power right when it goes green, they're gone," says St James.
"I came from the types of racing in sedans where you've got to go a couple of corners before I lean on these tyres.
"So I think that was just in my repertoire, the tyre was never right there for you.
"I probably lost positions on the restarts, but then stuff happened again and I would then gain positions because somebody's off. I think my experience from another type of racing actually played into my hands.
"I'm smooth. I like high speed corners and I'm strategic. That's my style. That just sort of works at Indy."
The race came down to the wire with Al Unser Jr famously beating Scott Goodyear by 0.043 seconds to join Al Sr and the first father-son duo with Indy 500 wins behind them. Only 12 of the 33 cars finished and just four were on the lead lap!
An absolute nightmare of an event to make your debut, but perhaps perfect in many ways for St James' style as she brought her Lola-Chevrolet home in 11th.
Though she was the only one of the six rookies to make the finish, the rookie of the year award at the Indy 500 isn't necessarily decided by the result. It's voted for by a panel of experts, who felt St James merited it over future IndyCar champions Paul Tracy and Jimmy Vasser (who retired in the same incident, when Tracy's engine blew and Vasser went into the wall).
Asked if she understood back then what the rookie of the year win – an award she didn't know existed before the race! – would mean to women all over the US and the motor racing world, St James says: "Not in '92. In '92 I was really like Alice in Wonderland. I mean, I was really self absorbed, 'I made it! I'm here God dammit!'.
"Then what happened is I started getting wave after wave of fan mail.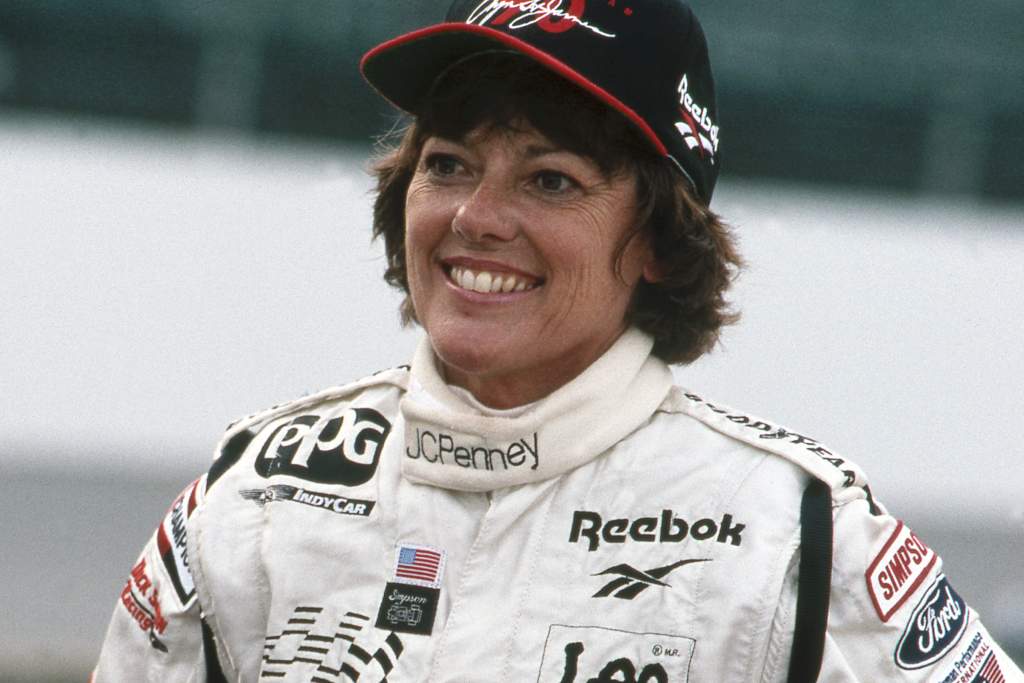 "The Women's Sports Foundation, that I was involved with, Billy [Jean King] hammers into us athletes: 'you are the most powerful while you're competing, and it's not about you!'
"I had to say to myself: 'this is not about you Lyn!' This is about you know what you can do to change the sport or maybe not change but to help the sport grow and change the lives of the people who aspire to do what you did."
Not long after her victory, St James was asked to present the award to the winner of the Soapbox Derby in Akron Ohio, which fittingly was won by a female team. But when asked if they knew who St James was, they didn't.
"That was the most humbling experience", St James recalls, reminding her she had more to do to bang the drum for women competing in motorsport.
St James has done that in spades since, effectively dedicating her life alongside her racing career to opening opportunities to women in motorsport all over the world. She's involved in countless initiatives from Women in Motorsports North America to the FIA Women in Motorsports Commission.
Not content with all of that, St James has also mentored a number of media and racing personalities over the years, and has given back far more than winning at Daytona, racing at Le Mans or scoring the Indy 500 Rookie of the Year.