The Paretta Autosport team, which aims to increase female representation in IndyCar and motorsport, won't compete in the Indianapolis 500 this year but will contest three road courses in the second half of the season as part of a new tie-up with Ed Carpenter Racing.
The female-led Paretta Autosport squad made its debut at the Indy 500 last year as eponymous team owner Beth Paretta was given the support of IndyCar's Race for Equality and Change initiative.
Penske – which owns the IndyCar Series and the Indianapolis Motor Speedway alongside its racing commitments – helped by loaning members of crew, a facility to house the operation and equipment.
Simona De Silvestro drove the car and qualified 33rd and finished 31st, although de Silvestro's qualifying lap in particular was praised by the other Penske drivers who were also struggling with the team's car.
As well as having a number of female mechanics and engineers on the team, the squad had four female members of its pit crew that went from no experience of IndyCar pitstops to competitive times in around four months.
It was reportedly made clear that Penske's support in its totality would only be possible for one year, and it emerged at the turn of the year that the team was going to struggle to amass the resources – mostly in terms of personnel – to contest the 500 again.
Penske has had to redistribute members of its team to its Porsche sportscar programme for 2022.
Paretta has now joined with ECR to race at Road America, Mid-Ohio and the Nashville street circuit again with De Silvestro behind the wheel.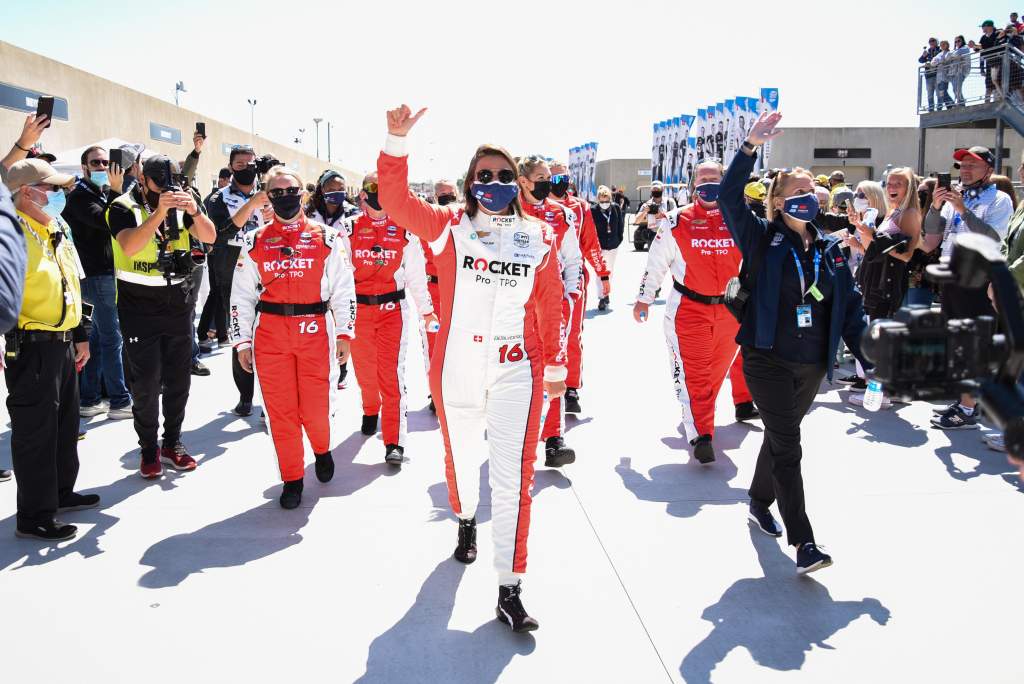 Paretta says the "majority" of its 2021 crew will return and the new schedule and partners joining the team are an "investment in our future".
The combination has been made possible with a link-up between the team's shared engine supplier Chevrolet, which also supplied Paretta last year.
ECR will supply "technical support' and "manpower" behind its effort, and Ed Carpenter himself joined Tuesday's announcement to say he had been looking to help Paretta in recent years and was glad to be able to combine forces in 2022.
As the team already runs an extra car at all oval events for Carpenter himself, it does not have the extra resources to support an Indy 500 run for the Paretta entry too.
But there will still be a degree of Penske support, as Paretta's crew members will conduct pitstop training at Penske's Mooresville base.
Paretta's car will run with a new predominantly purple livery.
🏎️BIG NEWS!🏎️ @kiwico_inc and #ParettaAutosport are teaming up to drive creativity and innovation among kids around the world. Details here: https://t.co/I7NpWYqr9C #ReadySetKiwiCo #KiwiCo #INDYCAR @IndyCar @IMS @TeamChevy @ECRIndy @simdesilvestro @FirestoneTires pic.twitter.com/zZ3CIQw9RZ

— Paretta Autosport (@ParettaSport) April 19, 2022