After an absence of 52 races and four years, Juan Pablo Montoya is back in the IndyCar Series at Indianapolis this weekend.
He's been racing full-time in sportscars in that gap, winning the 2019 IMSA title alongside Dane Cameron with Penske's Acura programme.
There's not a lot of personal pressure on Montoya this month – the 45-year-old has got IndyCar and Indianapolis 500 legend status thanks to his 1999 CART title and pair of wins in the 500.
But taking the seat vacated by Fernando Alonso does create some expectation – even though Alonso could only manage 21st in last year's 500.
Montoya makes his comeback in the race preceding the Indy 500, the Indianapolis Grand Prix on the venue's road course, where he will form part of a three-car Arrow McLaren SP team alongside regulars Pato O'Ward and Felix Rosenqvist.
The road course race is a lower-profile event that's essentially just a warm-up. This return is all about trying to win the Indy 500.
That's no doubt what McLaren's Zak Brown – who Montoya says called him every year since his last 500 attempt in 2017 hoping he'd race but Penske wouldn't give permission – is hoping for.
What Montoya's bringing that Alonso couldn't?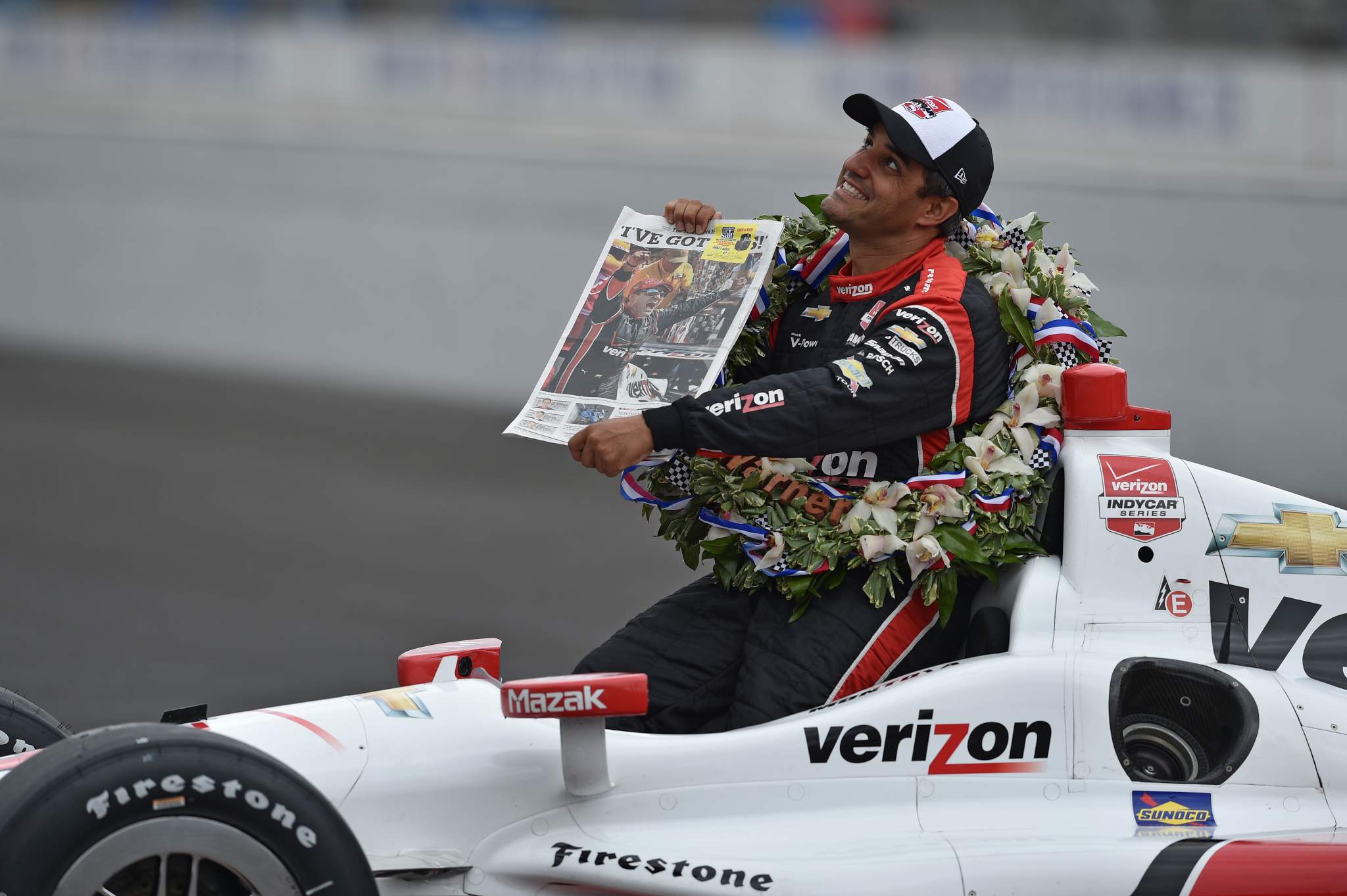 We know Alonso got plenty of simulator time before his last 500, but still 2020 was only his third attempt at the race and only his second actual IndyCar start.
Montoya may have been away, but his 1999/2000 CART seasons and his mostly successful 2014-16 full-time IndyCar comeback give him a decent knowledge bank. He was also involved in IndyCar's in-house test programme for the current aerokits before their 2018 introduction.
And he made an immediate impact on Arrow McLaren SP with his approach before he'd even signed the contract to race this year.
"I pushed a lot for the GP from the beginning," Montoya said earlier this year about the addition of the road course to his programme.
"Do I think we're going to run exceptionally at the GP? Probably not. With the schedule the way it is, you get an hour's practice and straight into qualifying.
"But what's going to make a massive difference is doing the pitstops, the safety cars, the starts, just get everybody in race mode.
"So when we start the 500, we are going there just for testing, we're not trying to put the team together, we're not screwing up trying to look at the data, we know how the radio messages are, we're all lined up.
"The idea is to try to clear all of the things that can go wrong in the 500, everything that could go wrong we plan to do it in the GP, so when we come to the end of the 500 and we get a shot at the end of the day, we're going to be able to do what needs to be done."
That kind of gutsy call is exactly the kind of benefit Montoya's extra experience brings. Alonso's always done the 500 as a one-off entry, meaning not only he but also the team around him has had to get up to speed quickly. The slightly shortened schedule of the 500 last year can't have helped.
As Montoya says, now he and the team can get rid of any errors and head into Indy 500 practice in good shape. It's not a sure-fire route to success and many teams and drivers have tried to use the GP race like this before and still stumbled in the main event. It certainly won't hurt his chances, though.
How it's gone so far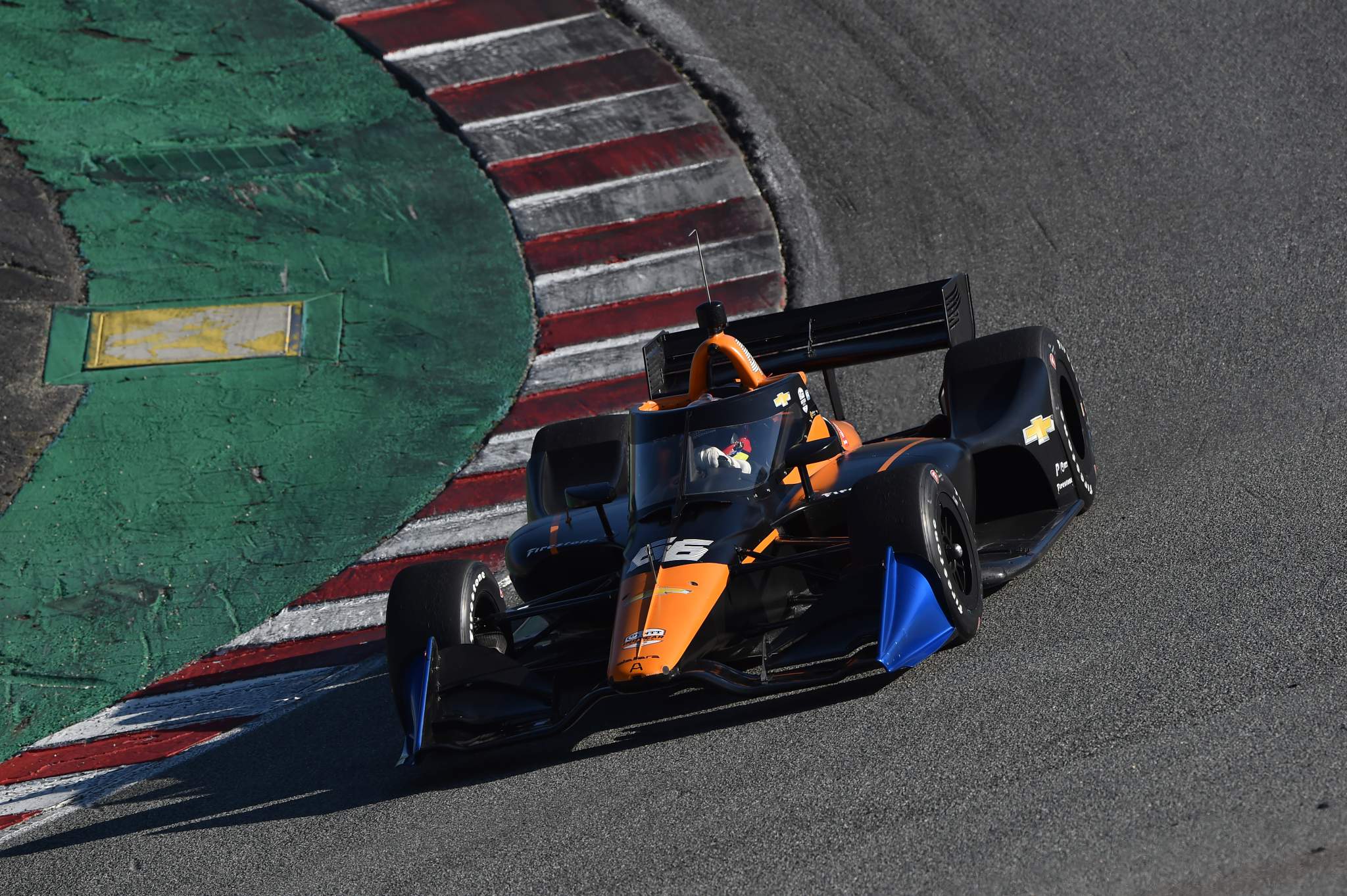 Montoya heads into the Indy GP race with just one road course test under his belt, which is significant as he hasn't raced or tested an IndyCar since 2017 and there's been a massive change since then with the aeroscreen being implemented.
So ideally a few more tests would have been preferable, and with the track conditions being what they were when he ran at Laguna Seca in March, the test he did do was never likely to be too representative anyway.
"It was a shocker to be honest in the morning," Montoya said of that test, in a hint of the outspoken comments Arrow McLaren SP might have to get used to if things don't go well.
"But we worked on it and in the afternoon it was actually a lot of fun, I really got to enjoy myself, and started feeling at home in the car again and it was really, really important.
"In the morning it was really cold, Laguna is difficult, that's the other thing. We probably picked the worst track to go, to get back into our car.
"I know Laguna pretty well from running IMSA, but Laguna is a place that is always very sandy from all the wind and all the way around the track is sand. And it's cold.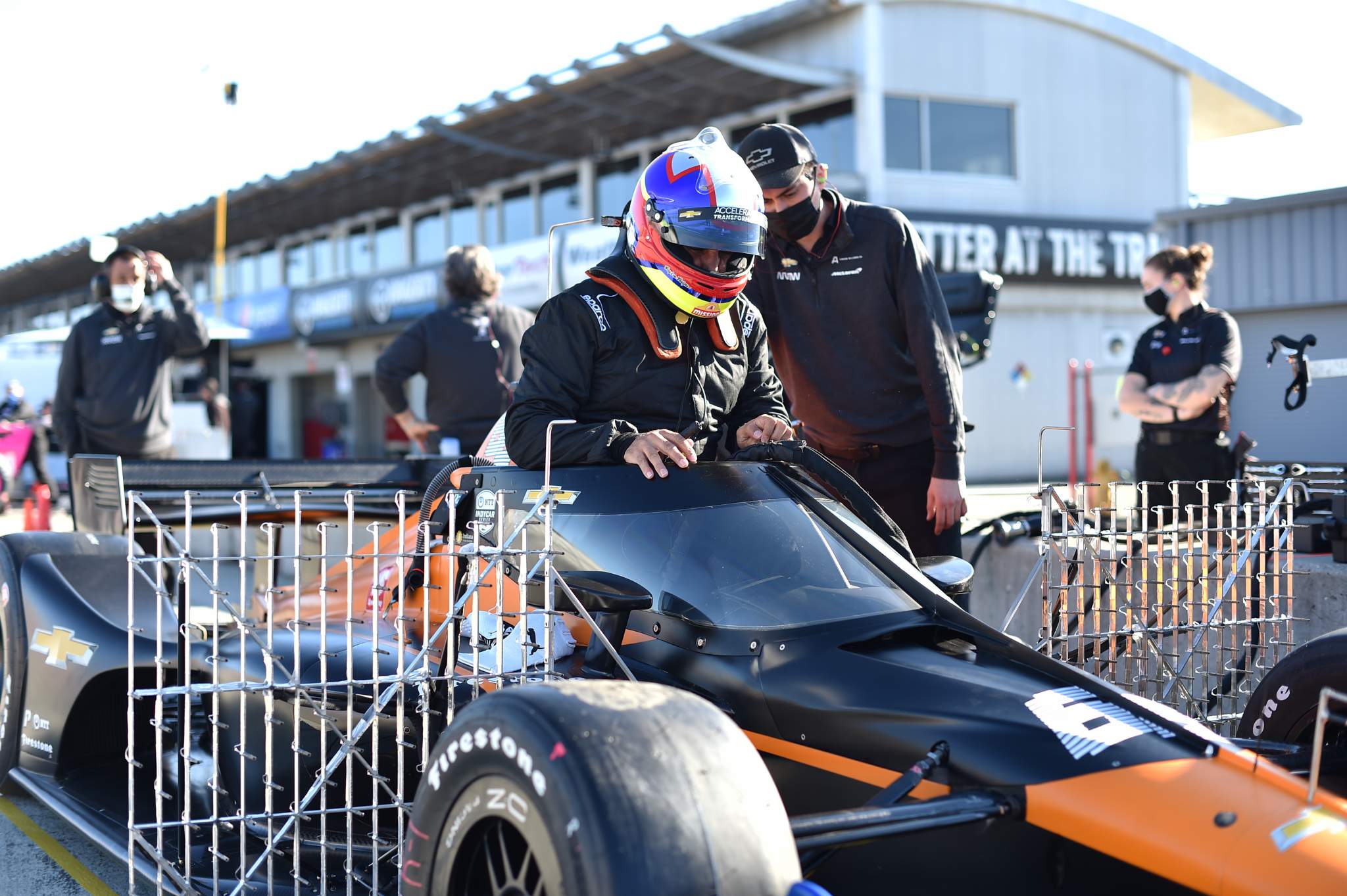 "Honestly on the installation lap I was doing 2mph and felt I was going to crash. Like, what the hell?
"We went through a bunch of aero programme stuff in the morning. After the lunch break Craig [Hampson, engineer] and I started working together.
"It's been a lot of fun working with Craig because he's open for ideas, he doesn't want to impose anything, he really wants to gel together and work together."
If anything, he learned that the team is open to different driving styles and doesn't mandate a driver performs in a certain way.
Montoya's since had two days of testing at Indianapolis itself on the oval.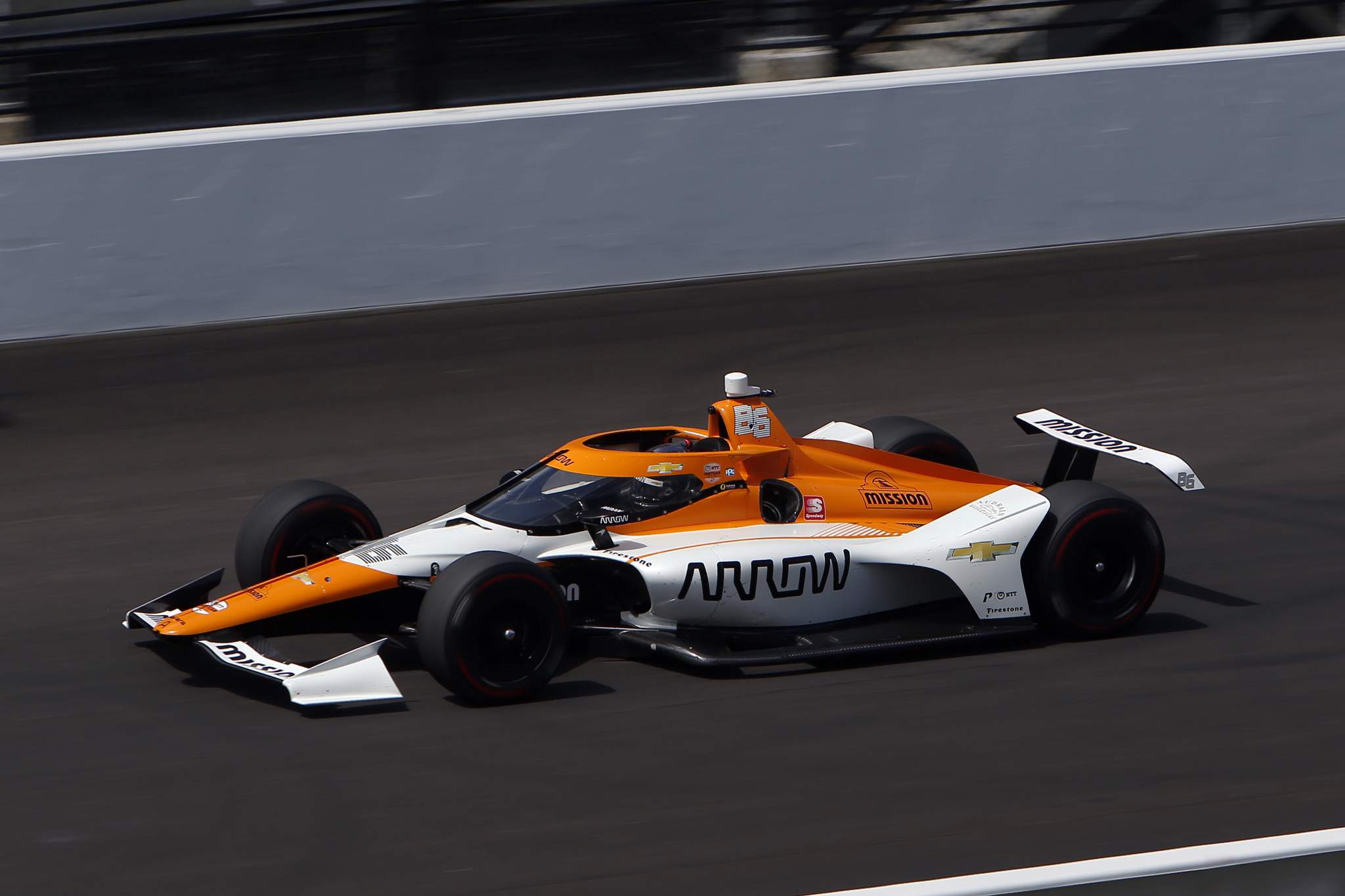 The first day was wet, curtailing running, and Montoya only got 68 laps over the two days, but set the third quickest time.
He called day one "a little shocking getting back in the car", saying "the first few runs with traffic are like… 'ooh'" after time away from IndyCar oval driving but that by day two "you don't even think about it".
"You start relaxing, getting in the flow of things," Montoya said.
"Everyone at Arrow McLaren SP has been doing a very good job. It was fun so far. I think this test was very, very useful."
The issues facing Montoya at the Grand Prix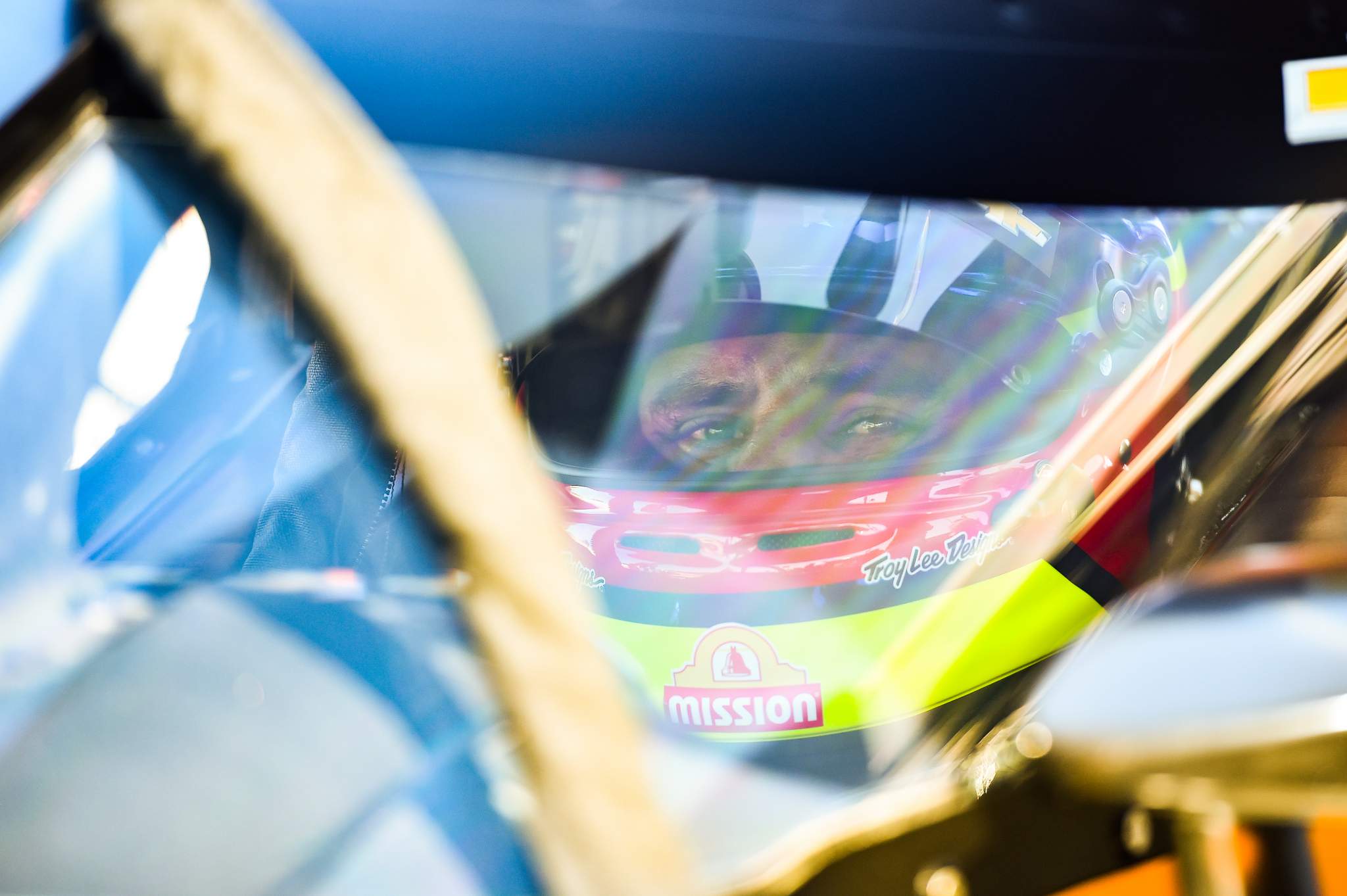 As Montoya's mentioned, the schedule is one of the biggest issues with just one quick practice and then straight into qualifying.
Then there's trying to get around the car.
Speaking to The Race after taking his first IndyCar victory at Texas just over a week ago, O'Ward suggested Arrow McLaren SP has the most difficult to drive car in the championship.
Montoya certainly seemed to identify differing styles at the Laguna Seca test, although O'Ward says he doesn't necessarily like a lively rear and is just driving around the issues.
"The first thing that amazed me was Pato's steering input. Honestly you look at it and you think the sensor's broken…" Montoya laughed.
"And I'm like, 'you know it's not supposed to be like that'.
"Hats off to him to be able to drive it like that.
"My approach is a little different. Craig was very good about talking about what I need from the car, and understanding what we need to change, which direction we need to go.
"What's going to be hard for the GP is that we really only get one shot at it. We don't want to have two cars going one way and the other the other way in an event that's two days.
"I need to make sure that when I get in the car, I'm not going to go out there and just can't even get up to speed because it's going to be doing whatever I don't want it to do.
"That's going to be a bit of a balance. Hopefully we can get in the window. If we can get in the window, we can be competitive."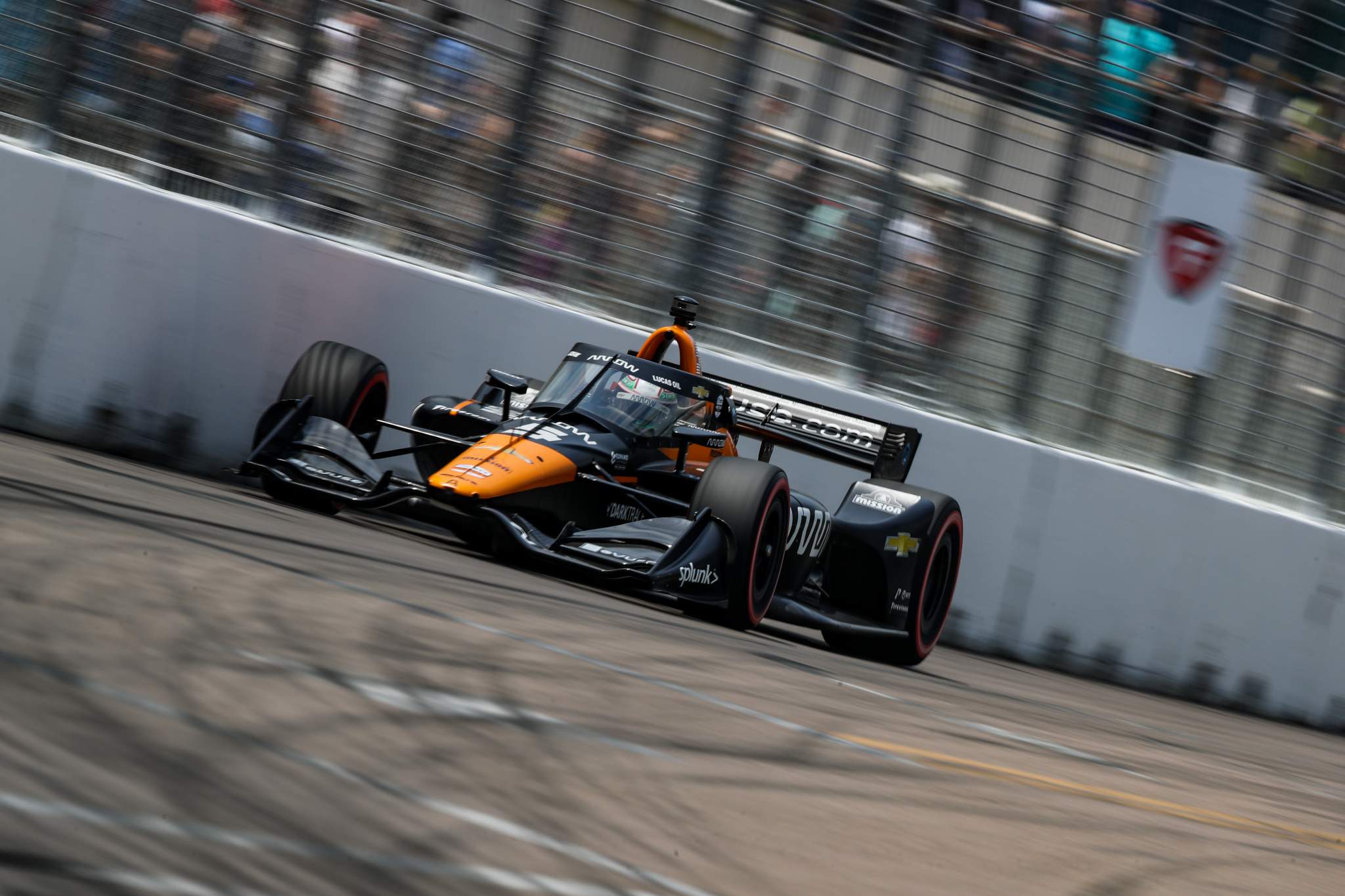 While O'Ward's ability to drive round the issues is spectacular, it's clear Montoya and Rosenqvist need to bring the car a little closer to their styles to extract the maximum from it, at least on the road courses.
Even with Montoya's out of this world car control, trying to adapt to the trickiest car in the field over such a short schedule is going to be an extremely tricky task this week.
What does another legend's AMSP comeback tell us?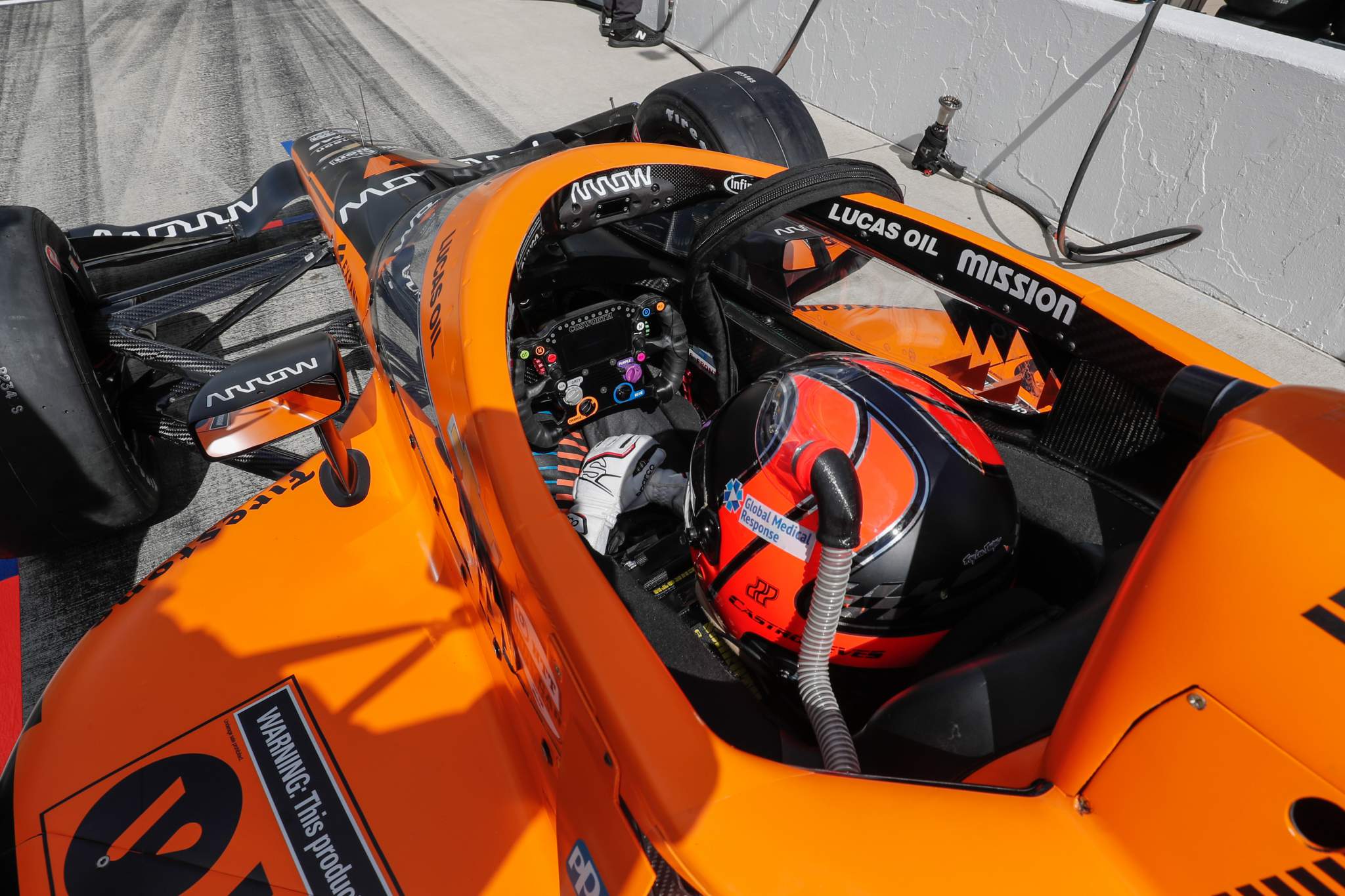 In bizarre but in many ways similar circumstances Helio Castroneves drove for the Arrow McLaren SP team at this track in a one-off at last October's double-header.
Castroneves was drafted in while Oliver Askew was sidelined due to concussion. It was his first race for a team other than Penske in 20 years and his first IndyCar road course outing in almost three years, so although he'd still appeared at the Indy 500 in that time there were similarities to Montoya's task.
Castroneves struggled most of all with the braking with the McLaren set-up versus the Penske car, and finished only 20th and 21st.
He did finish ahead of Sebastien Bourdais – who was also making his season debut at AJ Foyt in race one – but that was a longer-term deal and Bourdais has since turned Foyt into a regular frontrunner.
So there's no doubt Castroneves could achieve more. Just turning up like that is difficult even for someone like Bourdais, and will be for Montoya too.
Don't forget, the difference between qualifying for IndyCar's Q2 or not has been no bigger than 0.0603s over four sessions on road courses in 2021. That's the intensity of competition in the IndyCar Series right now.
How Montoya's previous comebacks have gone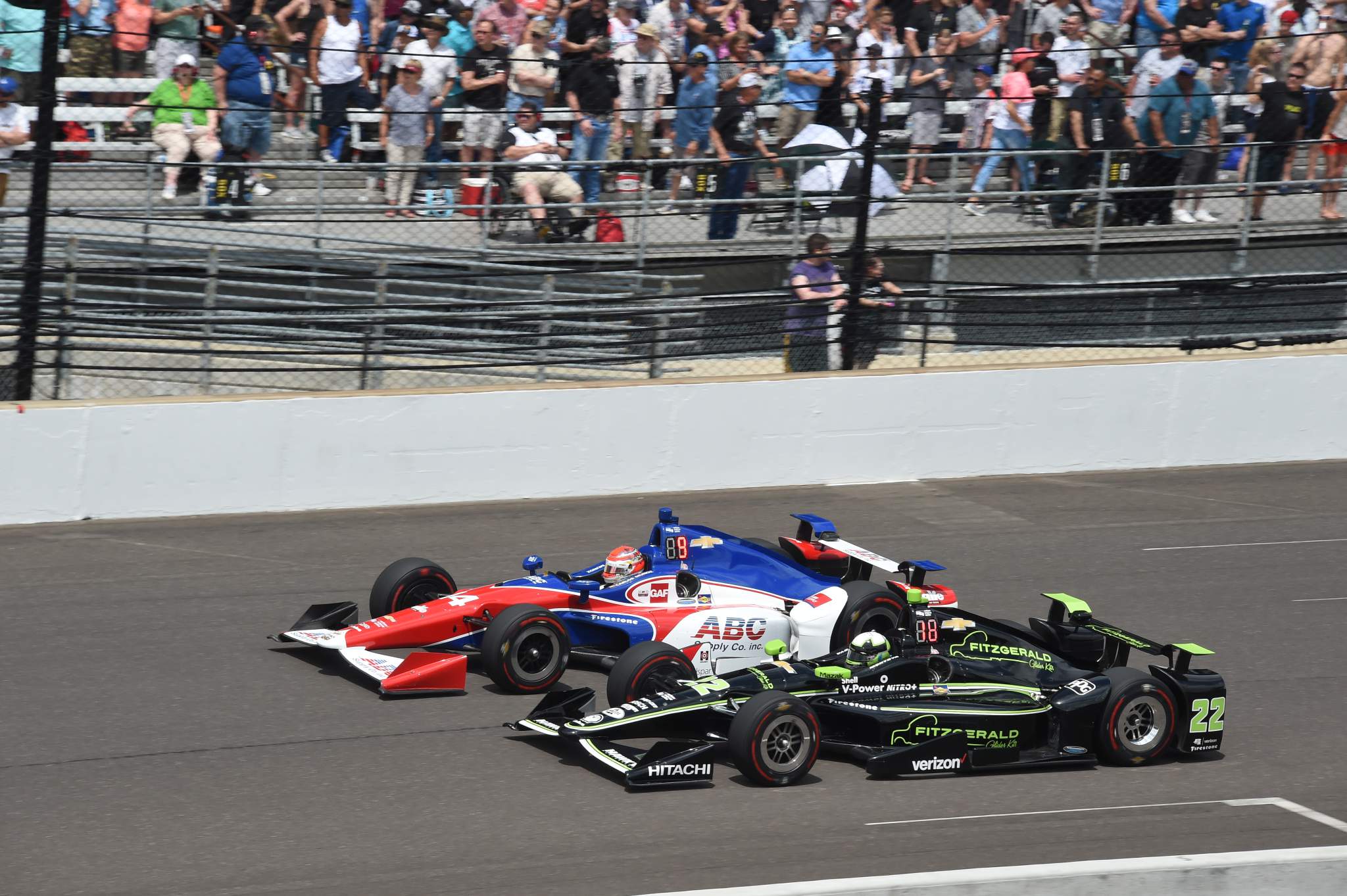 Montoya won his first ever start at the 500 in 2000 for Chip Ganassi Racing, and then didn't return to the race until 2014 as he forged a career first in Formula 1 and then in NASCAR before landing back in IndyCar at Penske. He finished fifth that year, before winning the 500 and nearly the championship too in 2015.
After crashing in 2016 and losing his full-time Penske IndyCar seat at the end of that season, Montoya did contest the Indy road course and 500 in 2017 (pictured above racing AJ Foyt driver Carlos Munoz).
By Montoya standards it was a bit flat, with little of his spicy flair on display. But sixth place made him second Chevrolet runner (to team-mate Castroneves in second) on a day Honda dominated.
That comeback was an easier task than his 2021 mission, though, given he had been a full-time part of Penske's team until the end of the previous season.
Can Montoya win?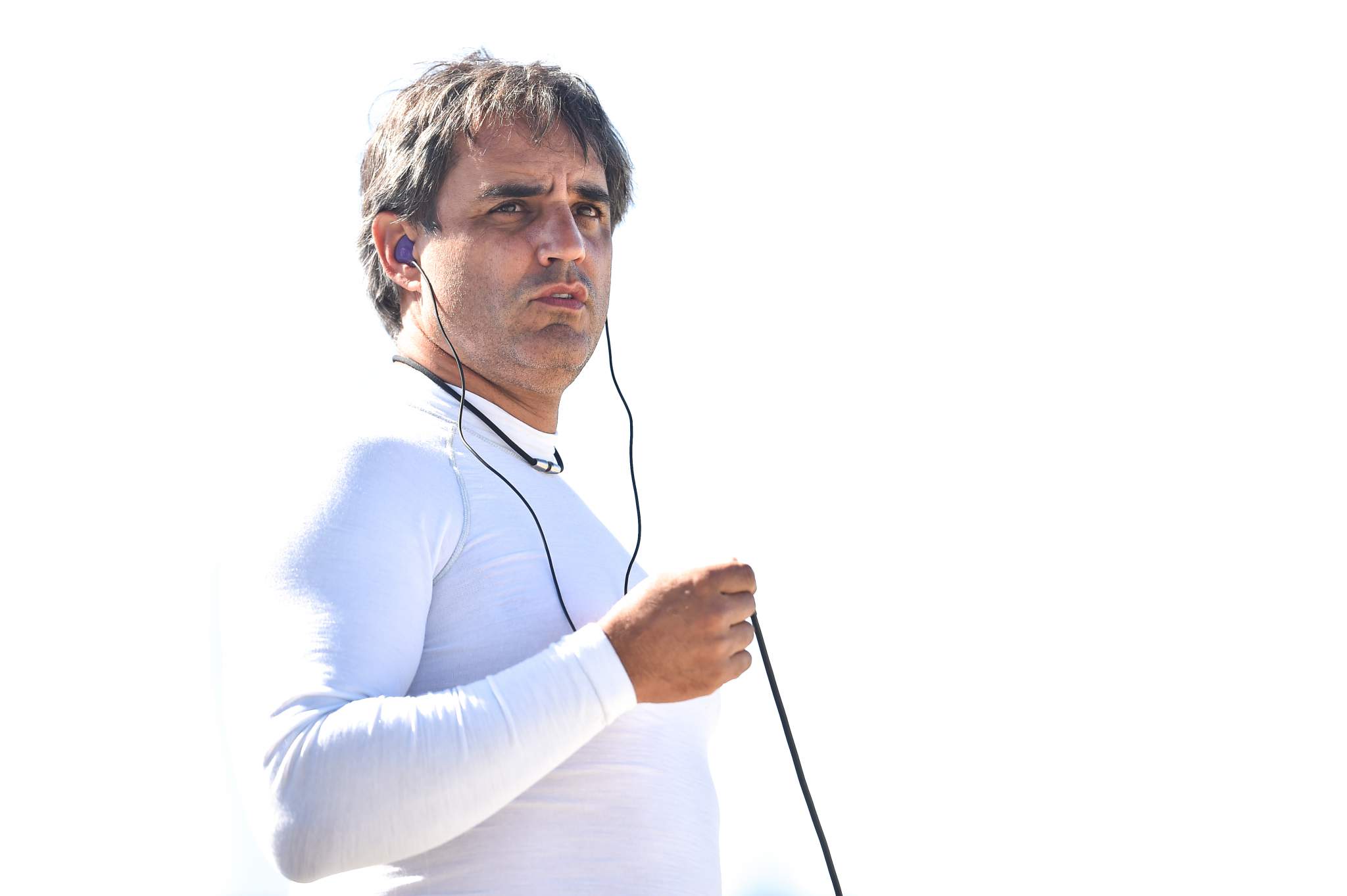 The odds are against him in both races in all honestly, but Montoya has signed up for this because thinks he can win the 500 and who are we to say he's wrong?
He's got an elite crew with championship and 500 winner Hampson and Lando Norris's ex-engineer Andrew 'Jarv' Jarvis expected to help on that car as they both did last year.
With the level of effort and a year under their belts as a team, there is some cause for optimism.
"The road course race is going to be tough as hell, but it is what it is and we'll deal with it," Montoya laughs.
"But for the 500 I'm really excited. I really believe that we can work and get to a car that we can compete for a win with.
"If I didn't believe I could go there and win, I wouldn't be doing it. There's no point.
"I've won it twice, to go there and just ride around… it's one of the reasons I left for F1, I didn't have good options and to run mid-pack, I'd rather stay at home."
With Chevrolet struggling, and Alonso bouncing back from a practice crash and an in-race clutch issue, it wasn't to be for Arrow McLaren SP last year. But Indy rookie of the year O'Ward proved the team has a strong oval package and backed that up with his Texas win less than a fortnight ago.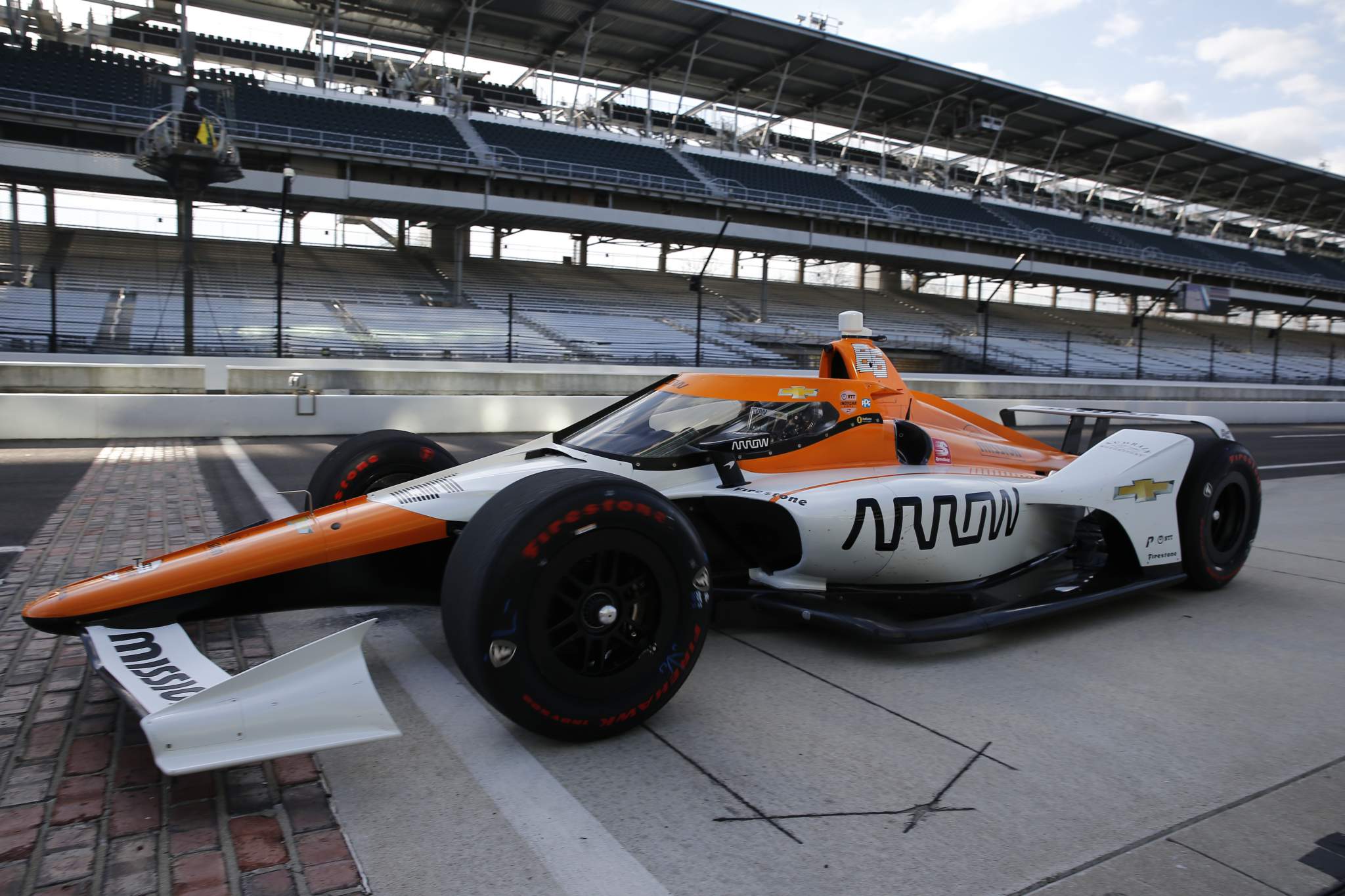 The GP is the perfect place to iron out mistakes and bond with the team, while shaking off any IndyCar rustiness and getting used to racing inside the cauldron that is the aeroscreen cockpit will also be nice to do before the 500.
The 500 is a law unto itself, but it's always uber-competitive and Montoya has proven more than most in recent history that upsets and wins against the odds are possible.
And given Montoya's stint with McLaren was so disappointing, him delivering a first Indy 500 win for the IndyCar team that carries its name would be a fantastic story.