IndyCar's newest race winner Pato O'Ward has never had anything easy. Whether it's trying to forge a racing career from a fairly modest background to being the latest driver facing ruin after being chewed up and spat out by Red Bull's junior programme in late 2019.
"It's definitely been a rocky road," O'Ward acknowledges speaking exclusively to The Race following his Texas glory last weekend.
"I think the best thing is – and I relate to this a lot and I feel like Felix [Rosenqvist, team-mate] can as well and we talk about it all the time – is that for a racing driver, if your career didn't almost end four or five times during your way to the top series, it wasn't hard enough.
"I can't express how real that is because, everybody has heard the stories from champions and winners and great, great drivers, but it was never easy for them.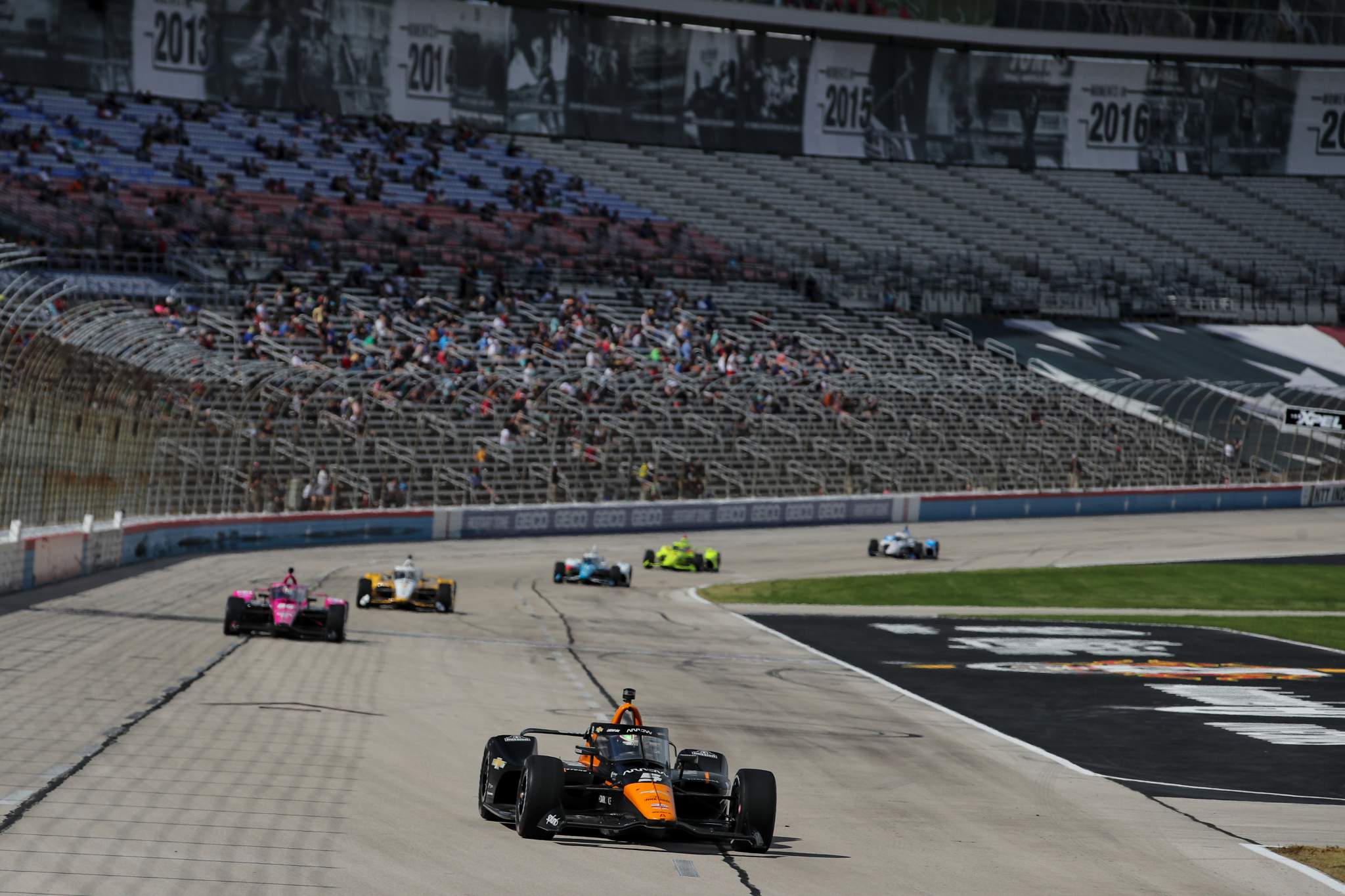 "And I feel like, once you get that win or once you get that championship, it's just so much sweeter because you've worked so hard for it.
"And I feel like that's why on Sunday, it truly feels like such a win because I really feel like we earned every bit of that win and we fought our way the whole race.
"And it's just so, so cool."
It was fitting that the victory came in Texas. O'Ward was karting from an extremely young age and is a very proud Mexican, but arguably his life wouldn't have been the same had he not moved to San Antonio in Texas – about three hours from the Mexican border – when he was 11.
His car racing career began in 2013 – he contested Formula Renault NEC and French F4 a year later, showing early signs of not being afraid to go across the pond – but it took until 2018 to take a single-seater title when he beat Colton Herta to the Indy Lights championship.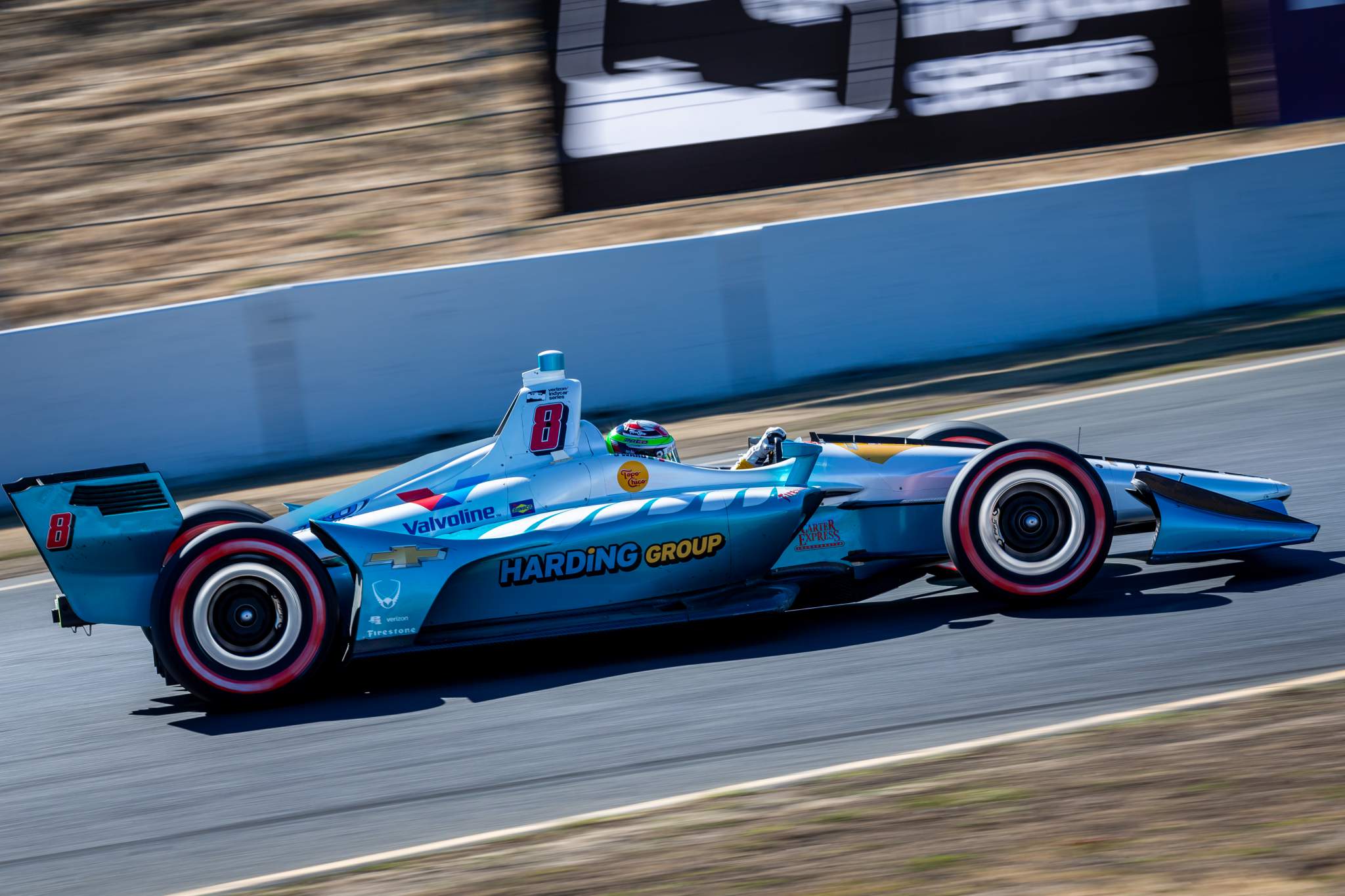 Many forget O'Ward's beating of Herta in the same machinery, the same Herta who has since emerged as an obvious American IndyCar standout and arguably the top name in Andretti's roster.
In the same 2018 Sonoma race Herta debuted, so did O'Ward, and it was O'Ward who grabbed the headlines. He qualified his Andretti-affiliated Harding Steinbrenner Racing car fifth making the Fast Six, and while he finished ninth in the race an impression had been made.
That's where O'Ward's career rollercoaster really takes off though. O'Ward was supposed to join Herta at Harding Steinbrenner – where Herta would take two IndyCar wins in 2019 – but the deal fell through 27 days before that season started.
O'Ward joined Carlin but the team has struggled to be a consistent contender in IndyCar and failing to qualify for the Indianapolis 500 was a sign of how far O'Ward had fallen from that Andretti-backed seat next to Herta.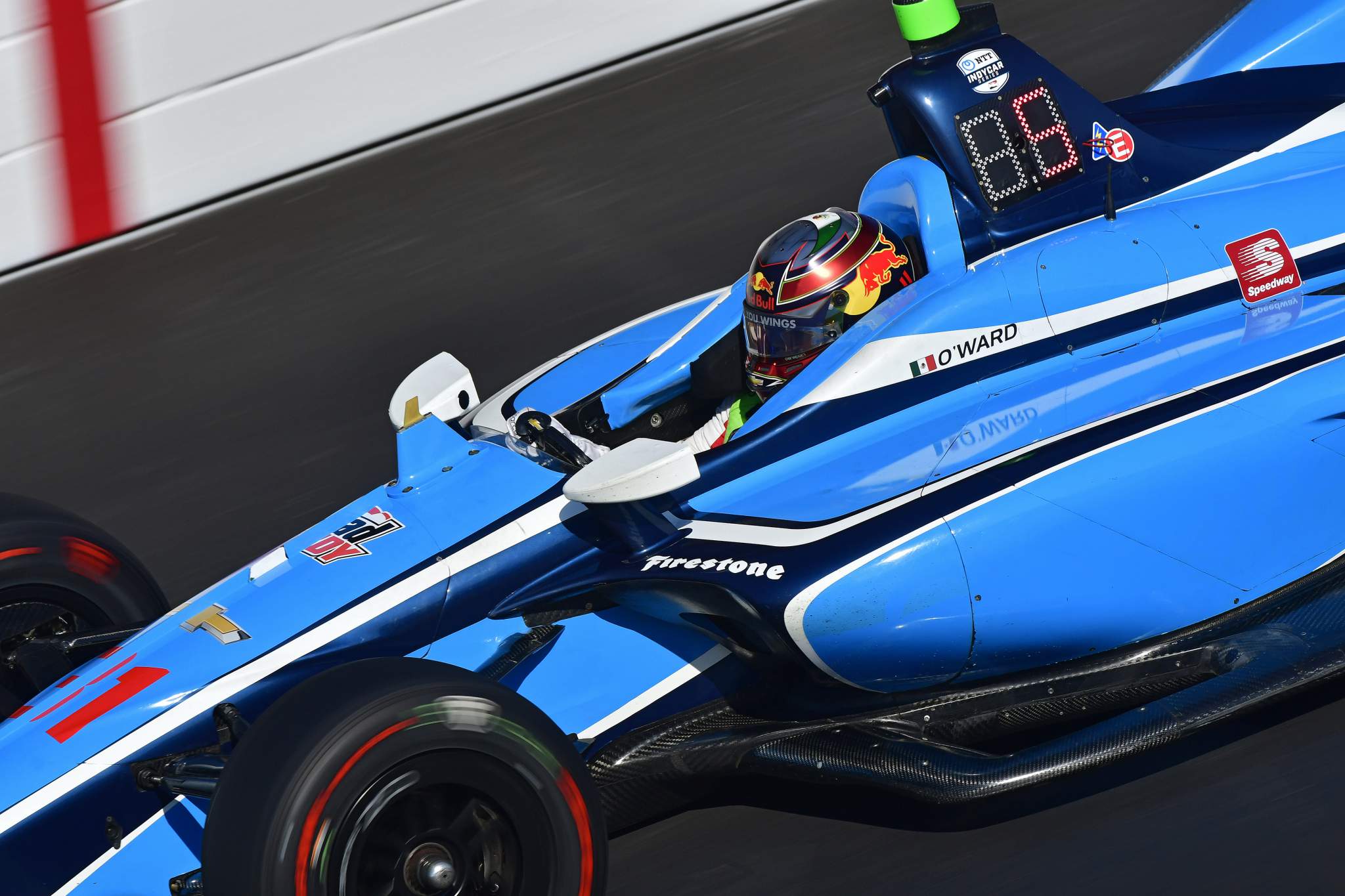 The shock news that O'Ward would join Red Bull mid-season was confusing. It was brought about by Trevor Carlin telling his good friend Helmut Marko about the young Mexican, but it made little sense that this was the path to F1 it was described as because O'Ward had fewer superlicence points than perhaps people understood.
Doing one weekend in F2 and then switching to Japan for the Super Formula season was always going to be tough, and ultimately he and Red Bull parted ways in October just six months after the deal was done.
His bizarre 2019 continued when McLaren formally announced its intentions to join Schmidt Peterson Motorsports as a co-owner in the team creating Arrow McLaren SP, signing O'Ward and 2019 Indy Lights champion Oliver Askew for the 2020 season.
O'Ward spearheaded the team, was the Indianapolis 500 rookie of the year and finished fourth in the points, having been third for most of the second half of the season. It was a miraculous turnaround but, given the right machinery, O'Ward clearly belongs at this level and told the rest of the motorsport so world with his performances.
The key for Arrow McLaren SP has been integrating all of these outside outlets, with support from Arrow electronics and with a team working in McLaren's Woking base to make the operation functions more like an F1 team with people back at base digesting data.
It's had a year of learning how best to make that work now, but it's still needed leadership. Having two rookie drivers this year and then installing Felix Rosenqvist in place of Oliver Askew in 2021, it has still needed O'Ward to be a leader. Something he's really comfortable with.
The start to the year has been as bizarre as O'Ward's career itself. He qualified on pole at Barber but committed early – suffering from a slow puncture according to the team – to a three-stop strategy, which was the wrong call. He still managed to fight back to fourth.
St Petersburg was a mess. He qualified sixth but the race car was ill-handling and you could hear the frustration in O'Ward on the radio – he finished 19th.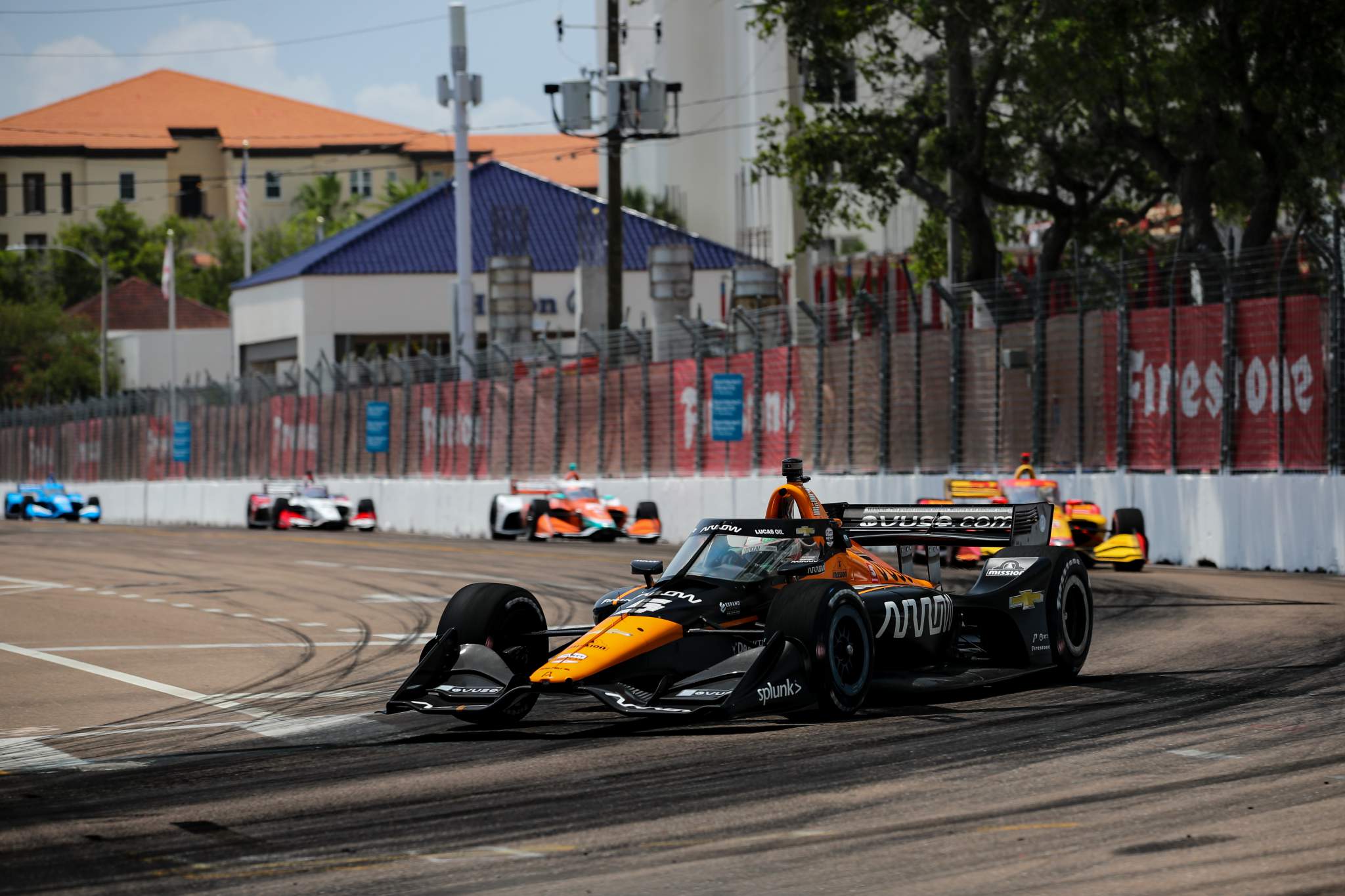 Two podiums in Texas boosted O'Ward back to second in the standings behind Dixon, but there's still plenty of work to do for driver and team. O'Ward knows that errors are crucial; his messy Mid-Ohio weekend last year was effectively what cost him third in the standings – you guessed it – to Herta.
"You just have to minimise any errors because, as you saw, if you have a pit stop that's three seconds slower, you can go from second to 15th," O'Ward says.
"And you just always have to be on it, the driver has to be on it, the team has to be on it, the pit stops have to be perfect. The car has to be well handling and I think that we've found where we need to improve, especially our street course car.
"You see guys that have been fast in one place and we go to a totally different track the next day and it's usually not the same dominance from the guy that it was the week before.
"It really changes from team to team and Penske is so strong, Ganassi's strong, Andretti's strong, we're strong, and even the smaller teams like Dale Coyne and Foyt and Ed Carpenter, these guys have been fighting it up there in the top 10.
"When you think about it, it's four Penske cars, it's like five or six Andrettis and four Ganassis. Then we've got us, Rahals – I mean, man, when you think about the amount of pace that there is in like, 15 cars there…
"The top 15 is not easy to do so when you want to win a race it definitely all has to just be perfect and you have to execute in every single discipline."
Whatever you say about the results this year, O'Ward's visual performance in the car has been sensational. You only have to watch his qualifying session and pole lap from Barber, and his quick hands trying to pass Josef Newgarden at Texas, to see the level of commitment and car control he's been gifted with and has nurtured.
"If Zak came and said 'you've done everything you've had to do, this Formula 1 seat is yours', I'd be stupid not to take it" :: Pato O'Ward
His fast hands and rear-out style has been well documented this year and in parts of 2020 too. That has bred the misconception that O'Ward likes the car this way, but that simply isn't the case.
Going back to the pre-season, Juan Pablo Montoya drove the AMSP car at Barber and he said: "The first thing that amazed me about the test was Pato's steering input. You look at it and you think the sensor is broken [he laughs]. I'm like, you know it's not supposed to be like that?!"
O'Ward picks up the story: "That really sunk in and I said, man, yeah, we should really strive to make it easier to drive. And if we do that, then it's just gonna make everyone's life easier.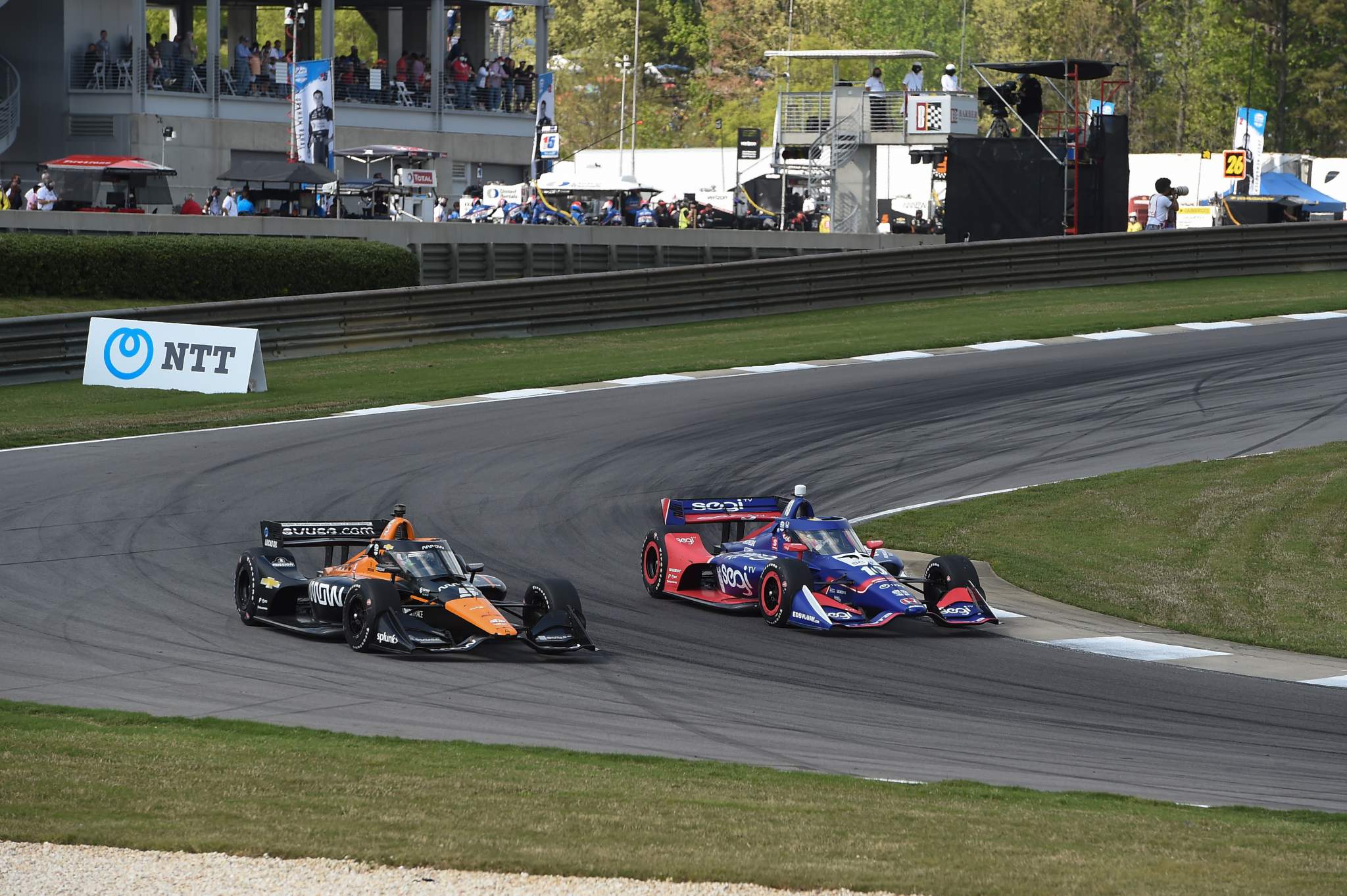 "Getting to that point, I don't know how hard it's gonna be, but I think it's just a little bit that we have to find and once we find that I feel like some more unlocked potential will be found."
O'Ward spoke to The Race in more detail about the car, where it's at currently and why it requires that level of input currently.
"I don't have an issue with having oversteer in cars, as people have seen!" says O'Ward referencing the acknowledgement of his fast hands in the car.
"But that's how our car, the philosophy is done. I've had to adapt in order to go quick.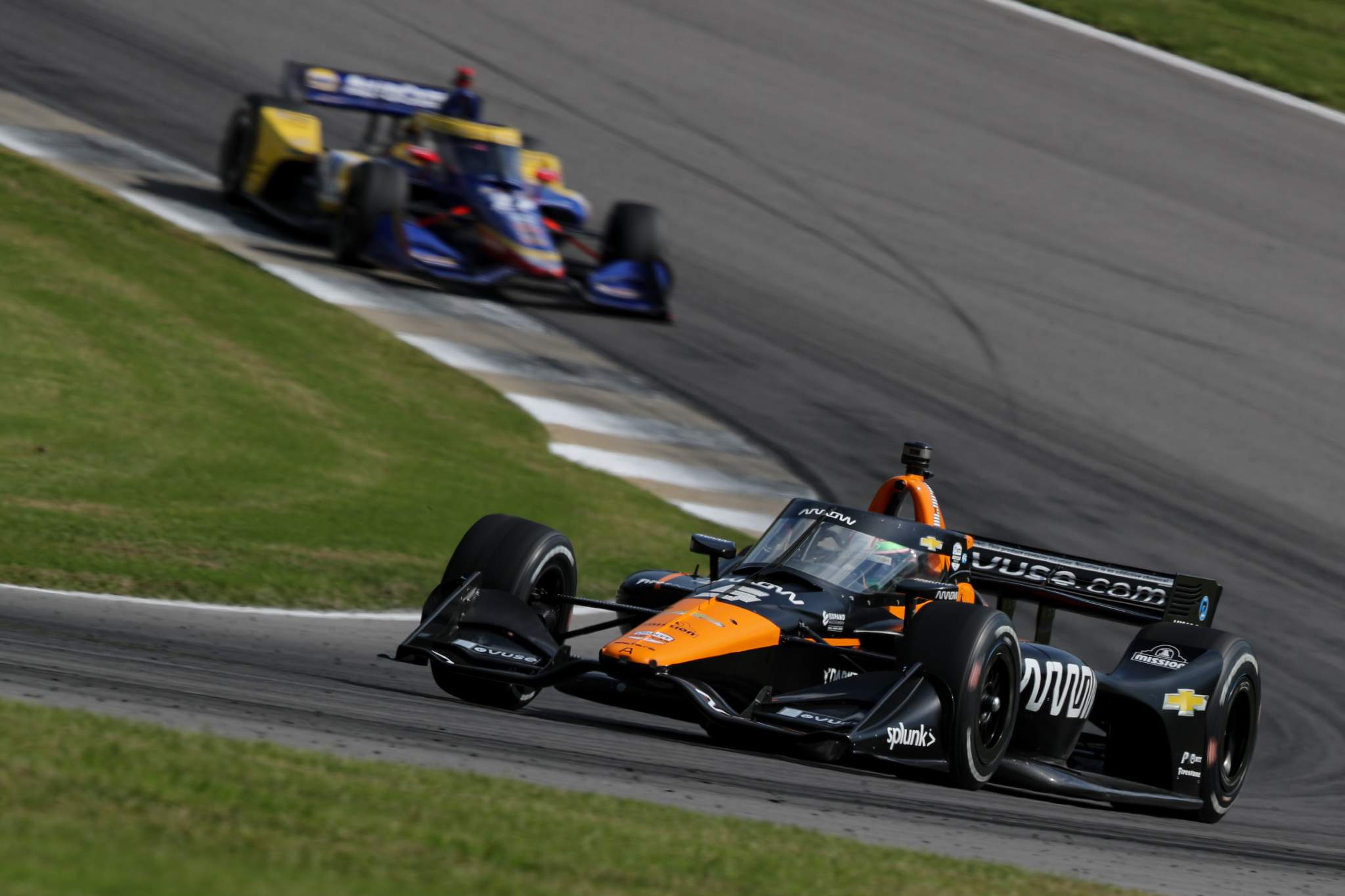 "We have, I think, one of the hardest cars to drive in the paddock, but it is damn quick if you get a lap together.
"We don't have the right balance yet for racing, it's very hard on tyres. Everybody's like 'ahh, he needs to take care of tyres'. I can guarantee you that I am as gentle as I can, and if I am more gentle I am going to be two seconds off the pace.
"There is time to be gained in just being able to take care of the tyres more on a road course.
"We need to find what we have in the speedway package which is very, very nice in a way on tyres, and integrate that into a road course package, where we can just extend those stints a little bit longer and keep up on pace a little bit better.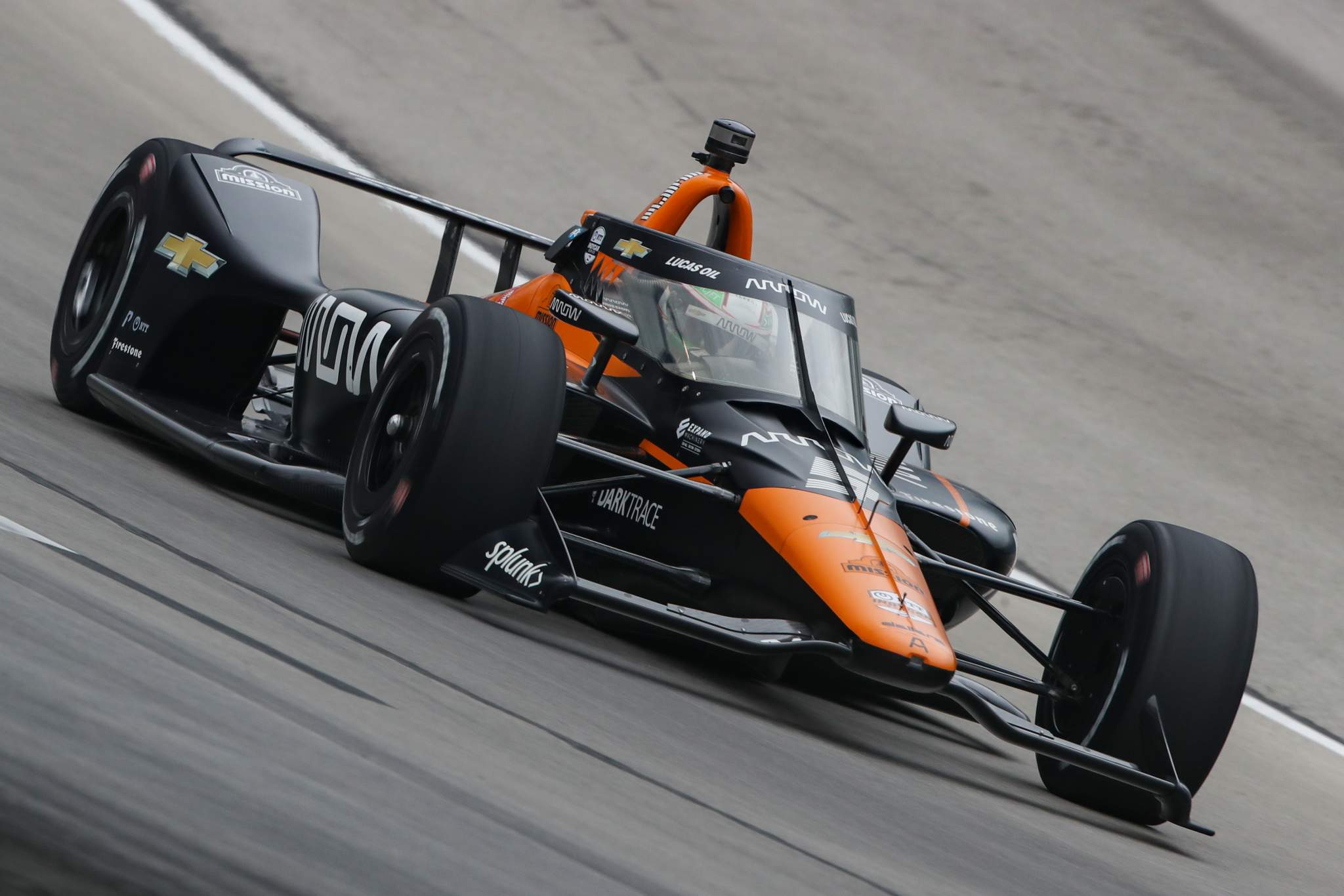 "But I feel like once we find that, it will really help us to be more competitive and if we gain just a little bit there, it's not much what we're missing.
"So, I'm excited. I'm excited to continue working with the team to try and make the thing go faster. I have no issue going sideways, it's not always the easiest, but I can assure you that I am always extracting every bit the car has."
It's nice to know that O'Ward hasn't changed a bit from the infectiously exuberant character I first met in the MP Motorsport truck as he waited to make his Formula 2 debut. When so many drivers pepper every hint of optimism with clarification and doubt, it's nice to know there's still life-loving competitors out there able to be fiercely competitive while still remaining bubbly and enjoying every aspect of life.
For sure, if any driver has had circumstances to take that personality away its O'Ward with his constant 'will he, won't he' career trajectory with the odds seemingly stacked against him. But his enthusiasm is unabated.
Now he's found himself at a crossroads he never thought he would again; getting an F1 test with McLaren thanks to Zak Brown and his driver bets that are enough to get any motorsport fan geed up.
Herta was the talk of the IndyCar paddock when he won the St Pete race and questions of 'why is F1 not looking at him?' were raised. Now it's O'Ward stealing that chatter as he'll test sometime after the Abu Dhabi F1 finale with McLaren.
"I'm really excited for that," he says of his test.
"I'm excited to get the feeling of what a current year Formula 1 car feels like. Also, it's so competitive, it's been up there fighting in qualifying, there's still pace to be found for racing compared to the Red Bulls and the Mercedes but, the car is improving massively and I think what Andreas [Seidl] and Zak have done, they just keep getting better and it's awesome to be a little part of that.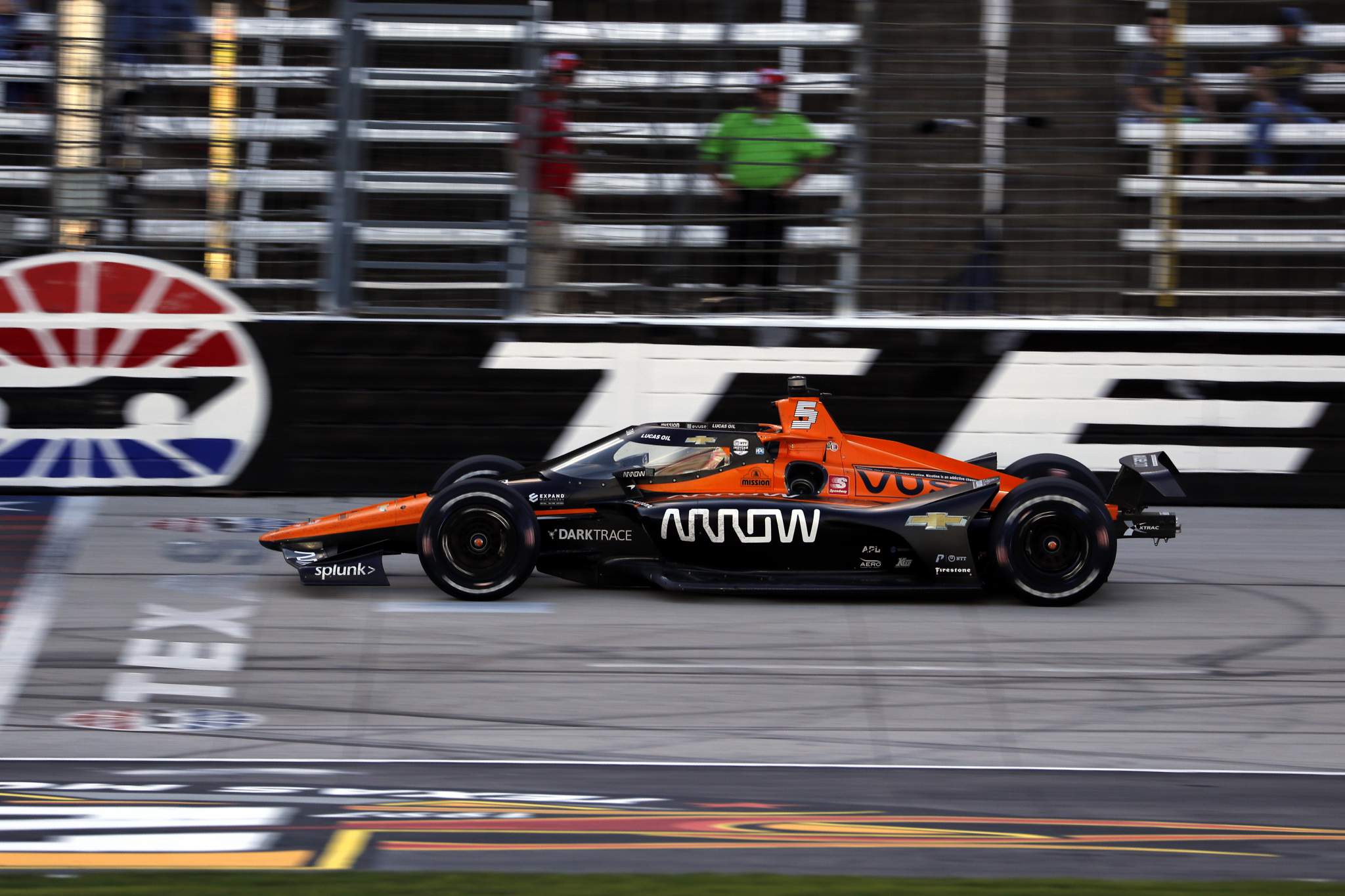 "But man, I love IndyCar racing and for a driver, I don't think there's a better championship. Formula 1 is Formula 1, and no one can ever take that away from them because they are worldwide, they are known by pretty much everyone and it is the top of technology.
"In a way it's kind of more of a constructors' championship rather than a drivers'.
"So I feel like IndyCar for a driver, there's nothing better. If you really like to be competitive and you like challenging things.
"I'm so focused on what I have to do in IndyCar and I want to do a great job for this group of guys because they deserve it and they gave me this chance so I want to return it in results and hopefully, one day, championships and an Indy 500 win. That would be fantastic.
"But if Zak came and said 'you've done everything you've had to do, this Formula 1 seat is yours', I'd be stupid not to take it and I would take it because it's just the chance of a lifetime.
"They don't come often. And it would just be a great challenge as well, to do something very different.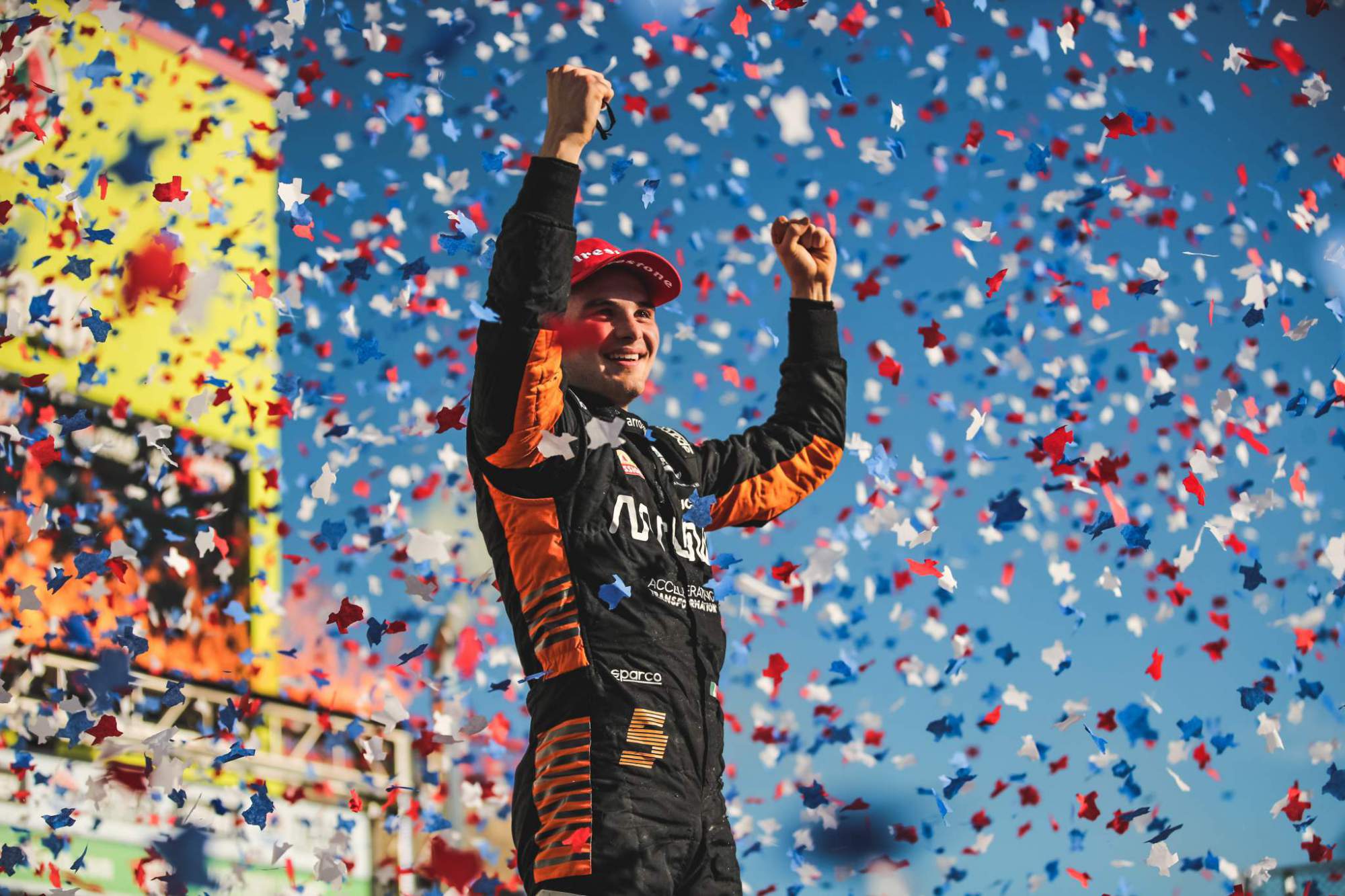 "Even if it might not be 20 years in Formula 1, I can always come back to IndyCar and continue enjoying what I love to do as well.
"I just try and take as many opportunities as I can because they don't come often and I've learned to try and extract everything I can from the opportunities given to me."
O'Ward's opportunities have come with varying success over the years, but no one can fault the work ethic or talent that has led to a first IndyCar win and an F1 test – despite how difficult that would have been to believe in late October 2019.
Now he has to continue to lead the Arrow McLaren SP team. In a year where there are four oval races and we've already had two of them, relying on his oval form isn't good enough and there's clearly work to do on the road and street course set-ups. Struggling to make the tyres last is not something new, it's what cost O'Ward a first win at Road America early last year.
However, until the car can be made easier to drive and AMSP becomes more consistent in making the correct strategy calls, it has a driver behind the wheel who can over deliver, compensate, and surprise Juan Pablo Montoya with his natural driving talent.
The significance of that should not be lost on anyone who has watched Montoya drive a racing car, and perhaps O'Ward can pave a similar path to F1 as Montoya did before him.
If he doesn't, he'll be one of the most successful and best IndyCar drivers for decades to come, and there's absolutely nothing wrong with that.