With every emerging talent there's a watershed moment where the inexperienced push the limits just enough to upset the established veterans. For one IndyCar team and driver, that was at Texas earlier this month.
Perhaps these two moments of defiance stood out more and looked a bit more dramatic because they came on a 220mph oval, and they upset 2016 Indianapolis 500 winner Alexander Rossi and multiple race winner Graham Rahal.
But the moment has been coming for a long time for the team and driver in question, Jack Harvey and Meyer Shank Racing.
Last year was the partnership's first full IndyCar season and first campaign with technical support from Andretti Autosport.
Harvey qualified in the top nine in all but one of the first six races, including two front row starts. He ended the year with the fifth best qualifying average, which was better than champion Scott Dixon.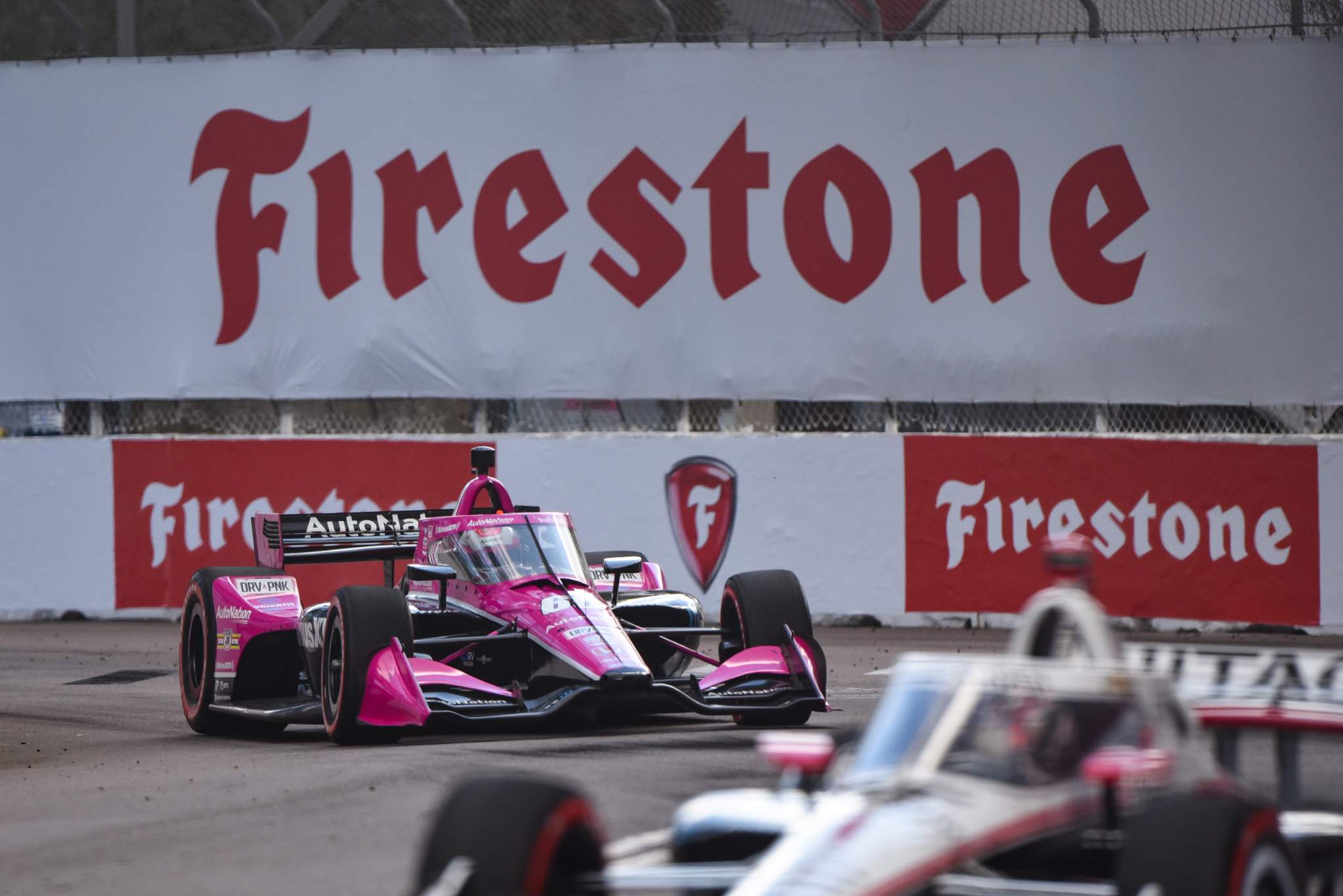 But the overall result? Only 15th in the championship standings.
It's easy to use bad luck as an excuse in motorsport, but so much went against the team in 2020 that was effectively out of its control. You can read more about what happened here.
It's started 2021 very differently – even though there have been no major changes in the off-season – and Harvey has run near the front throughout the opening four races.
At Barber he took 11th before scoring fourth from second on the grid at St Petersburg, where he was punted out of a top six position last October.
With the team running closer to the front and staying there until the end of races for a change, it felt like a moment of angsty reckoning against its competitors was coming. It arrived on the Texas banking.
Harvey squeezed Andretti stablemate Rossi and then Rahal even more aggressively below the white line on the way to his sixth-place finish. He didn't receive a penalty but was called to the IndyCar hauler for a dressing down, and it's clear Rahal and Rossi were not best pleased.
Speaking exclusively to The Race, Harvey said he had "made some friends".
"I have chatted to Alexander and, I saw the video, maybe I squeezed him a little hard," admits Harvey.
"I've also been on the receiving end of Alexander squeezing me that hard and not being able to get through and I'm having to be the one to lift to avoid an accident.
"I've always really enjoyed racing with Graham, like I said to him, next time I will leave him just a perfect car's width on the bottom for him to get by without going over the white line.
"But I don't want to be the guy who's easy to get past. I think this weekend, everyone realised that.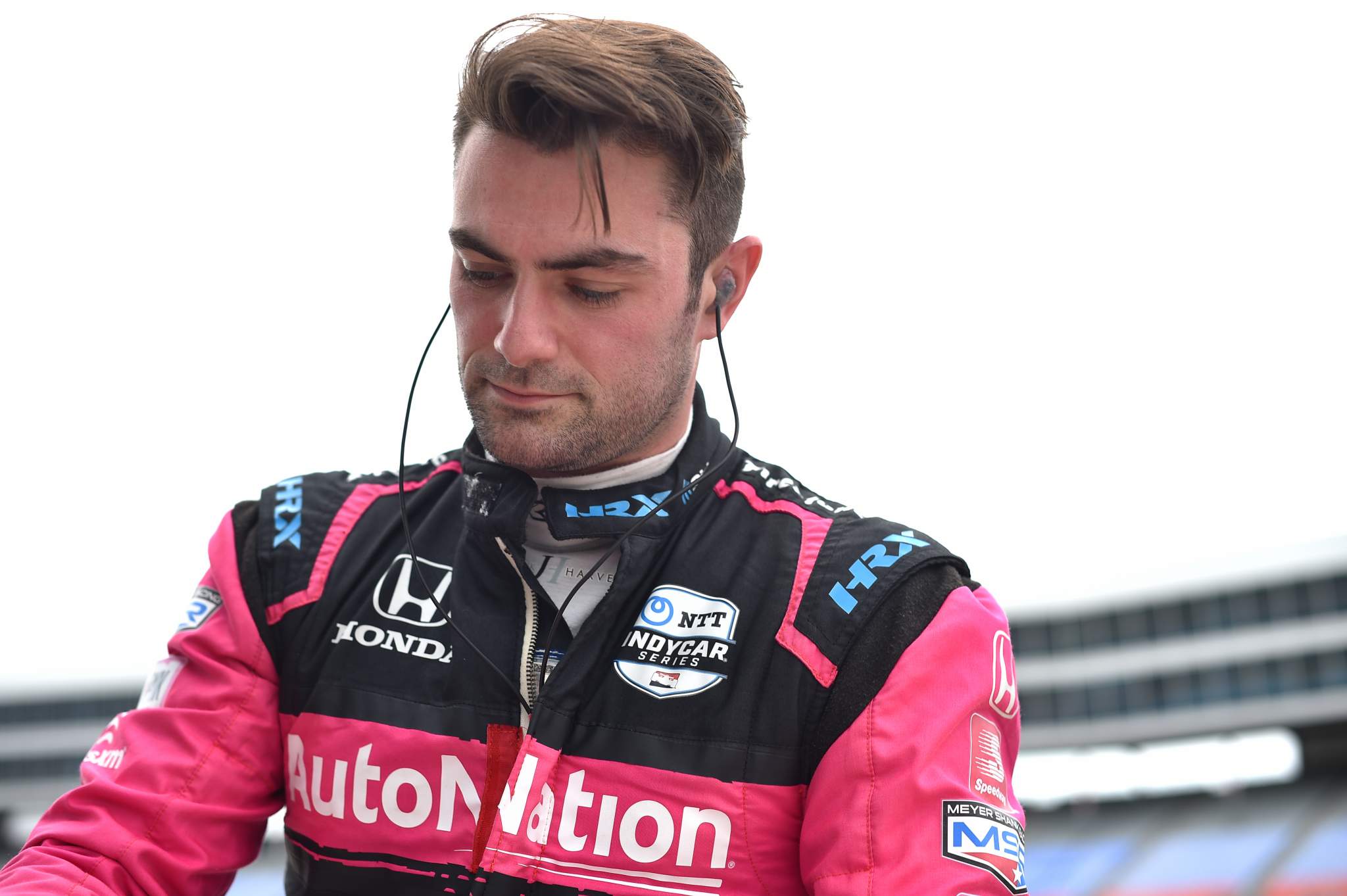 "I've got no lingering issue with everybody, everything got dealt with on Saturday night.
"But I think the time had to come at some point where we established that we're not one of the new guys anymore and we're not going to take an unnecessary amount of stick."
It's clear there's a chip on this team's shoulder – in the nicest possible way. It believes it belongs at this level and that echoes through the organisation.
Last year, just after MSR secured the backing of Formula 1 owner Liberty Media through team partner Jim Meyer, team co-owner Mike Shank said to The Race: "People do call us a smaller team and I understand that, but especially with today's announcement that moniker will probably have to be shed at some point".
That point has arrived.
For so much of last year the team – which had a long history in junior racing and sportscars before coming to the IndyCar grid in 2017 – bettered many of the cars from the Andretti squad it draws technical input from.
On the sportscar side it's a regular IMSA frontrunner, this year taking on Acura works status, with Shank saying that Liberty investment last year "makes us one of the strongest teams in North America".
And he wants to focus on being the best in the elite categories, rather than fielding massive entries across multiple programmes.
On Harvey's side, there were two more reasons for Texas being a watershed. The first is that last year's race went so badly. The team didn't bring a great car, but Harvey struggled to adapt to the tricky oval and with one-day format as the first race of the season following the pandemic hiatus, it was Harvey's idea of a worst nightmare.
Fast forward to 2021 and he was boosted by qualifying being washed out as it set the grid in championship order after two road courses, but Harvey was a factor all weekend and ran in the top three in both races.
In the second, he looked set for a top five before a rear-right wheel bearing issue. There's an investigation going on into that, but it's not believed to be the same cause as happened on Colton Herta's Andretti car even if the fault was similar.
The second reason Texas was such a breakthrough was that Harvey is in a contract year with the team, and he needed to prove that he could get a handle on the track after his performance there last year.
"I'm well aware that we're in a results driven industry," Harvey says.
"For as much as I love Michael and Jim, they want to see results, I want to see results and I definitely think that having a good weekend there did put to bed any little gremlins, any little doubt that anyone might have been having – including my own – about Texas Motor Speedway.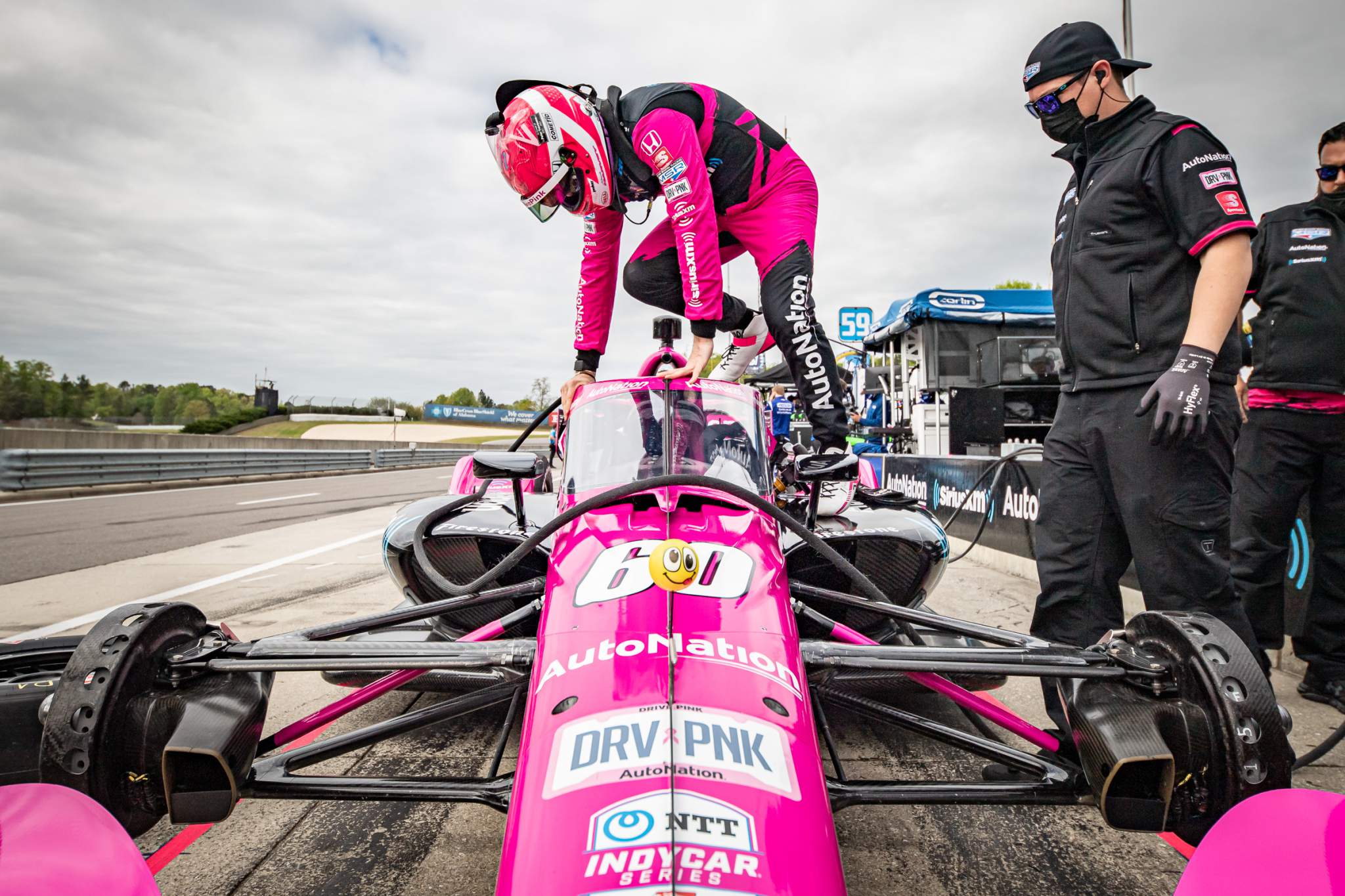 "As for next year, the hope right now is that we're able to sign a new contract. I'd love to be in the NTT IndyCar Series again.
"I feel like we're really showing that we can be competitive here so yeah, why not?
"I hope that can be with Meyer Shank Racing and we can finish on this path that we've been creating together."
Harvey has been on this journey with MSR since 2017 and they've never bitten off more than they can chew or done too much too soon.
The team could have gone with an experienced driver too but Harvey's talent was prioritised and now MSR is reaping the rewards.
It's hard to see driver or team going in a different direction right now, and if MSR continues to invest and Harvey keeps solving key areas of weakness (he doesn't have many, if any, left) this combination could be scoring poles and wins in the not too distant future.
The scene of his best qualifying and race performances so far – the Indianapolis road course – is just around the corner. Harvey finished third there in 2019 and qualified second in 2020.
For the first time in his IndyCar career Harvey will have back-up this weekend too, as series legend Helio Castroneves joins MSR for the first race of his six-event schedule.
It's a new world for Castroneves, whose stand-in appearance for Arrow McLaren SP on the Indianapolis road course last October was the first time since 1999 he'd raced for any team other than Penske (and his first IndyCar road course start in three years).
But he has already tested with MSR and is very impressed with the team so far.
"I have to give big props to Mike Shank and Jim because they were able to put this programme together and able to contract these incredible guys," Castroneves said speaking after his first test.
"We have amazing people. The funny thing is I do remember most of them because they used to be in different teams, some in Ganassi, some in other places that I've just seen around the paddock. Now we're working together.
"I'm excited because there is a huge opportunity for the future with this amazing organisation. Young team, young potential.
"Mike is hands on, he likes to be together with everyone. That shows around the entire team."
Even if Castroneves isn't on the pace on the road course this weekend – as he understandably wasn't during his late call-up last year – his focus is on the Indianapolis 500 later in the month.
For Harvey, perhaps the addition of Castroneves says two things; that the team is keen to expand and provide some of the long-term experience Harvey is lacking, but also that it has faith in him and the addition of that experience will come to complement him rather than being a threat.
It's been a long and arduous career journey for Harvey, but he, Shank and Meyer speak only of the good times on what seems like an inseparable journey together towards the top of IndyCar.