In the last two months, we've seen Formula 1 driver Lando Norris excel and Australian Supercars driver Scott McLaughlin win at the fabled Indianapolis Motor Speedway. And then last week Jenson Button fought tooth and nail all the way to the finish of the Legends Trophy at the Brickyard in an epic duel with Fernando Alonso.
I definitely couldn't have imagined typing any of that sentence at the start of the year, not to mention Dale Earnhardt Jr making his IndyCar debut and also excelling on an oval during the lockdown esports boom.
So that got The Race thinking: can any of this real-life pace on a sim oval translate to real Indy 500 pace?
But we couldn't do this alone. So we enlisted the guidance of IndyCar's reigning rookie of the year Felix Rosenqvist – who watched last weekend's Legends Trophy especially and even delayed our chat one day so he could watch thoroughly. What a guy.
The Chip Ganassi Racing driver was treated to a pair of stunning races, the first of which Fernando Alonso fended off Button at the last, and then the Spaniard came from outside of the top 20 to win the second encounter.
Rosenqvist hasn't raced on the rFactor 2 platform at Indianapolis before – which the Legends Trophy was using – or driven the Dallara DW12 at Indy, so there were immediate, visible differences.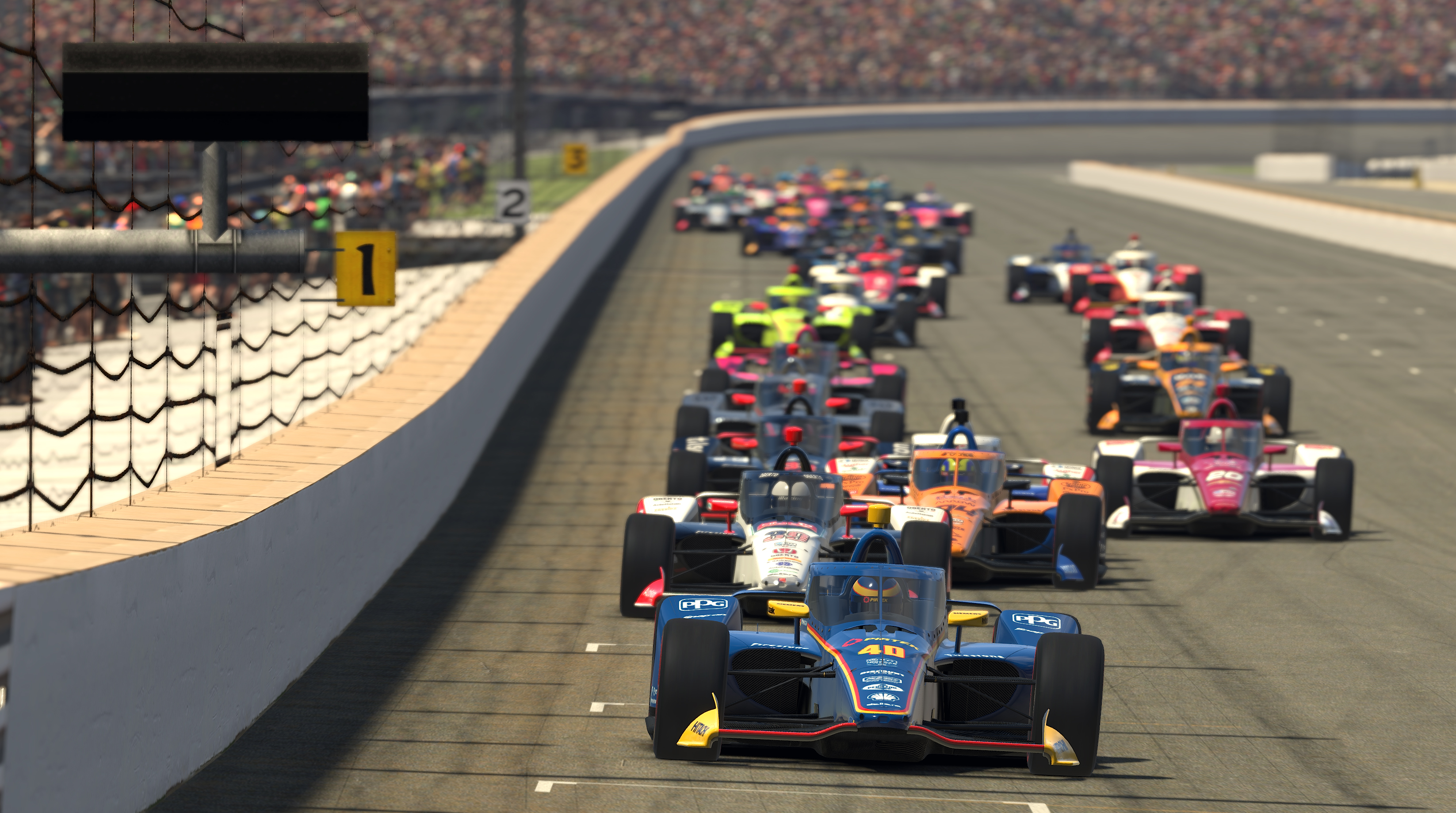 "They seemed to spread out and the car slid around more," Rosenqvist tells The Race.
"This one, especially in the rear, they would have a moment coming out of the corner, which was pretty cool because it seems to benefit and cost drivers in different races quite similar to real life.
"Definitely, Alonso looked like the one able to handle it best out of that group. It looked like Jenson planned everything out really well, but just couldn't execute it to get that perfect tow to the finish line. They were great battles and it was really entertaining."
The fight caused Alonso to suggest – partly in jest, it seemed – that Button needs to come and do the Indy 500 next, while previously the likes of Norris have spoken of their desire to race in IndyCar in the future.
McLaughlin is set to make his IndyCar race debut this year, having tested with Penske in the pre-season, while Dale Earnhardt Jr has understandably ruled out an IndyCar appearance now that he is retired from full-time racing and has a family to dedicate his time to.
Of course, seeing any of those drivers at Indy or any other single-seater oval race would break the fever-o-meter, producing an epic storyline. But would their relative sim success translate?
"Maybe a little bit but I think overall, I don't really think it translates that much," says Rosenqvist. "In reality when you go on an oval it's such a different experience with the speed, the banking, the track changes all the time. If you tap another driver, you will be responsible for breaking his whole car and maybe even hurting him.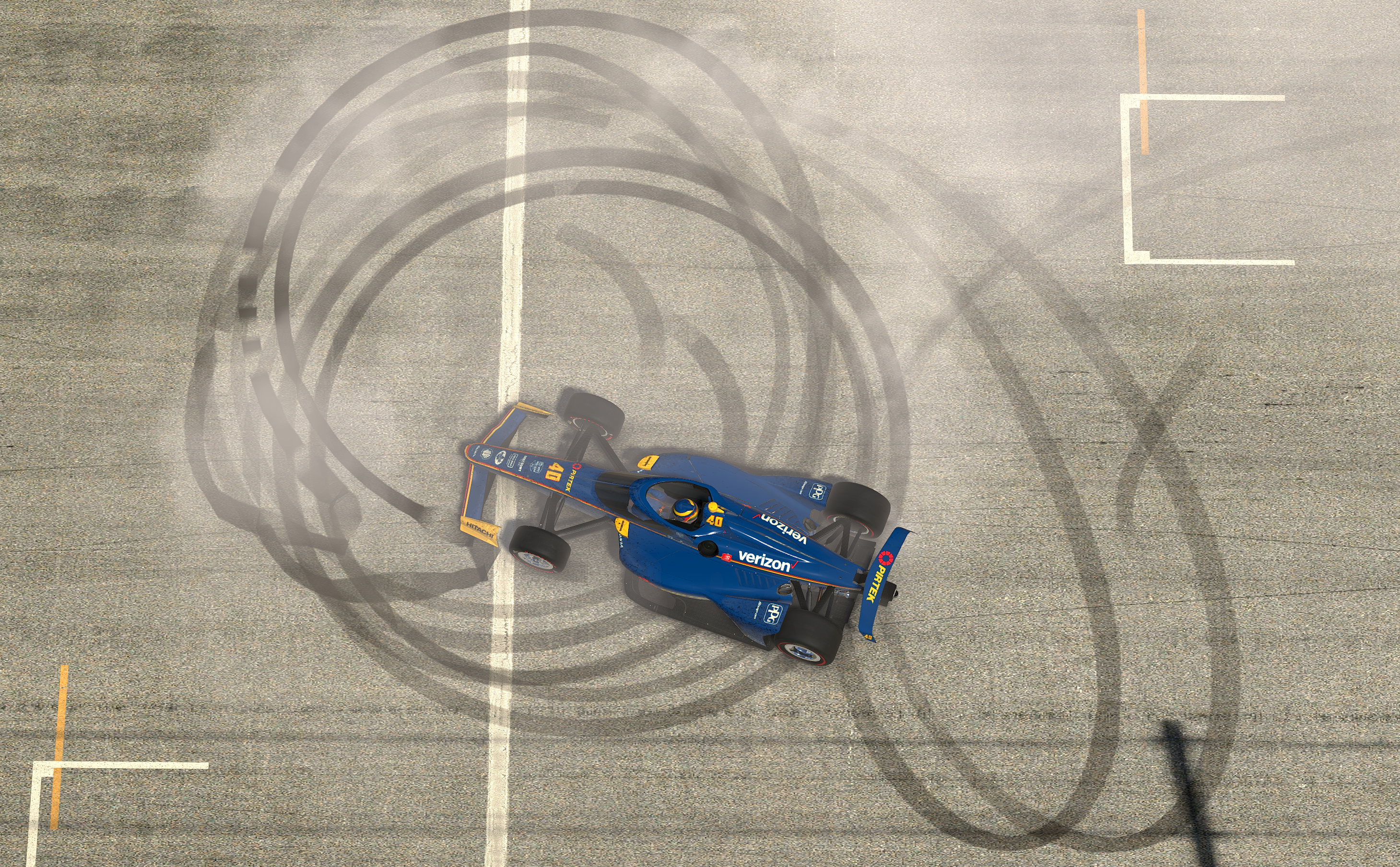 "I don't really think it's the same thing.
"I think ovals on the simulator are the more entertaining way of racing compared to road courses. The road courses are more realistic like – if you can be quick there [on the sim] you can be quick in real-life. On the oval it's more like everyone can be competitive, and there will be a few that are maybe a little bit better and have a chance to be in the fight for the win. I wouldn't say it really translates in to real life."
The thing is, the gap between real-life/sim oval racing and the difference between real-life/sim road course racing is just so much bigger.
Take the Indy 500 for example. You spend a whole month trying to make sure you are fast enough to qualify, but consistent enough to be competitive in different temperatures and with differing amounts of rubber on the track.
You have to contend with immense g-force and the head and crosswinds. You have to make sure your car is in contention at the end, but not work on making it so good at the start that it goes away at the finish. You have to make the perfect strategy call to make sure you're on the same lap as those at the front and in the leading pack in the final 50 laps or so.
And only then are you afforded the chance to try and outfox one or many of your peers who have done thousands of laps at this track, for victory. Only the best win at Indy, and it is never easy.
With the recent sim races we've seen, the cars have fixed set-ups, which alleviates the constant changes on the car at pitstops – and puts the performance of the car in the hands of the driver. Some drivers have a spotter and engineer for simracing, but there's nowhere near the size of team as there is in real life, and a driver has to inspire that team to support and work with him to reach the ultimate goal. All of these things are non-existent or less impactful in simracing.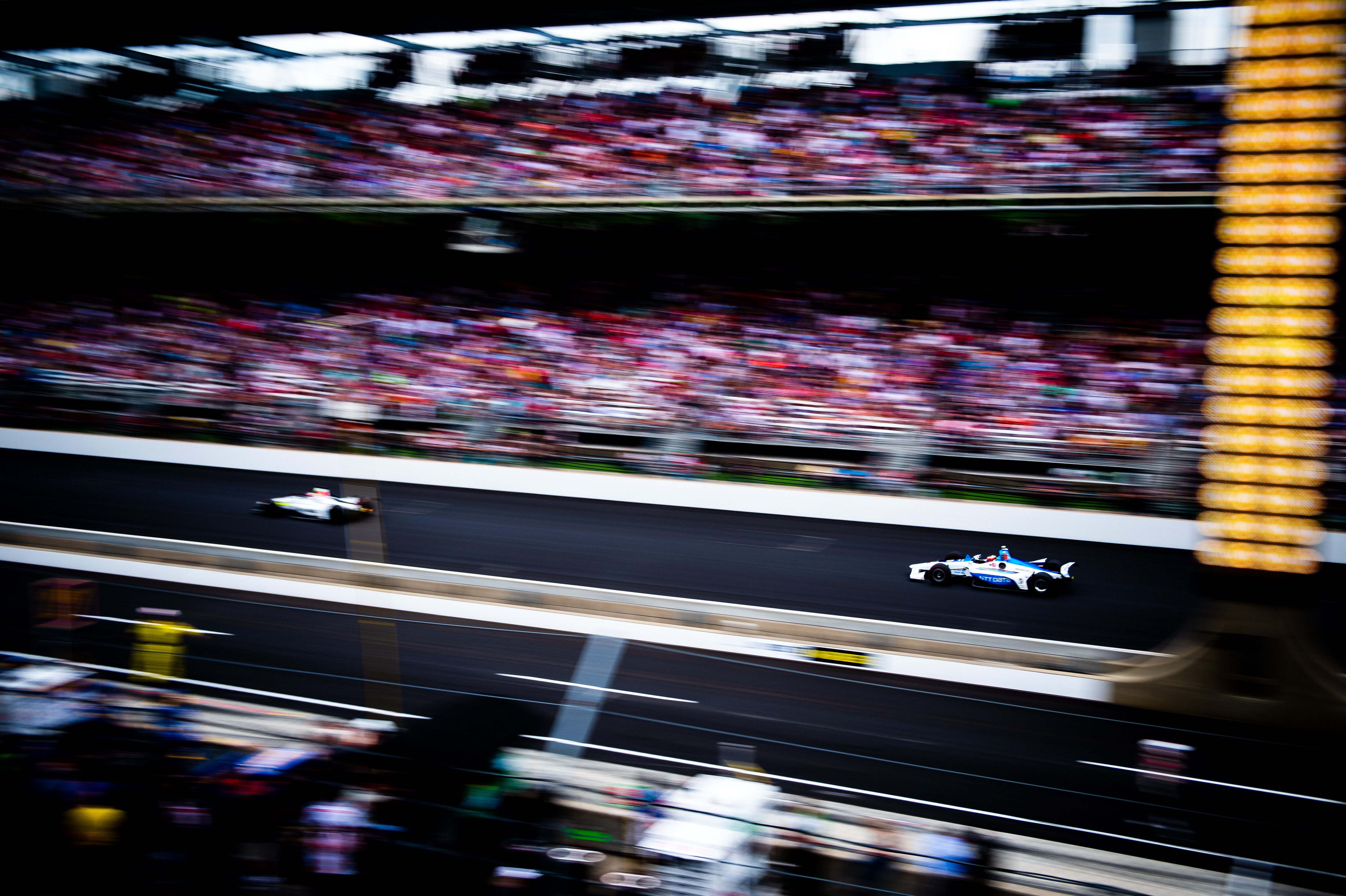 However, it does ensure a relatively even playing field.
"That's what's fun with the simracing, you can put the drivers in a scenario where everyone has the same car, same track conditions, same for everyone," adds Rosenqvist. "That's why the races are so good. There's not much chance for the lead guys to make so much of a difference so they just end up in a pack overtaking each other.
"In reality you are very close, but the small details will always be the one that decides everything. So if you can make your car a little bit better in certain corners or your team finds one small little thing on the set-up or the driving, that's going to give you a huge advantage over the whole field. And then also as the track changes you have to be alert with the car.
"The car that is really good early on can potentially be really bad late on, and if you're not following the track, you might end up in the back even if you're leading half the race. So those are the challenges you don't really see on the sim and they are the true challenges of an oval, I would say. Being there at the end with the car and with the driving, just being in a position where you've ticked all those boxes."
These are things which make sim and real-life racing a night and day difference. But that doesn't mean practice through virtual racing doesn't have its merits.
There are some similarities. Learning to race in the pack is something that will always carry over, learning when to break the draft, when to make your move, when to be aggressive and when to be conservative. Also, etiquette in terms of how to race, when you can take the pack three-wide and when you have to cede position. Something which Norris caused a storm over with his aggressive driving at Indianapolis.
The oval-based races have been fantastic for equalising the competition in a way other esports series haven't been able to in real life. For example on the road course IndyCar events, Sage Karam, Rosenqvist, Will Power and Scott McLaughlin emerged frontrunners – and although they are great drivers, a lot of that is down to their experience on a sim. Alexander Rossi was nowhere in terms of fighting up front in the road course races – and we all know he can do that in real life…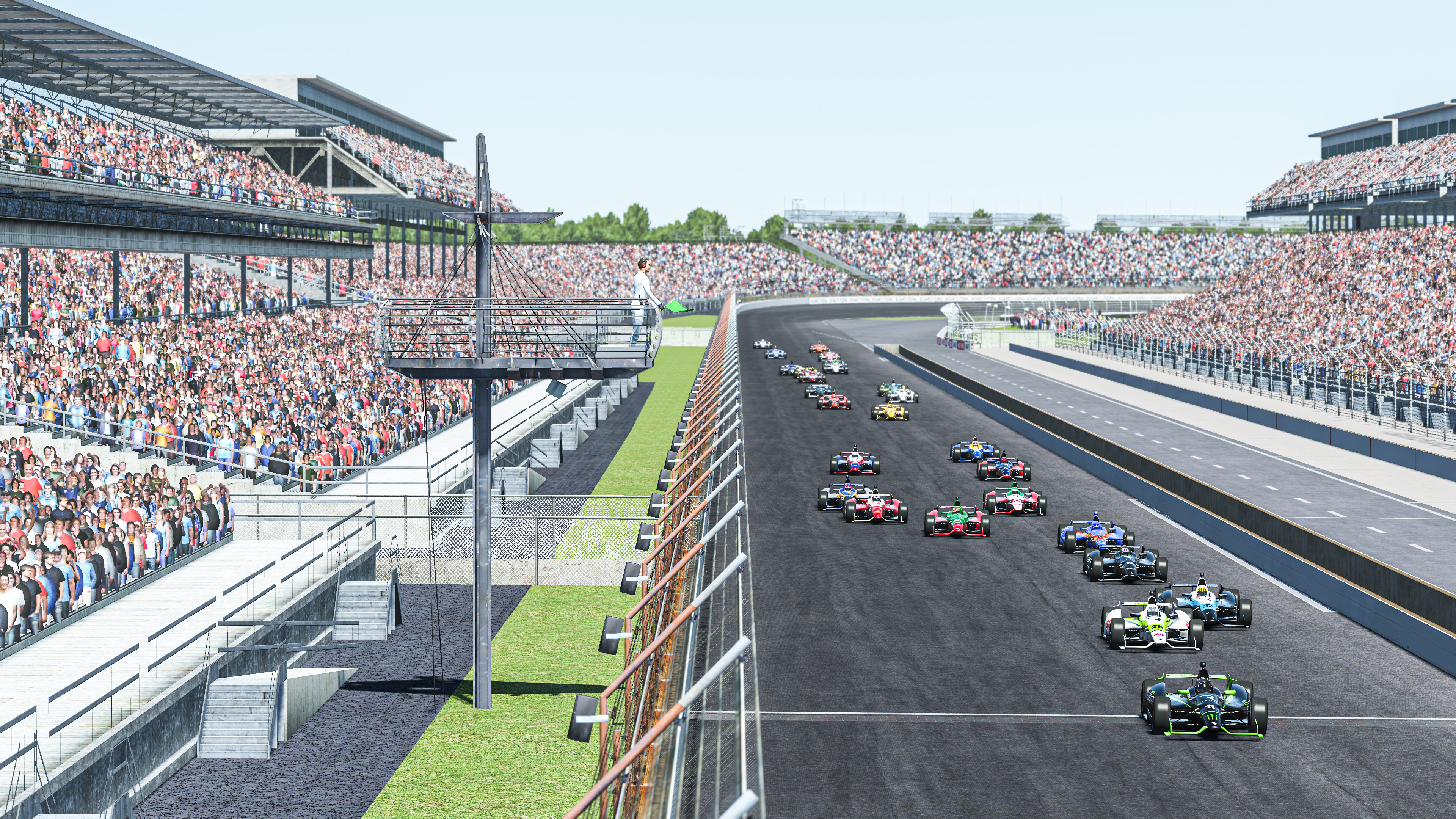 In the oval races, it came down to pit stops, strategy and putting yourself in the right place at the right time, meaning in the most part different contenders up front. Other series have been dominated by the same group of sim-savvy real-life drivers, or drivers who have put hours and hours of work in.
While not a lot will translate in terms of how competitive a person is from sim to real life, there's still tools that would help a driver prepare, and it's also the most entertaining type of simracing to watch if you're an outsider to esports looking to get a fix and see some of your favourite real-world drivers compete.
But for Indianapolis – and other ovals like it but not quite as good – there is just nothing quite like it. The in-car sensations and the multitude of situations all happening at the same time make it almost impossible to race perfectly, and a blend of compromise and luck are just as important as speed and bravery. No sim will ever be able to replicate the Indy 500, but oval simracing is different and brilliant in its own way.