Jernej Simoncic took his third race win of the Formula SimRacing season with an unrivalled drive around the streets of Monaco.
Simoncic was able to run longer on the soft compound tyres than any other driver, meaning he was never held up in traffic unlike those who pitted earlier.
In the end, Simoncic won by 33 seconds over Dennis Jordan in second place.
Jordan qualified in seventh but was able to jump some drivers who pitted later than him, most notably Craig Baxter who started in second but wore his tyres out so much that he lost two seconds to Simoncic on the final lap of his stint.
After the pitstops, Jordan was running in fourth place, before the two drivers directly in front of him, Sander Kallas and Janos Bracsok, both made mistakes that allowed him through.
Kallas was one of eight drivers to retire from the race, with him crashing out by braking too late for the first corner and sliding into the barrier.
In the final few laps, with Simoncic's win sealed, all eyes were on the train of cars from second backwards, headed by Janos Bracsok after Kallas' mistake.
With five laps to go Bracsok tagged the barrier on entry to the Nouvelle Chicane and spun around, dropping five positions in the process.
Robin Pansar overtook Bracsok for seventh, meaning Bracsok lost six positions in only five laps.
The Swimming Pool chicane also caught out a few drivers including Jeroen Kweekel who qualified in third but never made it to the end of the race as he hit the left hand side armco barrier and lost his rear wing and rear left wheel.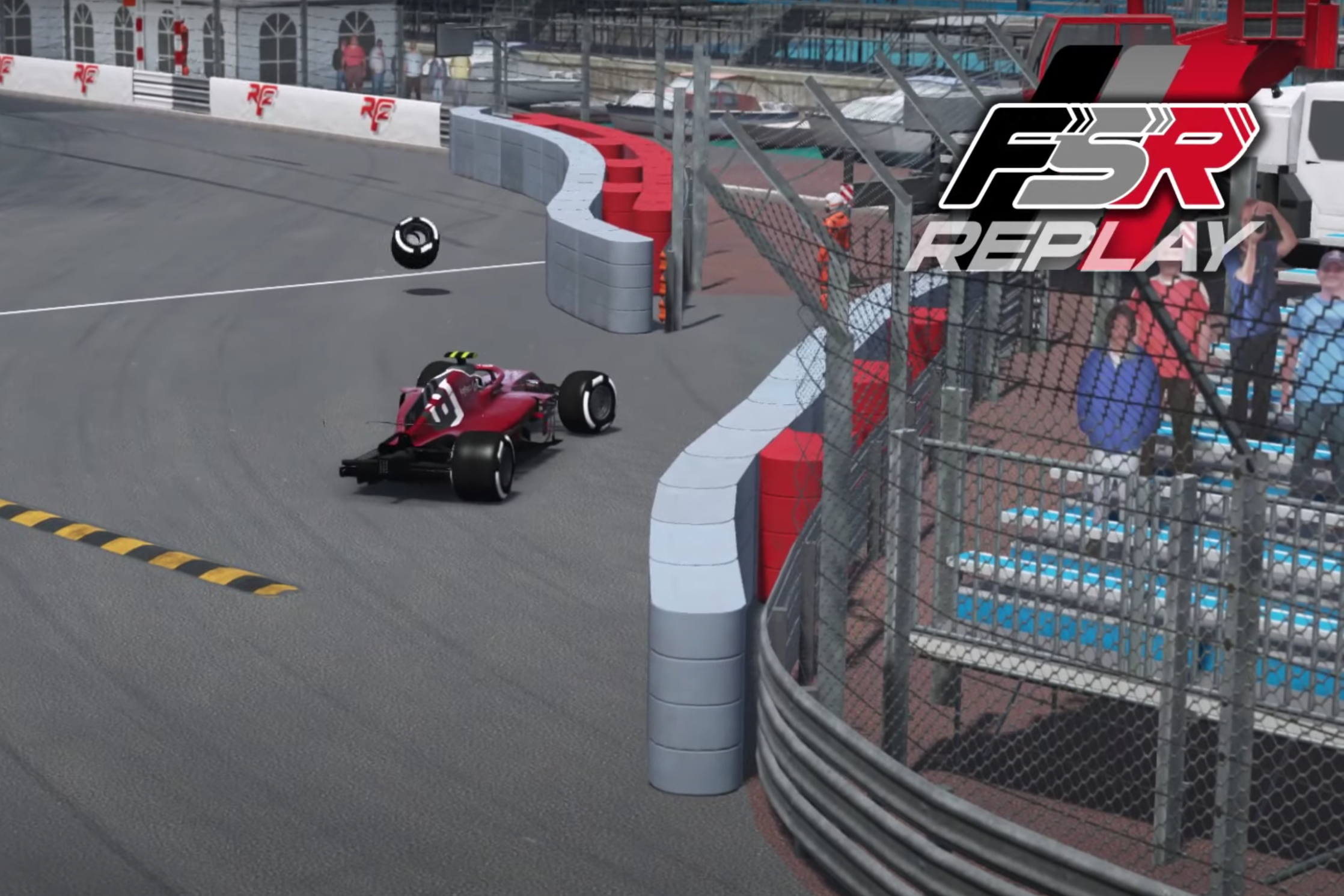 Kallas and Bracsok's mistakes gave Dennis Jordan second place and third for Alex Siebel.
Siebel started the race down in 14th, but was able to jump a number of drivers by starting on the hard compound tyres, keeping in clean air and pitting later than those around him.
Simoncic now has a 43-point championship lead over Petar Brljak with half of the season remaining.
"I never expected softs to last remotely that long, maybe 25 laps, but they kept going and I kept going." Simoncic said after the race.
"We knew that two stops was a far quicker strategy, 45 seconds quicker during the race.
"But with Monaco, like in F1, we cannot overtake if we are stuck in the train.
"So it was just a matter of going really slow, the slowest car on track and be the quickest car on track when it mattered."
The next round of the Formula SimRacing World Championship will take place around Silverstone on May 31.