Penske IndyCar drivers Scott McLaughlin and Will Power have credited their real-life engineers for helping to mastermind a strong start to the IndyCar iRacing Challenge.
Double Australian Supercars champion McLaughlin was due to make his on-track race debut at Indianapolis on the road course round in May, but that is now uncertain as that race has been postponed to July due to the coronavirus outbreak.
In the meantime, McLaughlin has been able to add to his test outings in real life at the Circuit of the Americas in February with an entry in the IndyCar iRacing Challenge, launched by IndyCar to stem the gap while races are cancelled or postponed.
In last Saturday's race, McLaughlin was one of the only drivers to run an off-sequence two-stop strategy at the second round of the Challenge at Barber Motorsports Park, pitting before a competition caution and then again in the final third of the race, which gave him fresh tyres and he scythed through to take victory.
McLaughlin's engineer – who was stationed just under 9000 miles away in North Carolina – was key, as the Kiwi driver is yet to experience the fuel saving and tyre saving techniques used live in a race.
"Yeah, we did a fair bit of work (on strategy)," said McLaughlin, who got up at 2am to race.
"First time this week I had my engineer, unlike last week where I was doing the fuel numbers in my head.
"Having Jonathan Duggan from Penske helping me out, who helps me in IndyCar in real life, was really cool, a good way for us to get to know each other as well.
"We worked hard on the fuel, what we were going to do. To do the two stop I think worked out better for us. Thankfully we got lucky with some traffic and a few crashes behind us."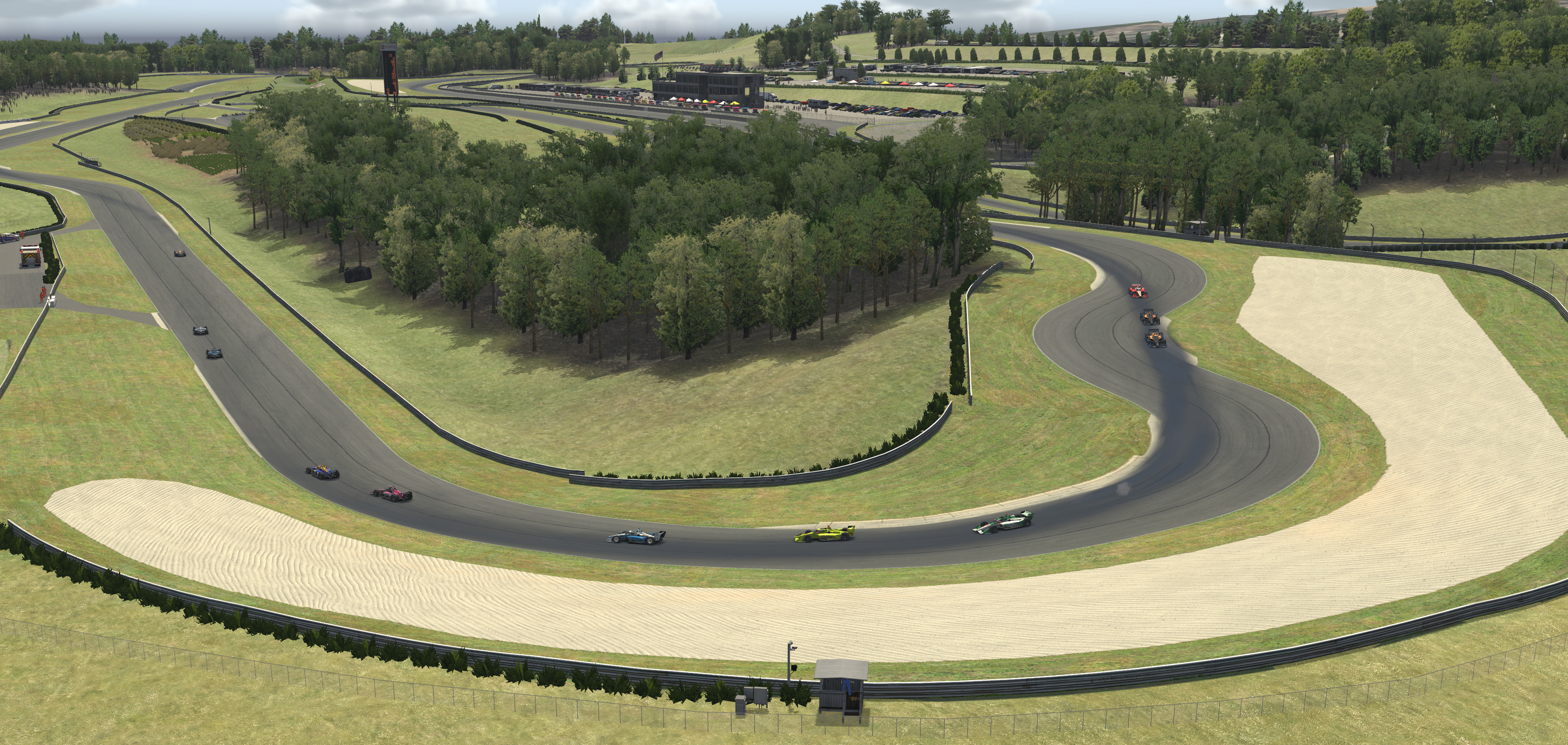 Power was close behind McLaughlin as he came on strong in the final five laps, but just didn't have enough to get to McLaughlin before the 45-lap event finished and had to settle for second.
He took third in the first round of the series at Watkins Glen two weeks ago, and ran in the top three early in the race before the top two from Watkins Glen, Sage Karam and Felix Rosenqvist, collided.
On the work with his engineer, Power added: "We actually learnt something in this last race [at Watkins Glen], is how important the communication is to me.
"When Dave [Faustino] said 'keep pushing or focus on your lap time, we can still win this thing', I thought he meant focus.
"After the race we talked about it, that you [Faustino] need to tell me there's still a sequence coming on, someone can be coming out in front of you, you actually need to push.
"It's actually some good learning stuff that we actually will use in real life.
"Car setups change on these cars.
"From a strategy standpoint, you're talking to the guy that you're going to be working with on the real stand. That's a benefit. It would be a big benefit for Scott because everyone is new to him on the IndyCar side."
A number of drivers – including long-time leader Karam – criticised other drivers for their etiquette in traffic at Barber, and Power had his microphone connected to the other drivers in the race muted after he called another driver a "wanker".
Explaining this, Power said: "I'm glad that they banned me on the microphone.
"Actually one guy I called a wanker. Well, a couple of guys.
"When guys spin right in front of you, drive straight back on the track, don't even look, I guess you are, yeah, a bit of a wanker. That's crazy.
When asked if he had been muted before, Power added: "I have, yeah. I thought they muted the whole field. They just muted me!"
The IndyCar iRacing Challenge will get its first taste of oval racing next weekend, as the series heads to Michigan.
Ex-NASCAR star Dale Earnhardt Jr had confirmed on Twitter that he would be interested in racing on an oval in the sim series, while Marco Andretti is also set to return to the championship next weekend.