America's top two championships – IndyCar and NASCAR – have done an absolutely phenomenal job in getting their stand-in championships launched in the virtual world while coronavirus has put their 'real' calendars on hold.
If you're yet to watch either series' polished, professional and as-close-to-real-life spectacles, then do so and you won't be disappointed.
But does one championship have one fundamental flaw that will hinder its translation into sim racing?
NASCAR has run two of its Pro Invitational Series races so far, with Denny Hamlin slingshotting to victory at Homestead-Miami over Dale Earnhardt Jr, while iRacing stalwart and Truck Series regular Timmy Hill cleared the field in a late overtime scenario to clinch a minnow's victory at Texas.
The truth is, NASCAR's races have delivered the perfect blend of virtual and reality creating the most accurate, polished and best all-round esports experience of any motorsports championship in this coronavirus gap. They're backed and broadcast by Fox, which means Jeff Gordon, Mike Joy and Larry McReynolds form the commentary team while Clint Bowyer enters the races and becomes the occasional pundit.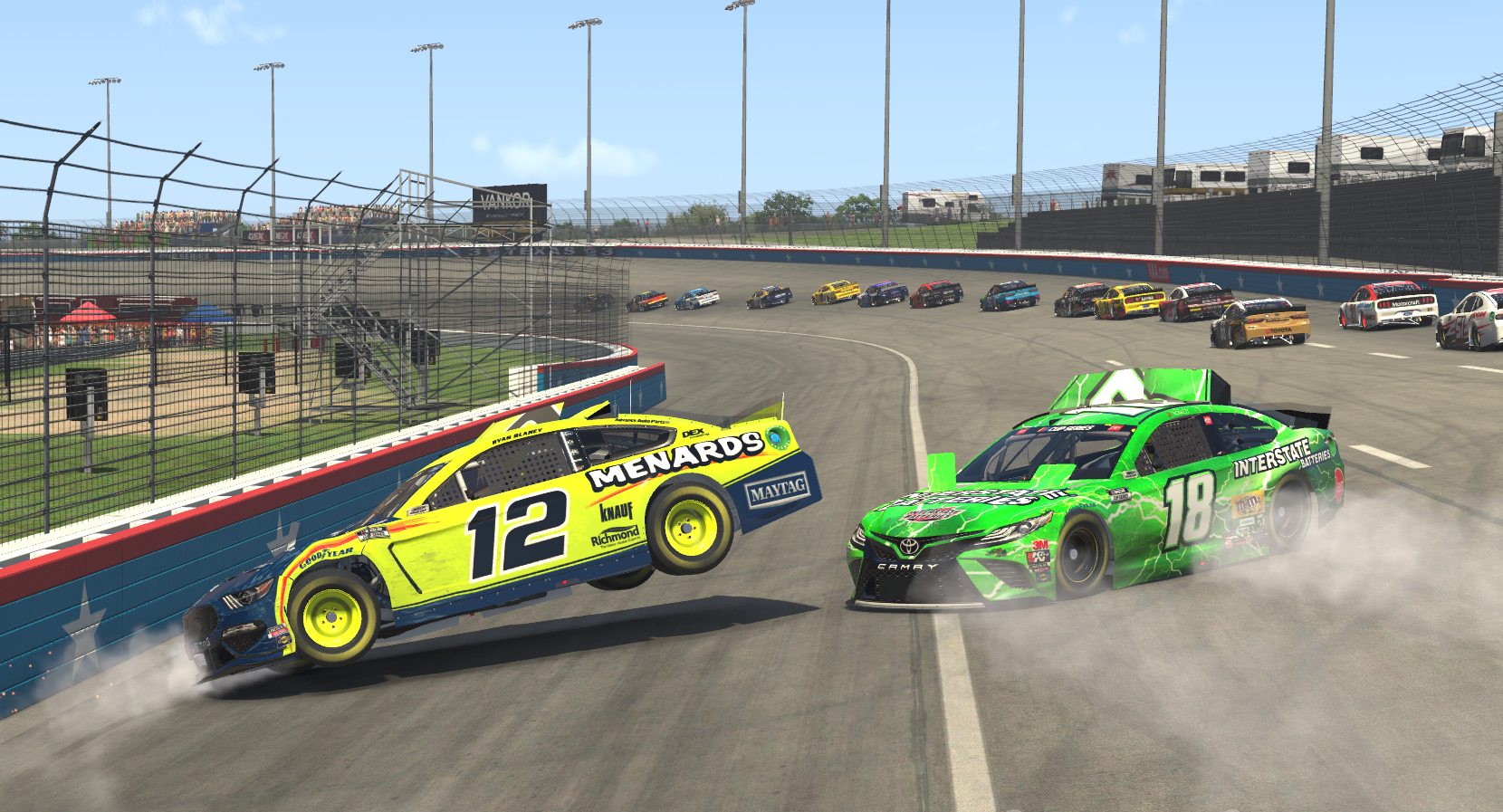 Bowyer has stolen the show in both events. His most recent soundbite golden nugget, after he claimed to have been taken out: "That's the only thing you can't do on these things that you can in real life, get your hand out of the window and flip them the bird!"
The graphics appear just like a normal race, with a flawless broadcast ticking all the boxes.
So when IndyCar – one week later than the official NASCAR Pro Invitational Series started – got going last Saturday, it had a lot to live up to.
Like Fox, it had its regular TV commentary team in Leigh Diffey, Townsend Bell and Paul Tracy. A stunning field of drivers was amassed, Ryan Hunter-Reay, Marco Andretti, Takuma Sato and Scott Dixon the only major absentees from the real 2020 grid. But even their absence created a form of positive, as it gave drivers lacking profile like Andretti Autosport's Indy Lights driver Kyle Kirkwood a boost. He got to take over Hunter-Reay's car in a bid to get his name out there in the same way many of NASCAR's second and third tier drivers have been able to.
While everything looked as well polished as NASCAR's broadcast, IndyCar faces one major problem. It doesn't appear that it will have full course cautions in its online races.
Both series offer two full resets following damage so star names can get back into contention. But in the IndyCar race, that just wasn't possible because of the lack of cautions.
Watkins Glen, the home of the IndyCar opener, isn't on the normal season calendar anymore. While it has a place in the hearts of many fans, it's not a track known for overtaking and IndyCar – in hindsight – would have done better to stipulate a track that would guarantee action, instead of letting the fans decide in this case. There was also no mention on the broadcast of push to pass, so it wasn't clear if that was activated or if drivers had access to it.
IndyCar and NASCAR have both fallen short in tapping up to new fans during this coronavirus break, despite having the best products.
Back in 1979, NASCAR was changed forever when the whole of the east coast of America was locked indoors during a violent storm, just as the Daytona 500 was starting. A fight between Cale Yarborough and Donnie Allison after they had taken each other out for the lead opened NASCAR up to a captive audience thanks to the storm, and America was hooked. Without that storm, who knows if NASCAR would have ever made the mainstream.
In 2020, we face the same scenario. There are captive viewers all around the world crying out for good esports content.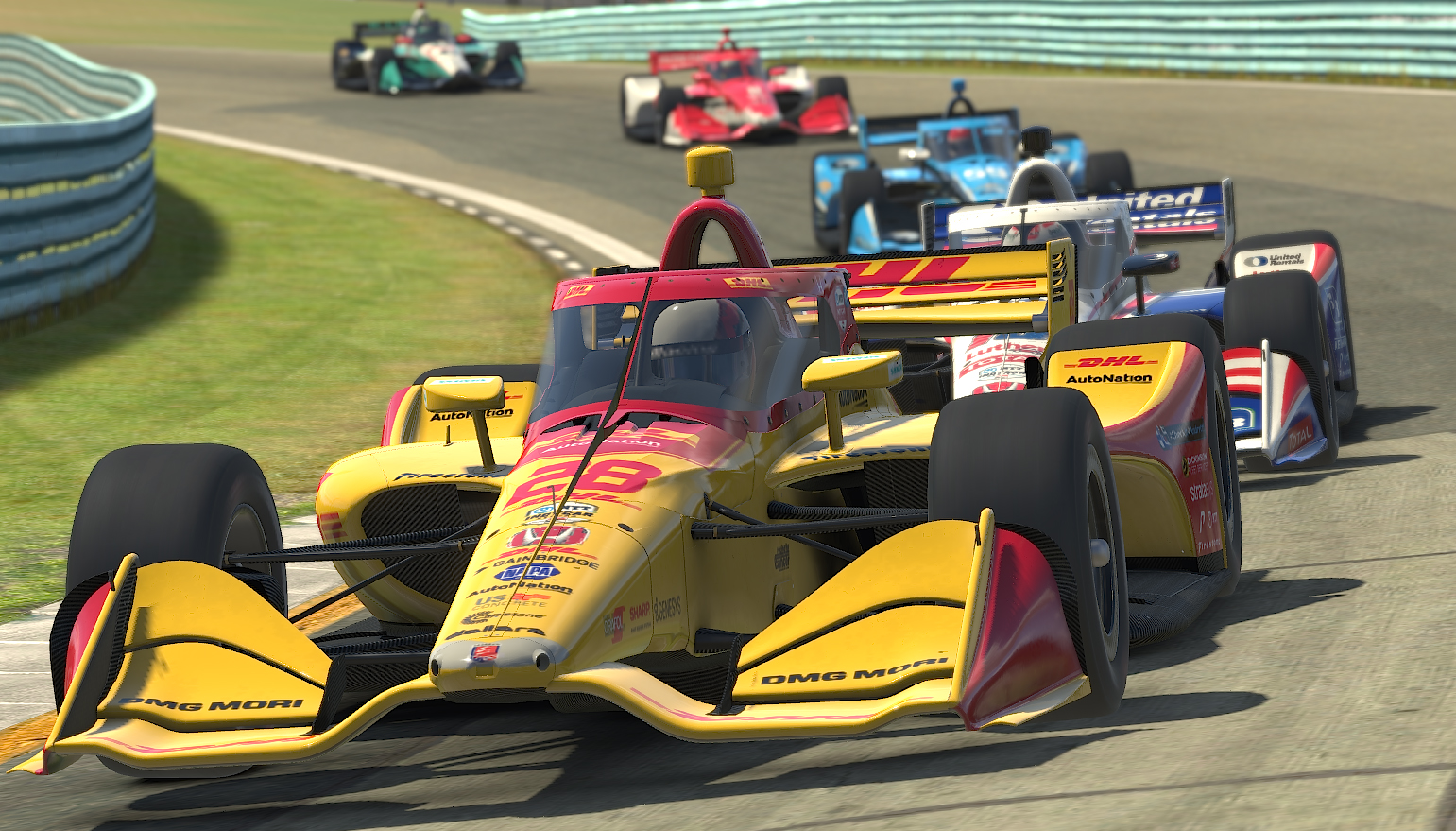 Where IndyCar has succeeded is in striking a balance between getting a TV broadcaster on board – or at least pinching its presenters – and making it watchable. The race was streamed free on a number of platforms, meaning the captive world was able to watch. The only problem was they watched a boring race that Sage Karam – not a 'name' to fans outside of IndyCar – dominated from start to finish, and many of its biggest stars weren't able to rebound from crashes without a caution to catch up.
Taken out on the start and then just cruised around 5 laps down today. Thanks to everyone who watched! Also big thanks to @GabbyChaves for letting me use his sim. Hoping to have mine built mid next week to actually start practicing.

— Zach Veach (@ZachVeach) March 28, 2020
On narrow street course circuits, IndyCar is going to need to look at whether it introduces cautions more liberally. There were at least three crashes in the Watkins Glen race that would have yielded a caution in real life – which would have given drivers using a reset to get back in with a chance of taking victory. Whether they could have challenged Karam, we'll never know, but strategy played a major part in the NASCAR Homestead-Miami race – creating an exciting conclusion, even if – maybe – the fastest driver that day didn't win. The same could be said for the Texas race.
If IndyCar wants to capitalise on that captive audience with its excellent product, it needs to sharpen up the races. Unlike real championships that have partisan followings, new esports fans will want an exciting race or they won't watch again. There was so much good about IndyCar's esports debut, but some little tweaks could send it stratospheric.
NASCAR has a different problem, in that its virtual races are filling a slot on the Fox Sports bill where the real races would have happened. That means it has all the benefits and access Fox Sports commentators, graphics and research departments provide. But it also closes off who can watch the series because of the subscription-only service available in the US.
While it was stated that the race would be broadcast to 165 countries, no further details appeared to be provided on which countries – and if you were in those countries – how you would be able to tune in to a pay-per-view service in America. NASCAR should know – think of 1979 – better than anyone that if there's a captive audience there, it's worth tapping up. It could have more fans in Europe because of it.
Above all else, IndyCar and NASCAR are in a two-championship premier league when it comes to esports.
In real life the two are fighting a popularity war believed by most to now be led by IndyCar. The esports fight could translate into reality when we get back racing again, and both know what they have to do.
IndyCar needs more exciting races, and NASCAR needs to think bigger than America – where its broadcast rights allow. That's the next chapter in this thrilling battle of America leading the motorsport world forward in terms of quality of real-life championships brought to the virtual world.