McLaren Formula 1 driver Lando Norris says he would "love" to defend his debut IndyCar iRacing Challenge victory with a return on the Indianapolis oval series finale next week.
Norris avoided a pop-up window on his computer screen and an early spin to storm back from as low as 12th to victory at the Circuit of the Americas last Saturday, giving the new Arrow McLaren SP team it's first victory with a 1-2, as his team-mate Patricio O'Ward took second.
Having practiced from Wednesday onwards, Norris was the class of the field and won one of the practice races by nine seconds, starring on a circuit he has competed on in F1.
The IndyCar drivers have voted for the Indianapolis oval to be the final round of the six-event iRacing Challenge, and Norris has qualified by virtue of his COTA win.
Before the Circuit of the Americas race Norris admitted he had been driving oval races in a current IndyCar on iRacing in non-championship races and was asked repeatedly if he would defend his victory.
"That's a big decision," said Norris. "I would love to.
"I've done a couple of ovals in iRacing, not quite Indianapolis.
"Yeah, I think that will be a big challenge because I think there's a lot of these drivers, IndyCar drivers, a lot more used to oval racing. I'm not at all.
"It's going to be tricky.
"This [the COTA race] is like them kind of coming into my world.
"I knew a lot of the tricks on iRacing about how to drive this particular car on this particular track.
"I think the oval stuff, how you save the tires, the fuel saving and everything, I think that's much trickier in the ovals. I'm going to be having to play catch-up a bit more.
"I would love to. It's going to be a completely different experience.
"If I am eligible, I need to just ask the team. Yeah, I might see you next week."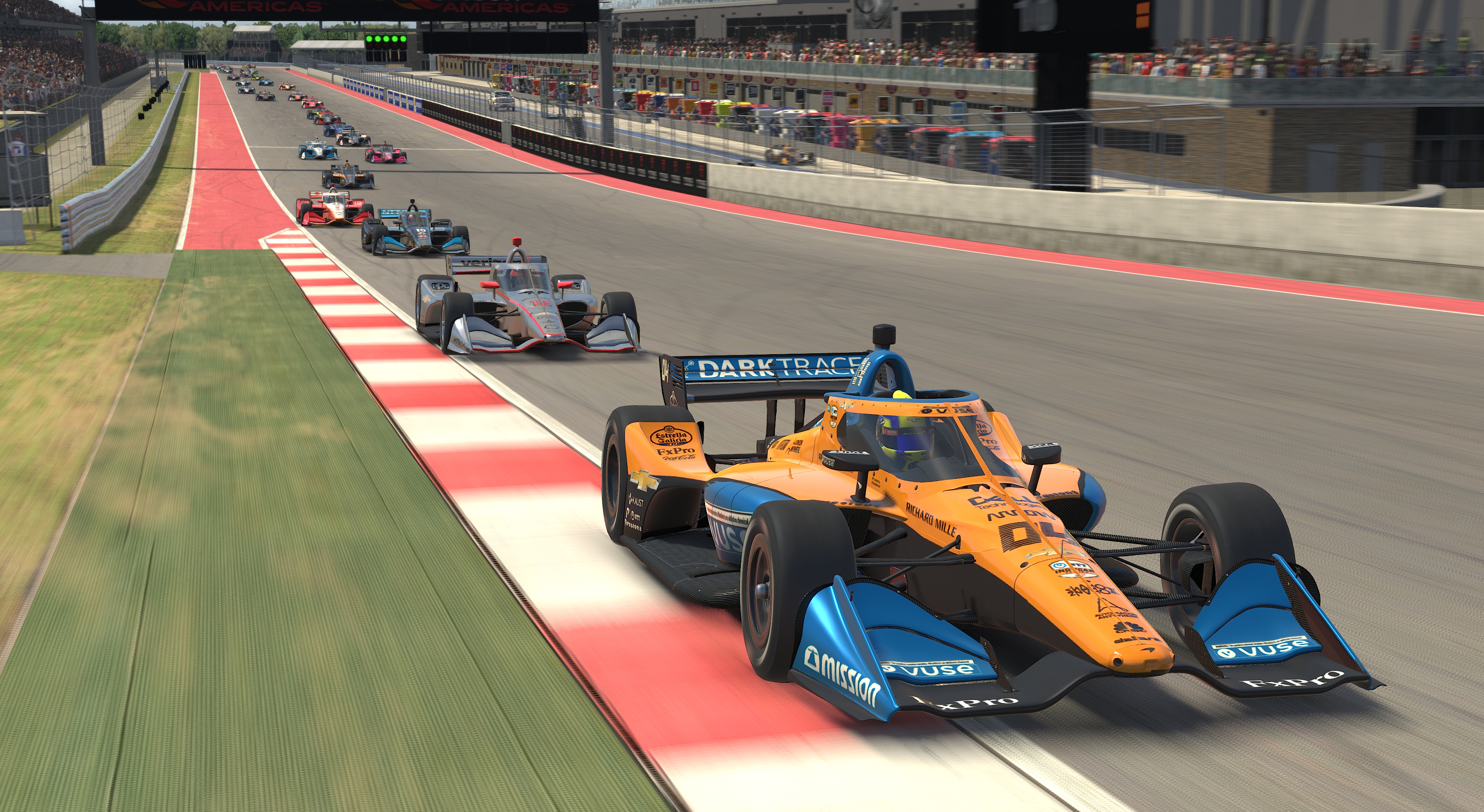 Norris was reunited with his F1 engineer Andrew Jarvis for the IndyCar race.
Jarvis left Norris after last season's F1 finale to move over to the Arrow McLaren SP team – although he was scheduled to return for a couple of races with Norris at the start of the season if the coronavirus outbreak hadn't hit.
With Norris streaming his practice and race through his Twitch account, it gave a unique insight into an F1 driver/engineer relationship as the pair mixed laughter on track with intensive debriefs off it.

Norris admitted that the relationship he and Jarvis have forged in F1 had contributed to his advantage at COTA.
"It wouldn't have been as good if I was doing this with someone I didn't know," said Norris.
"It wouldn't have been bad, but knowing the guy and knowing Jarv really well, him being my actual engineer for the last year, a lot of testing I did in Formula 1, that was crucial. It really helped.
"He knew how I wanted to drive the car, how I do drive the car, my weaknesses and my strengths, so on.
"I think 100% it helped. If there was more to do, if we did have to work on the setup, then it would be even tougher, and more of an advantage to work with a guy I knew.
"Yeah, the main one is if we do go to ovals, we both know very little about ovals so it might be a different story."
IndyCar has selected the grid for the previous rounds of the iRacing Challenge.
But for the last round on the Indianapolis oval – which will be 75 laps and 175 miles – the drivers chose Indianapolis, and all previous Challenge race winners and full-time real-world drivers have automatically qualified.
The rest of the 33 car grid will have to qualify.
That means Norris and Double Australian Supercars champion Scott McLaughlin – not full-time real-life drivers – have automatically qualified, McLaughlin winning the second iRacing Challenge round at Barber Motorsports Park.
McLaughlin had been due to make his IndyCar debut this year at the Indianapolis road course event preceding the Indy 500, but he is now waiting to see what happens with travel restrictions and what the Penske team wants to do with regard to when he makes his debut.