MotoGP plans to significantly increase its esports content in the coming weeks, as series promoter Dorna steps up its efforts to fill the void while the championship remains on hiatus due to the coronavirus pandemic.
Starting with this Sunday's second #StayAtHomeGP, Dorna plans to expand the content into a series of races while the riders remain locked down.
Factory Honda rider Alex Marquez took victory ahead of Pramac Ducati's Francesco Bagnaia in the opening esports race at Mugello last month, and Dorna managing director Manel Arroyo said he was delighted with the fan response so far.
"The esports races have been more than a success for us," Arroyo told The Race.
"We've been able to do something that makes sense for us, given the kind of riders that we have – they're young and their hobbies include video games already.
"We were able to do something in a way that many other sports have already followed. But in other series that have tried to do something similar, they've not had the main artists involved – but we've got the entire grid.
"We've already had one successful event and hopefully will have another this Sunday, with more to come afterwards too.
"This week we'll have Ducati riders [Danilo] Petrucci and [Michele] Pirro, we'll have Valentino [Rossi], the Marquez brothers – and for sure it'll make for a very interesting event and hopefully a fun time to be in front of your TV.
"And it means that in a time when we've lost our races, at least we have a different kind of racing to show."
In building on the success of the MotoGP eSport Championship, now entering its fourth season, to create the #StayAtHomeGP virtual races, Dorna has overcome technical challenges to create something that's quite different in tone from some other esports races we've seen during the shutdown.
The MotoGP event focuses more on the social aspects with every rider live-streaming from webcams as well as the track action and one of the key pieces of content is behind the scenes video of the build-up.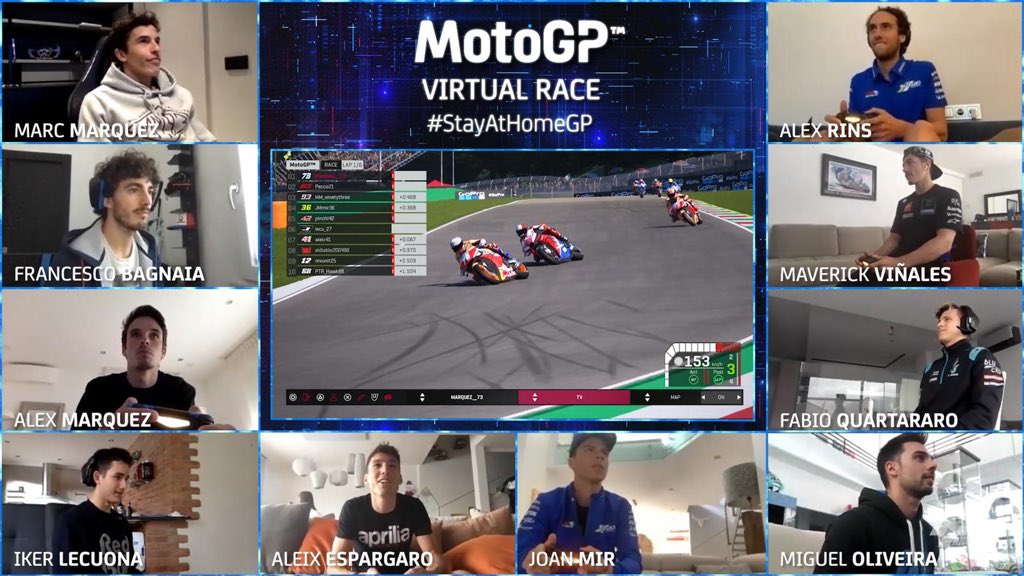 Arroyo said it wasn't easy to put together at short notice.
"It has been more than difficult to organise," the former vice president of FC Barcelona admitted.
"We've had to engage many people in the technical side of things. But that is something Dorna likes to do and we have a team with incredible expertise, so they've been able to create something that works well.
"The hardest part has been to find the right moment when all the riders are free.
"What we're always trying to do is to take common-sense decisions for our championship that helps us to manage the series and to give back to the MotoGP community.
"This will be the fourth season of the MotoGP eSport Championship, but we've also been able to give something different to fans too."
The next step will involve the series being expanded as the delay continues to affect on-track action, with riders from MotoGP's smaller classes getting their chance to battle it out online too.
With only 10 riders having lined up in the opening round, the addition of MotoE, Moto2 and Moto3 will give Dorna the chance to up the ante in terms of events produced.
"We are planning to make more races because already the riders are enjoying it and asking for more," said Arroyo.
"The guys in Moto2, Moto3 and MotoE also want to get involved with it, so we're also planning how we can do that.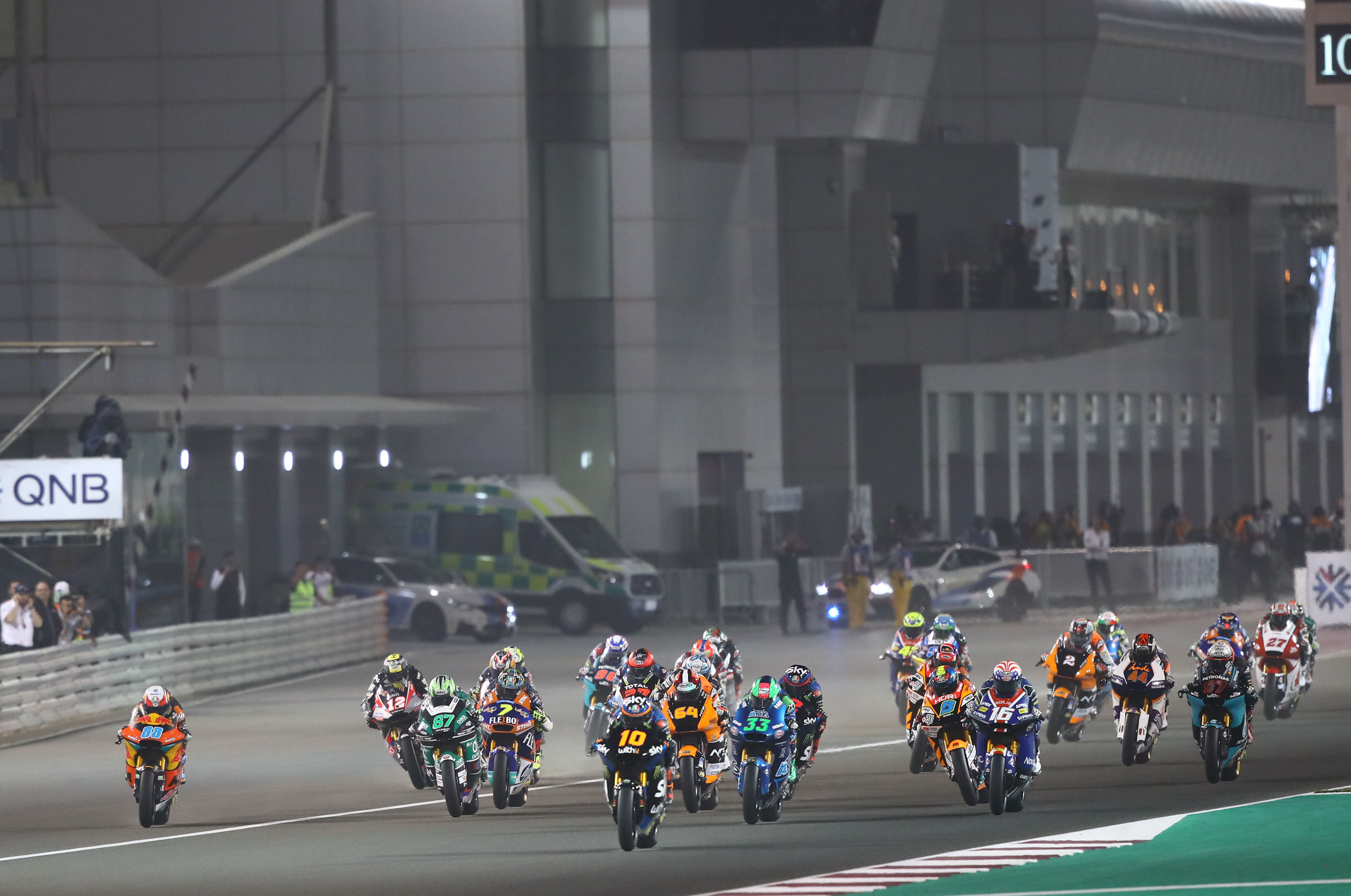 "Of course, it all depends on when we can start the 'real' season again, but for now, we have lots of ideas.
"Technically it isn't easy to organise everyone at once, so what we will do is have different races on different days.
"We can't organise a Sunday as we would at a normal race weekend – the technology just doesn't make it possible right now."
And while the virtual races have given fans starved for action a chance to tune in to some sort of racing, it's also helped Dorna commercially.
With MotoGP as reliant on TV broadcasting deals as any sporting series, Arroyo says his team has been working hard to ensure partners have plenty of content to showcase the sport and keep fans engaged.
"Our broadcasters are taking profit from the esport races, but apart from that, we're supplying them with as much fresh content as possible," he said.
"Editing raw material that we have, making interviews with our riders via Skype or other tools, organising them and helping broadcasters to get them to join their live shows. We're helping them to make as much content as possible to help keep our fans warm for when we can go racing again"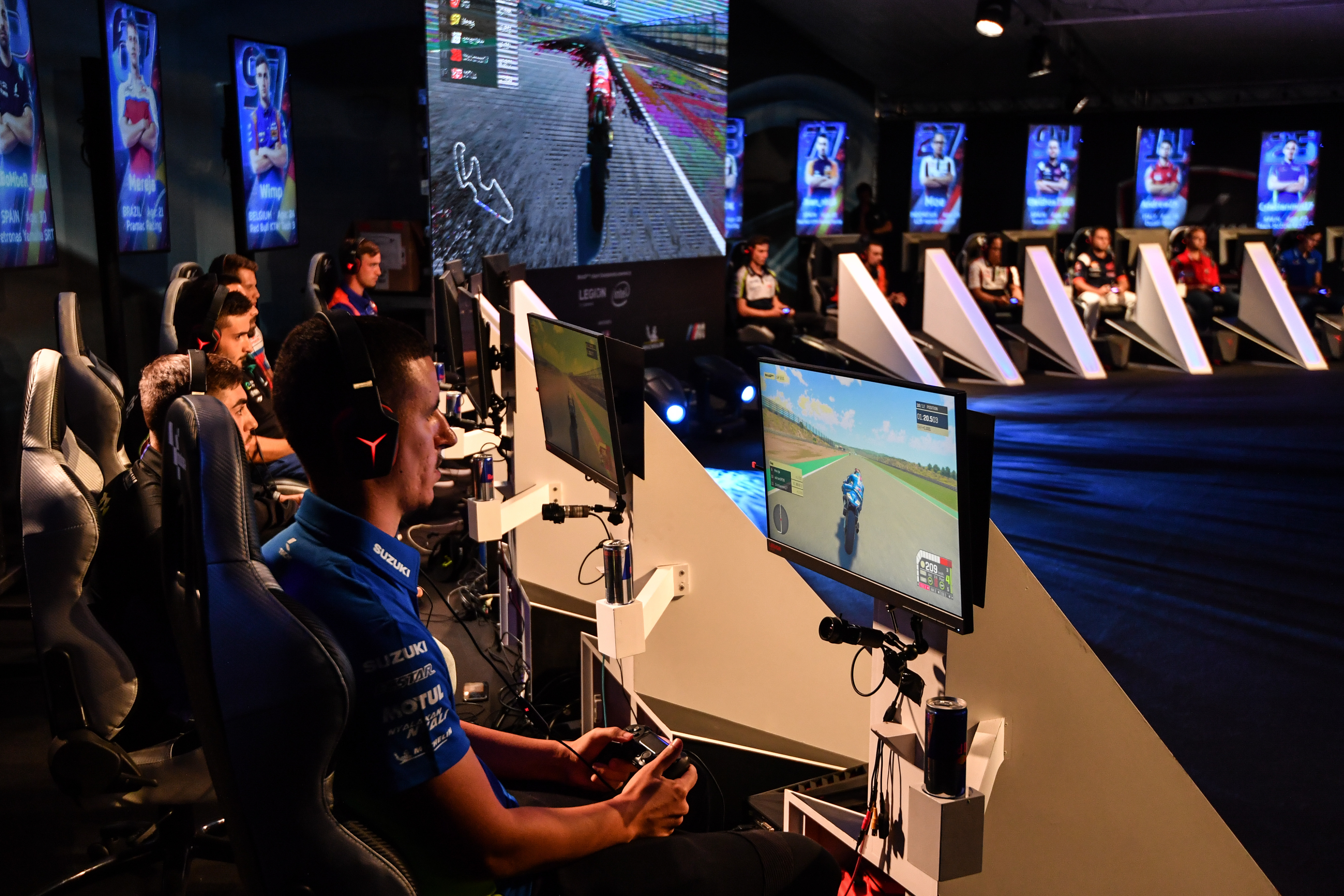 One thing that remains uncertain right now is the impact that the pandemic will have on the MotoGP eSport series' live events.
With the series already underway in the heat stages, the first live final was due to be held at Mugello next month. However, with that race postponed, it too will join the waiting game that the rest of the series is in.
It might not be too long a wait to see the esports competitors in action, though, with consideration also being given to adding 2019's finalists to the roster for support racing on the StayAtHomeGP bill in the meantime.