Alex Marquez took victory in MotoGP's first ever esport race on Sunday, winning a six-lap battle around Mugello ahead of Pecco Bagnaia and Maverick Vinales as 10 of the regular grid came together to play MotoGP19 for the first time in the 'StayAtHomeGP'.
But while simulator driving is a regular part of the car racing world and we've seen many of the top names in four-wheeled motorsport make an easy transition to online racing during the coronavirus lockdown, the nature of two-wheeled competition means that there are fewer real-world comparisons to be made – something that the factory Honda rider says was reflected in Sunday's results.
"It's difficult to make any comparisons to real life," said Marquez.
"For sure when you're a rookie in Moto3 and you don't know any of the circuits, it's a big help to understand the layout.
"This year, with Finland joining the calendar for the first time then for sure everyone will be playing it before we go there a lot.
"I felt good in the race though, not like I imagined after my first race of 2020, but I hope that everyone enjoyed it because it was a nice moment for us.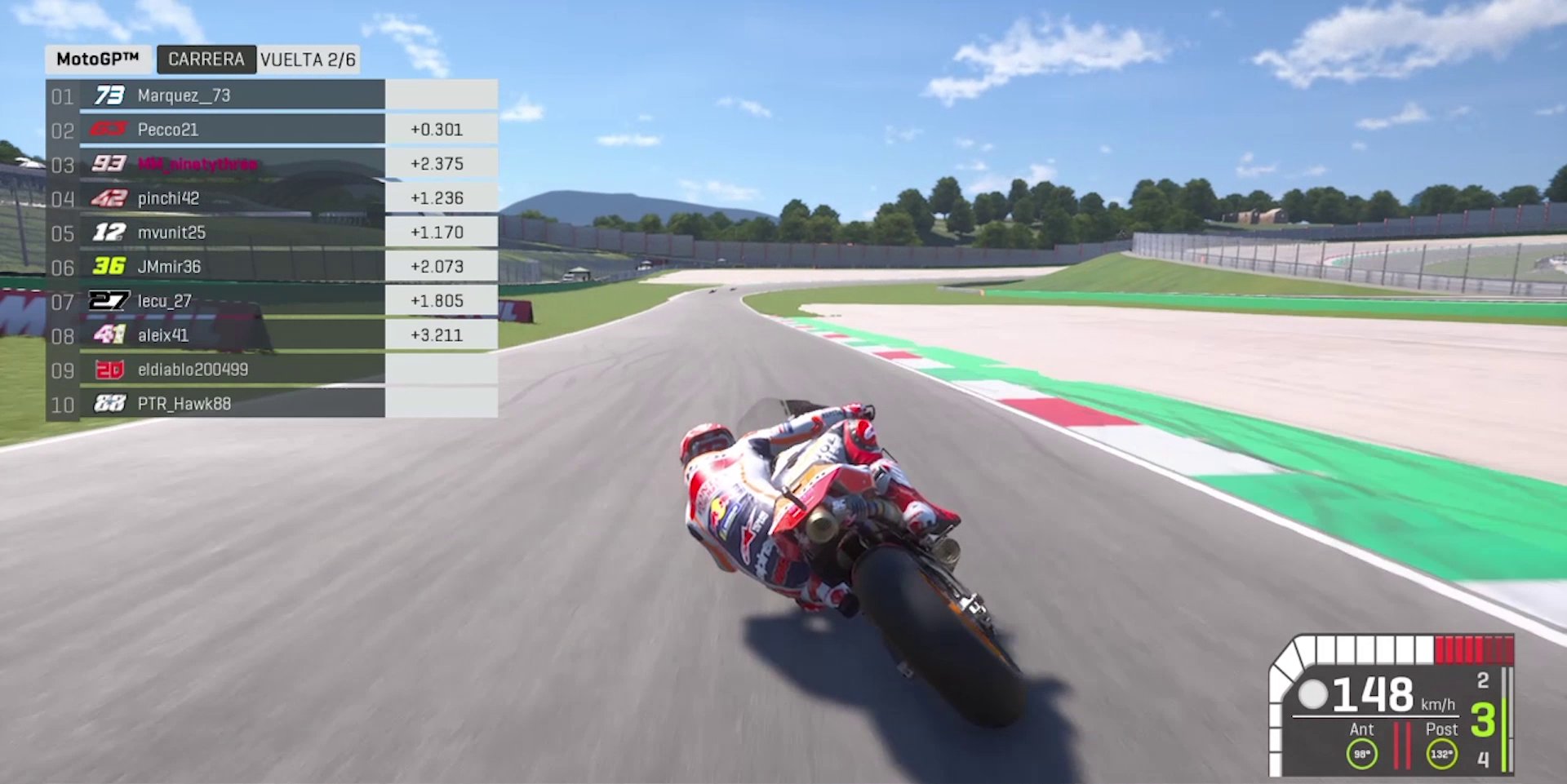 "I didn't expect to win because Maverick, Pecco and Fabio were a second faster than everyone else in qualifying, but my target was to not crash.
"I trained beforehand more to be constant than to be fast and it worked well."
"Everyone went very quiet and looked very tense – it's a strange feeling to be able to see the others!" :: Alex Marquez
In fact, such is the difference that Marquez was able to reach out to his online equivalent for tips and advice, messaging Indonesian MotoGP eSport competitor Moe (who races for LCR Honda in the virtual series) for set-up advice for Mugello.
"I trained a lot on Sunday morning and changed the set-up of the bike because before the gearbox was a little short on the straights," Marquez added.
"The settings are realistic – you feel a big difference when you make a change from the default setting.
"We made some changes and now for sure the other guys will try to do the same for the next race!
"I also got some advice about how to take the corners and how to not crash when you turn. If you change a little bit the bike changes a lot.
"When we see those [esports] guys riding they make perfect lines every lap and no mistakes, and you realise very quickly how difficult it is to do that.
"Last year one of my technicians played every circuit on the Playstation before we went there, and he was always speaking about how difficult it was.
"Everyone can make a lap, but to do every lap on the perfect line is so hard."
But while it might not have compared too much to the real thing, the MotoGP rookie says that he's still delighted that he and his fellow riders got a chance to entertain fans ahead of the start of the season proper.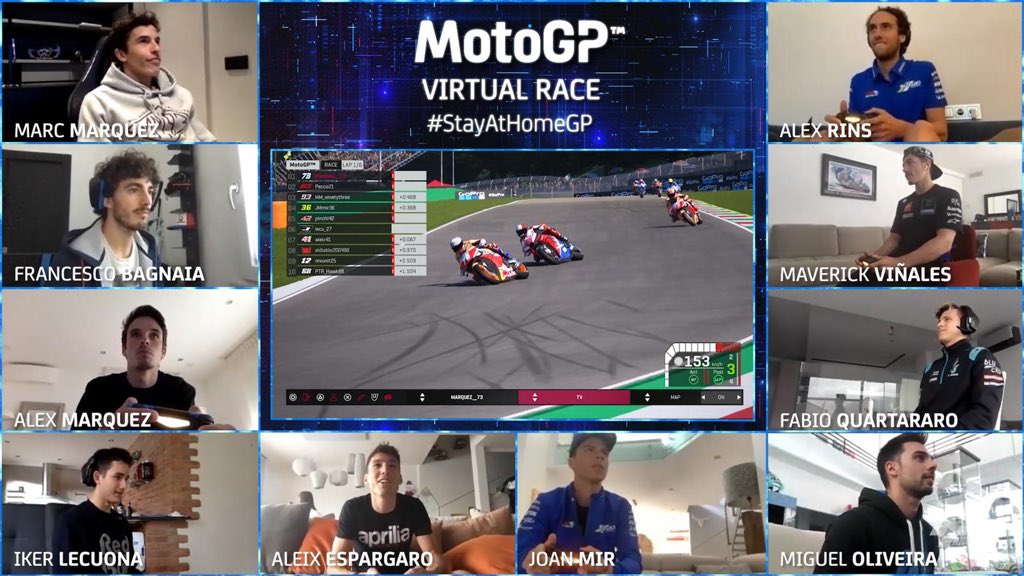 Turning into more of a social experience than a competitive race (aided by MotoGP's sharing of webcam footage from all 10 riders), it made for a different experience from some of the other esport events featuring professional drivers we've seen during the break – but Marquez was adamant that it didn't come with any less pressure.
"I was the only one not to crash – I learned a lot from Moto2 last year," he said.
"Normally I'm good at finding the limit, but with this game, it's really easy to make a mistake and crash, especially on the kerbs.
"Last year's races when I was fighting for the championship prepared me well for the race.
"You see that there was a little bit of pressure, though, because everyone went very quiet and looked very tense – it's a strange feeling to be able to see the others!
"I felt the pressure a little bit when I was leading on the final laps.
"In 2014 when I was fighting for the Moto3 championship I was younger, and you don't think about things like the championship as much.
"You're a little free-er in your head. It was more like that because last year I was thinking a lot more during races about the title."
He'll have a chance to defend his crown in the coming weeks, too, with round two of the series scheduled for April 12, with the race once again streamed for free on MotoGP's social media channels. A rider line-up and circuit are still to be confirmed.