Erhan Jajovski won his second race in the BMW M2 CS Racing Cup, triumphing in the competition's inaugural night race.
Jajovski led the race from the front and was able to build up a winning margin in excess of five seconds, claiming a further €1000 in prize money from the series.
Also starting on the front row was Jajovski's R8G Esports team-mate Risto Kappet and the two quickly established a gap over the rest of the field.
But Kappet rode the kerbs too aggressively at the Hatzenbach section of the Nordschleife, lifting his car up onto two wheels before hitting the barrier on the exit of the corner.
The Estonian was able to continue racing, but lopsided steering meant he was overtaken by those behind him.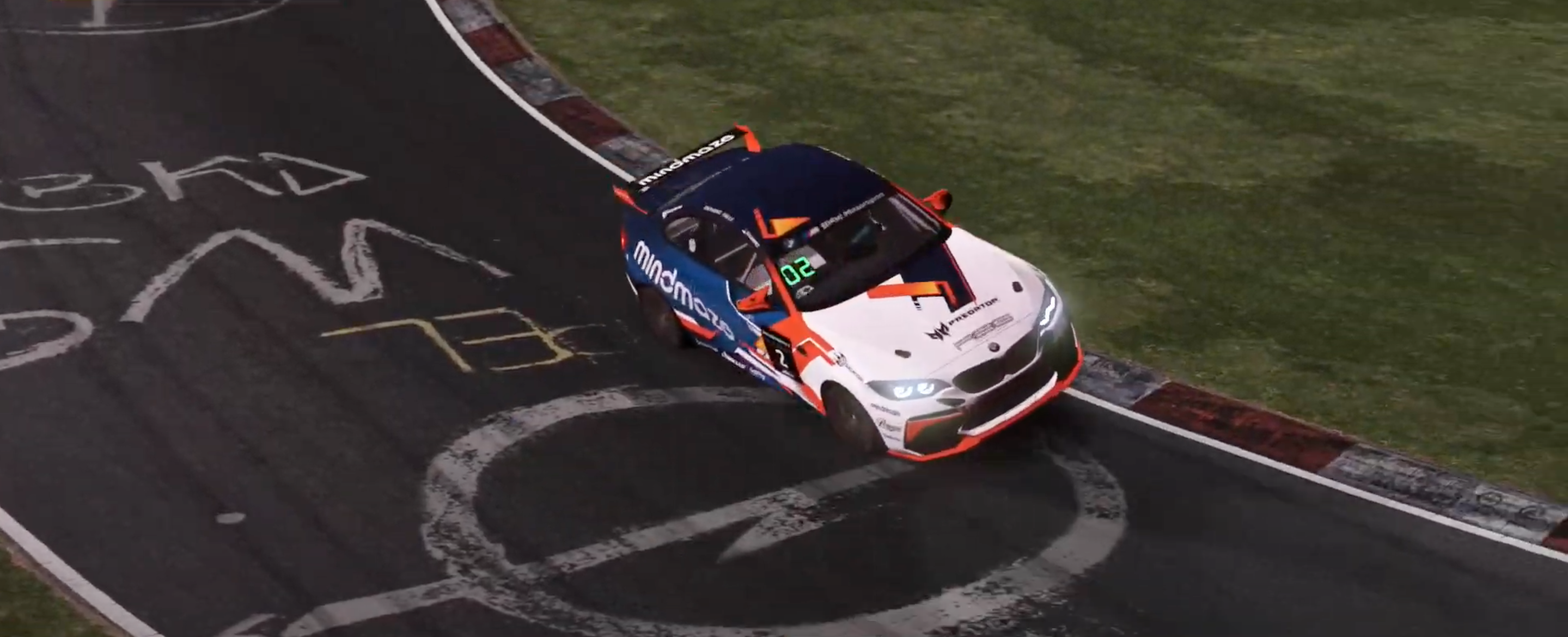 The first to pass Kappet was Peyo Peev, and with Peev having not previously secured a ticket for the BMW SIM Live event at the end of the year, he became the sixth driver to ensure his place there.
Also vying for a place in the live event is Williams Esports' Kuba Brzezinski, having narrowly missed out in a number of the previous rounds.
He qualified in seventh but worked his way up to fourth place within the opening few corners.
At the end of the first lap though Brzezinski was the victim of slipstream as Hany Alsabti overtook him down the long Dottinger Hohe straight.
That also gave fellow Williams Esports driver Nikodem Wisniewski, as well as Michal Smidl, the opportunity to overtake Brzezinski at the grand prix portion of the combined circuit.
At the flat out left-hander of Schwedenkreuz, Smidl went around the outside to pass Wisniewski, but cut in front of him and sent his own car into a drift which he held.
Wisniewski lifting off to avoid further contact is what put Brzezinski back in front of his team-mate.
Alsabti, Smidl and Brzezinski were then able to pass Kappet's wounded car as he lacked grip and straightline speed after his contact with the barrier.
It was Alsabti who finished in third to win €250 but, unlike Peev, neither he or Brzezinski have won themselves a spot in BMW's Sim Live event at the end of the year although there are four more chances to earn a place.
The next round in BMW's M2 CS Racing Cup on rFactor 2 will take place on July 22.
Before then drivers will have another chance to win tickets to the live event in Munich as the next round of the BMW SIM 120 Cup on iRacing will be run on Sunday July 5.