Qualifying for the third season of the World's Fastest Gamer contest is underway now, and many players will be competing for a place via the mobile app Gear.Club.
Though many finalists already have existing simracing pedigree, the Gear.Club route gives a chance to those with less experience – or even complete beginners – to put themselves into contention for the life-changing prize.
Finalist Riley Gerster earned his place in the competition via the free app in season two last year and Henrik Drue made the inaugural season through Gear.Club.
Drue then impressed so much with that he was given a chance to drive an old Williams Formula 1 car in 2018 as a reward.
Last year our https://t.co/r9RizVWMue ace got to drive an F1 simulator through @theWFGamer – now @HCDrue has driven the real thing today at @MagnyCoursTrack. An amazing reward from @EdenGames_ and @Millennial Esports for our Danish ace. pic.twitter.com/ZKvGHWurlo

— Gear.Club (@gearclubthegame) September 19, 2018
The winner of World's Fastest Gamer season three will win a real world drive worth $1million with a professional racing team.
The first qualifying time trial on Gear.Club tasks players with driving a Koenigsegg Agera RS around two different tracks.
This initial qualifying event will run until May 6 and is the first of three separate qualifying sessions that will take place over the next three months.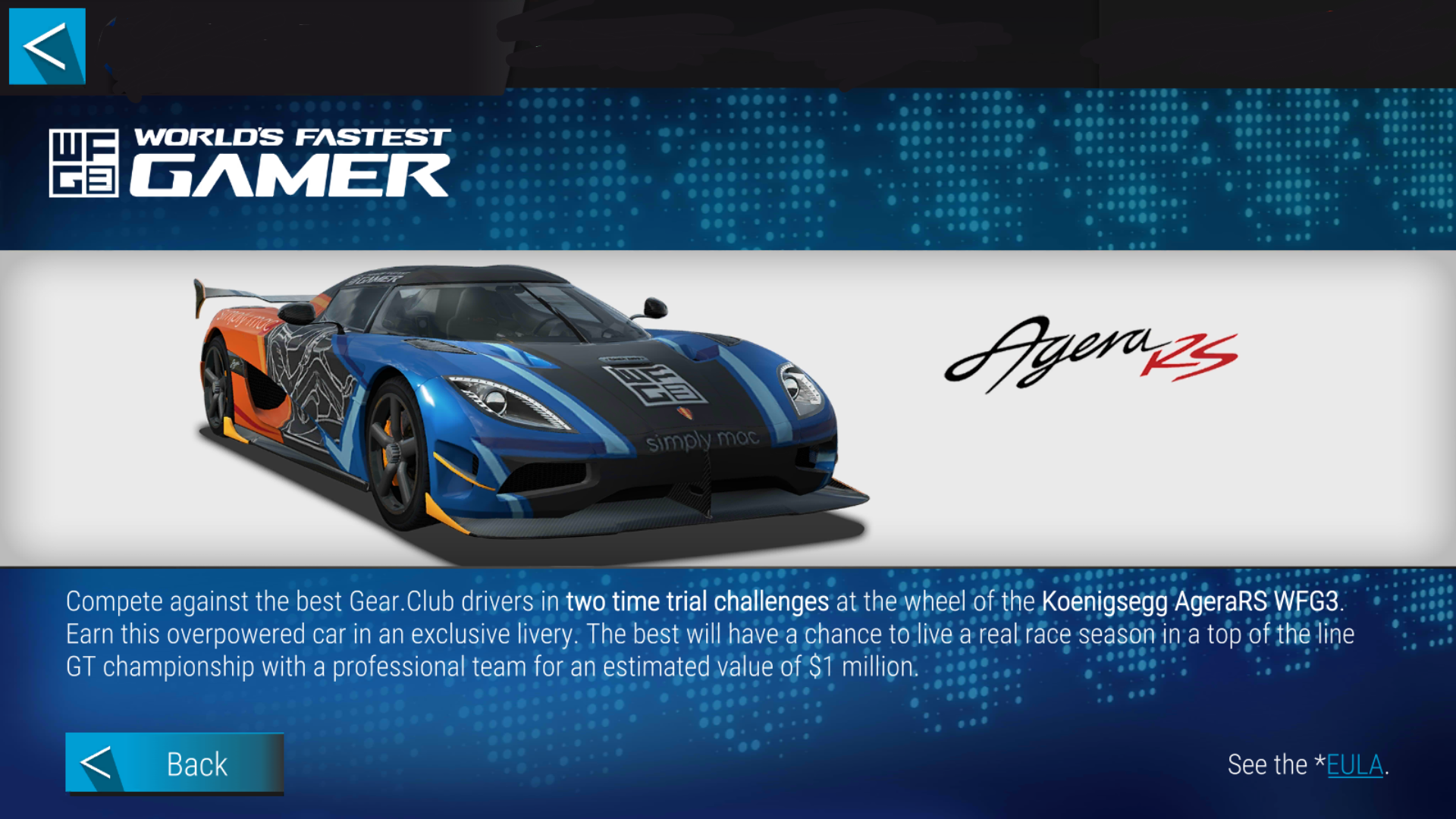 Aside from the Gear.Club challenges, seven other qualifying events will take place with one being held on rFactor 2.
The Race All-Star Cup – Fully Charged by ROKiT Phones championship leader Erhan Jajovski qualified for World's Fastest Gamer 2019 through the rFactor 2 qualifying route as he won the final race, beating fellow Triple A esports driver Risto Kappet and Hany Alsabti into second and third.
Full details of the other ways to earn one of the 10 final spots for the latest running of World's Fastest Gamer are yet to be revealed.
However the competition aims to gather gamers who each specialise in different racing game series.
Aurelien Mallet was a finalist last year and is a Forza Motorsport specialist, while last year's winner James Baldwin cut his teeth with Project Cars and plenty of the other finalists had significant experience on iRacing.
The top 10 gamers are scheduled to gather in Miami in November for a series of intensive online and on-track competitions to find the overall winner.