The All-Stars Esports Battle brought together the best drivers from the worlds of virtual and real life racing, and it was Slovenian Jernej Simoncic who emerged victorious.
Despite earning the largest share of the $10,000 prize fund on offer from that race, Simoncic isn't widely known to those outside of the racing game Esports community.
Yet his speed on rFactor 2 is remarkable, especially with open-wheelers – as demonstrated by him being the runner up in the Formula SimRacing championship in 2016, 2017 and 2018, and finally taking the title last year.
Other displays of his sim racing ability include a fifth-place finish amongst the creme de la creme of rFactor 2 racers in that game's round of the World's Fastest Gamer qualifiers in 2019.
He was also part of a three-driver team that finished third in the 12 Hours of Sebring rFactor 2 event, beating a team that contained Max Verstappen.
Despite this sim racing success, he's never had any real-world racing experience. The only exception is 40 minutes of karting at a local go-karting track.
Clearly, the majority of his time has been spent with rFactor 2, a decision that stretches back a long way.
"I've tried Raceroom and iRacing in the past, just for the experience, but all my focus is on rFactor 2." Simoncic told The Race.
"In 2005 I got a copy of F1 Challenge 99-02 and the transition to its successors, rFactor and later rFactor 2, was natural, as friends and leagues where I'd raced remained loyal to the brand.
"In rFactor 2 there's everything I want from sim racing – from hardcore telemetry and set-up studies, to the great variety of racing, and recently, even chances of earning something."
His racing ability has even paid itself off, as the equipment in his sim racing rig was either paid for by his Esports earnings, or in the case of his Thrustmaster wheel, won as a prize for winning the Formula SimRacing drivers' championship. In total, he's spent around €1100 on the rest of his sim racing gear – which he certainly gets his money's worth from.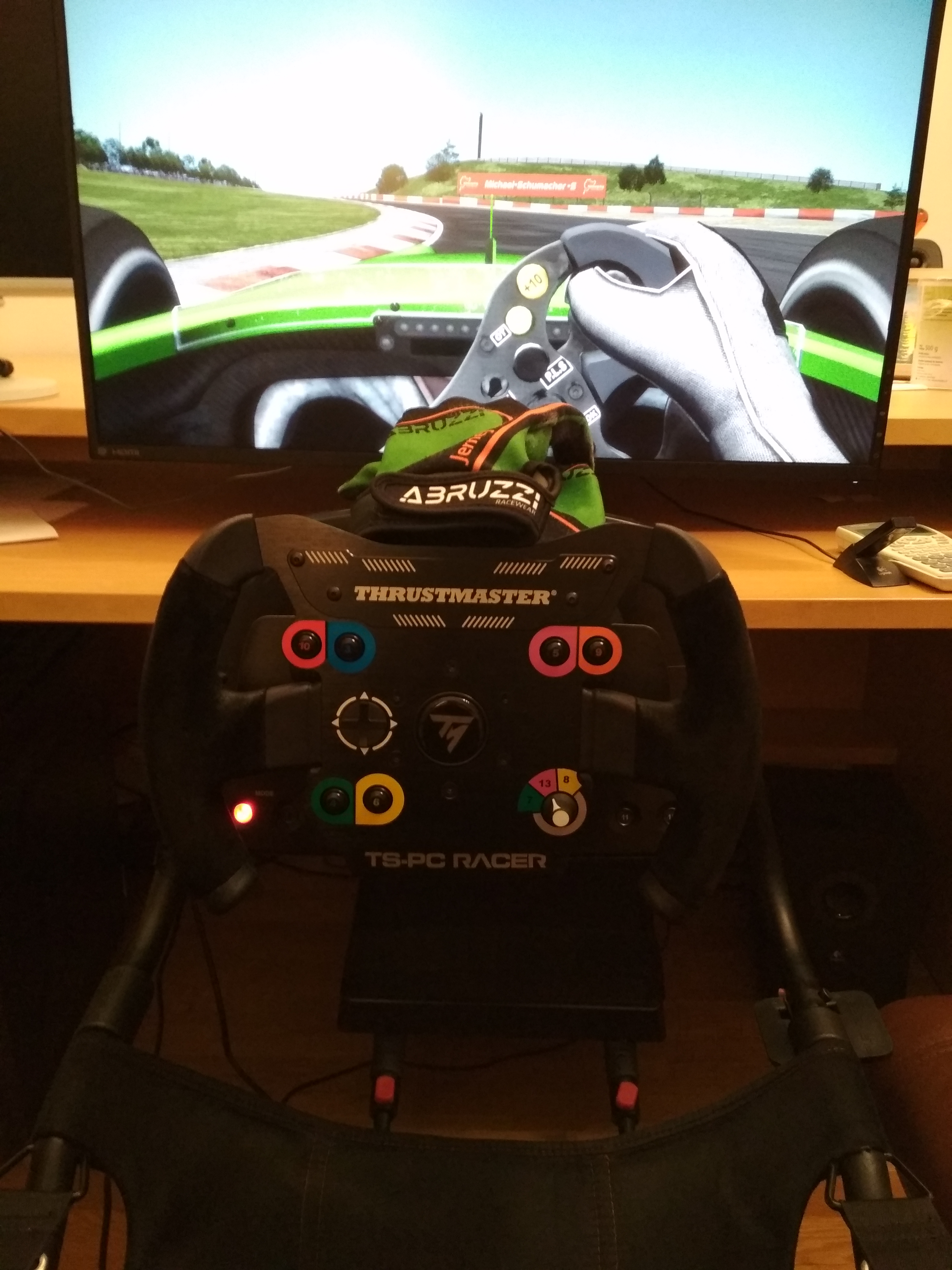 "For me, five years ago it used to be 200-600 completed laps of practice per race, but nowadays the number is much lower.
"Being in a top team helps with that significantly as all the work is distributed. With the vast experience that we have inside the team Burst Esport, a good base set-up is usually already made when I go for my first laps.
"Many times it is enough to do a quali and race simulation in the team server, and do further 10-20 quali attempts on the race day before the event begins.
"What takes away most time are the hot-lap leaderboard events with open set-ups, where one is never happy with the lap time and the set-up of the car, and then even 10-15 hours can disappear over a week."
Simoncic is undoubtedly one of the fastest rFactor 2 players in the world currently, but the popularity and commercial interests in Esports aren't quite at the level where he can turn his talents into a full-time job in the same vein that real racing drivers get to race cars for a living.
With events giving out prize money based on where you finish, the rFactor 2 side of Esports, like many others, can't reliably provide a reasonable income even for its top players.
"It's becoming equivalent to a part-time job, but it's mostly dependent on my results, so it currently is too risky to take it as a job." Simoncic said
"Therefore I'd just managed to get myself my first full-time job two weeks before the All-Stars race, but I hope that some time in the future I can be a full-time sim racer."
The Race's All-Star Esports Battle will return for its second round this weekend – follow it on our YouTube channel.