Reigning champion Jannick Bock won his third GPVWC Superleague race of the season at Silverstone and took the top spot in the drivers' championship away from Adam Maguire.
Heading into the race, which marked the halfway point in the season, Maguire had a seven point lead over Bock.
Bock qualified in third place and undercut his Evolution Motorsports team-mate Dennis Jordan through the pitstops to jump up into second.
Both Evolution drivers pitted before polesitter Daniel Brewer and were able to establish a 1-2 after the pit phase.
Brewer persistently tried to get back in front of Jordan, with an attempted move shortly after the pitstops failing after Matthias Muuss, who hadn't pitted, blocked Brewer's path and allowed Jordan to keep second.
With four laps to go Brewer, with a contact heavy move that started at Brooklands and carried on until he got the better drive out of Luffield, passed Jordan for second position.
The battling meant he was outside of DRS range to leader Bock, meaning Bock took the full 25 points with Brewer in second place and Jordan in third.
Maguire qualified in fourth place and kept that position for the majority of the race.
Late in the race Jernej Simoncic tried to overtake him around the outside of Stowe, but their rear tyres touched and both spun and were left sideways on the outside of the turn.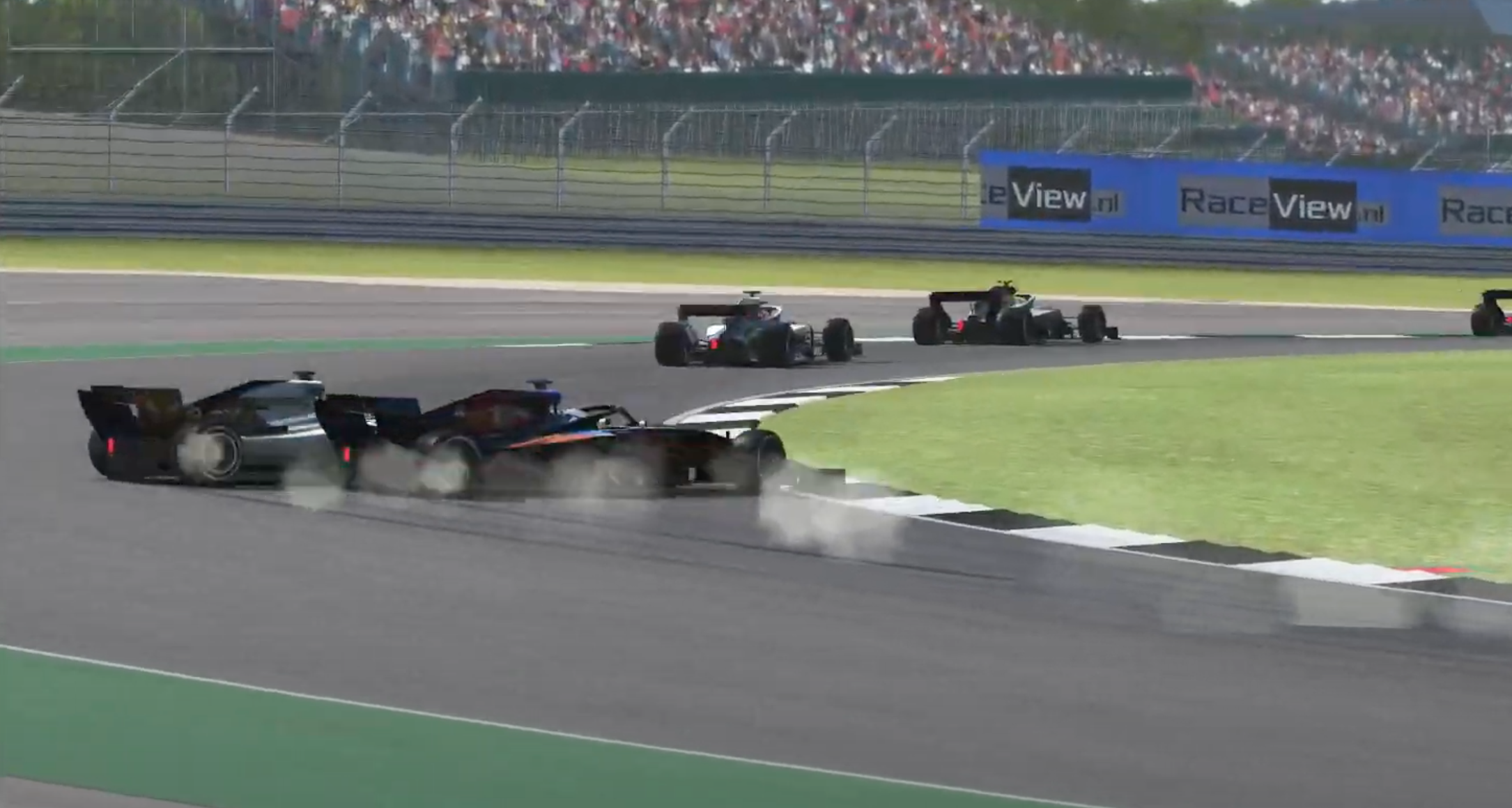 That dropped Simoncic to ninth but he quickly moved up to eighth after he cleanly passed Maguire at the same corner on the following lap.
Simoncic then passed Alex Cooper and Rait Kilk to move up to sixth.
On the final lap he caught up to Maciej Mlynek as Mlynek caught up to Liam de Waal to create a three way fight for third.
Heading into the final complex of corners they were all running side by side, but at the final turn Simoncic was forced to the inside and hit the sausage kerb.
That lifted his right side tyres off the ground and sent his car flying into the side of Mlynek's, meaning they spun to a standstill just short of the finish line.
The Race All-Star Series Sim Masters points leader de Waal, in his first Superleague race of the season as he replaced Eros Masciulli at Edonis Engineering, ran wide when going around the corner so avoided the crash and finished in fourth.
De Waal has previously raced in the lower Superleague Lights championship where he's won all eight races to date, including their round at Silverstone.
Mlynek crossed the line in 10th and Simoncic in 11th, but Maguire capitalised from their collision as he finished in eighth.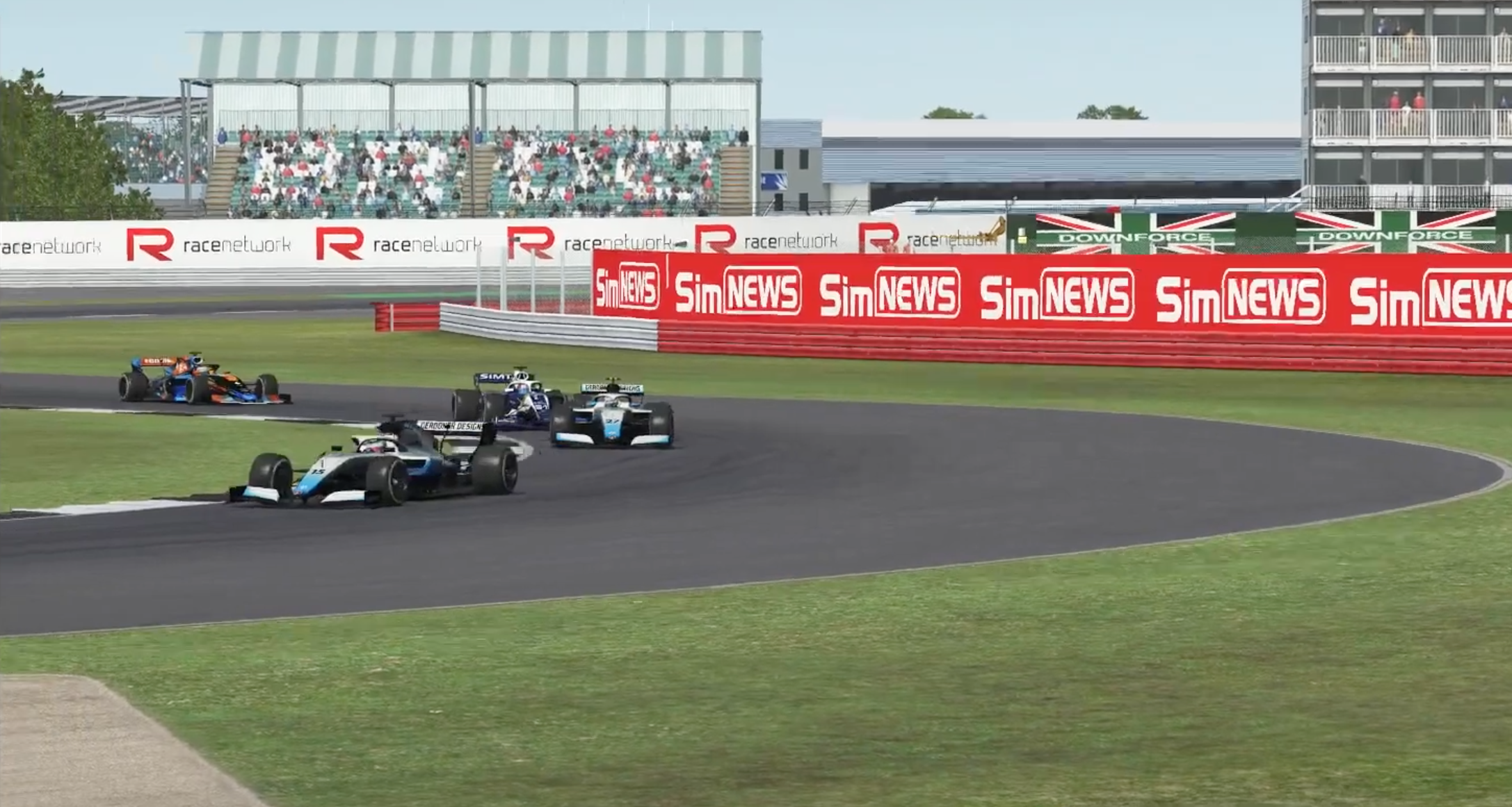 With points for the top 15 finishers, Maguire's eighth place finish means he scored eight points compared to 25 for race winner Bock.
Bock now has the drivers' championship lead as he's 10 points ahead of Maguire with eight races still to run.
The next round in the Superleague championship takes place on July 2 with a trip to Hockenheim in Germany.