Last year 10 gamers were gathered together for a series of challenges to see who would make the best real-world racing driver.
On the line was a seat with a professional team in 2020, a prize worth $1million. The contenders didn't know it at the time, but that seat would be in a McLaren GT car with Jenson Button's Jenson Team Rocket RJN squad in the GT World Challenge Europe series.
It was Brit James Baldwin who came out on top of the second World's Fastest Gamer contest, proving himself in the sim races, real-world driving and fitness stages of the competition.
World's Fastest Gamer is fought out between gamers who specialise in different fields and contenders coming in via an open qualifying event via the free Gear.Club mobile app that absolutely anybody can have a shot at regardless of their esports experience level. The 2020 process is underway now.
Baldwin was one of the invited gamers last year, earning his place off the back of his earlier esports successes.
Those include winning the Renault Esports Series and making the final of the 2019 Playseat SMS-R Series, both of which were on Project Cars 2.
Arguably his crowning achievement before World's Fastest Gamer was winning the 2019 eROC championship – the esports companion to the Race of Champions.
World's Fastest Gamer was a completely new experience for Baldwin, and one with plenty of highlights.
"The five best moments I say would be: seeing the racecars for the first time, which was on the second day in Las Vegas," Baldwin tells The Race.
"That was really cool and set the scene for what we were going to be doing.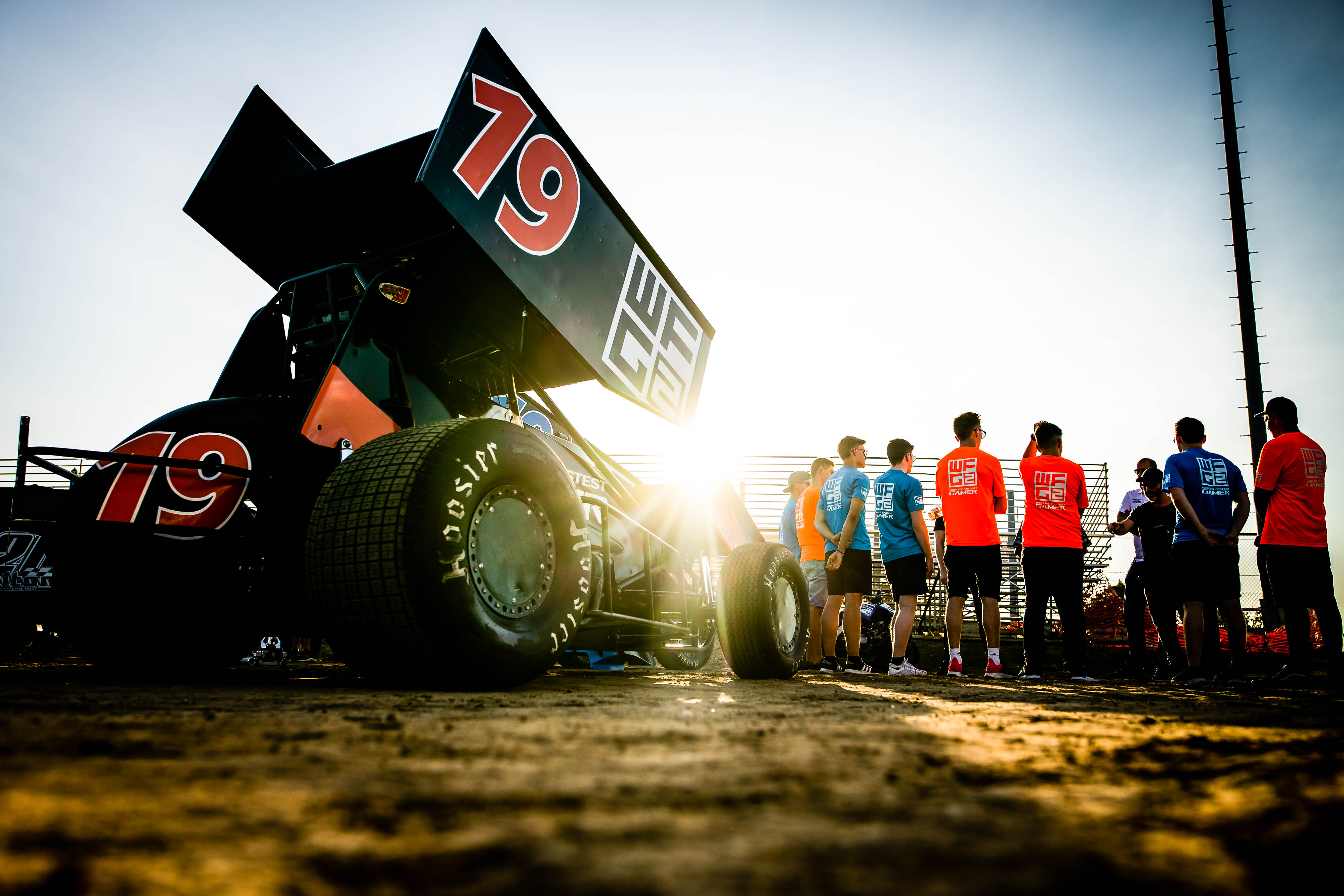 "The second best would be the dirt sprint car – first of all when we got to see it but then driving it was an unbelievable experience I'll never forget because it's just so different, so powerful and it's off road, which I'm not used to.
"Meeting Juan Pablo Montoya for me was amazing because I've been supporting him from a young age.
"The sim race on the top of the roof in Los Angeles was quite special.
"One because I won it and two because of just what it was and where it was. It was just amazing, it's actually the screensaver on my computer right now!
"Also winning it, when I won and Montoya giving me the news was an unreal, dream moment."
"We thought it was a rest day so we were chilling out, eating quite a bit of food. I think we had McDonalds at one stage. Then we get told on the way to the beach that there's going to be a physical task" :: James Baldwin
Before World's Fastest Gamer, Baldwin's real world racing career only consisted of karting and Formula Ford.
Winning restarted his motorsport journey and surged it forward, with his earlier racing experiences giving him a headstart on some of the other gamers.
"The cars weren't actually that scary fast but they were the perfect cars for what we needed them for – which was to prove who could push," Baldwin recalls.
"They were unaided; they had no traction control, no ABS so you had to drive them quite purely and naturally.
"But driving the car was one thing, listening to the instructors was arguably just as important because they were feeding back to the judges.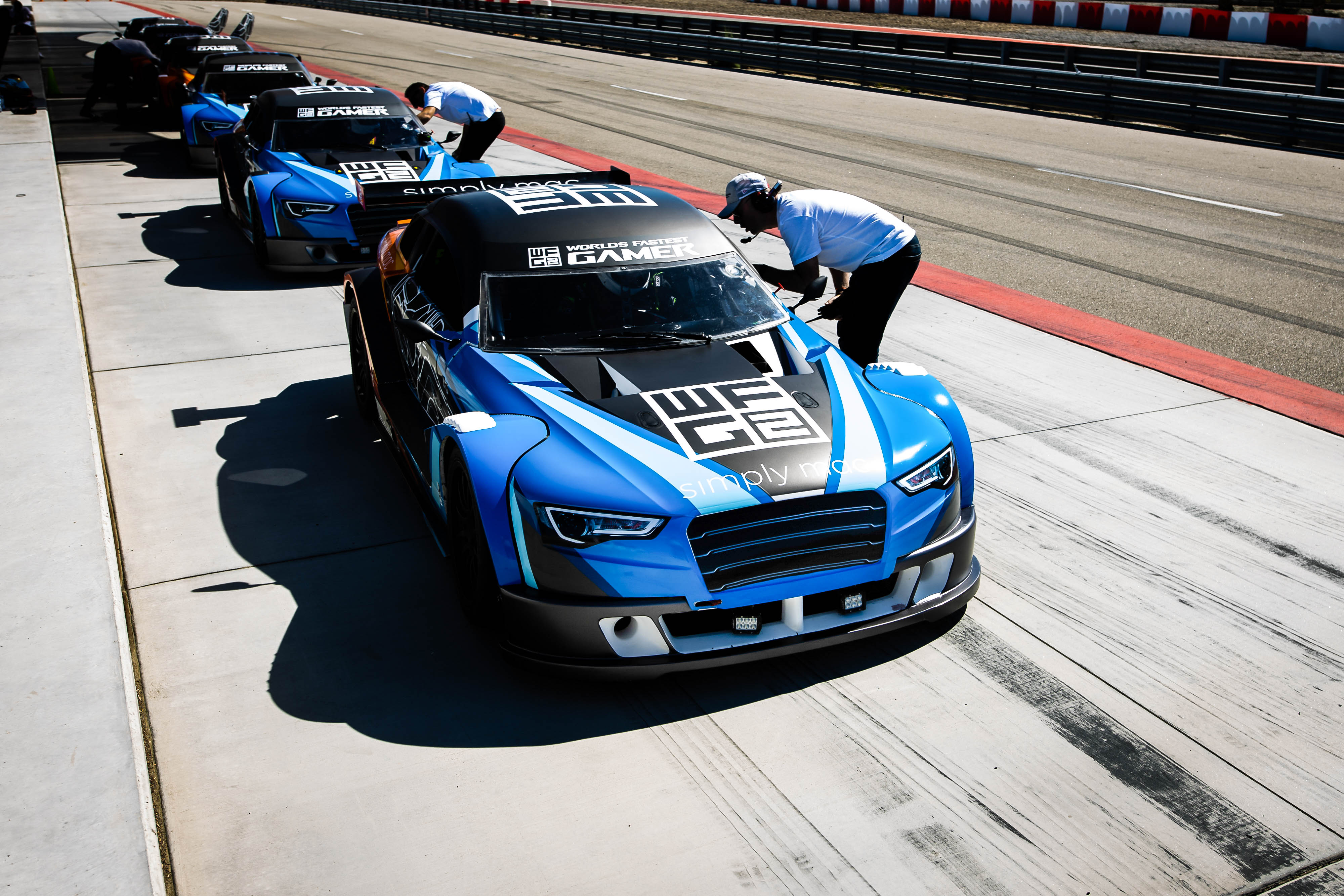 "So obviously I wanted to go out and be quick but I didn't want to spin, I didn't want to go against the instructors' orders.
"And everyone was in a different scenario because I'd driven cars before whereas some of them hadn't.
"So if you ask any of the other competitors I'm sure they saw that initial stage differently.
"I was quite comfortable with it, I was just more excited than anything."
The driving and sim racing challenges may have come naturally for Baldwin, but the physical tests threw everyone in at the deep end.
They were carried out by Simon Fitchett, the human performance coach at World's Fastest Gamer who has worked with both David Coulthard and Sergio Perez.
That meant the sim racers were really put through their paces, made worse by the fact that they weren't warned about the tests ahead of time.
"It just all got a bit too much, my heartbeat was going a bit too much, I probably thought about things too much" :: James Baldwin
"The physical tests were a funny one actually because like all the things in the competition we didn't get told a plan or anything, it was all spontaneous," Baldwin explains.
"So on the day of the fitness tests, which took place in the late afternoon on the beach near Laguna Seca, for the whole day we thought it was a rest day so we were chilling out, eating quite a bit of food. I think we had McDonalds at one stage.
"So then we get told on the way to the beach that there's going to be a physical task and again we were all at different stages.
"I tried to keep in shape before the competition as well as I could. I was probably lacking a bit of muscle whereas some of them were a bit out of shape and some were a bit more in shape than me.
"It was brutal! It was an hour of very intensive circuit training and I'm pretty sure all of us were sick afterwards and that kind of says it all really."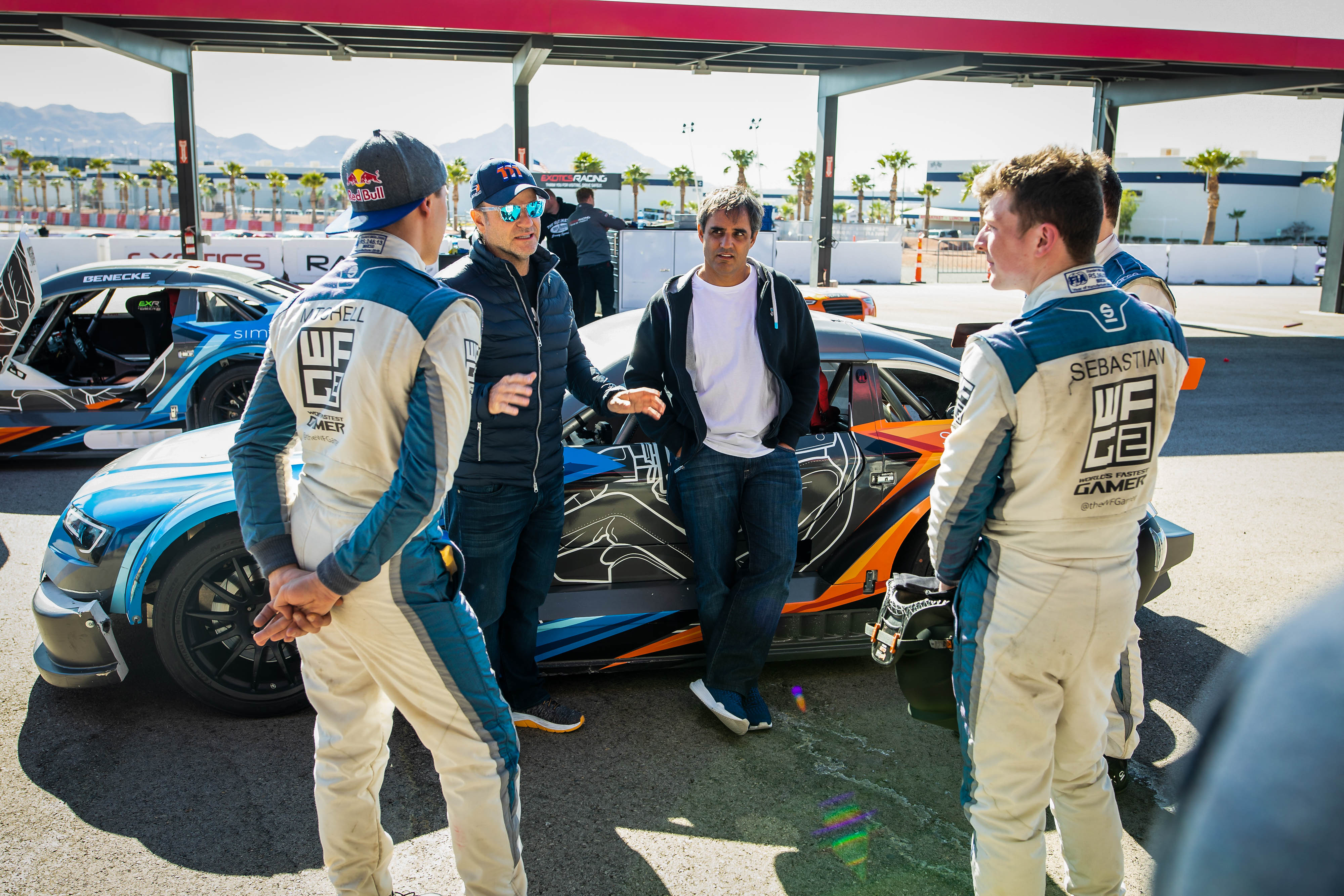 Competitors were knocked out two at a time until there were only four left, with Baldwin the only driver remaining from the orange team captained by inaugural World's Fastest Gamer winner Rudy van Buren.
The final took them to Las Vegas, where they were told to set the best time they could in qualifying before taking to the track for a race to end the competition.
Nerves nearly got the better of Baldwin as a last minute change of format threw him.
"In the initial qualifying that was planned it was a 10-minute session and I put in on pole by three or four tenths," Baldwin says.
"Then they spontaneously said 'go out and do a one shot quali, you get one lap each' and that's when I messed up.
"It just all got a bit too much, my heartbeat was going a bit too much, I probably thought about things too much.
"I was still second so I knew I had the pace to be on pole and that's the positive thing I grasped onto in between qualifying.
"So it was just about staying cool, calm and confident in what I'd done the whole competition. There was one race left there was no point letting it get the better of me to waste all of the two weeks' work I'd done previously.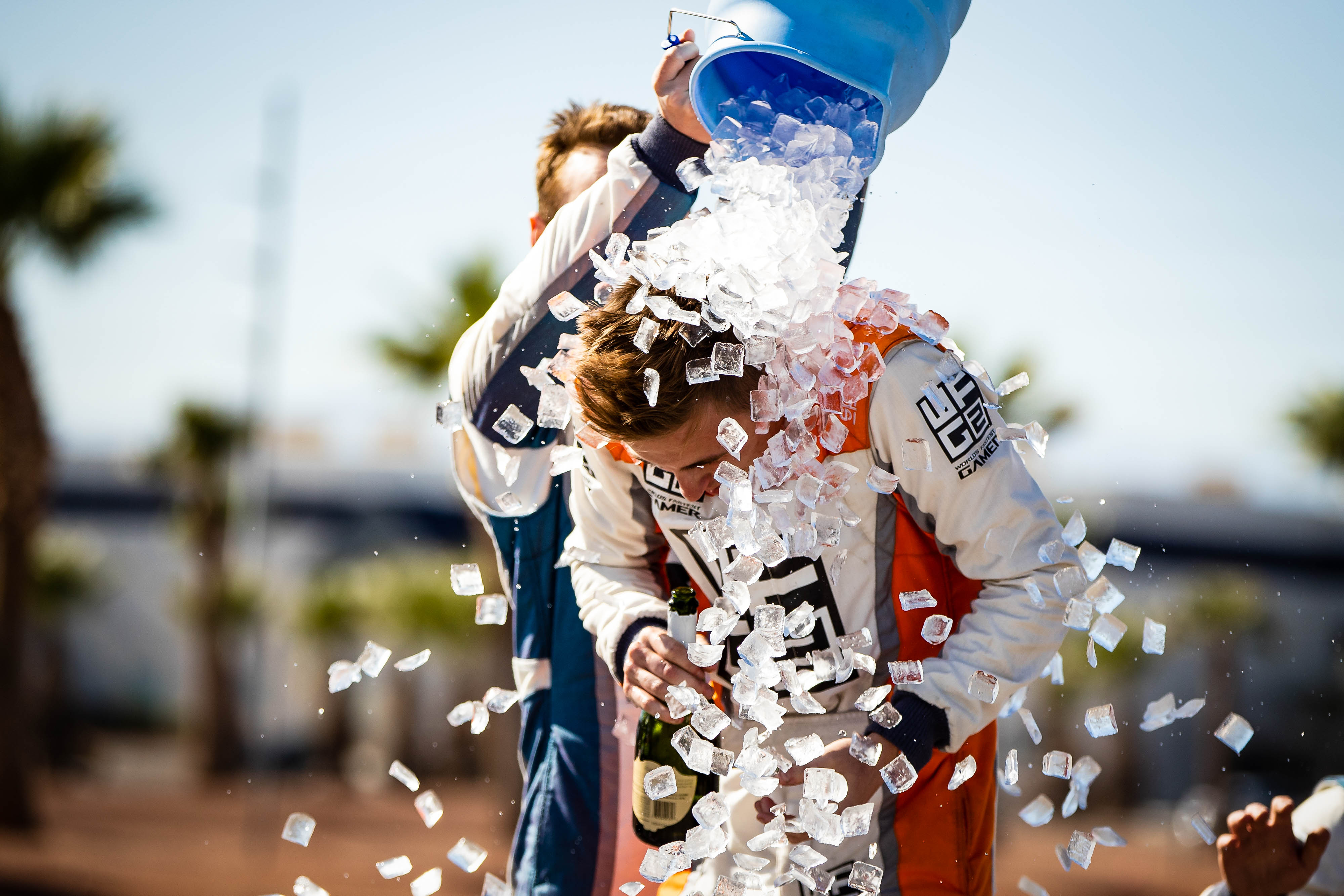 "And Montoya had a nice chat with me and I think Rubens Barrichello did as well, they could see I was a bit nervous so they tried to calm me down a bit.
"Altogether it just worked and once I got past Mitchell [de Jong] it was a really nice race."
Baldwin's win in the final capped off a consistently strong performance and earned him his seat in the Jenson Team Rocket RJN McLaren 720S GT3.
Qualifying for the third season of World's Fastest Gamer is underway with a place up for grabs through the free mobile app Gear.Club.
Another spot will be reserved for the winner of an event on rFactor 2 that will take place later in the year.
We'll be catching up with Baldwin again on The Race soon to hear about the first steps in his preparations for racing the Jenson Team Rocket RJN McLaren.