The much anticipated and heralded public Gen3 arrived in Valencia and it was a curious mixture of novelty, firefighting and what the promoters and governing body were quite clearly hoping would be an element of damage limitation both figuratively and practically.
The cars themselves proved to be slightly quicker than their Gen2 ancestors with much more potential for improvement to come.
But the fact that such a gamut of technical and operational issues had to be navigated by teams was still sobering.
The reality in Valencia was that despite the ABB FIA Formula E World Championship offering a sheen of 'it'll be alright on the night' next month there is still a question to answer on just how one of the very few world championships could have got to such a level of unpreparedness so thoroughly and so quickly.
Reliability still a major concern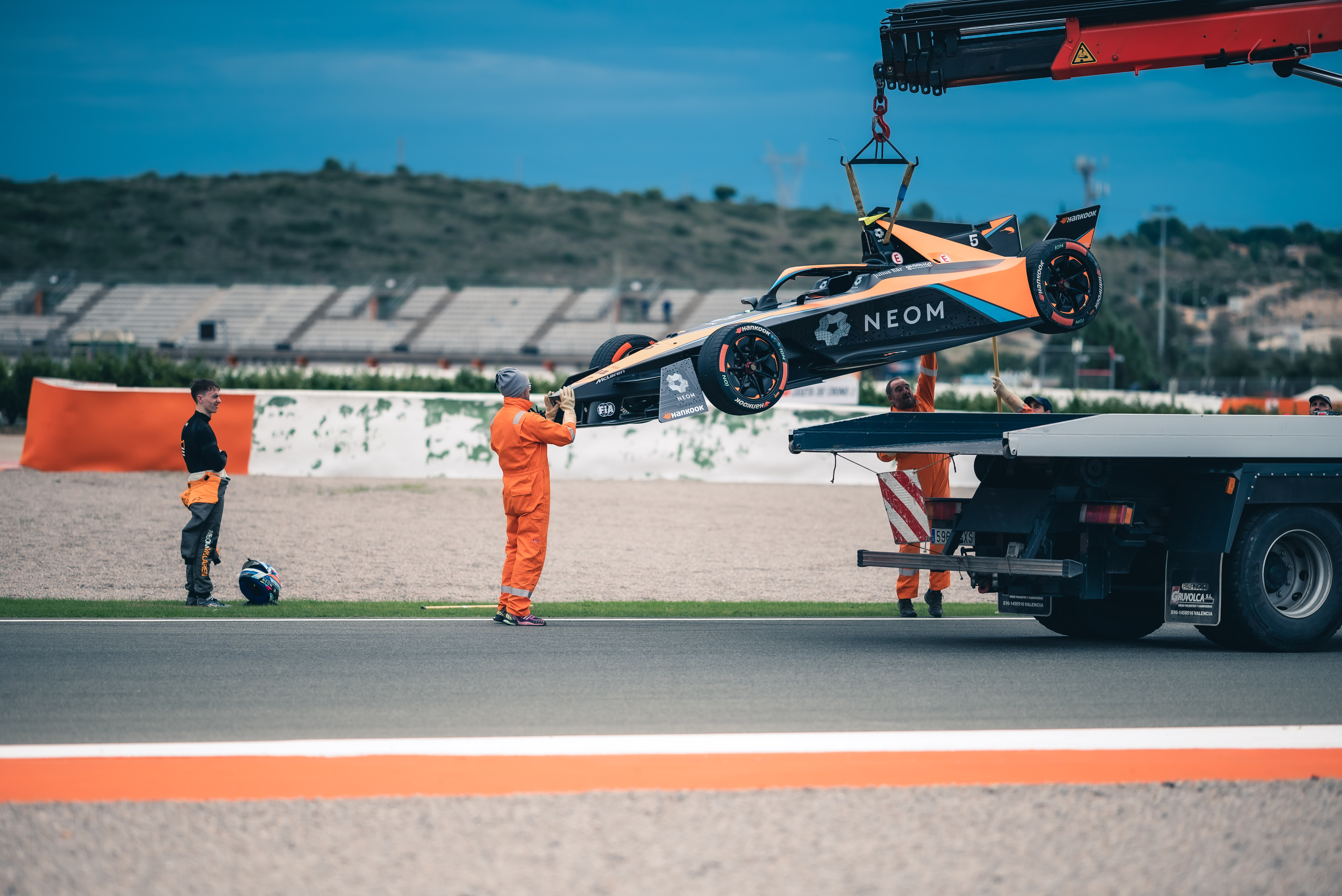 To give a gauge on how last-minute everything has been for teams to ready their cars, it is known that some teams were unable to even put a single mile on their race cars prior to the Valencia test.
Teams' personnel displayed a zombified facade more akin to endurance racing after burning the midnight oil for weeks and indeed months. For manufacturers, as their test and development programmes melded first with the end of last season and then into the new campaign, burnout was a very real prospect even before the season had begun.
That inevitably contributes to teething issues in the first running of a new rules set, especially one such a leap in technology.
But Gen3 has seen much more than just teething problems with an array of issues afflicting the spec parts supplied and also the integration of the manufacturer powertrains. That's all before the basics of getting the cars to run are carried out and way before any serious performance testing.
The main question being asked in light the persistent problems, with the battery in particular, was 'were spec components not meant to be reliable and cost-effective?'.
With a heavy inference that what had been presented was neither of the above, there was plenty of senior team personnel asking for answers throughout the week, even if it were just to ensure that Gen4 does not fall into the same state as the clear lack-of-cohesion trap that Gen3 spiralled into.
All of this means that Formula E felt in one sense like it was back in 2014, in a rush to ready the show for that first momentous race in Beijing, and perhaps eight years on it is now facing an equally critical race in Mexico City in four weeks' time.
That said, there is no getting away from the fact that the oft-touted doomsday scenario of cars not being able to get long runs in with the battery never came, at least en masse, in Spain.
This was a "pleasant surprise" according to Andretti team principal, Roger Griffiths, who reckoned that "we've been able to keep running with a battery and we haven't really had anything significant from that perspective".
"I mean, we've had issues like many people up and down the pitlane with the battery, or the charger or the brake-by-wire unit but we've figured out the workarounds.
"I think maybe we've been lucky, or perhaps there's more inherent reliability in the package we have.
"I think it's really hard to predict what this means for Mexico, it's a different track. It's much more abrasive than here in Valencia, we've got real kerbs, we have tended to take a bit of a cautious approach here, not being quite as greedy as you might have been in the past.
Getting a 'headline laptime' against potentially damaging the battery was a juggling act for many of the teams outside the relatively serene DS-powered cars at Valencia.
For some, getting any kind of laps was a bonus.
Sergio Sette Camara cut a forlorn figure on Friday afternoon as he paced the paddock restlessly. His day was done from an early stage due to a parts shortage after technical issues ended his on-track activity.
Buemi Accident Re-Ignites Risk Concerns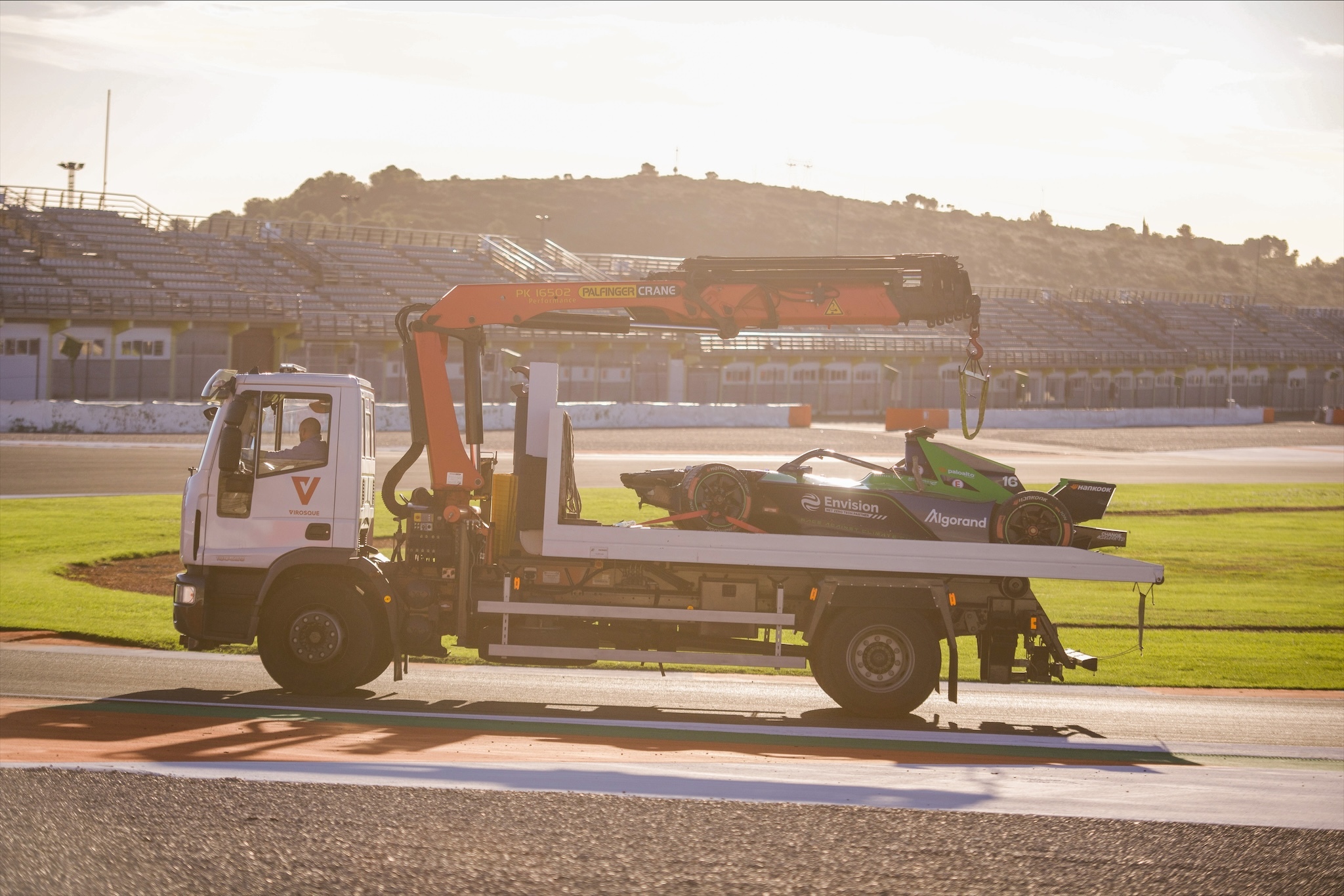 Sebastien Buemi was one of several drivers who experienced one of motorsport's more terrifying episodes, when he was unable to stop his car from driving off the circuit and directly into a barrier, hard, on Friday morning.
Nick Cassidy and Pascal Wehrlein appeared to have similar incidents during the week, although both thankfully suffered much less damage to their cars.
While Buemi's package was undergoing a complete chassis change in full view of the paddock, Jaguar was investigating the incident.
Their team principal, James Barclay, told The Race that he thought "the critical thing is we need to find out where we are on our side of things, and that's the work we're going to do now".
"From there, obviously, there's the broader pieces of what we do, there's the broader FIA side of things and in terms of the actual specification of the car, as a whole. But most importantly from our side we need to get to the root cause of where we're at and then we can make a judgement on the bits that we're responsible for ultimately.
"That's the bit we control. The broader topic of beyond that, that's really one for the FIA."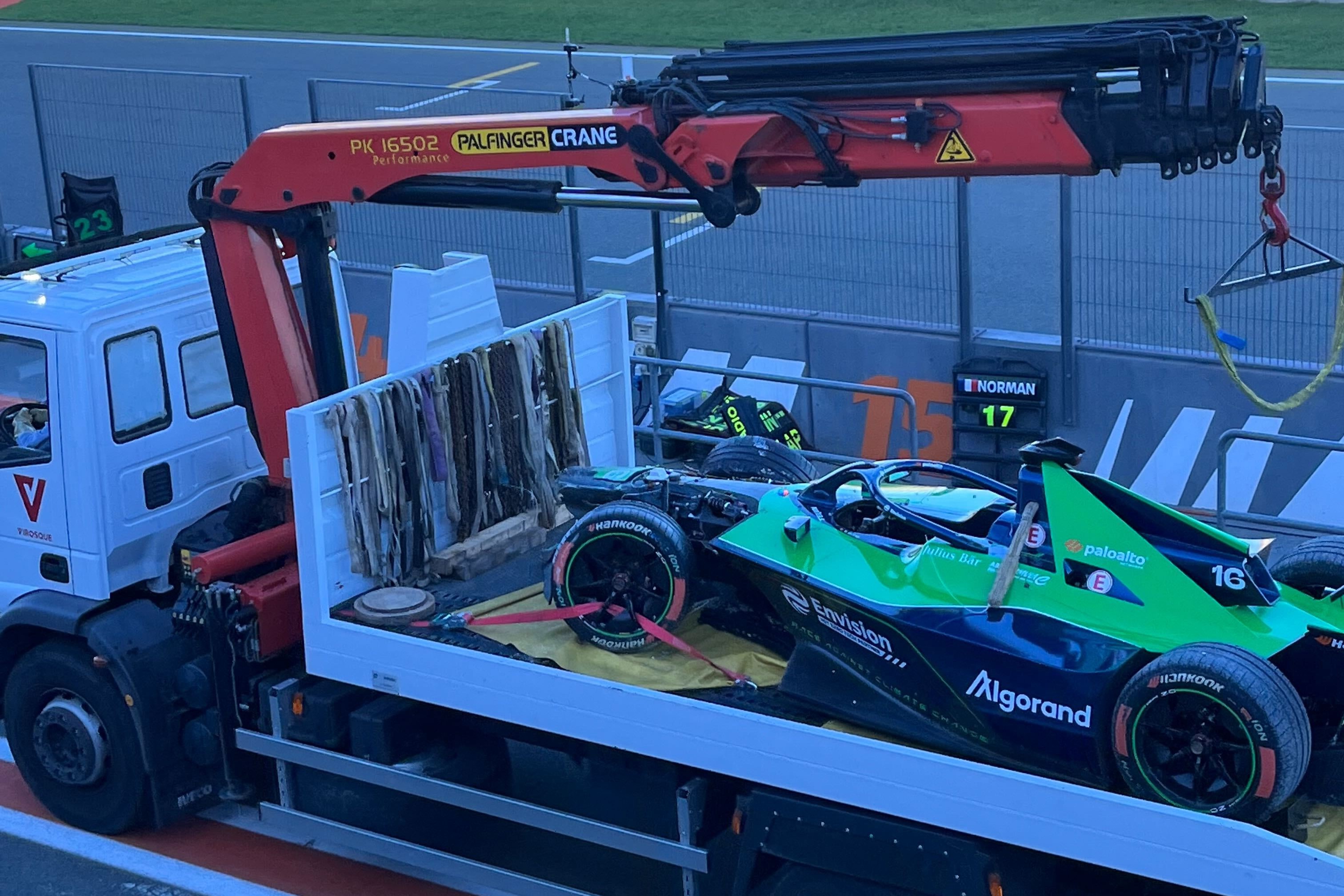 On the specifics of the secondary brake system that the FIA has confirmed will arrive in 2023, Barclay said: "The configuration of the car relies on the powertrain and now I think, when it comes to safety, it's always helpful to have those failsafes in place.
"That's clearly the view from the FIA as well.
"Most importantly, we really need to work to make sure the bits we control have the reliability we need."
Formula E and the FIA have some big decisions to make ahead of the opening phase of the season, where clearly the evidence suggests that the safety of these cars, but most importantly the drivers and track workers, has to be shored up somehow before 22 of them are unleashed in a competitive environment on street or semi-street circuits that bite way harder than the Circuit Ricardo Tormo does.
DS Cars Lead the Way on Pace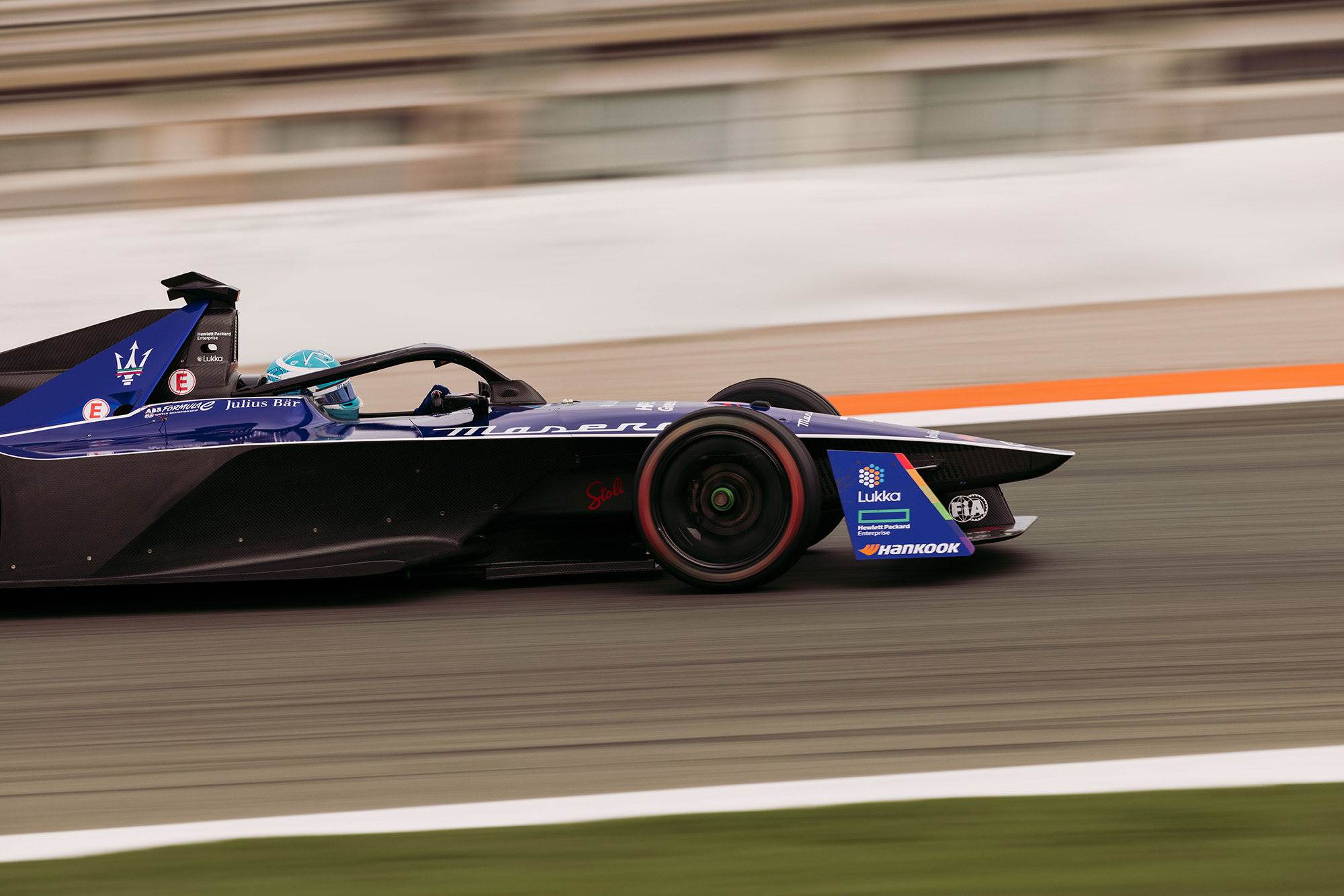 Maximillian Guenther has had a very limited amount of running in a Gen3 car but that didn't stop him again from topping times during sessions at Valencia, a track where he shone in testing for BMW Andretti in 2019.
He topped three of the sessions this week and rounded out his work with a 1m25.127s lap, the fastest ever by a Formula E car at Valencia.
"It's been pretty remarkable what he's done all week, every time we send him out, whatever situation, he's at the top of the timesheets," Maserati team principal James Rossiter told The Race.
"It goes to show that the trust and faith we put in him was completely justified and extremely exciting from my position to see him grab hold of the opportunity and be really maximising everything.
"We have to give credit where credit is due. Max has brought us a huge amount of performance this week."
Unlike the Andretti and Porsche pooled interface, which has seen Lotterer, Dennis, Wehrlein and da Costa have occasional communal debriefs with the combined engineering teams, Maserati and DS have been going their own ways this week.
"We've been keeping to ourselves, focusing on ourselves and I think that's probably what's given us the strong performances to be honest," added Rossiter.
"I think already the data you get with two cars and with the amount of track time we've had is monumental, so just by looking internally and trying to find all the little things that we can see to [help] bring us up performance-wise at the moment."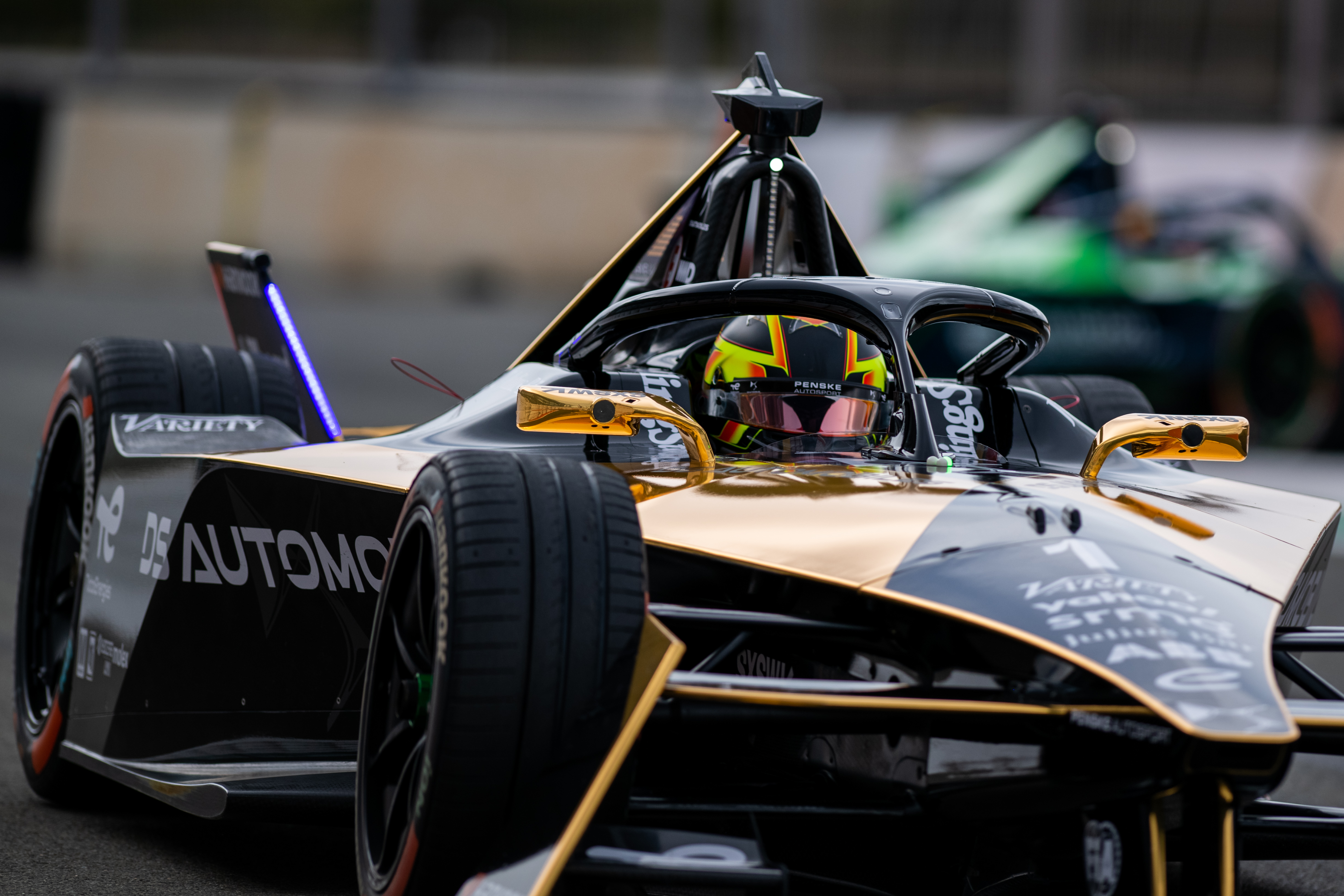 The DS Penske team looked like it was continuing on from the slick operational reputation it had forged in Gen2 as DS Techeetah.
Jay Penske himself dropped in on the test for a day on Wednesday as the new operation began its public journey after being confirmed relatively late in September.
Stoffel Vandoorne and Jean-Eric Vergne collated a sizable number of laps over the test and did so without significant issues in a car that looked the most sorted of all.
"We've actually had a very smooth test, we've never really been stuck in a garage with any problems, which has been really good," Vandoorne told The Race.
"We're finally starting to explore a little bit of the set-up, and it's banking that information now before we start the season, and it's positive as well, that we're at the front every time we hit the track. We look fairly competitive.
"But it's still early days, but for sure, it's better to be at the front end, let's say, than already starting a little bit behind and having to catch up.
"I'm pleased with the work we've been doing."
Mock Wednesday Race was too short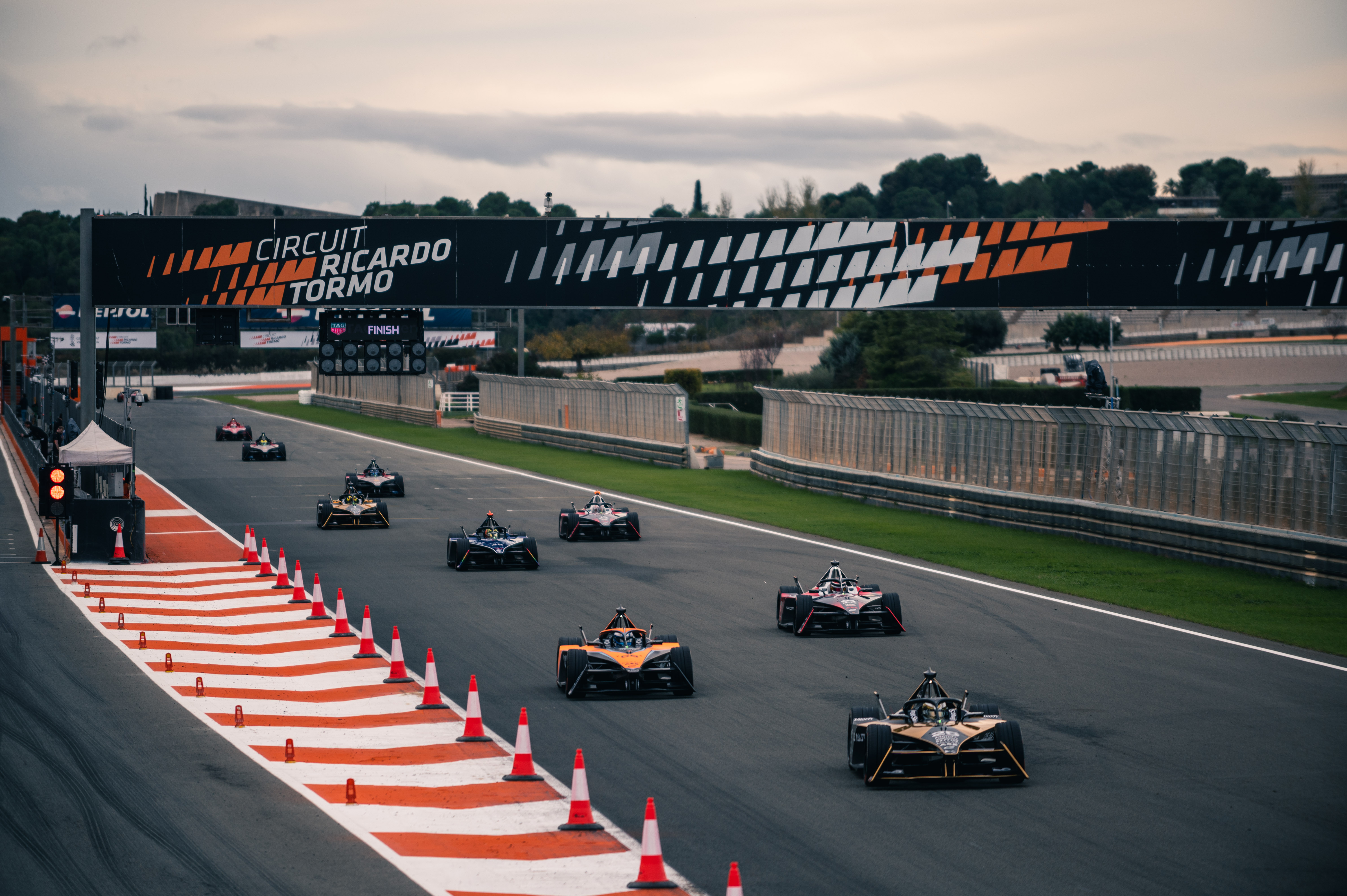 Wednesday's mock race weekend was met with at best a mixed response after it was clearly run to too short a lap distance.
The FIA had to calculate the race lengths to laps this season after the 45-minute and one-lap rule was replaced ahead of Gen3. This means it needs to get its sums right to avoid flat-out races which is what was clearly taking place during the sim event won by Jake Hughes' McLaren-run Nissan.
McLaren and the DS-powered cars showed a strong turn of pace in the flat-out adventure, which was curated partly for FIA procedures and practices and partly for the teams' benefit of practising a full race weekend scenario.
"What we saw early on was the Porsche package was very good on energy efficiency, but then as the pace picked up a little bit, we started to struggle," Avalanche Andretti's Roger Griffiths told The Race.
"I think if we can maintain more focus on energy management, which is really the DNA of the championship, then I think that's better for us."
The drivers were equally disappointed by the duration of the 'event', with DS Penske's Jean-Eric Vergne telling The Race that the FIA has to "get their models in place in understanding this new car because we have a lot more regen".
"Sometimes you will think that by lifting later and then regenerating you will consume more but you don't consume more because you regenerate more," said Vergne.
"So, I hope the FIA is going to get it right from the first race in terms of the amount of laps because having a race like we had on Wednesday there will be no overtaking."
Driver Styles have changed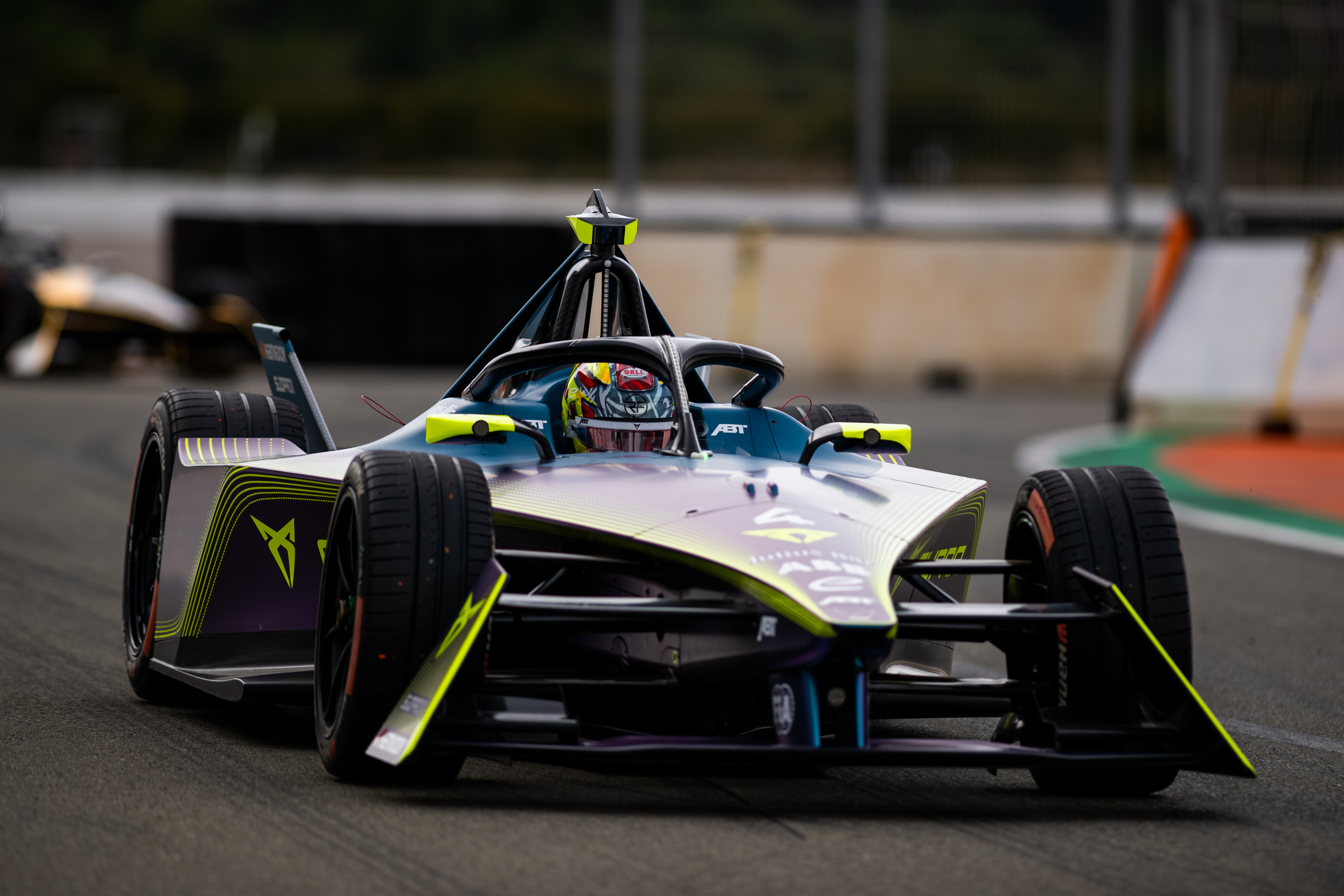 Drivers are having to adapt their innate driving styles in Gen3 to get the most out of the harder Hankook tyres but most crucially to master the new braking and regen mechanisms around the front powertrain in order to rotate and set up their cars for braking to apex.
"The feeling is quite different and the torque you get from the brake feels very different in comparison to normal braking, brake discs and brake pads," Porsche's Pascal Wehrlein told The Race.
"Here everything is more instant, you have the torque from the engine, whereas on discs and pads you always have a small delay.
"It's very important to get the software working to get the natural feeling and to maximise the braking. For sure, the braking side is where there is a lot of performance to gain."
New Mahindra driver Lucas di Grassi agreed with Wehrlein's points but expanded on them further, saying that the driving style from a vehicle dynamic point of view meant that the harder Hankook's hard tyre made it "easier to work than a soft one cause a soft one can have plenty of variations that could make the tyre degrade".
"While with a hard tyre it's less of a problem, it's more consistent for the race, the problem is how do you get the temperature to be in the right window?
"Normally, in my driving style, I prefer a tyre that degrades more because I'm gentler with my driving style. I'm not very aggressive, but with this tyre, I have to change, so I will have to adapt my driving style."
Di Grassi will therefore have to get his 'Robin Frijns' head on a bit this season.
But with the Brazilian having been an acknowledged master of tyre development in his role with Pirelli in F1 for several years, then diligent students of rubber might just be the first to find decent advantages in the early tranche of races from Mexico City next month to di Grassi's home race at Sao Paulo in March.
McLaren and its rookie looking good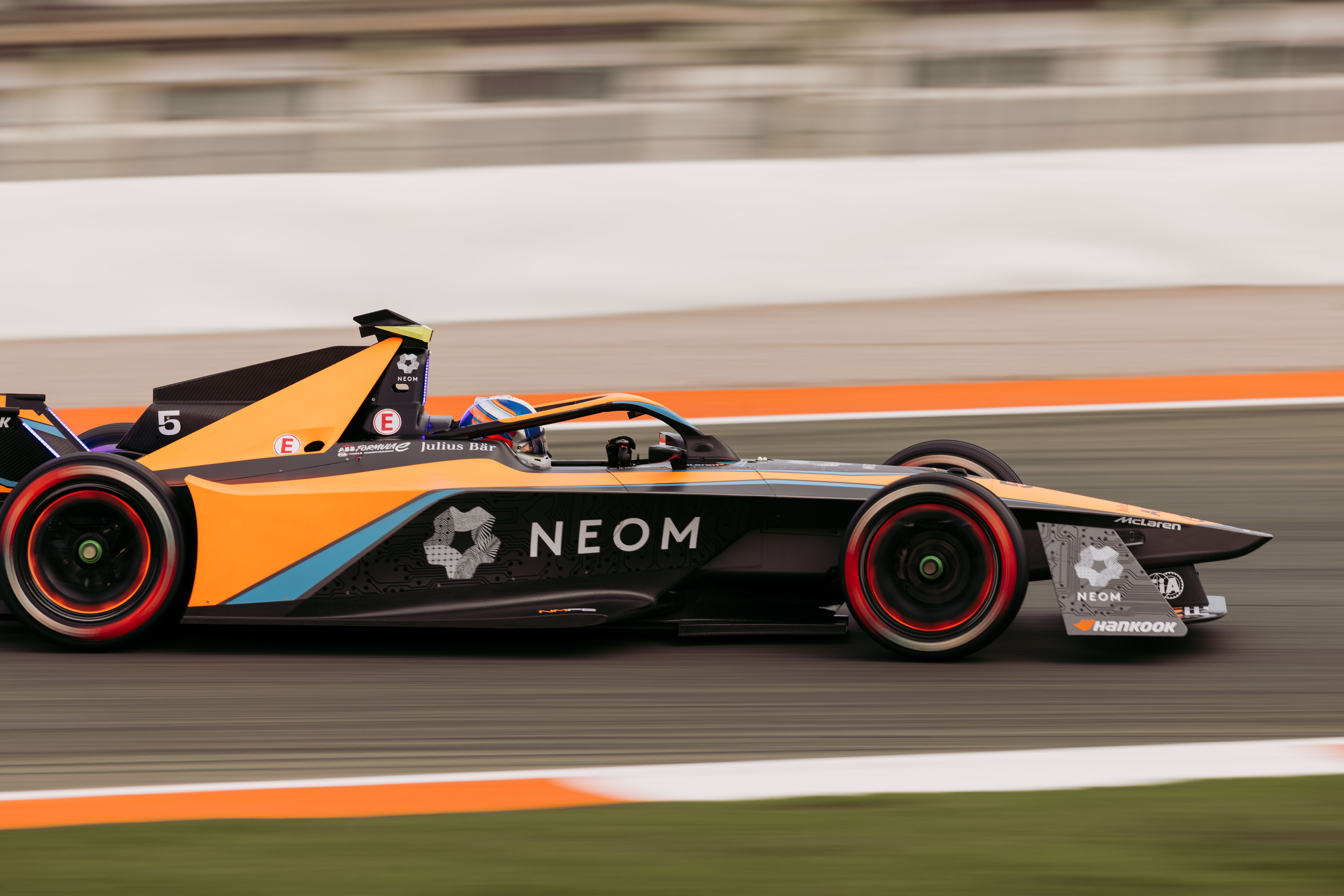 One of two rookies in 2023, with Nissan's Sacha Fenestraz being the other, Jake Hughes has been a relatively unheralded addition to the, as ever, immensely strong Formula E grid this season.
He got off to an unfortunate start with a small shunt with his team-mate Rene Rast in Monday's shakedown session. That was followed by a stoppage on the first day of testing, but thereafter a combination of pace and consistency ensured that the McLaren team and he left the test relatively buoyant.
"A lot of positives, yes," Hughes told The Race on Thursday.
"You know, I haven't had much time in the car now that we're a customer team, not even a lot of time in the simulator.
"This is probably the first time I've really had a chance to drive the car but also had a chance to build on its session on session, day on day.
"I've been really happy with, first of all, my performance and how I feel in the car, and second of all how the team have been on it so far. It's a big change for them and it seems almost seamless from my side so far."
Hughes was pushing for this chance for most of the 2022 season. He got it and now he appears to be running with it from the 'b' in the bang of the starting pistol.
Team-mate Rene Rast was right on Hughes' tail pace-wise and worked through several programmes to improve almost with every lap.
This was a very positive test for McLaren, who showed that continuity in its workforce and two new and hungry drivers are going to be a very potent prospect in 2023.